A scholarship program for transgender reassignment
Rizi Timane Transgender Surgery Scholarship to be presented Nov. 17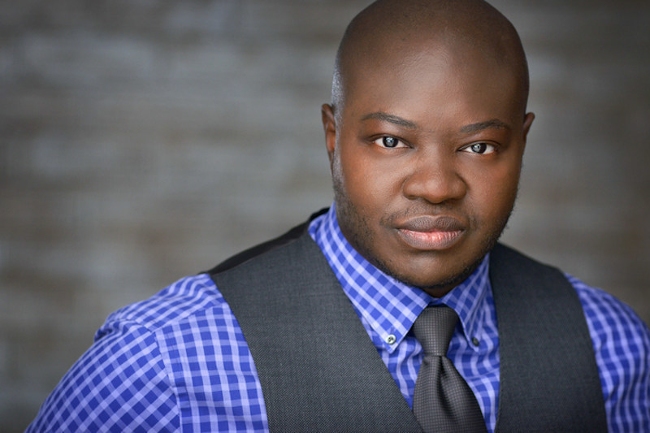 Rizi Timane is blessed beyond measure today but he had a painful youth.
Born female in Nigeria, Timane's deeply Christian family that was increasingly confused and angered by his masculinity.  The family grew desperate to save their daughter from hell. They even held numerous exorcisms in an effort to rid their daughter of the "demonic forces" they believed were stealing his gender. They wanted desperately to make Timane feminine, but that of course it didn't work.
It was only after he left his family and moved to London and later Los Angeles to pursue a Masters degree in business that Timane's life began to flourish. As he began to embrace himself, he yearned to connect with his own spirituality, leading him to become an ordained minister and grief counselor. And finally, at 30 years old, he was able to begin his transition from female to male.
Along the way he realized his mission was in his own story and that he was not alone. So he put pen to paper and authored a book, An Unspoken Compromise, an unvarnished look at his own struggles that continues to be a best-seller.  The book became the basis for a song and music video, Love is All You Need, and has been viewed millions of times on youtube.
Love Is All You need is a kind of anthem for transgender people and the entire diversity movement.
Able to fund his own surgeries and hormone treatments through his book and music sales, speaking engagements and performances, Timane realized that the same funding source could help help other people self-actualize and make a decision about their own transition.
So, he founded the Happy Transgender Center in 2012, a counseling service that guides trans people and their families through the transition process.
But counseling alone, he realized, would not give people all they needed to transition. In 2014 he decided to create a fund that would assist one person each year with the medical costs of their transition.
It was like a "eureka" moment.
"I can help out if I just save some funds each year from sales of my memoir and songs! That's how the scholarship started and I am so happy to be a part of each recipient's journey to their authentic selves."
For the past 4 years, Timane and his wife have awarded the Rizi Timane Transgender Surgery Scholarship.
One of the recipients, Niko Walker, told the Los Angeles Blade "I'm so satisfied with my life and how things turned out after surgery,"
As the recipient of the scholarship, Walker found freedom—"My confidence is high and my energy is higher. I love how free I finally feel."
Niko, a female-to-male transgender youth, met Timane through the Center for Transyouth Health and Development at Children's Hospital Los Angeles after experiencing family estrangement and homelessness.
"The very first time I heard back from the first scholarship recipient after he had his top surgery completed by Dr. Crane was one of my favorite moments," Timane said. "He looked so happy and free and it truly warmed my heart and reminded me why we started the scholarship."
Rene Chavarria, the 2017 recipient, is a female-to-male trans man who resides in New Mexico and lacks health insurance to cover reassignment surgery. He will join Timane and Christina on November 17 at St. John's Well Child and Family Center near downtown Los Angeles.
This year the fund received over 1,000 applicants, nearly doubling the amount received last year. Applicants submitted essays sharing their experiences and explaining why they needed surgery. "There are not many of these scholarships available and it is so important for a trans person who needs surgery to be able to have that gender conforming surgery and become their authentic selves," Timane explained.
Scholarship recipients may choose their own surgeons, but Timane has relied on Dr. Curtis Crane, M.D., for previous scholarship surgeries. Dr. Crane has expertise in both plastic surgery and reconstructive urology. Moreover, Timane praises Dr. Crane's dedicated service to the transgender community.
The event announcing Chavarria as recipient of this year's scholarship coincides with the Transgender Day of Remembrance on November 20.
Timane has a message for the larger LGBT community.
"We are still being marginalized in 2017 and while LGB rights have advanced, ours are still behind. Continue to advocate for the trans community, for your trans friends, siblings and children because we are all a part of you and it would be awesome to no longer have to observe trans day of remembrance."
He continues, "I would like to see the hate and murders stop altogether, and our allies can help by advocating for us and standing up to our bullies."
"It's more important now than ever that those of us within the community who can do something go ahead and step up for our own," Timane said of the scholarship.
"I would love it if we could help many more people every year," he added.
For more information about the Rizi Timane Transgender Surgery Scholarship go to www.rizitimane.com
Trans remembrance vigil held at LA LGBT Center
"We refuse to let violence rob us of the possibility to gather, to love each other, and to dream together in solidarity"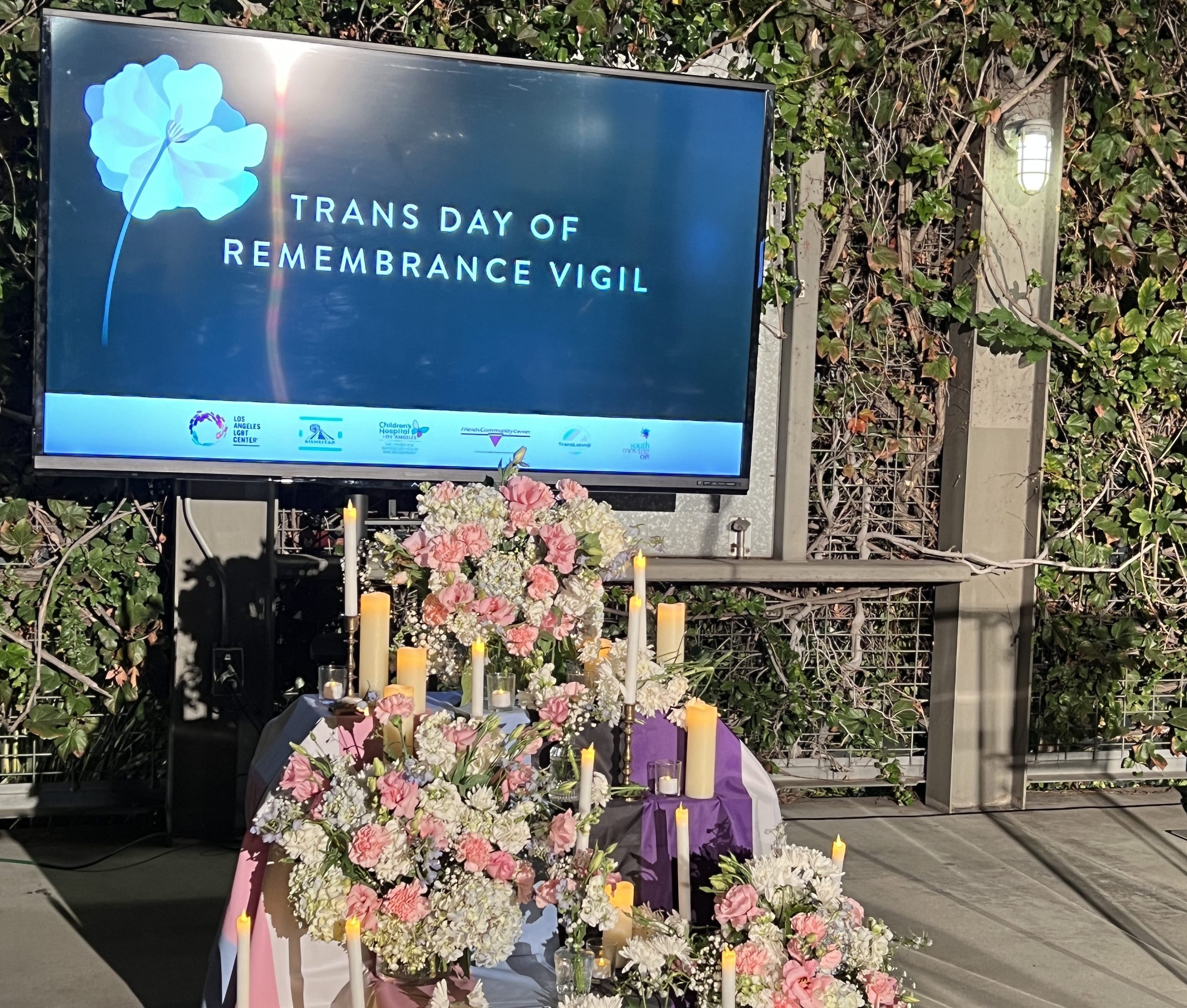 HOLLYWOOD – A Trans Remembrance Vigil was held at the Los Angeles LGBT Center on Monday, November 21st.
Candles and white, pink, and lavender flowers mounted on tiers draped by a trans flag adorned the center stage. A large monitor served as the focal point of the evening above the memorial display.
The Trans Chorus of Los Angeles started the ceremony with an acapella performance. Following the song of hope and redemption, opening remarks were given at the pulpit by the Anti-violence project manager for the LGBT center, Mariana Morroquin, and representatives from the Trans Wellness Center, Bienstar Human Services, Children's Hospital of Los Angeles, Friends Community Center, APAIT, and [email protected]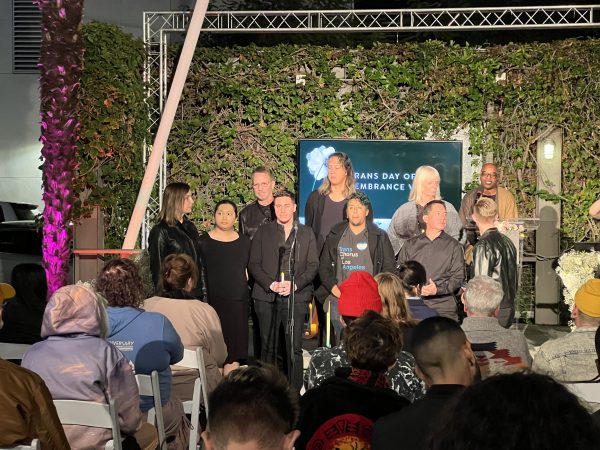 "I think it is very important to acknowledge our partners," said Morroquin, somberly addressing the seated audience of about one hundred and fifty. "We know that hate is real. A lot of us have seen hate pretty close. We are very grateful to have you. We open our arms to receive your love and your support. The way we support each other is by providing jobs, providing spaces for us, and providing opportunities. Because hate is out there. We need this space. We need to welcome everyone. I want you to keep that in your heart. And tomorrow, when we get back to work, let us open our hearts and our minds. Don't make decisions for us. Invite us to those tables. We know what we need. We've been doing this forever. We are going to keep fighting because this is what we do." 
She then added, "We refuse to let violence rob us of the possibility to gather, to love each other, and to dream together in solidarity. We gather because we must remember what is worth fighting for. For now, we commemorate. We tell the stories of the ones we lost. For tonight, that will be enough." 
One by one, members of the audience approached the pulpit to read the names and stories of a multitude of trans people whose deaths were the tragic result of hate crimes. The photos, names, and ages of the victims were displayed on the center-stage monitor.
"My name is Nikai David," said one speaker, the photo of a pale, curly-haired young lady displayed behind them. "I am a model and social media influencer who aspired one day to own my own clothing boutique. I had just celebrated my birthday a week before I was shot in Oakland California, on December 4th, 202. I was thirty-three years old."
Stories of these deaths included shootings by assailants, police, and family members, brutal beatings, and stabbings. The bodies of these victims were found in their homes, in garbage cans, and on streets where they were left, still dying, among other locations.
The final name read was Daniel David Aston, who died in the recent Club Q mass shooting.  This year, TDOR came on the heels of the senseless massacre in Colorado Springs that left five members of the LGBTQ+ community dead and 25 injured. 
Reverend Valerie Spencer gave an impassioned closing speech, first inviting the audience to take several deep breaths in unison.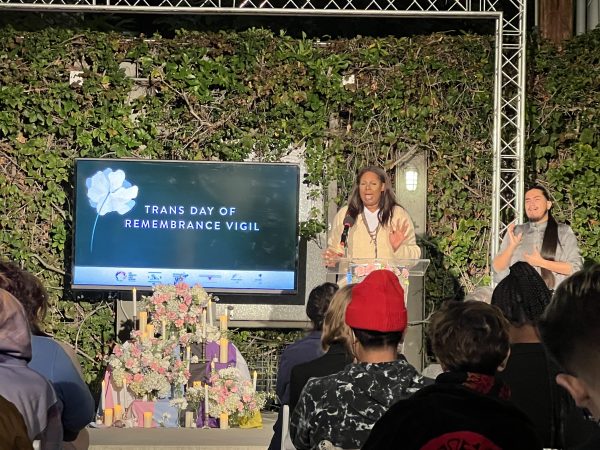 "We will mourn our family, our siblings," said Reverend Spencer, "but we are not having our primary focus on the violent conclusion of their life. We are choosing to see them and know them and celebrate them in the full context of their living. For they were fierce and powerful people."