Palm Springs police release suspect's photos in gay executive's attack
At this time, there is no reported information or evidence to suggest a hate crime occurred Palm Springs Police said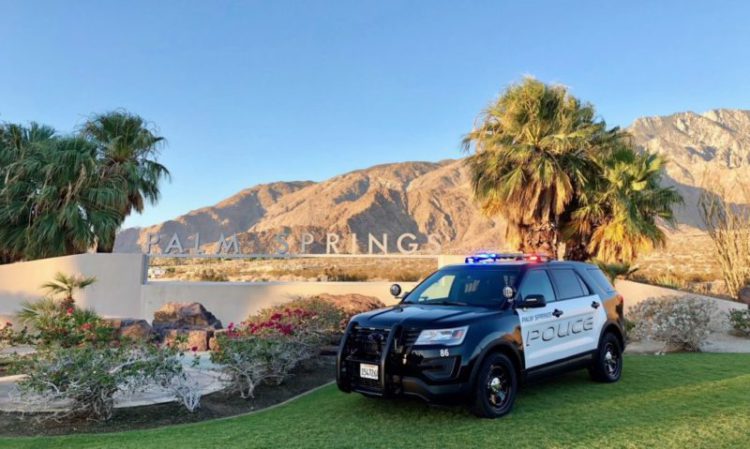 PALM SPRINGS – Investigators have released photos of two suspects wanted for questioning in the altercation that left a Glendale marketing and advertising executive in critical condition at the Desert Regional Hospital Centre.
The Palm Springs Police Department also acknowledged that because the victim identified on social media as Justin Wicker is gay, this caused rumors to spread that this was a hate crime attack, however, PSPD detectives do not believe at this time that it is a hate crime.
"We have seen social media rumors indicating this incident was a targeted hate crime. At this time, there is no reported information or evidence to suggest a hate crime occurred," PSPD officials said in a media statement.
Patrol units were dispatched to the 400 block of E. Arenas Rd. on Friday, July 9 at approximately 1:42 a.m regarding a victim of a battery. Officers learned that the victim and a friend were walking from a local bar on E. Arenas Rd. and engaged in conversation with another male.
The victim told the male, who was black, that he resembled the actor "Eddie Murphy." It was reported that the male became angry at this comment and a physical confrontation occurred. The male began chasing the victim. While running away, the victim slipped and struck his head on the ground. The subject chasing the victim left the area with another man. The two suspects were seen fleeing the scene in a black convertible type vehicle.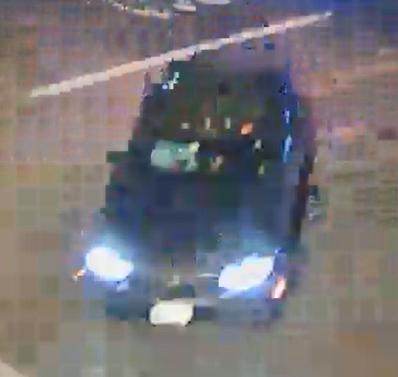 One of the suspects is described as a black male adult, approximately 5 feet, 8 inches tall. He was wearing a light blue button up shirt, and white shorts.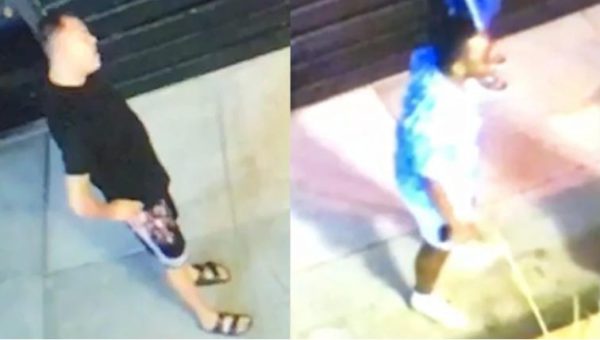 Investigators are working to identify the two men involved in the attack.
Police are asking for anyone who may have more information, knows either of the two men involved, or may have taken pictures of the men as they fled the area to immediately call Detective Escallada at 760-323-8129 or report any information you have anonymously to Crime Stoppers at 760-341-7867.
Top five events during Palm Springs Pride Week Nov. 2-5
Tickets are not required but a great way to give back by donating to the local nonprofit Pride organization

PALM SPRINGS, Calif. – Following are the top five events happening during Palm Springs Pride Week Nov 2-5. Make plans now! There's something for everyone.
Kylie Sonique Love, Nov 5 | 1:50PM
Hornitos Stage
Iconic singer, actress, model, and showgirl Kylie Sonique Love headlines Palm Springs Pride.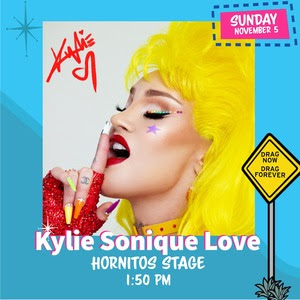 Kylie Sonique, Love, RuPaul's Drag Race All Stars 6 Winner and the first transgender person to ever come out on any reality TV show, and the first trans person to win RuPaul's Drag Race in America, is coming to Palm Springs Pride. Kylie will be on the biggest stage in the biggest venue, headlining Sunday, Nov 5, on the Hornitos Stage at 1:50 p.m.

Other headliners in the lineup include Idina Menzel, Sat, Nov 4 |8PM, 10,000 Maniacs, Sun, Nov 5 |3PM, Lisa Lisa Sat, Nov 4 | 7PM
ARENAS DISTRICT OFFICIAL PARTY of PRIDE
Featuring White Party Global DJs
Arenas Road between Indian Canyon Drive and Calle Encilia, Palm Springs
Presented by KGAY 106.5, Gay Desert Guide and White Party Global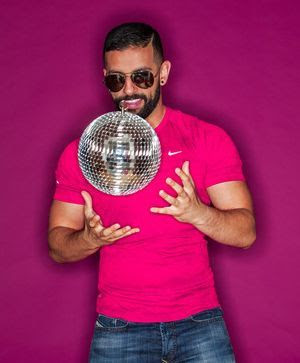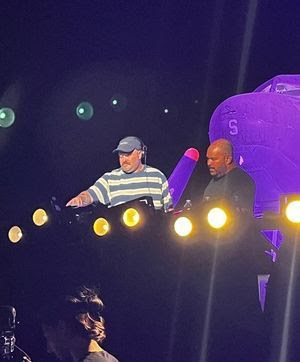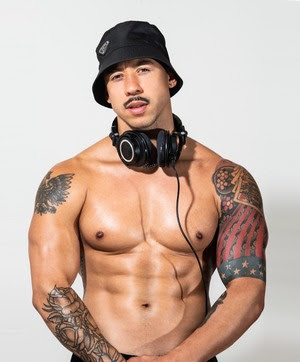 This block party is a signature event focused on the heart of the Palm Springs gayborhood … a celebration of Pride as well as the symbolic embrace of Arenas Road. LGBTQ+ bars and local businesses pack to the rafters and spill onto the streets for the biggest free LGBTQ+ street party in Palm Springs. The Official Party of Pride features White Party Global DJs DJ JAE FUSZ, and DJ MOHAMMAD. Join Pride revelers and dancers at the open-air beverage lounge. The block party invites residents and visitors to discover all that the Arenas District has to offer. 
ENDEAVOR WITH PRIDE: A PRE-PARADE WORKOUT
Sunday, Nov 5 | 8:30AM
La Crema Wines Pride Parade Stage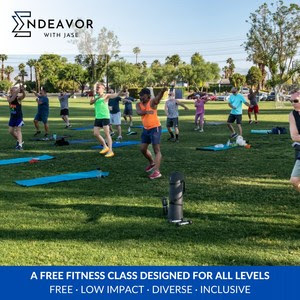 Kick off your day with ACE Certified Group Fitness Instructor Jase Nagaia in a special workout that'll get your blood flowing and energy soaring. Groove to good music while enjoying a low impact workout, setting the perfect tone for an unforgettable parade day! 

Embrace the true spirit of pride as we come together in celebration of diversity and inclusion. This event is more than just a workout – it's a chance to foster unity among all backgrounds and orientations, building connections that go beyond the workout mat.

Create a vibrant tapestry of voices, experiences, and stories, all while breaking a sweat and having a blast. Let's celebrate pride together with a morning of movement, joy, and community. 
Hornitos Stage Special Performances Saturday, Nov 4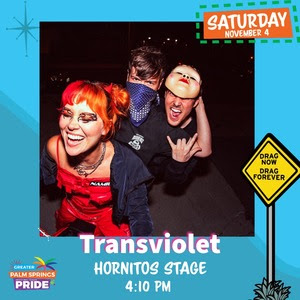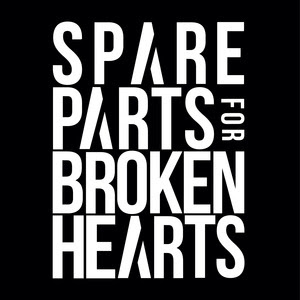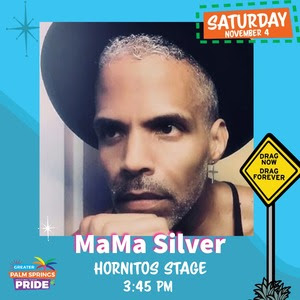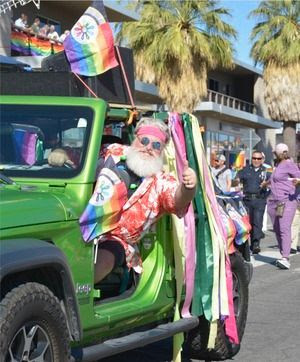 GREATER PALM SPRINGS PRIDE PARADE
SUNDAY, NOV. 5 | 10 A.M.-12:30 P.M
Palm Canyon Drive between Tachevah Drive and E Amado Road, Palm Springs Known for its skies and year-round sunshine, the city of Palm Springs comes alive during the annual Pride celebration. Thousands of spectators gather along palm tree-lined streets to cheer and support local organizations, activists, and themed floats along historic Palm Canyon Drive.
Enjoy emcee commentary as parade contingents pass by official reviewing stands.
The La Crema Wines Parade Stage, located at E Granvia Valmonte and N Palm Canyon Drive, is hosted by television personality Manny dela Rosa and guests.
Broadcast Reviewing Stand is located at Thompson Palm Springs, 400 North Palm Canyon Drive. Host and Emcee Nicholas Snow.
The Deaf Pride reviewing stand is north of E Amado Road at N Palm Canyon Drive and features sign language Interpretation. Seating is available for the Deaf community on a first-come-first-served basis. 
Palm Springs Pride 2023
Nov 2-5, 2023
37th Anniversary Celebration
Nov 2 – Latin Pride in the Arenas District 5 pm-10 pm
Nov 3 – Arenas District Block Party – 6 pm – 11 pm
Nov 4 – Festival Marketplace and Entertainment 11 am -11:30 pm
Nov 5 – Festival Marketplace and Entertainment 11 am – 6 pm
Nov 5 – Parade 10 am – Palm Canyon Dr from Tachevah to Amado (click here for parade details)
Tickets are not required but a great way to give back by donating to the local nonprofit Pride organization. Donations help keep Pride free and accessible to everyone.