California man says he was fired for being gay
Coworkers called him 'princess' and 'faggot'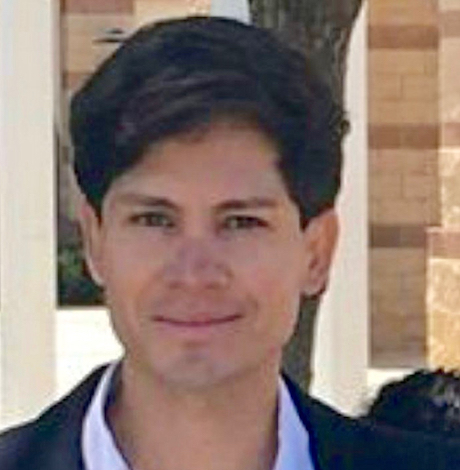 "I would get nervous," recalled Omar Lara, 32, about what it was like to work in the Los Angeles office that his lawyers describe as a "toxic work environment."
"I would shake. I didn't know why it was happening," Lara said. "I felt so, like I couldn't fit in."
Lara, a business analyst, told the Los Angeles Blade in a Nov. 20 phone interview that he was hired in July 2015 by the general engineering contractor AECOM as an hourly employee. He did data entry on the Los Angeles Community College District's $94.6 million BuildLACCD program. According to a lawsuit he filed recently, he was laughed at for being gay as early as his second day on the job.
Lorna Trinidad, identified in the complaint as his supervisor, reportedly overheard Lara reveal that he was gay and happily married: "Trinidad stood up, shook her head, and laughed," the complaint says.
Saori Sierra, another supervisor, allegedly complained loudly, "they hired another faggot" while looking at Lara. "Oh look," she added, "it's married."
For a year and a half, Lara says he endured co-workers and supervisors referring to him as a woman using "she" and "her" pronouns, "bitch," "princess," "whining pussy" "whistleblower" and "faggot." Supervisors allegedly mocked him and said what he wore was too "gay," told him to "man up," threatened his job security for filing complaints and physically hurt him by throwing things at him in the office, damaging ligaments in his wrist.
"It wasn't only the words," Lara told the Blade. "It was their actions."
One co-worker allegedly groped him in front of colleagues, exposed his genitals to Lara in the office and sent him sexually suggestive text messages using company-owned phones, the complaint claims. At one point, the co-worker reportedly placed his crotch on Lara's arm.
That employee, Enrique Castro, is named in the lawsuit, along with Sierra and Trinidad. The lawsuit notes Trinidad was fired, as was another supervisor, Deborah Leister.
According to the lawsuit, Leister instructed Lara "to display less stereotypically gay physical characteristics, such as facial expressions and mannerisms, 'to be more of a man.'"
Lara says he was also forced to work hundreds of extra hours without pay, was denied overtime pay, and harassed if he was thought to be late. He also claims he was harassed when he reported to work early and spent some of that unpaid time in the office kitchen or men's room.
"You should use the ladies' room," Lara's supervisors and coworkers repeatedly told him, according to the lawsuit. They also allegedly badmouthed him to outside contacts and in more than one instance, used vulgar or inappropriate workplace language toward him.
By November 2015, Lara had had enough. "My health started declining," he said, "and still nobody was stopping it. I didn't know what else to do."
He retained a lawyer and resigned, only to return in January with promises things would be better. They weren't, said Lara's attorney, Lawrence Bohm.
"This toxic work environment caused a deterioration of his mental health," Bohm told the Blade, adding that by August 2016, Lara took a leave of absence. But on Oct. 4, 2016, they "terminated him while he was out on protected leave through the Family and Medical Leave Act and the California Family Rights Act."
One of the subcontractors named in the suit, Integration Technology of Norwell, Mass., claimed Lara was not eligible to claim FMLA or CFRA leave, according to the suit.
The complaint lists 34 medical conditions that Lara is experiencing as a result of how he was treated at work, including Post-Traumatic Stress Disorder, chronic depression, suicide attempts, sexual dysfunction, damage to his wrist and difficulty using the restroom.
"They did a lot of harm," said Lara. "Not only to me but to my partner, and my family, and the symptoms that I have, and everything that's happened in my life."
His lawyers say in addition to the lawsuit, Lara filed a discrimination complaint with the State of California. He remains unemployed.
Bohm said his client is open to negotiating a settlement, but unless the defendants choose to take concrete action, he wants them to hear this message: "We're going to bring you to justice. You need to treat people better," he said. "Before a case like this can be settled, they're going to have to actually take some ownership of it, to see that it happened, and to really make an effort to try and resolve it."
Failing that, said Bohm: "I expect a Los Angeles jury is going to absolutely destroy these folks."
A spokesperson for AECOM emailed this statement: "AECOM does not comment on pending litigation, but suffice it to say, that the company denies Mr. Lara's allegations."
A spokesperson for BuildLACCD said he could not respond until he consulted with his legal team. Requests for comments from other contractors and defendants were not immediately returned.
LAPD asking for public's help with murders of homeless persons
Anyone with information is urged to contact the Los Angeles Police Department's Robbery-Homicide Division, Homicide Special Section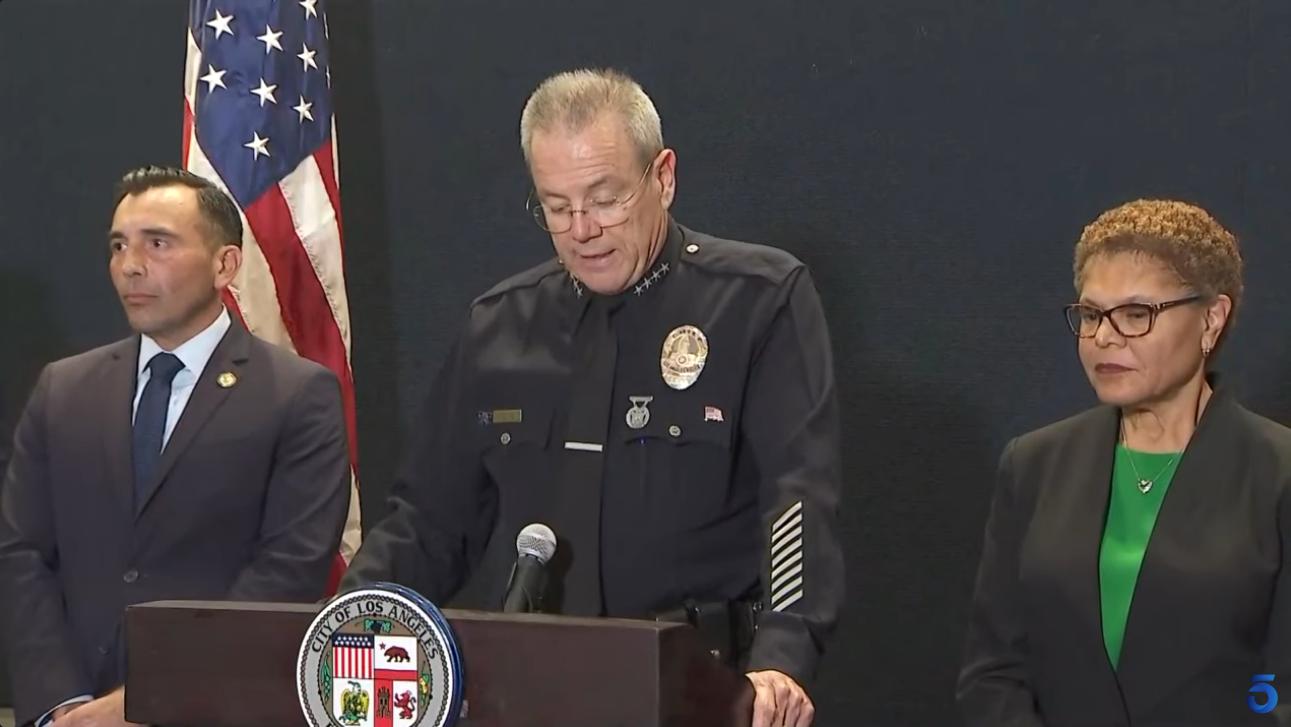 LOS ANGELES – Flanked by Los Angeles County District Attorney George Gascón, LA Mayor Mayor Karen Bass and Martin Estrada, the United States Attorney for the Central District of California, Los Angeles Chief of Police Michel Moore, held a news conference Friday where he announced that three homeless people had been fatally shot while they slept within the past week.
Moore added that authorities believe one suspect is responsible for all three murders.
Detectives from the LAPD's Robbery-Homicide Division are investigating three separate murders that occurred between November 26, 2023, and November 29, 2023. In each case, the victims were experiencing homelessness.
While some similarities have been identified, detectives are working to determine if these murders are related. A community alert bulletin has been issued to make the region's unhoused population and the community stakeholders aware of these recent murders.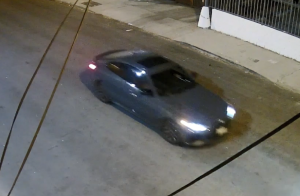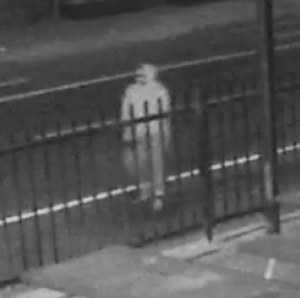 The suspect in these homicides is described only as male. The suspect was seen in a dark-colored sedan. It is unknown if he was alone or there were any additional suspects.
Police have spotted who they believe the shooter is on surveillance footage — Moore said they believe it's a man in a hoodie — and they also have images of the suspect's vehicle, though Moore would not describe it in an effort to avoid misinformation.
"People will see different types of cars, different types of models," he said. "I don't want someone to say 'You called this a Kia and it turns out to be a BMW or Mercedes," he said.
"A single individual approached each one and shot and killed each one as they slept," Moore said, though he avoided use of the term "serial killer."
"The Los Angeles Police Department is employing all available resources to bring justice to these murder victims. I am thankful for our City partners who are working with us closely to ensure the safety of this vulnerable population as we pursue the criminal investigation," said Moore.
"I want to be very clear about what we're facing today: This is a killer who is preying on the unhoused," Mayor Bass said, adding that homeless people should not sleep alone.
"As we always do in the face of a challenge or crisis, our region is mobilizing to respond to this issue. We will work tirelessly to find the individual responsible, arrest them, and hold them accountable. I have met with our partners at the Los Angeles Homeless Services Authority, Housing Authority of the City of Los Angeles, and the Los Angeles Housing Department and we are moving immediately to get the word out to our unhoused neighbors in housing networks. Our message to our unhoused community is clear – try not to be alone tonight. We will do all we can to make shelter and services available. To the many Angelenos who have friends or family who are unhoused, please let them know the danger that exists. We must stay safe. We will work diligently to bring those responsible to justice," the Mayor said.
"To the person responsible: We will find you, we will catch you and you will be held accountable," Bass said.
"I commend the LAPD for creating a dedicated task force to uncover the identity of a potential serial killer preying on the most vulnerable in our community. I've assigned our Major Crimes Division, Bureau of Victim Services and our Bureau of Investigation to assist with these efforts. Today, we demonstrate our collective resolve and stand united in our pursuit of justice, unwavering against the darkness that preys on the most defenseless among us," said LA District Attorney George Gascón.
Related:
Anyone with information is urged to contact the Los Angeles Police Department's Robbery-Homicide Division, Homicide Special Section, at (213) 486-6890. During non-business hours or on weekends, calls should be directed to 1-877-LAPD-24-7 (1-877-527-3247).
Anyone wishing to remain anonymous should call the LA Regional Crime Stoppers at 1-800-222-TIPS (800-222-8477) or go directly to www.lacrimestoppers.org.
Lastly, tipsters may also download the "P3 Tips" mobile application and select the LA Regional Crime Stoppers as their local program.