When giving, more than just the thought counts
This holiday season, support small LGBT-allied businesses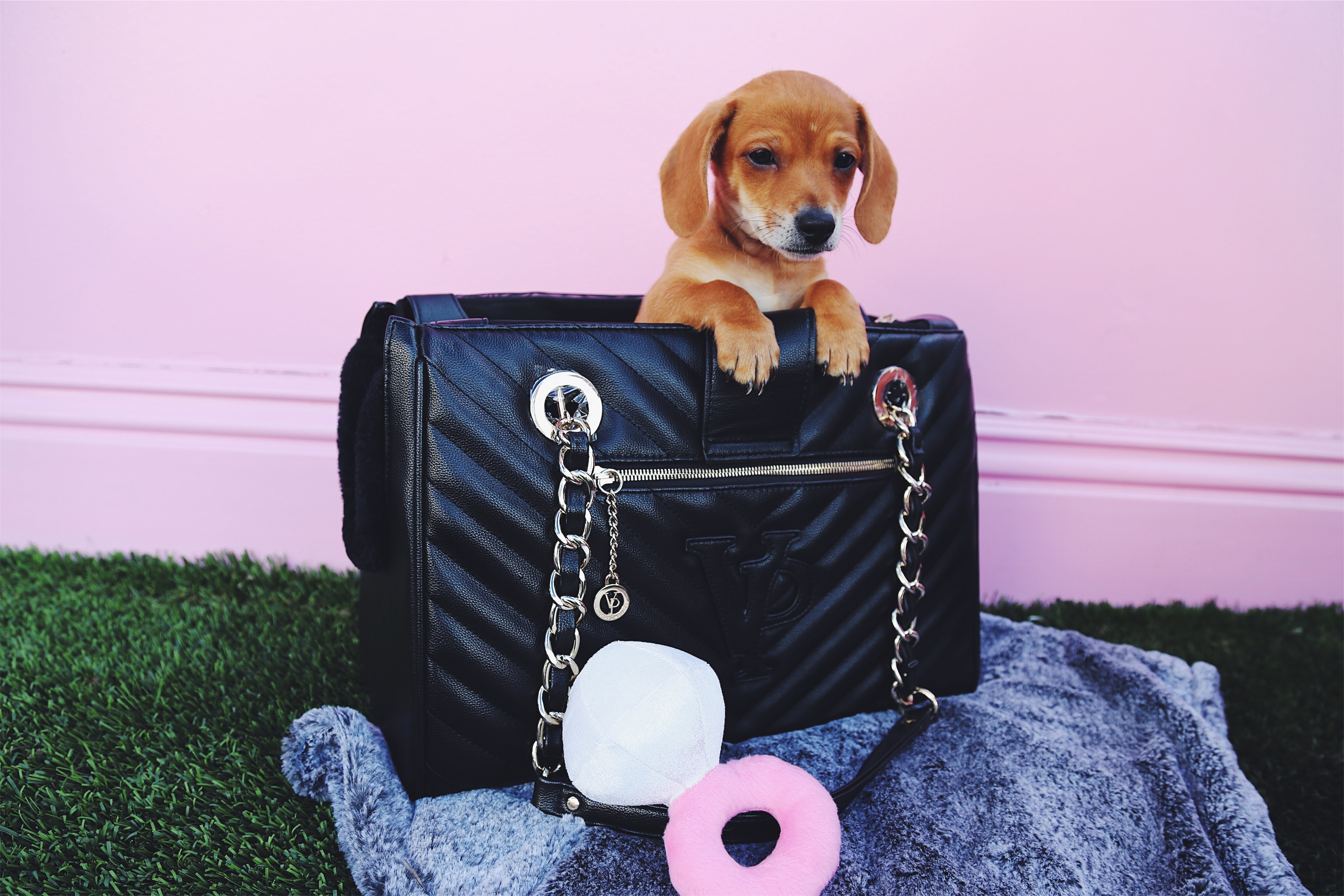 In part one of the Los Angeles Blade's Shopping Favorites, we focus on a mix of our favorite LGBT-owned or friendly merchants (both online and storefront), from  charitable chic to the purely indulgent.
We encourage you to give without expecting to receive.  And we also encourage you to donate money to the Los Angeles LGBT Center's Homeless LGBT Youth Program at Highland.
Vanderpump Dogs
The gift that also gives back — Vanderpump Dogs is a chic dog rescue concept dedicated to creating a more humane world for dogs, while keeping them and their companions looking stylishly fabulous.
This glamorous storefront dog rescue and pet boutique is owned by Lisa Vanderpump, the British restaurateur, author, actress, and television personality
Best known for her role on the reality TV show, "Real Housewives of Beverly Hills."
Offering grooming services and a gorgeous selection of niche brands, the brick and mortar was inspired by Gigi the Pom, Lisa Vanderpump's own precious pup. Go in and #shopwithapurpose at LA's most fabulous rescue center.
Troy Masters, Los Angeles Blade publisher and former West Hollywood Mayor Lauren Meister are big fans and both get their dogs groomed there.  "Vanderpump transformed our 15-year-old Lilly back into a puppy again," said Masters.
If you visit, be prepared to fall in love with the dog of your dreams.
"What we're trying to do is create more humane treatment for dogs worldwide," Lisa Vanderpump told the Los Angeles Blade.
The store is located at 8134 W. 3rd St., Los Angeles. You can call 323-852-DOGS or visit vanderpumpdogs.com to make an appointment for your pooch's grooming.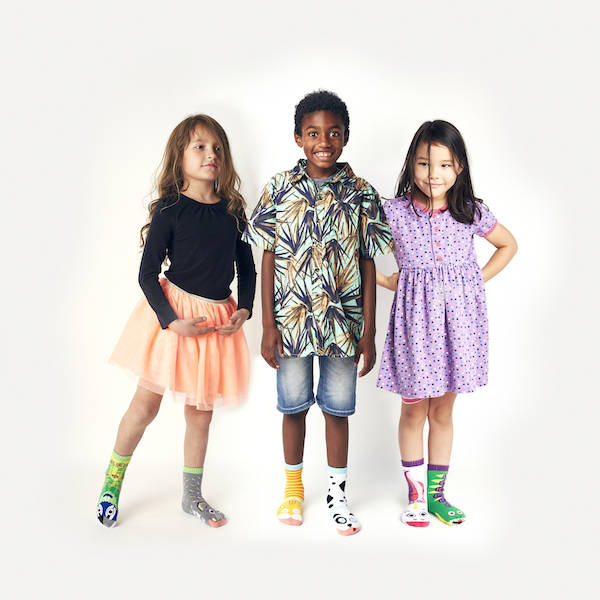 Pals Socks
Pals Socks is a company dedicated to "defeeting" bullies one foot at a time. Using mismatched socks to showcase how difference is cool, the line was created by a young L of LGBTQ living in Philly.
"I wouldn't say that me being attracted to ladies made me launch this brand in particular. I just am a very empathetic person, and was also a kid who was 'different,'" Lavon says.
"When I was younger I sometimes stuttered… I was weird, apparently. I want more kids to grow up being comfortable with people not exactly like them…I don't like seeing all this hate, bigotry, fear of people not exactly like them. I'm just trying to put more positivity into this world and create something that can create positive social change, not just a simple novelty," Lavon adds.
Pals encourage playful dialogue between two different friends — you don't need to match to be best Pals. Our hashtag is #defeetthenorm
You can find Pal Socks in L.A. at stores such as: Books and Cookies, the Library Store, Dustmuffin, and Ron Robinson. Or just visit palssocks.com
Nik Kacy Footwear
NiK Kacy Footwear is a brand inspired by the fashion needs of both its founder and the larger LGBTQ community.
NiK Kacy says they designed the first collection to provide a solution to address the divide between shoe designs and the gender binary. Being unable to find shoes that fit their gender expression and their feet.
"I still feel the discomfort and embarrassment of being mis-gendered on a daily basis. Most people I come into contact with mis-gender me. I try to take the time to educate them about what non-binary means and how making assumptions about one's gender is so archaic (not to mention politically incorrect and offensive)," Kacy says.
Their desire for gender equality extends beyond gender and features styles ranging from masculine, feminine, gender-neutral, to high-heels in a gender-equal size range from 34-47 (US women's 3.5 to men's 14). Subsequent releases include a unisex utility holster that is completely adjustable to fit all body spectrums.
Kacy's hope for the holidays, under the current administration, is that they're able to find a little piece of their souls and stop taking away the rights of so many deserving Americans.
"I'd like them to reverse most of the horrific decisions/changes they have made in the past 12 months… my Christmas wish this year, is to remove everyone in the administration related to or working for Trump and Pence and bring back BO [Barack Obama] and JB [Joe Biden]. I can wish for a miracle, can't I," Kacy says.
NiK Kacy is a Certified LGBT Business Enterprise. Visit the store online at nikkacy.com.
RounderBum
RounderBum is hoping to change the world one pair of men´s undergarments at a time.
With a growing trend of men who take care of their appearance, RounderBum created a men's line for those who want to look more attractive and athletic.
In comes RounderBum, offering men's shapewear. From a patented designed padding to seamless and fusing manufacturing, the company looks to help every man feel more confident, and look more, ahem, masculine.
RounderBum's signature padded technology uses hidden padding made of flexible polyurethane that conforms to every body shape, with hidden bands that lift and define the muscles with a subtle and discreet effect.
As retailer Andrew Christian, the famous men's undergarment store, closes shop with plans to relocate to Downtown LA in January, the men of WeHo can rest assured that RounderBum is anxious to help showcase the goods.
No date has been set for the grand opening of the new flagship store at the northeast corner of San Vicente and Santa Monica Boulevard, located where American Apparel once ruled.
In the meantime, Larry Block's Block Party is happy to be of service; Block Party carries some choice RounderBum gear.
RounderBum will be located at 802 North San Vicente Blvd., West Hollywood, and you can visit them online at rounderbum.com.
Barber Surgeons Guild
File this one away under the purely indulgent, but irresistible category.
Barber Surgeons Guild provides high-quality grooming products and services, combining grooming with advanced medical procedures, backed by Dr. Justin Rome, a plastic surgeon who runs and oversees the store.
BSG originates from the history of barber surgeons who were the medical and grooming experts throughout the Middle Ages.
BSG products are formulated by master barbers and an expert medical team; offering shampoos, conditioners, pomades, texture liniment and hair serums, each product is scientifically structured with an active ingredient to ensure hair is healthy, thick, stylish and strong.
In addition to the traditional barbershop experience, BSG also offers advanced hair therapies including hair regeneration.  It's artisanal grooming and a whole lot more.
Barber Surgeons Guild is located at 805 Larrabee St., West Hollywood. You can make an appointment by calling 310-975-7094. Or visit barbersurgeonsguild.com for more information.
Kane's Cuisine: Fried chicken sandwiches, y'all!
LA Blade staff writer Christopher Kane shares his love and passion of cooking writing in his weekly Sunday column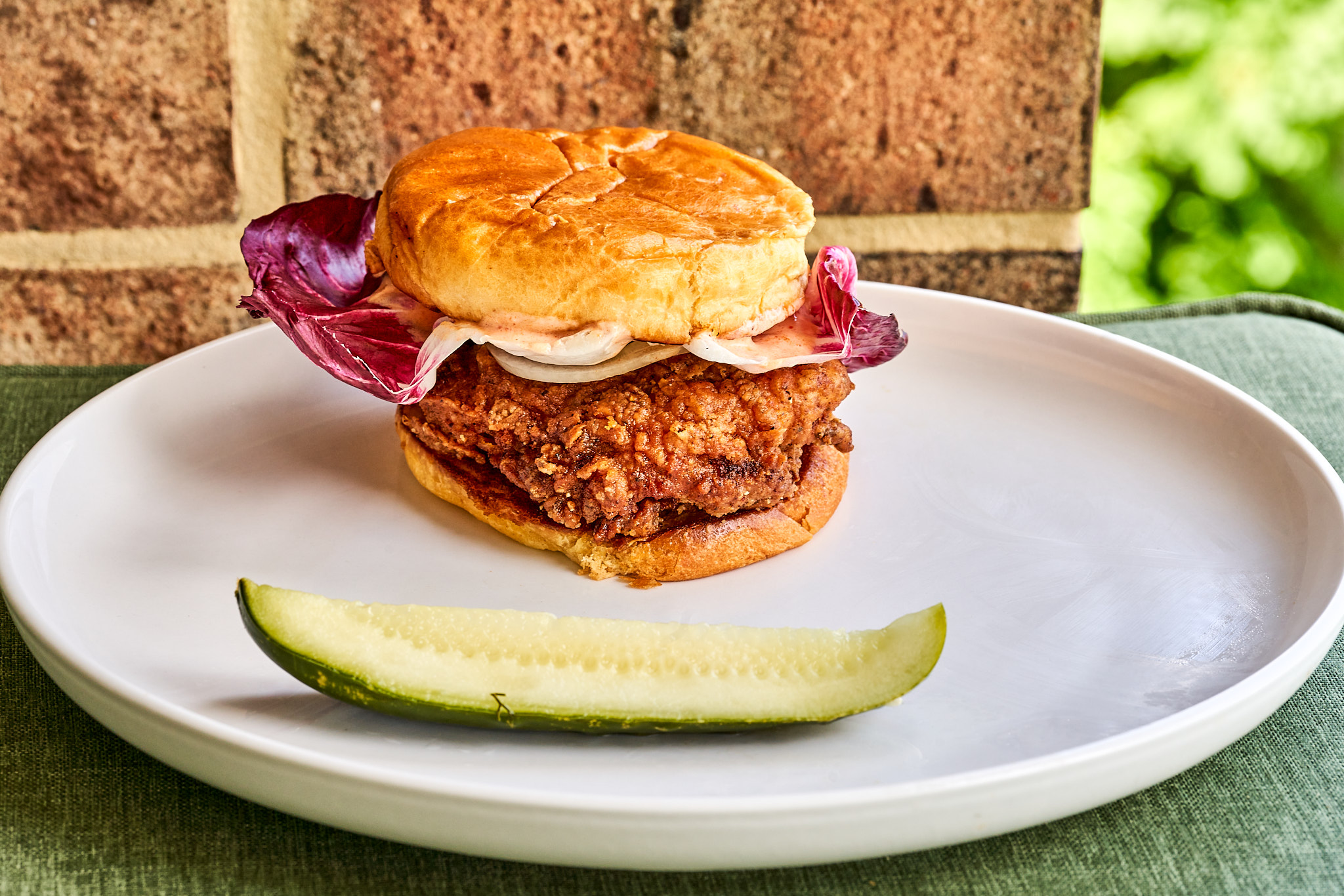 What happens when you have a pandemic and a bored stay-at-home political reporter with extra time on his hands? LA Blade staff writer Christopher Kane decided that he would pursue his second love and passion of cooking and now he's sharing the results in his weekly Sunday column.
WASHINGTON –I know what you may be thinking: My columns lately have been less than healthy, and now I'm giving you a fried chicken sandwich. But I promise I'm not on a mission to give y'all diabetes ("dyah-beetus" to use the Paula Deen pronunciation). 
I cook and bake what I like to eat – and folks, I treat my body more like a KFC than a temple. I'll give you a salad one day, but today is not that day. Though I suppose you could eat this with a salad on the side. Or shuck the bread. You know what? This isn't "Today's Dietician" magazine; let's move on.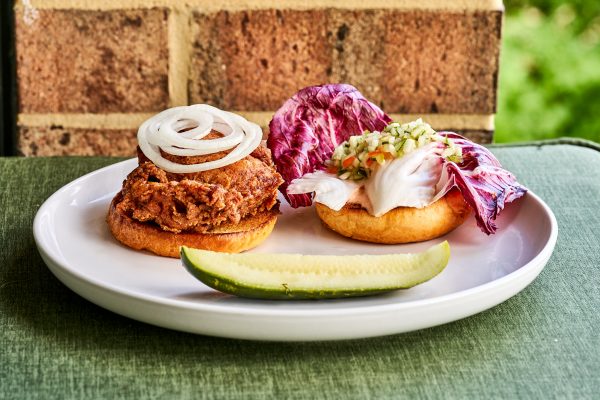 Since fried chicken and pickles get along better than Sen. Kyrsten Sinema and hedge fund billionaires, consider this recipe a celebration of both. A really good dill, if you will. (Sorry.)
Author's note: I was gifted some products from Grillo's Pickles that were used in this recipe – products that I would enthusiastically endorse even if I'd had to pay for them.
Okay! Like I imagine the FBI agents said to each other at Mar-a-Lago on Monday morning, let's get started…
Make your fried chicken
Make the brine by combining, in a large bowl, one cup buttermilk, four tablespoons hot sauce, and a few cloves of grated garlic with one cup pickle juice from Grillo's pickle spears. If you don't care for pickles, find a new recipe. (Just kidding, use the liquid from a jar of capers instead, or just leave it out if you must)
To the brine, add 1-2 pounds boneless, skinless chicken thighs – seasoned with salt and pepper – and let it marinate for at least half an hour
In a different bowl, combine two cups all-purpose flour, ¼ cup corn starch, two tablespoons salt, one tablespoon black pepper, one tablespoon paprika, and two tablespoons cayenne pepper 
Heat two cups vegetable oil in a large, high-sided cooking vessel
Meanwhile, one at a time, take the chicken and bury it in your bowl with the dry ingredients, pressing the flour mixture into each piece until it's well coated. Shake off the excess and transfer to a wire rack
Depending on the size of your cooking vessel, cook in batches of 1-3 pieces of chicken at a time, taking care to ensure you're not overcrowding the pan, about 6-8 minutes per side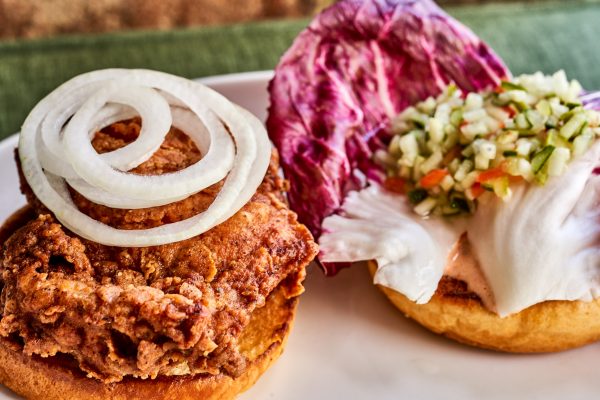 Make your sandwich
Add a pad of butter to a hot pan and toast the top and bottom of a hamburger bun until they're golden brown
Top the fried chicken with thinly sliced raw onion, lettuce, and Grillo's cleverly named Pickle De Gallo
Serve with more Grillo's pickles
Kane's Cuisine: Alison Roman's blueberry cornmeal tart
LA Blade staff writer Christopher Kane shares his love and passion of cooking writing in his weekly Sunday column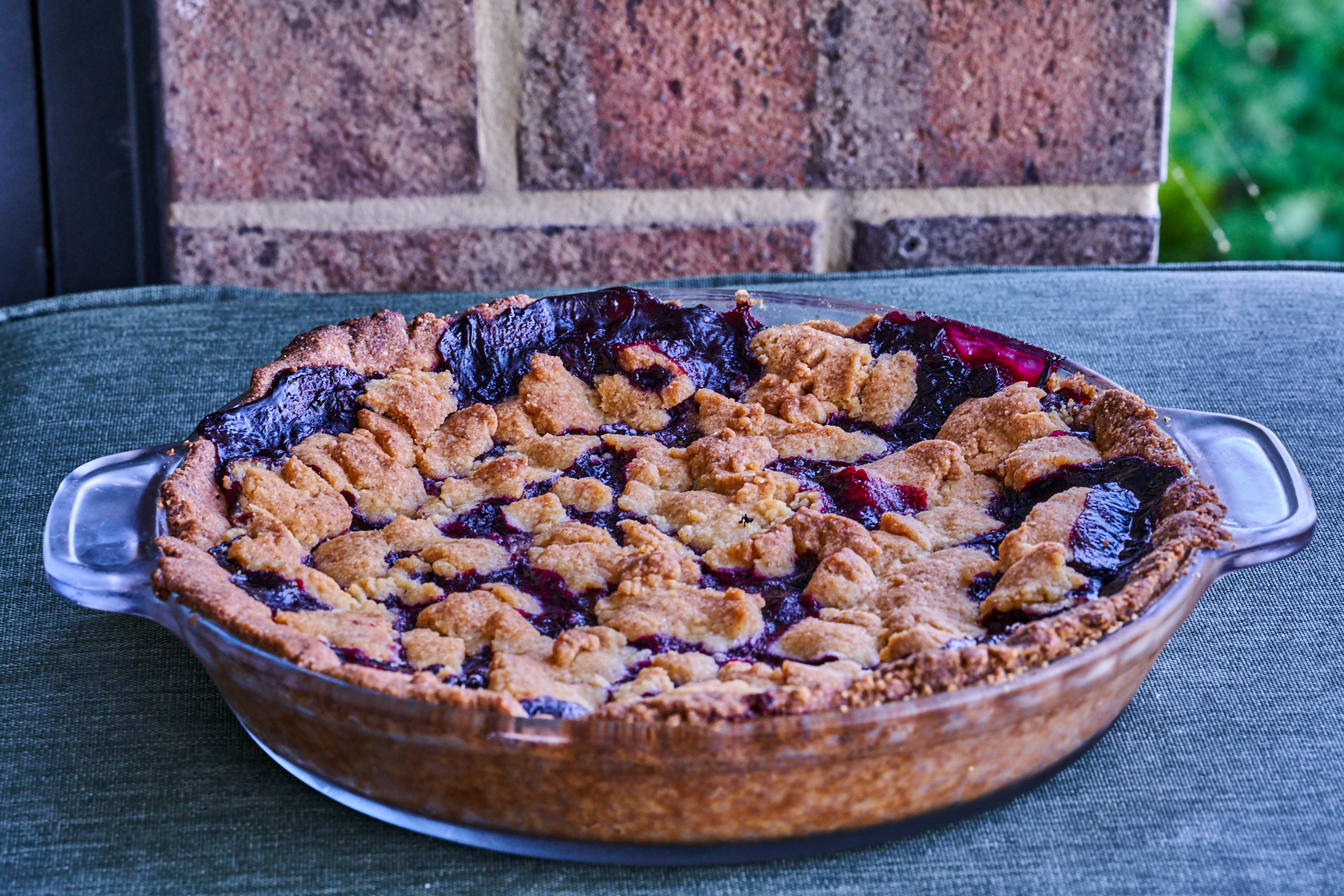 What happens when you have a pandemic and a bored stay-at-home political reporter with extra time on his hands? LA Blade staff writer Christopher Kane decided that he would pursue his second love and passion of cooking and now he's sharing the results in his weekly Sunday column.
WASHINGTON – At this point, maybe I should just cook and bake my way all the way through Alison Roman's cookbooks (I have both) and then move on to her recipes in "A Newsletter," Bon Appetit, and The New York Times. She's a virtuoso. She never misses.
As Roman says in her video for this recipe, it's an amalgamation of the best parts of a pie, a tart, and a galette: Easy to slice into, jammy but not soggy, and with a perfect crust: filling ratio. This is a real winner.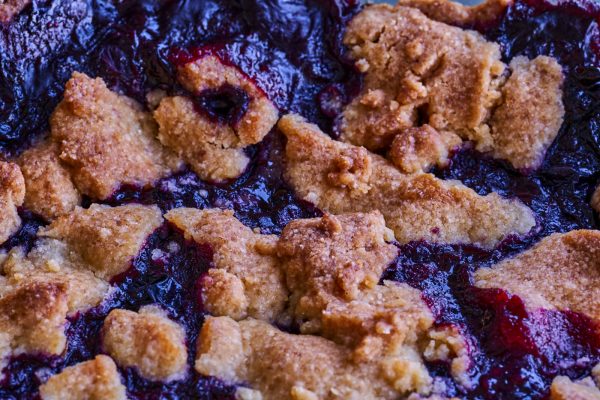 Like Roman's lemon turmeric tea cake, which you may recall I made in a previous column, the blueberry cornmeal tart is easy and travels well. Added bonuses.
Combine one pound fresh blueberries, ½ cup light brown sugar, two tablespoons apple cider vinegar or fresh lemon juice, two tablespoons all-purpose flour, and a pinch of salt
Preheat oven to 350°. In a medium-large bowl, whisk together 1.5 cups all-purpose flour, 1/3 cup cornmeal, 1/3 cup confectioner's sugar, ¼ cup light brown sugar, one teaspoon baking powder, and one teaspoon salt
To the bowl, add 1 + ½ sticks melted unsalted butter and combine until no dry spots remain
Putting aside ¼ of the dough, press the remaining cornmeal mixture into the bottom and up the sides of a greased 9" pie plate, cake pan, springform pan, tart pan…I don't even think it has to be round. I told you this recipe is versatile (unlike the author of this column)
Add your blueberry mixture to the baking vessel and crumble the reserved cornmeal dough over top, flattening pieces between your hands to increase its surface area
Bake for 50 minutes, allow to cool completely, and enjoy with vanilla ice cream
California landlords raise rents starting today by as much as 10 percent
AB-1482 rent control law caps the maximum allowable annual rent increase. However in some jurisdictions like Los Angeles rent hikes are frozen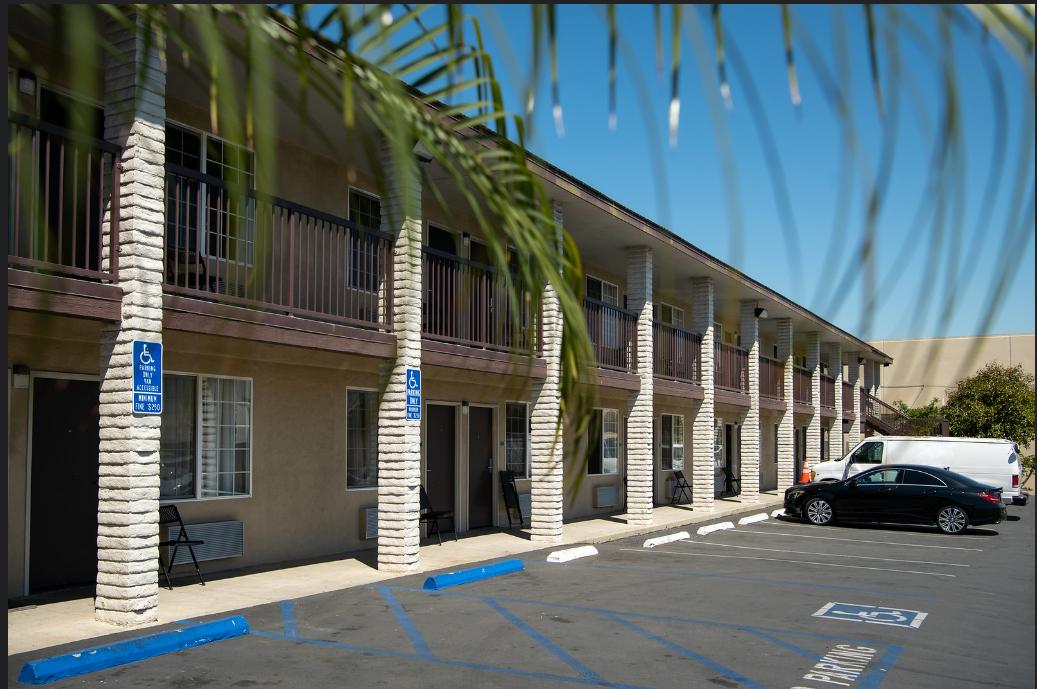 LONG BEACH – Today is the day across the state of California that landlords are able to increase rental rates by as much as ten percent. However in some jurisdictions like the City of Los Angeles rental hikes are frozen.
While the Ten percent rent increase is the maximum allowable annual increase for apartment complexes built before 2007 but there are several stipulations that could keep landlords from increasing rent by that much, if at all. For instance, the 10% increase only applies to units that are not subject to local rent control rules.
In Los Angeles, apartments built before October of 1978, which represent the majority of the city's rental units, fall under rent control rules which allow for much smaller increases, according to the Los Angeles Times.
And at least for now, due to coronavirus pandemic regulations, those landlords can't increase rent at all.
Juan Huizar, a Long Beach real estate broker and the President of the Sage Real Estate company told the Blade Monday that his firm receives a considerable number of inquiries from current renters, prospective tenants, and even landlords regarding the annual increase and the accompanying regulatory oversight.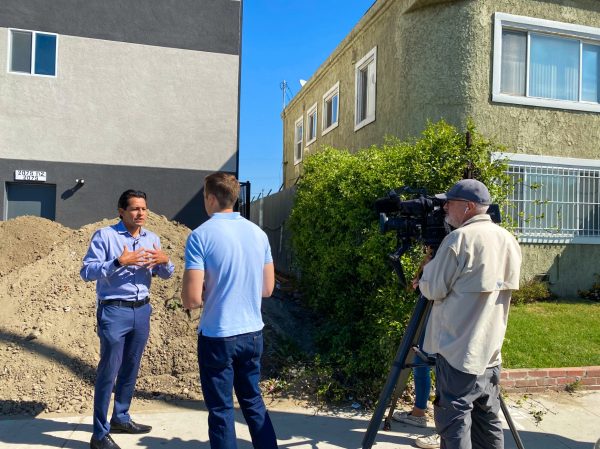 For the second year in a row Huizar's company website has published a guide to answering questions about rent increases especially in today's inflationary economy:
According to the Tenant Protection Act of 2019, also known as AB 1482, landlords are allowed annual rent increases of 5% plus the percentage change in the cost of living (Consumer Price Index) per year, up to 10%.
Technically, there is no minimum amount landlords can raise the rent. Landlords are not legally required to raise the rent every year so a landlord in California may raise the rent by 0% or as low as 0.1%.
However, there are exemptions to this rent control law. Certain properties are exempt from AB 1482, and landlords have the right to raise the rent however much they please.
Which properties are exempt from rent control?
These properties are exempt from the Tenant Protection Act of 2019:
Single-family homes and condominiums as long as they are NOT owned by a corporation, a REIT (real estate investment trust), or an LLC where one member is a corporation.
Any duplex where the owner lives in the other unit
Mobile homes
School and college dormitories
Hotels
Commercial properties (retail stores, restaurants, etc.)
Buildings built within the last 15 years (including accessory dwelling units)
Rental properties provided by non-profit organizations
Rental properties subject to pre-existing local ordinances
If a rental property falls under any of these situations, the landlord must provide a notice of exemption from AB 1482 to their tenants. Landlords with properties that are not subject to rent control laws can increase their rents as much as necessary.
However, we still urge both landlords and tenants to double-check with their local city laws as some cities, which have had rent control laws in place before AB 1482, have special restrictions.
What is the maximum a landlord in California can raise the rent?
The answer to this question is sort of complicated because it depends on the city and county you're located in. As stated in AB1482, every rental property in California (that is not exempt from rent control) can have an annual rent increase of 5% plus the percentage change in the cost of living (Consumer Price Index) per year.
The CPI is a measure, published by the US Bureau of Labor Statistics, of the average change over time in the prices paid by urban consumers for a market basket of consumer goods and services, which is basically a measure of inflation in the economy.
The lawmakers of AB 1482 decided that the CPI percentage change should be based from April 1st of the prior year to April 1st of the current year for the region where the property is located.
What this means is that:
there are different CPI indexes available for different cities and regions in the United States,
and in order to calculate the maximum amount landlords can increase rent in your area (5% plus CPI),
you must use the April CPI for your metropolitan region in California.
If you want to learn how to calculate your region's CPI, you can read our detailed step-by-step guide here.
According to the Bureau of Labor Statistics in 2022, the nationwide CPI went up to 8.5% in March and 8.3% in April. Here are the CPI numbers for California and its four major areas:
For the Los Angeles-Long Beach-Anaheim Area, the April 2022 CPI is 7.9%. This area includes Los Angeles County and Orange County.
For the San Francisco-Oakland-Hayward Area, the 2022 CPI is 5.0%. This area includes Alameda County, Contra Costa County, Marin County, San Francisco County, and San Mateo County.
For the Riverside-San Bernardino-Ontario Area, the CPI rose to 10% in March 2022. This area includes Riverside County and San Bernardino County.
For the San Diego-Carlsbad Area, the CPI rose to 7.9% in March 2022. This area includes all of San Diego County.
For any county or city that isn't included in the four main areas, you'll need to use the California State CPI which rose up to 7.4% in 2022 according to the California Department of Industrial Relations.
When you add your region's CPI to the minimum allowable rent increase of 5% using 2022 CPI numbers, you may end up with a two-digit number. For example, if you live in Long Beach, which is Los Angeles County, you may have a number of 12.9%. However, that is not the maximum a landlord can raise the rent in Long Beach.
That's because California's AB-1482 rent control law caps the maximum allowable annual rent increase to only 10%. So in most cities and situations, California landlords who are not exempt from rent control can only raise the rent by a minimum of 5% and a maximum of 10% starting August 1, 2022 until July 31, 2023.
Before August 1, 2022, landlords must use the rental increase limits using the CPI numbers from April 2021, which we've provided in the image below.
Please also be aware that there may be rent freezes due to COVID-19 in your city. For example, there is currently a rent freeze in effect for the city of Los Angeles (not Los Angeles County) until May 2023.
Important Note: This calculation of (5% + April CPI) applies to most situations. However certain cities in California, which have had rent control in place before 2020, may have slightly different rent control laws. So we're also going to show you a step-by-step process on how to figure out the rent control laws in your city or county.
How to Figure Out the Specific Rent Control Laws in Your City or County
The statewide rent control law AB-1482 is really the least strict law that covers the entire state and is the minimum standard. However, many cities and counties within California have already had long-existing rent control ordinances that may be stricter than the state rent control law. There are also many California cities and counties that have decided that the state law isn't strict enough. Therefore your city or county may be one of these areas in California with stricter rent control ordinances that overpower the state's own rent control law.
Because of this, it is very important for you to know the specific rent control laws in your city or county. Whether you're a landlord or tenant, knowing the specific rent control laws will help you learn whether they apply to you or not, and can help you avoid legal troubles.
Here's the 5-Step-Process:
Check to see if your county or city has an active rent freeze due to COVID-19.
Check whether your county or city has extra rent control ordinances. Here's a helpful article that covers all California cities with extra ordinances.
Read the ordinance summary carefully so you're aware of the legalities.
Determine the CPI for your region. Read this article on how to find the CPI for your area.
Contact your city or county's housing department to confirm your information. This chart contains contact information that you'll need.
What other resources could I use to determine how much landlords can legally raise the rent in California?
The next best resource for tenants or landlords curious about rent increase limits would be local apartment associations. Below is a list of some major apartment associations in California that you can reach out to: