When giving, more than just the thought counts
This holiday season, support small LGBT-allied businesses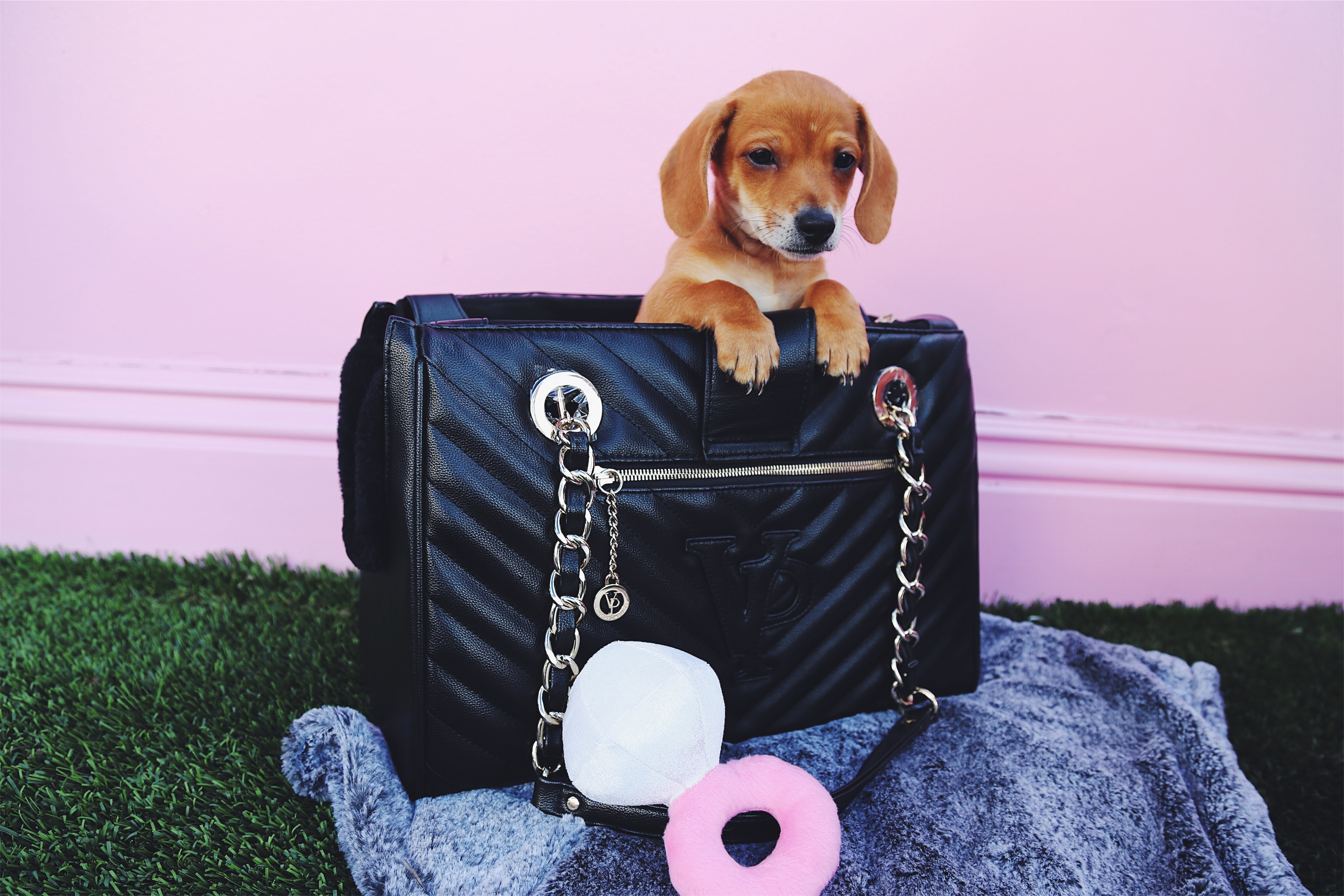 In part one of the Los Angeles Blade's Shopping Favorites, we focus on a mix of our favorite LGBT-owned or friendly merchants (both online and storefront), from  charitable chic to the purely indulgent.
We encourage you to give without expecting to receive.  And we also encourage you to donate money to the Los Angeles LGBT Center's Homeless LGBT Youth Program at Highland.
Vanderpump Dogs
The gift that also gives back — Vanderpump Dogs is a chic dog rescue concept dedicated to creating a more humane world for dogs, while keeping them and their companions looking stylishly fabulous.
This glamorous storefront dog rescue and pet boutique is owned by Lisa Vanderpump, the British restaurateur, author, actress, and television personality
Best known for her role on the reality TV show, "Real Housewives of Beverly Hills."
Offering grooming services and a gorgeous selection of niche brands, the brick and mortar was inspired by Gigi the Pom, Lisa Vanderpump's own precious pup. Go in and #shopwithapurpose at LA's most fabulous rescue center.
Troy Masters, Los Angeles Blade publisher and former West Hollywood Mayor Lauren Meister are big fans and both get their dogs groomed there.  "Vanderpump transformed our 15-year-old Lilly back into a puppy again," said Masters.
If you visit, be prepared to fall in love with the dog of your dreams.
"What we're trying to do is create more humane treatment for dogs worldwide," Lisa Vanderpump told the Los Angeles Blade.
The store is located at 8134 W. 3rd St., Los Angeles. You can call 323-852-DOGS or visit vanderpumpdogs.com to make an appointment for your pooch's grooming.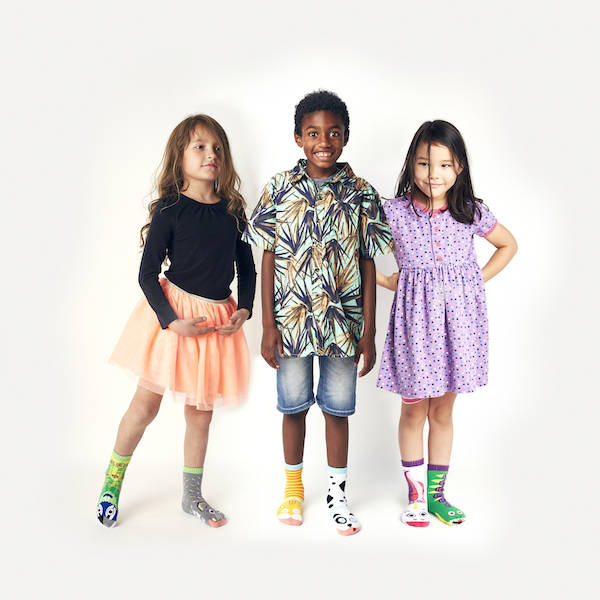 Pals Socks
Pals Socks is a company dedicated to "defeeting" bullies one foot at a time. Using mismatched socks to showcase how difference is cool, the line was created by a young L of LGBTQ living in Philly.
"I wouldn't say that me being attracted to ladies made me launch this brand in particular. I just am a very empathetic person, and was also a kid who was 'different,'" Lavon says.
"When I was younger I sometimes stuttered… I was weird, apparently. I want more kids to grow up being comfortable with people not exactly like them…I don't like seeing all this hate, bigotry, fear of people not exactly like them. I'm just trying to put more positivity into this world and create something that can create positive social change, not just a simple novelty," Lavon adds.
Pals encourage playful dialogue between two different friends — you don't need to match to be best Pals. Our hashtag is #defeetthenorm
You can find Pal Socks in L.A. at stores such as: Books and Cookies, the Library Store, Dustmuffin, and Ron Robinson. Or just visit palssocks.com
Nik Kacy Footwear
NiK Kacy Footwear is a brand inspired by the fashion needs of both its founder and the larger LGBTQ community.
NiK Kacy says they designed the first collection to provide a solution to address the divide between shoe designs and the gender binary. Being unable to find shoes that fit their gender expression and their feet.
"I still feel the discomfort and embarrassment of being mis-gendered on a daily basis. Most people I come into contact with mis-gender me. I try to take the time to educate them about what non-binary means and how making assumptions about one's gender is so archaic (not to mention politically incorrect and offensive)," Kacy says.
Their desire for gender equality extends beyond gender and features styles ranging from masculine, feminine, gender-neutral, to high-heels in a gender-equal size range from 34-47 (US women's 3.5 to men's 14). Subsequent releases include a unisex utility holster that is completely adjustable to fit all body spectrums.
Kacy's hope for the holidays, under the current administration, is that they're able to find a little piece of their souls and stop taking away the rights of so many deserving Americans.
"I'd like them to reverse most of the horrific decisions/changes they have made in the past 12 months… my Christmas wish this year, is to remove everyone in the administration related to or working for Trump and Pence and bring back BO [Barack Obama] and JB [Joe Biden]. I can wish for a miracle, can't I," Kacy says.
NiK Kacy is a Certified LGBT Business Enterprise. Visit the store online at nikkacy.com.
RounderBum
RounderBum is hoping to change the world one pair of men´s undergarments at a time.
With a growing trend of men who take care of their appearance, RounderBum created a men's line for those who want to look more attractive and athletic.
In comes RounderBum, offering men's shapewear. From a patented designed padding to seamless and fusing manufacturing, the company looks to help every man feel more confident, and look more, ahem, masculine.
RounderBum's signature padded technology uses hidden padding made of flexible polyurethane that conforms to every body shape, with hidden bands that lift and define the muscles with a subtle and discreet effect.
As retailer Andrew Christian, the famous men's undergarment store, closes shop with plans to relocate to Downtown LA in January, the men of WeHo can rest assured that RounderBum is anxious to help showcase the goods.
No date has been set for the grand opening of the new flagship store at the northeast corner of San Vicente and Santa Monica Boulevard, located where American Apparel once ruled.
In the meantime, Larry Block's Block Party is happy to be of service; Block Party carries some choice RounderBum gear.
RounderBum will be located at 802 North San Vicente Blvd., West Hollywood, and you can visit them online at rounderbum.com.
Barber Surgeons Guild
File this one away under the purely indulgent, but irresistible category.
Barber Surgeons Guild provides high-quality grooming products and services, combining grooming with advanced medical procedures, backed by Dr. Justin Rome, a plastic surgeon who runs and oversees the store.
BSG originates from the history of barber surgeons who were the medical and grooming experts throughout the Middle Ages.
BSG products are formulated by master barbers and an expert medical team; offering shampoos, conditioners, pomades, texture liniment and hair serums, each product is scientifically structured with an active ingredient to ensure hair is healthy, thick, stylish and strong.
In addition to the traditional barbershop experience, BSG also offers advanced hair therapies including hair regeneration.  It's artisanal grooming and a whole lot more.
Barber Surgeons Guild is located at 805 Larrabee St., West Hollywood. You can make an appointment by calling 310-975-7094. Or visit barbersurgeonsguild.com for more information.
Business slowly resumes in West Hollywood
Halting steps toward new normal amid pandemic and protest panic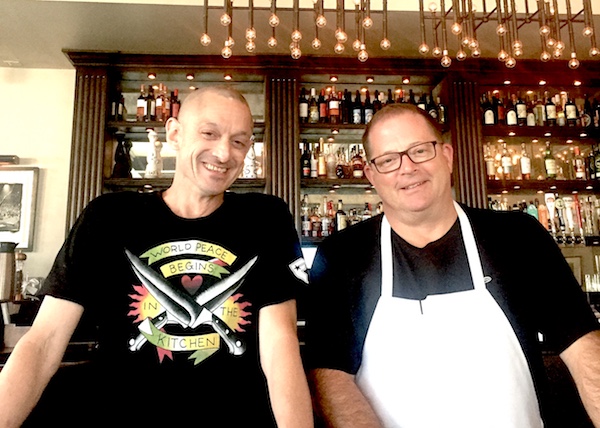 After a nearly 3 month pause, Los Angeles allows businesses to reopen and owners are hopeful crowds will return. (Photo provided by City of West Hollywood)
Feeling the pressure of an ailing economy, West Hollywood businesses are anxious to finally re-open, after several weeks of closures. Amid new safety rules, the long term effects of the Covid-19 pandemic and recent civil unrest have resulted in a mix of fear and uncertainty within the community,
"I am excited for our businesses but worried for them as well," acknowledged Genevieve Morrill, president and CEO of the West Hollywood Chamber of Commerce. "While it almost feels impossible to move forward without fear of the pandemic or fear of looters, many are."
Morrill is concerned that Weho establishments are able to manage all the necessary protocol to keep employees and the public safe, and at the same time, break even and not take more losses.
"Nevertheless, I am happy that many companies can begin to generate revenue.
They were shut down for months, only to reopen one day and close again due to threats of vandalism," she noted.
"The marches and protests are needed and our business are supportive of the Black Lives Matter movement and want to be involved. But they are also stretched to the max – they need immediate relief."
Morrill is hopeful about more jobs coming to the area.
"Some businesses have received PPP loans allowing them to rehire. With the recent amendment to the PPP loan policy, this has been a much needed adjustment to allow rehiring to happen," she claimed.
Weho Bars, Restaurants, Jobs
West Hollywood restaurants and bars are opening with cautious optimism, warns hospitality recruiter Wendy Tuttle.
"They will be assessing the demand and hiring/bringing back staff appropriately. Most are chomping at the bit to get back to work. There are others that may have underlying health issues or live with family members that might be hesitant to return out of fear of contracting Covid-19."
Tuttle's clients are "anxiously waiting" receiving those calls to come back to work.
"My people want to hear 'we're open. We have all the plans in place to keep you and guests safe.' so that they can get back to work, doing what they love—creating great food, while offering an amazing experience with friends, family and community."
Restaurants like Conservatory are looking at fully opening their venues, with a full food and beverage menu, servers, a host/hostess.
"Conservatory is excited about opening up to the community again, and are taking every measure to ensure safety for our employees and guests," said owner Paul Kalt.
Kait feels "lucky" that the restaurant's street-side cafe with a pick up window has been open.
"That has allowed guests to enjoy keeping their daily routines for coffee, cocktails and food, take out and delivery. While we have very much missed our full restaurant capabilities, we have been able to maintain continued service and as much of a sense of normalcy as possible, during these unprecedented times."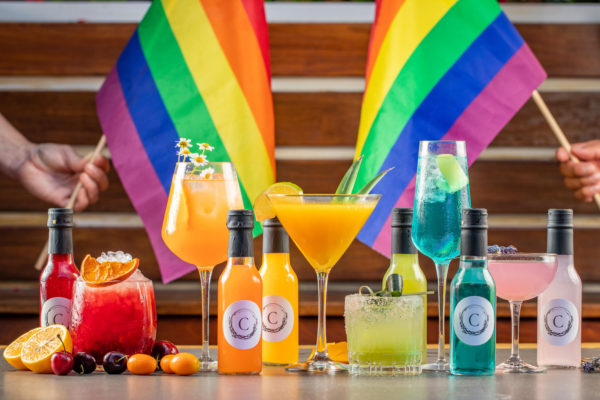 For Pride Month, Conservatory have created specialty cocktails for the month of June. For their For The Love Wins package—all six cocktails offered in a package for $70– a percentage of proceeds will be donated to the Human Rights Campaign.
George Figares, general manager at Fiesta Cantina Weho is equally thrilled to be back. 'WeHo has been dark for too long and we are happy to bring back Fiesta to WeHo!" They offer a 4-8 PM happy hour everyday.
Making sure guests feel comfortable is Figares' number one priority.
"First and foremost, public safety is our top priority. Keeping everyone safe throughout our reopening is essential. We want everyone to come out and enjoy the community, but in a way that does not encourage the spread of the pandemic."
He continued: "We are hopeful that with following the strict guidelines set by the State and County Health departments that we will be able to operate in a way that is safe for our employees and guests."
Many bars in West Hollywood have found a way to open, serving food and observing social distancing rules. Rocco's, The Abbey, Beaches, Fiesta Cantina and others have reopened with social distancing rules in place and food as the centerpiece.
David Cooley recently told the Los Angeles Blade, "We scan everyone's temperature, require masks and have social distance table rules in place," he said.
On a recent mid-day walk through WeHo, every bar we visited was strictly imposing the new rules, too. But the crowds are huge. At least one such business has been cited for being over-capacity since implementation of the new reduced census rules.
Weho Stores
"RJ Holguin, director of marketing and outreach at My 12 Step Store, has mixed feelings about Weho businesses reopening.
"I'm in favor but I think it's best to move forward with great caution. People are so anxious to be out that they are willing to take a risk," Holguin said.
The store has remained open online and that has been Holguin's saving grace.
"We are now open for instore purchase with all the guidelines, but still recommend people to order online and pick up or use our curbside service. It's very challenging to maintain in store shopping with the regulations and operate with less employees."
Last summer, the store was expanded, to offer a better shopping experience.
"In order to meet our expectations, we needed to increase our in store sales by 30% which we started to, during the holiday season. But by the end of March, we were losing 100% of our in store sales due to the shutdown, which has been a huge financial hit," said Holguin.
While it has been "a year of lemons," Holguin has constantly found ways to make a joyful lemonade.
"We have provided a weekly post to our blog on the emotional effects on 12-step recovery, and offered free meeting chips to newcomers in the area. Our Facebook page has constant updates on our outreach program," he said proudly.
During the Black Lives Matters protests, Holguin and his team painted support graffiti on their store. Protesters stopped to take pictures and offered words of support.
West Hollywood dogs haven't yet gotten the green light to be able to play together but grooming services are available in day cares like Dog-E-Den.
"We miss our staff, our customers and the dogs who we have come to know and love to care for," said owner Gene Barash.
The pandemic made it impossible to operate for about two months and Barash had to fully close the store. "We began reopening with reduced days/hours, but then the protests required us to close down for a few days. Thankfully, they have been very peaceful after the first few days, so we reopened again yesterday. We have a pretty high level of confidence that the protests won't have a disruptive impact on our business."
Over the past 3 months, Barash has received a lot of calls and emails from customers letting them know that they are looking forward to the daycare reopening and can't wait to be able to bring their dogs in again.
"We are really appreciative of their support and encouragement and consider ourselves lucky to have such positivity coming from our community, especially in these incredibly challenging times."
Gyms have not yet been able to open, but Brendon Ayanbadejo, President of Fitness at West Coast Fitness, the franchisee of Orangetheory Fitness, has been hard at work getting his studios ready.
"We can't wait to open our Weho studio and the rest of our locations across California. The health and safety of our team and members is always our number one priority. We also know that health, fitness, physical activity and community are vital for a healthy immune system and mental health. So we feel excited and ready to get people back doing what they love once we get the green light."
The state of CA announced last week guidelines of a state re-opening date of 6/12 for gyms and fitness studios.
"However, the county decides when we will be allowed to open, based on their assessment of health, risk, etc." he explained. "We are digesting the state guidelines and waiting to hear from county health and govt representatives on specific dates when we will be allowed to open each studio."
Economically having their business closed has of course been a challenge, stated . Ayanbadejo. "But, we are in the same boat as so many others. Beyond any economic impact the pandemic and especially here in our home of Los Angeles the protests in support of Black Lives Matter have elevated our community and opened our collective eyes to the role and responsibility we need to play.
Pride rides
Two models offer strong, confident, inspiring styling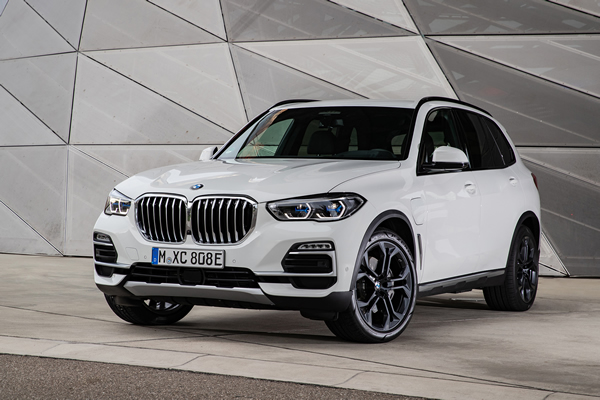 By JOE PHILLIPS
As usual, June is bustin' out all over, with Vice President Kamala Harris making history by joining in the festivities. But the fun doesn't have to end there. Two fine crossover SUVs show how easy it is to keep the party going indefinitely. I call them Pride rides—strong, confident and inspiring. 
BMW X5 XDRIVE 45E
$66,000
Mpg: 20 mpg (gas only), 50 mpg (electric and gas)
0 to 60 mph: 4.7 seconds
In 2015, back when Gus Kenworthy and Caitlin Jenner came charging out of the closet, BMW was making its own hoopla with the X5 xDrive 40e. This was the automaker's first plug-in hybrid, an engineering marvel that could shift seamlessly between EV and gas-engine mode. Ride and handling were as good as any traditional SUV. And despite a hefty curb weight, acceleration to 60 mph was a decent 6.2 seconds.
Fast forward to the X5 xDrive 45e, the next-gen model rolling into showrooms this year. Thanks to the pandemic, this debut has been more subtle. But the enhancements are quite substantial. The new engine—stronger and quieter than the previous model—helps this midsize SUV blast to 60 mph in just 4.7 seconds. Despite being over 400 pounds heavier, the updated X5 is actually nimbler. And the electric-only range is 31 miles, or twice as far as the old model. That's a good thing, because overall fuel economy is now 20 mpg versus 24 mpg. Luckily, most motorists drive only about 30 miles each day anyway. (Or at least they did prior to the pandemic.)
Inside, the cockpit design is minimalist chic, but with lots of standard features: faux-leather seats, panoramic roof, two 12.3-inch digital screens, and smartphone integration for both Android Auto and Apple CarPlay. All-wheel drive also is standard, even in electric-only mode. Along with all the latest safety gear, there's active cruise control with a stop-and-go function that can be used at speeds up to 130 mph (yo, for autobahn drivers, not those of us stateside). And during a much-needed weekend getaway with some freeway backups, the traffic-jam-assist feature worked its magic: I was able take my hands off the wheel and relieve a lot of driver fatigue and frustration as the vehicle drove itself. This also was a blessing for my partner, who didn't have to listen to me swear like a New York City taxi driver.
MERCEDES GLS 450
$76,000
Mpg: 20 city/24 highway
0 to 60 mph: 5.8 seconds
For a few more bells and whistles, there's the Mercedes GLS 450. This full-size SUV has acres of cargo room and can easily seat seven passengers. For a sportier vibe, you can swap out the second-row bench seat for two captain's chairs.
A robust six-cylinder engine comes standard and provides plenty of punch. The entry-level GLS handles just as effortlessly as the higher-end V8 model, which adds another $23,000 to the price tag. Both vehicles are smooth operators, with all-wheel drive and a sophisticated suspension that raises and lowers the chassis. There's even a clever pothole-sensing system to neutralize nasty bumps and enhance the feeling that this hulking SUV is floating on air. As with many BMWs and Mercedes, the GLS now comes with two huge 12.3-inch screens: one for the digital gauges and the other for the infotainment system.
Various pricey options abound, including five-zone climate control, a tablet to operate the infotainment system, and front and rear massaging seats that can be programmed to apply soothing relief to your back, tush or both. As if such amenities weren't enough, you can toss in heated and cooled cupholders, as well as a cabin fragrance system with choice of four aromas. Both Mercedes and BMW offer vibrant ambient lighting, with thin strips of interior lights illuminating the foot wells, door panels, dashboard trim, climate control vents, cupholders, speaker rims, center console and more. To tap into your inner rainbow, the GLS has a digital color wheel where you can choose from 64 lustrous hues. You can customize the lighting even further, selecting different colors to illuminate various parts of the interior at the same time. For me, calling up some funky mood lighting and a few rockin' Pride songs on the stereo is the perfect way to get the party started.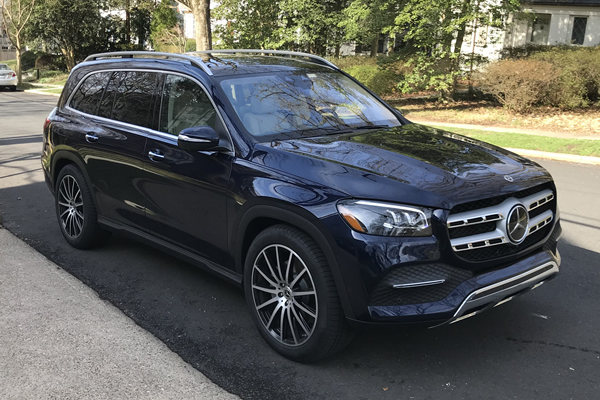 Latino Equality Alliance 2021 LGBTQ Youth College Scholarship Awards
This year's awards were made possible by the fundraising efforts and donations by the Latinx LGBTQ community in Los Angeles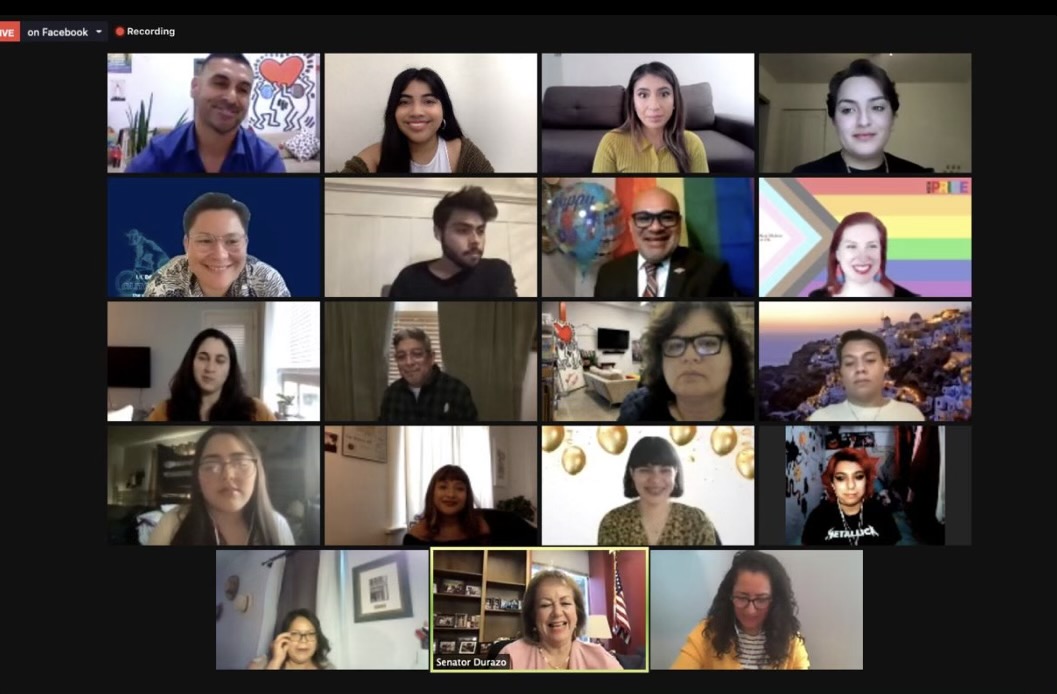 LOS ANGELES – Through a virtual awards ceremony, the Latino Equality Alliance (LEA) recently announced the recipients of the 2021 LGBTQ Youth College Scholarship Awards. This year, 13 LGBTQ-identified students were awarded scholarships ranging from $1,000 to $5,000.
In total, $33,000 was awarded through the scholarship fund and in partnership with Southern California Gas Company and Keck Medicine of USC.
The virtual ceremony was attended by scholarship recipients and their family members along with scholarship committee members, staff, and board members of the Latino Equality Alliance. During the presentation, California State Senator Maria Elena Durazo of the 24th District gave special remarks to the scholars in attendance. "I applaud the Latino Equality Alliance for supporting and uplifting LGBTQ+ youth. Through these scholarships, our youth will thrive. They will lead our Movement for Justice. They are our future teachers, scientists, firefighters, and Senators!," stated Senator Durazo.
This year's scholarship awards recipients are Jazmin Hernandez Perez (UC Berkeley), Brandon Ramirez (Santa Monica College), Evelyn Avalos (UCLA), Kevin Palomo (CalPoly Pomona), Mel Avina-Beltran (UC Davis), Fatima Mendoza Choto (UC Irvine),Alejandra Chavez (UCLA), Katherin Velazquez (UC Berkeley), Asher Madariaga Rivera(LA Trade Tech), Alejandra Aguilar (Pierce College), Luka/Isa Gidwani (UCLA), GeorgeDel Real (UC Berkeley) and Blake Trejo (UC Berkeley).

The Latino Equality Alliance scholarship fund was established in 2018 to support the
higher education pathway for queer students of color. LEA's work is rooted in organizing and developing young leaders in low-income and communities of color to empower them and their families to fight for the resources and policies that will promote a healthy school climate and their academic success.
A scholarship fund was needed to ensure low-income students have the needed resources to purchase essential school supplies, meals and pay rent.
"Achieving equity among the Latinx LGBTQ community is a key part of LEA's mission.
Our youth scholarship program helps advance equity in higher education by providing
low-income LGBTQ students access to funds that will lessen the burden of financing
their studies compared to higher-income students," stated Edith Moreno, an LEA board
member and chair of this year's scholarship committee.
This year's awards were made possible by the fundraising efforts and donations by
supporters and community leaders in the Latinx LGBTQ community.
Javier Angulo, a longtime supporter of LEA states, "I am proud to support LEA and its
scholarship fund to provide opportunities to Latinx LGBTQ youth to achieve their
academic dreams, and I challenge others who have been rewarded with success to
donate what they can to support the growth of this fund."
Angulo along with LEA supporter Alberto Mendoza helped raise $15,000 for this year's
awards. "Supporting our LGBTQ youth is essential, a lot of us couldn't be when we were
in school or felt isolated and alone. I'm glad things have gotten better overall, and I am
proud to be in a position where we can provide this financial support to these amazing
scholarship winners," said Mendoza.
Keck Medicine of USC has been a strong supporter of the scholarship program for the
past three years. "Keck Medicine of USC has been a proud sponsor of Latino Equality
Alliance since 2017," said Lindsey Lawrence, scholarship committee member and chair
of Keck Pride, the health system's LGBTQ+ committee. "We are honored to recognize
two students pursuing health care careers with the second annual Keck Medicine of
USC scholarship award."
The mission of Latino Equality Alliance (LEA) is to advocate for equity, safety, and
wellness for the Latinx Lesbian, Gay, Bisexual, Transgender, Queer + community.
LEA is located at Mi Centro LGBTQ Community Center in Boyle Heights.
For more information on the services and programs of Latino Equality Alliance and/or to donate:
Please visit www.latinoequalityalliance.org.