Pentagon to allow trans enlistments Jan. 1 after latest court order
Trump administration continues with plans to implement ban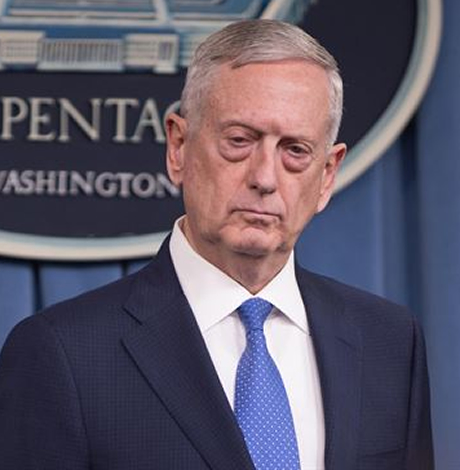 The Pentagon has affirmed it will allow transgender enlistments starting Jan. 1 on the same day a federal judge asserted her order against President Trump's ban on their service means they can accede into the military on that target date.
U.S. District Judge Colleen Kollar-Kotelly, a Clinton appointee, issued the order Monday in response to a request from the U.S. Justice Department for a temporary stay on the portion of her order requiring the Pentagon to admit transgender service members starting Jan. 1.
"For more than a year preceding the summer of 2017, it was the policy and intention of the military that transgender individuals would soon begin to accede," Kollar-Kotelly said. "Moreover, the court issued the preliminary injunction in this case approximately six weeks ago, and since then defendants have been on notice that they would be required to implement the previously established policy of beginning to accept transgender individuals on January 1, 2018. In other words, with only a brief hiatus, defendants have had the opportunity to prepare for the accession of transgender individuals into the military for nearly one and a half years."
Kollar-Kotelly also takes a jab at the Justice Department over the process in which it requested a stay, saying the "portrayal of their situation as an emergency is belied by their litigation tactics." She notes the appeal of her initial decision didn't come until weeks later and the request for a partial stay didn't come until December.
"If complying with the military's previously established January 1, 2018 deadline to begin accession was as unmanageable as defendants now suggest, one would have expected defendants to act with more alacrity," Kollar-Kotelly writes.
The judge had already clarified in response to a request from the U.S. government that her order against Trump's transgender military ban, issued in response to a lawsuit filed by GLBTQ Advocates & Defenders and the National Center for Lesbian Rights, means transgender enlistments must begin Jan. 1.
That was the target date Defense Secretary James Mattis established for transgender enlistment in a memo he issued in June delaying that change in policy for another six months in response to a joint request from military service chiefs. Transgender enlistments were initially scheduled to begin June 30 as a result of a change initiated in the Obama era under former Defense Secretary Ashton Carter.
Shannon Minter, legal director for the National Center for Lesbian Rights, said in a statement the Trump administration's assertion "our highly sophisticated military is unprepared to implement a minor policy change after more than a year of preparation are simply not credible."
"The military has studied this issue extensively and determined that permitting qualified transgender people to enlist and serve will only strengthen our nation's armed forces," Minter writes. "This administration's claim that allowing transgender people to enlist will lessen military preparedness is contradicted by the military's own conclusions."
The Justice Department has already appealed Kollar-Kotelly's decision against Trump's transgender ban as well as her clarification it means transgender enlistments must begin Jan. 1 to the U.S. Federal Circuit Court of Appeals in D.C. Meanwhile, the Justice Department has also appealed an order against the transgender ban issued by a federal judge in Maryland as a result of a separate lawsuit filed by the American Civil Liberties Union to the U.S. Third Circuit Court of Appeals.
Lauren Ehrsam, a Justice Department spokesperson, is quoted in the Washington Post as saying the department disagrees with the ruling and is "currently evaluating the next steps."
"Plaintiffs' lawsuit challenging military service requirements is premature for many reasons, including that the Defense Department is actively reviewing such service requirements, as the president ordered, and because none of the plaintiffs have established they they will be impacted by current policies on military service," Ehrsam reportedly added.
Prior to the ruling, as reported by the Associated Press, the Pentagon announced Monday it's preparing to admit transgender people into the armed forces starting Jan. 1 despite the Justice Department's continued efforts to fight the  court orders.
Maj. David Eastburn, a Pentagon spokesperson, told the Washington Blade the U.S. military "will begin processing transgender applicants for military service on January 1, 2018" as legal opportunities to challenging the court orders are evaluated.
Eastburn said the Pentagon will still disqualify potential recruits with "gender dysphoria, a history of medical treatments associated with gender transition and those who underwent reconstruction."
However, those recruits, Eastburn said, will be allowed into the military if a medical provider certifies they've been clinically stable in their gender identity for 18 months and "are free of significant distress or impairment in social, occupational or other important areas."
White House Press Secretary Sarah Huckabee Sanders, questioned on the Pentagon announcement by NBC News during the daily briefing, said the change reflects the requirements of court orders against Trump's transgender military ban.
"As of right now, they're simply complying with a court order and preparing to implement a previous policy to remain in compliance," Sanders said.
Sanders added, however, the Justice Department is "currently reviewing the legal options to ensure that the president's directive can be implemented," deferring additional questions to the department.
Matt Thorn, executive director of OutServe-SLDN, said his organization is "very pleased" the Pentagon is preparing to admit transgender enlistments on Jan. 1 as required by court order.
"The lawsuits filed by all organizations and the injunction by Judge Koller-Kotley should definitively be a sign to this administration that discrimination will not be tolerated in our armed forces," Thorn added. "The Pentagon never wanted this ban, it was moving ahead with this policy until Trump irrationally tweeted his bigotry about trans service members. We are eager to get back on track with the policy and with the Department of Defense complying with this court order we hope to do that."
Florida 'Don't Say Gay' law goes into effect, negative impact already felt
LGBTQ youth, already at higher risk of depression, anxiety, & suicide than their peers, report their mental health being negatively impacted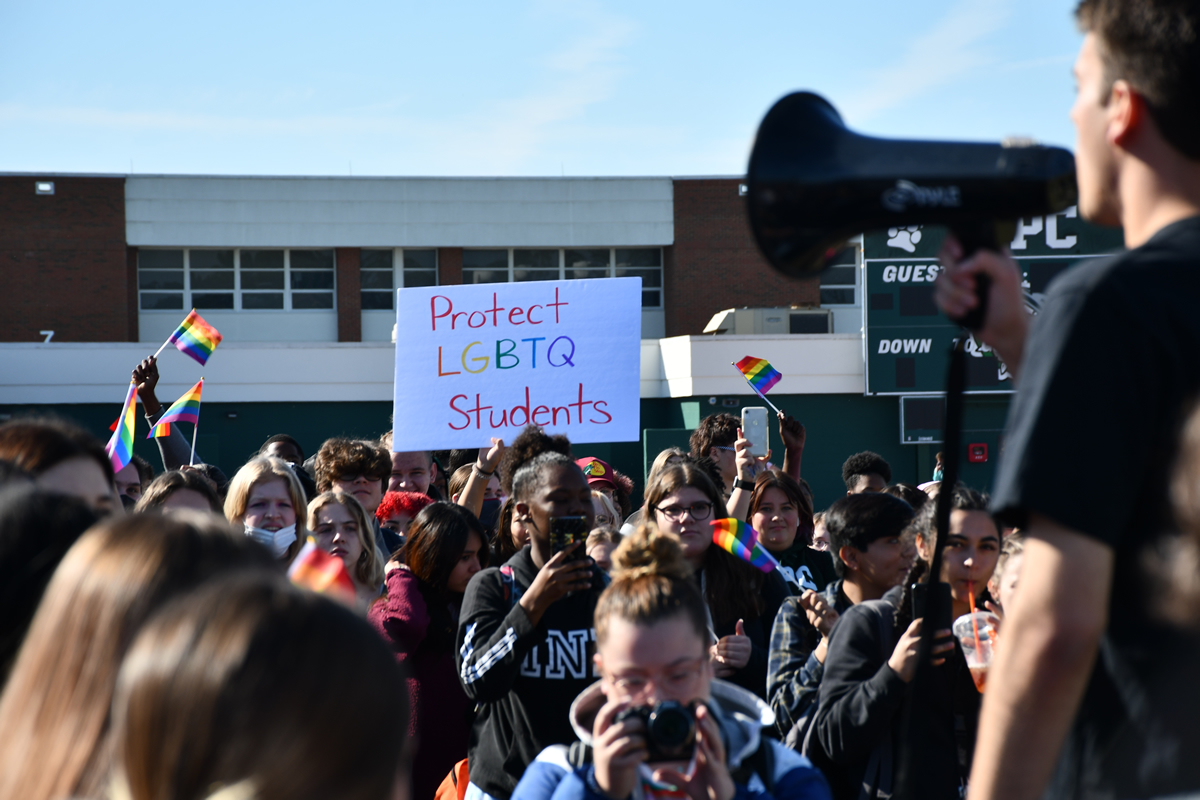 TALLAHASSEE – Florida's HB 1557, known as the Don't Say LGBTQ law, took effect today. The law, which bans classroom instruction on sexual orientation and gender identity in grades K-3 and restricts that instruction in grades 4-12, will immediately begin impacting efforts to make Florida classrooms more inclusive.
But its impacts have already been felt for months. Educators and school staff have shared the chilling effects they are experiencing across the state. Books with LGBTQ characters are being pulled from shelves. Rainbow "safe space" stickers are being peeled from classroom windows. LGBTQ educators are being asked to avoid speaking about their families. As the law officially goes into effect, these impacts will escalate. 
In the same district, teachers in queer relationships are being advised to remove any family portraits. Staff can't even wear rainbow clothing.

We always knew what this was about, silencing LGBTQ+ people.

— Jack Petocz (@Jack_Petocz) June 28, 2022
"Since the inception of this hateful policy, lawmakers have assured the public that it would not lead to censorship or erasure of LGBTQ people," said Joe Saunders, Equality Florida Senior Political Director. "But our community has always known the truth. The Don't Say LGBTQ law has always been fueled by anti-LGBTQ animus and designed to further stigmatize the LGBTQ community, ban books about us, erase us from classrooms, and force us back into the closet. It is a bigoted and dangerous law that is making Florida less safe for students and families, and we will work tirelessly to see it repealed."
Throughout the legislative process, lawmakers scoffed at the suggestion that HB 1557 would have negative impacts on the LGBTQ community, even as they refused to clarify its dangerously vague language and prevent the eventual law from doing harm.
A bipartisan contingent of lawmakers offered up dozens of amendments to the bill, attempting to narrow its overly-broad scope and clarify the most vague components. These amendments came after assertions from their colleagues that the bill's intent was narrow. However, those reasonable amendments were rejected by bill sponsors Representative Joe Harding, Senator Dennis Baxley, and their allies, leaving its language broad and discriminatory.
As a result, the chilling effects were swift and sweeping. Across the state, censorship of LGBTQ lives began in earnest and has continued until today. In Palm Beach County, School Superintendent Mike Burke began by circumventing the district's material review process to remove multiple books featuring LGBTQ characters, citing concern about the implications of the Don't Say LGBTQ law. He followed the move in recent weeks by issuing guidance to educators across the district for them to remove books currently being challenged and place them "in a classroom closet" and scour their shelves for other titles that may include LGBTQ characters or mention topics like racism or oppression.
Growing up, I spent countless nights trying to change who I am. Praying to God I could wake up different, what I had preconceived as "normal."

Today, "Don't Say Gay" goes into effect, but I'll keep proudly expressing my identity, so no child feels lesser than or not worthy. ❤️ pic.twitter.com/3LzAIAjg1i

— Jack Petocz (@Jack_Petocz) July 1, 2022
Districts statewide have taken drastic steps in response to the Don't Say Gay law. Graduation speeches have been scrubbed of references to LGBTQ advocacy. Yearbook pages have had images of Don't Say LGBTQ walkouts blacked out. Conservative religious activists have successfully initiated challenges to dozens of books in multiple school districts. Rainbow-colored COEXIST banners and Pride flags have been stripped from school walls.
In total, LGBTQ+ equality rights advocacy group Equality Florida has received over 50 complaints of censorship aimed at the LGBTQ community since the bill was signed into law in March.
I wrote an OP ED for @nytopinion about my experience growing up gay and non-binary and how the #DontSayGay bill would effect people like me. https://t.co/UPjmtExjnu

— Will Larkins☮️ (@ProudTwinkie) March 12, 2022
Most recently, Orange County Public Schools garnered national attention after reports emerged that during seminars designed to discuss the potential implementation of the Don't Say LGBTQ law, school administrators were advised to begin removing rainbow "safe space" stickers from classroom windows, ask LGBTQ educators to remove family photos from their desks, and avoid talking about their loved ones at work for fear of running afoul of the new law. While exactly what advocates for equality had warned of, the revelation shocked educators across the district, who took to the next board meeting to express their deep concerns and demand written clarification.
All of these chilling effects come as LGBTQ youth, those already at higher risk of depression, anxiety, and suicidal ideation than their peers, report their mental health being negatively impacted by anti-LGBTQ policies and the debates that surround them. And they come amidst a surge in online harassment against LGBTQ people nationwide and threats of violence against LGBTQ spaces and Pride celebrations fueled by the dehumanizing anti-LGBTQ+ rhetoric launched by the DeSantis Administration in defense of the Don't Say LGBTQ bill.
In March, the governor's spokeswoman Christina Pushaw took to Twitter to traffic in age-old, anti-LGBTQ tropes to rescue the mired legislation, tropes that have since been parroted by Fox News hosts, right-wing influencers, and have exploded into the digital harassment and threats of violence running rampant across the country.
Equality Florida hosted a virtual press conference with lawmakers and those directly impacted on Friday morning. Those who have been impacted by the Don't Say LGBTQ law can share their stories at freetosaygay.org.
South Bend Indiana Rainbow Story Hour disrupted by Proud Boys
Seven men — all Proud Boys — entered the library and began arguing with staff and patrons. Several displayed white supremacist symbols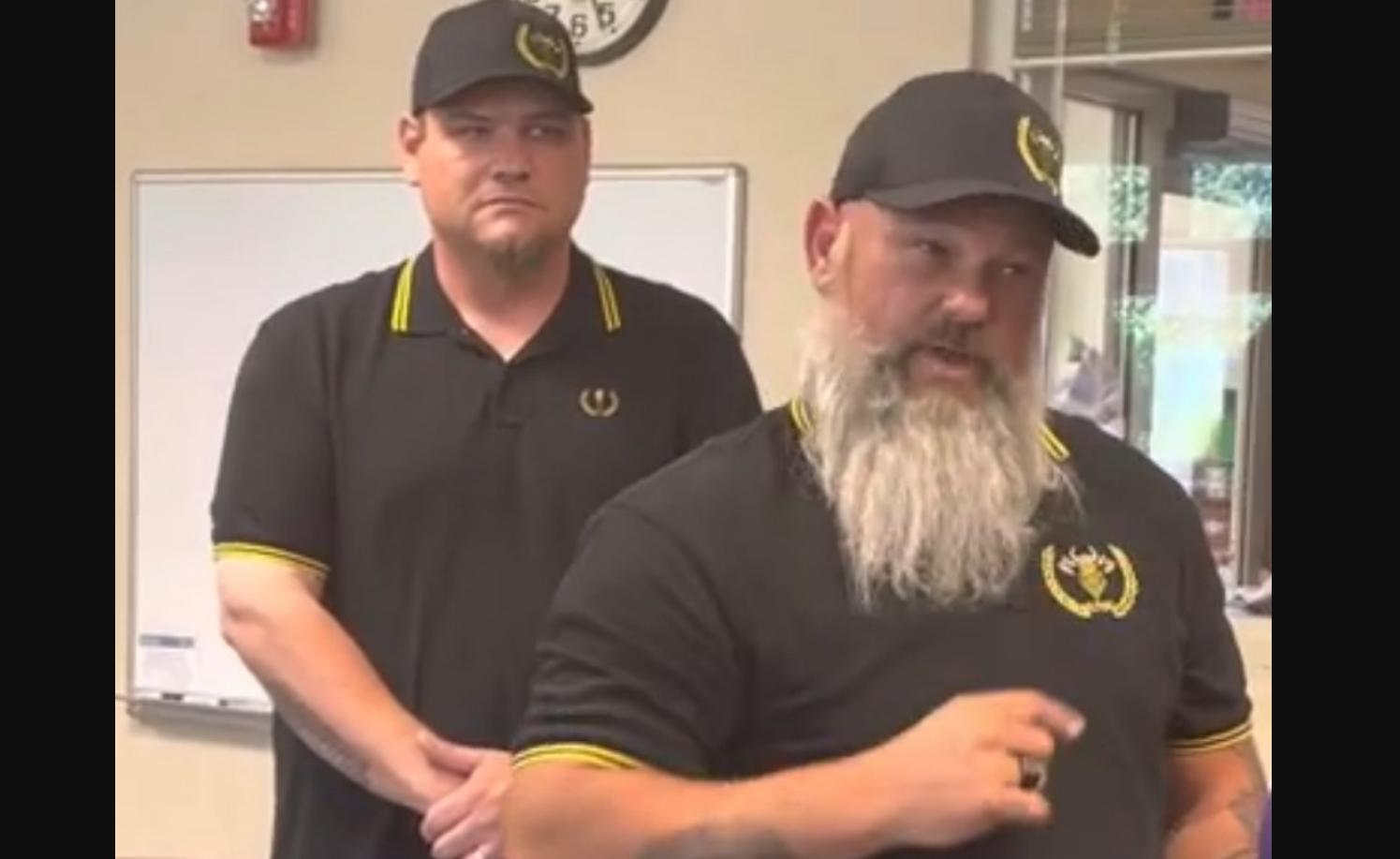 SOUTH BEND, In. – A Pride Month children's Rainbow Story Hour event at the St. Joseph County Public Library's Virginia M. Tutt Branch on Monday was disrupted after the far-right anti-LGBTQ+ group, the Proud Boys, walked in and began loudly arguing with staff and library patrons.
At one point during the confrontation, one of the group unfurled a flag reading "Michiana Proud Boys," appearing to identify the men as a local chapter of the white nationalist hate group.
This latest incident follows Proud Boys targeting LGBTQ+ Pride month events- especially Drag Queen Story Hour events- in Sparks Nevada, Wilmington North Carolina, Alameda California, Boise Idaho, many promulgated by highly influential far-right social media stars like Chaya Raichik, the Brooklyn real estate agent behind @LibsOfTikTok who has highlighted these events she calls out as inappropriate and sexualizing children to her more than 1.3 million followers on Twitter.
South Bend's NPR outlet WVPE reported that the event was a partnership between the library and TREES, a Michiana organization that provides resources for the local transgender community and operates the Tree House Gender Resource center in downtown South Bend.
But before the event was set to start, seven men — all Proud Boys — entered the library and began arguing with staff and patrons. Several displayed white supremacist symbols, according to photos posted on social media.
Police were called — and the group left after about 40 minutes — but they caused so much disruption that the event had to be canceled.
"This definitely came as a shock," library system communications manager Marissa Gebhard told WVPE. "We were not anticipating any problems."
The library plans to reschedule the event in a few months, and Gebhard said the system wants everyone to feel safe and welcome at its branches.
The Proud Boys recognized one person because Purple for Parents (a local hate group focused on schools) had doxxed her before.

This disruption is extremely concerning because it seems to be a part of coordinated disruptions of similar events across the country. 2/4 pic.twitter.com/QumqYn4Bxd

— Indiana Mutual Aid Coalition (@INMutualAid) June 28, 2022
Ketanji Brown Jackson sworn in as 116th justice of the U.S. Supreme Court
"It has taken 232 years and 115 prior appointments for a black woman to be selected to serve on the Supreme Court of the United States"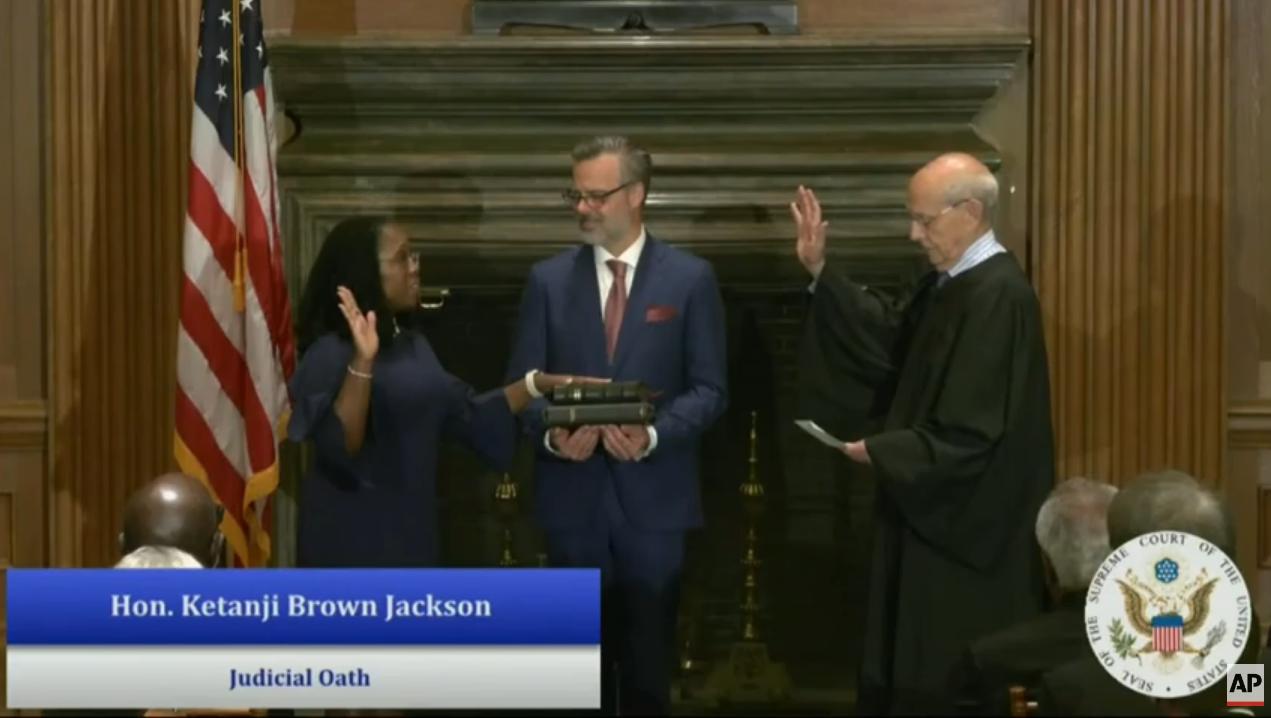 WASHINGTON – In oaths administered by the Chief Justice John Roberts and outgoing Associate U.S. Supreme Court Justice Stephen Breyer, Judge Ketanji Brown Jackson was sworn in as the 116th justice of the U.S. Supreme Court.
The 51 year-old Justice Jackson made history as the first-ever black woman sworn in as a justice on the U.S. Supreme Court. She replaces Justice Breyer, whose resignation from the Supreme Court becomes effective at noon Thursday (Eastern) after his nearly 28 years of service on the nation's high court.
In the simple ceremony held at the Court, Jackson in the constitutional oath, given by Chief Justice Roberts, solemnly swore to defend the Constitution "against all enemies, foreign and domestic," and "bear true faith and allegiance to the same."
Justice Breyer gave her the statutory oath, in which Jackson swore to "administer justice without respect to persons, and do equal right to the poor and to the rich."
The newly sworn-in Associate Justice was joined by her husband, Dr. Patrick Jackson, and their two daughters, Talia and Leila.
The court will hold another formal inaugurating ceremony, called an investiture, in the fall, Roberts said. But Thursday's ceremony allows her to immediately begin work as the newest member of the nine-seat Supreme Court.
Nominated by President Biden and confirmed by the Senate, in April at a ceremony on the South Lawn of the White House, addressing the audience of members of Congress, the Biden Cabinet, and White House staff along with family and invited guests, Justice Jackson noted;
"As I take on this new role, I strongly believe that this is a moment in which all Americans can take great pride. We have come a long way towards perfecting our union. In my family, it took just one generation to go from segregation to the Supreme Court of the United States."
As the first Black woman to be nominated to serve on the nation's highest court which she noted in her remarks:
"It has taken 232 years and 115 prior appointments for a black woman to be selected to serve on the Supreme Court of the United States. But we've made it," she said, to applause from the crowd. "We've made it, all of us, all of us. And our children are telling me that they see now, more than ever, that here in America anything is possible."
Quoting Maya Angelou, an American author, poet and civil rights activist, "I am the hope and the dream of the slave," Jackson said.
In statement issued by the White House, President Biden traveling back from the NATO conference in Madrid aboard Air Force One said:
"I am honored that the very first judicial nominee I selected as President – the brilliant lawyer who became "Judge Jackson" – has now become "Justice Jackson." 
Her historic swearing in today represents a profound step forward for our nation, for all the young, Black girls who now see themselves reflected on our highest court, and for all of us as Americans. 

The Supreme Court just gained a colleague with a world-class intellect, the dignified temperament the American people expect of a justice, and the strongest credentials imaginable.  

Justice Jackson is a former public defender who served for almost a decade as a district and circuit judge.  Her nomination was endorsed by top legal experts across the political spectrum, as well as our country's leading law enforcement organizations.  In her career, she has been confirmed four times by the U.S. Senate with bipartisan support.

She is the daughter of educators and the niece of a police chief—and she too has devoted her life to public service. 

She is also the embodiment of hard work, grace, and perseverance.

Justice Jackson's wisdom and experience, will make all of us proud for so many years to come.

Like I said after her confirmation, Justice Jackson's ascension to the highest court in the land makes the sun shine on so many of us in a new way.

Justice Jackson succeeds another extraordinarily brilliant jurist who has also devoted their life to their country, including in the U.S. Army as a teenager and on the Watergate Committee  – Justice Steven Breyer. Justice Breyer's integrity and his commitment to ensuring our nation's laws worked for the people have made him beloved by his colleagues and deeply respected across our country. I thank him again for his many years of exemplary service."