LAPD investigating apparent murder of LA transwoman Viccky Gutierrez 
LAPD says case is a "high priority"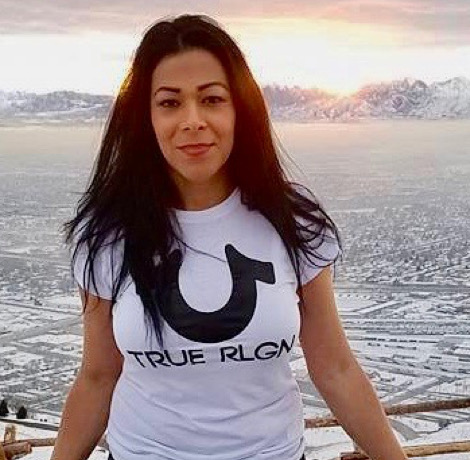 Late Wednesday, [email protected] Coalition founder Bamby Salcedo announced the death of the group's friend and client, Viccky Gutierrez. The Los Angeles Police Department has not yet officially identified the burned body found in Gutierrez's apartment as the young trans Latina, but Salcedo and Gutierrez's friends are certain it is her.
LAPD spokesperson Officer Drake Madison told the Los Angeles Blade that the LAPD's West Bureau Division and the LA Fire Department responded at 3:15 amWednesday morning to a fire in a multi-family house in the 1700 block of South New Hampshire Boulevard in the Pico Union district. The flames were contained to the attic and a single unit on the second floor of the two-story, 116-year-old building.
"One person was found dead inside," KTLA reported, "and officials believe the death may be suspicious." However, "no further details on why the death was suspicious were given." KTLA also reports that arson investigators are talking to witnesses and looking into the source of the fire. The other families escaped without injury.
"This is a high priority case for us," LAPD Det. Sharon Kim told the Los Angeles Blade. She expects the autopsy results to be released either Thursday or Friday to be able to issue a positive identification.
Kim also clarified that a news report indicating that federal agencies are involved in the investigation is incorrect. The LAPD has a long standing policy  —confirmed by then-LAPD Chief Bill Bratton directly to Bamby Salcedo—that the LAPD does not cooperate with ICE regarding any undocumented individuals in order to gain community support in finding murder suspects, perpetrators of hate crimes and to allow victims and witnesses of crimes to come forward.
But Salcedo and the LA trans community already know the burned body is Viccky Gutierrez. And Salcedo's not only hurt but angry. "It's not just that she is gone—it is the way that she was murdered. She was brutally murdered. We believe that it was intentional. We believe it was premeditated," Salcedo says in an emotional video in Spanish and English posted on her Facebook page.  Salcedo wants to "seek justice for Viccky."
Gutierrez was a young trans Latina woman from Honduras who used to come to [email protected] Coalition group meetings and "just to have lunch," Salcedo tells The LA Blade.
Ask why Salcedo suspects murder, she says: "her body was burned so we think she was murdered before they got there. It's not confirmed—police are still investigating. But one of her closest friends, Cristy—who comes from the same small town in Honduras—had dinner with her that night and said she was okay.  So there is a lot of speculation—we know the danger we experience everyday. We think it's possible she was killed before they burned her apartment. She was completely unrecognizable. People kept calling her cell phone and she didn't answer. It was late at night and her neighbors were sleeping and no one heard her screaming. So my assumption is that she was dead or unconscious before she was burned. That's why I'm 99% sure she was brutally murdered and burned to death."
Salcedo adds that "one of the girls told Cristy that they told her the apartment smelled like gasoline, like it was sprayed on the apartment and lit on fire."
Amongst themselves, the mourning trans community also wonders if Gutierrez, who engaged in survival sex work, may have been killed by somebody who may have come to visit her. "There's a strong possibility it came from work. It's what we have to do. But we just don't know. We asked the LAPD to check her cell phone but everything was burned," Salcedo says.
"She was such a sweet girl. She was our sister," Salcedo adds.
Salcedo has asked the Honduran Consult to attend the vigil for Gutierrez on Friday and pressure the LAPD to do a quick investigation so they can release her body to her family. In Latin America, she explains, families bury their dead the next day.
Viccky's Vigil of Resistance is scheduled for Friday, Jan. 12 from 7:00p-10:00pm at 1660 Venice Blvd, LA 90006. See the Facebook page for more information.
Salcedo has also set up a GoFundMe page to raise money to fly Gutierrez's body back to Honduras and help the family with funeral services.
LAPD Det. Sharon Kim asks that anyone with information or tips call: 213-382-9470.
Visalia's city council proclaims October 'LGBTQ history month'
"Thank you to the council for doing this […] When we started this work five years ago, we didn't know how we would be received in the city"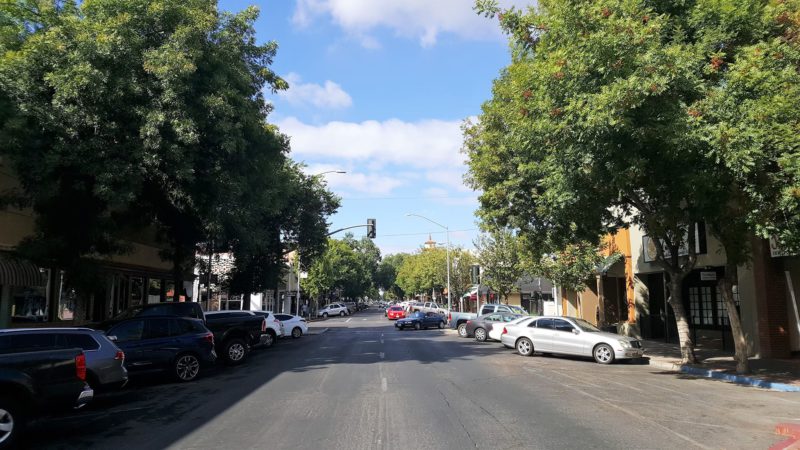 VISALIA, Ca. – In a proclamation this past Monday, the city council paid tribute to The Source LGBTQ+ Center's work in the Visalia LGBTQ+ community, including Tulare and Kings Counties over the past five years. The council also proclaimed October as LGBTQ+ history month presenting 'The Source' a plaque noting the nonprofit's recent expansion.
"In 5 years, The Source has become the largest LGBT center between Los Angeles and Sacramento," the plaque reads in part, The Visalia Times-Delta newspaper reported.
"We started with just an idea that we came up with on Main Street – back when it had antique stores," said Nick Vargas, director of development and cofounder of The Source. "From that idea, other people have joined us and I have been able to do the best work of my life, helping the citizens of Visalia, particularly the LGBTQ youth, those living with HIV, and their families."
On Saturday, the fifth annual Pride Visalia organized by 'The Source' was held at a different time of year and in a brand new location, Valley Strong Ballpark, supported by communications giant T-Mobile. The center's annual Halloween Gala was also held Saturday night at the Bello Vita Venue.
"Thank you to the council for doing this, it means a lot to us. When we started this work five years ago, we didn't know how we would be received in the city," Vargas said. "It means a lot to be here today, I would love it if you all showed up to PRIDE Visalia… but just knowing we have the support of the council and the city, is a lot."
On its website, 'The Source' specifies that the center's mission is to "provide spaces within our communities for the LGBT+ population to Learn, Grow, Belong, Transform, Question + Support."
Visalia, the Tulare County seat, is the gateway to Sequoia National Park, and only forty-one miles south of Fresno located in the conservative San Joaquin Valley region of central California. In Congress, the area, California's 22nd congressional district, is represented by Republican Devin Nunes, who has been unresponsive to LGBTQ+ concerns, having been labeled anti-LGBTQ+ by the Human Rights Campaign and Equality California.
The Times-Delta also reported that The Source is also hosting its first-ever AIDS Walk to raise awareness as well as funds. The walk is scheduled at 11 a.m. on Oct. 30 on NW 2nd Avenue.
Pride Visalia 2021 sponsored by T-Mobile:
Los Angeles City Council bans homeless camps in 54 locations
Sitting, sleeping & storing property near fire hydrants, building entrances, driveways, libraries, parks, elementary schools banned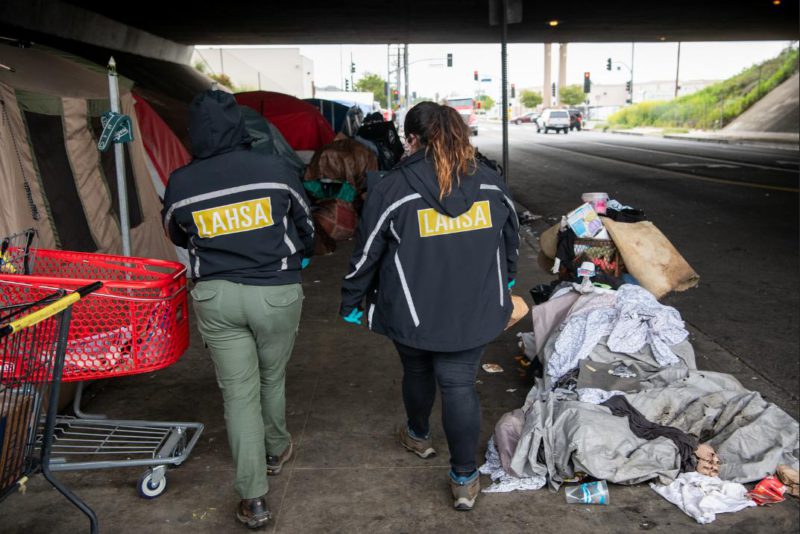 LOS ANGELES – Setting up or creating encampments by homeless persons in 54 select locations across the city is now banned after the LA City Council voted 12-2 Wednesday to outlaw sitting, sleeping and lying in those places.
Utilizing new laws passed over the summer after contentious and at times acrimonious debate, the council enacted new rules regulating sitting, sleeping and storing property near fire hydrants, building entrances, driveways, libraries, parks, elementary schools and several other locations.
The council also directed city staff to ensure that the homeless were given proper notifications prior to action and that all departments expand staff and make available resources to help those affected by the new ban.
On Wednesday, U.S. Veterans Affairs Secretary Denis McDonough announced that the VA is going to place more than 500 unhoused veterans living in Los Angeles into permanent housing.
According to McDonough, the efforts will be in two steps, the first to assist approximately 40 veterans living on the street in what is colloquially referred to as the 'Veteran's Row' encampment, located adjacent to the VA campus in Brentwood on San Vincente Boulevard.
Today, the VA has committed to quickly housing the Angelenos encamped on the federal land near the West LA campus — a big step in the right direction.

Deeply grateful to @SecVetAffairs, @LAHomeless, and @POTUS for their partnership.https://t.co/qiHNMvLm8j pic.twitter.com/R4q246RQFs

— MayorOfLA (@MayorOfLA) October 20, 2021
That encampment has been highlighted by mayoral candidates visiting it frequently including last week by U.S. Representative Karen Bass, (D) who was accompanied by the VA Secretary.
The next step is move another 500 veterans into permanent or transitional housing by December 31, the VA Secretary said.
In the last census count of homeless people conducted by the County of Los Angeles, of the nearly 66,000 people experiencing homelessness, roughly 3,900 are homeless veterans.
LA City Council votes to suspend Ridley-Thomas over corruption charges
The 11-to-3 vote to suspend vote came two days after Ridley-Thomas announced that he would "step back" from his duties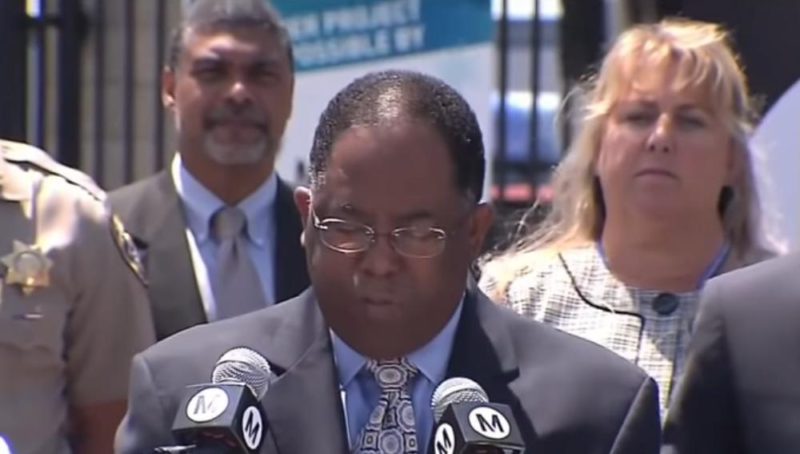 LOS ANGELES – The city council voted Wednesday to suspend Councilman Mark Ridley-Thomas, 66, who was was indicted a week ago by a federal grand jury on 20 federal counts of conspiracy, bribery, mail and wire fraud.
The 11-to-3 vote to suspend vote came two days after Ridley-Thomas announced that he would "step back" from participation in City Council meetings and committees. Ridley-Thomas, who has denied any wrongdoing, has said he will not resign and will fight the federal charges against him, KTLA and the Los Angeles Times reported.
The federal grand jury's indictment alleged that Ridley-Thomas took bribes from a former dean at the University of Southern California, (USC) when he was a member of the County Board of Supervisors.
In a letter sent to fellow councilmembers Monday, he indicated that he would step back from his duties but he declined to resign from his seat. He said that he planned to fight the "outrageous allegations" and would resume participation on the legislative body "at the earliest appropriate time."
The Los Angeles Times reported that in exchange for the payoffs, Ridley-Thomas allegedly supported awarding county contracts worth millions of dollars to USC.
In the indictment Ridley-Thomas is charged with conspiring with Marilyn Louise Flynn, 83, then dean of USC's School of Social Work, to steer county money to the university in return for admitting his son Sebastian into graduate school with a full-tuition scholarship and a paid professorship, the Times reported.