LA Women's March draws more than 600,000 strong
#WMLA2018 emphasizes women of color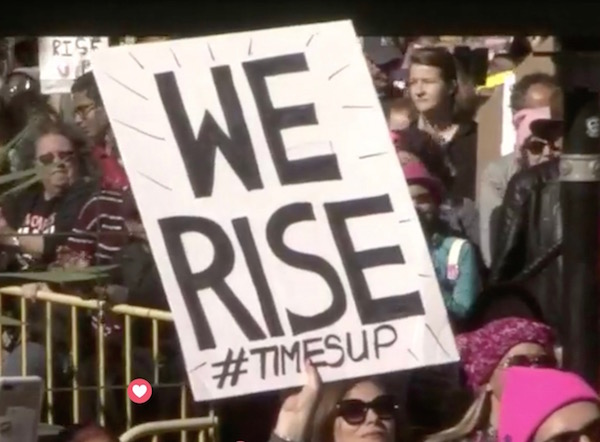 This year's second annual Women's March in Los Angeles on Jan. 20 brought together more than 600,000 people to demonstrate against President Donald Trump and his policies and rouse enthusiasm for the 2018 midterm elections in November.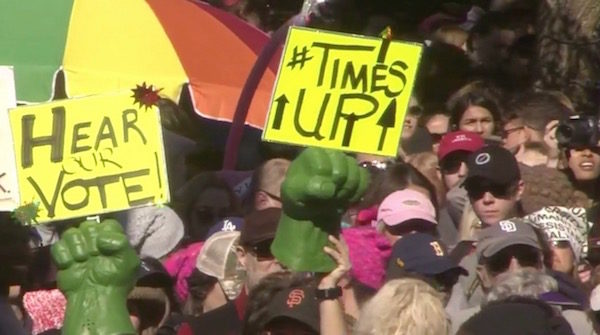 But if last year's march was an effort to rally hope and resistance in the face of shock and despair after the election, this year's march used Trump's one year anniversary to include a diversity of other issues such as the intersectional #MeToo and #TimesUp movements— the explosive and moving grassroots efforts this past year to fight back against workplace sexual harassment and sexual abuse, as well as against the administration's reversal of Obama-era progressive policies.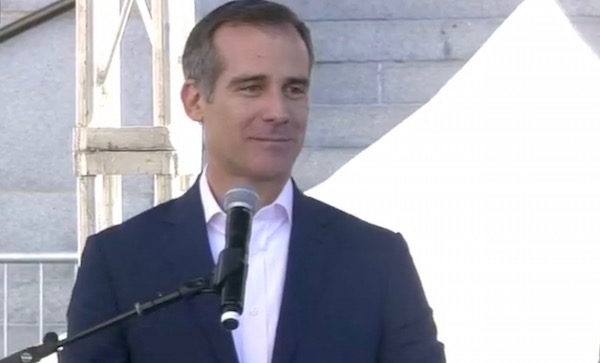 L.A. Mayor Eric Garcetti, a leader in the "sanctuary cities" movement, gave a spirited speech that included a personal nod as a lieutenant in the US Navy Reserve toward the city's transgender community.
"Our president tried to shut down our military to patriots who are transgender. And I, as a proud service member, and with so many of you—and we said, 'no,' and started the first big city transgender advisory commission in the history of the U.S.," Garcetti said. "While our so-called 'leader' denied science, we marched for it. When he got out of Paris, we didn't cry in the corner. We picked up the phone and LA pledged to implement the Paris Climate Accord along with 391 other cities [that] followed suit."
Since Trump announced the end of the Deferred Action for Childhood Arrivals (DACA) program on March 5, immigration advocates have been fighting to at least extend DACA's protection of DREAMers, undocumented immigrants brought to America as young children, even as congressional Republicans argue to end so-called "chain migration," which has for decades been the US policy of family reunification.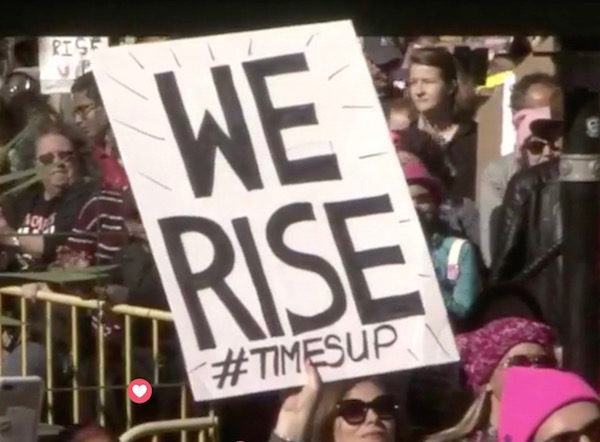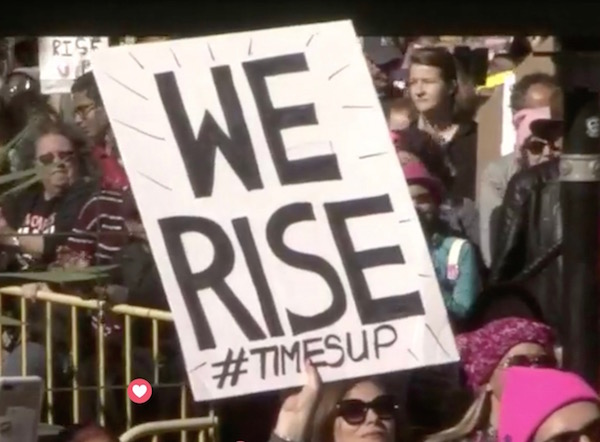 "Last year I asked you to stand with us because we knew harm was coming, and you did. You stood up with us at the airports with the Muslim ban. You spoke up against ICE raids and deportations. And now you're standing with these beautiful power immigrant women fighting for the DREAM Act," said Angelica Salas, Executive Director for Coalition for Humane Immigrant Rights of Los Angeles and a strong LGBT ally.
Actors Constance Wu, Natalie Portman and Scarlett Johansson focused their speeches on the tidal wave of anger over harassment and sexual assault bursting on the shores of silence.
Portman cited her experience of being a young girl, coming into her womanhood while working in her first major film role in "The Professional."
"I understood very quickly, even as a 13-year-old, that if I were to express myself sexually, I would feel unsafe. And that men would feel justified to discuss and objectify my body, to my great discomfort," Portman said.
"If you didn't try to do bitch-ass things to us, then we wouldn't have to be bitches back to you," Wu said bluntly.
Scarlett Johansson said the Women's March and movement gives her hope that the country is moving toward a place where a woman's sense of equality can truly come from within.
Many marchers and speakers talked about the powerful role played by black women in the defeat of anti-LGBT Republican extremist Judge Roy Moore in Alabama's special senate election last December. And not all of the messages were easy to hear.
Dr. Melina Abdullah, Professor and Chair of Pan-African Studies at Cal State LA and an activist with the Black Lives Matter movement, used her speech to call out white people for electing Trump.
"Last year we were all in shock that white folks—and I'm putting it on your shoulders, white folks—elected a raving, white supremacist, misogynist, capitalist, heterosexist fool in the damn White House. So it's on you to fix this shit! Today, we are here because we have power. Despite the fact that he currently occupies the White House, we are winning. We are winning because of black women!" Abdullah said.
The Los Angeles Blade interviewed several women at the event who underscored the unsung power and under-appreciation of black women, especially in the Democratic Party.
"I'm out representing black women who didn't come to the march because they felt alienated last year," said one marcher. "I feel we're excluded from the conversation when it comes to feminism. When it comes to politics and race relations, we are left to stand on our own."
A white woman, holding a sign that read "Black Women Saved America from Roy Moore, Now Vote Them Into Office," said she was marching to thank black women for their service. "I'm very grateful for all the African American women who are organized and came out saved us from Roy Moore. I find that my black sisters do a lot of the heavy lifting in the Democratic Party and I wanted to say thank you and I appreciate it."
But Trump's election was also a jarring awakening, too. An African American woman in her early 20s admitted to The LA Blade that she didn't vote in the presidential election last year and now regrets it. She pledged to vote in this year's midterms, her first time voting.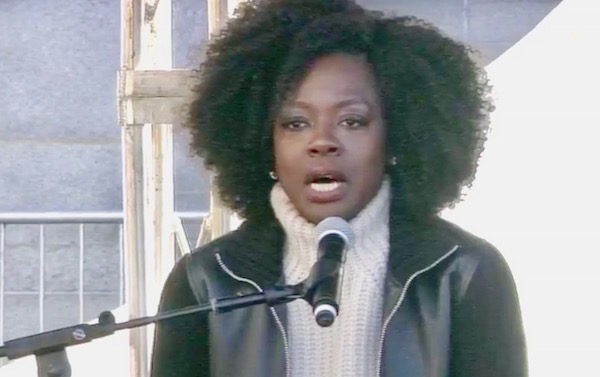 Actors Eva Longoria, Alfre Woodard and Viola Davis took to the stage to inspire those at the march to increase turnout in the midterm elections in the Women's March theme #powertothepolls.
All 435 seats in the House and 33 of 100 seats in the Senate are up in the Nov. 6 2018 election. Political gerrymandering suggests a number of elected officials are safe but there is a chance Democrats can win back control of Congress to put a check on Trump's destructive policies.
"You will decide who fills these positions. Your vote is the most powerful tool you have to decide what kind of community you want to be a part of. Don't forget, there are a lot of people in this country who won't get that say, like the DREAMers…and your vote will determine policies that will impact their lives too," Longoria said. "If you want to be a voice for those who don't have one – vote."
Alfre Woodard insisted action is needed now. "We can't wait until October. We know what happens when we sit one out," she said. "Old folks in the South used to say, 'freedom ain't free. It's got to be fought for and protected every day.' Those who are against equality and justice for all are committed 24/7 to chipping away at our laws, revoking protections that have been paid for in blood by the people who stood before us. We have to reach out to our sisters who wear red baseball caps. This is also about their rights and protections. Women together can stop this slide to the bottom."
Viola Davis talked about her own #MeToo sex assault story and that's her motivation to vote.
"I'm always introduced as an award-winning actor. But my testimony is one of poverty; my testimony is one of being sexually assaulted and seeing a childhood robbed from me. I know that every single day when I think of that—the trauma of those events are with me today and that's what drives me to the voting booth," she said. "We have to bring everyone with us. My hope for the future is that we never go back. That's not just about clapping your hands and screaming every time someone says something that sounds good, but about keeping it rolling once you go home."
Lorri Jean, CEO of the LA LGBT Center, also gave a powerful speech, stressing the power of continuity in action.
"We are here today marching for women's lives. Marching for our country and our world," she said. "We are marching for truth and integrity and treating our fellow human beings with dignity and respect. We have spent the last year enduring and resisting the leadership of those who do not believe in truth and compassion; who do not understand that a strong nation requires liberty and justice for all.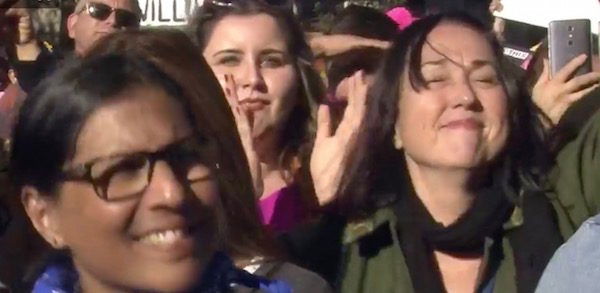 "So we march again," Jean said. "We must vote regardless of party; we must vote our values. Until we see the change we need in Washington, it is our duty, our obligation to do much more than simply hunker down and weather the storm. We must be the storm! We can be the storm. Be the storm!"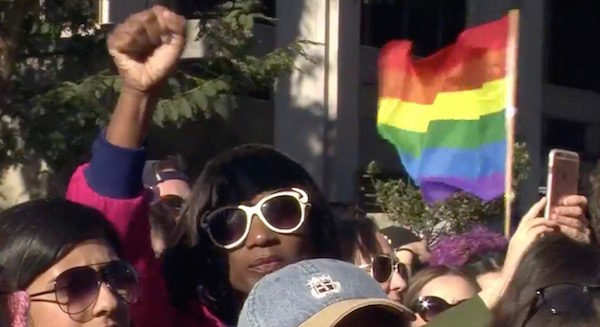 Right-wing extremist provocateur threatens to 'hunt' LGBT supporters
He has a history of right-wing extremist short videos including a harassment campaign against an Arizona wig shop that serves cancer patients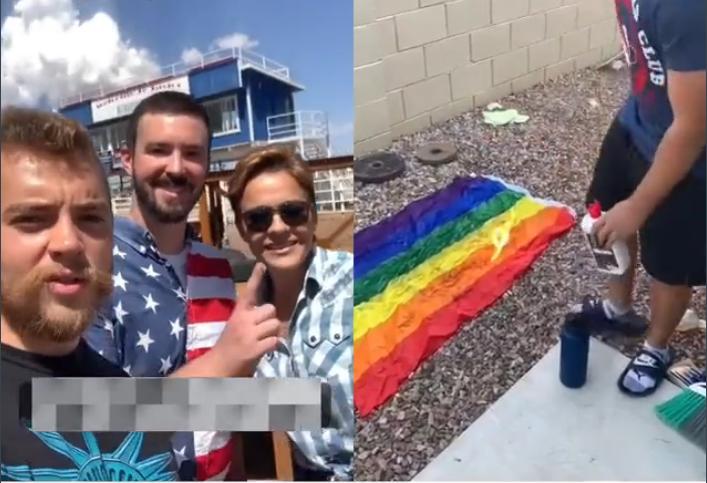 PHOENIX – A twenty-four year old right-wing extremist based in the metropolitan Phoenix, Arizona area, Ethan Schmidt, posted a short video of himself accompanied by Kyle Clifton who describes himself as "authoritarian Christian nationalist," driving in an undisclosed area announcing that he and Clifton will be "hunting 'LGBT supporters" and people in area Target retail stores.
The video captured by Twitter account Patriot Takes, which describes itself as a group of dedicated researchers monitoring and exposing right-wing extremism and other threats to democracy, first posted the video clip Saturday.
Ethan Schmidt, a right wing provocateur who has made videos with Kari Lake, Wendy Rogers, and Paul Gosar, warned Target he will "hunt LGBT supporters" in their stores and across Phoenix in June, stating they "are not safe" and they "can't hide." pic.twitter.com/O3ReHVN3qY

— PatriotTakes 🇺🇸 (@patriottakes) May 21, 2022
Schmidt has a history of making right-wing extremist short videos including a harassment campaign against an Arizona wig shop that serves cancer patients.
Sunny's Hair and Wigs, specialize in making wigs for women who have lost hair while getting treated for cancer and the store had implemented coronavirus pandemic protections including strict mask guidelines to ensure safety of their clients who are particularly vulnerable to infection.
Lisa Memberr, the owner of the shop had explained to local media outlets: "My customer base is very diverse," and she added, "Not only do I have Caucasians, I have Afro-Americans, I have Asians, I have Latin Americans."
Schmidt, who has ban banned by nearly all social media platforms including Twitter for spreading false and misleading COVID-19 pandemic information had been visiting numerous retail stores in the Phoenix area including Sunny's Hair and Wigs targeting those businesses that still require customers to wear mask. He invariably creates videos of his encounters which he uploads to right-wing social media and web sites that he hasn't been banned from.
In addition to his anti-mask campaign he has made videos with extremist conservative lawmakers including one with Arizona U.S. Republican Representative Paul Gosar telling antivaxxers "to stay the course."
Rep. Paul Gosar with Ethan Schmidt telling antivaxxers "to stay the course."

This is the new Republican Party. pic.twitter.com/Z0ogrq8nO4

— PatriotTakes 🇺🇸 (@patriottakes) May 21, 2022
He also filmed a short with Arizona State Senator Wendy Rogers who has established herself firmly as an anti-vax, anti-LGBTQ, right wing extremist.
Arizona State Senator Wendy Rogers made a video promoting Ethan Schmidt, who is now stating he will "hunt LGBT supporters" at Target and across Phoenix. pic.twitter.com/1CBmJGHYvN

— PatriotTakes 🇺🇸 (@patriottakes) May 21, 2022
Clifton is a leader of the America First Union, an openly white nationalist, antisemitic, "conservative youth" organization. He also promotes former President Donald Trump's big lie about the 2020 Presidential election being stolen by Democrats and President Joe Biden. Clifton also participated in the Arizona audit of the 2020 vote in Maricopa County, which state Sen. Rogers, had raised the visibility of her own political profile by insisting that Arizona's vote was stolen.
A semi-copy of the"American Populist Union" has been organizing under the name America First Union. The local chapter is led by the openly antisemitic Kyle Clifton of Peoria, AZ who describes himself as an "authoritarian Christian nationalist."https://t.co/OlyhxhK9kh

— AZ Right Wing Watch (@az_rww) October 8, 2021
Kyle Clifton is also obsessed with The Anti-Defamation League (see image above). He recently thought he went and filmed a rant in front of the Phoenix ADL headquarters, not realizing it has been long abandoned. pic.twitter.com/BjOxsme8fQ

— AZ Right Wing Watch (@az_rww) October 8, 2021
Last Fall Schmidt posed with Trump endorsed Republican candidate for Arizona Governor Kari Lake as he burned a LGBTQ+ Pride flag.
Kari Lake posed for an "Antimaskers Club" video with bigot Ethan Schmidt who burns rainbow flags.

This is who Trump endorsed. pic.twitter.com/mnTFqdjaAZ

— Resist Programming 🛰 (@RzstProgramming) September 28, 2021
GOP nominee for Pennsylvania governor, QAnon friendly & anti-LGBTQ+
"Only biological females can play on biological females' teams & you can only use the bathroom that your biology & anatomy says"
GETTYSBURG, Pa. – Republican leadership in the Keystone State are expressing quiet alarm over the emergence of radical-right state senator who secured his place as the party's nominee in the race against Democratic nominee for governor, Josh Shapiro, who is himself currently serving as the Commonwealth's attorney general.
Sen. Doug Mastriano, who represents Cumberland, Adams, Franklin and York counties in the south-central Pennsylvanian area bordering Maryland, was not seen as a truly viable candidate in the primary race to be the party standard-bearer until he was endorsed by former President Donald Trump.
Pennsylvania's gubernatorial race has serious implications for the outcome of the 2024 presidential election cycle as well. The Commonwealth is a strategic swing state and the occupant of the governor's chair in Harrisburg will lend considerable influence to a final vote count.
Mastriano is a polarising figure within the state's Republican party. The retired U.S. Army colonel has campaigned at political events that included QAnon adherents, he espoused a political agenda that embraced Trump's Big Lie about the 2020 election, rejected measures taken to protect Pennsylvanians including masks in the coronavirus pandemic, holding an anti-vaccine "Medical Freedom Rally" rally on the state Capitol steps days after declaring his candidacy for the GOP governor's primary race, and also mixing in messaging of Christian nationalism.
He also supports expanding gun rights in Pennsylvania and in the Senate sponsored a bill to ban abortion once a heartbeat is detected.
NBC News noted that Mastriano pledged in his election night address that on the first day of his administration he would crack down on "critical race theory," a catchall term Republicans have used to target school equity programs and new ways of teaching about race, transgender rights and any remaining Covid vaccine requirements.
"CRT is over," Mastriano declared. "Only biological females can play on biological females' teams," he added, and "you can only use the bathroom that your biology and anatomy says."
His anti-LGBTQ+ views have long been part of his personal portfolio. The Washington Post reported that twenty-one years ago while attending the Air Force's Air Command and Staff College in 2001, then Major Mastriano wrote his master's thesis on a hypothetical "left-wing 'Hitlerian putsch'" that was caused by "the depredations of the country's morally debauched civilian leaders." Among those "depredations," in his words, was the "insertion of homosexuality into the military."
As the Post reported, his paper shows "disgust for anyone who doesn't hold his view that homosexuality is a form of 'aberrant sexual conduct.'"
The paper is posted on an official Defense Department website and lists Mastriano as the author at a time when he said he received a master's degree from the school.
Two decades before he was Republican nominee for Pennsylvania governor, Doug Mastriano warned in a master's thesis that morally debauched political leaders weren't fit to oversee the U.S. military. https://t.co/NHOnijBng7

— The Washington Post (@washingtonpost) May 20, 2022
This is not the only instance of Mastriano professing anti-LGBTQ beliefs.
In 2018, he stated his belief that LGBTQ couples should not be allowed to adopt a child. During an interview with 103.7FM, when asked "should LGBTQ couples, i.e. two moms or two dads, be allowed to adopt?" Mastriano answered, "No." [This takes place at the 16:00 mark.]
NBC News interviewed David La Torre, a Republican and former adviser to fellow gubernatorial candidate Jake Corman.
"As far as what a Pennsylvania government would look like with Mastriano in charge, quite frankly, it's just not something I'm ready to think about at this point," La Torre said, adding that while there are many unknowns, the dynamic between Mastriano and the state Legislature, currently controlled by Republicans, would be one to watch.
"All I know is this — he will govern as governor like he campaigned," he said. "He would govern with a sledgehammer and expect Republicans to fall in line. And it would be one of the more fascinating tugs of war we've seen in Harrisburg."
Dave Ball, chairman of the Washington County GOP, told NBC News that Mastriano's victory was "a shame" for the party, the product of "a phenomenon that I truly don't understand." But any misgivings won't stop Ball from working toward the ultimate goal: taking back the governor's mansion, saying it's a must-win race. (The two-term incumbent, Tom Wolf, a Democrat, is term-limited.)
As if telegraphing the battles to come should he take the governor's chair, Politico reported: "Our biggest problem," said Mastriano on Steve Bannon's "War Room: Pandemic" podcast on Tuesday, "is going to be these feckless RINO-type Republicans here that will not allow us to have a fighter as governor. But we're going to beat them and they're going to lose power, and they're going to be put to shame."
Mastriano Lists Agenda As Governor During Pennsylvania GOP Nominee Victory Speech:
Right-wing SF archbishop bars Pelosi from receiving Holy Communion
"A Catholic legislator who supports procured abortion, after knowing the teaching of the Church, commits a manifestly grave sin"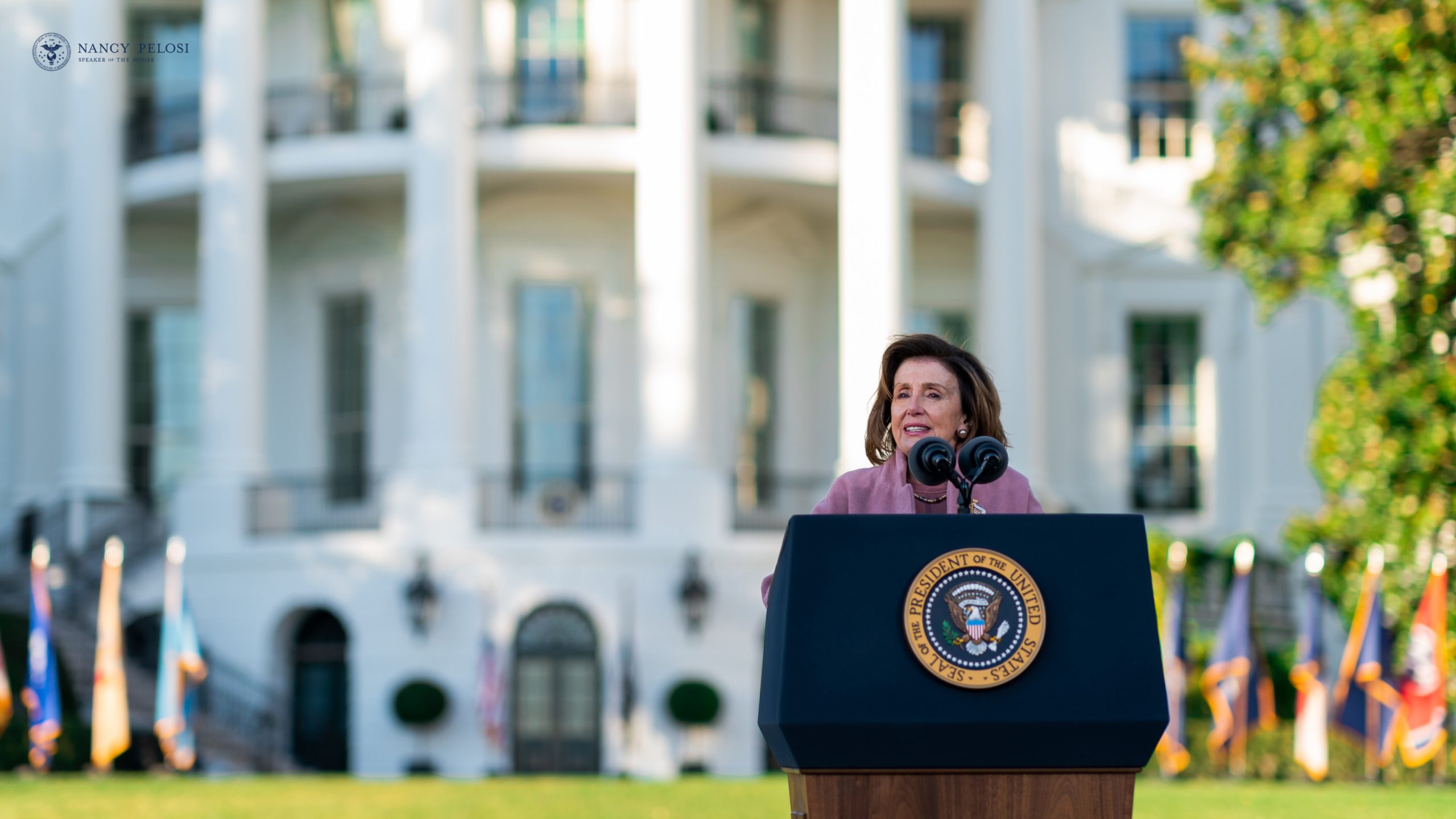 SAN FRANCISCO – In a letter to U.S. House Speaker Nancy Pelosi who represents a part of the city of San Francisco in her role as a Democratic Representative, San Francisco Archbishop Salvatore Cordileone said Friday that she will not be admitted to receive Communion in response to her support of women's reproductive rights and legal abortion.
Cordileone warned her that she should not present herself for Holy Communion at Mass adding that if she did priests will not distribute communion to her.
The actions by the archbishop underscores the rising tensions in a decades-long tension between the Roman Catholic Church and progressive Democratic politicians on abortion.
"A Catholic legislator who supports procured abortion, after knowing the teaching of the Church, commits a manifestly grave sin which is a cause of most serious scandal to others. Therefore, universal Church law provides that such persons 'are not to be admitted to Holy Communion,'" Cordileone wrote.
The archbishop noted that The Catechism of the Catholic Church is unambiguous on the question of abortion, both in procuring one and assisting in the practice: "Since the first century the Church has affirmed the moral evil of every procured abortion," the catechism says. "This teaching has not changed and remains unchangeable."
"Direct abortion, that is to say, abortion willed either as an end or a means, is gravely contrary to the moral law," it says, before calling abortion and infanticide "abominable crimes."
It also declares that "Formal cooperation in an abortion constitutes a grave offense. The Church attaches the canonical penalty of excommunication to this crime against human life."
Cordileone wrote in the letter that he had written to Pelosi last month on April 7, informing her that "should you not publicly repudiate your advocacy for abortion 'rights' or else refrain from referring to your Catholic faith in public and receiving Holy Communion, I would have no choice but to make a declaration, in keeping with canon 915, that you are not to be admitted to Holy Communion." According to the archbishop she has not done so.
"Therefore, in light of my responsibility as the Archbishop of San Francisco to be 'concerned for all the Christian faithful entrusted to [my] care" (Code of Canon Law, can. 383, §1), by means of this communication I am hereby notifying you that you are not to present yourself for Holy Communion and, should you do so, you are not to be admitted to Holy Communion, until such time as you publicly repudiate your advocacy for the legitimacy of abortion and confess and receive absolution of this grave sin in the sacrament of Penance." he said.
The archbishop then doubled down on his stance in a tweet issued Friday afternoon.
After numerous attempts to speak with Speaker Pelosi to help her understand the grave evil she is perpetrating, the scandal she is causing, an the danger to her own soul she is risking, I have determined that she is not to be admitted to Holy Communion. https://t.co/l7M85CyG86

— Archbishop Salvatore J. Cordileone (@ArchCordileone) May 20, 2022
His actions were lauded by another right-wing conservative prelate archbishop James Conley on Twitter:
I support Archbishop Cordileone in his courageous pastoral outreach to a member of his flock. His actions are made as a shepherd with the heart of Christ. https://t.co/mRGCtE2ZN3

— James D Conley (@bishop_conley) May 20, 2022
Cordileone's actions comes nearly a year after he and Bishop Robert McElroy of San Diego became embroiled in a debate over excluding from Communion politicians who support abortion rights like Pelosi and President Joe Biden, also a Catholic.
Last September, CNN reported that Pope Francis said bishops debating whether to deny communion to public figures who support abortion rights, such as President Joe Biden, should make their decisions from a "pastoral" viewpoint and not a political one.
"The problem is not theological, it's pastoral," Francis told reporters while traveling from Slovakia to Rome last Fall. "How we bishops deal with this principle. We must be pastors, also with those who are excommunicated. Like God with passion and tenderness. The Bible says so."
"The pastor knows what to do. In every moment that he leaves the church's pastoral path he immediately becomes a politician," Francis said.
The issue drew new attention in June when the United States Conference of Catholic Bishops proceeded with a plan that could deny communion to such public figures, setting up a potential public rebuke of the President and conversely Speaker Pelosi.
California State Senator Scott Wiener (D-San Francisco) issued a statement condeming Cordileone's decision to deny the House Speaker communion because she supports abortion access:
"After supporting Prop 8 and refusing to get vaccinated, our right wing Archbishop is now attacking one of the most effective leaders in the history of our country, because she supports reproductive health and safe access to abortion. The Archbishop's refusal to give communion to Speaker Pelosi is shameful. He is deeply out of step with San Francisco and should be removed," Wiener said.
In addition to his stance on women's reproductive healthcare choices, Cordileone is opposed to LGBTQ+ equality and same-sex marriage. In a March 2013 interview with USA Today, the archbishop responded to questions posed on same-sex marraige:
Q: What is the greatest threat posed by allowing gays and lesbians to marry?
A:The better question is: What is the great good in protecting the public understanding that to make a marriage you need a husband and a wife?
I can illustrate my point with a personal example. When I was Bishop of Oakland, I lived at a residence at the Cathedral, overlooking Lake Merritt. It's very beautiful. But across the lake, as the streets go from 1st Avenue to the city limits at 100th Avenue, those 100 blocks consist entirely of inner city neighborhoods plagued by fatherlessness and all the suffering it produces: youth violence, poverty, drugs, crime, gangs, school dropouts, and incredibly high murder rates. Walk those blocks and you can see with your own eyes: A society that is careless about getting fathers and mothers together to raise their children in one loving family is causing enormous heartache.
To legalize marriage between two people of the same sex would enshrine in the law the principle that mothers and fathers are interchangeable or irrelevant, and that marriage is essentially an institution about adults, not children; marriage would mean nothing more than giving adults recognition and benefits in their most significant relationship.
How can we do this to our children?
Q: If the Supreme Court opens the floodgates to gay marriage in California (or beyond), what will be the result?
A: If the Supreme Court overturns Prop 8, this will not go down in history as the Loving v. Virginia but as the Roe v. Wade decision of our generation.
No matter what the Supreme Court rules, this debate is not over. Marriage is too important and the issues raised by treating same-gender unions as marriages are too fundamental to just go away. Just as Roe v. Wade did not end the conversation about abortion, so a ruling that tries to import same-sex marriage into our Constitution is not going to end the marriage debate, but intensify it.
Q: You have spoken of gay marriage as a "natural impossibility." But in terms of procreation, how does it differ from opposite-sex couples who are elderly or infertile?
A: Our bodies have meaning. The conjugal union of a man and a woman is not a factory to produce babies; marriage seeks to create a total community of love, a "one flesh" union of mind, heart and body that includes a willingness to care for any children their bodily union makes together.
Two men and two women can certainly have a close loving committed emotional relationship, but they can never ever join as one flesh in the unique way a husband and wife do.
Infertility is, as you point out, part of the natural life cycle of marriage (people age!), as well as a challenge and disappointment some husbands and wives have to go through. People who have been married for 50 years are no less married because they can no longer have children.
Adoption can be a wonderful happy ending for children who lack even one parent able or willing to care for them. But notice, when a man and woman cannot have children together, that's an accident of circumstances, the exception to the rule. When a husband and wife adopt, they are mirroring the pattern set in nature itself. …
Treating same-sex relationships as marriage is the final severing by government of the natural link between marriage and the great task of bringing together male and female to make and raise the next generation together in love.