January 22, 2018 at 10:49 am PST | by Rebekah Sager
LA Women's March draws more than 600,000 strong

This year's second annual Women's March in Los Angeles on Jan. 20 brought together more than 600,000 people to demonstrate against President Donald Trump and his policies and rouse enthusiasm for the 2018 midterm elections in November.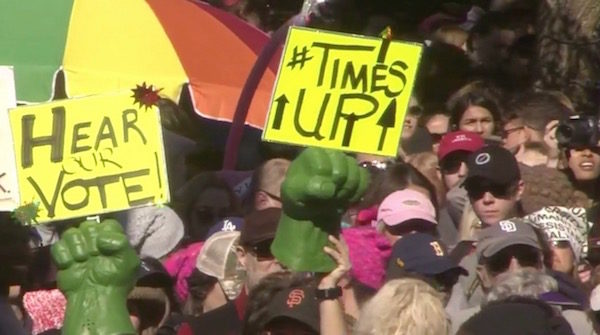 But if last year's march was an effort to rally hope and resistance in the face of shock and despair after the election, this year's march used Trump's one year anniversary to include a diversity of other issues such as the intersectional #MeToo and #TimesUp movements— the explosive and moving grassroots efforts this past year to fight back against workplace sexual harassment and sexual abuse, as well as against the administration's reversal of Obama-era progressive policies.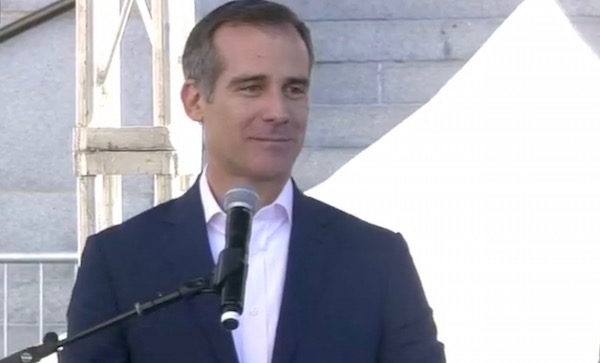 L.A. Mayor Eric Garcetti, a leader in the "sanctuary cities" movement, gave a spirited speech that included a personal nod as a lieutenant in the US Navy Reserve toward the city's transgender community.
"Our president tried to shut down our military to patriots who are transgender. And I, as a proud service member, and with so many of you—and we said, 'no,' and started the first big city transgender advisory commission in the history of the U.S.," Garcetti said. "While our so-called 'leader' denied science, we marched for it. When he got out of Paris, we didn't cry in the corner. We picked up the phone and LA pledged to implement the Paris Climate Accord along with 391 other cities [that] followed suit."
Since Trump announced the end of the Deferred Action for Childhood Arrivals (DACA) program on March 5, immigration advocates have been fighting to at least extend DACA's protection of DREAMers, undocumented immigrants brought to America as young children, even as congressional Republicans argue to end so-called "chain migration," which has for decades been the US policy of family reunification.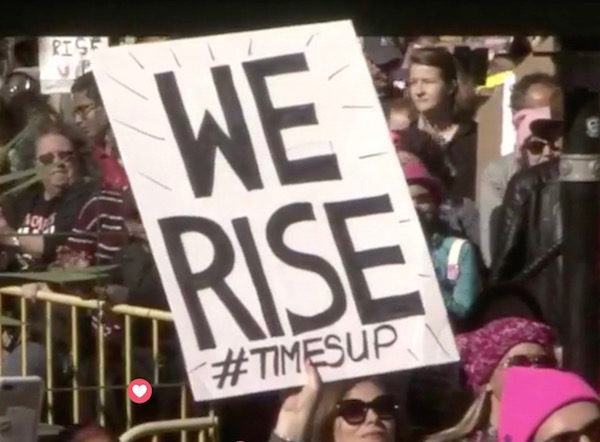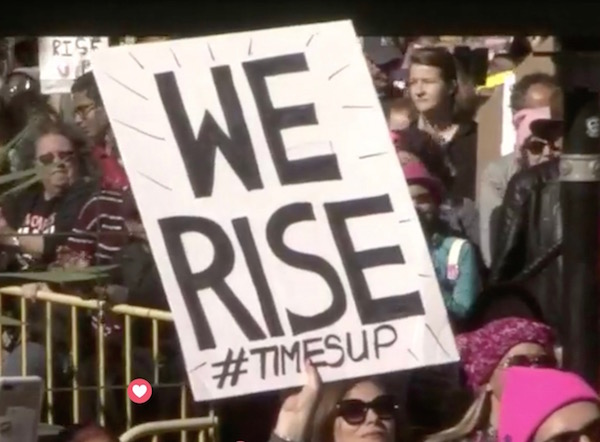 "Last year I asked you to stand with us because we knew harm was coming, and you did. You stood up with us at the airports with the Muslim ban. You spoke up against ICE raids and deportations. And now you're standing with these beautiful power immigrant women fighting for the DREAM Act," said Angelica Salas, Executive Director for Coalition for Humane Immigrant Rights of Los Angeles and a strong LGBT ally.
Actors Constance Wu, Natalie Portman and Scarlett Johansson focused their speeches on the tidal wave of anger over harassment and sexual assault bursting on the shores of silence.
Portman cited her experience of being a young girl, coming into her womanhood while working in her first major film role in "The Professional."
"I understood very quickly, even as a 13-year-old, that if I were to express myself sexually, I would feel unsafe. And that men would feel justified to discuss and objectify my body, to my great discomfort," Portman said.
"If you didn't try to do bitch-ass things to us, then we wouldn't have to be bitches back to you," Wu said bluntly.
Scarlett Johansson said the Women's March and movement gives her hope that the country is moving toward a place where a woman's sense of equality can truly come from within.
Many marchers and speakers talked about the powerful role played by black women in the defeat of anti-LGBT Republican extremist Judge Roy Moore in Alabama's special senate election last December. And not all of the messages were easy to hear.
Dr. Melina Abdullah, Professor and Chair of Pan-African Studies at Cal State LA and an activist with the Black Lives Matter movement, used her speech to call out white people for electing Trump.
"Last year we were all in shock that white folks—and I'm putting it on your shoulders, white folks—elected a raving, white supremacist, misogynist, capitalist, heterosexist fool in the damn White House. So it's on you to fix this shit! Today, we are here because we have power. Despite the fact that he currently occupies the White House, we are winning. We are winning because of black women!" Abdullah said.
The Los Angeles Blade interviewed several women at the event who underscored the unsung power and under-appreciation of black women, especially in the Democratic Party.
"I'm out representing black women who didn't come to the march because they felt alienated last year," said one marcher. "I feel we're excluded from the conversation when it comes to feminism. When it comes to politics and race relations, we are left to stand on our own."
A white woman, holding a sign that read "Black Women Saved America from Roy Moore, Now Vote Them Into Office," said she was marching to thank black women for their service. "I'm very grateful for all the African American women who are organized and came out saved us from Roy Moore. I find that my black sisters do a lot of the heavy lifting in the Democratic Party and I wanted to say thank you and I appreciate it."
But Trump's election was also a jarring awakening, too. An African American woman in her early 20s admitted to The LA Blade that she didn't vote in the presidential election last year and now regrets it. She pledged to vote in this year's midterms, her first time voting.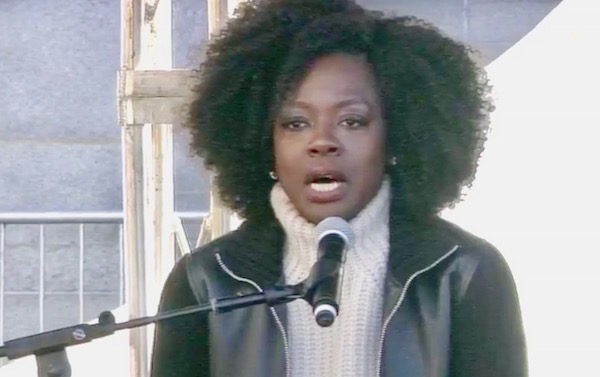 Actors Eva Longoria, Alfre Woodard and Viola Davis took to the stage to inspire those at the march to increase turnout in the midterm elections in the Women's March theme #powertothepolls.
All 435 seats in the House and 33 of 100 seats in the Senate are up in the Nov. 6 2018 election. Political gerrymandering suggests a number of elected officials are safe but there is a chance Democrats can win back control of Congress to put a check on Trump's destructive policies.
"You will decide who fills these positions. Your vote is the most powerful tool you have to decide what kind of community you want to be a part of. Don't forget, there are a lot of people in this country who won't get that say, like the DREAMers…and your vote will determine policies that will impact their lives too," Longoria said. "If you want to be a voice for those who don't have one – vote."
Alfre Woodard insisted action is needed now. "We can't wait until October. We know what happens when we sit one out," she said. "Old folks in the South used to say, 'freedom ain't free. It's got to be fought for and protected every day.' Those who are against equality and justice for all are committed 24/7 to chipping away at our laws, revoking protections that have been paid for in blood by the people who stood before us. We have to reach out to our sisters who wear red baseball caps. This is also about their rights and protections. Women together can stop this slide to the bottom."
Viola Davis talked about her own #MeToo sex assault story and that's her motivation to vote.
"I'm always introduced as an award-winning actor. But my testimony is one of poverty; my testimony is one of being sexually assaulted and seeing a childhood robbed from me. I know that every single day when I think of that—the trauma of those events are with me today and that's what drives me to the voting booth," she said. "We have to bring everyone with us. My hope for the future is that we never go back. That's not just about clapping your hands and screaming every time someone says something that sounds good, but about keeping it rolling once you go home."
Lorri Jean, CEO of the LA LGBT Center, also gave a powerful speech, stressing the power of continuity in action.
"We are here today marching for women's lives. Marching for our country and our world," she said. "We are marching for truth and integrity and treating our fellow human beings with dignity and respect. We have spent the last year enduring and resisting the leadership of those who do not believe in truth and compassion; who do not understand that a strong nation requires liberty and justice for all.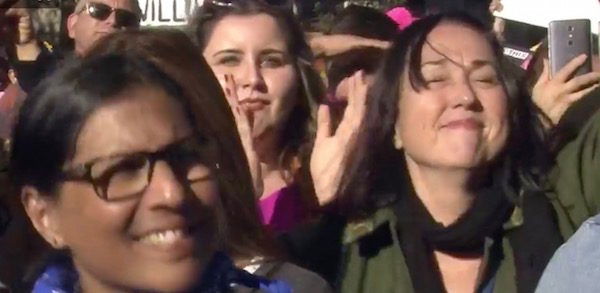 "So we march again," Jean said. "We must vote regardless of party; we must vote our values. Until we see the change we need in Washington, it is our duty, our obligation to do much more than simply hunker down and weather the storm. We must be the storm! We can be the storm. Be the storm!"