Trump touts economy, restrains bluster in State of the Union speech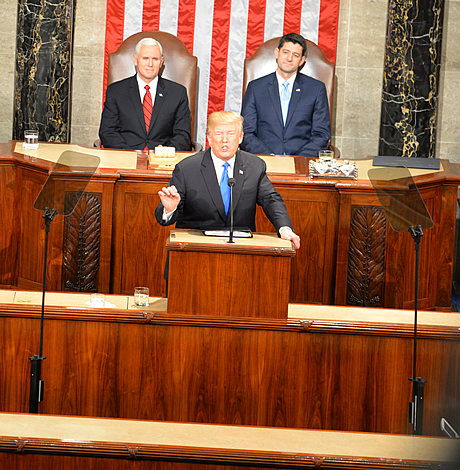 President Trump delivered a State of the Union address Tuesday night emphasizing economic development and proposed changes to immigration and infrastructure as LGBT groups continued to hammer him with accusations he has abandoned civil rights.
Away from his Twitter account, Trump restrained himself during his speech and was largely free from bluster. At times, Trump sought to capture in his speech before a joint session of Congress a sense of aspiration.
"Over the last year, the world has seen what we always knew: That no people on Earth are so fearless, or daring, or determined as Americans," Trump said. "If there is a mountain, we climb it. If there is a frontier, we cross it. If there is a challenge, we tame it. If there is an opportunity, we seize it. So let us begin tonight by recognizing that the state of our Union is strong because our people are strong."
Unlike President Obama in his many State of the Union addresses before Congress, Trump never explicitly mentioned LGBT people in his speech, although he referenced all Americans saluting the same flag.
"I want to talk about what kind of future we are going to have, and what kind of nation we are going to be," Trump said. "All of us, together, as one team, one people, and one American family. We all share the same home, the same heart, the same destiny, and the same great American flag."
Touting his accomplishments, Trump mentioned at one point having "taken historic actions to protect religious liberty," a term often understood to mean anti-LGBT discrimination. Last year, his U.S. Justice Department issued guidance on religious freedom that critics say would enable the denial of services for LGBT people.
But in the aftermath of passing tax reform legislation, Trump made economic development under his administration a major focus of his speech, asserting the change "enacted the biggest tax cuts and reforms in American history."
"We slashed the business tax rate from 35 percent all the way down to 21 percent, so American companies can compete and win against anyone in the world," Trump said. "These changes alone are estimated to increase average family income by more than $4,000."
The one-year marker of the Trump administration has seen favorable economic numbers. The stock market has reached new highs, reaching $8 trillion in value, and the trend of job creation has remained consistent throughout the entire year. Stories of businesses granting bonuses to workers and companies reinvesting in American workers continue to make news. Unemployment for women has reached an 18-year low and unemployment for blacks and Hispanics has reached record lows.
At one point, Trump ad-libbed a line about the low black unemployment levels being "something I'm very proud of." Critics have said black unemployment was reaching new lows before Trump took office and questioned whether his policies have encouraged that drop.
Trump also took the opportunity to promote policy ideas for the year ahead. Some of those initiatives, such as reducing the cost of pharmaceutical drugs, he said his administration would accomplish itself, while for others, such as immigration and a $1.5 trillion infrastructure plan, he sought help from Congress.
On immigration, Trump presented his "four-pillar" framework of a bipartisan compromise in which "nobody gets everything they want, but where our country gets the critical reforms it needs."
The four pillars consist of finding a solution to allow 1.8 million young, undocumented immigrants to stay in the United States; border security; ending the visa lottery; and restricting family-based "chain immigration." The young, undocumented immigrants, known as DREAMers, were eligible for relief under Obama-era immigration policy, but Trump terminated it.
"In recent weeks, two terrorist attacks in New York were made possible by the visa lottery and chain migration," Trump said. "In the age of terrorism, these programs present risks we can no longer afford. It is time to reform these outdated immigration rules, and finally bring our immigration system into the 21st century."
Trump also made the case for his administration's efforts to contain the trans-national gang MS-13, which has members based principally in El Salvador. Trump mentioned the word "gangs" several times in his remarks about immigrants coming into the United States — a notion critics say unfairly conflates all immigrants coming into the United States with those engaged in illegal activity.
In terms of foreign policy, the one major focus for Trump was North Korea, which has continued to pursue nuclear weapons despite economic sanctions. Trump said contrary to previous administrations he "will not repeat the mistakes of past administrations" and offer concessions to the country.
In a possible attempt to justify escalation against North Korea, Trump told the story of individuals who endured suffering as a result of the Kim Jung-un regime.
One was the story of an American, Otto Warmbier, who was sentenced to hard labor in North Korea and died shortly after returning to the United States. The other was the story of Ji Seong-ho, who escaped North Korea for Seoul after being tortured by his country and losing his legs. Seong-ho and Warmbier's parents were among the guests seated with first lady Melania Trump.
"We need only look at the depraved character of the North Korean regime to understand the nature of the nuclear threat it could pose to America and our allies," Trump said.
LGBT groups were unimpressed with Trump's speech and said his vision for America leaves out the LGBT community and marginalized groups.
Sarah Kate Ellis, CEO of GLAAD, criticized Trump in a statement for continued anti-LGBT policies.
"Managing to read a pre-written speech off a teleprompter does not make one presidential or lend a single ounce of legitimacy to Trump's anti-LGBTQ agenda," Ellis said. "Trump has spent the past year targeting vulnerable communities and surrounding himself with anti-black, anti-Muslim, anti-immigrant, anti-women and anti-LGBTQ activists with the goal of exacerbating discrimination and erasing LGBTQ Americans from the fabric of this nation."
Sharon McGowan, director of strategy at Lambda Legal, said in a statement Trump and his administration "have gone after LGBT people and other vulnerable communities with every weapon in his arsenal," raising concerns about judicial appointments she says are anti-LGBT.
"To this end, the president has spent the last year packing the court with judges who look like him, think like him, and whose impact will stretch across generations," McGowan said. "If long after President Trump has vacated the White House we have federal courts packed with judges who share his values, our children and grandchildren will continue to suffer."
Trump, who secured a record number of judicial confirmations in his first year in office, has his own take on judicial appointments during his administration. The line inspired boos and hisses from Democrats in the House gallery.
"Working with the Senate, we are appointing judges who will interpret the Constitution as written, including a great new Supreme Court justice, and more circuit court judges than any new administration in the history of our country," Trump said.
Among the rollback to civil rights under the Trump administration LGBT advocates have cited is Trump's attempt to ban transgender people from the military. After tweeting in June he'd ban them from the armed forces "in any capacity," Trump followed up with a directive implementing the change.
As a result of litigation filed by LGBT legal groups, courts have enjoined the U.S. military from enforcing Trump's ban as the lawsuits move forward.
In an attempt to draw attention to Trump's policy, two Democratic lawmakers — Rep. Joe Kennedy III (D-Mass.), chair of the Congressional Transgender Task Force, and Rep. Jared Huffman (D-Calif.) — invited transgender people who served in the military to the House gallery for Trump's speech.
Kennedy invited Army Staff Sgt. Patricia King, who's been deployed to Afghanistan three times, and Huffman invited transgender veteran Lynda Bengtsson-Davis, who served more than a decade in the Marine Corps and now seeks to enlist in the Air Force Reserve.
A rising star in the Democratic Party, Kennedy also delivered the Democratic response to the State of the Union address in Fall River, Mass., promoting the party's plan of "A Better Deal" and decrying Trump's policy.
"It would be easy to dismiss the past year as chaos," Kennedy said. "Partisanship. Politics. But it's far bigger than that. This administration isn't just targeting the laws that protect us – they are targeting the very idea that we are all worthy of protection."
In the House gallery, many Democratic women dressed in black to express solidarity with the #MeToo movement of women speaking out against sexual harassment.
Other women wore red pins to honor Recy Taylor, a black woman who was abducted and raped in Alabama more than 60 years ago, but whose perpetrators were never charged. Oprah Winfrey told Taylor's story in a high-profile speech at the Golden Globes.
Members of the Congressional Black Caucus wore Kente cloth scarves to protest Trump's alleged comments that Haiti and African countries are "shithole" nations. Trump has denied making the comments.
A record number of lawmakers, including Rep. Frederica Wilson (D-Fla.), boycotted the State of the Union address entirely.
Trump made an explicit attempt to reach out for bipartisan support during his speech, but will likely face continued opposition based on policies and a record of endorsing discrimination.
For many of Trump's critics, the attempt at unity he made throughout his speech — and at its conclusion — rings hollow because they feel excluded from that vision.
"Americans fill the world with art and music," Trump said. "They push the bounds of science and discovery. And they forever remind us of what we should never forget: The people dreamed this country. The people built this country. And it is the people who are making America great again."
Obama rallies for Warnock as Walker goes transphobic in latest ad
"Tomorrow is the last day for early voting and then we need to get people out to the polls on Tuesday, which means we still got work to do"
ATLANTA – Former President Barack Obama held a rally with Sen. Raphael Warnock (D-GA) tonight in Atlanta as the Georgia election runoff for the U.S. Senate seat currently held by Warnock enters its final week.
Speaking to the enthusiastic crowd in the historic Pullman Yard, Obama urged supporters to continue pressing to secure Warnock's chances as early voting ends Friday ahead of next Tuesday's election.
"Now I know a lot of folks have been voting early over the last few days, that is a good thing. That is an encouraging thing. But — you knew there was a but —plenty of folks haven't voted yet. Tomorrow is the last day for early voting and then we need to get people out to the polls on Tuesday, which means we still got work to do," Obama said.
A spokesperson for the the Georgia secretary of state's office told the Blade that more than 1.1 million votes have been cast so far.
Warnock's Republican challenger meanwhile focused on his opposition to transgender rights. In a recent campaign ad, Herschel Walker is featured alongside cisgender former University of Kentucky swimmer Riley Gaines, who tied with University of Pennsylvania trans female swimmer Lia Thomas.
In the ad Gaines says she "worked so hard" at competitive swimming but she was "forced to compete against a biological male."  The ad also goes on to attack Warnock in the Chyron onscreen stating: "Raphael Warnock voted to allow biological men to compete in women's sports." That particular charge by Walker's campaign is factually incorrect as the U.S. Senate has not held any votes on the subject of transgender women in sports.
Politico's National political reporter Natalie Allison tweeted:
Herschel Walker is up with a new runoff ad about transgender athletes, featuring a swimmer who tied with Lia Thomas.

"My senior year, I was forced to compete against a biological male," Riley Gaines says in the ad for Walker's Senate campaign. pic.twitter.com/MlVxnJwkgB

— Natalie Allison (@natalie_allison) November 21, 2022
During the rally in Atlanta this evening Politico reported Warnock received roaring applause when he poked fun at Walker, something Obama also did, referencing a series of outlandish comments the retired football star has made over the course of his candidacy.
"We all know some folks in our lives who, we don't wish them ill will, they say crazy stuff … but you don't give them serious responsibility," Obama said.
"He was an amazing running back," Warnock said of Walker. "And come next Tuesday, we're going to send him running back to Texas."
Walker, who was raised in the Peach State and was a star player at the University of Georgia, lived the majority of his adult life in Texas before returning to run for Senate in 2021.
Politico also noted that Warnock, the pastor of the Atlanta church that Martin Luther King Jr. attended, tied the election to the long struggle of African Americans for equal rights, noting the crowd had gathered on the 67th anniversary of Rosa Parks refusing to get up from a bus seat in Montgomery, Alabama. Walker is also African American.