February 8, 2018 at 1:17 pm PST | by Karen Ocamb
Schiff vs Nunes: California congressmen battle over truth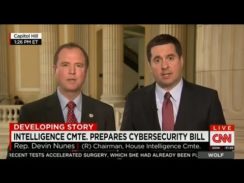 Donald Trump has moved the bright red line of political propriety so often, many politicos only briefly expressed outrage, then shrugged upon release of a new Trump re-election campaign video calling those Democrats who didn't applaud his State of the Union speech 'un-American." The ad opens with an avalanche of concrete irony, as Trump reads from the teleprompter, saying: "I call upon all of us to set aside our differences, to seek out common ground, and to summon the unity we need to deliver for the people."
The ad doubles-down on Trump complaining about Democrats at a Feb. 5 rally in Ohio.
"You're up there, you've got half the room going totally crazy, wild – they loved everything, they want to do something great for our country. And you have the other side, even on positive news – really positive news, like that – they were like death and un-American. Un-American," Trump said, as his supporters nodded and smiled. "Somebody said, 'treasonous.' I mean, yeah, I guess, why not? Can we call that treason? Why not? I mean, they certainly didn't seem to love our country very much."
"They certainly didn't seem to love our country very much," says the president whose propensity for divisiveness and scalping the English language has raised fears of an unintended nuclear war. The ad identifies Sen. Minority Leader Chuck Schumer and oddly, out Wisconsin Sen. Tammy Baldwin as "disrespecting our people" and "disrespecting our country" as "disgraceful" Democrats.
Not unexpectedly, the camera lingers on excruciatingly unimpressed House Minority Leader Nancy Pelosi of San Francisco, a familiar target of giddy GOP hatred. Images of Pelosi's marathon speech Feb. 7 demanding a House vote on DACA will soon appear in Republican campaign spots.
But while Trump may be pounding his chest and fluffing the midterms, the real battle royale playing out behind closed doors and on television screens around the globe is between the top ranking Californian Republican and Democrat on the House Intelligence Committee—Devin Nunes and LGBT ally Adam Schiff, respectively.
The two started out as cordial bipartisan investigators into Russian interference in the 2016 elections. But that changed mid-March after Nunes took a midnight run to fetch secret intelligence information, some of which he revealed without consulting committee members or even other Republicans before calling a press conference.
"The intelligence community incidentally collected information about U.S. citizens involved in the Trump transition," Nunes told reporters, a conclusion he derived from reviewing "dozens of [intelligence] reports." Though the surveillance was legal under a Foreign Intelligence Surveillance Act (FISA) warrant, Nunes was "alarmed" that such information, including with some "unmasked" names, had circulated throughout the government.
Nunes dashed to the White House to brief Trump, who later said he felt "somewhat" vindicated for his false claim that President Obama "wiretapped" him at Trump Tower. It turned out the White House was Nunes' secret source.
A month later, Nunes recused himself from the House Intelligence probe into Russian meddling, only to resurface this year for "Memogate," referring to a secret memo based on classified FBI information calling into question that FISA warrant into investigating Trump campaign foreign policy advisor Carter Paige, who the FBI deemed a Russian spy. The FBI beseeched Nunes and Trump not to release what Schiff called the "deliberately misleading" memo, which was "materially different" from the one committee members voted to make public. Meanwhile, Republicans refused to simultaneously release Schiff's properly vetted Democratic counter-memo.
Reporters asked if the White House was Nunes' source for that memo, too, as yet another attempt to derail Independent Counsel Robert Mueller's investigation into possible Trump campaign collusion with Russia and obstruction of justice to quash the investigation.
"Devin Nunes has shown more loyalty to Donald Trump than the Constitution or the rule of law. The release of this sloppy, cherry-picked memo is a blatant partisan attempt to smear law enforcement and Mueller's investigation. We can't let them get away with it," said Chad Griffin, President of the Human Rights Campaign.
"Devin Nunes, Donald Trump, Paul Ryan, and their enablers have shown no interest in the truth–only misleading the American public and discrediting a criminal investigation," Griffin continued. "We need every Member of Congress on both sides of the aisle to stand against this manipulation of national security. History is watching. Silence makes you complicit. For the sake of the country, stand up and do something."
"The occupant of the Oval Office is not the least bit of a champion for democracy," Schiff told University of Pennsylvania students on Feb. 1. "The threat from Russia to our democracy is now far less than the threat from within. There is nothing Russia can do to us that rivals what we are doing to ourselves right now."
Memogate is important, said Schiff, a former federal prosecutor, because it's "laying a predicate for the administration to interfere with the justice system….The effort then, with that midnight run, was to put the government on trial. The effort now is to put the government on trial."
"And the way they're trying to put the government on trial is by suggesting that there is this cabal in the FBI, this secret society, this rampant corruption within FBI and DOJ, and that's the real story," Schiff continued. "So, forget about what the Russians did, forget about what the Trump campaign did."
Schiff received a standing ovation when a student asked about the Justice Department: "It's not [Trump's] Justice Department. It's the United States of America's Justice Department."
The DOJ will determine defense of LGBT rights, including the challenge to Trump's ban on transgender servicemembers in the military.
At the end of his talk, an older woman choked up and thanked Schiff for "standing in the gap for us and in this country, for us to save the democracy. We're just so grateful."