Will Cristina Garcia's career tank after calling John Perez a 'homo?'
Former Gov. Bill Richardson still hasn't lived down saying "maricon'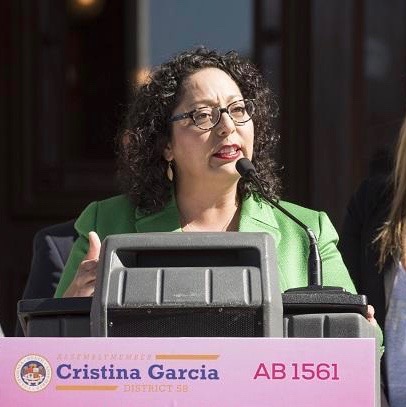 On her Twitter page, California Assemblymember Cristina Garcia calls herself "Reformer, community activist, math lover and teacher." In her AD 58 office in Sacramento and on the radio, she called Los Angeles-based gay Assembly Speaker Emeritus John Perez a "homo." While "very disturbed" by the divisive slur, Perez is more concerned about its harmful impact on closeted LGBT staffers and what it says about the legislator's real attitudes.
Garcia, who represents Bell Gardens, told KQED on Monday, March 26, that she sees nothing wrong with using the word "homo," suggesting that lawmakers should have a "safe space" to talk "candidly" about colleagues, which apparently includes using slurs. But after being outed by Politico, Garcia apologized for calling Perez a '"homo" five years ago.
"I did make that remark in a moment of anger. I have no reason to lie about something that is true," Garcia said in a statement. "However, in no way was my use of that term meant to belittle Mr. Perez for his sexuality….I have a long and chronicled history of being a straight ally of the LGBTQ community."
"I realize that words can be harmful and I humbly and sincerely apologize to Mr. Perez and any member of the LGBTQ community who feels offended by the comment," Garcia added.
But it's the casualness with which the slur was used that may prove unforgivable if the LGBT community and allies think the unthinking use of such pejorative terms actually reflect Garcia's true beliefs, uncensored by political expediency. To LGBT people, such slurs are not just a matter of an "authentic" politician being politically incorrect. Pejorative terms like "homo" and "faggot" are not meant just to harm and offend: they are intended to dehumanize. Like a hate crime, they target not just the person being called "homo" or "faggot," but the whole LGBT community. And they are not easily forgotten.
Take what happened to New Mexico Gov. Bill Richardson, for instance. In 2007, Richardson was receiving a lot of positive attention as he ran for the Democratic presidential nomination, garnering an endorsement from powerful LA County Supervisor Gloria Molina and receiving warm consideration from then-labor leader John Perez. While not expected to win the nomination, he was high on the short list as a vice-presidential pick.
But Richardson's popularity among LGBT politicos came to a screeching halt after this reporter and former Washington Blade editor Chris Crain wrote about Richardson's casual use of the gay pejorative "maricon" during a March 2006 appearance on the Don Imus radio show. Richardson immediately called Equality New Mexico, which was pressing him to sign two domestic partners bill, apparently claiming that he understood "maricón" to mean "effeminate," not "faggot,' which was the general US understanding of that word. By the time he ran for president, Richardson's non-apology apology turn "maricon" into meaning simply "gay."
"It has been brought to my attention that the word also has a hurtful or derogatory connotation, which was never my intent," Richardson at the time. "If I offended anybody, I'm sorry."
Richardson's pro forma apology evaporated during the HRC/LOGO Democratic presidential forum where he responded to a question from Melissa Etheridge saying he thought being gay was a choice. There was an audible gasp in the LGBT audience. Though he immediately tried to clarify, it was clear that the LGBT community would not back Richardson and would scorch any Democrat who gave him a pass.
That may not happen with Garcia. But the assemblymember has more to explain than why the self-described LGBT ally used the slur "homo" at all. And, according to a formerly closeted male staff member caught up in the Assembly investigation into claims of sexual harassment against her, Garcia has called Perez a "faggot," too.
The investigation has thrown Garcia supporters into confusion. After all, she was a leader of California's #MeToo movement, which landed her on the cover of Time magazine. But it has also brought into sharp relief the fact that inappropriate behavior toward male staffers constitutes sexual harassment, just as much as it does towards women.
Daniel Fierro, a then-25-year-old staffer to Assemblymember Ian Calderon, claims that in 2014, an apparently inebriated Garcia cornered him in the dugout after an Assembly softball game and "began stroking his back, then squeezed his buttocks and attempted to touch his crotch before he extricated himself and quickly left," Politico reported last February.
Fierro kept quiet until the #MeToo movement and new whistleblower protections for legislative staffers prompted him to tell Calderon, who referred the matter to the Assembly Rules Committee for investigation.
"If the person leading the charge on [sexual harassment] isn't credible it just ends up hurting the credibility of these very real stories," Fierro told the AP.
The day after the Politico report, Garcia went on an unpaid leave of absence.
"Upon reflection of the details alleged, I am certain I did not engage in the behavior I am accused of. However, as I've said before, any claims about sexual harassment must be taken seriously, and I believe elected officials should be held to a higher standard of accountability. Therefore, I am voluntarily taking an immediate unpaid leave from my position in the State Assembly, including any accompanying committee assignments, so as not to serve as a distraction or in any way influence the process of this investigation," Garcia said in a statement Feb. 9. "I implore the Assembly Rules Committee to conduct a thorough and expeditious investigation, and I look forward to getting back to work on behalf of my constituents and for the betterment of California."
But new allegations surfaced claiming that Garcia "urged staffers to play 'spin the bottle' after a political fundraiser," according to Politico on Feb. 18. https://www.politico.com/story/2018/02/18/california-metoo-allegations-legislator-416916
"It was definitely uncomfortable,'' David John Kernick, 38, who worked for Garcia for five months in 2014, told Politico. He's filed a formal complaint with the California Department of Fair Employment and Housing asserting that Garcia charged him with insubordination after questioning the propriety of trying to engage staffers in that kissing game in a hotel room after a night of heavy drinking. He says he lost his district office job two days later.
Kernick and three other ex-staffers sent an open letter to Assembly Speaker Anthony Rendon complaining about the "toxic" workplace environment "where activities included regular heavy drinking with staffers, sexually charged meetings and raunchy conversations highlighting intimate details of her sex life," Politico reported.
The day after the Politico story, on Feb. 19, a letter critical of Kernick, signed by Garcia's 2014 Chief of Staff Tim Reardon, was taken from Kernick's personnel file and circulated around the State Capitol. "Obviously, it's improper. It's a violation of privacy, and it does nothing to counter the narrative for a boss that was accused of being very vindictive. In fact, it seems to confirm it," Christine Pelosi, the legal counsel for #WeSaidEnough movement, told Politico.  "Whoever thought they were helping Cristina Garcia did her no favors."
On Monday, Kernick challenged Garcia's denial in the KQED radio interview (transcript below) about using the word "faggot."
"I don't use the 'faggot.' It's not in my vocabulary," she told KQED. "I think that terms like 'faggot' are purely derogatory. There's no good way to use that word."
Kernick told Politico that Garcia's denial about never using that word was "a bald-faced lie."
"The ex-Marine said he is a member of the LGBT community, but he was not out when he worked for Garcia – and so had to remain silent when he 'routinely' heard Garcia use both those words ['homo' and 'faggot'] 'distinctly about the speaker [John Perez], but it was also part of her regular vocabulary. It wasn't unusual. … And so I just had to internalize it. I had no choice.'"
Perez told the Los Angeles Blade that while he is "incredibly disturbed" by the slurs Garcia made about him, he is even more upset at the thought of the harm done to closeted staffers like Kernick who fear calling out the homophobia lest they lose their jobs.
"I'm incredibly disturbed by the interview I heard on KQED and a pattern of rationalization and minimization of the impact of the use of homophobic language," Perez said by phone Tuesday while on vacation in Japan. "The lack of appreciation for the impact on staff—and quite frankly, for every kid in society."
Perez recalled growing up thinking gay people would never be elected until Sheila Kuehl became the first out LGBT person elected to the Assembly in 1994.
"I never thought I'd have the opportunity to succeed her some day and advance to be Speaker," he said. "But one of the reasons I felt that way was because of the pervasive and pernicious nature of homophobia in society.
"And so it's so disturbing—despite all the progress we've made—to see this additional example of homophobia in the workplace," Perez continued. "Not because it was a negative statement about me. I assumed as Speaker of the Assembly that at some point every member would be upset with me about something and be angry at me and say something angry. But it is different to say something in anger, something in frustration based on facts and based on circumstances than it is to immediately go to base-level homophobic attacks. Because when you go to base-level homophobic attacks—not only is it an attack on that individual—but it's attacking the whole community. And it's borne out of a notion of dehumanizing us based on that which makes us unique."
The impact of the slurs are an injustice toward "those hearing them directly and indirectly and what it means for a young gay or lesbian or bisexual or transgender staff or even more so, a closeted member of our community hearing these kinds of comments in the workplace and what that means to have a thriving career is particularly bothersome," Perez said.
"I'm hopeful that the fact-finders [in the sexual harassment allegations] will look into this as they look into the totality of the allegations," Perez said, "because of the impact on staff. And quite frankly, what it means for how we view people and whether we see our obligation to represent everybody. It's hard to reconcile divisive language with the notion of representing all people and our constituencies."
"I do not comment on ongoing investigations," Assembly Speaker Anthony Rendon told the LA Blade. "That said, using homophobic language is inappropriate and indefensible. Words have consequences and can cause harm. Officials who are elected to represent everyone in their districts should know better and do better."
Assemblymember Evan Low, Chair of the California LGBT Legislative Caucus, said: "It's disappointing to hear a respected former Speaker be subjected to hurtful homophobic comments. It's upsetting but not surprising—it reflects the everyday struggles that our LGBT community faces on a daily basis. We must continue to work to educate others about the importance of eradicating all forms of homophobia—and the ignorance and bigotry behind them."
The California Democratic Party endorsed incumbent Garcia via their consent calendar. But neither out CDP Chair Eric Bauman nor out LA County Democratic Party Chair Mark Gonzalez are happy with Garcia.
"The use of pejorative terms of any kind is ALWAYS unacceptable, even more so from those who claim to speak to others about morality from on high. This is positively unacceptable and attempts to rationalize, minimize or mitigate the pain caused by the use of slurs only makes it even more offensive," said Bauman.
"Assemblymember Garcia's comments regarding the homophobic language she used to refer to openly gay members of the Assembly were offensive, to say the least. The fact that Ms. Garcia justified using homophobic language is a poor defense for actions taken as an adult and leader in the community. She has stood behind the LGBT community in her record as a legislator, but as a leader of California, Assemblymember Garcia and all elected officials need to show that they walk the talk. Language contrary to what one has a history of standing up for has a chilling effect on staff and on the community," said Gonzalez. "Any language that is derogatory or inflammatory is unacceptable," said Gonzalez.
Will all the outrage matter? Garcia has given no indication that she is thinking of resigning, though the outcome of the Assembly's investigation may change that. And as of now, the only Democrat who has announced an intention to challenge Garcia in the June primary is a gay man, John Paul Drayer of Bellflower, a former member of the Cerritos College board of trustees who filed papers on Feb. 12.
"Having effectively no representation in the state assembly 58th District we need new ideas & candidate to turn around the drunken misguided culture of being too close to Sacramento lobbyists," Drayer wrote in an email to the Downey Patriot. "Therefore I am seriously thinking about running for this effectively vacant seat. Plus I encourage many others to run in a strong debate about fixing Sacramento to work for working families & small businesses with tax cuts from our large surplus. I will protect the 5th amendment due process rights of men & women equally. No gender should be above another."
There is a bit of confusion over this, however, since Drayer boasted on Twitter about newspaper cover of his Assembly challenge on March 24—but on March 13 he posted @drayerpaul:
Mor
"I filed for the Special Election to fill the unexpired term in the CA State Senate 32nd District on June 5th."
Here is the link to a clip of Christina Garcia's interview on KQED:
Here's the transcript:
KQED: "The other thing I heard that might be concerning for some people in the Capitol and perhaps some people in your district is this idea that you use slurs or something other than respectful word to describe the former Speaker of the House (sic) who is gay, and other folks. Did you ever use slurs like 'faggot' or 'homo?' Did you ever say anything like that to your staff?
Cristina Garcia: Oh, I will be clear. There's no one in politics who doesn't talk about some of the peers we work with and we use candid language. And so along the way, I've used candid language – I curse. I mean, I've been vocal about some of my (?) words – I don't know if I can say them on the radio. And you know, if I see staff who didn't want to engage in that kind of conversation, I would stop. But they never seemed to have any problem with it. But even then, it's pretty limited. But these are in places where you think you're in a safe space and you can speak your mind and be vocal.
I don't use the 'faggot.' It's not in my vocabulary. But at some point, have I used the word homo. Yeah. I've used that word homo. I don't know that I've used it in derogatory context. I think you need to think about the context in which it was used. But anything can be taken out of context, clearly, hearing the situation (?)
KQED: Well, I bring that up – I grew up in a neighborhood where the word homo, for example, people still say 'no homo' as a way to express their identity, the masculinity. The reason I'm asking you, though, is there – what has been presented to me as this question of whether these words were used in a professional setting and whether they made people uncomfortable. So did you ever use that to describe the Speaker of the House – the word homo?
CG: I can't remember but I wouldn't be surprised if I used that word. Right. So I think that that's fair. I think that terms like 'faggot' are purely derogatory. There's no good way to use that word. I think the word 'homo' can also be derogatory. But I'm not going to sit here and pretend I'm an angel. Was how I was using them in derogatory terms? No. It's almost like I was saying I'm a brown person sometimes. Am I perfect? I think all of us at sometime have biases but I try to be open and accepting of all communities, including the LGBT community. You can look at my voting record, you can look at the advocacy I've been doing well before I was elected in conjunction with not just the LGBT community but with communities that have been marginalized."
Rep. Cicilline on future of LGBTQ rights & life after Congress
Looking beyond Congress, Cicilline said he is eager to continue advancing "equality and justice for our community"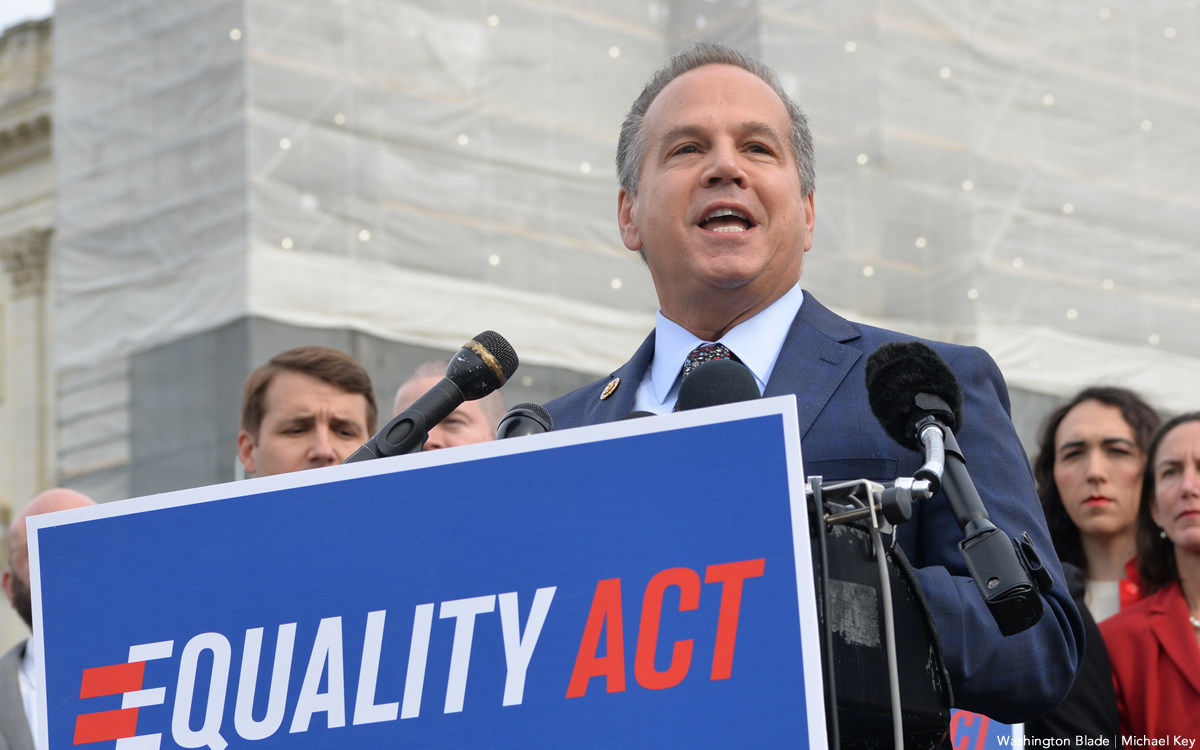 PROVIDENCE, R.I. – Speaking with the Washington Blade by phone on Tuesday from Rhode Island, U.S. Rep. David Cicilline (D-R.I.) was optimistic about the outcome of the debt ceiling negotiations that have roiled Capitol Hill, the White House, and Wall Street for weeks.
"My sense of it is there are enough Democratic and Republican votes to get it to the president's desk," said the congressman, who would fly back to Washington in the evening with the expectation that a vote would be held the following day.
Even amid the chaos and back-and-forth travel this week, Cicilline was ready to look back on the landmark legislative accomplishments of his distinguished career in politics, which have included groundbreaking advancements for LGBTQ rights.
And despite the ascendancy of anti-LGBTQ attacks from the right, including from much of the Republican caucus, he told the Blade there is ample reason to be optimistic that the chamber's pro-equality work will continue in his absence.
As announced back in February and effective on Thursday, Cicilline will retire from Congress to lead his state's largest philanthropic organization, the Rhode Island Foundation, having represented its 1st Congressional District in the U.S. House since 2011.
A former attorney, Cicilline was tapped to lead the House Judiciary Committee's Subcommittee on Antitrust, Commercial, and Administrative Law as well as the House Foreign Affairs Committee's Subcommittee on the Middle East, North Africa, and Global Counterterrorism.
Particularly in recent years, the congressman became one of the most powerful House Democrats, elected to leadership in 2017 as a co-chair of the House Democratic Policy and Communications Committee and picked in 2021 by then-House Speaker Nancy Pelosi (D-Calif.) to serve as one of the nine members tasked with managing the House's second impeachment of former President Donald Trump.
Among other legislative achievements, Cicilline is widely credited with leading the House's passage, twice, of the biggest civil rights bill since the 1964 Civil Rights Act – the Equality Act, which would prohibit anti-LGBTQ discrimination in areas from education and housing to employment and public accommodations.
While the Senate failed to pass the Equality Act, Cicilline said, "I'm handing that work off to [U.S. Rep.] Mark Takano [D-Calif.], who I know will take it over the finish line" once Democrats win control of the House again.
The congressman told the Blade that he hopes his leadership on this bill will be remembered as a key part of his legacy – and was adamant that its passage through both chambers is now a question of "when" rather than "if."
"The majority of Americans support the Equality Act, and a majority of voters in every single state support nondiscrimination protections for LGBTQ+ people," so "this is about the Republican conference in Congress catching up with the American people," Cicilline said.
Congress is beginning to look more like America in at least one respect, though. After his first election to the House, Cicilline was one of only three openly LGBTQ members serving in Congress (having already made history in 2003 as the first openly gay mayor of a state capital, Providence, R.I.).
Today, "I'm leaving with 10 colleagues in the House and two in the Senate," he said, "so that's great progress."
"The calvary has arrived" with "young new members who are going to lead the next wave of this fight" such as openly LGBTQ U.S. Reps. Robert Garcia (Calif.), Becca Balint (Vt.), Eric Sorensen (Ill.), and Ritchie Torres (N.Y.), Cicilline said.
Echoing comments from his final speech on the House floor last week, the congressman also expressed his faith and confidence in party leaders with whom he has worked closely, including Democratic House Minority Leader Hakeem Jeffries (D-N.Y.)
Tonight, I addressed the House of Representatives for the final time as a Member of Congress.

As a lifelong Rhode Islander, it is only fitting that my final message is one of HOPE — hope for our democracy and our Congress.

Watch here:https://t.co/2HTSNuuk1P

— Congressman David N. Cicilline (@RepCicilline) May 24, 2023
Hopes and expectations for the current Democratic conference's ability to deliver on behalf of LGBTQ Americans were buttressed late last year by passage of the Respect for Marriage Act, legislation co-led by Cicilline that codified fundamental rights for same-sex couples that might otherwise be erased if the U.S. Supreme Court overturns or weakens its constitutional protections for marriage equality.
How to combat the rightwing crusade against LGBTQ and especially trans Americans
However prepared Cicilline believes his colleagues are to meet the moment, the congressman is also up to speed on the unprecedented challenges presented by the current political climate with respect to LGBTQ rights.
This year, state legislatures have introduced hundreds of bills targeting trans Americans, which endeavor to restrict their access to everything from lifesaving healthcare to public bathrooms. At the same time, anti-trans rhetoric has escalated to such an extent that a rightwing pundit speaking at CPAC said "transgenderism must be eradicated from public life entirely," which some interpreted as a call for genocide against the community.
Legislatively, Cicilline said it is all part of a cynical political strategy adopted by Republicans. Having concluded that their crusade against same-sex marriage was no longer winnable, the party sought another way to fight against LGBTQ rights, eventually polling anti-trans positions and messaging that successfully motivates "the most extreme parts of their political base," he said.
"Our Republican colleagues have weaponized the trans community in such a way that they think it's politically advantageous to attack even trans kids," which is "really horrific" especially considering the potential for tragic real-world consequences, including targeted violence against the trans community, Cicilline said.
"I hope people who are seeking public office will be conscious of that and will be responsible, but unfortunately, I think there are some who are so driven by their desire for power, that they're prepared to do almost anything to get there," the congressman added.
Some conservatives hope their polarization of and fear mongering about trans issues will drive a wedge, providing sufficient incentive or a permission structure for LGB Americans to turn their backs on the trans community, Cicilline said, but "That's not gonna happen."
"We are standing in lockstep with our trans brothers and sisters, and we're just not going to allow them to be attacked in this way," he said.
Broadly speaking, Cicilline said elected Democrats must "stand up for the queer community, speak out, condemn this kind of [anti-LGBTQ/anti-trans] legislation, and let the American people see the contrast" between the Democratic Party, which "stands for inclusion and has fought for LGBTQ+ equality" and the GOP, which is pushing "these very toxic and dangerous and un-American attacks on the LGBTQ community."
The congressman noted that working against the interests of LGBTQ Americans is nothing new for congressional Republicans. "With just a couple of exceptions," he said, the House GOP caucus voted against the Equality Act's nondiscrimination protections, which stem directly from America's most basic foundational values of fairness and equality.
"So that means I have colleagues in the Congress of the United States on the Republican side who fundamentally rejected the legislation that would grant me and others in my community full equality as citizens of this country, [colleagues who would] allow discrimination to continue against our community," Cicilline said.
When it comes to navigating interpersonal working relationships with anti-LGBTQ Republicans in the chamber, though, "I frankly don't really care how they feel about us," the congressman said. "That's irrelevant to me."
Cicilline to continue advocating for LGBTQ Americans after Congress
In addition to the Equality Act, Cicilline said that if Democrats recapture control of the House, he expects to see renewed momentum for a bill that he authored, the Global Respect Act, and another for which he was an original cosponsor, the LGBTQI+ Data Inclusion Act. Both were passed by the House but not by the Senate and therefore remain "unfinished business," he said.
The Global Respect Act, Cicilline said, "will allow the U.S. to impose visa sanctions on anyone who commits gross human rights violations against the LGBTQ community," while the latter bill would mandate that federal surveys must include data collection on sexual orientation and gender identity.
Other legislative efforts that Cicilline has led, in areas from antitrust to foreign policy to gun violence, also include some "unfinished business" – bills that might see movement in the next Congress that carry the potential, in many cases, to measurably impact the lives of all Americans.
For instance, Cicilline, who has been at the vanguard of Congress's work modernizing and strengthening antitrust law, remains hopeful about the eventual passage of six bills that he introduced in 2021, all designed to increase competition in digital markets.
These would curb the monopolistic power of dominant tech platform companies whose business models center engagement as the primary mechanism to drive advertising revenue – even though, as these firms are aware, content that tends to earn more engagement tends to be that which is incendiary, offensive, hateful, false, or misleading, violent or otherwise outrageous.
Looking beyond Congress, Cicilline said he is eager to continue advancing "equality and justice for our community" at the Rhode Island Foundation, building upon the organization's existing work "supporting the organizations that are doing really important work to support the LGBTQ community."
Cicilline acknowledged that leading an "explicitly non-partisan organization" will be a departure from his work in Washington – though perhaps not to the extent one might imagine.
"You know, our community remains, in this country, a marginalized community," the congressman said. "In fact, it's the only community, still, in America, that it's legal to discriminate against."
At this point, rather than pivoting back to discussing the need for passage of the Equality Act, Cicilline instead explained that because of the lack of national nondiscrimination protections, he is even more eager to include the LGBTQ community in the foundation's work advancing diversity, equity, and inclusion.