March 30, 2018 at 12:04 pm PDT | by Karen Ocamb
Equality California endorses Feinstein and two State Republicans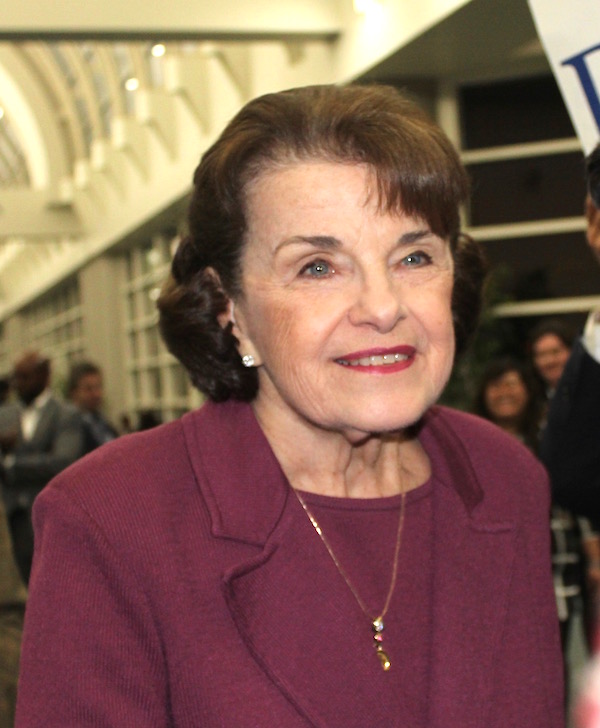 Equality California did what the California Democratic Party didn't do—endorse longtime Sen. Dianne Feinstein in her bid for re-election. The LGBT lobbying organization also took a step beyond the expected by endorsing two Republicans in their Assembly races, a first in EQCA's non-partisan history.
The endorsements are bold moves at a time when the race between Feinstein and former Senate Pro Tem President Kevin de León, a strong LGBT ally, and the backlash against Donald Trump's Republican Party are energizing youth and the previously unengaged to participate in the political process.
In fact, CDP's stunning, sometimes rude rejection of Feinstein, a Democratic icon with seniority in the US Senate, has not been unique—other Democratic groups, such as Stonewall Democratic Club, have come to positions of "No Consensus" as new voters clamor for change. Additionally, some are concerned about the 84-year old's age as she seeks another six-year term.
Ironically, Feinstein, who was elected to the Senate along with Barbara Boxer in 1992's "The Year of the Woman," is facing the surprising primary challenge during a "Pink Wave" when an unprecedented number of women are running for office in the second "Year of the Woman." And Feinstein is also a national leader on the second issue of primary importance (after immigration) to California voters, according to a recent Public Policy Institute of California (PPIC) poll—gun control.
Though the March PPIC poll shows Feinstein far ahead of de León, 42% to 16%, she is taking the challenge seriously, increasing her online and email presence, securing high profile endorsements such as former Vice President Joe Biden and exercising her clout as ranking Democratic member of the Senate Judiciary Committee. On Thursday, for instance, Feinstein and Judiciary Chair Chuck Grassley sent a letter to Trump's campaign lawyer asking for additional email records related to their investigation into Russia's interference in the 2016 election.
While impressive, Equality California's endorsement and grassroots work on the ground may serve Feinstein better as de León asserts that the senator has had a scant actual presence in the state and as a more conservative/moderate Democrat, has had to be pushed into support for progressive issues such as marriage equality and support for DACA. Feinstein's supporters, however, note that she fought for early AIDS funding and, thanks in large part to her former gay deputy Trevor Daley, came out in support for marriage equality and actively worked against Prop 8 before the more liberal Sen. Barbara Boxer.
And like the young survivors of the recent mass shooting at the Parkland, Florida high school, gun control is very personal for Feinstein, who was on the San Francisco Board of Supervisors with California's first out gay elected official, Harvey Milk, who was assassinated in 1978.
"I was the one that found Supervisor Milk's body, and I was the one to put a finger in a bullet hole, trying to get a pulse," Sen. Feinstein told reporters Jan. 24, 2013 as she introduced her assault weapons ban. "Once you have been through one of these episodes, once you see what the crime scene is like, it isn't like the movies — it changes your view of weapons."
Experience like that matters.
"We respect and are very grateful to Kevin de León, who has been one our strongest allies in the Legislature and in California generally and has partner with us on a whole host of LGBTQ and other priorities while he was Pro Tem of the Senate and before that in his career," Equality California Executive Director Rick Zbur tells the Los Angeles Blade. "He is a steadfast ally steadfast ally and one that has an unblemished record with us. I want to make that very clear."
But while both Feinstein and de León have 100% voting records, Feinstein has worked for LGBT civil rights over a longer period of time. Additionally, EQCA's office in Washington DC works closely with Feinstein's office, as well as the offices of Sens. Tammy Baldwin and Kamala Harris and Reps. Mark Takano and Barbara Lee. Feinstein, Zbur says, "is an amazing and dedicated ally for the LGBTQ community. She's always with us, helping us with strategy."
Zbur says incumbency plays a major role in their endorsement process.
"We were also mindful of the significant role Sen. Feinstein plays in the Judiciary where there have been so many anti-LGBTQ Trump appointments," Zbur says. "Part of the reason why we tipped the scale in favor of incumbents is because of the fact that seniority in these committees can make a senator more effective in helping us combat some of these bad appointments and Sen. Feinstein has been with us in opposing bad appointments across the board."
Endorsements also bolster the integrity of the organization. "In order to be effective, we need our allies to know that when they are advocating for us, working with us, and supporting the interests of the community, that when they're up for re-election we are not going to endorse a challenger even when that challenger is also very strong," Zbur says. "That's the basis for the endorsement."
That thinking is also key to EQCA's endorsement of Republicans Assemblymember Catharine Baker running for reelection in Assembly District 16 and Assemblymember Brian Maienschein, running for re-election in San Diego's Assembly District 77. In fact, EQCA duel- endorsed Maienschein along with his out Democratic challenger Sunday Gover.
"Achieving full equality and social justice for the LGBTQ community requires independent champions like Assemblymember Catharine Baker — allies who aren't afraid to stand up for what's right, even when anti-equality voices in their party disagree," Zbur said in a press release. "Catharine has been a great friend and ally to LGBTQ Californians and consistently fights for her constituents, rather than the red team or the blue team, earning our endorsement for another term in the Assembly."
Gover, a small business owner and mother, would clearly increase the Legislative LGBT Caucus. "While folks in Washington work to roll back protections for our LGBTQ community, immigrant communities, women and communities of color, Sunday is fighting to continue California's role as a beacon of hope for the rest of the country," Zbur said. "If San Diegans send her to Sacramento, they can count on Sunday to help ensure every child has a safe and supportive public school, that California families have access to quality affordable healthcare and that everyone has a shot at the American Dream."
Zbur acknowledges that Gover's incumbent Republican opponent has not always had a 100% voting record with EQCA – but close enough, Maienschein scoring 100% on Equality California's 2015 Legislative Scorecard, 80% on in 2016 and another perfect score in 2017.
"It's been one our long term goals – which is becoming even tougher as Republicans veer to the right in the Trump era – to develop strong allies within the Republican Party who will be a voice for our community within their party," Zbur tells the LA Blade. "This is the first year where we've actually had two Republicans who have had 100 % scores on our scorecard in at least one of the last two years. Because they were not 100% in one of the years, we required that they interview for the endorsement and we considered them with the opponents that they were running against in the race.
"In both cases," Zbur continues, "we concluded that both of the Republicans agree in principle with the values of full LGBT inclusion and social justice, which was reflected in their voting records. They stand out over the history of Equal California's existence as being the only two Republicans that have near perfect voting records with us."
Zbur emphasizes the importance of cultivating strong allies in both political parties to advance LGBT civil rights.
"We recognize that for Republicans in the Trump era, they're under even greater pressure to align with Republican Party orthodoxy. And when we have Republicans who have stood up to the voices of hate and anti-equality in their districts and in their party, we believe that we should be acknowledging that and giving them credit for the courage that they've displayed as elected officials," Zbur says.
"Equality California is a non-partisan organization," he continues, "and we almost always support Democrats because Democrats are generally much better for us on our issues. But in this case, we have two Republicans who have been courageous in supporting controversial bills for which they got significant criticism and opposition from within their own party and from the right-wing Republican base. And they stood with us nonetheless."
In fact, Zbur says, in some cases, such as lobbying for the HIV decriminalization bill, Maienschein and Baker were less difficult to persuade then some Democrats.
"One of the things I'd like to point out is that when we work with both Assemblymember Baker and Maienschein's offices, their approach is that they're viewing us as a respected organization in which they view themselves as being allies of our community and even on issues where we're lobbying them that are outside core LGBTQ issues," Zbur says, "they listen to us with open minds and we know them to not be doctrinaire and really try to make decisions that are in the best interest of all Californians. And when we find Republicans who are approaching their job with underlying support for the LGBTQ community and open-mindedness on some of our intersectional priorities, we believe that should be recognized."
For a full list of Equality California's 2018 endorsements to date, visit eqca.org/our-endorsements.