Assembly Committee passes bill banning 'conversion therapy' for adults
Bill expands existing law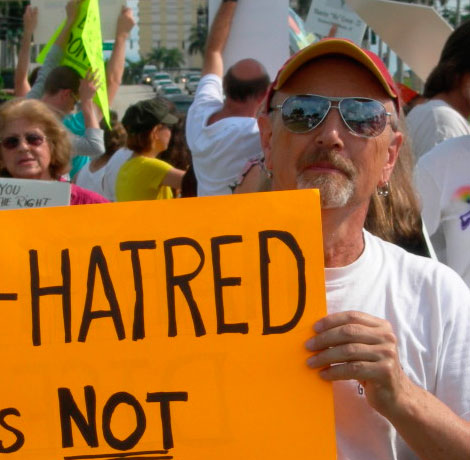 Monday night, LGBT nemesis Karen England of the anti-LGBT conservative Capitol Resource Institute, shot out an Action Alert: "Bill Attacking Pastors & Counselors Before Committee." The email peddled the usual fear-mongering, this time foregoing diatribes against transgender youth and going for the bigger picture: "California to Outlaw Speech."
What AB 2943 actually does is expand existing California prohibitions on so-called "conversion therapy," deemed both junk science and psychological abuse of minors in an earlier bill, SB 1172, by then-State Sen. Ted Lieu that Gov. Jerry Brown signed in 2012. That bill protects minors so once in Congress, Rep. Lieu introduced the Therapeutic Fraud Prevention Act (TFPA), the first federal bill to stop so-called "conversion therapy" as fraud.
"The irony of the conversion therapy industry is that the same people who are telling LGBT kids that they're diseased are the same ones conveniently offering a high-priced, high-risk, ineffective cure," Lieu said in 2015 introducing the federal bill.
"Conversion therapy sessions and materials are incredibly expensive, costing families thousands of dollars and offering no results. It's a dangerous scam, and the government must act to protect LGBT Americans from fraudsters who take their money and lie to them."
Out California Assemblymember Evan Low agrees, authoring AB 2943 with the backing of the LGBT Legislative Caucus to declare that "conversion therapy" or "reparative therapy" is "a fraudulent business practice that misleads consumers and exposes LGBTQ people to damaging psychological abuse," according to an Equality California press release.
The bill came up for a vote on Tuesday in the California Assembly Privacy and Consumer Protection Committee. It passed overwhelmingly, 8-2, with Republican Assemblymember Catharine Baker of Dublin, recently endorsed for re-election by Equality California, joining the seven committee Democrats. AB 2943 now heads to the Assembly Appropriations Committee.
"So-called 'conversion therapy' is as ineffective as it is psychologically damaging. We're grateful to the bipartisan group of Assembly Privacy and Consumer Protection Committee members who today recognized this practice for what it is: consumer fraud that harms LGBTQ Californians," Equality California Executive Director Rick Zbur said.
But the vote was not without drama. LA Times reporter John Myers tweeted: "An emotional end to #CALeg cmte hearing over #AB2943 to impose new limits on advertising paid services for sexual orientation "conversion therapy." Opponent yells out over lack of time to rebut, author @Evan_Low then talks of his own struggles as a young man. Bill passes."
But while LGBT Californians might assume so-called "conversion therapy" is an archaic issue, it is back as a familiar old hobby-horse for right-wingers to ride.
England is seriously pushing the speech angle since it's often proven successful in debates over religious liberties. It is therefore useful to see the CRI/ADF arguments side-by-side with reality.
"A California Legislator has gone too far," England wrote. "Assemblyman Evan Low introduced AB 2943, a bill that would outlaw speech."
She then quotes the Alliance Defending Freedom (ADF): "At its core, AB 2943 outlaws speech, whether offered by a licensed counselor, a best-selling author, or even a minister or religious leader. It targets a specific message-that an adult who is experiencing unwanted same-sex attraction or gender identity confusion can find help to address those issues-for censorship. The breadth of this censorship is staggering. "
England pulls bullet points from ADF's 7-page memo that ultimately concludes that AB 2943 is unconstitutional:
A licensed counselor could not help a married mother of three who is experiencing unwanted attraction to a close female friend or confusion over her gender identity overcome those feelings;
A religious ministry could not hold a conference on maintaining sexual purity if the conference encourages attendees to avoid homosexual behavior;
A bookstore (including online bookstores like Amazon) could not sell many recently published books challenging gender identity ideology and advocating that these beliefs should be rejected by society; and
A pastor paid to speak at an event addressing current social topics could not encourage attendees that they can prevail over same-sex desires or feelings that they were born the wrong sex.
Why these trumped-up scenarios? The Lawrenceville, Georgia-based ADF explains: "In these scenarios, there is a transaction (the counselor's payment; the conference attendance fees; the cost of the book; and the pastor's speaking fee) that triggers AB 2943. And under the bill, a person or organization who is paid by a consumer for goods or services cannot engage in any practice—including pure speech—that tells someone that they can overcome unwanted same-sex attraction or gender identity confusion."
Here's what the Legislative Counsel says the bill is really about as "An act to amend Sections 1761 and 1770 of the Civil Code, relating to unlawful business practices:"
—"AB 2943, as amended, Low. Unlawful business practices: sexual orientation change efforts.
Existing law, the Consumer Legal Remedies Act, makes unlawful certain unfair methods of competition and unfair or deceptive acts or practices undertaken by any person in a transaction intended to result result, or which results results, in the sale or lease of goods or services to any consumer. Existing law authorizes any consumer who suffers damages as a result of these unlawful practices to bring an action against that person to recover damages, among other things.
Existing law prohibits mental health providers, as defined, from performing sexual orientation change efforts, as specified, with a patient under 18 years of age. Existing law requires a violation of this provision to be considered unprofessional conduct and subjects the provider to discipline by the provider's licensing entity.
This bill would include, as an unlawful practice prohibited under the Consumer Legal Remedies Act, advertising, offering to engage in, or engaging in sexual orientation change efforts with an individual. The bill would also declare the intent of the Legislature in this regard."
And the first line of the intent of the Legislature reads: "SECTION 1.The Legislature finds and declares the following: (a) Contemporary science recognizes that being lesbian, gay, bisexual, or transgender is part of the natural spectrum of human identity and is not a disease, disorder, or illness."
It goes on from there, including multiple citations from reports and statements that essentially reflect the American Psychiatric Association's March 2000 published a position: "Therefore, the American Psychiatric Association opposes any psychiatric treatment such as reparative or conversion therapy which is based upon the assumption that homosexuality per se is a mental disorder or based upon the a priori assumption that a patient should change his/her sexual homosexual orientation."
But the Religious Right has their own set of truths that sometimes ignores reality, the law, science or decency. And "conversion therapy" is back on the front burner. Consider this Christian newswire press release Tuesday out of Oklahoma City, the heart of Trump country:
—"LGBT Activists Vow to Shut Down Christian Ministry, 'Your Faith be Damned'
No longer content with widespread acceptance, activists are fighting to eliminate any program aimed at helping those struggling with same-sex attraction or gender identity
OKLAHOMA CITY, April 3, 2018 /Christian Newswire/ — "The level of hatred and bullying is not like anything we've seen," says Stephen Black, who lived as a gay man for 8 years, over 35 years ago, and now Executive Director of First Stone Ministries is in the crosshairs of gay activists.
Black is the author of a ground-breaking book that reveals that 70-percent of people who want freedom from a destructive same-sex lifestyle find it. In Freedom RealizedBlack and his colleagues examined 25 years of case files and found incontrovertible evidence that people can and do change.
On April 6, First Stone Ministries (firststone.org) is hosting a public screening of the documentary film, Tranzformed: Finding Peace with Your God-Given Gender (tranzformed.org/). "This documentary is about 15 people who were unhappy as homosexuals and transgendered and wanted more in their relationship with Jesus Christ," says Black. Gay activists have already sent death threats to a Michigan pastor and his family and are now setting their sights on Black.
Gay advocate and protestor, Sara Cunningham, vowed to close First Stone Ministries (she appealed for a $25,000 grant from Starbucks for her mission). Her goal is to mobilize and eliminate any mention of the possibility of change, even if people want it and even if it means a transformed life. "To agree to disagree on this issue and this type of ministry is no longer acceptable," says Cunningham. But Black sees it differently, "In the last ten years, there has been an increasing attack on the gospel-centered message of freedom from homosexuality." Activists are intent on shutting down any counseling that leads to new life in Christ and freedom from homosexuality.
Black is the board chairman for the national Restored Hope Network, a coalition of sixty regional agencies that help those who struggle with same-sex attraction. He says the idea of "gay Christianity" is an affront to everything Christ died for and giving people hope is what we should be about as sincere Christians, not just enabling them to stay stuck in a harmful lifestyle. "Freedom from homosexuality comes only through a new life of absolute surrender and a complete dependence on Jesus Christ," says Black."—-
Newsom signs LGBTQ+ protections but vetoes trans youth bill
"These measures will help protect vulnerable youth, promote acceptance, & create more supportive environments in our schools and communities"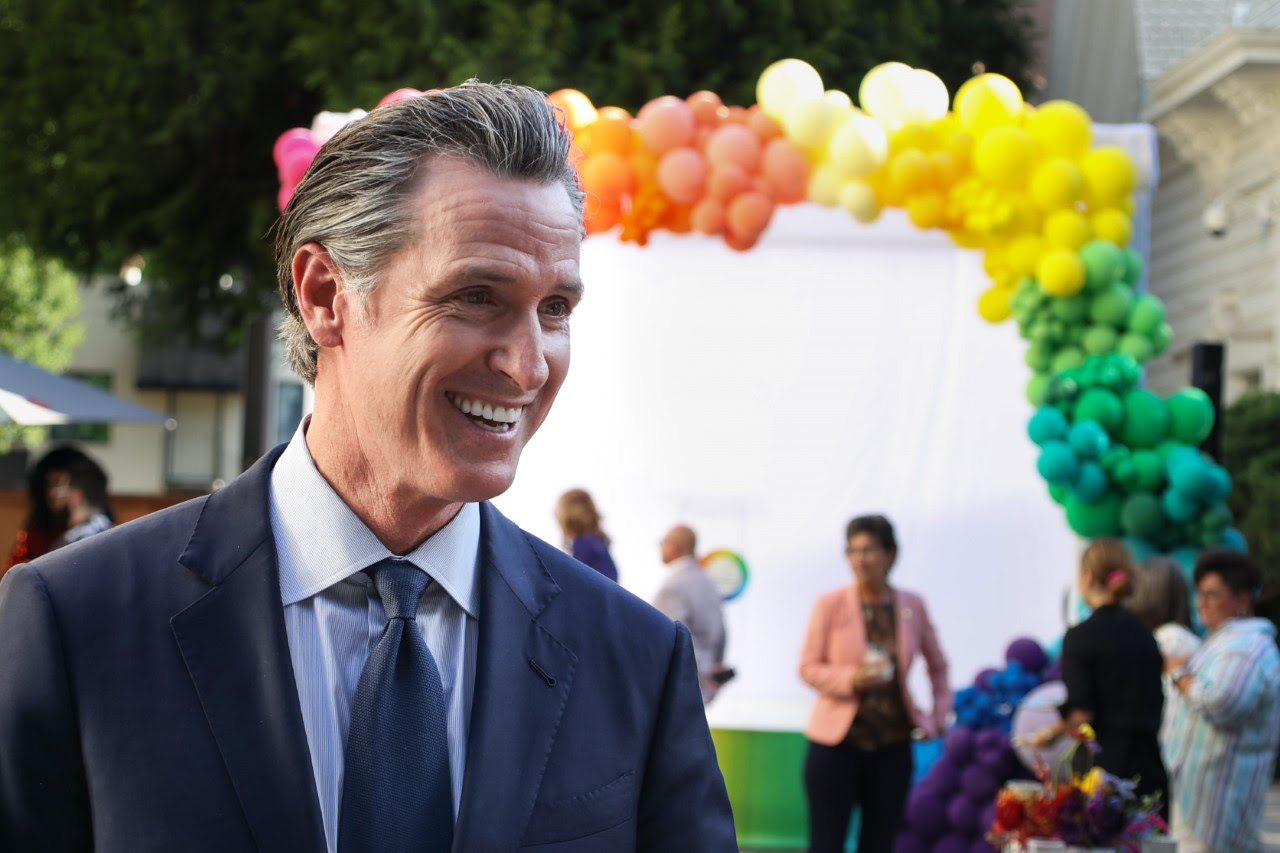 SACRAMENTO – California Governor Gavin Newsom signed several pieces of legislation on Saturday extending protection to the Golden State's LGBTQ+ community with the exception of a bill he vetoed Friday that would have required courts to consider whether a parent affirms their child's gender identity when making custody and visitation decisions.
"California is proud to have some of the most robust laws in the nation when it comes to protecting and supporting our LGBTQ+ community, and we're committed to the ongoing work to create safer, more inclusive spaces for all Californians," said Governor Newsom. "These measures will help protect vulnerable youth, promote acceptance, and create more supportive environments in our schools and communities. I thank Senator Eggman and the LGBTQ Caucus for their dedicated leadership and partnership in advancing our state's values of equality, freedom and acceptance."
Among the nine bills signed into law were:
AB 5- The Safe and Supportive Schools Act, sponsored by Assemblymember Rick Chavez Zbur (D-Los Angeles). This bill sets implementation timelines for required LGBTQ+ cultural competency training by public school teachers and staff.
AB 223- Change of gender and sex identifier, sponsored by Assemblymember Christopher Ward (D-San Diego).
Existing law authorizes a person to file a petition with the superior court seeking a judgment recognizing their change of gender to female, male, or nonbinary, including a person who is under 18 years of age. Existing law authorizes a person to file a single petition to simultaneously change the petitioner's name and recognize the change to the petitioner's gender and sex identifier, as specified.
This bill would require any petition for a change of gender and sex identifier or a petition for change of gender, sex identifier, and name filed by a person under 18 years of age, and any papers associated with the proceeding, to be kept confidential by the court. The bill would require the court to limit access to these records to specified individuals, including, among others, the minor, the minor's parents, and their attorneys.
AB 760– Public postsecondary education: affirmed name and gender identification, sponsored by Assemblymember Lori Wilson (D-Fairfield).
Commencing with the 2023–24 graduating class, existing law prohibits an institution from requiring a graduating student to provide legal documentation sufficient to demonstrate a legal name or gender change in order to have the student's chosen name listed on the student's diploma.
This bill, commencing with the 2023–24 graduating class, instead would prohibit an institution from requiring a graduating student to provide legal documentation sufficient to demonstrate a legal name or gender change in order to have the student's chosen name be the sole name listed on the student's diploma. The bill would authorize an institution to use a student's gender or legal name as indicated in a government-issued identification document only if it is necessary to meet a legally mandated obligation, but would otherwise require the institution to identify the student in accordance with the student's gender identity and affirmed name, as provided. To the extent that this requirement would impose a new duty on community colleges, the bill would impose a state-mandated local program.
AB 783– Business licenses: single-user restrooms, sponsored by Assemblymember Philip Ting (D-San Francisco). Requires cities, counties, and cities and counties to notify applicants for a business license or permit in writing of the requirement that single-user toilet facilities must be identified as all-gender toilet facilities.
AB 994– Law enforcement: social media, sponsored by Assemblymember Corey Jackson (D-Moreno Valley). With respect to an individual who has been arrested for any crime, this bill would require a police department or sheriff's office, upon posting a booking photo on social media, to use the name and pronouns given by the individual arrested. The bill would authorize a police department or sheriff's office to use other legal names or known aliases of an individual in limited specified circumstances.
This bill would also require that a police department or sheriff's office remove any booking photo shared on social media after 14 days unless specified circumstances exist. Because the bill would impose higher duties on local law enforcement, it would impose a state-mandated local program.
SB 372 – Department of Consumer Affairs: licensee and registrant records: name and gender changes, sponsored by Senator Caroline Menjivar (D-San Fernando Valley/Burbank). The bill would prohibit a board from publishing information relating to the licensee's or registrant's former name or gender online. Instead, the bill would require the board to post an online statement directing the public to contact the board for more information. For specified licensees or registrants, the board would be prohibited from posting enforcement records online, but would be required to direct post an online statement stating that the individual was previously subject to an enforcement action and directing the public to contact the board, as prescribed. The bill would provide that all records related to a request to update an individual's license or registration under these provisions are confidential and not subject to public inspection or disclosure.
SB 407 – Foster care: resource families, sponsored by Senator Scott Wiener (D-San Francisco). Existing law generally provides for the placement of foster youth in various placement settings. Existing law provides for the implementation of the resource family approval process and defines a resource family as an individual or family who has successfully met both the home environment assessment standards and permanency assessment criteria, as specified, necessary for providing care for a child placed by a public or private child placement agency by court order, or voluntarily placed by a parent or legal guardian. Under existing law, the resource family permanency standards include a family evaluation, including, but not limited to, interviews of an applicant, as specified, and a risk assessment.
This bill would require a resource family to demonstrate the capacity an ability and willingness to meet the needs of a child, regardless of the child's sexual orientation or orientation, gender identity, or gender expression, as specified.
SB 760 – School facilities: all-gender restrooms, sponsored by Senator Josh Newman (D-Fullerton). The bill would require the all-gender restroom to meet certain requirements, including, among other things, that it has signage identifying the bathroom facility as being open to all genders and is unlocked, unobstructed, and easily accessible by any pupil.
SB 857 – Advisory task force: LGBTQ+ pupil needs, sponsored by Senator John Laird (D-Santa Cruz). This bill will establish an advisory task force to identify LGBTQ+ pupil needs statewide and assist in implementing supportive initiatives.
We are thrilled that 6 of our priority bills and 2 of our endorsed bills were signed into law today! These bills protect and uplift LGBTQ+ foster youth and students in schools, as well as respect individuals' names.

We are hopeful our remaining 4 bills will be signed too! pic.twitter.com/Ch6VdQmTAo

— California Legislative LGBTQ Caucus (@calgbt) September 24, 2023
"This year the LGBTQ Caucus took up the important work of protecting our communities in the face of vile anti-LGBTQ+ rhetoric, discriminatory laws across the country, and hatred. I appreciate the Governor's partnership in signing some of our priority and endorsed legislation today, and hope we can continue to educate about the harm LGBTQ+ people will continue to face if we fail to act," said Senator Susan Talamantes Eggman, Chair of the California Legislative LGBTQ Caucus.
"While states across the nation are passing legislation that puts LGBTQ+ people and especially youth at risk, California is sending a clear message today — hate-filled attacks will not be tolerated and we will continue protecting and ensuring the safety of all members of the LGBTQ+ community," said Equality California Executive Director Tony Hoang. "We are thankful to our legislative partners for championing these important bills and to Governor Newsom for continuing to be such a strong ally in improving and protecting the wellbeing of the LGBTQ+ community as we face growing attacks from far-right extremists."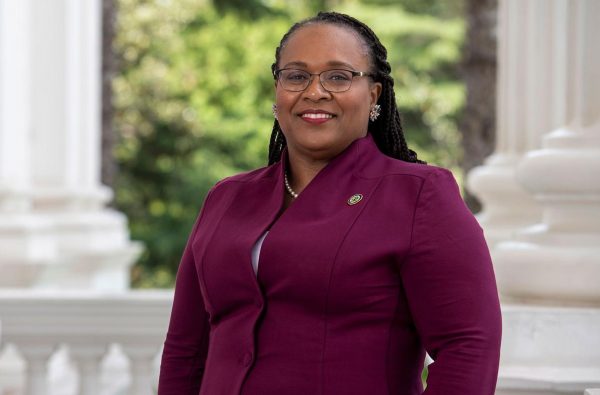 On Friday, Newsom vetoed AB 957 would have updated California law to clarify that, for the purposes of child custody and visitation decisions, a parent's affirmation of a child's gender identity or gender expression is an essential factor that must be considered in determining the best interest of the child by a judge.
That legislation had been sponsored by Assemblymember Lori Wilson, a Democrat who introduced the bill and has an adult son who came out as transgender when he was a teenager, criticized the governor's decision.
"I've been disheartened over the last few years as I watched the rising hate and heard the vitriol toward the trans community. My intent with this bill was to give them a voice, particularly in the family court system where a non-affirming parent could have a detrimental impact on the mental health and well-being of a child," Wilson said in a statement.
My Statement on Governor Newsom's Veto of AB 957 pic.twitter.com/bK1JhrW27z

— Assemblywoman Lori D. Wilson (@AsmLoriDWilson) September 23, 2023
"We are disappointed and disheartened by Governor Newsom's decision to veto AB 957, which would have helped to ensure that the unique needs of transgender and gender non-conforming youth are explicitly considered in child custody and visitation decisions," said Equality California Executive Director Tony Hoang.
"At a time where LGBTQ+ youth, specifically trans youth are facing higher rates of depression and suicide, reassurance and protection from our state is in dire need. Anti-LGBTQ+ extremists targeted this modest and straightforward legislation as part of their coordinated attacks on trans youth in California, and the failure to enact this bill bolsters their dangerous efforts. We are grateful to Assemblymember Lori Wilson for her unwavering commitment to the needs of transgender and gender non-conforming young people. Despite this setback, we will continue working with the Legislature and Governor Newsom to to protect the rights and dignity of the most vulnerable members of the LGBTQ+ community."
In his veto message, the governor explained:
"I appreciate the passion and values that led the author to introduce this bill. I share a deep commitment to advancing the rights of transgender Californians, an effort that has guided my decisions through many decades in public office.
That said, I urge caution when the Executive and Legislative branches of state government attempt to dictate – in prescriptive terms that single out one characteristic – legal standards for the Judicial branch to apply. Other-minded elected officials, in California and other states, could very well use this strategy to diminish the civil rights of vulnerable communities."