West Hollywood tackles homelessness (video)
One of America's wealthiest zip-codes responds locally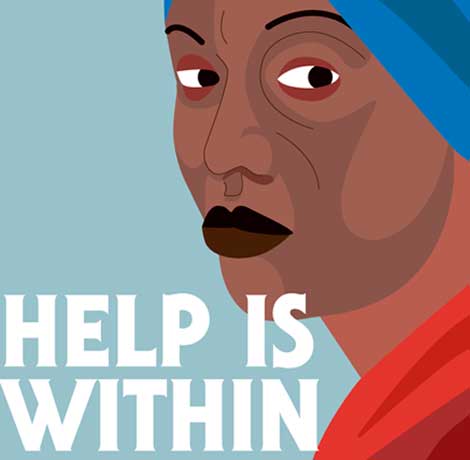 West Hollywood has launched a multi-pronged "Homeless Initiative" targeting the burgeoning homelessness crisis afflicting the city along with the rest of Los Angeles County.
Homelessness has exploded across the region in recent years. LA County now hosts at least 58,000 homeless people, according to the Los Angeles Times, a 49% increase just since 2013. Long part of the landscape on downtown's Skid Row, tent cities have sprung up along bike trails and city sidewalks all over the county, from Van Nuys to Venice.
Contrary to popular misconceptions, only about one third of the homeless population is mentally ill, The Times notes. Many are simply "economically homeless," people who, by dint of unemployment or other financial factors, simply cannot find or afford a place to live in a region notorious for its chronic shortage of affordable housing.
In 2016, Los Angeles city voters approved Prop HHH, a housing bond to provide $1.2 billion for "creating safe and affordable housing units and increasing accessibility to a variety of necessary services and treatment programs," according to the city's Prop HHH website. Last year, county voters approved Measure H, which will provide an estimated $355 million in revenue by way of a quarter-percent sales tax hike.
But while these measures are indeed making a dent in the crisis, according to city and county officials who spoke with The Times, the newspaper also reports that the area's "homeless population is increasing faster than the supply of new housing, even with the addition of thousands of beds in the last two years and millions of dollars beginning to flow from" the two ballot measures.
Not surprisingly, "West Hollywood's homeless population tends to be younger than the rest of LA County and a higher percentage of them are [LGBT]," according to the West Hollywood Homeless Initiative's YouTube PSA. LGBT homeless have come to West Hollywood "for a lot of the reasons that we did," Jake Weinraub, an LA LGBT Center Mental Health Clinician working with the West Hollywood Homeless Initiative, said in the PSA. "It's a community of choice. It's somewhere that feels safe, that feels like home. There's rainbow flags on the businesses. It's familiar; it's beautiful; it's queer."
Homeless LGBTQ youth tend to be kids who might have "aged out" of the foster care system or perhaps fled abusive homes. "A lot of homelessness, especially that I've seen in this community is related to early rejection from the family, a lot of times for being LGBT, also situations involving intimate partner violence and lack of resources," Weinraub said in the PSA.
These "runaway or throwaway young people are very vulnerable on the streets," County Supervisor Sheila Kuehl told the Los Angeles Blade for a cover story on LGBT homeless last year.
West Hollywood's Homeless Initiative targets the problems of homeless LGBTQ youth, as well as homelessness generally. "Outreach and services are offered Monday through Friday" at the West Hollywood Library "by teams from Ascencia, Step Up on Second, the LA LGBT Center's Youth Center, A Safe Refuge, Tarzana Treatment Centers, Friends Community Center and the LA LGBT Center's Mental Health Services," according to West Hollywood's homeless services website.
That site describes the services some of these and other providers offer: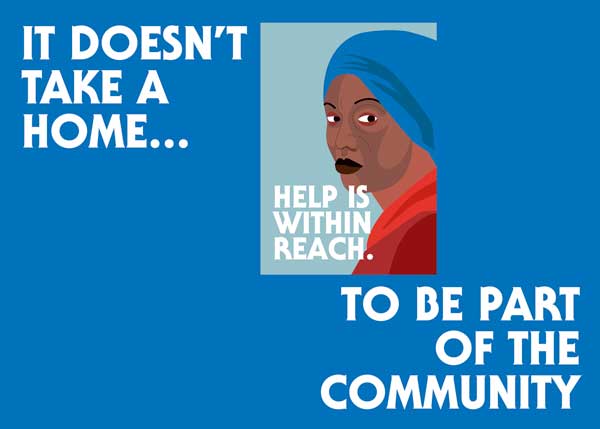 Ascencia
1851 Tyburn Street 
Glendale, CA 91204
Main (818) 246-7900
www.AscenciaCA.org
Homeless services and shelter in Glendale. "Outreach and Case Management in West Hollywood is Monday – Friday, 7 a.m. – 4 p.m." 323.338.6290 or 323.799.5179
Step Up on Second – West Hollywood Mobile Intervention Team, "provides street outreach work within West Hollywood to engage, assess and provide full scope mental health services, housing, linkage/placement and support to chronically homeless adults." 323.823.5860.
Los Angeles LGBT Center – Youth Center on Highland – "Offers emergency overnight beds and shelter program for youth ages 18-24." 323.860.2280 or email [email protected]
SSG-HOPICS (Home at Last) – "35 bed program for youth ages 18-24. Two bag maximum. Go to transportation pick-up point at Ruth's Place (4775 S. Broadway, LA, CA 90047). Transport vehicle is a white Chevrolet 15 passenger van, but for those in need of special assistance call the shelter to see if special accommodations can be made." 323.792.4779.
PATH (People Assisting the Homeless) – "Provides emergency/transitional housing." 323.644.2200.
211 LA County – "The free 2-1-1 phone line provides information on various LA County Services including food and shelter assistance. The line is operated 24 hours/7 days a week and is multilingual. Information can also be found on the website at www.211la.org."
West Hollywood also operates a phone line for callers "concerned about a community member who is homeless," 310.848.6590.
Additionally, there are now four "Real Change" Donation Stations in West Hollywood, a city release states, at West Hollywood Gateway (La Brea Ave.), Plummer Park (adjacent to the tennis courts), Santa Monica Blvd. and Robertson Blvd. and West Hollywood Park.
The Donation Stations "look similar to standard parking meters, but they stand out as different due to their unique bright purple domes and blue-and-yellow signage," the release says. They also "offer basic information about the West Hollywood Homeless Initiative and accept both coin and credit card contributions."

"Folks can feel good about feeding these meters because the funds collected will go towards the City's Homeless Initiative," Councilmember Lauren Meister said in the release. "It's a great way for community members to support the City's outreach efforts and services to assist people who are experiencing homelessness."
Drag March LA coming to WeHo on Easter Sunday
The event for all ages and aims to mobilize against the oppressive anti-LGBTQ+ tidal wave that is currently sweeping through America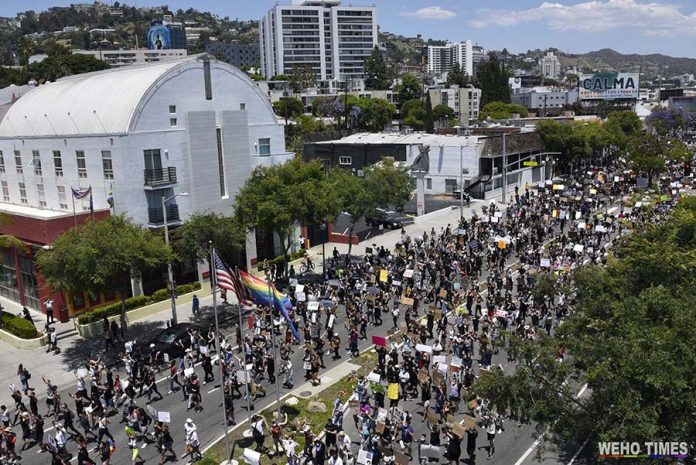 By Paulo Murillo | WEST HOLLYWOOD – The Los Angeles LGBT Center will host Drag March LA on Easter Sunday, April 9, 2023. The event for all ages and aims to mobilize against the oppressive anti-LGBTQ+ tidal wave that is currently sweeping through America.
The march will start at West Hollywood City Hall, located at 8300 Santa Monica Boulevard, at the corner of Santa Monica Boulevard and Sweetzer Avenue and end at the LGBT Rainbow District.
There are already over 400 pieces of anti-LGBTQ+ legislation on the books—unsurprisingly, most of them target transgender people and drag performances too.
"Drag has always been political and gender has always been policed. LGBTQ+ people have always known (and shown) that there are many shades of the rainbow—and once again, it's time for us to put them all on full display," Los Angeles LGBT Center said in a statement. "We will not stand by while the far right seeks to roll back our rights."
The event is in partnership with local LGBTQ+ organizations, faith groups, queer and trans activists, and the finest drag artists in the City of Angels.
10 a.m. Doors Open
11-11:40 a.m. Rally & Kickoff Performance
11:45 a.m. Demonstrators Get in Formation
12 p.m. March Begins
1 p.m. March Ends
Participants are encouraged to wear their best drag.
Guest speakers will include the activists and families from impacted states who are fighting anti-LGBTQ+ legislation. See below for a full list of supporters.
+1,000 guests expected to attend. Stay tuned for more on speakers + performers!
Want to get your organization involved? Sign up here
Supporters of Drag March LA include the following:
Asian Americans Advancing Justice Southern California
Bienestar Human Services
CA LGBTQ Health and Human Services Network
Equality California
LGBTQ Center Orange County
LGBTQ+ Community Center of the Desert
ProjectQ
Racial & Ethnic Mental Health Disparities Coalition (REMHDCO)
Radiant Health Centers
Rainbow Services, Ltd.
Somos Familia Valle
The National LGBTQ Institute on Intimate Partner Violence
The Source LGBT+ Center
[email protected] Coalition
**************************************************************************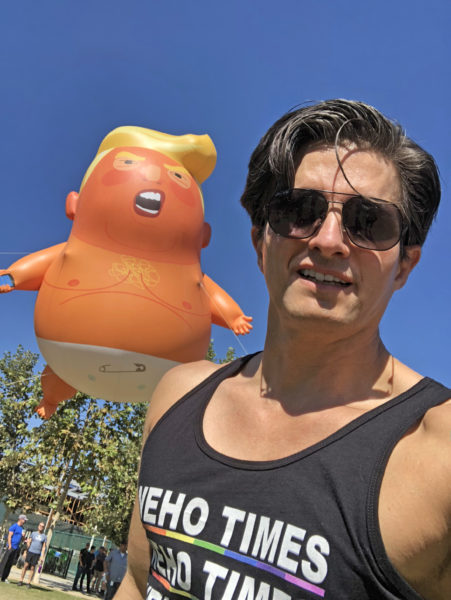 Paulo Murillo is Editor in Chief and Publisher of WEHO TIMES. He brings over 20 years of experience as a columnist, reporter, and photo journalist.
******************************
The preceding article was previously published by WeHo Times and is republished with permission.