April 6, 2018 at 12:27 pm PDT | by Karen Ocamb
Remembering Maya Angelou and the LGBTs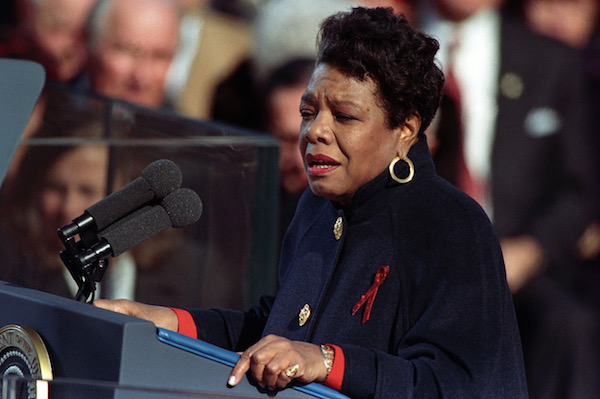 Unless you're a fan of Google's Google-doodles, you might have missed in the constant barrage of news the quiet occasion marking what would have been poet extraordinaire Dr. Maya Angelou's 90th birthday on April 4.
"Dr. Angelou's work is filled with such incredible wisdom and spiritual teachings. It feels like the ultimate privilege to have the opportunity to speak her words. She is a national treasure we should always celebrate," trans actress Laverne Cox said about participating in a reading of Angelou's famous poem "Still I Rise" for the creative Google remembrance.
The National Black Justice Coalition noted Angelou "never shied away from embracing her LGBT brothers and sisters," reported the Washington Blade after Angelou's death at her home in Winston-Salem, North Carolina on May 28, 2014 at the age of 86.
But Angelou's deep personal impact on LGBT people and people with HIV/AIDS is hard to measure. Born Marguerite Ann Johnson in St. Louis on April 4, 1928, Angelou drew on her experiences growing up poor in the horrific lynching era of the Jim Crow South—during a visit home with PBS anchor Bill Moyers, she still trembled seeing the railroad tracks too terrifying to cross. In another episode with Moyers in 1988, the two attended a central Texas conference on "Facing Evil," where she talked about the trauma of having been raped at the age of seven. She retreated into silence for five years after she told on her racist, who was tried and convicted but murdered before he was sentenced. She believed her words caused his death.
Rape, Angelou said, was "a dire kind of evil, because rape on the body of a young person more often than not introduces cynicism, and there is nothing quite so tragic as a young cynic, because it means the person has gone from knowing nothing to believing nothing. In my case I was saved in that muteness, you see, in the sórdida, I was saved. And I was able to draw from human thought, human disappointments and triumphs, enough to triumph myself."
And yet from that abject racism and trauma, Maya Angelou became the voice of freedom and hope for generations. "We need the courage to create ourselves daily, to be bodacious enough to create ourselves daily — as Christians, as Jews, as Muslims, as thinking, caring, laughing, loving human beings," Angelou told the Texas conference. "I think that the courage to confront evil and turn it by dint of will into something applicable to the development of our evolution, individually and collectively, is exciting, honorable."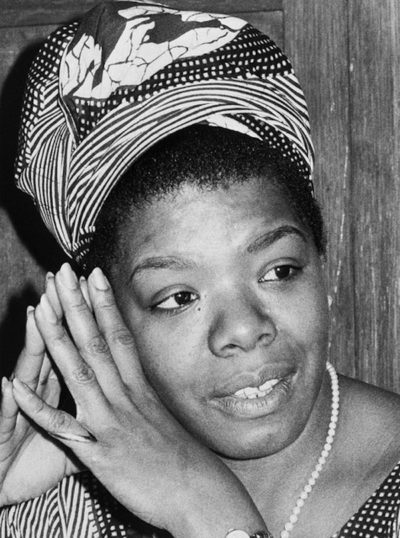 Angelou walked the talk. The author of the landmark I Know Why The Caged Bird Sings, among scores of books and poems, as well as a dancer, singer, actress, was an ardent advocate for civil rights and equality, friends with both Malcolm X and Dr. Martin Luther King, Jr..
"If growing up is painful for the Southern Black girl, being aware of her displacement is the rust on the razor that threatens the throat," she wrote in I Know Why the Caged Bird Sings.
Among the international honors she received were the Presidential Medal of Freedom from President Barack Obama in 2011 and she was the first poet in 32 years to speak at at Presidential inauguration when Bill Clinton took the oath of office—wearing a bright red AIDS ribbon.
And on that cold winter day in January 1993, Angelou's red ribbon and her poem "On the Pulse of the Morning" symbolized inclusion for forgotten and stigmatized minorities, including gays, and sent a visual ray of hope for millions that the new administration would staunch the dying of thousands from AIDS.
As her detail-rich New York Times obituary points out, though not explicitly, Angelou was friends with gay people throughout her life, including author James Baldwin and Bayard Rustin, whom she succeeded as coordinator in the New York office of the Southern Christian Leadership Conference, the organization that Rustin, King and others had founded. (She also helped Malcolm X set up the Organization of Afro-American Unity, established in 1964.)
Angelou was close with Malcolm X's widow, Betty Shabazz and Coretta Scott King—as well as Lynn Cothren, a white gay man who served as King's closest assistant for 23 years until her death in 2006. Angelou asked Cothren to assist her at King's funeral, after which she told this reporter that Cothren had "always been to me like a son. He was a son to Coretta and a son to Betty [Shabazz], too." On the fight for LGBT equality, Angelou said: "I am aghast and appalled at any people who decide that another group should not have their rights. We're all each other's people."
"I am gay," Maya Angelou told a gathering of an estimated 4,000 predominantly LGBT people celebrating gay and lesbian choruses at the GALA Festival in Tampa, Fla., in 1996, Out Magazine reported. She then paused and continued: "I am lesbian. I am black. I am white. I am Native American. I am Christian. I am Jew. I am Muslim."
In 2009, called elected officials in New York who were opposed to marriage equality. "To love someone takes a lot of courage," she told the New York Times, "so how much more is one challenged when the love is of the same sex and the laws say, 'I forbid you from loving this person?'"
From her being to message of hope, one can find a glimmer of the positivity of being LGBT, despite the darkness of bigotry: "And we have the chance to be rainbows in their clouds. Amazing. The power we have, each of us."
"My mother's principal message was one of inclusiveness; that despite our ethnic, religious and cultural differences, we are more alike than unalike. She saw all our differences in language, orientation and perspective as an indication of the richness of our imagination and creativity, and as elements of our nature that we should celebrate. She believed that we are all images of God, no matter how we look or what name we use to call upon the Divine and Sacred Being," Angelou's son Guy Johnson wrote for the Google remembrance.
Here is Angelou reciting one of her most famous poems, "Still I Rise," with transcript below:
Maya Angelou's "Still I Rise:" https://www.poemhunter.com/poem/still-i-rise/
"You may write me down in history
With your bitter, twisted lies,
You may tread me in the very dirt
But still, like dust, I'll rise.
Does my sassiness upset you?
Why are you beset with gloom?
'Cause I walk like I've got oil wells
Pumping in my living room.
Just like moons and like suns,
With the certainty of tides,
Just like hopes springing high,
Still I'll rise.
Did you want to see me broken?
Bowed head and lowered eyes?
Shoulders falling down like teardrops.
Weakened by my soulful cries.
Does my haughtiness offend you?
Don't you take it awful hard
'Cause I laugh like I've got gold mines
Diggin' in my own back yard.
You may shoot me with your words,
You may cut me with your eyes,
You may kill me with your hatefulness,
But still, like air, I'll rise.
Does my sexiness upset you?
Does it come as a surprise
That I dance like I've got diamonds
At the meeting of my thighs?
Out of the huts of history's shame
I rise
Up from a past that's rooted in pain
I rise
I'm a black ocean, leaping and wide,
Welling and swelling I bear in the tide.
Leaving behind nights of terror and fear
I rise
Into a daybreak that's wondrously clear
I rise
Bringing the gifts that my ancestors gave,
I am the dream and the hope of the slave.
I rise
I rise
I rise."
Maya Angelou