April 10, 2018 at 2:29 pm PDT | by Karen Ocamb
Dolores Huerta – Happy 88th Birthday!
Every March 31 since 1995, California officially observes Cesar Chavez Day, celebrating the birth and civil rights legacy of the legendary civil rights and labor leader. There is no day yet named for Dolores Huerta, who co-founded the United Farm Worker's Association (UFW) with Chavez—but when it happens, it will no doubt be commemorated on April 10, Huerta's birthday. Today, the still active and deeply appreciated staunch LGBT ally is 88 years old.
Huerta holds a significant and unique position in American history, a Latina educator and single mother who became an icon in the labor and Chicano civil rights movements.
Huerta faced racial and ethnic discrimination in the 1950s—as well as deeply inculcated sexism—but it was seeing hungry farm children coming to her school that motivated her to take action and became a grassroots organizer.
PBS hosts a wonderful documentary on Huerta's life. This is an excerpt of her biography from Womenshistory.org.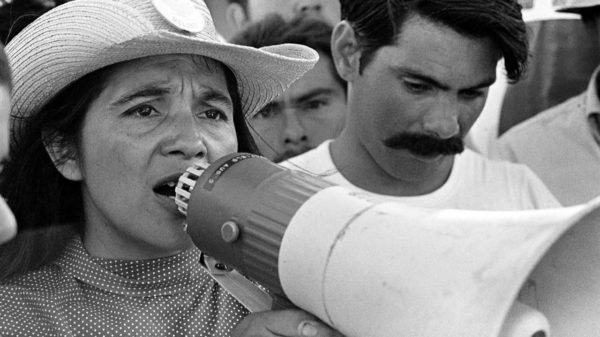 "In 1955 Huerta began her career as an activist when she co-founded the Stockton chapter of the Community Service Organization (CSO), which led voter registration drives and fought for economic improvements for Hispanics. She also founded the Agricultural Workers Association. Through a CSO associate, Huerta met activist César Chávez, with whom she shared an interest in organizing farm workers. In 1962, Huerta and Chávez founded the National Farm Workers Association (NFWA), the predecessor of the United Farm Workers' Union (UFW), which formed three year later. Huerta served as UFW vice president until 1999.
Despite ethnic and gender bias, Huerta helped organize the 1965 Delano strike of 5,000 grape workers and was the lead negotiator in the workers' contract that followed. Throughout her work with the UFW, Huerta organized workers, negotiated contracts, advocated for safer working conditions including the elimination of harmful pesticides. She also fought for unemployment and healthcare benefits for agricultural workers. Huerta was the driving force behind the nationwide table grape boycotts in the late 1960s that led to a successful union contract by 1970."
Huerta organized another consumer boycott of grapes in 1973 that yielded the California Agricultural Labor Relations Act of 1975, the groundbreaking law that allows farm workers to unionize and bargain with growers for higher wages and better conditions. Since then Huerta has worked to elect more Latinos and women to political office and has worked for equality for women, LGBT people.
In 2012, President Obama awarded her with the Presidential Medal of Freedom.
Here's Huerta speaking at the Human Rights Campaign last year.