April 16, 2018 at 10:06 am PDT | by Karen Ocamb
Conchita Wurst reveals she's HIV-positive
Conchita Wurst, the bearded Austrian drag queen who captured the hearts of millions after winning the Eurovision Song Contest in 2014, announced on Instagram that she has been "HIV positive for many years."
"This is actually irrelevant to the public, but an ex-boyfriend is threatening to go public with this private information, and I will not give anyone the right to frighten me or affect my life," Wurst wrote.
Wurst, aka Tom Neuwirth, says she's been taking HIV medication for many years, her viral load is undetectable, and thus there is no risk for transmitting the virus to sexual partners.
Wurst says she kept the information private because it is only relevant to her sexual partners and she wanted to protect her loved ones from the stigma still associated with HIV. Nonetheless, she says, her family have supported her "unconditionally since day one."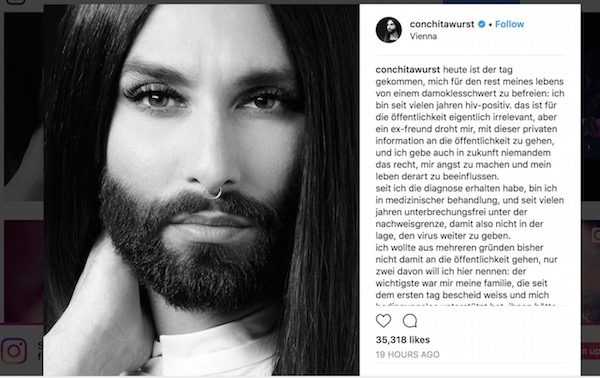 "I hope to build up courage and take another step against the stigmatization of people who have become infected by HIV, either through their own behavior or through no fault of their own," Wurst says.
"To my fans: the information about my HIV status may be new to you – my status is not!"
Wurst says coming out as HIV-positive has made her feel "stronger, more motivated and liberated than ever." But others are challenging the tactics of her ex-boyfriend.
Ian Green, chief executive of the UK-based Terrence Higgins Trust that focuses on HIV/AIDS in Europe told Newsweek: "The decision to talk openly about your HIV status should be a personal one and not taken away or ever, ever used as a threat. Threatening to reveal someone's HIV status, under any circumstances, is entirely wrong. What other health condition would be used as blackmail against someone? And we know this isn't something which only happens to those in the public eye," Green said.
"Despite all the medical advances we've made in the fight against HIV, in treatment and in testing, Conchita's Instagram post highlights how much more we have to do to tackle the abhorrent stigma which still surrounds the virus," he added.
Green said the Trust applauds Conchita for handling the threat "with such dignity" and using the post to educate people about HIV transmission.
"HIV medication works by shrinking the amount of virus in the blood to undetectable levels, which both protects the immune system from damage and prevents HIV from being passed on to anyone else," Green said. "Conchita has done so much good since winning Eurovision four years ago, and has shown her strength of character once again in her handling of this situation."
Conchita Wurst proved a superstar in Hollywood, too, hitting the Red Carpet for the 72nd Golden Globe Awards in Beverly Hills in 2015—just as the world was rallying around lovers of freedom of expression after the satirical French magazine Charlie Hebdo had been hit by a terrorist attack. In fact, Wurst had been invited to Los Angeles by a Hollywood Foreign Press Association member, Austrian freelance journalist Barbara Gasser, who interviewed her at the LA Press Club before the Golden Globes.
Wurst winning the televised 2014 Eurovision Song Contest annoyed Russian President Vladimir Putin and irked anti-gay "homosexual propaganda" law author Vitaly Milonov, who said Conchita's very appearance on live television "is clearly propaganda of homosexuality and spiritual decay."
"Are there countries you would be afraid to travel because of their policies?" Barbara Gasser asked.
"I'm not afraid at all. I don't know if that's a good thing," Wurst replied, adding that she would like to spend time with Putin "to understand why he makes this kind of [anti-gay] decision he does."
Wurst said that she heard that Putin's press assistants "asked him about my wish—a week with Vladimir in a house, I don't know—I haven't thought about that yet. And he just laughed. Just the fact that this president actually hears my name every now and then is quite nice. And for him, quite annoying."
Wurst told this reporter: "I believe he's (Putin) not the only one making decisions. I have so many questions and so many things I want to say to him. At the end of the day, I would just love to give him the chance to understand our point of view."
At the time, Wurst also revealed she has a sense of humor about preening on the Red Carpet. "I don't know if anybody would care, but I will wear a beautiful gown, which—it's quite understatement. And I'm a huge fan of Fashion Police. And I'm a huge fan of Kathy Griffin—but also very scared. And if I just make it into the show—that would be great. That's my goal for the Red Carpet."
But, as Green implied, Wurst was also keenly aware of being a role model for LGBT people forced to stay in the closet by archaic beliefs.
"As a bearded lady, I learned years ago that this effects people more than I thought and I realized I could say something with this persona," Wurst said. "So for me, it's just basically do what you need to do and make a life fabulous and if you're not hurting anyone, you can do almost anything what makes you happy. Especially when it comes to your look, you know. There shouldn't be boundaries. So just live your life as you want it, and if you're not hurting anyone, just embrace it."