Queer and trans Muslim realities in America
Not another death threat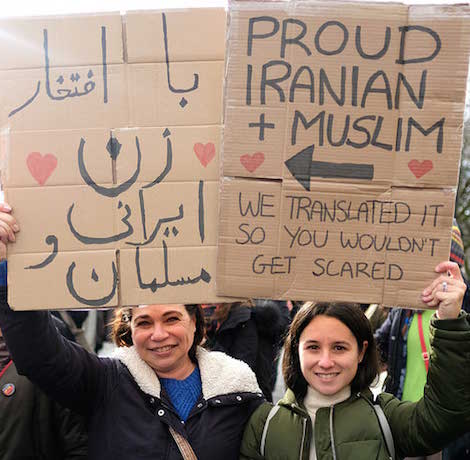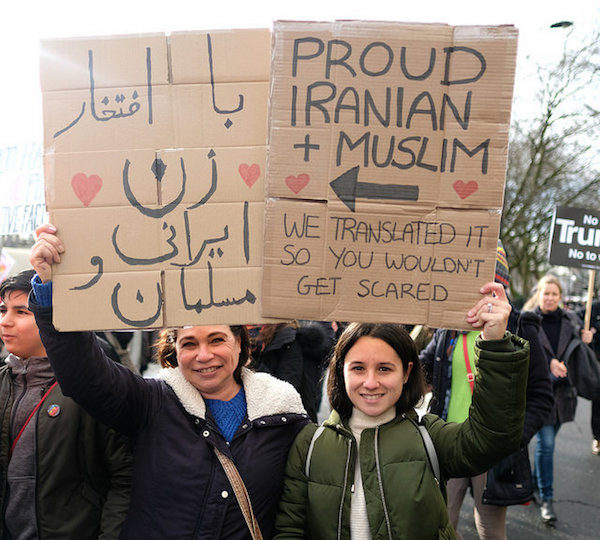 (Editor's note: The US Supreme Court will hear oral arguments on the constitutionality of President Trump's third attempt to ban nationals from five majority-Muslim countries from entering the United States. "The court will have to decide whether the travel restrictions are rooted in anti-Muslim animus and are discriminatory, whether the case can be considered for judicial review and whether the lower courts injunctions on enforcement of the travel ban where too sweeping," says NPR. Below is an argument about why the Muslim ban is an LGBT issue – Karen Ocamb)
—
There should be a name for the particular depression of living as a queer trans Muslim of color in America. A specific PTSD of walking the streets in constant fear of being racialized as Muslim and have your gender and sexual orientation questioned. The pleasure of not just having one day a year, September 11th, to expect extra harassment, but surprise holidays like "Punish a Muslim Day." The joy of calling your mother and father, asking them their plans for the day, and telling them to "be mindful, keep your phone charged, and go home and call me if you don't feel safe outside today." Because to be a queer trans Muslim of color in America means to live in a state of anticipation of what hate violence we can expect next.
In the past two years since Trump's campaign and subsequent election, there has been a surge in anti-immigrant legislation and hate violence. According to a study conducted by South Asians Americans Leading Together (SAALT), from Election Day 2016 to Election Day 2017 there have been "302 incidents of hate violence and xenophobic political rhetoric aimed at South Asian, Muslim, Sikh, Hindu, Middle Eastern, and Arab communities in the United States." 82% of these incidents were motivated by anti-Muslim sentiment, a "45% increase from the year leading up to the 2016 election cycle, levels not seen since the year after September 11th." [SAALT].
This rapidly escalating level of hate violence was not created in a vacuum. This cycle of violence is directly tied to the racist and xenophobic legislation and systems of the United States. The latest manifestation of this has been the Muslim Travel Ban which will be heard by the Supreme Court on April 25th. The executive order, "bans citizens of seven Muslim-majority countries from entering the U.S. for 90 days, suspends the entry of all refugees for at least 120 days, and bars Syrian refugees indefinitely," creating yet another form of institutionalized Islamophobia in the U.S. [ACLU].
In response, on March 26th the National Queer Asian Pacific Islander Alliance (NQAPIA) and seven LGBT South Asian and API groups submitted an amicus ("friend of the court") brief urging the U.S. Supreme Court to strike down Donald Trump's Muslim Travel Ban. The brief showed how the ban has a direct impact on the lives of LGBTQIA people and tears families apart.
This brief is in part a direct response to an attempt to pinkwash the Muslim Travel Ban. Language included in the Ban says it will protect Americans by barring entry to "those who would oppress Americans of any race, gender, or sexual orientation" [Human Rights First]. This insinuates that people living in Muslim-majority countries are queerphobic and transphobic, a marketing and political tool most infamously being used by Israel to justify Palestinian genocide.
How quintessentially American: the Ban would bar queer and trans immigrants, refugees and asylum seekers from seeking a complicated form of "safety" in the U.S., while claiming that the ban will help keep queer and trans people safe. This will in turn further the narrative of queerphobic and transphobic tyrants reigning in Muslim majority countries, justifying ongoing U.S. imperialism and intervention in the Middle East and creating more refugees. And the amount of physical and verbal violence queer and trans Muslims of color experience within the U.S. will continue to increase.
As the policies of the state become normalized in our everyday lives, the next turn in this cycle of queer, trans, and gendered islamophobia is the increase in hate crimes against our communities. For queer and trans Muslims of color, these attacks target multiple identities that we hold. According to the 2016 FBI Hate Crimes Statistic report, hate crimes against racial and ethnic minorities drastically increased in 2016. 25% of incidents were motivated by anti-Muslim bias alongside 18% anti-queer and anti-trans bias incidents. This makes queer and trans Muslims of color disproportionately likely to be victims. [FBI report]
Through our organizing as queer and trans Muslims, we aim to change that.
For the last two years, on September 11th, we have been crafting actions across the U.S. The purpose of these actions has been to educate, empower, and hold our community who experience the nuances of being profiled as queer Muslims of color. Our actions, drawing inspiration from Black Lives Matter and the movement for Palestinian liberation, have ranged from mock "security" checkpoints to guerilla performance art.
We are questioned and detained not just because of the languages we speak, our ancestral homes, and places of worship and communal gathering, but also because of how we express our gender and sexual identity through our appearance and the political movements we align with. Through these actions we have focused on the ways that Islamophobia and transphobia reinforce each other, how Black Muslims are particularly impacted by queer and gendered islamophobia, and building solidarity internally within our LGBTQIA community.
On the 15th anniversary of September 11th, we spearheaded 20 local organizations to create "checkpoints" in high-traffic areas of Washington, D.C. The Washington Post showed how we aimed to replicate various "checkpoints" and experiences that Muslim Americans and those perceived to be Muslims have to go through every day, including being stopped by the Transportation Security Administration, being verbally and physically harassed in businesses, and routinely called terrorists.
In 2017, after a year of direct and blatant attacks on our communities by the Trump administration, we focused on creating spaces of not only resistance, but also of healing and safety. We named the Muslim Travel Ban and other forms of state violence as the root cause of queerphobic, transphobic, and Islamophobic hate crimes. We drew connections between queerphobia, transphobia, Islamophobia, anti-Blackness, xenophobia. We questioned how we show up for one another. And we committed and successfully created spaces for all of our communities to mourn both the lives and the safety that has been taken from us since the election.
Through this work we as queer and trans Muslims of color have recognized and grown our power in a country that seeks to alienate, imprison, and murder us within and outside its borders. And as we wait in anticipation for the the Supreme Court's ruling on the Muslim Ban, we begin our plans for an annualized and formal nationwide series of actions on September 11th. We now look to September 11th and every day, not with fear, but with the resolve and strengthened ability to create a different world. And ask our accomplices to be ready to join us.
Almas Haider is the Racial Justice and Immigrants' Rights Committee Chair of the National Queer Asian Pacific Islander Alliance and Community Partnerships Manager at South Asian Americans Leading Together.
You can learn more about and get involved with the work of the National Queer Asian Pacific Islander Alliance to combat Islamophobia, transphobia and queerphobia at www.nqapia.org.
Almas Haider is Chair of the Racial Justice and Immigrants' Rights Committee of the National Queer Asian Pacific Islander Alliance (NQAPIA)..
[pdf-embedder url="http://www.losangelesblade.com/content/files/2018/04/NQAPIA-Travel-Ban-Image-supreme-court-steps-_twitter.pdf" title="NQAPIA Travel Ban Image- supreme court steps _twitter"]
LGBTQ+ youth are target of a massive fear-mongering campaign
Transgender kids existing isn't a real problem — and certainly not one at the scale which the panic mongering suggests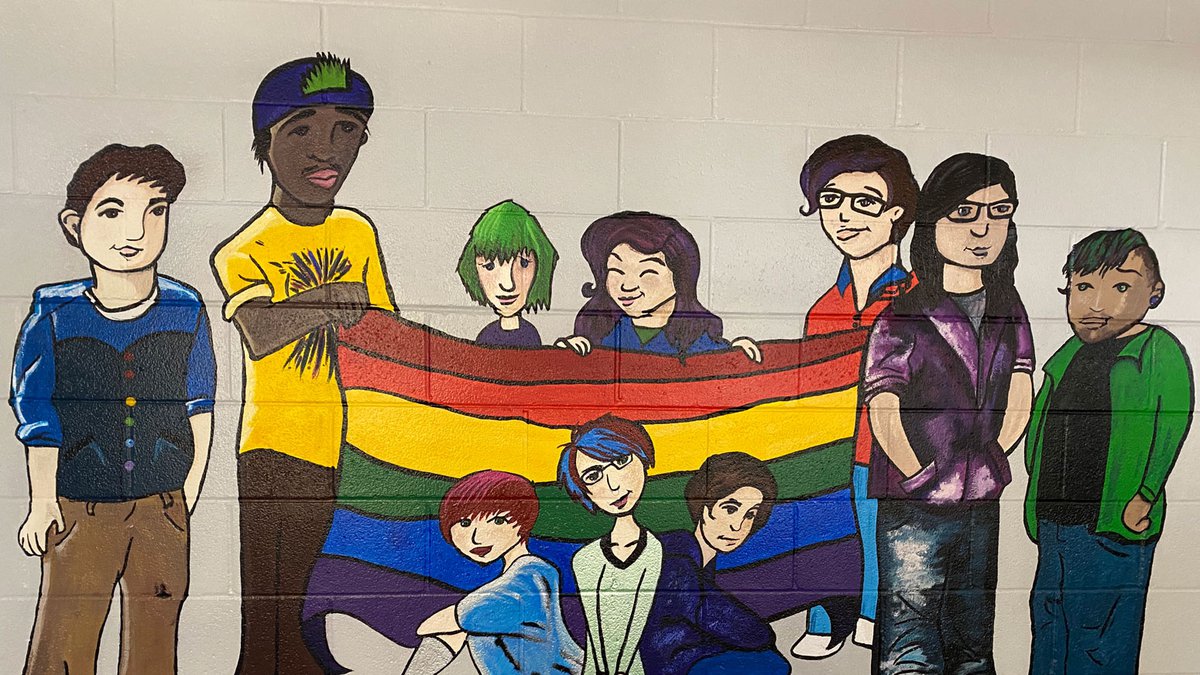 By Editorial Staff | LINCOLN, Ne. – With the impending midterm elections, and a view toward 2024, transgender issues have received a lot of attention in campaigns and the media recently. Particularly at question is the treatment of minors with gender dysphoria and whether or not public schools should support transgender kids.
However, the numbers don't make sense for how much space the issue is taking up in the national conversation. Transgender kids existing isn't a real problem — and certainly not one at the scale which the panic mongering suggests. To be clear, we at Seeing Red Nebraska fully support trans-inclusive education and policies and reject fear-mongering moral panic attacks that harm children and public schools alike.
But considering the wide attention this issue is receiving in campaign events and the media, we wanted to look into how big of a "problem" transgender identity in schools really is (spoiler: it's not). Instead, we need to use our precious time on what actually harms children. Both parties with their rich donors benefit from keeping us distracted from the actual, big issues that might unite us in pushing for real change for all. We spend our time discussing a right-wing manufactured panic campaign that allows the GOP to attack schools and teachers at the same time as spreading trans-hate.
If one listens to right-wing moral panic campaigns, they'd be under the impression that today's schools are overrun by children identifying as a variety of people, including as not people at all. Please note that the "furry" panic by far-right extremists is a deliberate attempt to dehumanize trans people by equating trans identity with animals.
Further, equating a sexual kink community with trans identity serves to sexualize children's identity and portray LGBTQ individuals as sexual deviants. (Adult) kinks are not an identity, and (gender) identity is not inherently sexual.
Yet, the (completely debunked) furry panic about litter boxes in schools functions neatly to malign the LGBTQ community in general, and transgender individuals in particular, as non-human sexual perverts that target children — a narrative with a long homophobic history which, in the US, dates back to the 1800s and is also strongly informed by German Nazi propaganda in the 20th Century. And where do most children congregate outside their parent's direct supervision?
Of course, at (public) schools, which right-wing extremists can malign as corrupting our children — sexually as well as intellectually — with the convenient side effect of also making defunding and school privatization more palatable to the public.
Our writers at Seeing Red Nebraska were curious how prevalent gender transitions among minors in the US really are.
Reuters recently published this analysis of gender dysphoria and its corresponding treatments among minors nationwide. The study found rising numbers of both gender dysphoria diagnoses and treatments for it. However, to put the numbers into perspective, according to childstats.gov, 50.7 million kids aged 6-17 lived in the US in 2021, meaning that a grand total of 0.08% of all children nationwide received a gender dysphoria diagnosis that year.
Our writers immediately wondered if this rise is due to new generations of kids being comfortable playing with gender to see what fits (which is AWESOME) and expressing themselves in all kinds of ways using gender, sex, fashion, pronouns, and other identifying tools. Trans Actual UK similarly explains the seeming rise in gender dysphoria in young people by pointing out that, thankfully, there are increasing support systems available to trans youth.
In other words, the rise in gender dysphoria diagnoses in minors can rationally be explained by increased societal awareness and acceptance of non-binary identities which allows kids to "come out of the closet" and explore their identity more freely. Further, kids with gender dysphoria now have increasing (yet still woefully inadequate due to various red tape obstacles) access to often life-saving medical intervention and social support including inclusiveness in schools.
Yet, how many minors with gender dysphoria diagnoses actually seek and receive medical treatment? According to the Reuters study, a mere 3.5% on average of children diagnosed with gender dysphoria (remember, this is 3.5% of the 0.08% of all children nationwide) in the US initiated the extremely maligned puberty blocker treatment — which is completely reversible. In 2021, the latest year for which data is available, this means that 1,390 minors NATIONWIDE started on puberty blockers.
Similarly, 4,231 minors diagnosed with gender dysphoria initiated hormone treatment in 2021 — again, this is nationwide. This constitutes an average of 11.25% over the five year course the study covers of those youth diagnosed with gender dysphoria. The discrepancy between the use of puberty blockers and hormone treatments is likely due to the limited applicability of puberty blockers (they only work for kids diagnosed and treated BEFORE the onset of puberty) and the fact that hormone therapy is often used IN ADDITION TO puberty blockers — meaning that many youth are counted BOTH in the hormone therapy graph and the puberty blocker graph.
As Reuters further notes, "[t]he ultimate step in gender-affirming medical treatment is surgery, which is uncommon in patients under age 18." The Reuters analysis explains that many hospitals do not provide surgical intervention to minors at all, and consequently found records for only 56 genital surgeries on minors between 2019 and 2021. Unfortunately, their analysis is unclear about whether certain intersex conditions are included in this count. As to the more common "top surgery" (the surgical removal of breast tissue), the study found records for 776 mastectomies within the same time frame.
This constitutes 0.8% on average of minors diagnosed with gender dysphoria within the same timeframe (although medical treatment of gender dysphoria is a years-long process, so these individuals were likely diagnosed much earlier).
One caveat of the Reuters data is that it is based on insurance data, so that surgical procedures paid for out of pocket (or performed abroad) are not counted here. Also, the data provided is not clear on whether the count of "top surgery" includes treatment of gynecomastia (the growth of breast tissue in boys and men which can induce gender dysphoria in otherwise cis-gender males).
In general, the data suggests that surgical intervention in minors is extremely rare, and transgender individuals tend to wait until adulthood until seeking gender-affirming surgery — probably to no small degree also due to the prohibitive cost out-of-pocket, even if insurance covers a portion.
We'd like to note here that ANY medical treatment on minors for gender dysphoria requires parental consent, which sadly may be a significant barrier for at-risk transgender youth. This, of course, goes counter to the far-right extremist non-sensical claim that SCHOOLS push medical treatment on children.
Schools are obviously not medical facilities capable of either diagnosing nor offering treatment to medical conditions. And even if youth with gender dysphoria are lucky to have the support of their parents, the medical process of finding a trans-inclusive medical facility and appropriate psychologist can be daunting.
It's incredible to see how very few children actually have these medical interventions compared to how much we hear about it from both the right and the left. Since trans kids are basically the entire conversation these days, we certainly assumed these numbers were a lot higher.
The larger point is that the numbers don't make sense for how much space the issue is taking up. This isn't a real problem and we need to use our precious time on what actually harms children.
For some more perspective on these numbers, the number one cause of death in children aged 0-18 is now firearms, with 3,219 children shot to death in 2020 alone (and many more injured).
Just over a week before an election that will determine student debt, abortion rights (and whether pregnant women are full people), whether we can slow the burning fire of the planet, and whether the United States of America will continue to stay a democracy, the trans issue takes up astronomically too much space in the national political conversation.
It is not that the issue is unimportant, or that it doesn't involve a lot of distress to people, but right-wing extremists don't want to do a single thing about that. Instead, they are going to zero in on a rare medical intervention that medical experts have decided is in the best interest of a vanishingly small percentage of children, diagnosed with a particular kind of distress, to turn trans-hate into a politically motivated moral panic issue, while major issues such as access to healthcare for EVERYONE, income inequality, and climate change apply to virtually everyone and even have indirect effects on social issues.
To some degree, liberals have contributed to this outsized attention to moral panic issues because the disproportionate nature of the debate favors the right — foregrounding and maligning a social issue affecting a minority community over the very same widespread material fairness issues that affect us all — bodily autonomy, the right to self-determination, and equitable access to medical treatment, after all, are not *just* trans issues.
Yet, here we are playing whack a mole with the litter box canard. To give the benefit of doubt, the majority of the general public wants kids to grow up unharmed and comfortable with their bodies and identity, feeling safe in their own skin.
However, extremists like to exploit that concept and turn it into something menacing instead of a healthy and normal human feeling of wanting kids to grow up confident in their bodies and their communities.
Since both political parties primarily serve the wealthy (and politicians usually are wealthy themselves now), it is necessary to find a "safe" social issue to fight over in order to differentiate themselves and to keep larger economic issues out of the discussion.
Whatever minority group of people they choose to make their battleground, people who were almost certainly always having a rough time of it to start with suffer more when this happens. But while both parties benefit from keeping us distracted from the big issues that might unite us in pushing for real change, the GOP definitely chose this debate — it allows them to attack schools and teachers at the same time as causing panic around children. Win win for them, while trans kids — and all our kids — suffer as the collateral damage.
*********************
The preceding commentary and news analysis was written and published by the Seeing Red Nebraska Editorial Board and is republished with permission.