April 27, 2018 at 2:11 pm PDT | by Staff reports
Newport Beach Police seek public's help in gay assault
Update: The suspect in this case has been identified, however the Newport Beach Police Department has not yet released his name
Three men ejected from a Newport Beach restaurant in earlier this month filed a lawsuit in Orange County Superior Court this week alleging that a bartender called them "faggots" and demanded they leave before a bar patron threw them out, one forcefully.
Angel Bonilla, Colton Moyer and Clement Serafin said they were visiting Balboa Island on April 13 when they decided to stop by Siena Restaurant inside the Balboa Inn for dinner. They allege in the court filing that they were immediately met with hostility from a woman working behind the bar, who "demanded that (the men) show their respective identification cards because she wanted to create a ruse for refusing to serve them when her real motive was to not serve gay men," according to the lawsuit. The men said they were not under the influence of drugs or alcohol, according to the Orange County Register.
After viewing Serafin's identification card, the bartender proclaimed that it was fake and then handed it to a person sitting at the bar, apparently a patron, who examined it and "commented loudly that it was 'definitely a fake,'" the lawsuit says. The lawsuit says Serafin's identification card is not fake and that he is in his mid-30s.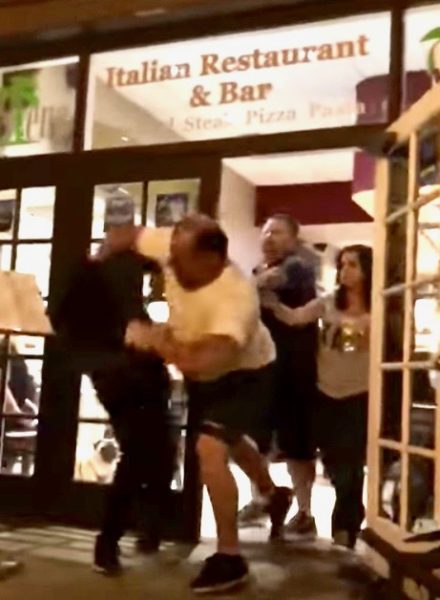 In two videos released after the incident, the same patron can be seen roughly grabbing Moyer off the barstool, dragging him to the front door of the restaurant and physically tossing him out to the ground outside.
"This was done with the specific intent to cause humiliation and mental suffering because they are gay and because Bonilla is Hispanic," the lawsuit says.
The Register reported that the trio are alleging assault, "gay bashing," civil rights violations and emotional distress and are seeking an unspecified amount in damages.
Balboa Inn owner Michel Pourmussa has not responded to media requests for comment.
A spokesperson for the Newport Beach Police Department told the Los Angeles Blade that investigators are seeking the public's assistance in identifying the man shown allegedly assaulting Moyer in the videos. According to the NBPD, witnesses said that "two men were battered inside and in front of the establishment, resulting in injury to them both."
NBPD Detectives describe the suspect (pictured) as "white male, approximately 40-55 years old, with grey hair. He is approximately 6' tall and weighs approximately 200 pounds. At the time of the incident, he was wearing shorts and a white t-shirt.
"NBPD Detectives are asking this person, or anyone who can help identify him, to come forward to assist in the investigation. We are also seeking any additional witnesses who were in the area or the establishment at the time of the battery. Anyone who can offer assistance is encouraged to contact Detective Rick Henry at 949-644-3790. Messages may also be left anonymously on the Police Department's recorded hotline at 1-800-550-NBPD."
VIDEOS:
youtube.com/watch?v=paIjrYL7nPY
youtube.com/watch?v=Hb0RsPId3JQ