May 17, 2018 at 10:08 pm PDT | by Karen Ocamb
California congressional candidate harasses trans woman in Denny's bathroom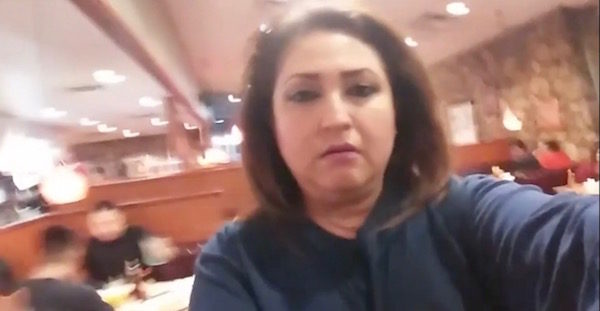 Jazmina Saavedra, a proud Trump supporter running for Congress from the 44th District (Carson), wields her selfie stick like a sword as she confronts an unidentified trans woman in the ladies' room at a local Denny's restaurant. With unphased customers in the background in what looks like a video originally fed out as a Facebook live feed, Saavedra dashes from the bathroom through the aisle to her seat, then back again, as if on a mission for her anti-LGBT cause.
Saavedra tells her Facebook audience that she just happened to be in the bathroom when she realized that a trans woman was also in an occupied closed stall.
"So, that guy is violating my right to use the ladies' room here, and he's saying he's a lady! Stupid guy," she said, waiting to ambush her trans victim. "Saavedra also said that California politicians want to 'endanger a woman like' her with laws that permit trans people to use restrooms that correspond to their identified gender," the Daily Beast reported.
"You're invading my privacy," Saavedra says as the unidentified trans woman emerged.
"Excuse me, I was using the toilet," the trans woman says. "Why are you singling me out lady? And I see you yesterday following me."
As the trans woman leaves, Saavedra calls her stupid and tells her Facebook live audience: "I was with my pepper spray ready and I called the manager so he helped me….How can I be with a man inside of the ladies' room just because he thinks he's a lady? This is unbelievable. Only in California this happens."
Aside from the curiosity of bringing a selfie stick to a dinner at Denny's, a check of Saavedra's "Vote for Jaz" website suggests there might be something else going on—something more connected and nefarious than a casual observer might expect.

The Trump-supporting congressional candidate, an immigrant from Nicaragua, features an image that is also featured on the Fight the Power website associated with US Senate candidate Don J. Grundmann.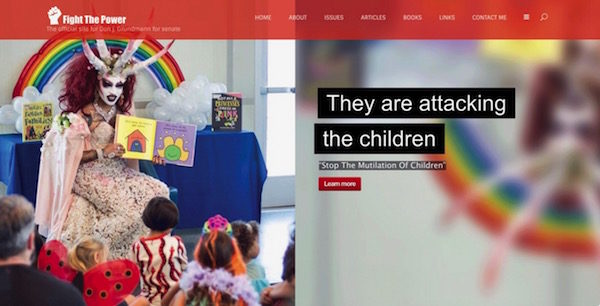 Here's what Grundmann says in the California state voter guide.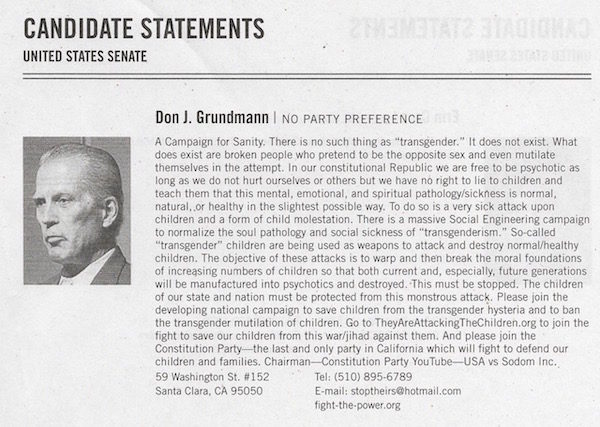 Rep. Nanette Diaz Barragán  the HONOR PAC endorsed incumbent for the district who Saavedra is trying to unseat, said in a statement: "I was appalled by the treatment that this woman received for simply trying to use the restroom. Everyone has the right to their own identity, and the right not to be discriminated against for who they are."
One thing to bear in mind: Saavedra's video had 46k views.