Gay university student critically injured while passenger on Amtrak
Family wants answers to questionable circumstances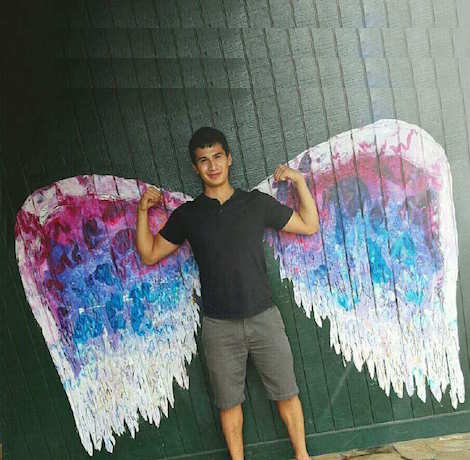 UPDATE: Click here.
Aaron Salazar was on an Amtrak train last week traveling from Denver to Portland, but mysteriously ended up in a coma at a Nevada trauma hospital instead.
Salazar's last known communication was a text message to his great-grandmother who lives in Hawaii.
According to the Truckee California Police Department's Detective-Sergeant Danny Renfrow, sometime shortly before noon on May 15, following Salazar's text message, the 22-year-old gay Portland State University junior was found in critical condition by railroad workers lying beside the Union Pacific Railroad's right-of-way property within the town's corporate limits.
The extent of his injuries necessitated a Medevac to the Renown Regional Medical & Trauma Centre 31 miles away in neighboring Reno, Nev., according to Truckee Fire-Rescue officials.
Salazar's cousin Austin Sailas, the spokesperson for Salazar's family, said that Salazar is in a deep coma in the ICU suffering from "injuries consistent from being kicked and beaten." Sailas added that Salazar's brain stem is damaged, he has a black eye, a broken pelvis and a series of blister-type burns from his groin area down his right leg. "His left hand had marks as if he punched somebody in self-defense," Sailas added.
Another family member, Sonja Trujillo, who saw Salazar in the ICU, said that he had severe bruising to his upper torso, as well as other contusions. His sister, Alyssa, said he had what looked like blood under his fingernails.
Renfrow said that although his department initially responded to the call, the location where Salazar was discovered actually falls under the federal jurisdiction of Amtrak, with Amtrak's in-house Police Department taking the lead on investigating any crimes occurring on an Amtrak train or a railroad right-of-way. Renfrow then referred further questions to Amtrak's investigators.
"I have a layover before getting on the next train," Salazar texted his great-grandmother. "I made a friend on the train and we're going to go get some food and explore."
Eight days after Salazar was found, the family was growing increasingly frustrated, according to both Sailas and Trujillo.
"The detective keeps trying to tell us maybe he jumped," Trujillo said. "I, his family, we don't believe that. No, his injuries are consistent with a beating, in my opinion." She then added, "He was happy."
Sailas agreed with Trujillo's assessment, noting that Salazar had discussed graduation plans with him along with a family outing later on this summer.
The family said they are also frustrated because the attending physicians at Renown Regional Medical Centre have told them that his injuries correspond with a beating, but they won't put it in writing because of the ongoing police investigation.
Both Trujillo and Sailas noted that Amtrak investigators said they have not accessed Salazar's phone or computer yet, although investigators are in possession of his laptop, iPhone, wallet and the clothes he was wearing at the time of the incident. The family would like to have access to his phone and computer saying that those items could provide insight into what happened. For instance, the great grandmother later provided the text message Salazar sent her, and the family wonders if there may be other revealing texts and photos.
"We have been asking and calling and they have been withholding even the simplest (answers), like where was Aaron found and what time," Sailas said. "Simple questions that any parent would like to know. As for his parents, they need answers for their peace of mind. They just want to know their son didn't suffer in pain for hours and hours."
Trujillo also thinks that the fact that his wallet was on him with about $281 means that it wasn't a robbery. "He's gay—maybe a hate crime? That and he just isn't the type of person to just jump from a train," she said.
Family members don't believe he'd jump from a moving train because of his upbeat and happy nature.
"We just want answers," his sister Alyssa Salazar said, "and for people to pray for him."
Amtrak released this statement on May 21: "The Amtrak Police Department is conducting an ongoing investigation into this incident. At this time, there is nothing to suggest criminal intent. Anyone with information is asked to contact the Amtrak Police Department at 800-331-0008."
After learning of the story, Reno Mayor Hillary Schieve reached out to Salazar's family. "I'm very concerned," she said. "There are more questions than answers at this point. I want this family to know we are a community that cares."
Schieve said she's also reaching out to officials and law enforcement in Truckee seeking more answers.
The family has set up a GoFundMe page to help defray the hospital costs.
(Reporting by Bob Conrad, Editor & Publisher of ThisIsReno Media LLC, with additional reporting from Los Angeles Blade staff.)
DeSantis targets Orlando non-profit over holiday drag show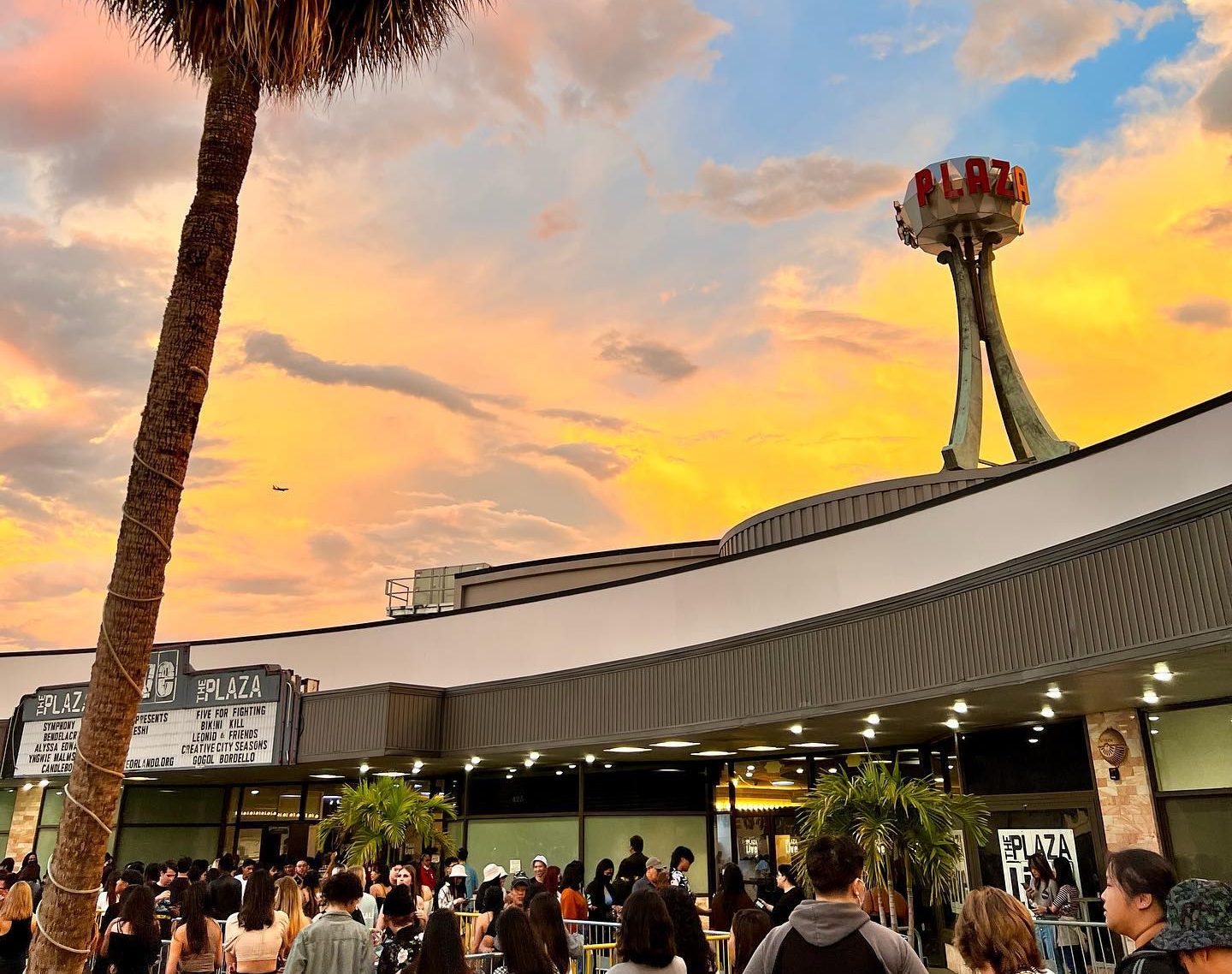 ORLANDO – Florida's Republican Governor Ron DeSantis escalated his war on the state's LGBTQ+ community ordering a state agency to launch a complaint against a Orlando non-profit over a drag holiday event it hosted in which children under age 18 were allowed to attend.
The state's Division of Alcoholic Beverages and Tobacco under the Department of Business and Professional Regulation filed the complaint on Friday against the Orlando Philharmonic Plaza Foundation alleging the foundation violated Florida law in allowing for a person to "commit lewd or lascivious exhibition" in the presence of an individual who is less than 16 years old. 
"A Drag Queen Christmas" was hosted by the foundation on Dec. 28 and during the performance sold alcoholic drinks at its Plaza Live venue. In the complaint, the agency states that the foundation used "Christmas-themed promotional materials" that did not give advance notice of the "sexually explicit nature" of the show's contents.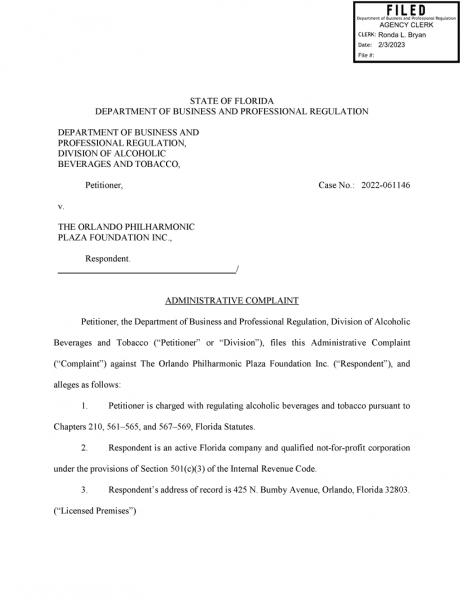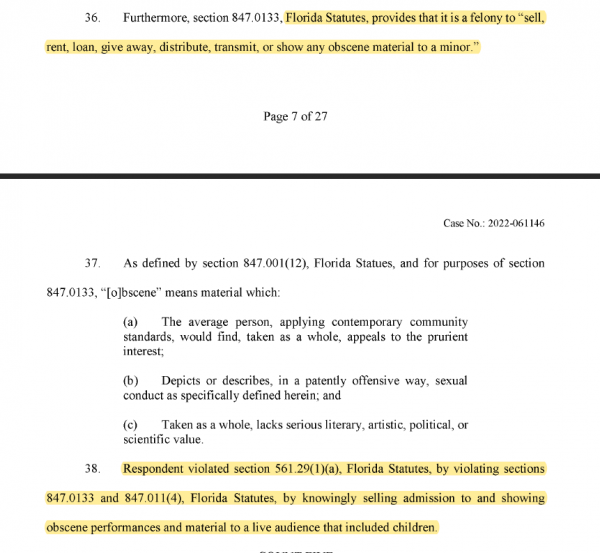 The complaint also states that the division sent the foundation a letter ahead of the show saying "sexually explicit drag show performances constitute public nuisances, lewd activity, and disorderly conduct when minors are in attendance" and the foundation's license could be subject to penalties if it did not ensure minors could not attend the event.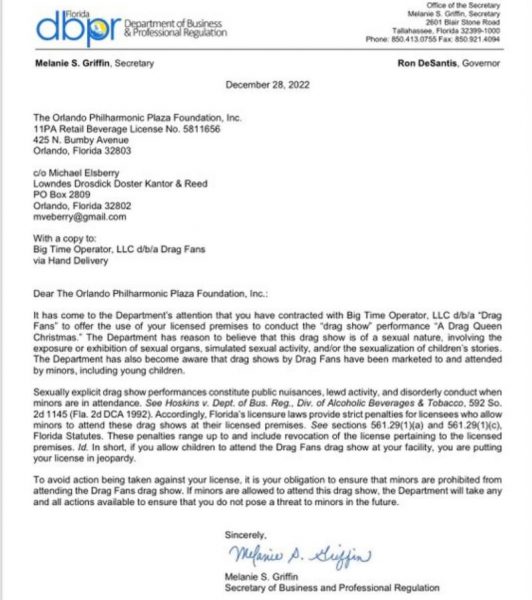 In its capacity as a regulator of alcohol, the division attempting to revoke the foundation's liquor license for six alleged counts of violating Florida statutes. 
When asked about the move by the DeSantis administration targeting the non-profit, Bryan D. Griffin, the spokesman for DeSantis said "Governor DeSantis stands to protect the innocence of children, and the governor always follows through when he says he will do something."
Orlando Weekly writer Matthew Moyer noted that The Plaza Live — besides serving as the performing home base of the Orlando Philharmonic — hosts a robust slate of touring bands, comedians, YouTubers and, yes, drag performers.
State Rep. Anna Eskamani released a statement to Orlando Weekly late Friday afternoon, condemning the state's actions in no uncertain terms. "Governor Ron DeSantis' culture wars are destroying people's jobs and livelihoods. The very notion of shutting down a small business over a drag show is insane and extreme," said Eskamani. "In the United States we do not allow the government to determine what we can read, see or hear or who we can gather with. Targeting drag performances limits everyone's freedom of speech and is all a part of the Governor's sick anti-LGBTQ+ agenda."
This is about dehumanizing LGBTQ people and targeting them for retribution by the state by portraying LGBTQ people as abberant and deviant. It's absolutely disgusting and should not be tolerated.

— Alejandra Caraballo (@Esqueer_) February 3, 2023
DeSantis previously filed a complaint against a popular restaurant and pub in the Miami's Wynwood neighborhood in July, alleging that it violated a public decency law in allowing children to attend a drag show.
The R house, is a unique casual fine dining establishment and lounge with an integrated gallery right in the heart of the vibrant Miami-Wynwood arts district named for Rocco Carulli, the executive chef as well as creator of the restaurant. The R House identifies itself on its Facebook page as "the proud home of South Florida's most popular weekend drag brunches! Make some time to check us out and experience R House."
The complaint was filed by the Department of Business and Professional Regulation on asking that the R House restaurant is a declared a public nuisance and has its liquor license revoked. 
According to the South Florida Sun Sentinel, the complaint was issued after a video of a recent performance at the bar's drag brunch went viral. A topless drag queen wearing lingerie stuffed with money can be seen in the video attempting to dance with a young girl, who the DPBR estimates is "between three and five years old." Twitter account "Libs of Tik Tok" originally found the footage on Tik Tok, posted by a user who wrote, "Children belong at drag shows!!!! Children deserve to see fun & expression & freedom."
The department cited multiple incidents of inappropriate drag performances with kids in the audience, including one in which a child "between the ages of ten and twelve" was "seen recoiling and turning away in her seat as a Brunch performer climbed on the back of the child's bench, squatted, and gyrated a couple of feet above the child's head."