Lesbian sheriff wins Dem nomination in Texas gubernatorial race
Valdez now faces uphill battle in challenging GOP incumbent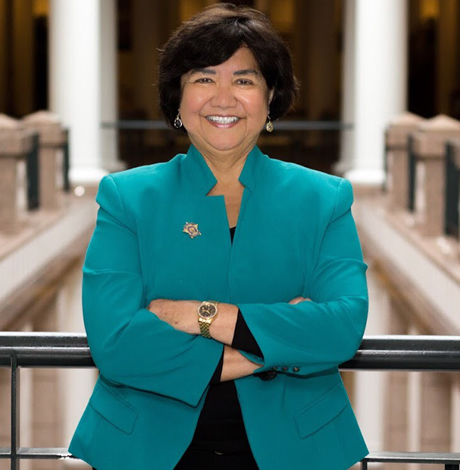 Former Dallas County Sheriff and out lesbian Lupe Valdez won the Democratic nomination Tuesday night to take on anti-LGBT Republican incumbent in the upcoming Texas gubernatorial election.
According to results from The New York Times, Valdez secured 53.1 percent of the vote in the Democratic run-off compared to the 46.9 percent won by her competitor, businessperson Andrew White. After polls closed in Texas at 7 p.m., the Associated Press called the race a few hours later at 9:37 Central Time.
Valdez, who was endorsed by the LGBTQ Victory Fund, is the first out lesbian to win the nomination of a major political party and now proceeds to the general election against Gov. Greg Abbott. If successful, Valdez could become the first openly gay person elected governor in the United States, although other openly gay candidates in 2018 are seeking that distinction.
Annise Parker, CEO of the Victory Fund and former Houston mayor, said in a statement Texas "made history" by nominating Valdez to take on Abbott.
"While bigoted state legislators in Austin continue to divide the state and target our community, Texans are voting for LGBTQ candidates because we are authentic, values-driven leaders who deliver on promises," Parker said. "That is why Lupe won, and we will work hard to expose Gov. Abbott's cynical politics of divisiveness and showcase Lupe's positive agenda for Texans over the next five months."
Valdez is set to take on a governor of Texas who has built a substantial anti-LGBT record. Abbott has signed an anti-LGBT "religious freedom" adoption bill into law, urged the Texas Supreme Court to undermine the 2015 ruling for marriage equality nationwide and called a special session of the state legislature to pass anti-transgender bathroom legislation, which lawmakers ultimately rejected.
But Valdez faces an uphill battle in challenging a Republican incumbent in a "red" state. The new Democratic nominee must overcome a 10-point gap in the polls and Abbott's $40 million war chest.
In an interview with the Washington Blade earlier this month, Valdez said she's prepared for the challenge.
"Ten points is the closest we've been in over 10 years," Valdez said. "The prior people that have run have not gotten that close, and we haven't even started running against him. We're not even calling him out or going to him on anything."
Already sexual orientation has become an issue in the race. According to a report in the Dallas Morning News, Abbott's re-election campaign launched a new website that blasts Valdez as "wrong for Texas," and indirectly notes she's a lesbian.
The 30-second ad shows a photo of Valdez and cites this quote from her on abortion rights in late January: "My partner is a very strong, independent chiropractor. For me to try to tell her what she should do with her body, she would tell me what to do with my mouth." The quote is a reference to Valdez's partner, Lindsay Brown.
Asked by the Dallas Morning News if the Republican incumbent was trying to reinforce that Valdez is gay, Abbott spokesman John Wittman reportedly replied, "The quote is a way to remind people that Lupe Valdez is anti-life, pro-abortion."
In a written response to the ad, Valdez told the Dallas Morning News she's a Texas native, a product of Texas public schools and a former Army reservist and law enforcement officer.
"I know first-hand the importance of looking out for all Texans not just corporations and well connected CEOs," Valdez is quoted as saying. "The 'New Texas' that I'm fighting for is one where all Texans have opportunities to succeed. There is nothing too liberal about that."
Valdez wasn't the only candidate to face a primary Tuesday night. Texas, Georgia, Kentucky and Arkansas each had elections.
• Also in Texas, out lesbian Iraq war veteran Gina Ortiz Jones clinched the Democratic nomination in a run-off against Rick Treviño in her bid to represent Texas' 23rd congressional district in the U.S. House. Jones will challenge Rep. Will Hurd (R-Texas) in what is rated as a toss-up race.
• In Kentucky, former Lexington Mayor Jim Gray came up short in his primary to win the Democratic nomination to run for the U.S. House in his state's sixth congressional district. In a six-way race, Marine Corps veteran Amy McGrath won 48.7 percent of the vote compared to the 40.5 percent won by Gray.
• Also in Kentucky, David Ermold, one of the gay men who sued Rowan County Clerk Kim Davis after she refused to give him a marriage license, came up short in his bid to obtain the Democratic primary to challenge her for her position. Winning the nomination instead was Elwood Caudill Jr., who works just across the hall from Davis as a 20-year veteran of the Property Valuation Administrator's office. According to the Associated Press, Caudill ran a low-key campaign and promised not to make same-sex marriage an issue.
Federal judge overturns Calif. high capacity magazines ban again
There are over 110 gun deaths daily & nearly 41,000 per year in the U.S. Guns are the leading cause of death of children & adolescents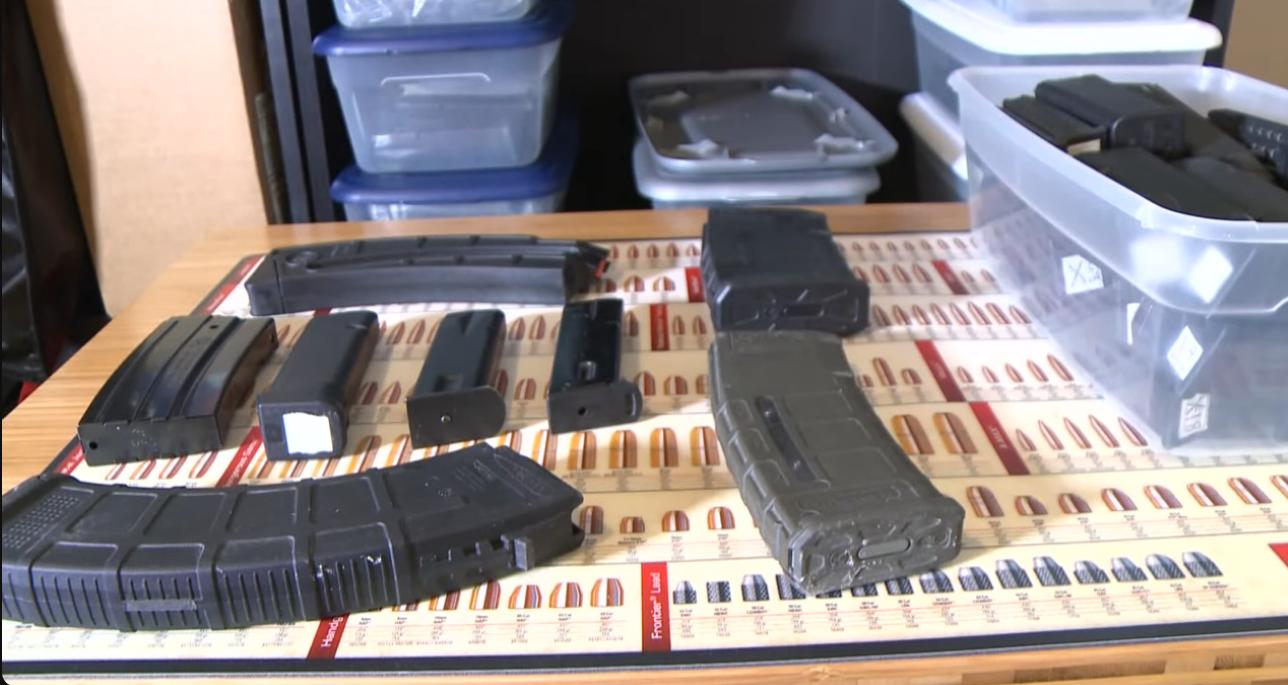 SAN DIEGO, Calif. – California Governor Gavin Newsom and Attorney General Rob Bonta reacted sharply to a ruling Friday by a federal judge blocking California's ban on gun ammunition magazines with capacity of holding more than 10 rounds.
U.S. District Court Judge Roger Benitez, a President George W. Bush appointee on the bench of the Southern District of California wrote: "This case is about a California state law that makes it a crime to keep and bear common firearm magazines typically possessed for lawful purposes. Based on the text, history, and tradition of the Second Amendment, this law is clearly unconstitutional."
This is not the only time Benitez has ruled against the ban by the state on high capacity magazines. The Sacramento Bee noted that Benitez struck down California's large-capacity ammunition ban originally in 2019 — when the case was still called Duncan v. Becerra, for then-Attorney General Xavier Becerra — only for the case to make it all the way to the U.S. Supreme Court, which kicked it back down for further proceedings.
In his opinion today Benitez wrote, "The fact that there are so many different numerical limits demonstrates the arbitrary nature of magazine capacity limits," referring to similar bans in other states but with differing numbers of rounds limited.
He also noted several cases where he said ammunition capacity "was a matter of life and death for lawful gun owners."
"There have been, and there will be, times where many more than 10 rounds are needed to stop attackers. […] Woe to the victim who runs out of ammunition before armed attackers do. The police will mark the ground with chalk, count the number of shell casings, and file the report."
In a statement released by his office, Newsom took aim at the ruling:
"Unsurprisingly, Judge Benitez chose to issue this radical decision on the same day President Biden announced his new Office of Gun Violence Prevention. As a reminder, this is the same judge who used Gun Violence Awareness Day to strike down California's assault weapons ban — comparing the AR-15 to a Swiss Army knife.
"Judge Benitez is not even pretending anymore. This is politics, pure and simple.
"It's time to wake up. Unless we enshrine a Right to Safety in the Constitution, we are at the mercy of ideologues like Judge Benitez. All of our gun safety laws that are proven to save lives are at risk. It doesn't matter what laws we pass. It doesn't matter what the voters decide. Concealed carry. Banning weapons of war. Reasonable waiting periods. Background checks. The idealogues are coming for all of them.
"This is exactly why I've called for a Constitutional amendment, and this is why I'll keep fighting to defend our right to protect ourselves from gun violence."
Today, a district court struck down CA's large-capacity magazine ban.

I am going to immediately appeal to correct this dangerous decision.

We vow to fight to keep Californians safe from weapon enhancements that cause mass casualties. https://t.co/2chQiVqb75

— Rob Bonta (@AGRobBonta) September 22, 2023
California Attorney General Rob Bonta immediately filed a notice of appeal to overturn the decision. The notice of appeal, filed just hours after Benitez issued his decision and temporary stay, is the first step toward seeking a further stay of the decision by the Ninth Circuit pending appeal. 
"In the past half-century, large-capacity magazines have been used in about three-quarters of gun massacres with 10 or more deaths and in 100 percent of gun massacres with 20 or more deaths," said Attorney General Bonta. "We will continue to fight for our authority to keep Californians safe from weapon enhancements designed to cause mass casualties. The Supreme Court was clear that Bruen did not create a regulatory straitjacket for states — and we believe that the district court got this wrong. We will move quickly to correct this incredibly dangerous mistake. We will not stop in our efforts to protect the safety of communities and Californians' rights to go about their business without fear of becoming victims of gun violence, while at the same time respecting the Second Amendment rights of law-abiding gun owners."
Gun violence remains a growing threat to public safety throughout the nation. Mass shootings are on the rise throughout the country and frequently feature large-capacity magazines, causing more deaths and injuries.
On average, there are over 110 gun deaths each day and nearly 41,000 each year in the U.S. Guns are the leading cause of death among children and adolescents, with U.S. children being more likely to die from gun violence than in any other comparable country. 
In 2021, California was ranked as the #1 state for gun safety by Giffords Law Center, and the state saw a 37% lower gun death rate than the national average. According to the CDC, California's gun death rate was the 44th lowest in the nation and the gun death rate for children is 58% lower than the national average.