Franklin Graham ramping up Evangelical GOTV in California
Trump pal using anti-immigration policies to spur Christian voters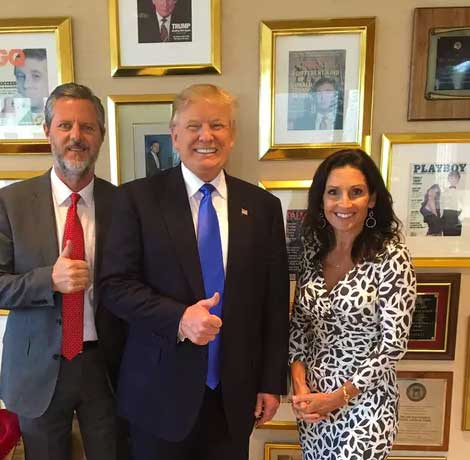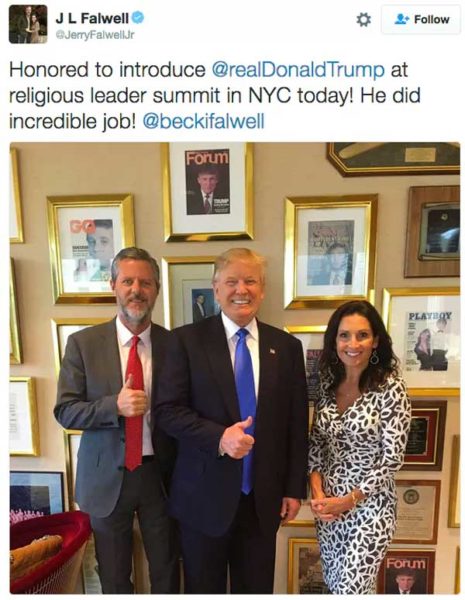 Controversial Evangelical leader Franklin Graham is traveling through California to drum up support for socially conservative candidates ahead of the state's primary election on June 5. The message of his 3-bus caravan, 10-rally tour: "Progressive? That's just another word for godless."
"The church just has to be wakened," Graham told the New York Times for a Sunday profile. "People say, what goes in California is the way the rest of the nation is going to go. So, if we want to see changes, it is going to have to be done here." Churches need to "suck it up" and vote.
In his version of what Jesus would want, Graham said Californians must fight for President Trump's immigration policies and against abortion, same-sex marriage, and LGBTQ-inclusive curricula in pubic schools.
"The gays and lesbians have their people run for politics and win," Graham said. "Christians, we are just being stupid."
As one of Trump's most ardent defenders, Graham has also used his religious bully pulpit in advocating for the President's travel ban targeting seven Muslim-majority countries—which ironically undermines the principle of "religious liberty"—and supports Trump's cruel treatment of undocumented immigrants, including separating mothers and children. Other faith leaders and religious denominations have denounced Trump's immigration policies as anathema to Biblical teachings.
Evangelicals, once the moral arbiters of "family values," continue to support Trump despite widespread outrage over reports that nearly 1,500 immigrant children taken into custody at the southern border are now "missing." Even Ohio Republican Sen. Rob Portman has been critical of the lack of accountability by U.S. Health and Human Services in the mishandling of immigrant children. In one case, federal officials reportedly handed over eight minors to human traffickers. Meanwhile, Immigrations and Customs Enforcement (ICE) has moved to destroy records related to the agency's detention facilities, including reports and documentation of abuse.
Nonetheless, Evangelicals continue their solid support for Trump's policies. In fact, new polls show he is now stronger than when he first assumed office. And Graham hopes to use those harsh immigration positions popular with Trump's Evangelical base to elect candidates who will fight against California's sanctuary cities that refuse to hand undocumented immigrants over to ICE for detention and deportation.
A May 24 report by Pew Research Center found white Evangelical Protestants, by more than two-to-one, believe "the U.S. does not have a responsibility to accept refugees." Additionally, 68 percent of Republicans share that view, which marks a decline in both groups of support for accepting refugees into the United States since Pew's last poll in Feb. 2017, just after President Trump took office.
Support for Trump's performance among Evangelicals and among Republicans is often nearly twice the President's approval rating with the general public. During the same time, Democrats moved in the opposite direction with their support for the U.S. accepting refugees climbing from 71 to 74 percent. Trump's tenure in office appears, therefore, responsible for the drop in the total support for refugee acceptance from 56 to 51 percent.
Many faith leaders have pointed out the discrepancy between the Evangelicals position and Biblical tenets that encourage believers to "treat refugees the way you want to be treated." The Washington Post contrasted the findings from the Pew survey with a Christian Broadcasting Network (CBN) story that listed nine Biblical passages that each urge followers to welcome and love immigrants. The Post included a comment that represents the backlash CBN received from its conservative audience: "Shame on CBN for this very poorly written article full of political rhetoric. This is not a Biblical issue."
Another critic wrote: "You have taken scripture and misapplied it to reference people who are bringing in false gods, who want to bomb and kill us, rape our children and change our laws to sharia law to accommodate themselves."
Pew identified differences between older and younger Evangelicals on attitudes toward immigration more broadly. Only 13 percent of older Evangelical Protestants agreed with the proposition that the "growing immigrant population is a change for the better," compared to 27 percent of Millennial evangelical Protestants. The poll also noted stark differences between white and black Protestants—a majority of the latter group, 63 percent, agreed the U.S. does have a responsibility to accept refugees, compared to only 25 percent of white Evangelical Protestants.
Some of the most interesting findings, though, concern the attitudes of American Catholics vis-a-vis Protestants.
In Pew's survey, 62 percent of Catholic respondents opposed President Trump's travel ban vs. 22 percent of white Evangelical Protestants). As NPR host David Greene explained, the two denominations were historically divided, politically-speaking, but came together under the banner of pro-life and traditional marriage movements. Now Trump's presidency has divided Catholics and Evangelicals, especially in regards to immigration.
The immigration issue has become a priority concern among Catholics, particularly in California, which has become a battleground state over policies related to sanctuary cities. Los Angeles Archbishop Jose Gomez told NPR: "Mystics and missionaries, martyrs and immigrants, refugees and exiles—they came from everywhere to share their gifts and make this country what she was meant to be."
Several California counties have joined Department of Justice efforts to overturn laws in sanctuary cities that the DOJ considers an affront to the Administration's plans to increase border security. Evangelical leader Frank Graham told The Times, "You are beginning to see a groundswell of revolt out here. Orange County, San Diego County are beginning to take on Governor Brown. It's good for Christians to capitalize on that. So yeah, we could help turn the tide."
Marjorie Taylor Greene tweets homophobic attack on Sen. Wiener
"Greene is a toxic person & embodies why the MAGA movement is dangerous, a threat to our democracy & to the personal safety of LGBTQ people"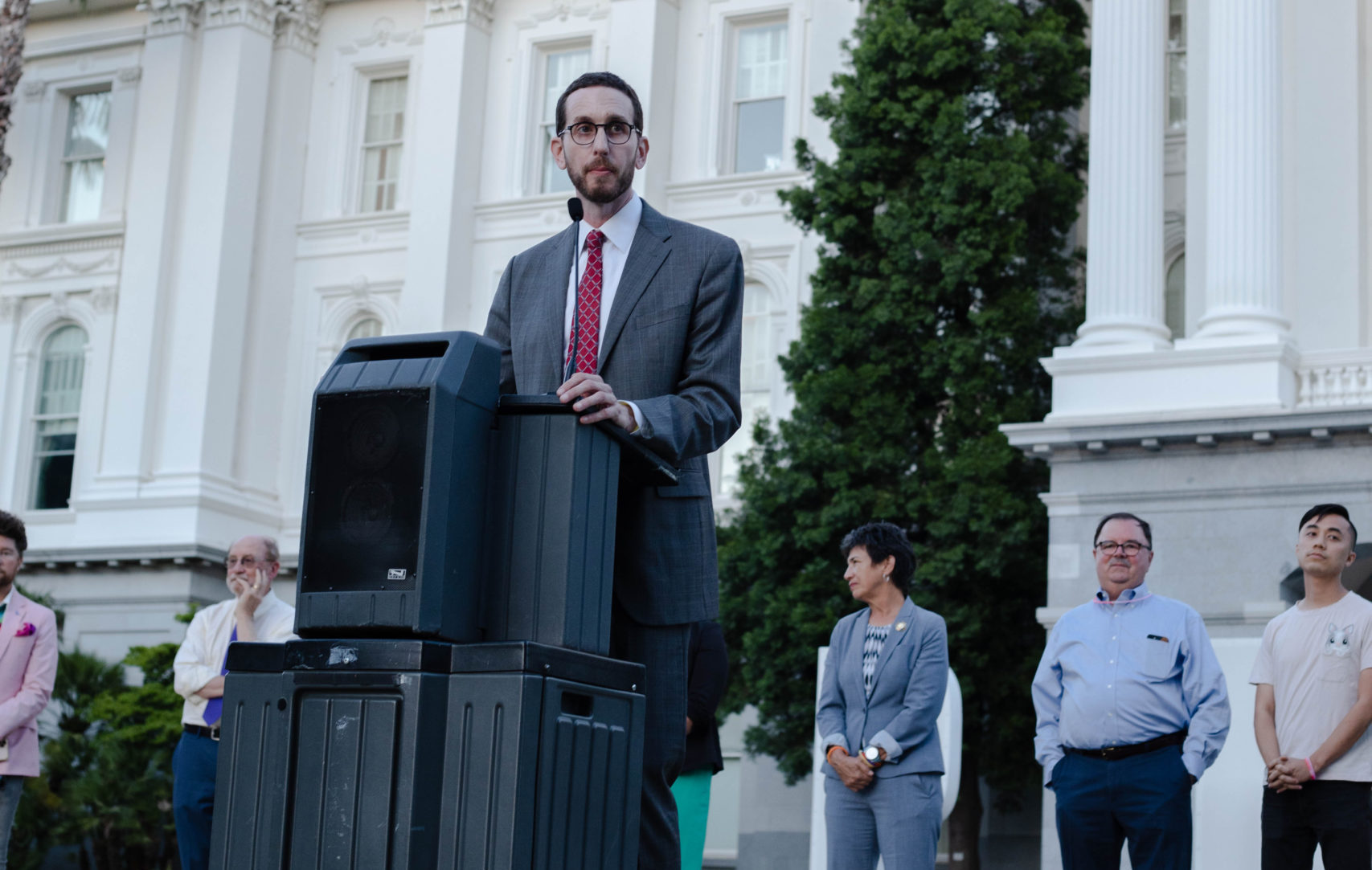 LOS ANGELES – Far-right Republican U.S. Rep. Marjorie Taylor Greene attacked Calif. State Sen. Scott Wiener, (D-San Francisco) on Tuesday after Wiener made a point of calling out use of the word "groomer," as the abusive reaction and fallout from right-wing sources regarding the mass-shooting at Club Q in Colorado Springs, continues to ratchet up against the LGBTQ+ community.
"The word "groomer" is categorically an anti-LGBTQ hate word. It's super homophobic/transphobic. It plays into the slander that LGBTQ people are pedophiles. It's no different than calling someone a fagg*t. If you call someone groomer, you're inciting violence against LGBTQ people," Wiener stated in his tweet.
Quoting Wiener's tweet the far-right MAGA Georgia congresswoman called the Senator a "communist" questioning Wiener's loyalty and service to both the State of California and the U.S. she then went on to accuse Wiener of being a "groomer" implying that the Senator was a predator of minors for sexual purposes:
"Pass my Protect Children's Innocence Act to stop communist groomers like this from using state government power to take children away from their parents to allow a for-profit medical industry to chop off these confused children's genitals before they are even old enough to vote."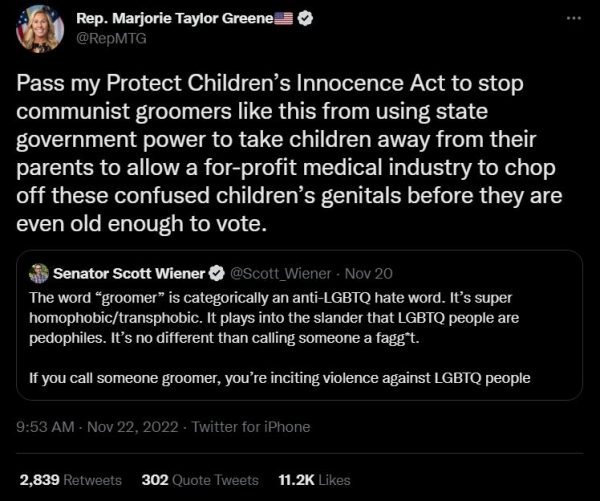 In an emailed statement, Senator Wiener responded to the homophobic attack by the Georgia Republican:
"The same day Elon Musk reinstated QAnon extremist Marjorie Taylor Greene, she launched a vile homophobic attack on me because of my vocal advocacy in response to the Club Q slaughter. When Greene has attacked me in the past, threats against me have typically increased. She is a toxic person and embodies why the MAGA movement is so dangerous. Green is a threat to our democracy and to the personal safety of LGBTQ people."
The term 'groomer' is considered highly offensive as it broadly brushstroke paints LGBTQ+ people as child molesters.
The definition according to the Urban online dictionary:
1 (the crime definition): An adult that builds a sense of trust with a minor to exploit and/or abuse them, typically (but not always) in a sexual manner. This is a crime, and it also causes harm to the minor.
2 (in US politics): What republican politicians and supporters refer to LGBTQIA+ people and their allies as, to manipulate their audience to pass anti-LGBTQIA+ legislation. This is targeting and harming LGBTQIA+ people and the people using the word in this manner typically are (or have connections with those who are) actual groomers.
National Public Radio, (NPR) reported this past May the Movement Advancement Project's executive director, Ineke Mushovic, pointed out:
"What the far right often does is they engage people's reptilian brains, the fight-or-flight instinct," says Mushovic. "And so it behooves far-right conservatives to put people in a state of fear, because then they're reactive. They don't support change."
The "grooming" narrative, Mushovic added, "taps into this primal sense of fear and this kind of parental protective instinct. But we know it's a completely false narrative."
The "grooming" narrative has been actively promoted by conservative activist Christopher Rufo, and Daily Wire pundit and transphobe Matt Walsh who have both attacked gender affirming care in their assaults on the LGBTQ+ community.
It took three days after the mass shooting at Club Q for the Daily Wire's Matt Walsh to blame the victims for the massacre. pic.twitter.com/08kitTdpMt

— Ari Drennen (@AriDrennen) November 22, 2022
Green's H.R.8731 – Protect Children's Innocence Act, was introduced this past August 19 and has forty-nine Republican members listed as co-sponsors. The language as introduced stated targets primarily Trans youth healthcare and targets colleges and universities from "offering instruction in gender affirming care:"
This bill places restrictions on the provision of gender affirming care. Gender affirming care includes performing surgery, administering medication, or performing other procedures for the purpose of changing the body of an individual to correspond to a sex that differs from the individual's biological sex.
Specifically, the bill makes it a felony to perform any gender affirming care on a minor and it permits a minor on whom such care is performed to bring a civil action against each individual who provided the care.
Additionally, the bill prohibits the use of federal funds for gender affirming care or for health insurance that covers such care. Such care may not be provided in a federal health care facility or by a federal employee. The bill also prohibits qualified health plans from including coverage for gender affirming care. Further, plans that include coverage for such care are not eligible for federal subsidies. […]