Generation Next
Emerging leaders generate inspiration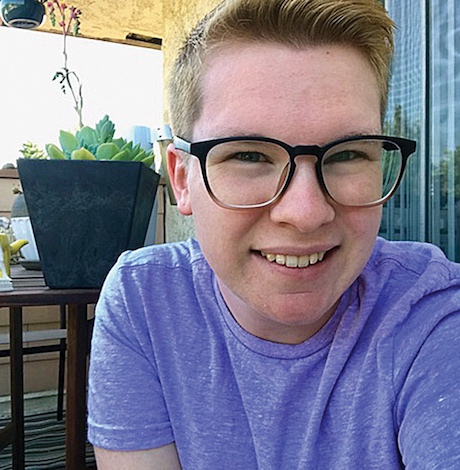 What is Pride? The most serviceable answer, of course, is that Pride is a commemorative event in which the LGBTQ community celebrates our triumph over adversity and the leaders who fought to make the world a more inclusive place. Historically, it was a political statement — a show of visibility and a forum for protest against homophobia.
And since the beginning of President Trump's tenure, Pride feels political once more. This year's celebration will pull from the civic engagement of the March for Our Lives and #Resist movements, spotlighting LGBTQ leaders while re-engaging in the community's fight for social, legal, and political equality.
Much of that work did not begin, and it will likely not end, with the Trump administration. New research has found LGBTQ girls of color are disproportionately over-disciplined in schools, where they also face bullying and are ostracized. These challenges often push them out of the classroom and into the criminal justice system. And now that Betsy DeVos helms the U.S. Department of Education, prospects for many of our community's most vulnerable youth are even grimmer.
At the same time, this year the country has witnessed the power of young people in bringing change. The young LGBT folks from the Los Angeles area profiled in these pages are speakers, students, advocates and artists. They have each made meaningful contributions in areas including climate change policy, battles against homophobia and transphobia, housing equality, and immigration.
As the LGBTQ community has witnessed and experienced a reversal in progress over the last two years, young leaders have offered hope for a better way forward. Another signal of the direction in which the arc of justice is headed: The decision by Boy Scouts of America to welcome girls into their ranks, and, effective next year, change the organization's name to Scouts of BSA. Since the 1970s, women's and LGBTQ advocates have lobbied the Scouts to adopt more inclusive policies. And in those battles, waged in and outside the courtroom, they have been ultimately victorious.
May these stories, challenges and history inspire you. Happy Pride.
Casey Hoke, 21, college student, LGBTQ advocate, artist
Casey Hoke is a fine artist, graphic designer, writer, activist, and advocate who was awarded a prestigious POINT Foundation scholarship to fund his education at California State Polytechnic Institute in Pomona, where he is now a junior pursuing a B.A. in Graphic/Communications Design with a minor in Art History. His past and present leadership appointments include a Student Media Ambassadorship for GLSEN, where he also holds membership with the National Executive Board.
Drawing from his experiences as a young trans man, Casey has spoken and written about subjects including education policies that concern transgender students, the representation of transgender people in the media, and the relationship between artistic self-expression and self-acceptance. His work has appeared in MTV News, Teenlife Media, and The Huffington Post, where he has blogged since 2014. Casey has delivered speeches at forums including a TEDx conference and Intel Labs' LGBT Youth Leadership Forum.
Casey attended high school in Louisville, Kentucky. He came out as trans during his sophomore year. While fellow students, for the most part, were accepting of Casey, he explained the school's Principal Gerald "Jerry" Mayes was a bully. In March, The Louisville Courier-Journal published a timeline of an ongoing investigation by Jefferson County Public Schools into Mayes' conduct that was initiated in response to his treatment of trans youth, including Casey, as well as racially insensitive comments he made to two African-American students.
During his junior year, Casey was the subject of an article in the school's newspaper that chronicled his journey and highlighted his advocacy work. In response, Casey explained, Mayes told members of the student newspaper staff that it was "wrong to profile a misfit going through a phase. He said it would be comparable to writing about someone who wanted to shoot up a school." The following year, in 2015, as the state's senate introduced a bill that would require transgender students to use restrooms that match the sex listed on their birth certificates, Casey said Mayes asked a security guard to monitor him in the men's restroom. The principal then called Casey into his office and began asking invasive questions about his body and genitalia.
"It's hard to talk about," Casey said, "but I came out with my story because it needed to be heard, and because his treatment of LGBTQ students in my high school was, and still is, really bad." Those experiences strengthened Casey's resolve to advocate for the rights of trans students.
In college, Casey and his trans peers face a variety of administrative challenges. Changing one's name on student ID cards is a difficult process. Freshmen, who are required to live on campus, must pay more for housing that offers single-stall restrooms (which are safest for transgender students)—a difference in cost that amounts to about $10,000. Administrators outed Casey to other staff and even students, despite his request that they keep information about his gender identity private. Casey has since led petitions that demand equal and affordable housing for trans students, as well as training programs on trans identity for university staff.
"My advocacy did not stop at high school, where I had this mean principal", he said. "Even though I've seen trans folks accepted a bit more, publicly, there are still battles I have to face here in California."
Casey's interest in media representation of LGBTQ people and subjects overlaps with his interest in art. A project and educational resource that Casey created and curates, Queer Art History (housed online at queerarthistory.com) showcases a breadth of artwork, from a homoerotic 16th century Roman fresco to a poster produced by ACT UP Los Angeles in 1990. On the project's website, Casey has written about the cultural and historical significance of each.
This project, he said, allows him to "talk about media representation while educating people of all ages on queer visual history, art, and culture." Through another program, Art, Identity & YOU, which Casey created and administers in coordination with the Los Angeles LGBT Center, he provides a platform for youth education on identity, art, history, and self-expression.
Must modern queer art be political? Not necessarily, Casey said—it certainly can be, but queer art can also signify something as timeless as self-expression or look as visually diverse as abstract expressionism. Plus, the treatment of queer people as inherently political, Casey said, can be dehumanizing.
At a time in which major American cities have often become canvases for anti-Trump graffiti, contemporary queer art certainly feels political. And much of it borrows from the signage of protest art produced in the 1980s and 90s (A good example: Donald Moffett's He Kills Me, a 1987 lithograph that features a grid of President Ronald Reagan's grinning headshot with "THIS GUY KILLS ME." in bright orange type across his chest.)
Through the POINT Foundation, Casey was connected with a mentor who works for the Walt Disney Company, where he aims to secure a design position post-college. He is optimistic about both his future and the direction in which society is headed, despite the anti-LGBTQ policies of the Trump Administration. "I asked Mara Keisling, executive director of the National Center for Transgender Equality, how things are looking for young trans and non-binary folks", Casey said. Reflecting on the progress that's been made so far, Keisling responded: "You know what? We've gotten here."
Priscila 'Pea' Alegria Nunez, 23, documentarian and cinematographer
"The stories that I'm passionate about sharing and telling are about the Latinx community and LGBTQ community. It's very important for me to highlight our voices, as immigrants who are fighting back."
Pea is a documentary filmmaker, an artist whose work reflects their lived experiences as a pansexual non-binary immigrant who, at 15, left Peru with their mother for the professional and educational opportunities available in the United States.
A recent graduate of the acclaimed film program at the University of California, Los Angeles (UCLA), this year Pea was awarded a Rising Star Grant from GLAAD to fund their virtual reality (VR) project about the networks that immigrants have built to support and defend their communities. The film is led by a lesbian protagonist who left Honduras for the United States.
"Throughout the US, immigrant families they have this traumatizing event in which they are visited by [Immigrations and Customs Enforcement (ICE)]", Pea explained. "Our protagonist is going to college, and she's using her knowledge and her network to bring an emergency community back to her house. We will see how that event develops because of how many people will show up to help fight back."
As an immigrant who belongs to the LGBTQ community, Pea is inspired most by the stories of people who occupy both of those identities. "I found that the projects that bring me the most fulfillment are those that find that intersection."
Pea and their mother had green cards when they left Peru. They landed in Sacramento, where Pea says their high school was nationally recognized for the racial and ethnic diversity of its student body. "It was incredible to be surrounded by so many brown people—by so many inspiring, motivational people."
At UCLA, Pea's classes in gender studies opened their eyes to the identities that do not fall into the gender binary, which gave them the space to inhabit gender-neutrality, along with the freedom to dress and use pronouns in non-traditional ways. "It was another coming out for me. I'd already come out as bisexual, but then again as pansexual." (The latter is defined by the absence of limits with regard to sexual choice in gender or activity.) Coming out to their mother—who understands Pea is attracted to both men and women—as non-binary, Pea said, is something of a work-in-progress, an ongoing journey.
Respective to both their personal life and professional work, Pea focused first on their immigrant identity and the stories of other immigrants more broadly before working to explore how sexual orientation and gender identity come into play.
Night of Cultura, a Latinx club of artists at UCLA, was a forum in which Pea found some of their closest friends and most valuable professional networks. The group creates plays, sketches, spoken word poetry, dances, and films—works that often include LGBTQ subject matter. "It was a space where I really felt like I blossomed." After screening a 5-minute documentary at a Night of Cultura event, Pea met a UCLA alum in the audience who would later become the screenwriter for their VR project.
As a filmmaker, Pea is moved by the audience's reaction to their work. "You can hear gasps; you can hear sniffles; you can hear laughter. I think that's so beautiful because you wonder what's going on in their hearts. There is a chance of really reaching people. There is hope that your project, that your work, will touch people."
On the challenges brought forth by attacks on LGBTQ and immigrant communities from the Trump administration, Pea is optimistic about the role of the artist. "It's important that we creators continue making work, regardless of the political climate. It's important to keep creating, because who is going to do it, if not us?" Immigrants and LGBTQ folks should tell their own stories, Pea said, because that way the diversity within those communities will be reflected in the broader cultural narrative.
In hindsight, Pea feels they should have explored and expressed their sexual orientation and gender identity earlier in life. "I felt like I needed to be compliant to what my mom wanted—to her expectations. I could have been so much happier, if I had not waited and instead just been myself." Pea's message to LGBTQ teenagers: "Come out to your friends first, because there is something to be said for finding your family outside the family you grew up with. Find yourself a queer family. When you do, you'll be amazed how powerful you'll be."
Aris Reyes, 16, high school student, LGBTQ advocate
Aris is a 16-year-old high school student who aspires to a career in politics, business, law, or, perhaps all three.
 Though only a junior, Aris has emerged as a leader at USC East College Prep, a new high school of which his will be the first graduating class. He founded both the student government and the GSA club, where he now serves as president.
 As a young trans Latino man and LGBTQ advocate, Aris has built bridges between his school's students and staff, as well as between his peers and organizations dedicated to LGBTQ youth education and empowerment.
 He helped to spearhead the LGBTQ School Climate Resolution, a comprehensive survey that collects information about a school's educational atmosphere respective to LGBTQ issues. Aris was not entirely surprised to learn 80 percent of his classmates had either often or occasionally heard homophobic remarks from other students. On the other hand, only 10 percent of student respondents heard their teachers say something objectionable about LGBTQ people, which is consistent with Aris's perception that educators at his school are more liberal and tolerant.
 With data from the survey, Aris approached his teachers about ways they could help improve the school's record on LGBTQ issues. He cited California's FAIR Education Act, which, among other requirements, obligates teachers to include LGBTQ historical figures in their lesson plans. The law applies only to the state's public schools, so teachers who work at Aris's charter school are free to create their own lesson plans—and there, he said, there is room for substantial improvement.
 Aris worked with the Latino Equality Alliance's (LEA) youth council to coordinate a speaking engagement at his school that featured a representative from the ONE Archives of the University of Southern California (USC). "They talked about LGBT leaders and advocates", he said, "including some people I've never heard of in my life."
 The organization administered 10 workshops throughout the year, including the Unconditional Love Rally, where Aris spoke about transphobia and his personal journey toward self-acceptance. The program required registrants to get prior approval from their parents, but Aris worked with school administrators who agreed to count the rally toward community service hours—which helped to bolster attendance.
Aris opened up to his mother about his gender identity in eighth grade and the following year came out to friends, teachers, and classmates. Like many transgender youth, Aris struggled with body image issues and depression. Not yet out to his father and living in a body that did not reflect his gender identity, while a freshman Aris was placed in a three-day psychiatric hold. There, he was isolated away from other patients—and told by nurses he could not be placed in units segregated by gender because he is neither male nor female. This, in spite of the fact that Aris explained he is a transgender man.
 Back at school, Aris is sometimes asked probing questions by other students concerning his anatomy. "My school is in Lincoln Heights in Los Angeles", he explained, "and Hispanic culture is not always that accepting of LGBTQ people." Teachers, by contrast, have been more welcoming—he only needs to remind them, occasionally, to not mis-gender him.
 Administratively, Aris has met challenges such as the attendance roster and the separation of girls and boys in advisory periods. "It can be isolating", he said.
 Involvement in advocacy programs and social clubs has allowed Aris to build a sense of community and work on behalf of issues that are important to him. "Even within the LGBT community", he said, "I feel like trans people are left out a lot." The separation of gender and sexuality in the discussion of LGBTQ issues, as well as the ways in which we introduce these topics to young people, is important to Aris. The conflation of sexual orientation and gender identity, he said, can cause misunderstanding.
 Aris also hopes the Hispanic/Latino communities will begin to adopt more progressive attitudes toward LGBTQ people. He feels less tolerant attitudes exist primarily among older generations. "Friends have told me", he explained "'My mom doesn't like you because you're trans.' It's just sad—just because of that, like, [they don't care] about everything else I do, what a good kid I am, my grades or my education."
 Homophobia and transphobia will always exist, Aris said, and "people are scared of things they don't now". Looking to the future, he is more interested in effecting change through policy. "For me, really what matters is the legislation—that's what changes everything. If you're a lawyer or a president or lobbyist, you're in a position to change things."
 Aris expects to continue working on behalf of LGBTQ causes. "After I graduate", he said, "I hope to go to college. I want to get really involved in my college."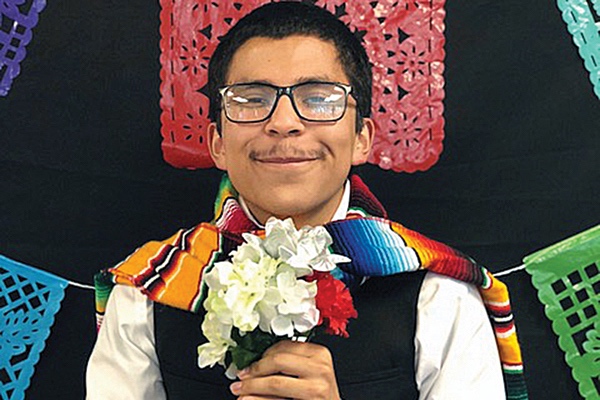 (Photo courtesy of Medina)
Alex Medina, 18, student journalist, LGBTQ advocate
Alex Medina is a student journalist who has authored more than 20 articles for his local newspaper, the Boyle Heights Beat, which covers news and feature stories in and around the downtown Los Angeles neighborhood.
He will soon graduate from high school and is eager to begin his freshman year at Hamilton College, a selective liberal arts university in update Clinton, New York. Then, Alex hopes to work toward a career in journalism. And he also has designs to start an organization dedicated to youth and the media.
Much of Alex's work for Boyle Heights Beat is focused on LGBTQ issues, which he considers especially important because, particularly in decades past, LGBTQ people are often portrayed negatively. He said that spotlighting the work of advocates and activists helps to usher in progressive change while also offering role models for young people. Additionally, Alex has written about subjects important to immigrant communities—such as the census and the Free Application for Federal Student Aid (FAFSA)—as well as local politics and business.
For two years, Alex has served as president of his school's GSA club, where he led efforts to curb the use of derogatory language and anti-LGBTQ slurs. In conversations with the student body, Alex and members of the club worked to encourage their peers to be more conscious of the language they use. "I used to get bullied when I was younger. So, it's important to me that we have these conversations", he explained, especially for the benefit of young LGBTQ folks.
Beyond the GSA, Alex works on behalf of a variety of causes that reflect the diversity of the subjects he has written about. Through his involvement with the Latino Equality Alliance (LEA), for example, Alex has advocated for policies that would help to curb the school-to-prison pipeline.
Alex credits many of his accomplishments to the unwavering support he's received at home. His parents, who immigrated to Los Angeles from Mexico, have been involved with organizations like PFLAG—where they engage with other parents, many of them Latino, to facilitate conversations about accepting their children's sexual orientation and gender identity.
It can be challenging work, he said. LGBTQ identities are often not discussed within Latino communities. "Youth often don't come out to their parents because they're afraid how their parents will react," he explained. "When Latino people [immigrate to the US], there are prejudices—often formed by the things they heard when they were growing up—and they often bring that with them. It's also generational."
While young people have overwhelmingly adopted more positive positions on LGBTQ issues, change can also be witnessed in traditionally-conservative milieu, such as the Catholic Church. Just a few weeks ago, Pope Francis told a gay man, "God made you like that." Alex agreed about the direction in which organized religion seems to be heading, at least concerning Catholicism. "With the Pope being more accepting," he said, "it's getting better. At my own church and at the other church I'm involved with, they're accepting of me and the pastors communicate very positively about it."
The role played by organizations, like PFLAG, that offer programs and resources for LGBTQ youth and allies is really important, Alex said. "In schools there often isn't much awareness, even if there is acceptance, so these organizations help to fill in and offer resources—including condoms, and healthcare referrals—that are not available in school. There are a lot of events and opportunities available through those organizations that students wouldn't otherwise know about. It's important for parental acceptance as well."
Alex feels the tremendous progress the LGBTQ community has witnessed over the years would not be possible if advocates and activists were not optimistic about their odds. "We wouldn't have the movement we have today without people who brought awareness about things like AIDS, DOMA, and [same-sex] marriage", he said. Beyond the fight for political equality, Alex feels adopting a positive attitude is important for building friendship and community.
Another corollary goal of Alex's: Increasing the visibility of young people who are working to effect change. "A lot of times", he said, "youth don't see themselves represented. It's important to bring attention to the work young people are doing to build a better future for themselves and for future generations of youth".
Rudy Akbarian, 28, trans-Armenian veteran, aspiring barber
Rudy Akbarian is a transgender man, the son of Armenian immigrants, and a veteran who served in the U.S. Army from 2011 to 2016. He has also worked on behalf of LGBTQ youth, specifically homeless youth, and next month will begin studying to become a barber.
Before today, Rudy has spoken out twice about policies concerning the inclusion of openly-trans men and women in the military. In 2016, he praised the historic decision by former Defense Secretary Ashton Carter to welcome transgender people into the armed forces. Then, last year, he denounced President Trump's reversal of that policy but pledged to keep up the fight: "I've had too many people supporting me to just give up," he said. "So, I don't plan on doing that."
Today, Rudy responded to reports from Tuesday that 100 members of Congress have submitted a letter to Defense Secretary James Mattis, urging him to reconsider the Administration's decision to bar openly trans men and women from military service.
"That's awesome," he said. "But I don't know what [Trump's] reasoning was for not allowing trans people to serve in the military, other than 'It would cost a lot of money.'" And this, Rudy pointed out, despite the President's request for a military parade that The New York Times reported could total $30 million (at a time in which those funds could be better allocated to address homelessness among America's veterans).
Importantly, Rudy added, the projected medical costs associated with treating the estimated 15,000 trans men and women in the armed services—which, according to a RAND study, would add up to $8 million—are likely even less. "Not every trans person wants to surgically or medically transition," he explained. "That's a stereotype we need to break."
Rudy's position on the capabilities of trans soldiers?
"After I conquered that battle to become my authentic self—and I did it alone—now, God only knows how many other battles and wars I can win with a team. Trans people are some of the strongest people and some of the most mentally capable people to protect and serve this country."
Rudy said most of the transphobia he has encountered so far has been in civilian life. The men and women who served alongside him were focused on the demands of the mission before them, and close bonds were born from shared experiences and the close quarters in which they worked and lived.
Restroom and shower accommodations, particularly while Rudy was in the process of transitioning, proved challenging. Without an official gender marker that matched his gender identity he was not allowed to access the men's facilities. Once, during a five-day range training excursion in the desert, Rudy had to use the women's showers. And by this time, he had grown a full beard. "It was a super traumatizing experience for me, as well as for them. Because, they're like, 'Why is there a guy in the shower?'"
However difficult it was, as a trans man, to navigate the administrative hurdles of military life, Rudy had already weathered a lot of heartache. He came out first as a lesbian and was consequently kicked out of his home. "It was a really hard time in my life," Rudy said. Like many young people in his position, he abused drugs and alcohol to cope. For more than six years now, Rudy has been sober—and his family eventually reconciled with him.
At first, he explained, the subject of his sexual orientation was off the table, but then Rudy journeyed closer to accepting his gender identity. "It was undeniable when the hormones kicked in," he explained. "Then, I gave my family the choice to be there for my top surgery, and they showed up." Rudy said they are now 120 percent supportive.
"One time, I discovered that my mom, who has this heavy Armenian accent and types the way she talks, was responding to these negative comments about me on social media. [Imitating her accent] 'That's my son and I love him and he's very handsome!' She was totally there in support, doing all of this emotional labor. It was so incredible to see that."
These days, Rudy is incredulous about the policies introduced and supported by the President, especially those concerning transgender men and women in the armed forces. At the same time, he has witnessed tremendous progress in both his family and community—especially among young people—which, he said, signals movement in the direction of justice and equality.
Through social media, Rudy has comforted other LGBTQ folks, including Armenians who are struggling with coming out to their families. It's just another form of advocacy, he said—a way to build and strengthen community.
Recently, Rudy was invited, by his former art teacher, to speak before a high school group called Students Advocating Gender Equality (SAGE). "When I was [a student] there," he said, "there were three students in GSA, and I was one of them. At this event, I was talking to, like, 50 kids. They were all embracing and accepting each other—and it's students in high school who are creating these clubs and programs."
West Hollywood in brief- City government in action this week
Celebrate 38 years of Cityhood on West Hollywood Day, Tuesday, November 29, 2022, West Hollywood Marks World AIDS Day on December 1
City of West Hollywood Marks World AIDS Day on December 1
WEST HOLLYWOOD – Each year, the City of West Hollywood recognizes World AIDS Day. World AIDS Day originated at the 1988 United Nations World Summit of Ministers of Health on Programmes for AIDS Prevention and is held each year on December 1. Every year, United Nations agencies, governments, nonprofit organizations, community groups, and others across the globe join together to campaign around specific themes related to AIDS. World AIDS Day is an opportunity for people worldwide to unite in the fight against HIV/AIDS, to show support for people living with HIV, and to commemorate people who have passed away due to HIV/AIDS. The international theme of this year's #WorldAIDSDay is "Equalize" and the slogan is a call to action for communities to address inequalities that perpetuate the HIV/AIDS pandemic.
"The City's annual recognition of World AIDS Day is an opportunity for us to remember loved ones lost over the last four decades to AIDS, as well as to support those living with HIV," said City of West Hollywood Mayor Lauren Meister. "Too many souls have left us much too soon due to HIV and AIDS. The City will continue to support access to medical and emotional care, prevention, and treatment, and to provide resources and support for those in need as our scientific community continues to work toward the day we can all celebrate the end of suffering and loss caused by AIDS."
This year, the City of West Hollywood will recognize World AIDS Day with special events and programming, including:
The Paul Andrew Starke Warrior Awards presentation, which will take place Thursday, December 1, 2022 at 6:30 p.m. at the West Hollywood Park Aquatics and Recreation Center in the San Vicente and La Cienega Conference Rooms, located at 8750 El Tovar Place, adjacent to West Hollywood Park. The event will feature an update on the City of West Hollywood's HIV Zero Initiative from Aaron Celious, Ph.D. of the Maroon Society. The Warrior Awards are given to outstanding employees or volunteers of local agencies that offer HIV/AIDS and/or substance abuse prevention and care services. This year's honorees are:
Dr. Jesika Babajanian – Being Alive;
Andres Diaz – AIDS Healthcare Foundation;
Ruben Garcia – APLA Health;
Gerardo Mendez – C.I.T.Y. x1 Youth Group;
Francis Ocon – Men's Health Foundation;
Claudia Pacheco – Los Angeles LGBT Center;
Robb Peters – The Tweakers Project;
Sunnie Rose – The Life Group LA;
John Walter – Friends Community Center; and
Warren Wimmer – Alliance for Housing and Healing.
The 24-hour electronic memorial to those lost to HIV, AIDSWatch, will be viewable on www.AIDSWatch.org beginning at 12:01 a.m. on Thursday, December 1, 2022. The AIDSWatch memorial will also be available for viewing from 4 p.m. to 9 p.m. in the West Hollywood Library Community Meeting Room, located at 647 N. San Vicente Boulevard.
In addition to City of West Hollywood programming, the City has co-sponsored two World AIDS Day events. The Foundation for The AIDS Monument (FAM) and the Minority AIDS Project will be co-hosting FAM's second annual STORIES Circle storytelling event LOVE, LIGHT & LEGACY, for World AIDS Day. The STORIES Circle event will take place from 6 p.m. to 7:30 p.m. at the future site of STORIES: The AIDS Monument in West Hollywood Park, located at 647 N. San Vicente Boulevard, next to the West Hollywood Library. It is an opportunity for storytellers – survivors, activists, caregivers, community organizers, political leaders, and those who lost loved ones – to gather in circles and share their personal stories about HIV and AIDS.
The City of West Hollywood is also co-sponsoring amfAR's screening of the film Yes I Am – The Ric Weiland Story at the Harmony Gold Theater, located at 7655 Sunset Boulevard in Los Angeles, from 7 p.m. to 10 p.m. The film tells the story of Ric Weiland, one of the original founders of Microsoft and a somewhat unknown queer philanthropist, who donated more than $200 million during his lifetime to many non-profit organizations and the LGBT community. Proceeds from the screening will be donated to amfAR in Ric Weiland's name. amfAR, The Foundation for AIDS Research, is dedicated to ending the global AIDS epidemic through innovative research. Tickets are available at https://ricweiland.betterworld.org/events/yes-i-am-ric-weiland-story-scree#tickets.
The onset of the HIV/AIDS epidemic had a significant impact in West Hollywood. The disease's elevated infection rate among gay men caused a devastatingly high number of deaths in the City. The City of West Hollywood was one of the first government entities to provide social services grants to local HIV/AIDS organizations. The City of West Hollywood sponsored one of the first AIDS awareness campaigns in the country in October 1985 and the City's response to the AIDS crisis has been recognized as a model for other cities, nationally and globally.
The City of West Hollywood actively participates in the development of programs that can bring awareness about the HIV/AIDS epidemic and services to people living with HIV/AIDS. In January 2015, the City announced its vision to become an 'HIV Zero' city. The City is currently implementing its HIV Zero Strategic Initiative.
For more information, please contact the City of West Hollywood's Social Services Division, at [email protected] or at (323) 848-6510.
For people who are Deaf or hard of hearing, please call TTY (323) 848-6496.
City Celebrates the Holidays with 32nd Annual Toy and Food Drive
The City of West Hollywood and the West Hollywood Sheriff's Station are partnering to help give back to those in need this holiday season. The 32nd Annual West Hollywood Toy and Food Drive will be accepting monetary donations until Friday, December 16, 2022 with the goal of providing as many families as possible with toys and holiday gift cards. Donations may be made online at www.weho.org/holidaydrive. New users must create an account and click on the Donations tab to contribute; existing users may simply login to start the donation process.
"Our generous West Hollywood community has helped provide nearly 10,000 local families who would have gone without with a holiday meal and toys over the last three decades," said City of West Hollywood Mayor Lauren Meister. "I send a huge thank you to the amazing people of the City of West Hollywood for helping to brighten the holidays for families in need through your contributions. I wish you all a happy and safe holiday season."
The cost to help one family is $95; up to 10 families can be helped with $950. New unwrapped toys are also needed and gift cards to retailers such as Pavilions, Ralphs, Trader Joe's, or Target will help families through the holiday season. Toy collection bins are now available at West Hollywood City Hall, located at 8300 Santa Monica Boulevard, and at the West Hollywood Sheriff's Station, located at 780 N. San Vicente Boulevard. The following hotels will also have collection bins: Andaz West Hollywood, Chamberlain West Hollywood, Chateau Marmont, Hotel 850 SVB, Le Parc at Melrose, The London West Hollywood, Montrose at Beverly Hills, Ramada Plaza West Hollywood, and Hotel Ziggy. There will also be a collection bin at the West Hollywood Chamber of Commerce.
For more information, please contact City of West Hollywood Recreation Leaders Cecilia Arvizu at [email protected] or (323) 848-6324 or Natalie Mignon at [email protected] or (323) 848-6321.
For people who are Deaf or hard of hearing, please call TTY (323) 848-6496.
Celebrate 'West Hollywood Day' with a Community Meet & Greet and State of the Community Mixer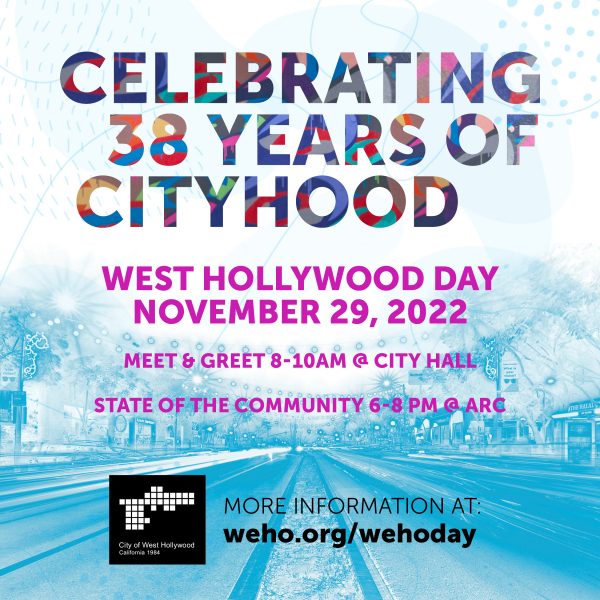 The City of West Hollywood invites the community to celebrate 38 years of Cityhood on West Hollywood Day, Tuesday, November 29, 2022, at two events highlighting West Hollywood's community spirit and civic pride.
West Hollywood Day will kick off bright-and-early with a community meet and greet from 8 a.m. to 10 a.m. at the West Hollywood City Hall Community Plaza, located 8300 Santa Monica Boulevard. Members of the West Hollywood City Council along with City staff will gather in the plaza, which is located between the automated parking garage and the City Hall entrance on N. Sweetzer Avenue, to connect with community members over coffee and snacks. RSVP is not required; community members are encouraged to drop in.
In the evening, the City of West Hollywood will host its annual State of the Community event with a reception and mixer from 6 p.m. to 8 p.m. at the City's West Hollywood Park Aquatic and Recreation Center, located at 8750 El Tovar Place (next to West Hollywood Library). Join the City's executive management team, staff, and officials to celebrate Cityhood and engage in a conversation about new initiatives, upcoming workplans, and major projects in West Hollywood. The festive event will include light appetizers, beverages, live entertainment, and a formal program. RSVPs are required at: Celebrate-WeHo.eventbrite.com.
Nearly forty years ago, West Hollywood's Cityhood was proposed by an unlikely coalition of LGBTQ activists, seniors, and renters — these groups came together to form a City like no other with progressive policies and strong tenants' rights protections. Through tireless determination, the City of West Hollywood was officially incorporated as an independent municipality on November 29, 1984. Previously, West Hollywood had been an unincorporated area of Los Angeles County.
The City of West Hollywood continually sets new standards for other municipalities, not only as a leader in many critical social movements — including: HIV and AIDS advocacy; affordable and inclusionary housing; LGBTQ rights, civil rights, and human rights; women's rights; protection of our environment; and animal rights — but also in: fiscal responsibility; city planning; infrastructure; social services programs; wellness and recreation programs; senior services and aging-in-place programs; public and community arts; and community engagement.
For more information, please contact Paolo Kespradit, City of West Hollywood Management Analyst, at (323) 848-6556 or at [email protected].
For people who are Deaf or hard of hearing, please call TTY (323) 848-6496.
Initial Neighborhood Conversations to Discuss Laurel House and Park Artist Residency Program
The City of West Hollywood invites community members to attend initial Neighborhood Conversations about an Artist Residency Program at Laurel House and Park.
On Friday, December 2, 2022 from 5 p.m. to 6:30 p.m. at the Plummer Park Community Center located at 7377 Santa Monica Boulevard, a consultant team will lead a robust discussion about the site, the creative community in West Hollywood, and how an Artist Residency Program might contribute to the community.
On Saturday, December 3, 2022 from 3 p.m. to 5 p.m. at Laurel House and Park located at 1343 N. Laurel Avenue, the community is invited to drop-in to share thoughts with the consultant team and City staff.
The Neighborhood Conversations will be led by consultant team Kimberli Meyer and Sara Daleiden. Meyer and Daleiden will guide the development of the Artist Residency Program for Laurel House and Park. Meyer is an independent cultural producer, curator, writer, and designer working across the fields of art and architecture. She served as the Director the MAK Center for Art and Architecture at the Schindler House, located at 835 N. Kings Road, from 2002 through 2016. Daleiden is a consultant who specializes in facilitating civic engagement using arts and cultural exchange strategies. She encourages local cultures to value neighborhoods, public space, civic art, and business development, as well as artist residencies, creative placemaking and media culture-making.
The City-owned real property at 1343 N. Laurel Avenue known as Laurel House and Park consists of a 30,000-square-foot lot, a 7,177-square-foot former single-family dwelling, and an unattached accessory structure that is approximately 2,379 square feet and consists of a chauffer's cottage and garages. The original portions of the structures were built in 1917. The conversion of the original single-family residence into four apartment units and the southerly four-car garage addition were completed in 1941. The property was designated as a Local Cultural Resource by the City of West Hollywood in 1994.
In 2010, the West Hollywood City Council directed staff to develop a plan to open the grounds at 1343 N. Laurel Avenue as open space on a temporary/interim basis for public use. From 2013-2014, the City conducted an extensive community visioning process for the Laurel property. The community expressed support for several potential uses during the visioning process and prioritized several factors, including:
Access to more community gathering spaces.
Activation as an Arts and Cultural Center.
Maintenance and/or enhancements of the property's use for peacefulness and beauty.
Preservation of the house and gardens, but activation through new features and programming.
Continued use for dog walking.
In 2018, the West Hollywood City Council received a report forwarded by the Arts and Cultural Affairs Commission focusing on Artist-in-Residence programs, including consideration of the use of 1343 N. Laurel Avenue as a potential Artist-in-Residence site. This recommendation was forwarded to the Council Subcommittee for further review and consideration. In October 2022, in a feasibility study update, the City Council confirmed that the site should be used for arts and culture programs and it directed staff to issue a Request for Proposals (RFP) for a qualified architectural design firm to continue the programming and design process.
For additional information, please contact Rebecca Ehemann, City of West Hollywood Arts Manager, at (323) 848-6846 or at [email protected].
For people who are Deaf or hard of hearing please call TTY (323) 848-6496.
Human Rights Speakers Series Presents a Q&A and Discussion, Roots of Peace, in Partnership with Roots/Shorashim/Judur
The City of West Hollywood's Human Rights Speakers Series, in conjunction with Roots/Shorashim/Judur, will host a free discussion featuring special guest speakers Rabbi Hanan Schlesinger and Noor Awad.
The Roots of Peace event will take place on Wednesday, December 7, 2022 at 6 p.m. at the City of West Hollywood's Council Chambers/Public Meeting Room, located at 625 N. San Vicente Boulevard, next to the West Hollywood Library. The program will include a Q&A period with the attendees. The event is free, but seating is limited. RSVP is requested at bit.ly/HRSSDec2022. Validation for the adjacent five-story parking structure will be available at the event (parking is limited to availability).
Rabbi Hanan Schlesinger is an Orthodox rabbi and teacher who has been profoundly transformed by his encounters with Palestinians and the Palestinian people beginning in late 2013. In early 2014, Rabbi Hanan helped found Roots/Judur/Shorashim together with other Israelis and Palestinians. Noor Awad met Rabbi Hanan Schlesinger in 2016 and joined Roots/Shorashim/Judur. He currently organizes joint Palestinian-Israeli activities and speaks to visiting groups about his personal experiences living through the conflict as a Palestinian who has seen much tragedy, and in such conditions is motivated to work toward a political solution.
Roots/Shorashim/Judur is a Palestinian-Israeli Initiative for understanding, non-violence, and transformation. Roots/Shorashim/Judur has created and operates the only joint Israeli-Palestinian community center in the entire West Bank/Judea & Samaria. This center hosts social, religious, and educational activities for Palestinians and Israelis to come together to build trust and find mutual understanding. Based on mutual recognition of each People's national identity and connection to the Land, Roots/Shorashim/Judur is challenging the assumptions their communities hold about each other, building trust and creating a new discourse around the conflict in their respective societies.
The City of West Hollywood's Human Rights Speakers Series brings together diverse communities to learn about and discuss global, national, and local human rights issues in a supportive environment. The series reflects the City's commitment to human rights and core value of Respect and Support for People.
For additional information about the Human Rights Speakers Series, please visit www.weho.org/hrss.
For more information, please contact Andi Lovano, the City of West Hollywood's Community & Legislative Affairs Division Manager, at (323) 848-6333 or at [email protected].
For people who are Deaf or hard of hearing, please call TTY (323) 848-6496.
City of West Hollywood Announces Launch of a New and Easy-to-Remember Toll-Free Phone Number for Block by Block Security Ambassadors Program: (833) WEHO-BBB (833-934-6222)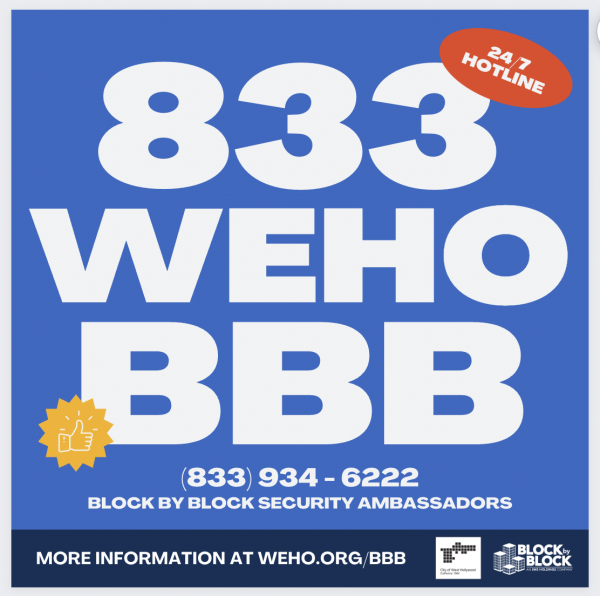 The City of West Hollywood announces the launch of a new and easy-to-remember toll-free phone number for its Block by Block Security Ambassadors Program: (833) WEHO-BBB or (833) 934-6222.
The hotline manages incoming calls 24-hours-a-day, 7-days-a-week. While the phone number is voice-only at launch, a text function will be implemented in the future and will be announced.
The hotline is part of the expansion of the City's Block by Block Security Ambassadors program, which has a direct positive impact on safety and neighborhood livability.
In recent weeks, the City implemented four Block by Block kiosk locations throughout West Hollywood, which are staffed by Security Ambassadors. The Block by Block program has added personnel, as well; there are now approximately 85 Security Ambassadors in the City of West Hollywood. The addition of the new toll-free hotline will assist community members and visitors alike with a convenient way to get support regarding non-emergency and non-violent safety concerns by providing a direct point of contact to Security Ambassadors.
The City's Block by Block Security Ambassadors program is focused on safety, but also offers hospitality with an accessible presence where people shop, socialize, and enjoy recreation. Security Ambassadors at kiosks assist community members and visitors and, in emergencies, work in partnership with law enforcement personnel from the West Hollywood Sheriff's Station.
Security Ambassadors work regularly to:
Maintain uniformed foot and bicycle patrols throughout all City neighborhoods, including a new program expansion into residential neighborhoods;
Provide in-person responses 24/7 to non-emergency and non-violent calls for service; support is available by phone at (833) WEHO-BBB or (833) 934-6222. For community members who prefer to communicate by text, a text-or-voice option is provided at (323) 821-8604;
Conduct safety escorts for residents, businesses, and visitors; and
Offer helpful guidance to community members and visitors about City information, directions, parking, and more.
About | Block by Block Security Ambassador Program – The City of West Hollywood partners with Block by Block on its Security Ambassadors program, which has a direct positive impact on safety and neighborhood livability. First established as a City program in 2013, West Hollywood Block by Block Security Ambassadors provide a highly visible uniformed presence at the street level and leverage the effectiveness of local law enforcement by working in collaboration with personnel from the West Hollywood Sheriff's Station.
In addition to supplemental safety services, Block by Block Security Ambassadors get to know West Hollywood's neighborhoods and assist in providing an extra level of hospitality to businesses, residents, and visitors and help to address and respond to quality-of-life concerns in the community.
Security Ambassadors receive trainings on topics such as active shooters, cultural diversity and sensitivity, administration of Narcan to treat narcotic overdose, mental health first aid, sexual harassment, emergency/disaster preparedness, and more. For additional information, please visit www.weho.org/bbb.
About | Sheriff's, Fire, Code, and Emergencies – The City of West Hollywood contracts with the Los Angeles County Sheriff's Department for law enforcement and the Los Angeles County Fire Department for fire protection. The City's Neighborhood & Business Safety Division oversees code enforcement.
For additional information, please visit www.weho.org/publicsafety. For anyone with public safety concerns, please reach out to the West Hollywood Sheriff's Station 24/7 at (310) 855-8850. In an emergency, always call 911. For concerns about the safety and well-being of community members experiencing homelessness, please call the City's Homeless Concern Line at (323) 848-6590.
For more information, please contact City of West Hollywood Director of Community Safety Danny Rivas at (323) 848-6424 or [email protected].
For people who are Deaf or hard of hearing, please call TTY (323) 848-6496.
For up-to-date information about City of West Hollywood news and events, follow @wehocity on social media, sign-up for news updates at www.weho.org/email, and visit the City's calendar of meetings and events at www.weho.org/calendar.