CrossFit location closes, official fired after Pride workout canceled
The gym shut its doors after members accused management of LGBT discrimination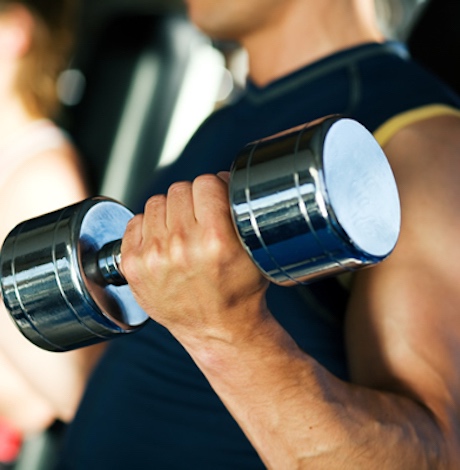 A CrossFit gym located in downtown Indianapolis has closed following the gym's decision to cancel a planned Indy Pride workout.
Trainers had planned a Pride workout for this weekend but the event was canceled by the gym's owners. Fox59 reports that the gym sent an email to its members explaining that the workout was canceled because "the owners of the gym value health and wellness, and they believe that this event does not."
Dan Mendoza, a former member of the gym, inquired for a further explanation from the gym. He received the following email from management:
"Our underlying goal for the staff and members at CrossFit Infiltrate and our other gyms CrossFit White River and University Ave CrossFit, is total health and well-being for the individual and the community. Total health involves the body, the emotions, relationships, and the spirit. At the foundational detractor from health, as we believe God sets the parameters for, is pride. We believe that true health forever can only be found within humility, not pride. Humility is seeing oneself as they truly are, and as God truly defines them to be. As a business we will choose to deploy our resources towards those efforts and causes that line up with our own values and beliefs," the email read.
Mendoza, his partner and numerous other members terminated their membership following the decision.
However, Russell Berger CrossFit's Chief Knowledge Officer praised management's decision in a series of now-deleted tweets.
"I'd like to personally encourage #CrossFitInfiltrate for standing by your convictions and refusing to host an @indypride workout. The intolerance of the LGBTQ ideology toward any alternative views is mind-blowing," Berger tweeted. "The tactics of some in the LGBTQ movement toward dissent is an existential threat to freedom of expression. The lack of tolerance for disagreement, which has been replaced with bullying Twitter mobs promising 'consequences,' should be a concern regardless of your political stance."
it looks like crossfit execs are celebrating pride month a little differently than other corporations pic.twitter.com/k1HGPm8PRA

— real housecat (@tousleshommes) June 6, 2018
CrossFit's official Twitter announced that Berger has been terminated from the company and that his statements "do not reflect the views of CrossFit Inc."
The statements made today by Russell Berger do not reflect the views of CrossFit Inc. For this reason, his employment with CrossFit has been terminated.

— CrossFit (@CrossFit) June 6, 2018
On Wednesday, the downtown Indianapolis location announced it has shut down with a sign on its locked front door. The decision was due to gym goers terminating their membership and the resignation of staff and coaches.
"CrossFit Infiltrate has determined that it will no longer operate business at this location," the sign says. "We thank you for your patronage and support."
Gay man elected to Honduran congress
Víctor Grajeda will serve as Congresswoman-elect Silvia Ayala's substitute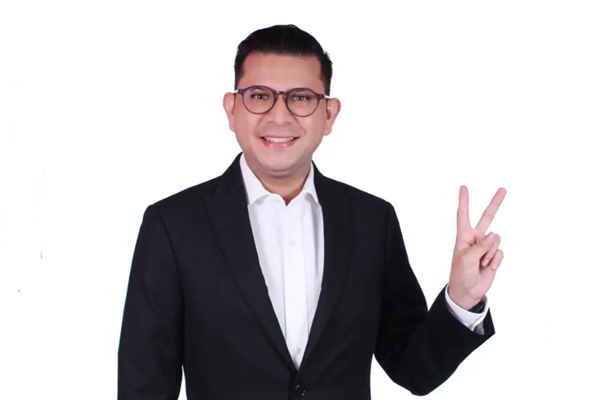 SAN PEDRO SULA, Honduras — An openly gay man in Honduras made history on Sunday when he won a seat in the country's Congress.
Grajeda will serve alongside Congresswoman-elect Silvia Ayala of the leftist Free Party (Partido Libre), who represents Cortés department in which the city of San Pedro Sula is located, as her substitute.
Reportar sin Miedo, the Los Angeles Blade's media partner in Honduras, and Agencia Presentes, reported Grajeda received more than 100,000 votes. Grajeda is one of five openly LGBTQ candidates who ran for Congress.
"I am looking to open spaces and eliminate discrimination based on sexual orientation or identity," said Grajeda.
Tegucigalpa Mayor Nasry Asfura, a member of outgoing President Juan Orlando Hernández's ruling National Party (Partido Nacional), on Tuesday conceded defeat to President-elect Xiomara Castro of the Free Party.
Castro's husband, former President Manuel Zelaya, was ousted from power in a 2009 coup.
Activists with whom the Blade has spoken say LGBTQ Hondurans continue to flee the country and migrate to the U.S. in order to escape rampant violence and discrimination and a lack of employment and educational opportunities. Castro, among other things, has publicly endorsed marriage rights for same-sex couples in Honduras.
North Carolina Lt. Gov. Robinson rants at lawmaker over LGBTQ mention
The Senator was referencing Robinson's anti-LGBTQ+, homophobic and transphobic public statements over the past several months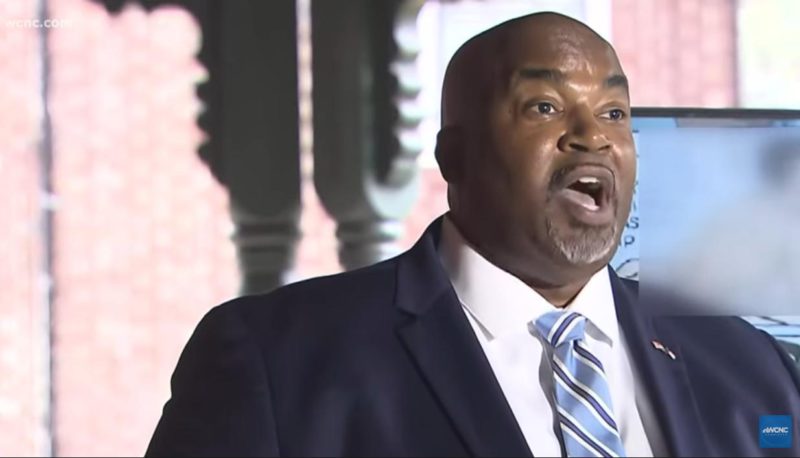 RALEIGH – In a heated tirade in the hallways of the North Carolina capitol building captured on a mobile phone Monday, Republican Lt. Gov. Mark Robinson, the state's highest elected Black official launched into an attack on Democratic State Senator Julie Mayfield.
The tirade was witnessed by a dozen people including lawmakers, staff, and visitors. State Sen. Natasha Marcus (D-Davidson), who witnessed the confrontation and caught part of the tirade on her mobile told the Charlotte News-Observer; ""It was a rant. He berated her, and he yelled as loudly as he could."
The lieutenant governor, who presides over the state Senate, approached Senator Mayfield in the hallway outside the Senate chamber after lawmakers adjourned and "wagged" his finger in her face, Marcus said.
Mayfield had addressed the Senate earlier Monday, after a vote where she highlighted the increasing deadly violence against Black people and ongoing discrimination against LGBTQ people.
In her remarks to her colleagues she said; "It is convenient fiction that we can say something in a particular forum and not expect to be held accountable for those words in another," Mayfield said. "We are elected officials. And if we can't respect our constituents rather than viciously attack some of them, then maybe we're in the wrong job."
The Senator was referencing Robinson's anti-LGBTQ+, homophobic and transphobic public statements over the past several months.
Speaking to parishioners at the Berean Baptist Church in Winston-Salem on Sunday, November 14, Robinson attacked the LGBTQ+ community, captured on the church's YouTube livestream.
Robinson said in his sermon that he questioned the "purpose" of being gay; said heterosexual couples are "superior" to gay couples; and that he didn't want to explain to his grandchildren why two men are kissing if they see that on television the Charlotte Observer reported.
The state's Republican Lt. Governor then went on to compare being gay to "what the cows leave behind" as well as maggots and flies, who he said all serve a purpose in God's creation. "If homosexuality is of God, what purpose does it serve? What does it make? What does it create? It creates nothing," Robinson said.
In a speaking engagement in June at Asbury Baptist Church in Seagrove, Robinson called LGBTQ people "filth." "There's no reason anybody anywhere in America should be telling any child about transgenderism, homosexuality, any of that filth," Robinson says. "Yes, I called it filth. And if you don't like it that I called it filth, come see me and I'll explain it to you."
In a statement released in October by Deputy White House Press Secretary Andrew Bates, the Biden Administration condemned the remarks made last June by Robinson. "These words are repugnant and offensive," said Bates, who is a native of North Carolina. "The role of a leader is to bring people together and stand up for the dignity and rights of everyone; not to spread hate and undermine their own office."
"Sen. Mayfield's remarks speak what's in the hearts of most North Carolinians, and the fact that it set the lieutenant governor off that much is shocking to me," Sen. Marcus told the News-Observer. "He said 'You know where I am and where to find me,'" Marcus said, paraphrasing. "'If you have something to say to me you should come and say it to my face.'"
My colleague @MayfieldforNC made statements in support of #LGBTQ Equality during session tonight. The Lt Gov was so mad that he berated Sen Mayfield outside the chamber. I caught the tail end of his rant on video. pic.twitter.com/8EuCPYkhwz

— Senator Natasha Marcus (@NatashaMarcusNC) November 29, 2021
For the record, Sen Mayfield's floor remarks were full of compassion for all people. She believes, as I do, that elected reps should not speak in hateful terms about our constituents. The struggle for civil rights is ongoing. Here is what she said that enraged the bully Lt Gov: pic.twitter.com/IGeXWBcTbS

— Senator Natasha Marcus (@NatashaMarcusNC) November 30, 2021
Liliana Bakhtiari wins runoff for Atlanta City Council
First LGBTQ Muslim elected in the state of Georgia and will be only Non-Binary Councilmember in a major U.S. city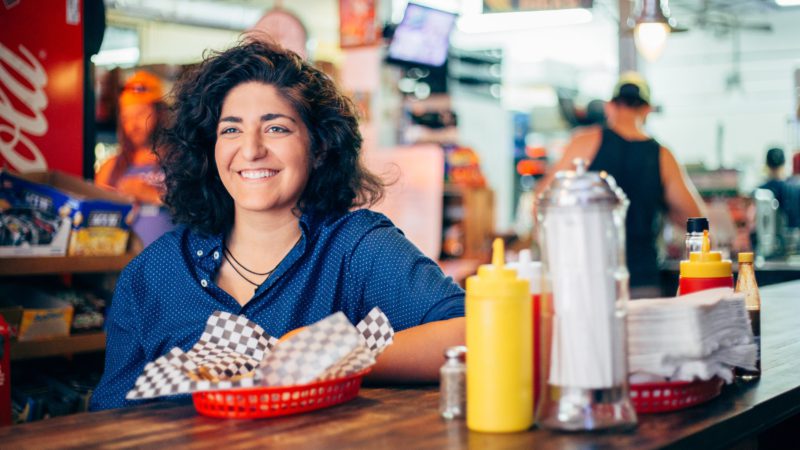 ATLANTA – Liliana Bakhtiari won her runoff election on Tuesday to represent District 5 on the Atlanta City Council, becoming the first out LGBTQ Muslim elected in the state of Georgia and one of less than five currently serving in the entire country.
Bakhtiari will also be the only non-binary person currently serving on the city council of a major U.S. city. During the general election on November 2, Bakhtiari competed in a field of five candidates and received 49.5 percent of the vote, just short of the 50 percent needed to win outright and avoid a runoff. The LGBTQ Victory Fund endorsed Bakhtiari in the race for the seat.
Bakhtiari first ran for the District 5 council seat in 2017 – losing to the incumbent by just 2.6 percent of the vote.
Bakhtiari's election comes as anti-Muslim and anti-LGBTQ political rhetoric rises in recent weeks, including state legislative attacks on trans candidates and anti-Muslim remarks targeting Minnesota Democratic U.S. Representative Ilhan Omar.
"Liliana's victory is a milestone moment for Georgia, but also for non-binary people and LGBTQ Muslims across the country who want to make positive change through public service," Mayor Annise Parker, President & CEO of LGBTQ Victory Fund said in a statement.
"When in office, Liliana will humanize our issues and be a voice for the underserved communities that are too often ignored by elected leaders. Atlanta is already a beacon of hope for LGBTQ people throughout the South, but with more representation that reflects the entire LGBTQ community, it can become a model for the entire nation," Parker added,
Also in a runoff for an At-Large Post 3 Atlanta City Council seat is LGBTQ candidate Keisha Sean Waites, a LGBTQ Victory Fund endorsed candidate and former member of the Georgia House of Representatives, whose race has not yet been called as of Tuesday.
On November 2, another LGBTQ Victory Fund endorsed candidate, former Atlanta City Councilmember Alex Wan, who successfully represented District 6 from 2010-2018, was victorious in his bid to again represent the District. Wan garnered 79 percent of the vote (7,120 votes) and won election to the District 6 seat.
There are currently just 11 non-binary elected officials serving in the entire country. View all LGBTQ elected officials currently serving at outforamerica.org.