June 8, 2018 at 11:18 am PST | by Christopher Kane
West Hollywood Dyke March kicks off LA Pride Weekend tonight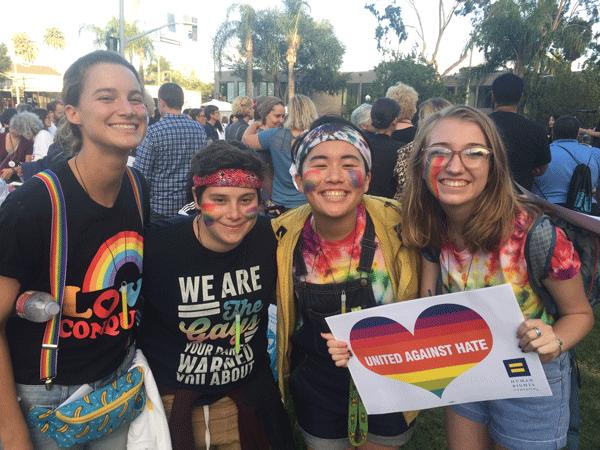 Local community leaders and entertainers will join Pride celebrants for the annual Dyke March on Friday, June 8, the City of West Hollywood announced Wednesday. The event will begin at 6 p.m. at the Sal Guarriello Veterans' Memorial (8447 Santa Monica Boulevard) with a live DJ set, workshops, and rally, followed at 7:45 p.m. by a march down Santa Monica Boulevard to San Vicente Boulevard and back. A second DJ set will finish out the evening, and free CityLine X shuttle service to the Hollywood/Highland rail station will be provided at 10 p.m.
A performance by Claudette Sexy DJ—a fixture in Southern California's nightlife circuit and entertainer who has performed at Pride events as well as on television, film, and radio for more than 20 years—will inaugurate the evening's festivities at 6 p.m. Dyke March attendees may also avail themselves of a sign and pin-making workshop led by Emmy Award-winning artist Julianna Parr (materials will be provided.)
The rally, beginning at 7 p.m., will feature guest speakers including: Comedian and Dyke March emcee Gloria Bigelow, who was featured on "Wanda Sykes Presents: Herlarious"; members of the West Hollywood City Council; members of the City of West Hollywood's Lesbian & Gay Advisory Board; Angela Brinskele (June Mazer Lesbian Archives); Councilmember Vivian Romero (City of Montebello's 1st LGBTQ Mayor); Alana Roshay (Community Activist); Chris Jackson-Baldwin (L Project LA); and Michaela Mendelsohn (TransCanWork). The Etheridge Award will be conferred to artist and activist Patrisse Cullors, who co-founded the Black Lives Matter movement, and accepted on her behalf by a representative.
After the march, attendees will regroup at the Sal Guarriello Veterans' Memorial for another set by Claudette Sexy DJ and performances by riot-pop band WASI, Mexico's first openly-gay rapper Nina Dioz, and Kaleena Zanders—whose ballad "Stronger Than I've Ever Been" was featured in Toyota's commercials for the Winter Olympics and Super Bowl.
The Dyke March is the first of a weekend of events and programming orchestrated by Christopher Street West (CSW) for the 20th annual LA Pride Festival and Parade.
Additional Resources:
Pride Weekend schedule of events
One City One Pride LGBTQ Arts Festival schedule of events
More information about the West Hollywood Dyke March
Call for more about the West Hollywood Dyke March: (323) 848-6510
Phone line for deaf or hard-of-hearing: TTY (323) 848-6496