June 9, 2018 at 8:15 pm PDT | by Kit Winter
AIDSLifeCycle Diary wraps up a 545 mile journey
DAY 6, Lompoc to Ventura, 88.3 Miles | On Day 6, my power ran out. Not my leg power, thankfully – just my iPhone power. Phone charging is a constant challenge on the Ride, as there are never enough outlets and power strips available in the Charging Tent to accomodate the ~3000 people needing to charge their phones in the few hours they have in camp. I brought two external battery packs, but lost my dual USB charger somewhere around Day 3 and never managed to get them charged after that. With my charge rapidly declining, I powered off my phone to make sure I would be able to coordinate with my husband for pickup after the finish line.
Unlike my previous posts, which were written on my phone while laying on an air mattress in a tent, I write this on an actual computer. Spoiler Alert: I am home. I made it. I rode about 530 miles altogether, not the full 552.3, thanks to getting swept to Rest Stop 4 on Day 3. I've had a full night's sleep in my own bed, and I feel great.
Day 6 was the day before yesterday.
Now that I'm home, the entire Ride is suddenly planted firmly in the past, and seems almost completely disconnected from the present. It might as well have been a month ago, or two. The individual days are already losing their differentiation and blending into a single amorphous whole; only the most memorable moments can be reliably placed on a timeline.
Fortuitously for this post, there were some memorable moments on Day 6. We started the day with a long climb up to the Gaviota Pass, the gap in the Santa Ynez mountain range through which the 101 South passes as it makes its way back to the sea after meandering inland from Pismo Beach.
At dinner the night before and again at the first rest stop, we are warned: Single file. Go slow. Stay on the shoulder, don't cross the white line. Danger. I obey, grudgingly – my preference would be do dive-bomb down at breakneck speeds. I fall in behind a woman named Lee (according to her license plate), who strikes a perfect balance of moderating her speed and passing slower riders. Having her clear the path for me eases my frustration at having to ride my brakes all the way down.
As we hit the coast, the heat of the morning climb gives way to a cool ocean breeze, and we roll along the coast to Santa Barbara. At about mile 60 we reach Paradise Pit, a non-ALC, pop-up pit stop put on annually by Santa Barbara residents to thank the cyclists and raise HIV/AIDS awareness. Paradise Pit lives up to its name with free ice cream and toppings, fresh fruit and fresh-baked cookies, and actual water at the hand-washing stations (as opposed to the ALC standard-issue wet wipes and hand sanitizer).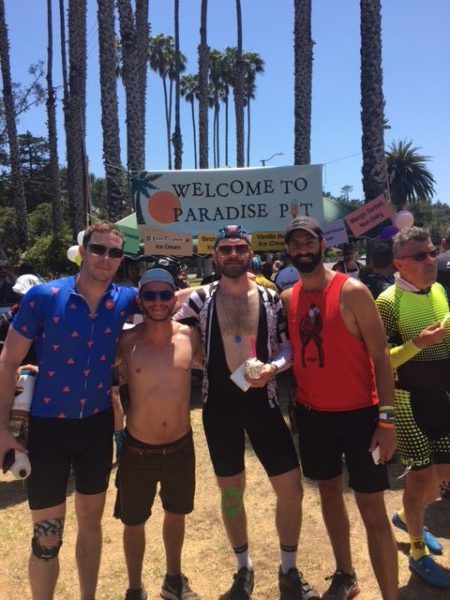 After selfies with a few buff supporters wearing underwear and angel wings – this is paradise, after all – we head down to the highlight of the day, and perhaps of the whole Ride – the legendary seaside dance party at Rest Stop 4. ALC takes over 15 long RV parking spaces along PCH, puts out a few go-go boxes, and cranks up the volume. It's an unbelievably ecstatic moment, dancing in the sunshine to "We Are Family" on the side of the highway. 465 miles down.
With almost 90 miles on the route today, though, we have to keep moving, and after just a few songs we tackle the remaining 8.1 miles to camp in Ventura.
It's beyond comprehension that we are almost home, that this is our last dinner, our last night in a tent. It feels like we just started, and here we are at the end already.
At 8:30 or so, the candlelight memorial for those lost to AIDS begins on the beach. I stay in my tent. I have been at this event many times before, but this year I just can't. In the hours and hours on the road over the past six days, I have had moments of unbearable grief, missing my friends so much. On Day 4 in particular, something about seeing groups of gay men in their twenties, laughing with their friends, hits me like a gut punch.
When I was that age, half or more of the men in such groups died, leaving us survivors reeling with trauma and grief. How to describe this to those who weren't there? Contemplating the scale of our AIDS armageddon by mapping my friends onto the beautiful riders around me reminds me that what I lived through is unimaginable, unspeakable, grotesque.
The thought of half of the members of one of these happy teams dying over the course of a few years – then half of the members of *all* of these happy teams, dying – how could the rest of us go on? Yet that is exactly what happened, and here we are, going on. I don't need to light a candle this year, this year I am the goddamn candle. Eric, Phil, Bill, Anthony, Frank, Mark – I love you and I miss you.
DAY 7, Ventura to Los Angeles: 76.6 Miles | Mentally, Day 7 is completely different for me than every other day on the Ride. Days 1-6, the destination is just a camp somewhere. I keep riding to get to camp.
Day 7, the destination is HOME. I desperately want to be home. I want to see my husband, our dogs and our cats. I want to wear normal cotton garments that do not have padding in the ass or pockets in strange places.
Although the ride through Ventura and Malibu along PCH is famously scenic, the multitudes (multi-dudes?) of surfers and beachgoers opening car doors into the bike path requires laser focus and the view takes a back seat.
I'm riding strong and feeling good, but I still keep thinking about getting on the bus, or at this point, just getting an Uber. I just want to be home. As I ride past the V.A. Center in Westwood – formerly known as the ALC finish line – I curse the additional 15 miles added to the route to the new finish line in DTLA.
Through Beverly Hills and Century City, then into Westlake and Koreatown – the mood shifts notably, and the well-wishers cheering us on in Santa Monica give way to street preachers with megaphones. Someone says "maricon."
I wonder briefly if I'm about to get fag-bashed.
The roads are terrible, my brain is mush. Eventually we arrive downtown.
The streets are crowded but no one seems to know who we are, or that there's an event going on, or that the event is AIDS/LifeCycle. We're just a few thousand people riding through downtown, minding our business. As Broadway passes First St., the road is blocked off and finally there are people who know what's going on, and they're cheering.
A quick turn around the block past the finish line and, just like that, it's over. We skip the finish-line festival – honestly, we couldn't even tell where it was, or how to get there from where we were – and head home.
There is a lot of discussion online about the decision to move the finish line to DTLA, and my impression is that the response is universally negative. I certainly preferred the Westwood ride-in. But, in the spirit of the event, I will not join the pile-on here.
I have every confidence that ALC staff will take the criticisms to heart and that next year's ride-in will be better.
Until then, see you on the road!