AIDS Reverie
I'm sharing my AIDS story on Saturday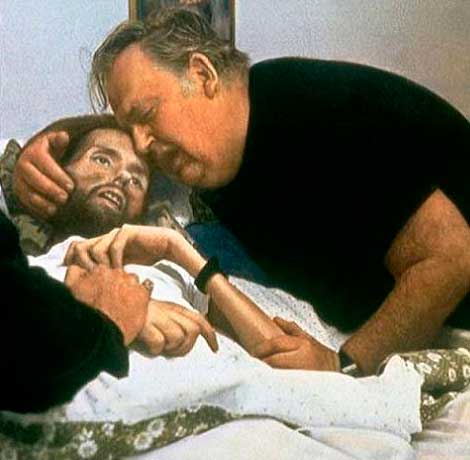 I was transfixed when I first saw the intimate, heart-wrenching photo of David Kirby dying as his father cries in agony. He had been a gay and AIDS activist in Los Angeles but had to move back to Ohio to be cared for by his family. It was 1990. The Second Wave of AIDS was sweeping the country. This scene was privately playing out in thousands of homes, hospitals and hospices but the reality of death itself was just too stark and shameful to be made public.
Until this photo. Kirby was in the Pater Noster AIDS Hospice in Columbus, Ohio when his HIV-positive transgender caregiver, Peta, brought graduate journalism student Therese Frare to meet him. They all became fast friends and Kirby and his family agreed to let Frare document his dying to humanize the AIDS crisis. The only condition was that Frare not personally profit. The first photos ran in Life magazine in November 1990; by its 20th anniversary, Time estimated that 1 billion people had seen the photo.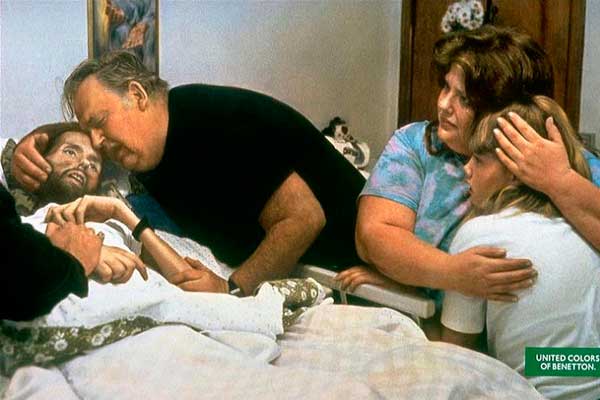 In 1992, the photo also got a burst of new publicity when United Colors of Benetton hired colorist Ann Rhoney, who'd also lost friends to AIDS, to hand paint the black and white image. Initially, AIDS activists freaked out that this iconic death photo was being used to sell clothes, not realizing that Kirby's father Bill had given permission to Benetton creative director Oliviero Toscan to use the photo to raise awareness. "Benetton is not using us, we're using Benetton," he told Frare.
Catholic groups also complained that the photo was blasphemous, showing Kirby's father Bill cradling his head in real life was too similar to the artistic rendering of the Virgin Mary cradling her dead son Jesus' head in the Pieta.
I agreed with David Kirby and his family: dying from AIDS was not pretty and to pretend otherwise, even to this day, only adds shame and stigma to what had been an extraordinary struggle to maintain a shred of dignity.
I remember the dying, too well. It was painful and messy. Once beautiful, buff gay men were now skin and bones, pock-marked with KS, which also made their limbs heavy and hard as cement covered in dark purple skin. Their throats and tongues were covered in white thrush; small cancerous infections grew inside the esophagus making it extremely difficult to swallow. Spontaneous vomiting was pure agony. Men who once paraded around in Calvin Klein briefs now wore adult diapers that too often overflowed with diarrhea, crying in shame and embarrassment as friends virtually carried them from the couch or bed to the shower to get washed off.
Sometimes, if they were lucky and had properly filled out the incomprehensible paperwork, the dying had professional nurses or care providers. But many did not. It was just us. Friends with no training but lots of love, who cried along with our friends and assured them that it was alright, everyone has accidents, let's just get you cleaned up so you'll feel a little bit better.
This was raw, stripped down humanity. All the hours making sure the hair, the face, the body, the look were just right; the hours spent practicing for a fabulous entrance, the right way to air kiss – all the gestures, the devotion to beauty and cultural cues—all of it had been rendered moot. What seemed like a lifetime of creating a spectacular life flaked off like an old mask.
This was a different kind of naked. This was exposed. And somehow, the experience was transcendent. Toweled off after washing away the torrent of shit, our rail thin friend would struggle to stand alone, adjusting his fresh adult diaper as if hitching up his pants cowboy-style for a new encounter. An eye-roll had to suffice for the once regal toss of the head and flip of hair. And we laughed, our imaginations filling in the whole dramatic scene.
We defied cultural norms, again, and conferred a different kind of personal pride and dignity on each other. We Friends of Dorothy and Friends of Bill were family and neither Ronald Reagan nor the creeping tick of time would take away that bond.
It was because of AIDS that I became a journalist for the gay press in the late 1980s. It has been my honor to be of service to this extraordinary community. I've kept my personal story behind the byline—other people's stories are more important than mine.
But on Saturday, June 16 from 5:00p-7:00p at West Hollywood City Council Chambers (625 N. San Vicente Blvd), I will tell my story as part of an evening of storytelling for the West Hollywood AIDS Monument. Mayor John Duran will open the event, artist Daniel Tobin will share his vision for the monument and how AIDS Stories are an integral part of the project. Then Rev. Dr. Steve Pieters, Black AIDS Institute founder Phill Wilson and I will share our stories. That will be followed by a panel discussion emceed by Rocco Kaviatos, followed by a Q&A. The event is free but seating is limited (RSVP here). The event is the launch of a campaign to collect AIDS stories for a dedicated website. Get more info and submit your own story at the AIDS Monument website.
As many in the AIDS and LGBT communities know, I have lots of stories to tell.
Stories about my friend Michael Callen. We were introduced by Torie Osborn, for whom major feminist Michael Callen had tremendous respect. Michael and I both wrote for the now-defunct Genre magazine, so my approach to him was more as a writer than the famous AIDS activist. I became one of Michael's care providers, made easier after Doug Sadownick and Matt Silverstein moved him from Hollywood to West Hollywood, just down the street from me. I have lots of Michael Callen stories, including climbing into bed with him to give him a back massage, only to have him fall asleep on my chest.
I have stories, too, about quietly visiting lots of gay men in the hospital or their homes, many on their deathbed, pen and pad in hand, asking them what they wanted people to know about them. I was also welcomed as a person not afraid to talk about dying with them, often a subject too difficult to broach with others. I tried to get their story into one of the gay publications for which I freelanced. But most importantly, they died knowing someone cared enough to ask what they thought, felt and how they wanted to be remembered.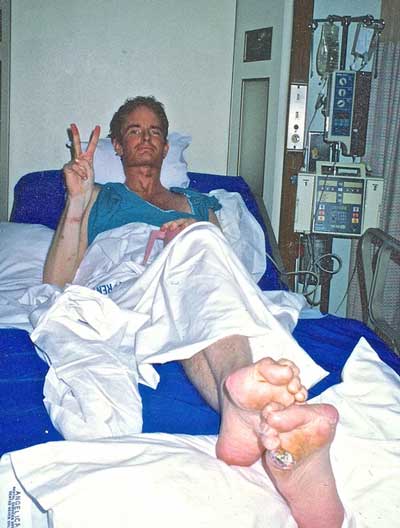 Sometimes these visits yielded surprising revelations. Rob Roberts, for instance, was widely known as the gay marketing guy at Variety who went on a hunger strike to get Gov. Pete Wilson to sign the gay rights bill, AB 101. When Wilson vetoed the bill in 1991, all eyes fell on Rob to serve as their protest leader. He didn't want people to know he was HIV-positive because the media would confuse the two issues. He did, however, take advice from ACT UP's Wayne Karr, who'd also fasted in the late 1980s, and AIDS Diva Connie Norman and Patt Riese. What surprised me—but perhaps shouldn't have—was what a huge feminist he was, as well. That explained his whole leaderless-leader thing. Our whole final interview before he died was Rob going into serious depth about the importance of feminist organizing principles.
I have so many stories – I didn't know how to respond when the AIDS Monument people wanted me to share my experience. How could I scrunch all those stories down into a 15-minute presentation? I could spend the whole 15 minutes just naming names.
So for my presentation, I decided to just tell the story of the death of Stephen Pender, who I knew through LA's incredible 12 Step community. In fact, I hope my whole presentation will be seen as one huge THANK YOU to the Friends of Bill who became family—to me and countless others. They have so many stories to share, as well.
Federal blood donation study recruiting gay, bi men
The study is aimed at assessing the individual risk of a gay or bisexual man transmitting HIV if they donate blood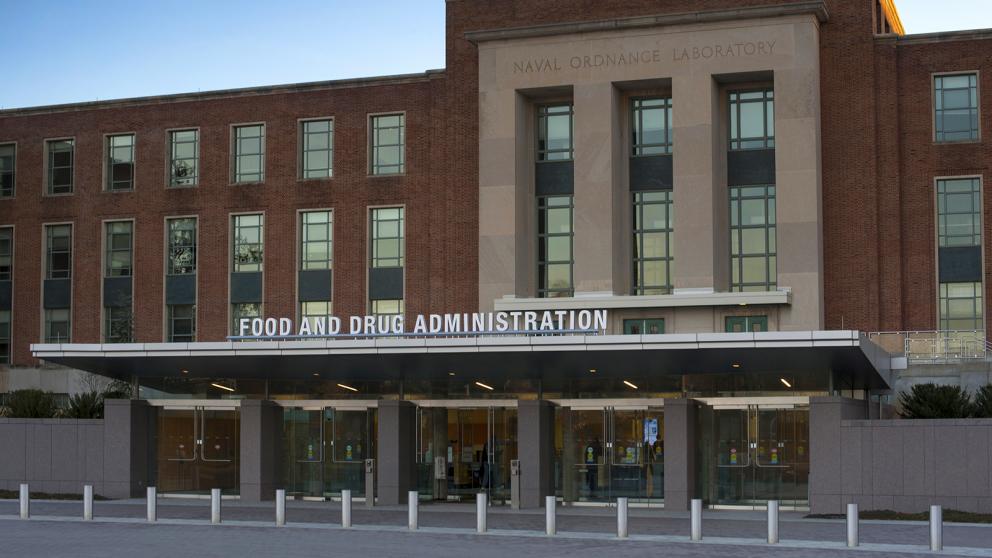 SILVER SPRING, Md. – Washington D.C.'s Whitman-Walker Institute and the Los Angeles LGBT Center are among LGBTQ supportive organizations in eight U.S. cities working with the nation's three largest blood donation centers on a study to find a way to significantly ease blood donation eligibility for men who have sex with men or MSM.
The study, which is funded by the U.S. Food and Drug Administration, calls for recruiting a total of 2,000 gay and bisexual men in eight U.S. cities selected for the study to test the reliability of a detailed donor history questionnaire aimed at assessing the individual risk of a gay or bisexual man transmitting HIV if they donate blood.
A statement released by the study organizers says the questionnaire, which could be given to a gay or bisexual person showing up at a blood donation site, could be a replacement for the FDA's current policy of banning men who have had sex with another man within the previous three months from donating blood.
In the early years of the AIDS epidemic in the 1980s, the FDA put in place a permanent ban on blood donations by men who have sex with men. In 2015, with advanced HIV testing and screening techniques readily available, the FDA lifted its permanent ban on MSM blood donations and replaced it with a 12-month restriction for sexual activity between MSM.
The FDA further reduced the time of sexual abstinence for MSM to three months in 2020.
LGBTQ rights organizations and others advocating for a change in the current FDA restriction point out that at a time when the nation is facing a severe shortage of blood donations due to the COVID pandemic, the three-month donation deferral requirement for MSM is preventing a large number of blood donations from men whose risk of HIV infection is low to nonexistent.
Under the FDA-funded and initiated study, the American Red Cross, Vitalant, and OneBlood — the nation's three largest blood donation centers — have been conducting the questionnaire testing since the study was launched in March 2021.
"To gather the necessary data, the blood centers will partner with LGBTQ+ Centers in Washington, D.C., San Francisco, Orlando, New Orleans/Baton Rouge, Miami, Memphis, Los Angeles, and Atlanta," the study organizers say in a statement on a website launched to help recruit volunteers for the study.
"The study will enroll a total of 2,000 gay and bisexual men (250 – 300 from each area) who meet the study eligibility criteria," the statement says.
Among the criteria for being eligible, the statement says, is the person must be between 18 and 39 years old, have expressed an interest in donating blood, must have had sex with at least one other man in the three months before joining the study, and must agree to an HIV test. A negative test result is also required for acceptance into the study.
The study is officially named ADVANCE, which stands for Assessing Donor Variability And New Concepts in Eligibility.
"The ADVANCE study is a first step in providing data that will help the FDA determine if a donor history questionnaire based on individual risk would be as effective as time-based deferral, in reducing the risk of HIV in the blood supply," the study organizers statement says.
"If the scientific evidence supports the use of the different questions, it could mean men who have sex with men who present to donate would be assessed based upon their own individual risk for HIV infection and not according to when their last sexual contact with another man occurred," the statement continues. "The ADVANCE study is groundbreaking because it's the first time a study is being conducted that could result in individual risk assessment for men who have sex with men to donate blood," the statement says.
The Whitman-Walker Institute, which is among the community-based organizations involved in helping organize and conduct the study, is an arm of Whitman-Walker Health, the LGBTQ supportive D.C. health center.
Christopher Cannon, director of Research Operations for Whitman-Walker Institute, said that since the D.C.-based part of the study was launched early last year prior to the official announcement of the study on March 20, D.C. has surpassed the original city goal of recruiting 250 participants for the study.
"We are currently at 276 as of last Friday's report," Cannon told the Blade in a Jan. 13 interview. "And the current goal is now 300," he said. "So, we're hoping to push this over that goal line in the coming days and weeks.
Cannon said that like the community organizations involved in the study in other cities, Whitman-Walker Institute's role has been focused on recruiting gay and bisexual men to participate in the study and to send them to the American Red Cross headquarters building at 430 17th St., N.W. near the White House. That site, which serves as a blood donation center, is also serving as the site where study participants are screened, interviewed, and presented with a detailed questionnaire.
"We promote the study within ," Cannon said. "We promote it to our networks. We did social media promotions across the city.'
Although Whitman-Walker doesn't have the final draft of the questionnaire being presented to study participants, Cannon said he has seen "bits and pieces" of it.
"They ask very direct questions about the person's sex life, sexual partners, sex acts, numbers of partners," Cannon said. "There are questions about condom use, PrEP use, drug use. How recently have you had sex? Lots of related questions," he said.
"It's really about trying to figure out effectively which are the best questions," according to Cannon. "The hope is by analyzing the questions and identifying maybe the best 10 to 12 questions that can be universally used…to get the best answers that identify the individuals that may have the highest risk," he said. Doing that, he points, out can help determine which men who have sex with men should be eligible to safely donate blood.
A statement released by Whitman-Walker last March calls the study a "monumental research effort" that has the potential to lift the stigma imposed on gay and bisexual men whose ability to donate blood is currently based on their sexual orientation.
"The ADVANCE study is designed to understand if, by asking carefully crafted and research-informed research questions, blood collectors can screen potential blood donors for their individual HIV risk factors rather than applying a ban against sexually active gay and bisexual men," the statement says.
"The goal is to move away from overly broad questions that exclude potential donors and spread stigmatizing messages about MSM and their HIV risks," it says.
Cannon said that as of last week, study organizers had recruited a total of 879 study participants nationwide out of the goal of 2,000 participants needed to complete the study. He said issues related to the COVID pandemic created delays in the recruitment efforts, but study organizers were hopeful the study could be completed by this summer.
Information about participating in the study or learning more about it can be obtained at advancestudy.org.
Peacock will premiere HIV documentary on World AIDS Day
Drew, who was diagnosed with HIV in the late 1980's when he was only 23 years old, was not paid for his participation in the trial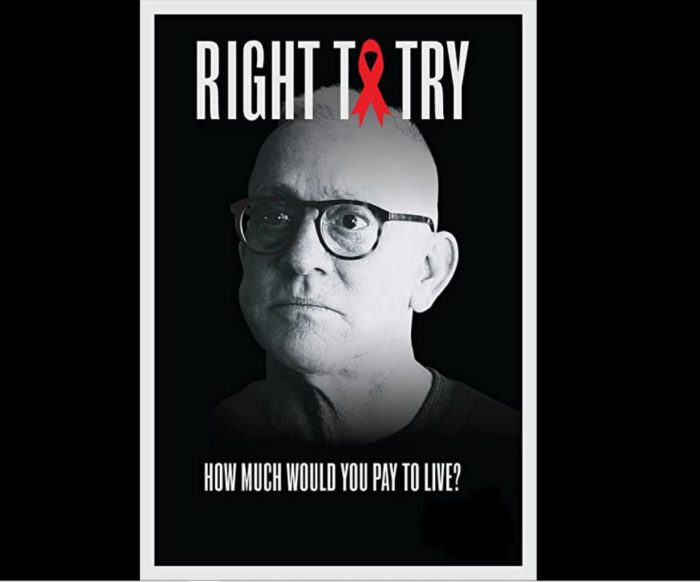 NEW YORK — NBCUniversal's streaming service Peacock will premiere the documentary short "Right to Try," which explores one man's search to cure his HIV, Wednesday on World AIDS Day.
The film, produced by Oscar-winning actress Octavia Spencer and directed by "The Late Late Show With James Corden" producer Zeberiah Newman, follows HIV survivor and activist Jeffrey Drew's participation in an experimental vaccine trial.
"We are thrilled our film 'Right to Try' will be seen on Peacock. Though Jeffrey Drew's heroic journey is singular, his story is universal," Spencer said in a statement, according to Variety. "This is an important film and with Peacock we have a wonderful partner to bring it to our audience."
Val Boreland, EVP of content acquisitions at NBCUniversal Television and Streaming, added: "It is an honor to share Drew's story with Peacock users and raise awareness around the important issue of HIV research. We know the impact of this documentary will be far-reaching."
The documentary shows the side effects that Drew experienced during the early days of the trial. The coronavirus pandemic interrupted the study, as the doctor spearheading the experimental vaccine started working on the COVID-19 vaccine.
Drew, who was diagnosed with HIV in the late 1980's when he was only 23 years old, was not paid for his participation in the trial that a major pharmaceutical company did not fund.
"There are people who are still getting infected and sick and dying," he told Variety in a June interview. "I would love to see a generation that doesn't have to think or worry about this anymore."
"Right to Try" won the Audience Award for Documentary Short last summer at Outfest, an LGBTQ+ film festival in Los Angeles.
Los Angeles observes World AIDS Day with star-studded concert
Gay Men's Chorus of Los Angeles and Juan Pablo di Pace will also be performing at the ceremony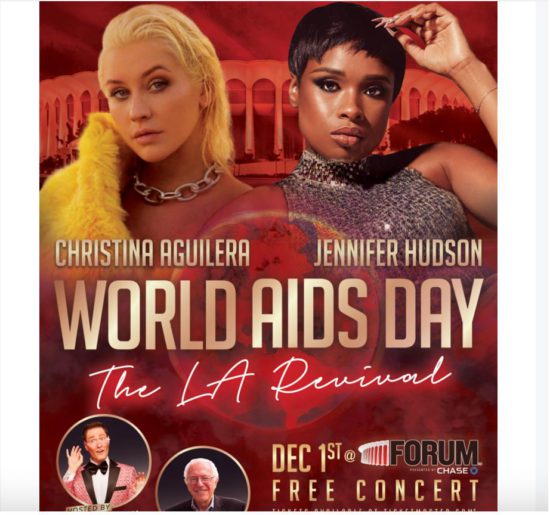 LOS ANGELES — As World AIDS Day is recognized around the globe, Los Angeles will mark the day with a free concert with a star-studded line-up at The Forum hosted by the AIDS Healthcare Foundation (AFA) and a ceremony at The Wall Las Memorias (TWLA) AIDS Monument in Lincoln Park Wednesday.
In a press release, the AFA said Grammy award winners Jennifer Hudson and Christina Aguilera are set to perform in front of a sold-out crowd. Emmy-nominated comedian Randy Rainbow will host the event, which will take place from 8:00 p.m. to 10:00 p.m.
In addition to the entertainment, the AFA will honor Vermont's U.S. Sen. Bernie Sanders with a Lifetime Achievement Award and a special video presentation. The award will be accepted by his wife Jane Sanders.
"This year marks two significant milestones in the decades-long fight against HIV and AIDS: first, for the first recognition by the CDC of the virus that led to what is now known as AIDS (40 years ago, in June 1981), and second, the launch of AHF (35 years ago)," the release reads.
TWLA's ceremony will reveal an expanded footprint of the surrounding landscape of the country's only publicly funded AIDS monument. The monument, created in 2004, will also add over 1,000 names of loved ones lost to AIDS to the 360-plus names already etched into it and unveil new artwork.
TWLM Founder Richard Zaldivar, Los Angeles City Councilman Gil Cedillo and County Board of Supervisors Chair Hilda Solis are all expected to attend the event, which will start at 6:15 p.m. at 3600 N. Mission Road. According to NBC 4 Los Angeles, organizers also hope Los Angeles Mayor Eric Garcetti will be in attendance.
Gay Men's Chorus of Los Angeles and Juan Pablo di Pace will also be performing at the ceremony.
World AIDS Day is observed every December 1 to raise awareness about AIDS and honor the people who have died of the disease. This year's theme is "End inequities. End AIDS and End Pandemics."