June 15, 2018 at 1:32 pm PDT | by Karen Ocamb
AIDS Reverie
I was transfixed when I first saw the intimate, heart-wrenching photo of David Kirby dying as his father cries in agony. He had been a gay and AIDS activist in Los Angeles but had to move back to Ohio to be cared for by his family. It was 1990. The Second Wave of AIDS was sweeping the country. This scene was privately playing out in thousands of homes, hospitals and hospices but the reality of death itself was just too stark and shameful to be made public.
Until this photo. Kirby was in the Pater Noster AIDS Hospice in Columbus, Ohio when his HIV-positive transgender caregiver, Peta, brought graduate journalism student Therese Frare to meet him. They all became fast friends and Kirby and his family agreed to let Frare document his dying to humanize the AIDS crisis. The only condition was that Frare not personally profit. The first photos ran in Life magazine in November 1990; by its 20th anniversary, Time estimated that 1 billion people had seen the photo.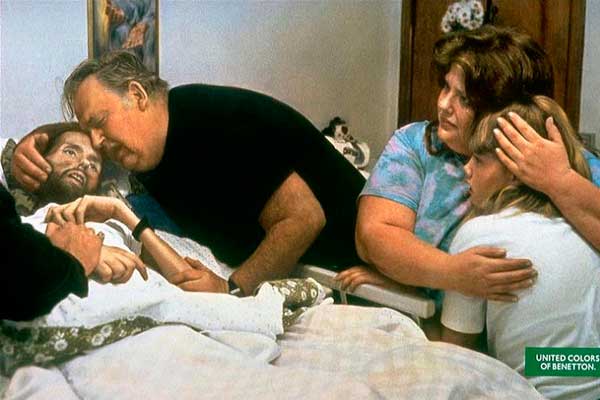 In 1992, the photo also got a burst of new publicity when United Colors of Benetton hired colorist Ann Rhoney, who'd also lost friends to AIDS, to hand paint the black and white image. Initially, AIDS activists freaked out that this iconic death photo was being used to sell clothes, not realizing that Kirby's father Bill had given permission to Benetton creative director Oliviero Toscan to use the photo to raise awareness. "Benetton is not using us, we're using Benetton," he told Frare.
Catholic groups also complained that the photo was blasphemous, showing Kirby's father Bill cradling his head in real life was too similar to the artistic rendering of the Virgin Mary cradling her dead son Jesus' head in the Pieta.
I agreed with David Kirby and his family: dying from AIDS was not pretty and to pretend otherwise, even to this day, only adds shame and stigma to what had been an extraordinary struggle to maintain a shred of dignity.
I remember the dying, too well. It was painful and messy. Once beautiful, buff gay men were now skin and bones, pock-marked with KS, which also made their limbs heavy and hard as cement covered in dark purple skin. Their throats and tongues were covered in white thrush; small cancerous infections grew inside the esophagus making it extremely difficult to swallow. Spontaneous vomiting was pure agony. Men who once paraded around in Calvin Klein briefs now wore adult diapers that too often overflowed with diarrhea, crying in shame and embarrassment as friends virtually carried them from the couch or bed to the shower to get washed off.
Sometimes, if they were lucky and had properly filled out the incomprehensible paperwork, the dying had professional nurses or care providers. But many did not. It was just us. Friends with no training but lots of love, who cried along with our friends and assured them that it was alright, everyone has accidents, let's just get you cleaned up so you'll feel a little bit better.
This was raw, stripped down humanity. All the hours making sure the hair, the face, the body, the look were just right; the hours spent practicing for a fabulous entrance, the right way to air kiss – all the gestures, the devotion to beauty and cultural cues—all of it had been rendered moot. What seemed like a lifetime of creating a spectacular life flaked off like an old mask.
This was a different kind of naked. This was exposed. And somehow, the experience was transcendent. Toweled off after washing away the torrent of shit, our rail thin friend would struggle to stand alone, adjusting his fresh adult diaper as if hitching up his pants cowboy-style for a new encounter. An eye-roll had to suffice for the once regal toss of the head and flip of hair. And we laughed, our imaginations filling in the whole dramatic scene.
We defied cultural norms, again, and conferred a different kind of personal pride and dignity on each other. We Friends of Dorothy and Friends of Bill were family and neither Ronald Reagan nor the creeping tick of time would take away that bond.
It was because of AIDS that I became a journalist for the gay press in the late 1980s. It has been my honor to be of service to this extraordinary community. I've kept my personal story behind the byline—other people's stories are more important than mine.
But on Saturday, June 16 from 5:00p-7:00p at West Hollywood City Council Chambers (625 N. San Vicente Blvd), I will tell my story as part of an evening of storytelling for the West Hollywood AIDS Monument. Mayor John Duran will open the event, artist Daniel Tobin will share his vision for the monument and how AIDS Stories are an integral part of the project. Then Rev. Dr. Steve Pieters, Black AIDS Institute founder Phill Wilson and I will share our stories. That will be followed by a panel discussion emceed by Rocco Kaviatos, followed by a Q&A. The event is free but seating is limited (RSVP here). The event is the launch of a campaign to collect AIDS stories for a dedicated website. Get more info and submit your own story at the AIDS Monument website.
As many in the AIDS and LGBT communities know, I have lots of stories to tell.
Stories about my friend Michael Callen. We were introduced by Torie Osborn, for whom major feminist Michael Callen had tremendous respect. Michael and I both wrote for the now-defunct Genre magazine, so my approach to him was more as a writer than the famous AIDS activist. I became one of Michael's care providers, made easier after Doug Sadownick and Matt Silverstein moved him from Hollywood to West Hollywood, just down the street from me. I have lots of Michael Callen stories, including climbing into bed with him to give him a back massage, only to have him fall asleep on my chest.
I have stories, too, about quietly visiting lots of gay men in the hospital or their homes, many on their deathbed, pen and pad in hand, asking them what they wanted people to know about them. I was also welcomed as a person not afraid to talk about dying with them, often a subject too difficult to broach with others. I tried to get their story into one of the gay publications for which I freelanced. But most importantly, they died knowing someone cared enough to ask what they thought, felt and how they wanted to be remembered.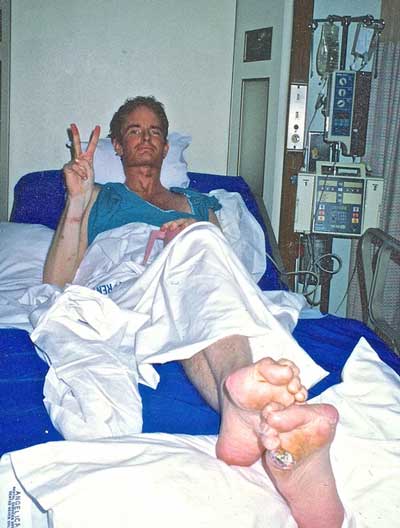 Sometimes these visits yielded surprising revelations. Rob Roberts, for instance, was widely known as the gay marketing guy at Variety who went on a hunger strike to get Gov. Pete Wilson to sign the gay rights bill, AB 101. When Wilson vetoed the bill in 1991, all eyes fell on Rob to serve as their protest leader. He didn't want people to know he was HIV-positive because the media would confuse the two issues. He did, however, take advice from ACT UP's Wayne Karr, who'd also fasted in the late 1980s, and AIDS Diva Connie Norman and Patt Riese. What surprised me—but perhaps shouldn't have—was what a huge feminist he was, as well. That explained his whole leaderless-leader thing. Our whole final interview before he died was Rob going into serious depth about the importance of feminist organizing principles.
I have so many stories – I didn't know how to respond when the AIDS Monument people wanted me to share my experience. How could I scrunch all those stories down into a 15-minute presentation? I could spend the whole 15 minutes just naming names.
So for my presentation, I decided to just tell the story of the death of Stephen Pender, who I knew through LA's incredible 12 Step community. In fact, I hope my whole presentation will be seen as one huge THANK YOU to the Friends of Bill who became family—to me and countless others. They have so many stories to share, as well.