Fear the federal courts — but don't give up
Kennedy's retirement isn't the only bad news for LGBTQ Americans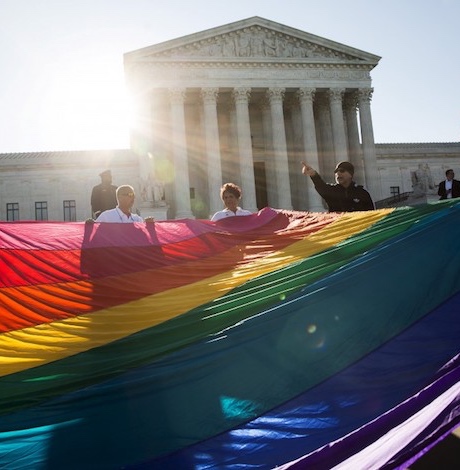 While LGBTQ Californians rightfully feel more protected legally than our peers in many parts of the country, we by no means are immune from what is happening to the federal courts, including the momentous, impending change in the Supreme Court due to Justice Anthony Kennedy's retirement. 
That's because, under federalism principles, California's laws are subject to federal judges' interpretation of restrictions the U.S. Constitution and federal statutes place on states. That was painfully evident in numerous high court rulings this term.
One decision enjoined a California law designed to ensure that pregnant women receive accurate information about their options that was challenged by anti-abortion "crisis pregnancy centers" on First Amendment grounds. Another ruling prevents states—including California—from requiring government employees to pay union dues to support the benefits those unions provide them. Yet another decision held that, under the Federal Arbitration Act, employers—including in California—can not only force their workers to arbitrate their employment-related disputes (thereby relinquishing rights to a jury and a public trial), but also can prevent them from uniting with coworkers to seek class-wide relief. 
In addition, Californians—like all in the nation—are subject to federal courts' interpretation of U.S. government authority, such as the Supreme Court's decision upholding Trump's Muslim travel ban.
So, whether a nominee opposed to LGBTQ rights is selected to fill Justice Kennedy's seat has to be of concern to us all.
Vitally important sexual orientation and gender identity issues are likely to come before the Supreme Court in the years ahead. Notwithstanding the positive language in the Masterpiece Cakeshop ruling that business owners' religious beliefs do not justify violation of anti-discrimination laws, opponents of LGBTQ equality continue to press for a constitutional right to discriminate. In addition, when the Supreme Court reconvenes this fall, it will consider several requests to hear appeals raising whether federal sex discrimination laws protect LGBTQ people. Anti-LGBTQ groups also have announced their intent to try to get a future case up to the Court that might permit narrowing or even reversal of the Court's landmark marriage equality decisions.
President Trump has said he will choose his nominee by July 9 from a list largely compiled by the anti-LGBTQ Heritage Foundation and the arch-conservative Federalist Society. The big question is whether confirmation hearings will conclude before the November mid-term elections determine who controls the Senate for the next two years. Senate Majority Leader Mitch McConnell has expressed his intent to have a confirmation vote in time for Justice Kennedy's successor to be sworn in before the Supreme Court's next term begins Oct. 1.
Because the Senate eliminated the filibuster of Supreme Court nominees when Justice Gorsuch's nomination was being considered, it will be difficult to delay a confirmation vote.  Nonetheless, some are urging tactics to slow down all Senate business between now and the November election in an effort to do so. Still angry about McConnell's refusal to permit Senate consideration of Judge Merrick Garland to fill late Justice Scalia's seat between President Obama's nomination of Garland in March 2016 and the final day he could have been considered in January 2017—which made it possible for Gorsuch to take the seat instead—some are quoting back McConnell's prior proclamation that "The American people should have a voice in the selection of their next Supreme Court justice."
The filibuster's elimination also means it will only take 50 votes to confirm whomever Trump nominates, since Vice-President Pence would break a tie. There currently are 51 Republican Senators, 47 Democratic Senators, and two independents who caucus with the Democrats. Three Democrats (Indiana's Joe Donnelly, North Dakota's Heidi Heitkamp, and West Virginia's Joe Manchin) voted to confirm Gorsuch. Even if all three instead voted against Trump's choice this time and no Democrats voted the other way, it would still take at least two Republican senators to reject the nomination of their party's leader. While Maine's Republican Sen. Susan Collins has stated she would not support a nominee hostile to Roe v. Wade, Alaska's Republican Sen. Lisa Murkowski (who also supports reproductive choice) has been more circumspect, stating only that she intends to cast an "independent vote" when the nomination comes before the Senate.
Whoever ultimately assumes Justice Kennedy's seat may tip the balance on issues on which he was the "swing vote" for years to come. If his successor sides with the Court's most conservative members (Justices Thomas, Alito, and Gorsuch), Chief Justice Roberts would be the Court's new "center" vote. The Chief Justice frequently has expressed concerns that the Court's legitimacy not be undermined by perceptions of political partisanship or casual disregard of existing precedent. Those concerns have sometimes led him to vote with the more liberal justices, as when he voted to uphold the Affordable Care Act.
But, while the public increasingly has accepted same-sex couples' freedom to marry and seen it as a settled question, it's hard to read Roberts' dissenting opinion in Obergefell—in which he called the majority decision upholding marriage equality "disheartening," "an act of will, not legal judgment," "unprincipled," "pretentious," and constitutionally "indefensible"—and feel sanguine.
As bad as all this is, who will replace Justice Kennedy is not the only threat to LGBTQ equality looming in the federal courts. An analysis of President Trump's judicial nominees Lambda Legal released in December showed that nearly one-third had demonstrably anti-LGBT records.
Kyle Duncan, appointed to the 5th Circuit, previously was counsel for those fighting against marriage equality in Louisiana, challenging Gavin Grimm's ability to use the boy's room at school, and seeking to uphold North Carolina's infamous HB 2. Greg Katas, now on the D.C. Circuit, advised President Trump on his effort to ban transgender people from military service and Education Secretary DeVos on her rescission of guidance protecting transgender students. Stephen Grasz, who Trump appointed to the 8th Circuit, previously was the Board chair of the anti-LGBTQ Nebraska Family Alliance. Prior to Ralph Erickson also being appointed to that circuit, as a U.S. district court judge he ordered the federal government not to enforce health care nondiscrimination protections for transgender people. As one final example out of many, John K. Bush, appointed to the 6th Circuit, previously gave a speech using the slur "faggot" and authored a blog condemning as an "outrage" the State Department's change in passports applications that allow designation of "parent 1" and "parent 2" rather than "mother" and father."
Most nominees who do not have clear anti-LGBTQ records were selected—again, after the process was largely subcontracted to the Heritage Foundation and the Federalist Society—because of their commitment to "originalism." That controversial legal philosophy claims that the Constitution's provisions should be considered stable from the time of enactment and that subsequent social changes and scientific advances should be ignored. The doctrine frequently has been invoked in efforts to limit the Constitution's broad guarantees of equal protection and due process in ways fundamentally at odds with LGBTQ rights.
President Trump has already had 42 of his judicial nominations approved by the Senate.  More than three-quarters are male and more than 88% are white. None are African-American and only one is Latino. None are openly LGBTQ.
Ninety additional federal judicial nominations are pending in Congress. McConnell has cancelled the Senate's traditional August recess to try to jam those nominations through.  This cohort too is remarkably non-diverse: nearly three-quarters male and more than 85% white. It does include one open lesbian, however—current Illinois federal magistrate judge Mary Rowland, nominated to be a district court judge. One has to wonder, though, what another pending nominee for the district court, Howard Nielson, thinks she should be able to rule on. He previously argued that former Judge Vaughn Walker's ruling holding Prop. 8 unconstitutional should be thrown out because Walker is gay.
Seventy other vacancies currently exist on the federal bench. By the time Trump's term ends, he will have refashioned most federal courts to be hostile to LGBT rights claims.
While the packing of the federal courts is going to make our work much harder, we must keep resisting and fighting for progress. We have to keep demanding justice, equality, and dignity in carefully-chosen federal cases. We need to make our voices heard by Congress, by state courts and government officials, and in the court of public opinion. There is no other choice.
As we continue to fight and sometimes lose, we need to remember that we've been there before. Previous anti-LGBT federal rulings, like Bowers v. Hardwick, ultimately did not last. As Justice Ginsburg has said, the real symbol for the United States should not be the bald eagle, but the pendulum.
California Lieutenant Gov. Gavin Newsom reminded those attending LA's recent Families Belong Together rally that it was only 24 years ago that Californians passed the anti-immigrant Prop. 187. Pete Wilson, who vetoed a bill barring sexual orientation employment discrimination, was governor. Look at California now—the pendulum swung.
In Newsom's words, California is America's coming attraction. We must keep the faith and make it happen.    
Jon W. Davidson has been a leading LGBT legal rights advocate and constitutional scholar for more than 30 years. He recently was appointed Chief Counsel for Freedom for All Americans, a non-profit that seeks to secure federal statutory protections for LGBTQ Americans, working at the federal, state, and local level to advance measures and laws protecting from discrimination on the basis of sexual orientation and gender identity and expression.
LACFD Lifeguard Div. announces death of Ocean Lifeguard Derek Traeger
Trager, 28, whose guard/patrol area was the beaches of Santa Monica North, had worked for the department for the past six years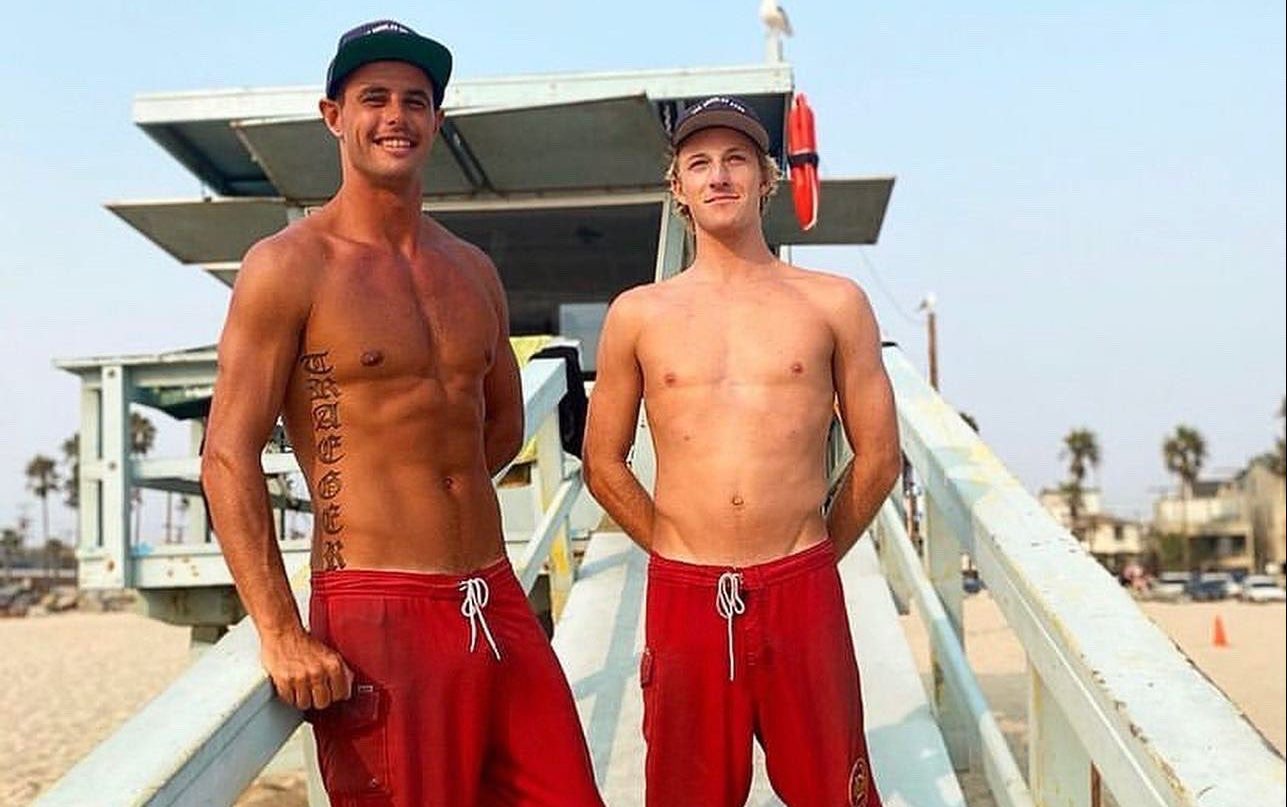 LOS ANGELES – On Monday, the Los Angeles County Fire Department, Lifeguard Division announced that the department lost an active-duty Ocean Lifeguard Derek Traeger on Sunday, August 14.
Trager, 28, whose guard/patrol area was the beaches of Santa Monica North, where the Pacific Coast Highway leads to Malibu, had died on in a freeway accident, the L.A. County coroner's office said in a statement. The cause of death was listed as blunt trauma. Details about the crash were unavailable according to the Medical Examiner-Coroner's office.
Trager had worked for the department for the past six years. It's not an easy job NBC News had noted. The county requires viable candidates to perform a 1,000-meter ocean swim and then undergo 100 hours of training — and some lifeguard organizations have had a hard time staffing up for summer.
The division is responsible for 72 miles of coastline, from the Orange County line to its border with Ventura County, and a typical year can demand 10,000 or more ocean rescues.
Traeger was born and raised in San Pedro where he learned to swim and surf. He was a LA County Junior life guard for 9 years, a Cadet for 2 years. He swam for San Pedro High School and was captain of the San Pedro High surf team. He has been a swim instructor since 2011. He was a student at California State University Long Beach, an online bio read.
Julia Almanzan, Principal Deputy Los Angeles County Counsel and the parent of a child assisted by Traeger posted a noted of gratitude on Facebook with a photo of the Ocean Lifeguard and her kid: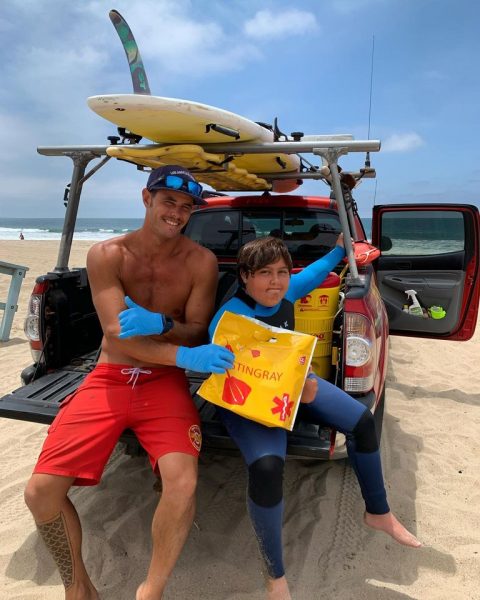 "This 28yo @lacolifeguards Derek Traeger passed away on Sunday. I only know him from his assistance in treating and caring for @lucasalexanderah in my absence during @summerofsurf at Santa Monica beach in July. Derek was really good with kids, especially mine…and really good with moms who are far away from their kids during medical emergencies. I'm so sad such a good human has left this earth too soon. May he Rest In Peace. A huge thanks to @monica.mihaly.5 @christophermihaly for also caring for Lucas pending my arrival, and capturing this helper in action. There couldn't be a better set of caring people circling Lucas at such an unfortunate time."
In a Twitter thread, the department noted;
"OL Traeger understood better than most what it means to wear the red trunks. His passion for life, art, the ocean, and his lifeguard family was evident in every moment he lived," the tweet read. "We extend our deepest condolences to the family, friends, & colleagues of OL Traeger."
(1/3) It is with great heartache the Los Angeles County Fire Department, Lifeguard Division shares the active duty death of Ocean Lifeguard Derek Traeger on Sunday, August 14, 2022. Ocean Lifeguard Traeger faithfully served the County of Los Angeles for 6 years and was last pic.twitter.com/Khbajke4Wz

— LACoLifeguards (@LACoLifeguards) August 15, 2022
(3/3) activated and services are available for family and team members.

We extend our deepest condolences to the family, friends, & colleagues of OL Traeger. More information will be shared when available.

— LACoLifeguards (@LACoLifeguards) August 15, 2022
Inaugural LA County Youth Climate Commission seeks youth leaders
"It's a fantastic opportunity for young people who are both passionate about climate change and interested in public service"
LOS ANGELES (Press Release) – Aiming to empower the region's next generation of environmental leaders, the County of Los Angeles today issued a call for young adults to serve on its inaugural Youth Climate Commission.
On the heels of major climate legislation at the federal level, the County is seeking 25 youth leaders who have a commitment to civic action that will create greater resilience in their communities.
The Board of Supervisors, responding to grass-roots activism from Los Angeles youth climate leaders, adopted an ordinance to create the Commission to inform, recommend, and advise on County goals, plans, actions, and policies related to climate change mitigation and resilience.
The panel – the first County Commission to focus exclusively on climate change – aims to amplify the perspectives and priorities of local youth, since they will be the most dramatically impacted by the ongoing climate impact during their lifetime.
"I am heartened that after years of insufficient action on climate, Congress is advancing a major climate bill that will change the game for lowering our emissions nationally," said Supervisor Hilda Solis who represents the First District and authored the ordinance. "With new federal resources, the stakes are even greater for us to ensure that the very people whose future is most impacted are at the table to effect real change."
"Despite another season of record-breaking heat and extreme weather, I remain hopeful in the next generation's unwillingness to stand idle in the face of the climate crisis. The Youth Climate Commission provides an important structural pathway for new and diverse leadership to advance equitable and bold climate solutions for the Los Angeles region" said Supervisor Holly Mitchell who represents the Second District.
"Young people all across Los Angeles County are an untapped source of energy and ideas that can, and should, influence the County's actions on climate change," said Supervisor Sheila Kuehl who represents the Third District and was the co-author of the ordinance. "I encourage young people who have a commitment to reversing climate change, protecting biodiversity, and reimagining our relationship to our planet's natural resources to consider participating on this exciting body that will help to shape LA County climate policy for years to come."
"We are already seeing the effects of climate change, but many of my colleagues and I will be long gone when the worst impacts of the climate crisis take hold. Young people are leading a movement on this issue and they are proving better at it than the generations before who have failed them. They deserve a seat at the table in shaping our County's climate policy and I encourage the young climate leaders across my district to apply to be a part of this commission", said Supervisor Janice Hahn who represents the Fourth District.
"Our County is very big, so it's important that we attract a diverse group of individuals so that we hear perspectives inclusive of different parts of our County, such as our high desert, foothill, and mountain communities," said Supervisor Kathryn Barger, who represents the Fifth District. "Many of these communities face a higher likelihood of being impacted by natural disasters due to climate change, such as wildfires and flooding. I highly recommend anyone who is interested to come forward and apply to join this new County Commission. It's a fantastic opportunity for young people who are both passionate about climate change and interested in public service."
The findings of the County's recent Climate Vulnerability Assessment, demonstrated that an estimated 56% of residents – nearly 5.7 million people — face high risk to such climate hazards as extreme heat, wildfire, inland flooding, extreme precipitation, coastal flooding, and drought.
Low-income and communities of color face a disproportionate amount of climate vulnerability as well as limited capacity to withstand and weather future threats, the study found.
The commission's recommendations will further the ongoing implementation of Our County Sustainability Plan, the most ambitious regional sustainability blueprint in the nation. Among its 159 action items is creating a fossil fuel-free L.A. County by 2050.
"We are committed to reflecting the diversity of our County in our new Youth Climate Commission. We invite young adults from marginalized communities, communities burdened by pollution, and beyond to co-create with us a future with healthy, sustainable communities by applying to serve as commissioners," said Executive Officer Celia Zavala.
Application materials are available on the website and must be submitted by Sept. 15, 2022. Interested applicants must be age 18 by Oct. 1, 2022.
2nd Recall effort against LA County District Attorney George Gascón fails 
The 520,050 valid petition signatures fell short of the 566,857 required to place the recall question on the ballot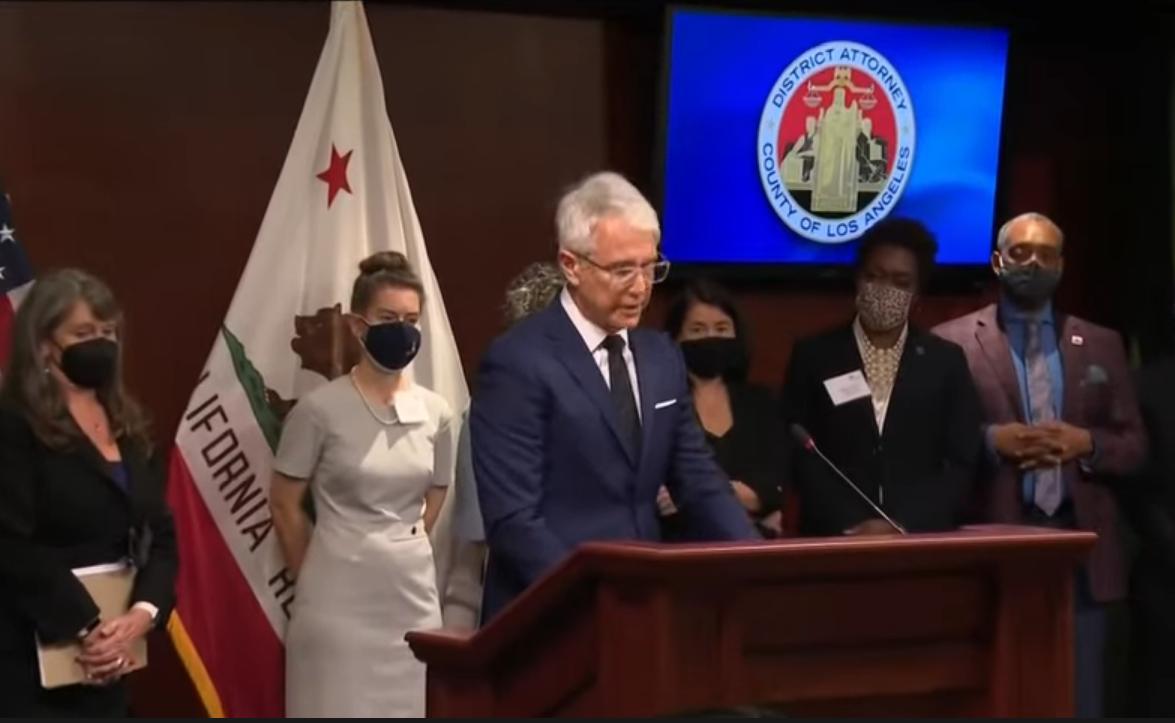 LOS ANGELES – The second effort to recall Los Angeles County District Attorney George Gascón was rejected Monday after the LA County Registrar-Recorder/County Clerk's office announced recall organizers had fallen short of the requisite validated signatures needed to qualify for the November elections ballot.
A spokesperson for Dean C. Logan, the Registrar-Recorder/County Clerk, said that recall organizers had submitted a total of 715,833 petition signatures, of which 195,783 of the signatures were invalid and another 45,000 were duplicate signatures. The remaining 520,050 valid petition signatures fell short of the 566,857 required to place the recall question on the ballot.
KTLA reported that organizers halted their first recall attempt last fall after they were unable to gather the necessary signatures by the end of October.
Gascón, 67, was elected in 2020 on a pledge to reform the county's criminal justice system. Since he took office, juveniles are no longer being charged as adults, sentencing enhancements that he says lead to mass incarceration have been eliminated and cash bail for nonviolent felony offenses has ended. Misdemeanors associated with substance abuse and mental illness are also being diverted out of the criminal justice system, both KTLA and the Los Angeles Times have reported.
Gascón's policies have provoked criticism from Los Angeles County Sheriff Alex Villanueva, as well as officers from the Los Angeles Police Department and others from the 88 jurisdictions within the County.
Recall organizers contend that his policies favor criminal defendants and have contributed to a significant rise in crime rates reported across the County.