LGBTs protest Trump in London (Photos)
As the Queen and Trump met, Britain was embroiled in protest and indictments were coming down in Washington
The split screen was remarkable: US President Donald Trump standing next to British Prime Minister Theresa May, whom Trump had dissed in an interview with a Murdoch-owned tabloid (and lied about later) in contrast to the tens of thousands of anti-Trump protests clogging the streets of London to such an extent Trump had to helicopter everywhere to avoid confrontation.
Of course, the star of the protests was a giant Trump baby blimp. But in fact there were a myriad of diverse groups, including LGBT groups and individuals waving rainbow flags and talking with reporters about the homophobia Trump inspires, along with racism, sexism, xenophobia and a litany of rude, crude and other discriminatory biases the Londoners—whose mayor, Sadiq Khan, is a pro-LGBT Muslim—would not countenance.
Khan, whom Trump has repeatedly disparaged as being soft on terrorism, gave permission for that 20ft "Trump Baby" blimp to fly over London during Trump's "working," not state visit. But LGBT flags were strewn throughout the long winding march.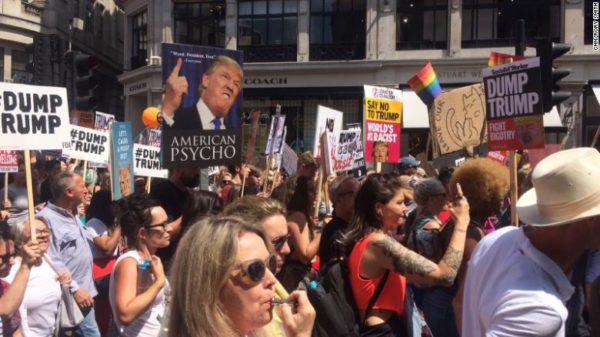 The march led off with a group of women, reminiscent of the Women's March organized around the world the day after Trump's inauguration in one area. In London's SoHo district, a contingent of 20 drag queens, others from the LGBT community and allies yelled "Donald Trump is a real drag" and protested Trump's exclusion of transgender servicemembers and the latest news on same-sex adoption.
"I think he's just such a poor representation of what America has to give to the world," Joey "Bourgeoisie" Frenette, 27, who moved to the UK eight years ago from Washington DC, told AFP.
"Decked out in chunky heels and fishnet stockings, a purple tinsel wig, pink lipstick and a dyed green moustache, [Frenette] he felt compelled to protest after seeing by Trump's immigration policies," AFP reported.
"It's an incredible turnout of people from all walks of life," civil rights icon Peter Tatchell, who marched with former Labour leader Ed Miliband, told AFP. "Today's protests send a signal to Donald Trump," he added.
"It's very important to show our government that we can't consider it business as usual with America while those values and attiudes are being handed down from the top in the U.S.," famous UK drag queen Cheddar Gorgeous told AFP.
AFP featured several drag queens in their coverage: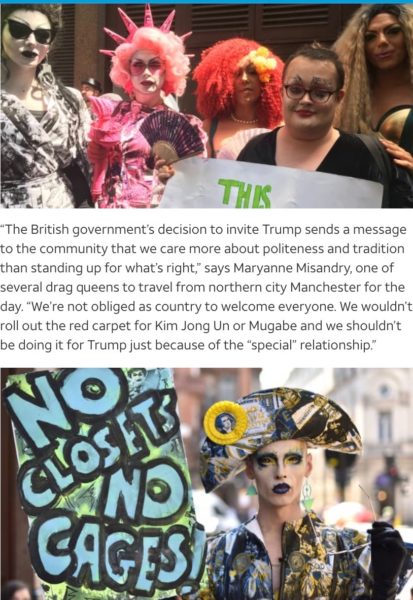 "The British government's decision to invite Trump sends a message to the community that we care more about politeness and tradition than standing up for what's right," says Maryanne Misandry, one of several drag queens to travel from northern city Manchester for the day. "We're not obliged as country to welcome everyone. We wouldn't roll out the red carpet for Kim Jong Un or Mugabe and we shouldn't be doing it for Trump just because of the "special" relationship."
Amrou Al-Kadhi, who performs as Glamrou, says, "Trumpism isn't just in America – it's part of a global rise of facism, racism and the scapegoating of immigrants. I'm here because I want to show solidarity."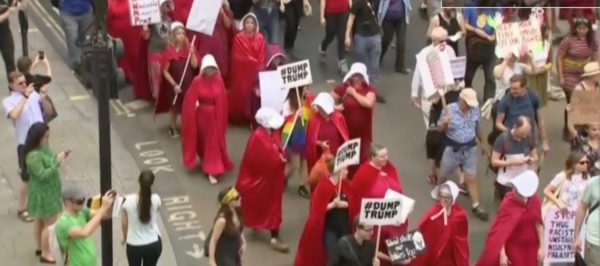 The drag queens subsequently merged with the Women's March—which had their own display of rainbow flag right in the middle of a contingent from the "Handmaid's Tale."
LGBT rights were heralded at the end of the march, too, as speaker stirred up the crowd with a sign serving as backdrop that said:
Human Rights, LGBTQ Rights, Migrant & Refugee Rights, No to Racism, No to War, Women's Rights, Workers Rights.
Though Trump loves pomp and circumstance, he kept Queen Elizabeth, 90, waiting for 10 minutes in the sun before reviewing the guard and having tea. Trump then left for his golf property in Scotland to rest before his one-on-one summit wit Russian President Vladimir Putin—just as the Justice Department released a new wave of indictments against Russian operatives for interfering in the 2016 election in Trump's favor.
Meanwhile some snarky fans on Tom of Finland started circulating a photo-shopped image representing how they view the Trump-Putin relationship.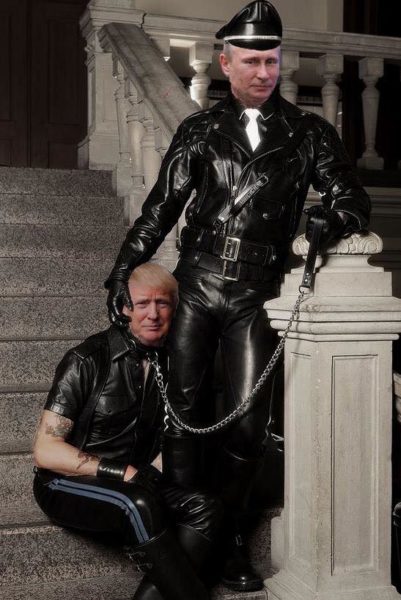 Jazz Jennings publicly opens up about her binge-eating disorder
"I have gained a substantial amount of weight. I suffer from binge-eating disorder, a disease in which I'm addicted to food"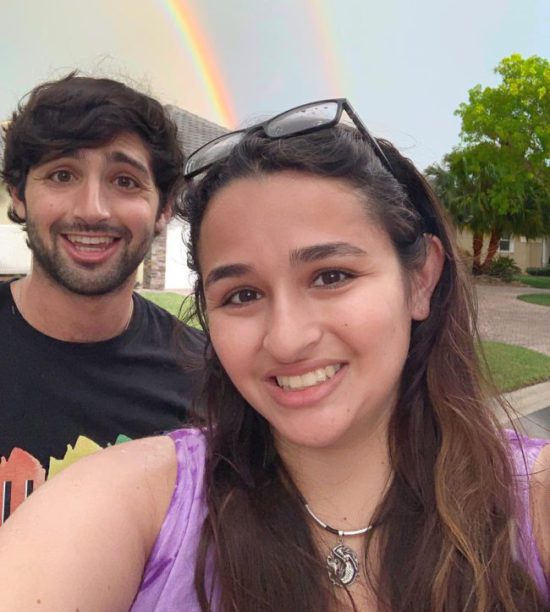 CORAL SPRINGS, Fl. – In an Instagram post Friday, prominent Trans youth activist, YouTuber and social media influencer Jazz Jennings revealed that she is battling an eating disorder. In a side by side photographic comparison Jennings showed her followers that she has in fact suffered a massive weight gain.
"I'm posting this photo because it's time for me to address my weight gain and hold myself accountable," she said, while sharing a picture of herself by the pool, wearing a sports bra and shorts.
Jennings wrote; "As many of you have noticed, over the past few years, I have gained a substantial amount of weight. I suffer from binge-eating disorder, a disease in which I'm not only addicted to food, but I eat it in large quantities.
My binging, along with an increased appetite I experience from some of the meds I'm on, has caused me to gain almost 100 pounds in a little less than 2 years.
I'm ready to change my ways; I've been saying I'm ready to turn over a new leaf, but I'm running out of trees now. I'm ready to take the initiative and create positive changes when it comes to my health."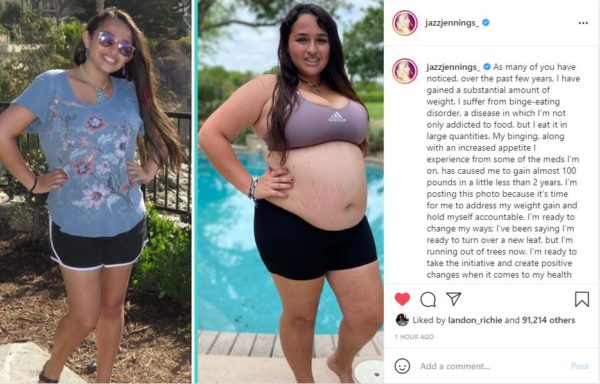 One of her twin older siblings, brother Sander, showed his unwavering support of his sister by commenting, "You are so resilient and can do anything you put your mind too. [sic] I believe in you and will be by your side every step of the way." She wrote back, "You're my teammate."
Heat Alert; High Temperatures forecast for parts of LA County & SoCal
It is important that we check on others, in particular those who are especially vulnerable to the harmful effects of high temperatures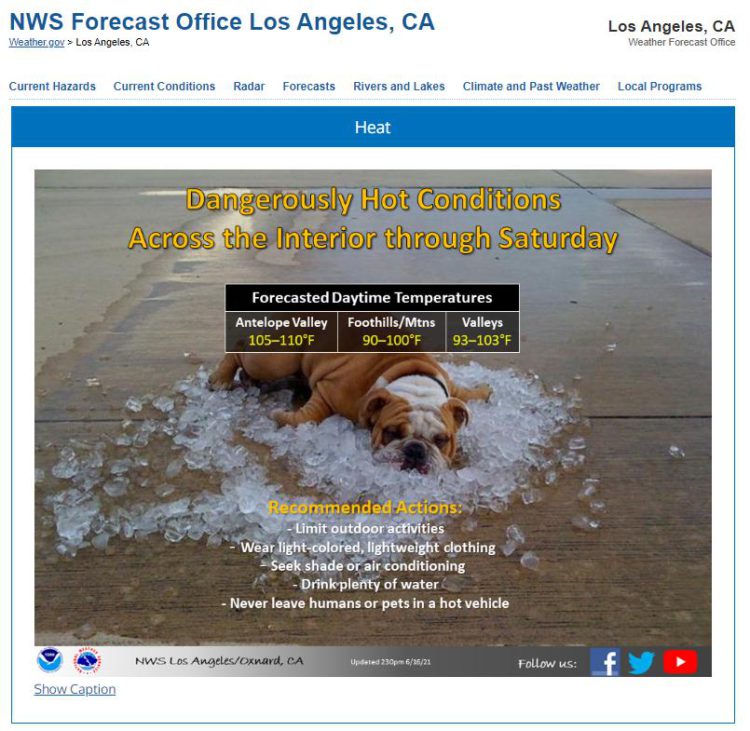 OXNARD – The National Weather Service has issued a heat watch and warning for interior segments of Sothern California including the Mojave Desert areas, Kern County, parts of Ventura and Los Angeles County, Palm Springs and the Inland Empire to the border, as well San Gabriel, San Bernardino, Riverside and the Coachella Valley.
The average daytime temperatures are expected to exceed 110 degrees Fahrenheit.
The Los Angeles County Health Officer has issued a Heat Alert as high temperatures have been forecast for the following areas:
East San Gabriel Valley – through Friday, June 18
Santa Clarita Valley – through Saturday, June 19
Antelope Valley – through Sunday, June 20
Public Health reminds everyone to take precautions to avoid heat-related illness, especially older adults, young children, outdoor workers, athletes, and people with a chronic medical condition who are especially sensitive to negative health impacts from extreme heat. Public Health offers the following recommendations during high temperature days:
Drink plenty of water and keep hydrated throughout the day.
If you must go out, plan your day to avoid going out during the hottest hours, and wear sunscreen. Wear lightweight, light-colored clothes, and wear a hat or use an umbrella.
Cars get very hot. Never leave children or pets in cars and call 911 if you see a child or pet in a car alone.
Beware of heat-related illness, like heat stroke and call 911 if you see these symptoms: high body temperature, vomiting, and pale and clammy skin.
Check on those at risk, like those who are sick, older adults, pregnant women, and children, and those who live alone.
If you are wearing a mask, avoid strenuous workouts wearing face coverings or masks not intended for athletic purposes.
Visit your power company's website or contact them by phone to determine if you are scheduled for a rolling power outage.
"While it is very important that everyone take special care of themselves, it is equally important that we reach out and check on others, in particular those who are especially vulnerable to the harmful effects of high temperatures, including children, the elderly, and their pets," said Muntu Davis, MD, Los Angeles County Health Officer. "High temperatures are not just an inconvenience, they can be dangerous and even deadly. But we can protect ourselves, our families, and our neighbors if we take steps to remain cool and hydrated. It is critically important to never leave children, elderly people, or pets unattended in homes with no air conditioning and particularly in vehicles, even if the windows are 'cracked' or open, as temperatures inside can quickly rise to life-threatening levels. If you have an elderly or infirm neighbor who is without air conditioning, check on them throughout the day."
County and City partners have planned ways to safely operate cooling centers during times of high heat. Residents who do not have access to air conditioning are encouraged to take advantage of these free cooling centers.
To find a location near you, visit https://ready.lacounty.gov/heat/ or call 211.
The health and safety of staff and visitors at cooling centers is priority. Public Health notes the following for cooling centers:
Staff and visitors are instructed to stay home if they do not feel well. Any person reporting or exhibiting signs of illness is advised to seek appropriate medical care.
Staff and visitors are required to wear a face covering at all times, regardless of COVID-19 vaccination status.
Stage and screen actress Lisa Banes has died after hit and run
The 65 year-old actress was admitted to the ICU at Mount Sinai Morningside hospital in New York with a traumatic brain injury.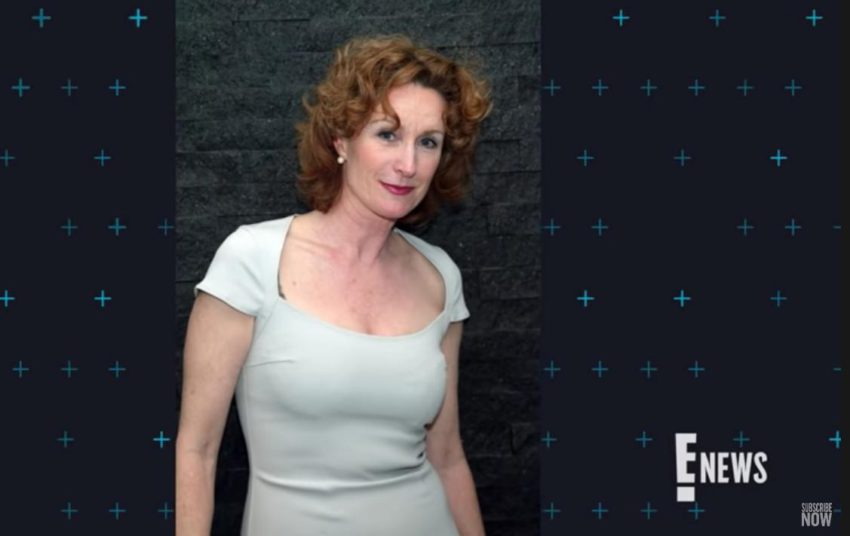 NEW YORK – Los Angeles resident and critically acclaimed actress Lis Banes died Monday at Mount Sinai Morningside hospital as a result of injuries she suffered stemming from a hit and run accident on June 4, after being struck by an electric scooter, a spokesperson for the NYPD confirmed.
The 65 year-old actress was admitted to the intensive care unit at Mount Sinai Morningside in New York with a traumatic brain injury. According to the NYPD, the actress was crossing Amsterdam Avenue at 64th Street, in a crosswalk near the Juilliard School, at Lincoln Center. The driver left the scene and no arrests have been made.
Banes's wife, Kathryn Kranhold, a contributing reporter for the Center for Public Integrity, had made a plea "to pray for Lisa" after the accident — and called for anyone with information about the accident to contact police.
"We are heartsick over Lisa's tragic and senseless passing. She was a woman of great spirit, kindness and generosity and dedicated to her work, whether on stage or in front of a camera and even more so to her wife, family and friends. We were blessed to have had her in our lives," her manager David Williams said in a statement released Tuesday.
Banes has appeared in numerous television shows and movies, including supporting roles in "Gone Girl" starring Ben Affleck in 2014 and "Cocktail" with Tom Cruise in 1988. On television, she's had roles on "Nashville," "Madam Secretary," "Masters of Sex" and "NCIS." NBC News Entertainment reported.
Anyone with information about Banes's death is asked to call the NYPD's Crime Stoppers hotline at 1-800-577-TIPS (8477), or for Spanish, 1-888-57-PISTA (74782). You can also submit a tip via the website or on Twitter, @NYPDTips. All calls are kept confidential.