July 13, 2018 at 5:31 pm PST | by Karen Ocamb
LGBTs protest Trump in London (Photos)
The split screen was remarkable: US President Donald Trump standing next to British Prime Minister Theresa May, whom Trump had dissed in an interview with a Murdoch-owned tabloid (and lied about later) in contrast to the tens of thousands of anti-Trump protests clogging the streets of London to such an extent Trump had to helicopter everywhere to avoid confrontation.
Of course, the star of the protests was a giant Trump baby blimp. But in fact there were a myriad of diverse groups, including LGBT groups and individuals waving rainbow flags and talking with reporters about the homophobia Trump inspires, along with racism, sexism, xenophobia and a litany of rude, crude and other discriminatory biases the Londoners—whose mayor, Sadiq Khan, is a pro-LGBT Muslim—would not countenance.
Khan, whom Trump has repeatedly disparaged as being soft on terrorism, gave permission for that 20ft "Trump Baby" blimp to fly over London during Trump's "working," not state visit. But LGBT flags were strewn throughout the long winding march.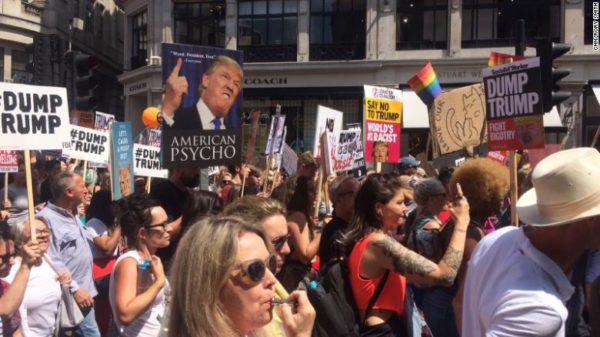 The march led off with a group of women, reminiscent of the Women's March organized around the world the day after Trump's inauguration in one area. In London's SoHo district, a contingent of 20 drag queens, others from the LGBT community and allies yelled "Donald Trump is a real drag" and protested Trump's exclusion of transgender servicemembers and the latest news on same-sex adoption.
"I think he's just such a poor representation of what America has to give to the world," Joey "Bourgeoisie" Frenette, 27, who moved to the UK eight years ago from Washington DC, told AFP.
"Decked out in chunky heels and fishnet stockings, a purple tinsel wig, pink lipstick and a dyed green moustache, [Frenette] he felt compelled to protest after seeing by Trump's immigration policies," AFP reported.
"It's an incredible turnout of people from all walks of life," civil rights icon Peter Tatchell, who marched with former Labour leader Ed Miliband, told AFP. "Today's protests send a signal to Donald Trump," he added.
"It's very important to show our government that we can't consider it business as usual with America while those values and attiudes are being handed down from the top in the U.S.," famous UK drag queen Cheddar Gorgeous told AFP.
AFP featured several drag queens in their coverage: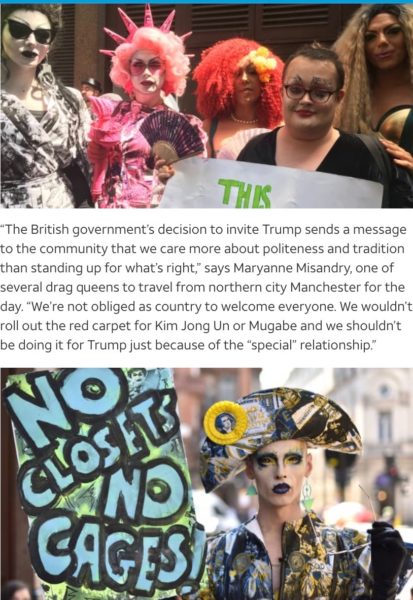 "The British government's decision to invite Trump sends a message to the community that we care more about politeness and tradition than standing up for what's right," says Maryanne Misandry, one of several drag queens to travel from northern city Manchester for the day. "We're not obliged as country to welcome everyone. We wouldn't roll out the red carpet for Kim Jong Un or Mugabe and we shouldn't be doing it for Trump just because of the "special" relationship."
Amrou Al-Kadhi, who performs as Glamrou, says, "Trumpism isn't just in America – it's part of a global rise of facism, racism and the scapegoating of immigrants. I'm here because I want to show solidarity."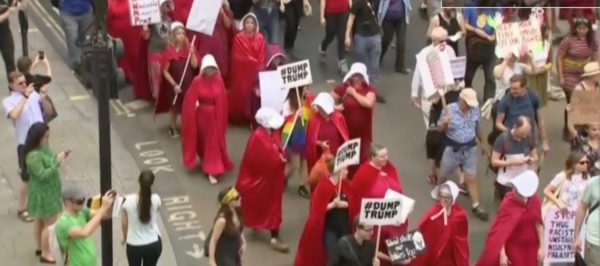 The drag queens subsequently merged with the Women's March—which had their own display of rainbow flag right in the middle of a contingent from the "Handmaid's Tale."
LGBT rights were heralded at the end of the march, too, as speaker stirred up the crowd with a sign serving as backdrop that said:
Human Rights, LGBTQ Rights, Migrant & Refugee Rights, No to Racism, No to War, Women's Rights, Workers Rights.
Though Trump loves pomp and circumstance, he kept Queen Elizabeth, 90, waiting for 10 minutes in the sun before reviewing the guard and having tea. Trump then left for his golf property in Scotland to rest before his one-on-one summit wit Russian President Vladimir Putin—just as the Justice Department released a new wave of indictments against Russian operatives for interfering in the 2016 election in Trump's favor.
Meanwhile some snarky fans on Tom of Finland started circulating a photo-shopped image representing how they view the Trump-Putin relationship.