Your daily guide to Outfest 2018: July 21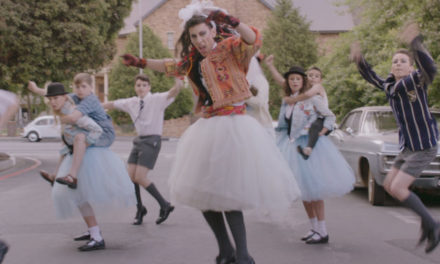 Outfest is a great experience for LA film fans, but it can be a little intimidating.  With so many films and events to choose from, it can be difficult to even know where to start.  That's why the Los Angeles Blade is here to break it all down for you, on a daily basis.
For the duration of the festival, we'll be posting a daily roundup here with a brief look at the selections of the day.  Whether you're a hard-core movie buff who plans to see as many screenings as possible, or a casual moviegoer looking for a date night treat, we've got you covered!
Just take a look at the offerings of the day and then head on over to www.outfest.org for ticket information.
SATURDAY, JULY 21
The venues for today are:
DGA 1 and DGA 2, at Director's Guild of America, 7920 Sunset Blvd., L.A., 90046
Harmony Gold Theatre, 7655 W. Sunset Blvd., L.A., 90046
The Ford Theatre (The Ford), 2580 Cahuenga Blvd. East, L.A., 90068
California African American Museum (CAAM), 600 State Drive, Los Angeles, CA 90037
THE SCREENINGS:
Buddies (Harmony Gold 11am): Considered the first narrative feature film to explore the AIDS crisis, this little- seen work (newly restored by Vinegar Syndrome) charts the emotional friendship between David, a young gay urban professional assigned to be a volunteer buddy, and Robert, a hospice patient increasingly demoralized by his slipping health. Brimming with emotional urgency yet tenderly introspective, their story presents a subtle critique of gay assimilation versus queer activism. Acting as writer, editor, and director, Arthur J. Bressan completed the film a mere two years before his own death from AIDS in 1987. Preceded by Coming Out (Dir: Arthur J. Bressan Jr., 1972, 10 min.).  In Person: Joe Rubin, Jenni Olson, Roe Bressan, David Schachter, and Jim Fall.
I Miss You When I See You (DGA 1, 11:30am): After living in Australia for a decade, Kevin returns to Hong Kong and reunites with childhood friend Jamie. Kevin confesses his affection for Jamie but is met with aloofness, spiraling him into self-sabotaging behavior. Now Jamie needs to reconcile his feelings for Kevin before he loses him forever. In this stunning tale of forbidden romance, director Simon Chung (Innocent, End of Love) takes audiences on a journey to revisit childhood nostalgia, inviting us to reminisce upon our experience of first love. Preceded by One Stride: Chosen Family (Dir: Stephen Winter, 10 min.).
Man Made (DGA 2, 12pm): From surgeries and T parties to the struggles and joys of transitioning, follow four men as they prepare for Trans FitCon, the only bodybuilding competition exclusively for trans men. Glimpse the intimate relationships between these men and their partners, family, and children as they train throughout the year. This powerful documentary culminates in a triumphant gesture of acceptance and an understanding of the shared struggles among them as they take the stage and embody their true selves.  Previously reviewed by the Blade. This film will also receive another screening later in the Festival (July 22).  Preceded by Fusion One Minute Movie Contest Program Three.  Shorts: Let Love Be (Dir: Rachel Leyco), Love Roars (Dir: Oates Yinchao Wu), Keeping Silent (Dir: Freckles the Writer, 3 min.).
The Carmilla Movie (DGA 1, 2pm): The Carmilla Movie picks up five years after the events of the award-winning global phenomenon digital series "Carmilla." Laura (Elise Bauman) and former vampire Carmilla's (Natasha Negovanlis) domestic bliss is interrupted by an unknown supernatural threat when Carm shows signs of re-vamping and Laura starts having ghostly dreams. Catch up on seasons 0-3 on YouTube and then join us to celebrate the power of the audience, as our favorite lesbian vampires are reunited in this fan-demanded feature film. Post-Screening Reception: DGA Atrium, 3:30-5:00pm
Believer (Harmony Gold, 2pm): Utah has the highest youth suicide rate in America and the largest Mormon population. For native son Dan Reynolds — frontman for the Grammy Award-winning Imagine Dragons — it's a call to action to change his faith community from the inside out and foster policies of acceptance toward its LGBTQ members. Over the course of a year, his quest leads him and his family to create the first-ever LoveLoud Festival: a landmark music summit to amplify queer voices and save lives. Don Argott directed this inspiring HBO documentary.
Room to Grow (DGA 1, 4:30pm): For many queer people, some of our toughest years were when we were teenagers living at home. Homophobic parents and school environments often made life unbearable. Now meet the next generation of queer youth, forging a path of love, with the support of their families. In the face of one of the harshest political climates, with homophobia and racism on the rise, these fearless teenagers are claiming their identities and taking the world by storm. An intimate documentary look into what it means to be an LGBTQ teen today, directed by Matt Alber and Jon Garcia. Preceded by Dances (Dir: Ramon Watkins, 6 min).
They (DGA 2, 6:30pm): Possessed with the gentle grace and ethereal spell of fellow Iranian Abbas Kiarostami, Anahita Ghazvinizadeh's feature debut explores the fragile spaces between body and soul in the life of 14-year-old J, a gender-fluid kid in the Chicago suburbs confronted with the decision of whether to transition. Executive produced by Jane Campion, this striking, evocative family drama uses unexpected textures and layered compositions to heighten the evolutionary rhythms of late childhood and the natural world. Preceded by Sylvia In The Waves (Dir: Giovana Olmos, 13 min.).
Tucked (DGA 1, 7pm): When veteran drag queen Jackie Collins receives a diagnosis with six weeks to live, all he wants to do is perform his long-running act, and behave as if all is normal. But between a surprising new friendship with a rising young queen and unfinished business with his estranged daughter, he may just have the most eventful month and a half of his life. A feel-good film with charm and humor as well as surprising insight into our evolving understanding of gender identity across generations, this marks the first queer film from prolific young British director Jamie Patterson. Preceded by I Was in Your Blood (Dir: Joseph Sackett, 8 min). Post-Screening Reception: DGA Atrium, 9pm-11pm.
Emerging Voices – Shorts (Harmony Gold, 8pm): These endearing shorts strike a chord of shared humanity, whether it's a married woman with amnesia having an awkward reunion with her ex, a suicide-hotline volunteer who can't help taking her work personally, an immigrant lesbian facing American racism, or a cancer survivor facing physical hardships with sass and friends and an impressive wig collection. Shorts: Wild Geese (Dir: Susan Jacobson, 18 min.), I'm Just Here (Dir: Lara Aslanian, 16 min.), Choke (Dir: Rolla Selbak, 18 min.), Routine (Dir: Wes Akwuobi, 6 min.), Familia? (Dir: Kase Pena / Marlene Forte, 15 min.), My Life Interrupted (Dir: Alana Devich Cyril, 10 min.), Last Pick-Up (Dir: Matthew Bonifacio, 4 min.).
Wild Nights with Emily (The Ford, 8:30pm): In this laugh-out-loud period dramatic comedy, Molly Shannon transforms 19th-century poet Emily Dickinson from tragic spinster to irreverent lesbian heartthrob. Outfest alum Madeleine Olnek (The Foxy Merkins) reclaims Dickinson's identity from the throes of patriarchy, exploring her vivacious side and her lifelong romantic relationship with her best friend and brother's wife Susan (Susan Ziegler). In a film that's part sketch comedy, part historical burlesque, Molly Shannon's performance is alive as she kicks up the pieces of this famous legacy. Preceded by Crying Game (Dir: Gianna Gianna, 3 min).
"Shakedown (CAAM, 8:30pm): In this intimate and skillfully crafted documentary, we are taken deep into the world of Los Angeles's African-American lesbian club scene. At this legendary weekly party, dancers like Egypt, who found her way to the stage by accident, and Mahogany, the Queen Bee and mother of the clan, spill their hearts out both behind the scenes and on stage. We are confronted with the realities of their lives as they navigate personal and professional relationships with fans, club owner Ronnie, and each other. When one of many police raids sends the club into chaos, everyone must decide what their next move is. This film is a window into the rarely-seen-on-screen world of black female pleasure. Pre-Screening Reception: CAAM Lobby, 7:00-8:30pm.
Beyond Binaries – Shorts (DGA 2, 7:15pm):  Each of these exceptional stories expand our limited definition of gender and breathe authenticity back onto the screen with every frame. From beating back fears of discrimination to expressing yourself through experimental dance, demonstrating bravery in the face of unwelcoming family members or blazing trails for fellow young students, the extraordinary individuals at the heart of these stories showcase a proud love of truth over fear.  Curated by Angelica Ross.  Shorts: Anima X Animus (Dir: Frances Chen, Dorian Tocker, 3 min.), October (Dir: Maegan Mann, 9 min.), Sunken Plum (Dir: Roberto F. Canuto, Xiaoxi Xu, 20 min.), Do I Have Boobs Now? (Dir: Milena Salazar & Joella Cabalu, 7 min.), First Day (Dir: Julie Kalceff, 18 min.), There You Are (Dir: Lisa Donato, 17 min.), Beauty (Dir: Christina Willings, 23 min.).
Canary (Kanarie) (DGA 1, 9:30pm): Drafted during apartheid by the South African Army, Johan's love for Boy George and Depeche Mode lands him a spot in the Kanaries — the military's traveling choir — but romance on the battlefield forces him to reckon with his long-repressed sexual identity. Examining the effects of nationalism on the soul, while also exploring the tender brotherhood among misfits, this musical comedy revels in the discovery of finding your voice and learning to fly. Directed by Christiaan Olwagen, this film is making its North American Premiere. Pre-Screening Reception: DGA Atrium, 7:30-9:30pm.
PANELS:
Trans Summit (DGA 2, 2:30pm): Whether you're an actor, artist, activist or academic, you're welcomed here. The afternoon will begin with our Academy Award–nominated keynote speaker Yance Ford (Strong Island), followed by three compelling case studies focused on specific areas of need in media representation. The room will then come together for an unedited, organic, and dynamic conversation about issues relating to the trans and non-binary experience, moderated by the LA Times' award-winning reporter Tre'vell Anderson. Case Studies: We Forgot To Break Up (Dir: Chandler Levack, 16 min.), Burton: Before And After (Dir: Courtney Hermann & Kerribeth Elliott, 15 min.), Bathroom Rules (Dir: Charlie Hidalgo, 5 min.). Post-Event Reception: DGA Atrium, 5:30-7:30pm. Post-Event Reception: DGA Atrium, 5:30-7:30pm.
OTHER EVENTS:
Screenwriting Lab – Live Reading (Harmony Gold, 5pm): Join us for an exclusive opportunity to see the 2018 Outfest Screenwriting Lab projects come to life before your very eyes. Scenes have been selected from each of the five scripts to be directed by Outfest Alumni, and will be performed by an all-star cast. The Outfest Screenwriting Lab has shepherded over 100 scripts, a dozen of which have gone on to be produced feature films. 
'Maestro' captures passionate essence of queer musical giant
Cooper's titanic performance honors the legendary composer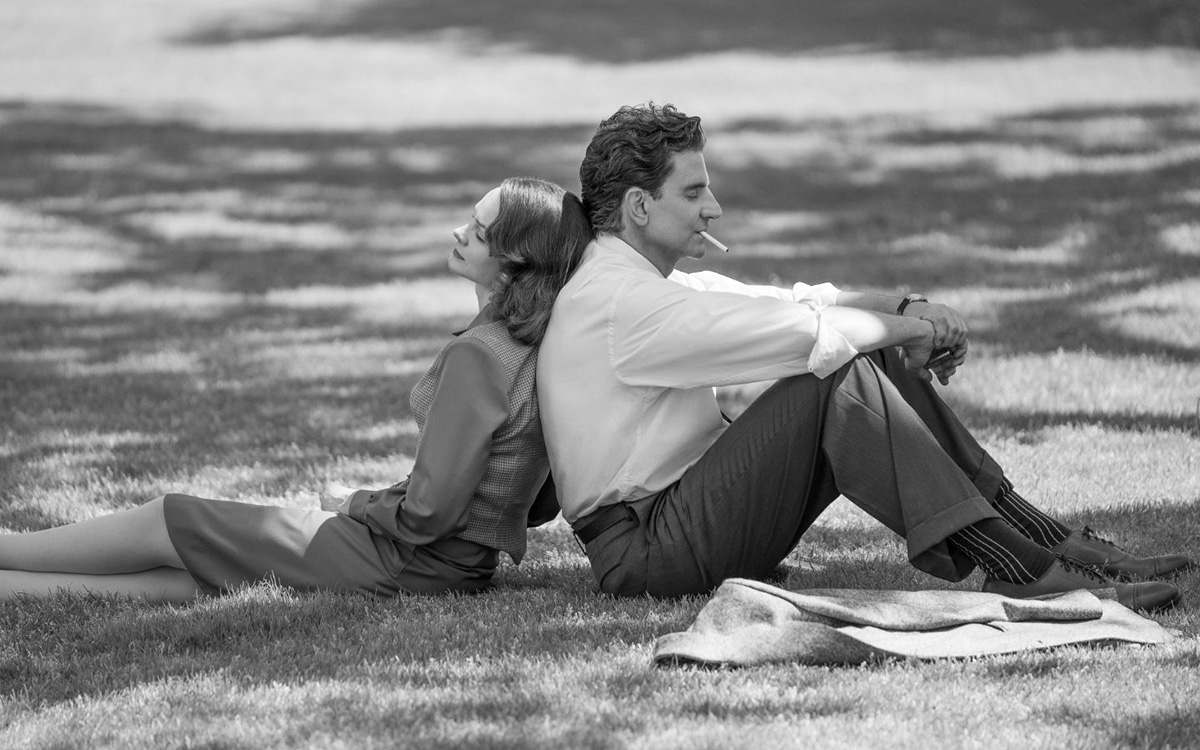 It's hard to think of a modern celebrity who holds an equivalent place in popular culture to the one held in his day by Leonard Bernstein – the subject of Bradley Cooper's ambitious biopic "Maestro," now in theaters ahead of a Dec. 20 drop on producing studio Netflix's streaming platform.
A "highbrow" musical prodigy who gained mainstream celebrity after a spectacular debut as a substitute conductor for the New York Philharmonic, he forged a path as an orchestral leader and composer of masterpieces across a range of genres, from symphonies to film scores to Broadway musicals. Youthful, erudite, passionate, and handsome, he brought classical musical education to the masses via popular television broadcasts, becoming identified with the sophisticated culture of intellectual humanism epitomized by the hopeful "Camelot" of the Kennedy era.
Of course, the Bernstein known to the public in those heady days was not the real Bernstein – or not all of him, anyway – and the story behind the scenes is part of what Cooper, who not only directed and stars in "Maestro," but co-wrote the screenplay with Oscar-winner Josh Singer ("Spotlight"), aims to illuminate. Picking up the narrative in the early days of its subject's fame, it conveys the essence of his professional career in broad strokes, but concerns itself mostly with his private life. More specifically, it focuses on his marriage to actress Felicia Montealegre (Carey Mulligan), whom we meet as she enters his life in the wake of his sudden success. There's a definite chemistry – but there's also Bernstein's involvement with musician David Oppenheim (Matt Bomer), with whom he shares both an apartment and a bed. 
Nevertheless, and with full knowledge of what they're getting into, the two eventually marry; through specific episodes in their life, it tracks the inevitable ups and downs – from the soul-mate joy of their special intimacy to the strain imposed on their bond by a parade of male companions brought into the household across the decades – to present a portrait of an unorthodox marriage between two unorthodox people whose bond ultimately transcends conventional notions of love, sexuality, and commitment.
That doesn't mean things don't get messy, however, and it must be admitted that the last third of the movie devolves a bit into domestic melodrama tinged with a touch of histrionics, and then threatens to go full tearjerker, to boot. But then, so does life, sometimes, and "Maestro" brings enough compassion, insight, and authenticity to the complex emotions at play that it is able to go deep, in the end, for the save.
Indeed, some of this melodramatic flair might be a function of Cooper's stylistic approach, which blends fact, fantasy, and flights of fancy – such as a surrealistic "dream ballet" sequence inspired by "On the Town" (Bernstein's first Broadway hit), as well as shifting from black-and-white to color and presenting much of the movie in an old-fashioned 1:33 aspect ratio – to form a sort of impressionistic view of Bernstein's life. The elegant flamboyance of the film's visual and narrative style flows naturally from the lavish mid-century aesthetic that informed the cinema that sprung from the cultural movement of which he was a part; and as for the man himself, his florid conducting style, to say nothing of the sweeping and dissonant passion of his compositions, were ample evidence that he would never be averse to tugging at a few heartstrings before building to a "wow" finale, so allowing a little indulgent sentimentality to assert itself along the way seems perfectly apropos.
At the same time, there is little about Cooper's performance in the title role that could be called sentimental, or indulgent for that matter, despite the obvious license to "chew the scenery" when playing a flamboyantly bigger-than-life figure like Bernstein. Executed with a clear attention to detail and a fully invested personal connection to the character, Cooper's portrayal expertly captures his intelligence and charm, as well as a remarkable level of chameleonic mimicry – enhanced by a dazzling physical transformation from makeup designer Kazu Hiro – that never once feels like "showboating," and wins us completely with an unvarnished candor in depicting his less noble qualities.
Perhaps most impressive (especially in a biopic), at neither end of the "moral" spectrum does it ever feel as the actor is bringing any judgment to the role, only observation. It's a titanic performance, even without the reenactments of Bernstein's conducting prowess, which honors the legendary composer simply by rendering him as a flawed, if exceptional, human being.
Yet as superb as his work might be, and despite "Maestro" being ostensibly about Bernstein himself, the movie's star turn comes from Mulligan, whose top-billed performance as Montealegre is employed as the story's emotional core. It's her journey, from bold best friend to supportive muse to estranged "ex" and back again, that give the film its meat. She takes it from start to finish without a misstep, and in the process almost makes Cooper's Bernstein a foil in his own movie. It's a testament to his own artistic integrity that he allows, even amplifies, every opportunity for her to do it.
For queer audiences, of course, it might be a disappointment that the movie chooses to center itself on Bernstein's heterosexual marriage instead of exploring any of his now-well-known same-sex affairs – little time or development is spent on any of those relationships, not even with Oppenheim. Still, it makes no effort to hide or downplay his sexual identity; indeed, it is at the center of the conflict which drives the entire film, and it reflects with compassionate honesty the reality of living as a queer person in a time and culture in which one's queerness must be kept hidden as a matter of simple survival. What emerges instead of a cold dissection of a fraudulent "marriage of convenience is an idea of love that exists beyond the constraints of sexuality or gender – and that lifts "Maestro" above such moralistic notions, allowing it to celebrate the commitment between two people willing to live beyond them, even when things get tough.
The film is loaded with memorable performances from others, too; in particular, Bomer – especially powerful in the scene where he is introduced to the woman he already knows will take his lover away from him – reminds us how good he can be when afforded material that stretches him beyond his pretty-boy looks, and comedian Sarah Silverman has some rich moments as Bernstein's sister, Shirley. So too, it is distinguished by a comprehensively detailed production design, which traces the evolving look and feel of the era it covers in succinctly evocative detail, delivered through outstanding cinematography by Matthew Libatique. In the end, however, it is Bernstein's music itself that stands as the key element in capturing the irrepressible passion – the "singing of summer" inside him – that made him an incomparable artist and informed his life as a whole.
In the end, that's what Cooper's movie wants us to take away, more than any insights into its subject's musical genius or the difficulties of navigating a divergent sex life among consenting adults in a time where such things were beyond taboo: the importance of embracing and expressing our lives to the fullest, whether by creating art or simply experiencing the raw truth of our existence in the moment, for better or for worse, in all its contradictory, beautiful glory. The Bernstein it shows us is, like all of us, impossible to define in a single quality; rather it strives to depict a life made whole and complete through the interplay of myriad conflicting passions.

"Maestro" might be a big, glossy biopic that – on the surface, at least – sometimes falls into familiar tropes, but it's worldly and wise enough to get that right, which is enough to elevate it above at least 90 percent of other films in its genre.