Avenatti says more Trump sex news to come
Stormy Daniels' lawyer also hints at a presidential run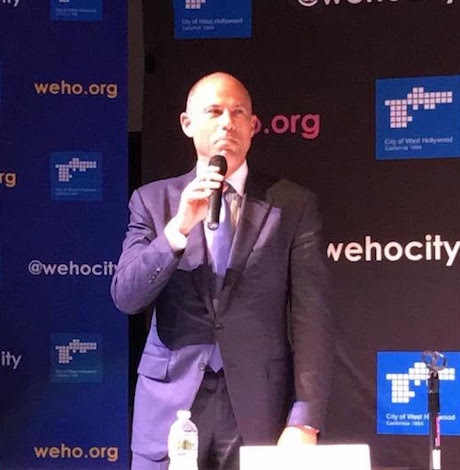 Michael Avenatti, the attorney representing Stormy Daniels in her lawsuit against President Donald Trump, revealed another pre-2016 election "hush money" development in the ongoing scandal enveloping Trump during an appearance in West Hollywood Thursday night.
"We represent three additional women that you haven't heard about yet. We're in the process of getting clearance from those clients to release details relating to those payments and the efforts to silence those women by AMI, Donald Trump, and Michael Cohen, and I will tell you that at least one of those women claimed to be pregnant at the time, "Avenati said. "So we're going to see how that plays out in the coming weeks and months."
"Last time I checked, they weren't just handing out checks to anyone whether they had a relationship or not," Avenatti told reporters later.
Avenatti was part of a panel organized by the City of West Hollywood entitled, "Update on Washington D.C. Politics: the Mueller Investigation, Human Rights and Immigration, and the Future of Resistance," moderated by West Hollywood Mayor John J. Duran. The panel included Avenatti, Duran, former federal prosecutor Steve Madison, a partner at Quinn Emanuel Trial Lawyers, and Mariana Magana Gamero, who is part of the Coalition for Human Immigration Rights of Los Angeles (CHIRLA).
Avenatti went on to question Trump's capacity to serve as President in light of the Daniels case, the seizing of over 100 taped conversations of Cohen by federal prosecutors and the ongoing Mueller investigation into possible collusion between the Trump campaign and Russian officials.
"The problem is not that we elected a celebrity to the White House, but that we elected a man without the temperament, knowledge, and heart to lead our nation," asserted Cohen to audible agreement from the capacity audience.
Former federal prosecutor Steve Madison noted that he has been acquainted with Special Counsel Robert Mueller for many years and has worked with Mueller periodically. "Bob Mueller is as straight a shooter as they come, Madison said. "He's the right person for that job."
In his professional capacity, Madison believes that the constitutionality of Special Counsel Robert Mueller's investigation, which has been questioned by Trump, would be upheld in the Supreme Court. This is due to the precedent set by Morrison v. Olson (1978), which validated the legitimacy of the similar Independent Counsel a case disputed by current Supreme Court nominee Brett Kavanaugh.
However, under the Constitution and established case law, a sitting President almost certainly cannot be criminally indicted, said Madison. The only remedy under the Constitution would be impeachment. If successfully impeached (which would require, realistically, at least 10-15 Republican Senators to stand up to the President), Trump could then be criminally prosecuted as a civilian defendant. Avenatti agreed that Trump would likely not be indicted, though Avenatti said he "would indict [Trump] and make the Supreme Court overrule me."
Madison later asserted that the Trump scandal is "very similar to Watergate, but this is arguably worse because this involves Russia and the hostility they've expressed towards our country."
Avenatti had a similar viewpoint, stating that "we know when, where, who, and how…What we don't know is why. Why is this President choosing Russia over the United States?"
He and Madison do not think that we will have a President Trump by this time next year.
Mariana Magaña Gamero, Regional Policy Advocate at the Coalition for Human Immigrant Rights of Los Angeles (CHIRLA spoke about human rights and immigration under the Trump Administration.
Trump's election in 2016 "immediately changed [CHIRLA's] trajectory, platform and strategic plan for the next four years," she said. Having dialogue with opposition groups was made more difficult for organizations like CHIRLA, because people were emboldened to take xenophobic positions on immigration policy. It was no longer a policy debate, but "trying to convince someone of a child's humanity," said Gamero.
Worsening immigration rights under the Trump administration should be of special importance to the LGBT community. "We've had some incidents where LGBT people were seeking asylum based on [oppression of the LGBT community in their home countries] and have been denied asylum," Gamero told the Los Angeles Blade. "We also work with the LA LGBT Center to make that a prominent voice."
Gamero also discussed SB54, the law making California a sanctuary state in 2017. The law was recently upheld as fully constitutional, but not without "racist, xenophobic rhetoric" at City Council meetings throughout California. SB54 is impactful because it provides "some disentanglement between ICE and local law enforcement," says Gamero. "We want to make sure that our undocumented immigrant communities feel comfortable going to law enforcement and reporting crime. This makes our communities safer."
On the topic of ICE, Gamero noted that July 26 was the federal court-imposed deadline for detained children to be reunified with their families. But the Trump administration has "failed miserably," stated Gamero. There is currently no plan as to how reuniting families will happen, largely because many parents have already been deported. "How are you going to find those parents in countries where communications may not exist?"
Gamero stressed the importance and power of communicating directly with immigrants, undocumented or otherwise, in determining how they can best be assisted. "Our best guardian is to know your rights," she said.
Duran agreed, expressing his "shame" at the state of American immigration policy and appealing that making immigrants feel welcome is of tantamount importance.
At the end of the event, Avenatti conveyed how critical vote in the November midterm elections in light of the absolute disaster that is the current Administration.
"We are in a battle for what the Republic stands for, not only domestically, but around the world," said Avenatti." This sentiment was met with great enthusiasm from the crowd, a type of enthusiasm that Democrats will need to win the battle of flipping the House and Senate in November.
Avenatti said he is willing to fight his battle himself, if necessary, in 2020. "If I do not get a sense that the Democratic Party has the right street fighter and the right person to go up against Donald Trump in the general election, I will absolutely run and I will defeat him – period," Avenatti said.
"It's too soon to worry about 2020," Duran told the LA Blade, noting that there are other good possible presidential candidates such as LA Mayor Eric Garcetti and Sen. Kamala Harris, along with his pal Avenatti. "Personally, I'm focused on the next 100 days (until the Nov. 6 election).  If the Democrats retake the House, Adam Schiff is Chair of the House Intelligence Committee with full subpoena powers and Maxine Waters is the Chair of the Banking Committee with full subpoena powers. It becomes a whole new game."
Senate passes Respect for Marriage Act with 61 votes
President Joe Biden, Vice President Kamala Harris, the Congressional LGBTQ+ Equality Caucus, and LGBTQ groups celebrated Tuesday's victory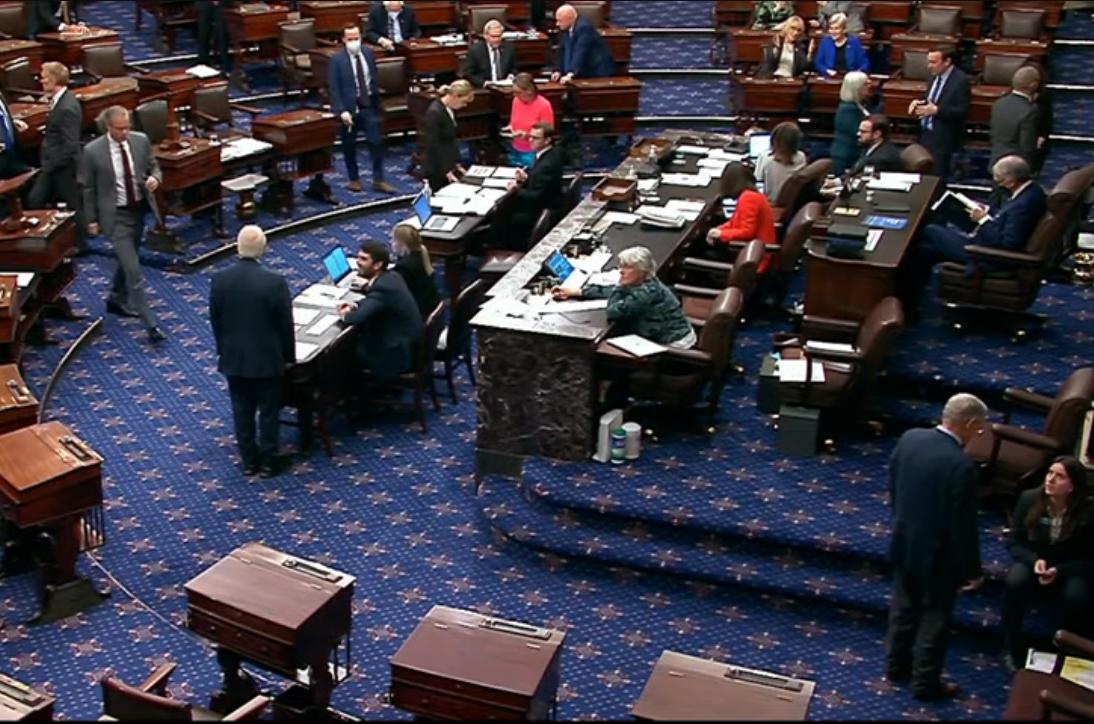 WASHINGTON – The U.S. Senate voted 61-36 on Tuesday to officially pass the Respect for Marriage Act, a historic piece of legislation that is expected to soon become law after members in the U.S. House of Representatives sign off on a bipartisan amendment added by their Senate colleagues.
Designed as a vehicle to mitigate the fallout if the U.S. Supreme Court's conservative supermajority guts the constitutional protections for marriage equality, the bill was narrowly construed – in part to help guarantee that it withstands potential challenges from conservative legal actors.
Nevertheless, the Respect for Marriage Act is a landmark bill that has been backed by virtually every LGBTQ advocacy organization in the country. The legislation repeals the Clinton-era Defense of Marriage Act while enshrining into law substantive protections for same-sex couples.
Regardless of whether or how the high court might decide to revisit the marriage question, the Respect for Marriage Act will protect the federally ordained rights and benefits that have long been enjoyed by married gay and lesbian couples. And should the court pave the way for conservative states like Texas to renew their bans on same-sex marriage, the law will require them to officially recognize and honor those that are performed in jurisdictions where they remain legal.
Despite earning broad bipartisan support from lawmakers in the U.S. House, which passed its version of the bill this summer with an overwhelming majority – including votes from 47 Republican members – the Respect for Marriage Act faced an uncertain future in the Senate.
Conservative members in the chamber's Republican caucus argued the bill would jeopardize religious freedoms, concerns that a group of five bipartisan senators sought to allay with an amendment that, among other provisions, clarifies the right of religious nonprofit organizations to refuse "any services, facilities, or goods for the solemnization or celebration of a marriage."
Writing the amendment were Sens. Susan Collins (R-Maine), Rob Portman (R-Ohio), Kyrsten Sinema (D-Ariz.), Thom Tillis (R-N.C.), and Tammy Baldwin (D-Wis.), who was considered the driving force behind the bill's passage through the Senate.
Thank you to the millions of same-sex and interracial couples who truly made this moment possible. By living as your true selves, you changed the hearts and minds of people around you. #RespectforMarriageAct https://t.co/o0EeY1vOq7

— Sen. Tammy Baldwin (@SenatorBaldwin) November 29, 2022
Several Republican senators proposed additional amendments that – per a narrow procedural vote before and another shortly after the Thanksgiving break – were not put up for debate, thereby allowing the Respect for Marriage Act to clear the Senate with Tuesday's vote.
Barely surpassing the 60-vote filibuster-proof majority with one extra "yea," the Senate's passage of the bill came despite the best efforts of conservative opponents who had run coordinated campaigns to erode support among GOP members.
President Joe Biden and Vice President Kamala Harris each issued statements shortly after Tuesday's vote.
The President celebrated the "bipartisan achievement" by Congress, writing: "For millions of Americans, this legislation will safeguard the rights and protections to which LGBTQI+ and interracial couples and their children are entitled. It will also ensure that, for generations to follow, LGBTQI+ youth will grow up knowing that they, too, can lead full, happy lives and build families of their own."
Harris wrote: "The Respect for Marriage Act ultimately stands for a simple principle: all Americans are equal and their government should treat them that way. Today, we are one step closer to achieving that ideal with pride."
The Congressional LGBTQ+ Equality Caucus also praised the victory. "Today, a bipartisan group of 61 Senators made clear that this country will not roll back the clock on marriage equality," said Congressman David Cicilline (D-R.I.), Chair of the Equality Caucus. "The Respect for Marriage Act is a crucial safeguard for LGBTQ+ people whose lives have been forever changed by Obergefell v. Hodges and Americans who are in interracial marriages thanks to Loving v. Virginia. On June 26, 2015, the Supreme Court declared marriage equality as the law of the land. Today, the Senate ensured those marriages will continue to be protected."
LGBTQ groups celebrate the win
"Diverse faith traditions across the nation came together to demand respect for LGBTQ+ Americans – we staked our ground and refused to let this opportunity slip away, " said Rev. Paul Brandeis Raushenbush, president and CEO of Interfaith Alliance, in a statement Tuesday.
"The LGBTQ+ community has faced ongoing deadly violence, legislative assaults and constant threats – including the deadly shooting in Colorado Springs barely one week ago," said Kelley Robinson, president of the Human Rights Campaign, in a statement from the organization.
"Today, with the passage of the Respect for Marriage Act in the Senate — a historic moment that marks the first federal legislative win for LGBTQ+ equality in over ten years, since the repeal of Don't Ask Don't Tell — the 568,000 same-sex married couples in this country can breathe a sigh of relief that their marriages will be protected from future attacks," said Robinson, who yesterday began her tenure as the first Black queer woman to lead America's largest LGBTQ organization.
GLAAD President Sarah Kate Ellis responded on Twitter and in a statement, writing: "As so many LGBTQ people face uncertainty and harm on the state level and extremists on the Supreme Court vow to reconsider the landmark Obergefell decision, this victory will provide comfort and security to millions of people and their families."
"Today's bipartisan vote in the Senate to pass the Respect for Marriage Act is a proud moment for our country and an affirmation that, notwithstanding our differences, we share a profound commitment to the principle of equality and justice for all," reads a statement from National Center for Lesbian Rights executive director Imani Rupert-Gordon.
LGBTQ Victory Institute President and CEO Annise Parker said, "This landmark piece of legislation protects the marriages of millions of LGBTQ Americans who have not slept well for months, wondering if our marriages would be dissolved by an activist court. While the Respect for Marriage Act is undoubtedly one of the most important pro-LGBTQ laws ever passed, it does not require states to grant marriages to LGBTQ couples. Until then, our fight is not over."
I just called my daughter and her wife—who are expecting a baby next spring—to let them know that this Senate passed the Respect for Marriage Act!

What a great day! pic.twitter.com/K3ZKM7r5Zo

— Chuck Schumer (@SenSchumer) November 29, 2022