Emma González is marching for our lives
Bi student activist, other Parkland survivors bring tour to California
Emma González is famous now. She'd rather be enjoying the summer before college hanging out with friends.
But the Valentine's Day massacre at Marjory Stoneman Douglas High School in Parkland, Florida stole away that carefree freedom, morally forcing the survivors to take on the responsibility of doing something about the gun violence that has impacted more than 150,000 students in the two decades since the mass shooting at Columbine High School.
The 18-year old senior first caught America's attention as the furious-faced warrior, fighting back tears, chastising politicians beholden to the National Rifle Association.
"All these people should be home grieving. But instead we are up here standing together because if all our government and President can do is send thoughts and prayers, then it's time for victims to be the change that we need to see," González said at an angry rally at the Federal Courthouse in Fort Lauderdale three days after the shooting. "To every politician who is taking donations from the NRA, shame on you!"
González let loose:
"Politicians who sit in their gilded House and Senate seats funded by the NRA, telling us nothing could have ever been done to prevent this: We call BS!
They say that tougher gun laws do not decrease gun violence: We call BS!
They say a good guy with a gun stops a bad guy with a gun: We call BS!"
A string of public appearances followed, helping generate funding for a national March For Our Lives tour to spread the message about gun violence prevention and nullifying the power of the NRA. "
On Feb. 26, Harpers Bazaar published an essay by González, with photos of her at a Valentine's Day event one hour before the shooting and another (with hair) decked out for Pride week at school last year.
"My Name is Emma González. I'm 18 years old, Cuban and bisexual. I'm so indecisive that I can't pick a favorite color, and I'm allergic to 12 things. I draw, paint, crochet, sew, embroider—anything productive I can do with my hands while watching Netflix. But none of this matters anymore," she wrote. "What matters is that the majority of American people have become complacent in a senseless injustice that occurs all around them."
González next caught America's attention on March 24 at the "March for Our Lives" rally in Washington, D.C., the main rally of about 800 student walkouts and rallies around the country. Head held high, tears streaming down her face, she stood before thousands of marchers and millions watching on TV.
"Six minutes and 20 seconds with an AR- 15 and my friend Carmen (Schentrup) would never complain to me about piano practice," she said, a catch in her voice. "Aaron Feis would never call Kyra 'Miss Sunshine.' Alex Schachter would never walk into school with his brother Ryan."
González went on, naming the names of those shot dead that Feb. 14. And then she stopped. For 6 minutes and 20 seconds—the time it took for the shooter to kill 17 people and wound 15 others—she stood silently, letting the confused crowd gradually absorb what that silence signified, filling the silence in their own imaginations with the screams of terror that must have accompanied the gunshots. Many wept.
"Fight for your lives before it's someone else's job," she said before leaving the stage. "One final plug: Get out there and vote."
The Parkland students 20-state summer bus tour, March For Our Lives: Road To Change, stopped in NRA-loving towns to have civil conversations with gun-lovers, noting that they do not want to take away guns, but create common sense regulations to prevent gun violence. The tour hit Los Angeles County on July 17 and included a meeting LA Mayor Eric Garcetti, who pledged to work with high schools and colleges for a voter registration drive on Sept. 25.
But the town hall at the California African American Museum on July 19 illuminated another aspect of Emma González. The Parkland students served as a draw but they also shared their platform with coalition partners and expanded the discussion to guns used during domestic violence, suicide and police shootings.
And Emma González listened. When a question was asked of the panel, she reached for the microphone, paused, and then deferred to the community panelist. It was as if González and the Parkland students were modeling a different approach to public encounters: be authentic, have facts in hand, truly listen to the other person, and reply as a "human person."
González talked about coping and their intention to connect.
"I'm a mess and I'm messy," she said in an interview after the panel. "I'm very, very bad at organizing myself…We do eat whenever we get to restaurants. But we don't think about eating as much, especially because the topics we're talking about kinda take appetites away and like sadness fills your stomach more than food can. But then you smell food and you're like rrrr I need that."
"It's hard to get enough food in the day and hard to get enough sleep at night," González said, "because we have like 19- hour workdays, essentially. And we ride the bus. We ride the bus a lot and it's easy to sleep on the bus but it's not a full night's sleep, you know what I mean? It's choppy and blocked up."
Meeting with people who have faced gun violence is "an incredible experience" but "it's hard and it's sad to know that so many people are affected by gun violence. And of course we knew that they were. But hearing it is a whole different experience.
"We share our experiences as they share theirs—but it's also incredibly healing to know that you're not alone," González said. "That's the number one rule after you lose someone is go to somebody else, go to the people around you, be with the people that you love. And as you can see in 'Big Hero 6,' that doesn't always happen. A lot of people push away the people around them because they feel like they're alone.
"In our case, all we could do was be with the people around us because they were the only people who knew what we had gone through," she said. "I wanted to be around my family because I knew that they wanted me to be with them and they wanted to know that I was safe and they wanted to hold onto me like that. But I wanted to be with the people at my school who had experienced that. I wanted to be with my friend who had sat next to me the whole time. It's a different sort of connection and because of that, it's easier for us to connect with the people around the country because we know, we've all experienced the same thing."
González noted that LGBT people are heavily involved in the March For Our Lives movement. "A lot of the people in our organization are LGBT+ so we bring it up in discussions and we make sure that people in the LGBT community are present in discussions," she said. "I do believe, personally, that like we have brought those topics to light in conversation [but] the solutions that we have will directly affect and support the LGBT community."
González said she feels like she's been threatened "generally," as much as in the context of conservative verbal attacks on the Parkland survivors.
"Anything is up for grabs to anybody around, ya know?" she said. "Like I'm a female. I'm a short female. I live in Florida. I'm Cuban and I have family members that live with me. I have survived a school shooting and I speak out politically and I'm bisexual—and all of these things are not desirable things to the people who are in power and especially the people who are getting money from other people who are in power.
"But I'm an 18-year-old girl, at the end of the day," González said. "I'm a human person and so are the people that I work with. And a lot of times, we either get put on a pedestal or we get treated like we're untouchable, like we're not human, we're undefeatable. But a bullet could take down any of us just as much as anybody else. And it's statistically more likely to happen nowadays.
"But I mean, like we're all the same and we all have the same amount of potential," she said. "Anybody could have done what I had done. I didn't even know what I was doing at the time. I looked back and saw what had happened. I did not think forward at all. None of that was like an intentional kaboom that had happened, it just did."
Most importantly: "Get out and vote. If you can't vote then register other people to vote. Get people to the polls, make sure that people who need to vote, can vote," González said, adding a plug for their merchandise. "Buy the shirts on our website because they can register people to vote. Electronics are lovely, lovely."
Governor Newsom announces new gun safety legislation
In 2021, Calif. was ranked as the #1 state for gun safety by the Giffords Law Center, seeing a 37% lower gun death rate than national average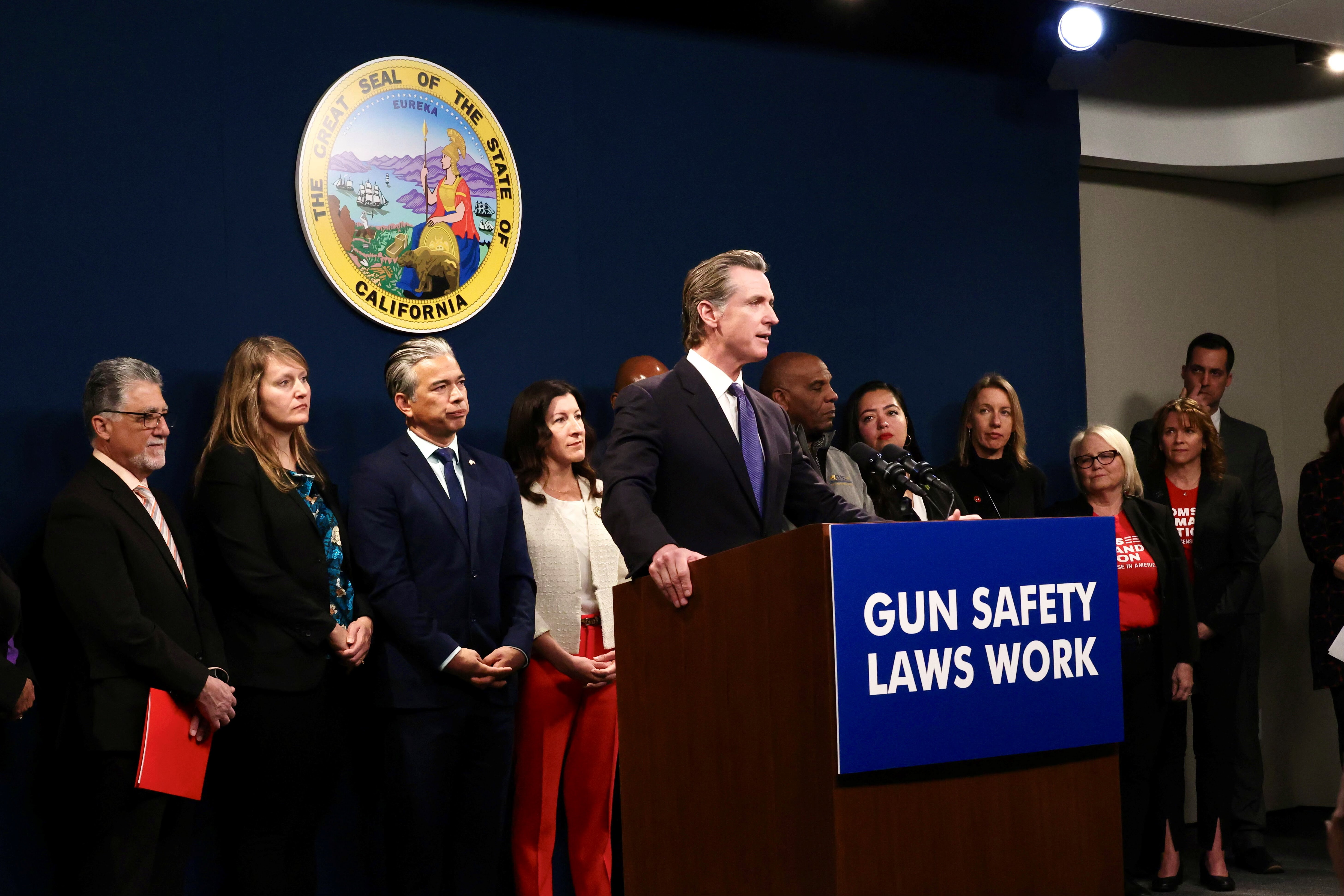 SACRAMENTO – In the wake of multiple mass shootings that took the lives of 19 Californians in just 72 hours last week, Governor Gavin Newsom, Attorney General Rob Bonta, and Senator Anthony Portantino (D-Burbank) announced new gun safety legislation to modernize and strengthen California's public carry laws.
"Only in America do we see the kind of carnage and chaos of gun violence that destroys our communities and our sense of safety and belonging," said Newsom. "America is number 1 in gun ownership and we far surpass every developed nation on Earth in gun deaths – it's not complicated. In California, we've passed common sense gun safety laws and they work: we have a 37% lower gun death rate than the national average. We're doubling down on gun safety and strengthening our public carry law to protect it from radical Republican attacks."
According to the Center for American Progress, efforts to weaken concealed carry laws across the country have increased violent crimes – with studies showing gun homicides increased by 22% in states that passed permitless carry laws and violent crimes with a firearm went up 29%.
Newsom signed a package of gun safety laws last year, making it easier for Californians to sue manufacturers of illegal assault weapons and those spreading them, allowing lawsuits against irresponsible gun industry members, strengthening prohibitions on ghost guns, as well as restricting marketing to minors. 
"The mass shooting incidents we have seen over recent weeks bring to light the need for stronger protections for our communities. The fact is, individuals who are not law-abiding, responsible citizens simply shouldn't possess firearms — and they especially shouldn't be allowed to carry a concealed weapon in public. When a gun is placed in the wrong hands, it is deadly," said California Attorney General Rob Bonta. "The Second Amendment is not a regulatory straightjacket — we must protect our communities. The time for thoughts and prayers has long passed, we need brave and immediate action by our leaders – here in California and beyond. We owe our community stronger protections. I urge our state leaders to quickly adopt SB 2. We can't afford to wait even one minute more."
Last June, the U.S. Supreme Court struck down a New York law, aspects of which mirrored California's public carry laws, and the legislation announced today – Senate Bill 2 by Senator Portantino – would make fixes necessary to update the standards and processes for obtaining a public carry permit in California.
Senate Bill 2 strengthens California's restrictions regarding public carry laws by:
Enhancing the existing licensing system – ensuring those permitted to carry firearms in public are responsible and law-abiding individuals;
Protecting children – setting a minimum age requirement of 21 years of age to obtain a CCW license;
Advancing stronger training requirements – ensuring proper handling, loading, unloading, and storage of firearms; and
Identifying certain sensitive public places – establishing safe community places where people should expect freedom from gun violence.
"In the wake of the recent tragedies in Monterey Park and Half Moon Bay and the continued threat of mass shootings, it's critical that California leads on the issue of gun safety and reform. I am proud to be working with Governor Newsom, Attorney General Bonta and activists on SB 2 to strengthen our existing public carry laws and ensure every Californian is safe from gun violence.  We must be diligent in addressing the gun violence epidemic in our country and public carry laws are a key component of this," said Senator Anthony Portantino.
California launched an 18-month campaign to promote gun violence restraining orders – "red flag laws" – that allow law enforcement, family, coworkers or friends to petition a court to temporarily remove weapons from people deemed dangerous to themselves or others. A study from the Violence Prevention Research Program at the University of California, Davis found that California's red flag law was used to stop 58 threatened mass shootings since 2016.
California's gun safety laws work. In 2021, California was ranked as the #1 state for gun safety by the Giffords Law Center, and the state saw a 37% lower gun death rate than the national average.
According to the CDC, California's gun death rate was the 44th lowest in the nation, with 8.5 gun deaths per 100,000 people – compared to 13.7 deaths per 100,000 nationally, 28.6 in Mississippi, 20.7 in Oklahoma, and 14.2 in Texas.
Moms Demand Action Founder Shannon Watts noted: "The Supreme Court's reckless Bruen decision opened up the floodgates for more guns in more places — but with this bill California once again renewed its commitment to being a national leader in the fight against gun violence. While the gun industry celebrated the ruling that put their profits over our safety, our grassroots army is proud to stand with our Gun Sense Champions in California to pass this critical bill and make our communities safer."
"Following the Supreme Court's egregious decision in the Bruen case, it is vital that the Golden State takes meaningful action to protect all Californians from the threat of gun violence. SB2 would do just this by updating and improving the state's already strong concealed carry license system, and ensure that loaded and concealed weapons are not allowed in certain sensitive places. With SB2, leaders in California are continuing their leadership in prioritizing the public health and safety of all its citizens," said Brady Campaign President Kris Brown, adding "Brady applauds Senator Portantino for introducing this important bill, and thanks Governor Newsom and Attorney General Bonta for their continued leadership on this issue, and urges the California legislature to pass it without delay."
Giffords State Policy Director Ari Freilich stated: "In the face of tragedy, California's leaders act. They've led the nation on gun safety reform and made California a much safer state than most. But today, grieving communities know all too well how much more work there is to do. California achieved an all-time record low gun fatality rate in 2019. But like the rest of the country, we have faced record spikes in gun sales and violence since the start of the pandemic and a flood of new weapons in public spaces as a result of the US Supreme Court's dangerous Second Amendment ruling last year. Passing SB (2) will strengthen communities' ability to respond to these threats by requiring stronger vetting and safety training to carry weapons in public and by designating vital community spaces like parks and playgrounds as off-limits to weapons throughout the state. We thank leaders like Governor Newsom, Attorney General Bonta, and Senator Portantino for their work and commitment to make all Californians safer and freer from violence."