TV critics take on the fall lineup
Even the cable reruns are gay now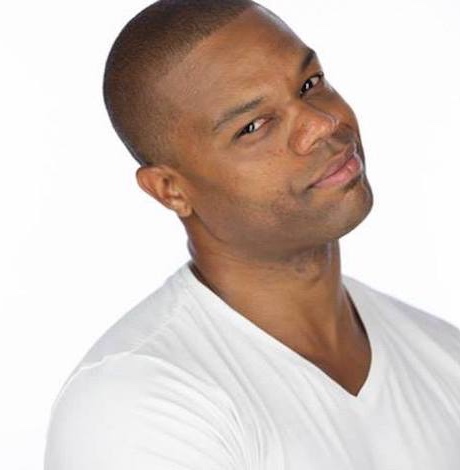 With more broadcast, cable and streaming network programs than ever before, gay television critics have their hands full, in a constant state of binge-watching all the new and returning series.
At the Television Critics Press Tour, which took place in Beverly Hills, the Los Angeles Blade's Susan Hornik talked to gay television critics about their favorite shows.
Malcolm Venable, senior writer, TVGuide.com This fall, I'm excited about the return of "The Deuce," where the divine Maggie Gyllenhaal this season will be giving less blowjobs in dirty theaters and producing porn in 1970's New York City. Last season, the series flirted with depictions of gay sex, and here's to hoping that this season will take those flirtations even further, by showing more same-sex porn and what happens when authorities try to clamp down on it.
Like everyone else with a pulse, I'm also keen to see what ways the Pearsons of "This Is Us" will be making us cry again — I suspect it's only a matter of time before they push a grandma down a flight of steps or punt a puppy across a football field. Though Denis O'Hare is highly unlikely to return as William's partner unless the show is going to depict some kind of dead person-alive person romance, we can probably count on some type of LGBTQ representation…or at least more Beth. I need more Beth. I'm also giddy with anticipation for another season of "The Good Place." It's a show that never fails to make you happy.
Of course "Will & Grace" comes back again this fall too, and, like a fabulous queen who has faithfully applied moisturizer with SPF every day, this show is aging really well. "Crazy Ex-Girlfriend," in its final season, promises to be bonkers, and though they're both animated, "She-Ra" and "Chilling Adventures of Sabrina," both on Netflix, promise to bring more kick-ass women to the small screen and give lots of queer fangirls new crushes to obsess over.
Jim Colucci, freelance television critic, author of "Golden Girls Forever" and "Will & Grace: Fabulously Uncensored"
Of all the new and returning fall shows, the thing I'm most excited about, from both an overall and LGBT perspective, is a classic: "Will & Grace." The show returned last fall, just when the world needed it again, as the current administration regularly threatens LGBT rights. 
After all, this was a show that in 1998 — eons ago, as far as LGBT rights go — captured the world's hearts and minds, and showed the humanity of gay and lesbian characters. That, plus the show has always been one of the wittiest, campiest, and yet most touching sitcoms ever on TV.  Now that it's back for a second "rebooted" season, things are changing — Will's mom is engaged to Grace's dad, Jack has a new, steady boyfriend — and the show and its cast is becoming more diverse.
One of the things that stood out most to me when I wrote my book, "Will & Grace: Fabulously Uncensored" is when the show's creators, Max Mutchnick and David Kohan, told me that they enjoyed deliberately "writing themselves into a corner" with the cliffhanger of every season. It challenged them as writers in determining how to proceed with the next season's storylines, and therefore ultimately made the show deeper and better.  Last season's cliffhanger sure did force some changes, and I can't wait to see how those play out.
Brendan Haley, contributing writer for PRIDE.com
As we can expect the forthcoming season three of "The Crown" to debut a brand new cast, it'll be exciting to see the developments in one relationship in particular, both performance and story-wise, Princess Margaret (Helena Bonham Carter) and her bisexual ex-husband Antony-Armstrong Jones (Ben Daniels).
Antony's sexuality played a key role in last season's drama, depicting the harsh judgments that LGBT people faced in the 1960s.
Also, obviously I anticipate the return of "Will & Grace" this coming fall season, knowing several new comedic additions are in store, including the legendary Chelsea Handler, and the talents of Brian Jordan Alvarez (Estefan).
Where the landscape of TV show reboots can sometimes plateau, "Will & Grace" has not only come back harder than where it left off in 2006, it has thrived in a new era of entertainment, receiving nominations for both Primetime Emmy Awards for Outstanding Supporting Actress (Megan Mullally), and Guest Actress (Molly Shannon) in a Comedy Series.
Frank DeCaro, writer/comedian I'm most excited for the fifth and final season of "Gotham." I've been obsessed with this lush, twisted, delicious, funny, gorgeously costumed, and perversely sexy "Batman" origin story since its debut. What's not to love? Pansexual girl gangs! Erotic tension between the Penguin and the Riddler! A hunky Mr. Freeze with an enormous freeze gun! Watching it makes me happier than a queer in Arkham, and, hold on to your Batpole, this is one series that is sure to go out with a bang!
Hunter Ingram
It's only been a few months since Pop's "Schitt's Creek" wrapped its fourth season, but the Canadian import has left a maple leaf-sized hole in my heart waiting until season five to arrive in 2019. Lucky for us Schittheads, the Catherine O'Hara-Eugene Levy-fronted comedy series saved the final episode of its 13-episode order for a Christmas special, set to arrive in December.
The series has matured from its fish-out-of-water roots into a genuinely uproarious laugh riot with undercurrent of heart and family, and I, for one, can't wait to see what they do with "Schitt's Creek" holiday special. Family dinner at Cafe Tropical? Some caroling from Jazzagirls? If nothing else, David and Patrick, TV's most underrated gay romance, better find themselves under some mistletoe.
Eight seasons in, FX's "American Horror Story" has hit some scary-good highs and frustrating lows. Many of the former came in its first and third seasons — "Murder House" and "Coven," respectively — meaning September's crossover season between the two installments comes with ultra-high expectations.
The tease of a return to LA's deadliest house and a visit from a few of Miss Robichaux's Academy's finest already has my spine tingling. But the addition of the Drama Queen herself, Joan Collins, and the lingering hope for more surprise faces (Jessica Lange, perhaps?) make this the most highly anticipated "AHS" in years. Don't let us down, Ryan Murphy!
Netflix's churns out so much original content it's hard to lose things amongst the deluge. But one thing I've kept my eye on is Cary Fukunaga's "Maniac," a trippy limited series about a questionable drug trial, starring Emma Stone and Jonah Hill. It was first announced two years ago and since then, the drip-drip of pictures and promises it's happening have kept me thirsting for more.
With the recent announcement it will arrive Sept. 21 and a psychedelic teaser to boot, this one has already grab my attention. And that's even without our first glimpses of co-stars Justin Theroux and Sally Field!
Movie stars on the small screen rarely have the same shock value as it had at the dawn of Peak TV. But Julia Roberts is an exception. The Oscar winner is taking on her first series regular (let's not forget that stellar guest spot on "Friends" in 1996) with Amazon's "Homecoming," an adaptation of the popular podcast (Nov. 2). No one doubts Roberts' talents, but how do they translate to episodic television, let alone a character-driven half-hour thriller that's already a go for two seasons. I'm ecstatic about the potential, and not just because she finally lands "My Best Friend's Wedding" co-star Dermot Mulroney as her boyfriend.
Dennis Pastorizo, TV Host, Host of LATV Network's The Zoo
Shows like "The Big Bang Theory," "The Voice" and "Dancing with the Stars" seem like they've been on forever and are here to stay, so I don't feel as much anticipation for their premieres. I am, however, thrilled to see the new "Magnum P.I." with Jay Hernandez. I'm usually weary about remakes but he's a hunk and the locations look amazing.
Speaking of remakes and reboots: I am excited to see what the new season of "Murphy Brown" will look like. The show's been off for 20 years and I'm wondering if its core audience will return and how much more can be done with the characters.  And although I never cared for "Last Man Standing" on ABC, I want to see how long it will last on FOX.
Original episodes are currently running on Antenna TV, but if it isn't available on a streaming service beforehand,  I don't know how much hype can be built around the premiere or if viewers will remember important plot points, given Antenna TV is nowhere near accessible or popular as a Netflix or Hulu.
"The Conners"  is definitely going to be must-see-TV, at least for its first episode, because we all want to know what will happen to Roseanne's character.  Only time will tell if she is indeed the glue that kept everything together in that show, or if her supporting cast is strong enough to continue the series' legacy.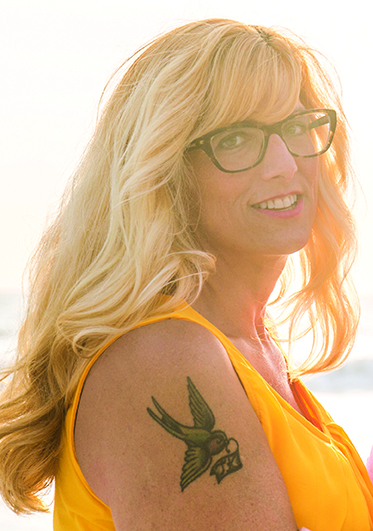 Diane Anderson-Minshall, Editorial Director, The Advocate magazine and Chill magazine
Trial & Error is amazingly funny and criminally underrated, and there's a gender subversive bent to a lot of it. The first season had explicitly queer content and though it was played for laughs, it was never at our expense. I'm expecting the same out of season 2, plus Kristin Chenoweth chews the scenery like no other actress can.
R.K. Russell's life, sport & bisexual awakening 
This Black queer former NFL player says he's fighting "for us all to be seen, whether it be in the pages or on the screen"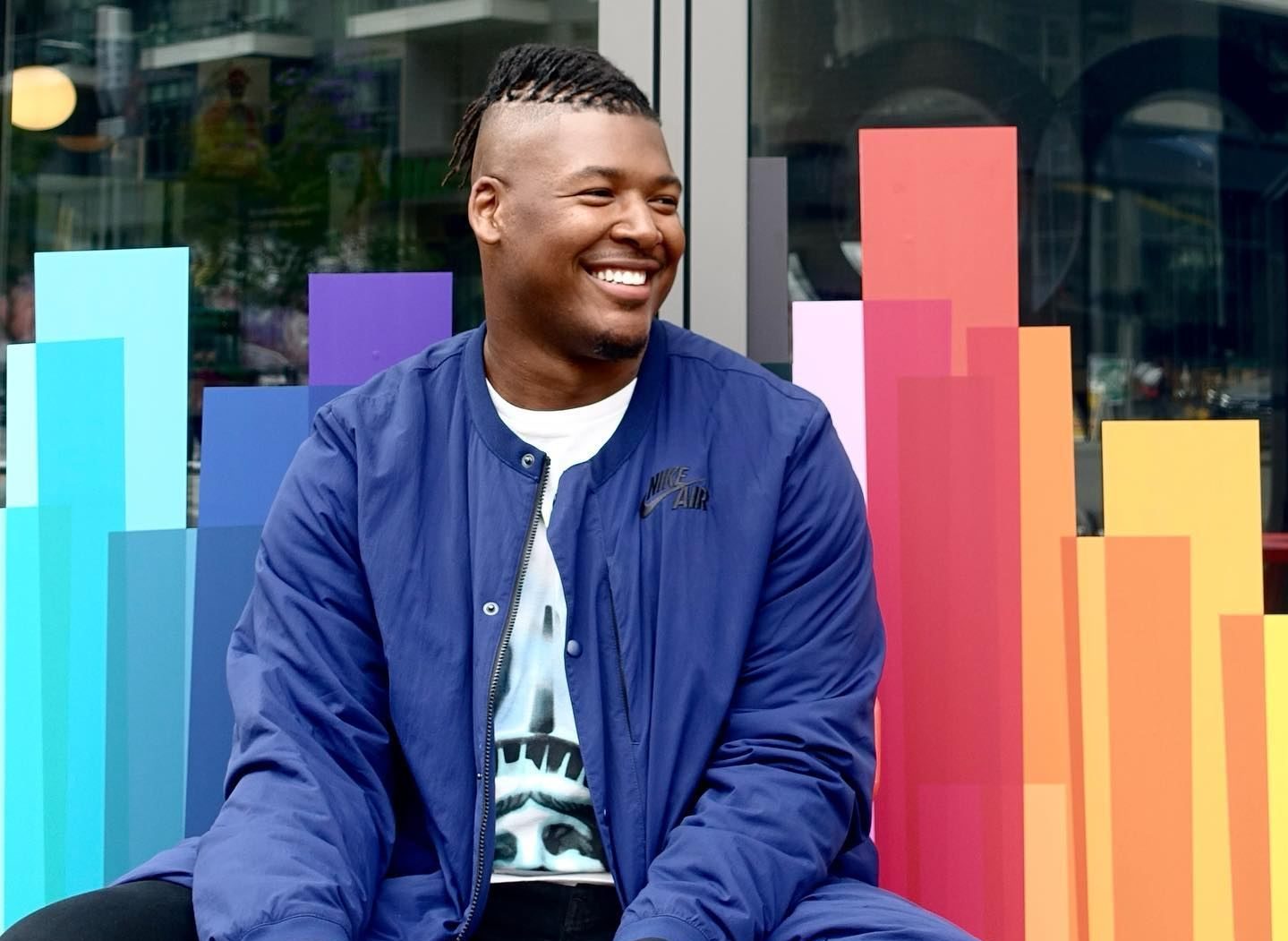 WEST HARTFORD, Conn. – He's tackled opponents on the gridiron, paved a path for out LGBTQ+ athletes and shared his unique voice in words and prose. Now R.K. Russell is celebrating the release of his long-awaited memoir, The Yards Between Us, as well as a Hollywood deal to bring his story to television viewers. 
It's something Russell told the Los Angeles Blade he never dreamed would be possible, even as a child.
"Grown me could barely imagine the book, let alone, little me," Russell said. "It is something I have not seen before, and something that doesn't really exist. Something that is so shocking even to me, this being my life. I think the reason that I continue to take these opportunities that come to use my platform and my voice and my talents, my gift, to not just tell these stories, but to hopefully champion other people in their story. To just fight for us all to be seen, whether it be in the pages or on the screen, everywhere people exist. We exist."
As the Blade reported in August 2019, Russell came out as bisexual in a feature for ESPN. The NFL defensive end was drafted by the Dallas Cowboys in 2015 and played a few seasons for the Tampa Bay Buccaneers and Buffalo Bills. After coming out as a free agent, Russell wasn't able to fulfill one of his dreams — to play professional football as an out and proud bisexual man. But at that time, he said all he was focused on was living his truth.
"It was a powerful time in my life," Russell told the Blade. "It was the first time I really felt that I was taking all this control and I wasn't just at the mercy of the NFL or waiting for that phone call, or at the mercy of friends, family, lovers. It was my decision and my moment and my truth. And I got to express it in a form that felt very genuine to me."
The Buffalo native called the experience "freeing."
"I didn't think I'd realize how much I had been proverbially holding my breath until that moment. And then it just felt like such an exhale. It's such a freeing thing, and the weight of the burden of that secret, of that shroud, or that shame," he said. "I just realized how heavy what I had been carrying for so long. So, definitely a powerful and freeing moment."
Having already told part of his story to ESPN, The New York Times and other news outlets over the years, there was a reason Russell felt it was important to write the rest of his story.
"That was just a very specific part of my life, and it showed me that maybe by sharing my whole story, my life and my journey and my truth and other parts could be just as impactful, if not more impactful," he said. As he set out to write the memoir, he said he first experienced imposter syndrome, until he came to a realization.
"The point that got me through was, 'What would little R.K. read that would have helped him? What was a book that didn't exist when he was young, and that he could have picked up and seen himself, or that people like him can pick up and see themselves? Or even people unlike him, to get a human connection to someone that does not look like them or doesn't play sports?' So, I think the huge, final push was, 'What would I have liked to have read as a child?' And hopefully that will help other people."
The Yards Between Us traces not only Russell's football career and his love for the game, for both men and for women, but also what it was like for him to keep his bisexuality secret and the tension between his private and public lives. As his weighs upon him, he's dealt a devastating loss, an event that leads to an all-enveloping darkness, until finally he recognizes, it's time to make a change.
Since coming out, he's found love with his boyfriend, Corey, grown closer to his mother and this September he'll mark four years sober.
Russell's memoir has won him accolades from LGBTQ+ readers, but not just them.
"I've also gotten a lot of support from people who aren't LGBTQ+ who see the value in the story, but also see the value in the intersections of it all. Because I don't just talk about being a bisexual, I talk about being a Black man. I talk about being a football player, defining masculinity and redefining masculinity. There's a lot of intersections that my story crosses. And I think for people to see all of these layers also coexisting in one person, that's important to see the bridges between these communities that at times can be put against each other, or it can be divided, to see them all exist within one person."
While all that sounds very serious, Sony Pictures Television sees comedy gold in exploring Russell's intersectionality of sports, race, sexuality and masculinity. His memoir is being adapted into a half-hour comedy series, as Deadline reported. Russell is co-writing and executive producing a half hour comedy series with Saeed Crumpler of "Flatbush Misdemeanors," alongside Gabrielle Union, who is a producer in her own right as well as wife to Dwyane Wade and stepmother to their 15-year-old trans daughter, Zaya Wade. As the Blade reported last month, the Wades left Florida because of its anti-trans policies and laws.
"She's fantastic. Amazing," said Russell. "If anyone wants to know what allyship looks like, Gabrielle Union and Dwyane Wade and their whole family, they're so amazing. "
Union, he said, recognizes the importance of representation. "It's important to have genuine representation, whether it be during Pride Month with companies and campaigns or in shows and books that our stories are coming from, that there are Black queer writers writing Black queer stories hopefully also in part started or acted by Black queer artists."
Long before he wrote a word of his memoir, Russell has been publishing his own poems, which he told the Blade was his "way to express life with words." He said he started writing poetry following the death of his stepfather.
"It was a way for me to kind of name grief, without naming it. I didn't have that vocabulary, that word at that time, but I was feeling it so intensely," he said.
One of Russell's poems, Tributes, was an effort at explaining bisexuality and his experiences. "'Bisexuality,' the word, means something slightly different to you, to me, or to someone else. I can talk about the experience in a way that is so varied and so broad and to me, so true and genuine." Below, an excerpt from that poem:
Love is freedom
and the freedom to love is a birthright,
or at least it should be.
These years fill my canvas
and I know too much of life to expect
only one color to leave its strokes across my heart.
Paint is intended to mix no matter the artist. —Tributes, by R.K. Russell