WeHo Council gets death threats after Trump Star removal vote
Mayor John Duran says threats are violent, anti-gay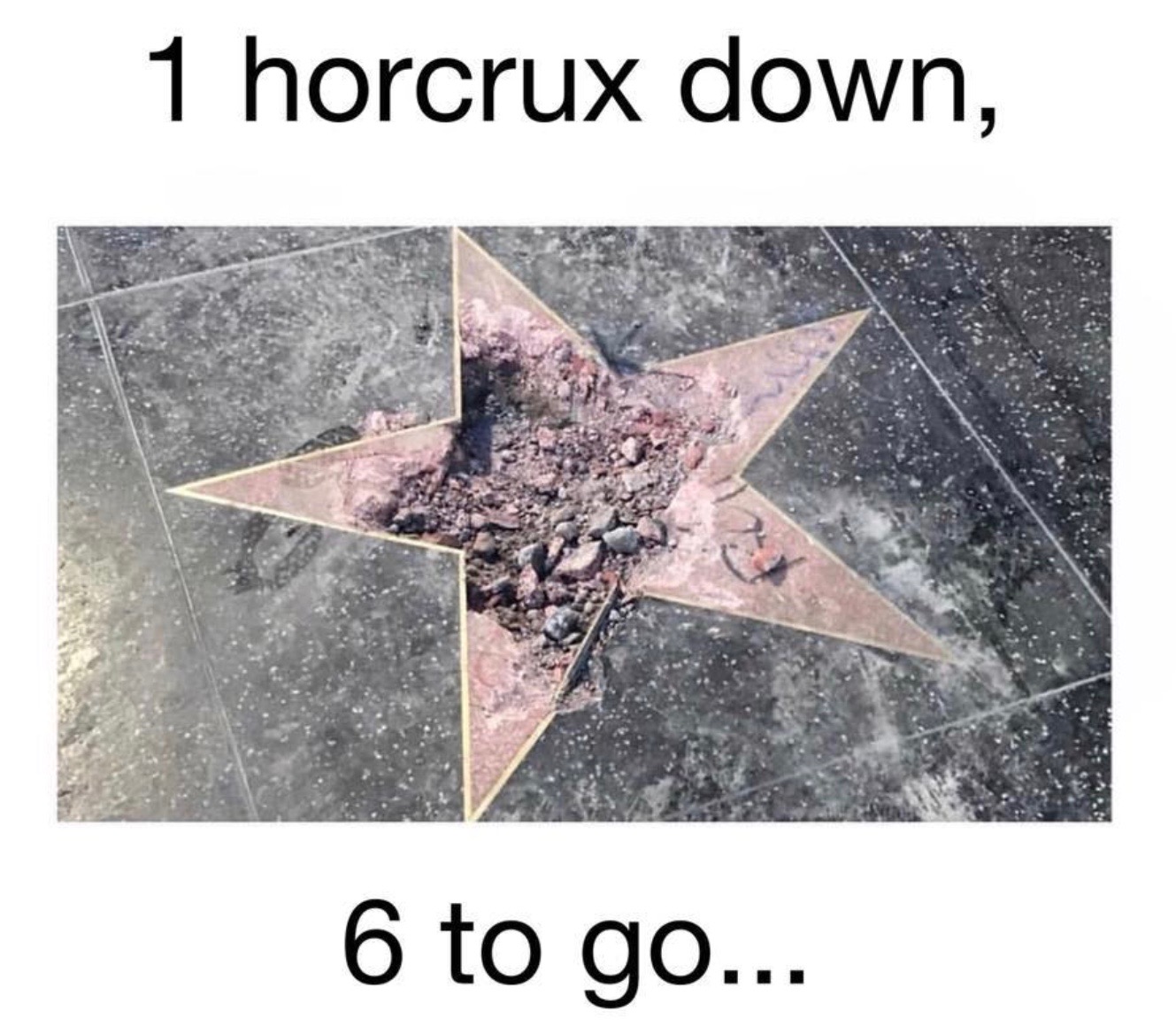 A unanimous vote by the West Hollywood City Council Monday night passing a resolution asking the Hollywood Chamber of Commerce and the City of Los Angeles to remove Donald Trump's star from the Hollywood Walk of Fame on Hollywood Boulevard has touched off a flurry of threats to city officials.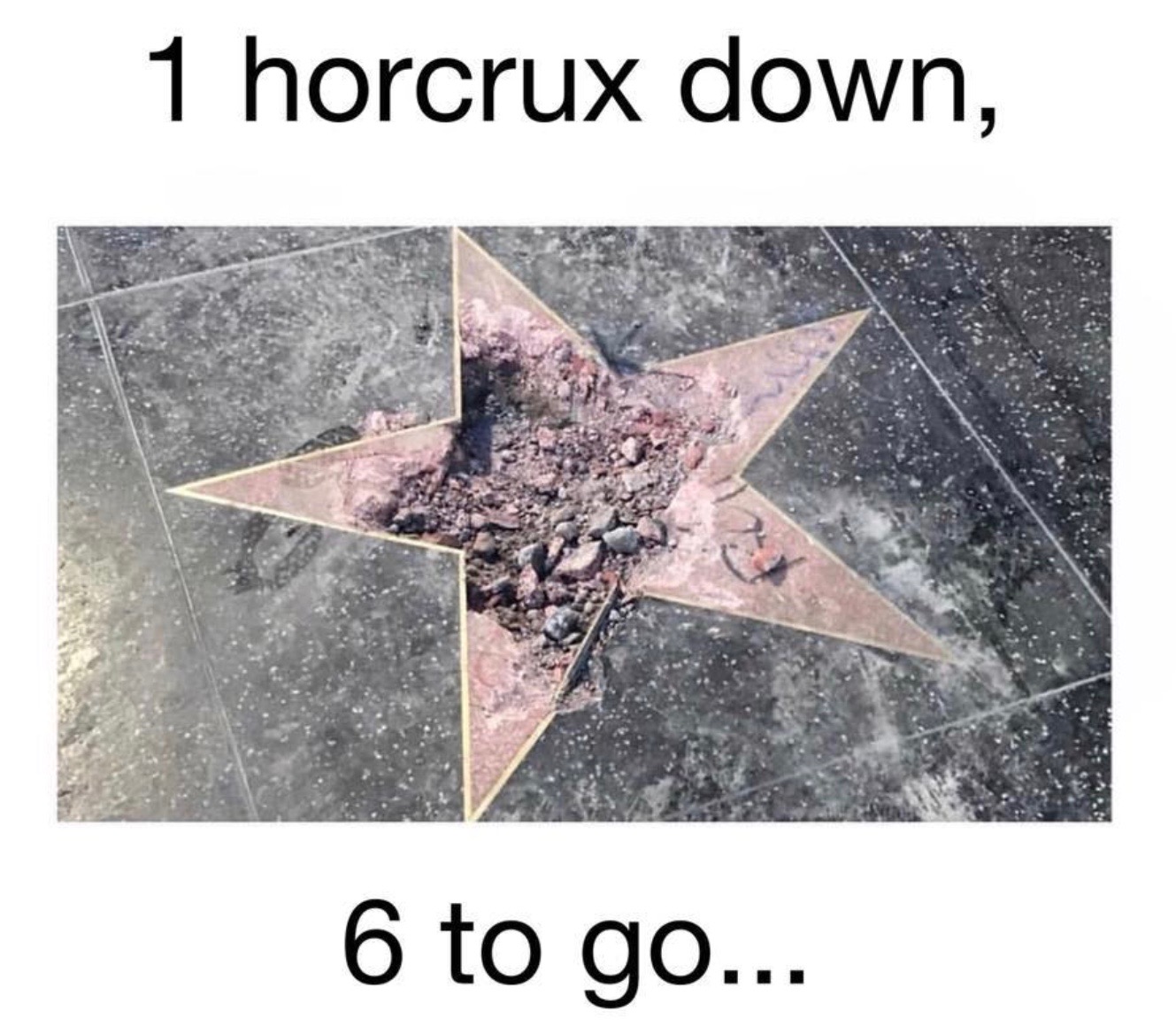 In a long post on his personal Facebook page Tuesday, Aug. 7, West Hollywood Mayor John Duran noted that hundreds of angry emails from supporters of President Trump flooded the city's offices. One caller left a voicemail message saying: "What is WeHo? I am going to start shooting faggots one by one."
Duran wrote: "This is one of the numerous voicemails that was left at city hall last night. There are hundreds of emails coming in right now to city hall. Most of them are filled with anger. Some threaten violence. Many are filled with ignorance, prejudice and homophobia."
The Council's actions had been sparked by the actions of 24 year-old Austin Clay of Glendale, who spoke at the Council meeting in support of the Resolution. Clay was charged Monday in Los Angeles Superior Court after he was accused of smashing Trump's star with a pickax last month. Clay has been charged with one felony count of vandalism, according to the Los Angeles County District Attorney's Office. He could face up to three years in jail if convicted, prosecutors told the Los Angeles Blade
There have been calls to not replace and simply remove Trump's star after the latest round of vandalism based in part on Trump's alleged abuse of women, his countless inflammatory statements regarding minorities and immigrants, some of which use racist code words, vernacular and phrasing, as well as his well publicized mocking attack on New York Times reporter Serge F. Kovaleski, who has a physical infirmity, while Trump was campaigning as a Republican presidential candidate in 2015.
The star was also previously vandalized with a sledgehammer and pickax by James Otis days before the November 2016 election. Otis pleaded no contest to that felony charge. He was sentenced to community labor and ordered to pay $4,400 for the damage.
Prior to the Council's vote, the President's supporters who spoke at the council meeting last night "were ugly and cruel" Duran wrote. "One mocked a transgender man. They were disruptive and loud. I had to quiet the audience repeatedly to maintain a level of civility."
Duran also pointed out that, "We are not the decision makers. We have no authority over Hollywood Blvd. At most, the resolution was a petition for them to take action which they can heed or ignore."
But Duran spared no words for the man at the center of the controversy – Donald Trump – whose star was paid for with $30,000. And since the star was awarded in 2006 for his Miss Universe pageant, which he promotes with "The Apprentice," he shows off his new baby Baron without addressing wife Melania with no one but close lawyer Michael Cohen and the National Enquirer aware that he was allegedly having an affair with Playboy model for a year.
"[W]e won't sit back silently while right wing forces attempt to harm our community and our values," Duran writes. "Donald Trump is a monster. He is a thug. He was declared the winner of the 2016 election. He could have brought our nation together as a leader should. He could have asked us to raise ourselves up to a greater good for our common welfare and future. But he didn't.
"He acts like a child," Duran continues. "He throws tantrums, tweets and pouts. He is cruel. He is divisive. He lies incessantly. Evidence is being released that shows that he and his family were working with a foreign nation against the interests of the United States for their own profit and gain. If the future continues down that path, he should be impeached and treated with disdain by all future generations of Americans as a modern Benedict Arnold."
Despite the city council's resolution, it's unclear if Trump's star would actually be removed.
A spokesperson for the Hollywood Historic Trust told the LA Blade that the organization has planned on repairing Trump's star after the recent smashing.
Removal of Trump's star would create controversy and questions about some of the other stars honored on the Walk of Fame who have been disgraced. There was an outcry to remove comedian and TV actor Bill Cosby's star after his conviction this past April on three sexual assault charges, along with the dozens of women who came forward and accused him of sexual misconduct. Hollywood Chamber of Commerce Chief Executive Officer Leron Gubler, however, told the media that stars are all part of the fixed historic landmark on Hollywood Boulevard and would not be removed for that reason.
One major Hollywood figure, Star Wars actor Mark Hamill, weighed in Tuesday on Twitter offering: "How about replacing it with someone who really earned it? Like @carrieffisher"
Reporting by The New York Times, the staff of the LA Blade, and wire service reports.

Newsom will face recall, second time in state history to recall a governor
Newsom's recall election will mark the second time in California's history that a recall effort triggered a ballot, out of 55 attempts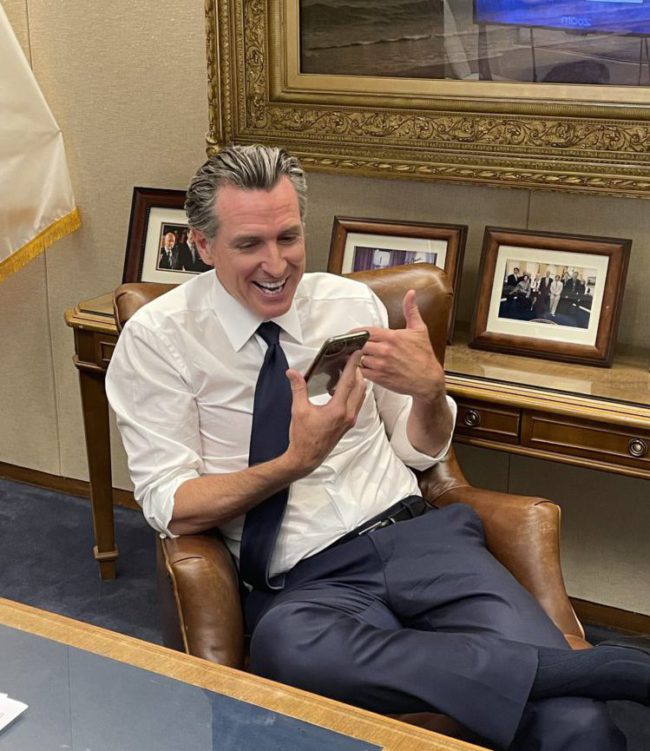 SACRAMENTO – California Secretary of State Shirley Weber announced Wednesday that a recall election against Governor Gavin Newsom will proceed. Only 43 signatures were withdrawn from the recall petition, according to Weber's office, bringing the total number of verified signatures to 1,719,900, which "still meet[s] the threshold to initiate a recall election."
State law provides a thirty day window for voters to withdraw their signatures from petitions to recall the governor.
California's Department of Finance will now begin estimating the costs of the recall — including costs of holding it as a special election or as part of the next regularly scheduled election — which will then be submitted to the governor, the lieutenant governor, the secretary of state and the chairperson of the Joint Legislative Budget Committee by August 5, according to a letter outlining the process from the Secretary of State's office.
The Sacramento Bee newspaper reported on June 10 that the effort to recall Newsom is estimated to be nearly $215 million according to a report compiled by the California Department of Finance based on data from the state's 58 counties.
That's more than the $200 million local public health officials requested from Newsom in this year's budget to help them recover from the COVID-19 pandemic and prepare for future challenges, the SacBee noted.
Newsom's recall election will mark the second time in California's history that a recall effort triggered a ballot, out of 55 attempts the Los Angeles Times reported.
CapRadio's political correspondent Nicole Nixon reported Wednesday that organizers of the current recall movement say there are a list of reasons Californians signed their petitions: frustration over Newsom's handling of the pandemic and business restrictions, worsening housing and homelessness crises, high taxes and cost of living, and more.
"This is about Gavin Newsom and his failed policies that have put us in the state of despair we are in today," said Orrin Heatlie, the main proponent of the recall effort.
But Newsom and his team have framed the recall as an effort by supporters of former President Donald Trump and right-wing extremists to wrest control of the government from progressives CNN reported.
"It is what it is. This is a Republican recall," Newsom said in an exclusive interview with CNN earlier this year. "An RNC-backed Republican recall of White supremacists, anti-Semites and people who are opposed to immigration and immigrants is an accurate assessment of who's behind this recall."
Polling conducted since the Spring seems to show that amajority of California voters want to keep Newsom in office, though voters are deeply divided along partisan lines. The Public Policy Institute of California's May survey found 57% of likely voters would support Newsom in a recall election, while 40% would vote to recall him.
The Stonewall Inn bans Anheuser-Busch during NYC Pride weekend
"We urge Anheuser-Busch and other companies doing this to publicly commit to stop donating to anti-LGBTQ politicians"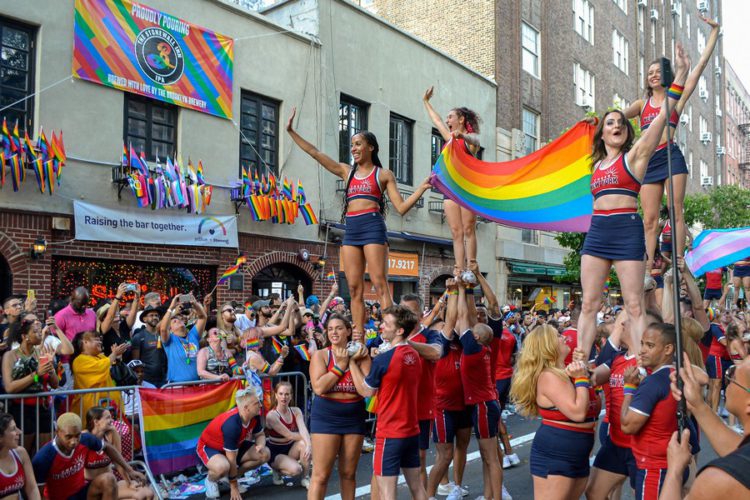 NEW YORK – In response to news that the Anheuser-Busch InBev company had made political contributions to lawmakers behind bills targeting transgender youth, the owners of the Stonewall Inn announced its ban of AB InBev products during New York City's Pride weekend.
The historic West Village pub, widely regarded as the location of one of the seminal defining events in the history of the LGBTQ rights movement, is sponsoring a public 'pour-out' of Bud Light, Michelob ULTRA, and Stella Artois in front of the bar on Wednesday, June 23, to demand that the Leuven, Belgium based AB InBev stop donating to anti-LGBTQ legislators and commit to using its lobbying efforts to advance the Equality Act.
Should the Equality Act be passed, it would afford LGBTQ people with equal nondiscrimination protections under federal law.
"You can't turn your logo rainbow on social media, call yourself an ally, and then turn around and make donations that fuel hate. There are really no excuses, and companies like Anheuser-Busch need to own up to what they've done," said Stonewall Inn co-owner Stacy Lentz. "As a business owner, it's never easy to stop selling a product that affects your bottom line — especially during the busiest weekend of the year. But I'm an activist above all else and we at The Stonewall Inn know we bear a unique responsibility to call out hypocrisy when we see it. Anheuser-Busch and other companies must do better."
According to data from the Keep Your Pride campaign, since 2015, Anheuser-Busch has made 48 donations totaling $35,350 to 29 anti-LGBTQ legislators behind recent bills attacking trans youth.
Through its nonprofit arm, The Stonewall Inn Gives Back Initiative, Stonewall recently launched the Safe Spaces program, which identifies and certifies entertainment venues, food and beverage locations, stores, businesses, and other public venues as Safe Spaces for LGBTQ people. Under its criteria for certification, businesses that donate to anti-LGBTQ lawmakers would not qualify for designation as a Safe Space.
"As one of our best-selling products, Bud Light has been a longtime staple here at The Stonewall Inn. It's deeply disappointing to learn that Anheuser-Busch has given money to lawmakers who are attacking trans kids, some of the most vulnerable people in the LGBTQ community," said Stonewall Inn co-owner Kurt Kelly.
"We're horrified to see so-called allies supporting lawmakers who would make life harder for anyone in our community. We urge Anheuser-Busch and other companies doing this to publicly commit to stop donating to anti-LGBTQ politicians and use their lobbying power to support the Equality Act," Kelly added.
SCOTUS ruling on Philadelphia case, LGBTQ groups view with some relief
Immediate reaction from some LGBTQ groups and individuals was dismay, while others viewed the decision as a relief.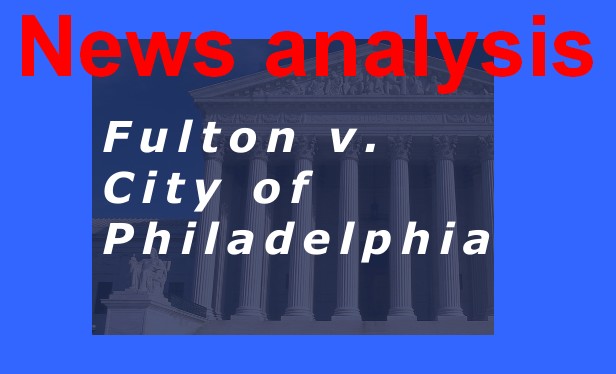 LOS ANGELES – The U.S. Supreme Court issued its decision Thursday in a unanimous 9-0 ruling that sided with Catholic Social Services (CSS), a Catholic social services organization that sued the city of Philadelphia after the city excluded it from a foster-care program due to the organization's refusal to certify same-sex couples as foster parents.
Immediate reaction from some LGBTQ groups and individuals was dismay, while others viewed the decision as a relief. Shannon Minter, Legal Director for the National Center for Lesbian Rights, told the Blade in a phone call Thursday that ruling was exceedingly narrow, aimed at a section of the contract by the City, and more importantly was not a ruling that would be citable in future litigation in terms of an anti-LGBTQ basis.
Specifically, Minter noted that with this unanimous ruling, the court avoided a situation that would overrule the 1990 SCOTUS ruling in the case of [the] Employment Division, Department of Human Resources of Oregon v. Smith. That ruling, authored by Associate U.S. Supreme Court Justice Antonin Scalia had made it more difficult for religious people and groups to secure exemptions from generally applicable laws governing anti-discrimination
Scalia in the Smith case wrote; [that] "the Court has never held that an individual's religious beliefs excuse him from compliance with an otherwise valid law prohibiting conduct that government is free to regulate. Allowing exceptions to every state law or regulation affecting religion would open the prospect of constitutionally required exemptions from civic obligations of almost every conceivable kind." Justice Scalia goes on to cite examples such as compulsory military service, payment of taxes, vaccination requirements, and child-neglect laws.
Minter opined that while there would be definite support to overturning Smith by three of the court's conservative justices Samuel Alito, Clarence Thomas and Neil Gorsuch, he was doubtful that Chief Justice John Roberts, or the court's other conservative justices Stephen Breyer, Brett Kavanaugh, and Amy Coney Barrett are that eager, given that there isn't a legal remedy or replacement for Smith that would not create chaos within the federal judiciary in future challenges.
Properly understood, today's decision is a significant victory for LGBTQ people, Minter said. The focus is on a contractual clause which is what the court focused in on. Writing in concurrence, Justice Alito noted, albeit it somewhat sarcastically, "This decision might as well be written on the dissolving paper sold in magic shops. The City has been adamant about pressuring CSS to give in, and if the City wants to get around today's decision, it can simply eliminate the never-used exemption power. If it does that, then, voilà, today's decision will vanish — and the parties will be back where they started."
Minter pointed out that the Court did not change the current constitutional framework, which permits governments to enforce antidiscrimination laws that prohibit discrimination against LGBTQ people even when doing so may have a disparate burden on those who hold certain religious beliefs.
"As a result of today's decision, those who feared the Court might create a sweeping new religious exemption to such laws can breathe a sigh of relief," he concluded.
Also weighing in was Leslie Cooper, deputy director of the ACLU's LGBTQ & HIV Project. "We are relieved that the court did not recognize a license to discriminate based on religious beliefs," she said.
"Opponents of LGBTQ equality have been seeking to undo hard-won non-discrimination protections by asking the court to establish a constitutional right to opt out of such laws when discrimination is motivated by religious beliefs. This is the second time in four years that the court has declined to do so. This is good news for LGBTQ people and for everyone who depends on the protections of non-discrimination laws," Cooper added.
Eugene Volokh, the Gary T. Schwartz Professor of Law at the University of California Los Angeles School of Law, writing in his Volokh Conspiracy blog noted;
Justice Barrett, joined by Justice Kavanaugh, concurring: The original meaning of the Free Exercise Clause is unclear on the broader question of religious exemptions from generally applicable laws, but "As a matter of text and structure, it is difficult to see why the Free Exercise Clause—lone among the First Amendment freedoms—offers nothing more than protection from discrimination." Yet Justices Barrett and Kavanaugh are "skeptical about swapping Smith's categorical antidiscrimination approach for an equally categorical strict scrutiny regime, particularly when this Court's resolution of conflicts between generally applicable laws and other First Amendment rights—like speech and assembly—has been much more nuanced." In particular,
To name a few: Should entities like Catholic Social Services—which is an arm of the Catholic Church—be treated differently than individuals? Cf. Hosanna-Tabor Evangelical Lutheran Church and School v. EEOC (2012) [providing broad protection for certain decisions by religious institutions -EV]. Should there be a distinction between indirect and direct burdens on religious exercise? Cf. Braunfeld v. Brown (1961) (plurality opinion). What forms of scrutiny should apply? Compare Sherbert v. Verner (1963) (assessing whether government's interest is "'compelling'"), with Gillette v. United States (1971) (assessing whether government's interest is "substantial"). And if the answer is strict scrutiny, would pre-Smith cases rejecting free exercise challenges to garden-variety laws come out the same way? See Smith.
M. Currey Cook, Counsel and Youth in Out-of-Home Care Project Director at Lambda Legal, issued the following statement. "Today's ruling by the Supreme Court is troubling but, importantly, it refused to give a free pass to people or agencies that want to discriminate against LGBTQ people for religious reasons and is limited to the specifics of Philadelphia's foster care system. Instead, the Court validated the City's 'weighty' interest in the equal treatment of LGBTQ prospective foster parents and foster children. The only reason those interests did not carry the day was due to the specifics of the City's contract. Because the Court decided the case on contract-specific grounds, the City can address the situation by rewriting its contracts."
"But make no mistake. Philadelphia has never refused to work with Catholic Social Services. The agency has continued to receive millions of dollars in foster care contracts from Philadelphia and the contract at issue simply applied a standard, important nondiscrimination principle to its contract agencies. Foster care is a government function, and all governments have a compelling interest in ensuring their contract agencies, including faith-based ones, treat all children and families equally. And today's ruling does mean, at least for now, that different-sex married couples have access to all city agencies, while same-sex couples do not," Cook said.
"The court's ruling today on Fulton is a narrow one, limited in both nature and scope. The most important take-away is that the Supreme Court unanimously refused to allow a religious entity to have a license to discriminate. We stand in solidarity with the community in Philadelphia that is working for the fair and equitable treatment of those who want to provide safe and loving homes to children and hold in our hearts the many children who will be impacted by this decision," Kierra Johnson, Executive Director of the National LGBTQ Task Force said.
"The work ahead for our community is clear – we must continue to advocate for local and state non-discrimination laws, apply the ones that exist and most importantly, fight for the Equality Act, which would provide long overdue Federal protections to the LGBTQ community and many others," she added.
Equality California's Executive Director Rick Chavez Zbur, a prominent civil rights attorney weighed in saying, "Today's ruling by the Court is limited in nature and scope. While the Court ruled against the City based on the specific facts of this case, we are heartened by the fact that it did not recognize or create a license to discriminate. The Court's ruling means that governments can — and must — continue to enforce neutral, generally applicable laws that protect LGBTQ+ people from discrimination both inside and out of the foster care system."
There was a note of defiance and dissent to the ruling from the SPLC listed anti-LGBTQ hate group, the Family Research Council, which released this tweet:
Religious liberty—the freedom to hold religious beliefs of one's own choosing and to live in accordance with those beliefs—is an inherent human right.

— Family Research Council (@FRCdc) June 17, 2021