August 8, 2018 at 9:06 am PDT | by John Paul King
'We the Animals' explores youthful sense of 'otherness'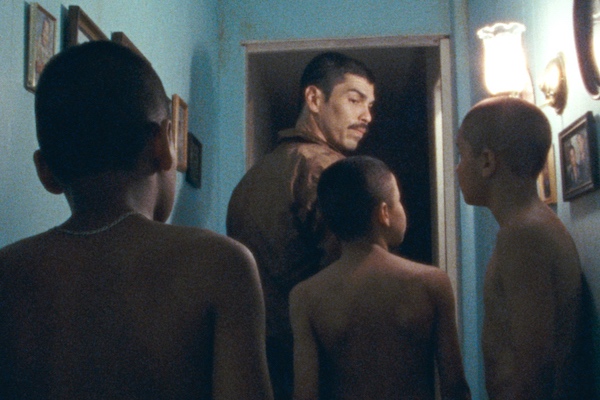 For anyone who knows what it's like to grow up as an "other," it should be no surprise that so many narratives emerging from LGBT cinema – despite the infinite number of possibilities to be explored within a community so diverse – keep returning to one recurring theme: coming of age as a queer person in a straight world.

The process of "coming out" – or not, in some cases – is a universal, keystone experience within the LGBTQ consciousness, and resonates deeply with queer audiences no matter where they are on their own personal journey or what that journey may look like.  Usually, such films tackle the subject from the perspective of teenagers, for the obvious reason that this is the age when sexuality becomes an overriding factor in a person's inner life.

But queerness doesn't start there; ask any person who is gay, bi, trans, or otherwise situated on the spectrum, and they will most likely tell you that they knew they were different long before puberty began to work its life-upending magic.

That's why "We the Animals," Jeremiah Zagar's new film adaptation of the book by Justin Torres, feels like such a welcome breath of life.

Set in upstate New York in the 1980s, the story is told from the child's eye view of 10-year-old Jonah, who lives in an unspecified rural community with his mixed-race family – "Paps," who is Puerto Rican, "Ma," who is white, and older brothers Manny and Joel.  They're a tight-knit crew, but there is tension.  Struggling to make ends meet, the parents work night jobs, leaving the three boys to live unstructured, rambunctious lives much of the time.  Worse, the couple's marriage is unstable; they love each other but their relationship is volatile – Paps is sometimes violent, and Ma wants a better life for herself and her children.  As the effects of this dysfunctional environment begin to show within their household, Jonah feels increasingly isolated – a sense that is heightened by an awakening identity he recognizes as "different" from the rest of his family.

A film narrative about preteen sexuality is a tricky thing to manage, for obvious reasons, but Zagar treats the subject with a respectful and delicate hand – there is nothing onscreen that could be considered exploitative of the film's young actors.  Instead, his movie places it within the context of an environment saturated by toxic masculinity; as Jonah watches his household slowly poisoned by traditional ideas about male identity and the roles those ideas impose upon everyone in the family, he becomes more aware that there is no place for him – or for his blossoming queerness – within that scenario.

Adding an additional dimension to this poignant story, as well as to the separation it builds around its young hero, is a subtle undercurrent of race.  Though the family's ethnicity is never overtly depicted as an issue, it is easily observable to be a factor in the family's sparse interactions with the outside community – and in Jonah's growing awareness of his own "otherness."  It's not a major element – but at the same time it is an integral part of the sense of identity built into "We the Animals," and ensures that the film's up-close point of view is also reflective of a much larger societal experience.

These multiple layers would make little Jonah's all-too-recognizable plight heartbreaking, but what makes it even more devastating is the fact that the screenplay, penned by Zagar and Daniel Kitrosser, takes pains to show us the love in his life, too.  Paps is revealed to us as a man of great tenderness and compassion for his loved ones, making his moments of explosive anger takes stand out in sharp and terrifying contrast.  Through the sensitive performance of Raúl Castillo, we understand that he is not a monster; rather, it is his own deep-rooted expectation of what it means to be a man, frustrated by his sense of failure in living up to it, that is the destructive force – and he is as much its victim as the rest of this family.

Likewise, the boys' mother, played with equal sincerity by Sheila Vand, is a warm and nurturing presence; her occasional neglect and unavailability in their lives is clearly traced by the film's observational stance to her own depression over the emotional turmoil of the marriage, and we feel the ache of her powerlessness right along with her.  As for Jonah's brothers, captured perfectly in the performances of Josiah Gabriel and Isaiah Kristian, it's impossible not to feel compassion as we watch them begin to evolve from exuberant boys into enthusiastic bullies in misguided emulation of their father.

It's Jonah, though, who is the emotional lynchpin of the story, and Evan Rosado is a revelation in the role.  Never idealized, he is as real a child as you will ever see onscreen – completely natural, whether bouncing gleefully on the furniture with his brothers or stealing a furtive glance at the neighbor boy with whom he strikes up an unlikely friendship, he gains our empathy through his unfiltered authenticity far more than could ever be achieved through the artifice of polished performance.

Zagar's movie would be unforgettable just for the superb cast at its heart – but the lush cinematic landscape he builds around them only adds to its strength. Awash in delicate yet luminous color, and largely composed of intimate perspective shots that frequently offer only partial views of their subjects, "We the Animals" feels like a memory; captured by Zak Mulligan's extraordinary cinematography, the imagery is visceral – full of the kind of ultra-specific details that conjure instant emotional flashbacks to remembered experiences – and plants the viewer squarely into the headspace of little Jonah.

Bolstered by Nick Zammuto's ethereal score, and enhanced with artist Mark Samsonovich's breathtaking animated sequences, representing Jonah's escape from bleak reality into the imaginative world of his drawings, the final film allows us to feel with the young protagonist while our adult understanding gives us a wider view.  Instead of judging, we recognize pieces of our own lives, and what might otherwise be a bleak examination of one traumatic childhood becomes a bittersweet catharsis for all.

"We the Animals" – which won the NEXT Innovator award at this year's Sundance Film Festival before going on to with the Grand Jury Prize for Best American Narrative Feature at LA's own Outfest – has invited comparisons to Barry Jenkins' "Moonlight," not just for the similarity in its subject matter and its focus on people of color, but also because of its impressionistic and dreamlike visual style.  While there is an undeniable cultural link between the two films, to seek an equivalence is a mistake; Zagar's movie stands on its own merits as an eloquent and entirely original work of cinematic art.  It's too early to say whether it will garner the same kind of honors earned by Jenkins' Oscar-winner – but no matter how many awards it may ultimately win, there can be no hesitation in considering it an essential piece of queer-centric cinematic expression.

"We the Animals" opens in theaters on August 17.