August 10, 2018 at 3:26 pm PST | by Karen Ocamb
Medical marijuana hero Scott Tracy Imler has died
The announcement was sudden and shocking.
"I am very sad to share with all his friends on Facebook that Scott Tracy Imler passed away this morning here in LA. He died in his sleep. Scott was 60 years old," his husband George Leddy wrote in an Aug. 10 morning post.
"We have been together for thirty years," he wrote.
"We were married for nine years. I will miss him very much. We gave each other the best years of our lives. I will post details on his funeral here on his page. Thank all of you who loved him and struggled with him on so many fronts."
West Hollywood Mayor John Duran responded almost immediately, describing how Imler approached the defense attorney—who represented ACT UP/LA and Clean Needles Now—to represent him in trying to establish a reliable center to raise and responsibly dispense marijuana for medical use by AIDS, cancer and other patients with debilitating illnesses. Many had discovered that pot helped fight nausea after chemo treatments and swallowing toxic AZT another AIDS medications, fighting the "wasting syndrome;" it also helped fight glaucoma and epileptic spells, which impacted Imler. But since 1972, the federal Drug Enforcement Administration listed cannabis as the most serious Schedule I drug, with no "currently accepted medical use and a high potential for abuse," along with heroin, lysergic acid diethylamide (LSD), methylenedioxymethamphetamine (ecstasy), methaqualone, and peyote. Less dangerous Schedule II drugs include cocaine, meth and oxycodone. Imler was very concerned about non-tested pot being sold on the black market.
A Methodist minister, "Scott set up shop as the Pastor at the corner of Fountain and Fairfax in West Hollywood at the Methodist Church. It became the "Sanctuary" for those who wished to receive and use medicinal marijuana," Duran writes. "Remember this was before Prop 215 legalized medicinal or Prop 64 legalized every day use. This was a time when we used the defense of 'necessity' to prevent a greater evil. And it took a lot of work with law enforcement to make it happen," including West Hollywood Sheriff's station captains Lynda Castro and @Buddy Goldman, the DA's office and the City Attorneys. Imler served about 1,000 patients at that church—"the first in Southern California." The church at Fairfax and Fountain also hosted many AA meetings, and served as the headquarters and kitchen for Project Angel Food and for Coalition for Economic Survival (CES).
Imler subsequently joined with northern California medical marijuana advocate Dennis Peron in writing Proposition 215 that allowed for the legal use of medical marijuana with conditions, that passed in 1996.
One of his last Facebook posts was on Aug. 4, the second anniversary of the passage of Prop 64, which was supposed to close loopholes and "clean up" Prop 215. "Almost 2 years since the passage of Proposition 64, purported legalizing marijuana for adult commercial use and 3 years from the passage of its ugly step-sister the Medical Cannabis Regulation and Safety Act by the Californian State Legislature," Imler wrote. "While Prop 64 deserves some credit for several important reforms to criminal statutes regarding personal use and cultivation and home cultivation and its social equity provisions in communities adversely impacted by the "war on drugs," the solely FOR PROFIT provisions of both bills continue to stand COMPASSION on its head. In the category of "Sometimes Less Is More," the simple and straight-forward 274 words of Proposition 215, passed by voters 22 years ago, stands as a testament of doing the right thing, at the right time, for the right reasons."
Imler gained a solid reputation for founding and strictly running the not-for-profit Los Angeles Cannabis Resource Center co-op on Santa Monica Blvd near Gardner, a center that came about with help from Duran, the City of West Hollywood and Wells Fargo Bank. Imler was very cautious and rule-driven, screening out would be con artists.
But then came the feds, launching the pot wars from 1998-2004. On Oct. 25, 2001, the heavily-armed DEA raided LACRC with little courtesy notice to West Hollywood sheriffs and local elected officials. This was all the work of right wing US Attorney General John Ashcroft—the Jeff Sessions of his time— who had already raided scores of cause-minded pot-farms around San Francisco and were now cleaning up So-Cal. They wanted to make an example of Imler and since Imler and two others were not allowed to offer a "medical necessity" defense in court, they took a plea and the federal government confiscated LACRC under the "drug asset forfeiture laws" as ACT UP/LA and others staged ongoing protests in a parking lot across the street.
"It went all the way up to the US Supreme court where certiorari was denied. So the federal government kept and sold the building at Santa Monica Blvd near Gardner," Duran recalls. "Scott was prosecuted under federal law but never had to do any time. It was INJUSTICE for Scott and the Cannabis Resource Center family."
Imler tried to re-establish LACRC, with no luck. And then he ran into head-to-head issues with the Methodist Church, which eventually evicted him. (See his "Fabulous Farewell" below). He and Leddy survived a slew of other problems, including a major close call until Imler was saved by the City of Hope Hospital and a devastating fire that killed their beloved dogs. And while younger LGBT activists may not grasp the power of going up against the heartless federal government at a time when so many were dying of AIDS, anytime the Rev. Scott Tracey Imler was in a room, those who remembered would nod their heads or reach out with hugs to thank him for his brave activism and endurance.
"RIP Rev. Scott. You were my friend. My hero. A warrior for patients and those who were ill," writes Duran. "You brought such fortitude and color to the City of West Hollywood. A hero in the national AIDS movement. We shall not forget you my dear friend."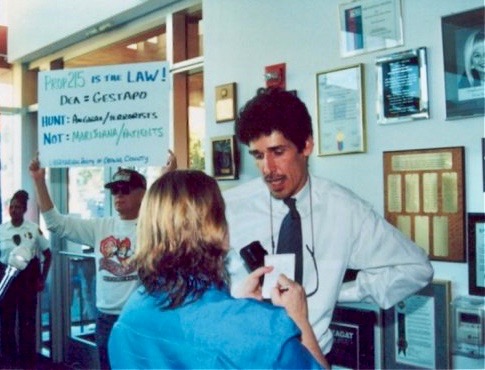 When the Methodists shut down the church, Imler held a Thanks for the Memories: Both Yesterday's and Tomorrow's celebration. Here's the letter Imler sent out as a "Fabulous Farewell and Hello" that talks about so much history during that period of times.
Dear Members, Families & Friends of Crescent Heights United Methodist Church
Greetings, in the name of the Christ of your understanding and in the Spirit of all that is beautiful, loving, and good in the world. I hope you've had a wonderful and re-creational vacation season. In the wake of the Annual Conference's decision to "discontinue" Crescent Heights Church as a local United Methodist congregation, "re-creation" has certainly been the watchword in West Hollywood this summer. As we move through this time of transition and prepare for our final worship service on August 21st, I often times find myself singing the Lord's Prayer to the tune of Auld Lang Syne, with the list of what might "be forgot" only surpassed by the fond recollections I will cherish forever.
Of course, saying goodbye is never easy, particularly to a 97 year-old hometown institution like Crescent Heights Church. Founded in 1914, Crescent Heights Church grew and came of age alongside an exciting young industry called "motion pictures" and has for almost a century played host to mogul and migrant alike, shining a beacon of hope over both the bountiful harvests of modernity and the fields of broken dreams of those who dared to chase them. As a "room at the inn" for so many of West Hollywood's community-based programs of wholeness, justice, and compassion, the church has abided in the same spirit of love, healing, and hope upon which the City of West Hollywood itself would come into being some seven decades later.
But sometimes, the "great oaks" of our heritage can dim the light and obscure the forest of new possibilities sprouting in the shade of a storied past. And then, when winter comes and the creeping veil of dormancy presses in from all sides, even those few stalwart leaves clinging mightily to their branches, — that no rain or stormy blast can seem to dislodge — can only bear witness more starkly to a poignant and timeless farewell, that the coming Spring might prosper the emergent life yet to blossom beneath.
It is in that spirit of promise that the remnant "leaves" of Crescent Heights United Methodist Church and it's "Acorn Choir" take a musical look back — with an eye toward the "new thing" God will do among us at the corner of Fountain and Fairfax — and in that same spirit of new beginnings that we cordially invite you to join former pastors and congregants, musicians and vocalists, civic and community leaders on Sunday, August 21st @ 3 PM, as we give Thanks for the Memories: Both Yesterday's and Tomorrow's and celebrate the noble beginnings, the fruitful life, and the latter-days of our beloved little church in the shadow of the Sunset Strip, that never stopped believing "it could."
After the service you are invited to enjoy refreshments on the back patio at the Sacred Grounds Coffee House: Where Heaven and Earth "Do Lunch". Friends and supporters wishing share personal reflections, prayers, poetry, or words of wisdom and hope may do so during the celebration or may submit them in writing by for inclusion in the Commemorative Program. RSVPs are greatly appreciated including any special needs or disability seating requests and can be lodged by e-mail at: FabulousFarewHello@gmail.com or by Voicemail @ 323-572-5221
With our deepest thanks for your love and support over these many years . . .
. . . Grace and Peace in God's Service,
Pastor Scott
Scott emailed me this addendum:
As for the long-term future, I don't know. The Hollywood UMC / P.A.T.H. proposal for a homeless facility is still on the table. I was told that if redevelopment gets too difficult for the LA District (who now gain title), they will sell the property. My hope is to cobble together an investment /endowment group to buy it and perhaps move forward with our redevelopment plan. for an LGBT Cultural Heritage Campus and Memorial Park It can't be demolished as it is a "Historic Resource."
There are a number of twelve step, nonprofits and community serving programs currently calling Crescent Heights home. For the time being they will be allowed to continue to use the facilities. They have asked me to stay on to caretake the property and manage the building. George and I and our extended family will remain in the parsonage. I will continue to lead the Midnight Ministry and its Crescent Knights Fellowship.
Here's a piece Scott wrote on June 20 that explains the Midnight Ministry:
Yesterday, on Fathers Day, The California – Pacific Annual Conference of the United Methodist Church voted overwhelmingly in favor of "discontinuing" Crescent Heights United Methodist Church as a charted local congregation. As the vote went down I thought "Father forgive them, for they know not what we do." Then I thought "Father forgive me for not telling them sooner." As luck or fate or design would have it, the Cabinet Matters, which include local church closings were the last scheduled items of the four-day conference and Crescent Heights Church of West Hollywood was the last of those. Two minutes into my statement about our closure, which over the months we had reluctantly come to accept, with the assurance that we'd get a chance to make our statement to the conference., God and the Bishop, bless her heart, had other plans and cut me off.
So, yesterday when it was my turn to speak, I had started to talk about how the metrics by which we currently evaluate our work as pastors and congregations are ill-suited to the work of our 3 yr. old Midnight Ministry in West Hollywood, with the young men who live and work in the shadows of the Sunset strip. In a historically transitional community such as ours, and an increasingly mobile world, itinerancy might more aptly be applied to congregants than pastors. But we're obviously not there yet as a conference, if the glazed over look on the faces of the delegates was any indication, which to her credit and pardon the Bishop noticed immediately.
But the fact is, for us at Crescent Heights Church every day hundreds of young male "itinerant congregants," gay and straight alike, arrive from all points east, chasing the Hollywood dream, only to all too quickly run headlong into the Tinsel Town nightmare — from Huck Finns to Midnight Cowboys in a matter of days sometimes hours — going from bright-eyed and full of life . . . to lost, bewildered, sometimes drug-addicted walking dead — trading or selling for survival the only thing they have. In some ways it's a throwback to a pre-liberation reality that some call the "gay circle of life" and others — myself included having been there as a teenager in Chicago — call the "gay food chain." But whatever you want to call it, too many of our tribesmen are still all too willing "to go there", perhaps unaware of the soul robbing consequences for the young men so consumed. An for their part, too many young men in search of an easy ride are all too willing to wag their faucets at the lonely and aging gay men who've been all too brazenly cast adrift in the Peter Pan world of a youthful and beautiful Gaydom.
Add to the problem that most all social services for the cohort in question are organized around two pathologies, addiction and AIDS. If you are not prepared to self-identify as an alcoholic, addict, or HIV infected, good luck finding help. Secondarily, almost all help is preconditioned, paternalistic, and rule-ridden, further robbing these young men of the sovereignty, choice, and self-reliance necessary to the well-rounded social, personal, and spiritual development of a healthy self-realized young adult male.
The Midnight Ministry and the Crescent Knights Fellowship have been our determined, albeit modest, effort to address this reality. Over the last 3 years we have offered to fifteen or so of these guys little more than a dry mattress, a hot-shower, a warm meal, and some big-brotherly love with which to hopefully give birth to their most authentic and intentional selves. A chance, just a chance, to take a different journey. The only rules are mutual respect, attend Sunday service, and show up for the Tuesday morning fellowship. We have a chore-wheel, but you know how boys are about doing chores – they hate 'em and they don't do 'em. So we cook 'em breakfast every Tuesday morning and squawk at them about doing chores and they still don't do them — right up until the day it dawns on them that they want to do them – because suddenly they want to do something for their brothers to improve the collective lot – and then it's not a chore at all. Once that threshold is crossed, it's not surprising to suddenly find them fixing broken furniture to put in their rooms, framing tattered photos long buried in their backpacks, ironing a shirt to wear on Sunday morning, playing Chess, reading books, keeping journals, playing music; taking up old hobbies, rekindling their dreams. Sometimes even showing up in the kitchen or the office out of the blue to see if they can help with something.
When what was taken from them has been returned they can once again give of themselves. Their eyes begin to shine again, smiles replace the sullen frowns, laughter fills our quiet church, infectiously spreading all around. It's in their laughter that I most clearly hear the voice of God.
As I sat in the Memorial Chapel yesterday and looked around at the mostly antsy middle-class delegates, anxious for lunch and their comfortable suburban homes, all I cold see were the faces of our "lost boys" surrounded the the darkness in which we found them. Two in particular stand out that sadly we lost forever in the last month: one was gay and was never able to break the grip that crystal meth had on his bed to bed existence and died at County USC of lymphoma on May 11th. The other was straight and escaped his brief time here in L.A. before surrendering his dignity, for the University of Hawaii to get a teaching credential, where he met the love of his life. But he, tragically, died last Thursday after accidentally falling though a plate glass window and bleeding to death. He was to begin his new job with autistic kids today, but instead donated his organs that others might live – leaving behind his young wife and their baby son Koa. It was Tyler who I had just begun to speak of yesterday when the Bishop said "time's up, let's vote."
As the sea of hands rose in the auditorium, still unaware of the lives they would impact I saw all the guys' faces in a rainbow of light, colors woven as a beacon of hope. It's a beacon that has been kept alive by thousands of faithful souls upon whose shoulders we have stood for the last six years, who loved Crescent Heights Church through the trials and storms of their own times, and who passed the spirit of that beacon to a new generation of light-keepers, who would do the same for the next, and they the next — for 97 years. That this progression of light-bearing, this rite of remembrance, will come to an end on my watch will be my greatest and most abiding sorrow.
But genuine Christic ministry of, by, and for the "itinerant congregant" is a lifetime adventure; a privilege and challenge as we each come to know both the lambs and the shepherds within us.
While the way of traditional Christian discipleship is a well-marked path, leading to an ordered faith, a disciplined peace, and a studied assurance, a Christic disciple's ministry — self-determined and divinely inspired in any given moment — is more often risky than not and requires that we encounter the world AS IT IS, at times playing Red Rover at the crossroads of sin and death, and at othet times "catchers in the rye" on the edge of the abyss. Yet always with an eye for the awe and wonder of God's hand, we bear witness to both the beauty and the beastly and without compulsion for judgment, heroics, or coercion to remake the world in our own image, we can merely love and lift up those who will rebuild the world in God's. And in so doing, as we necessarily sacrifice the certainty of "how we've always done it," we will undoubtedly be bounced and buffeted, perhaps even ridiculed, certainly misunderstood, but in the end be all-the-more compelled to wrestle with the overwhelming kindness and unfettered cruelty of the human condition as we know it – discovering along the way that we are capable of either and culpable for both. It is in this authenticity that we will be changed forever, born again with each rising sun, and the world further perfected in the light and love of God.
So, on behalf of the remnant congregation of Crescent Heights Church and the itinerant congregants of Crescent Knights Fellowship and our Midnight Ministry, please know that we bear no hard feelings and accept as a challenge our "discontinuance" as a chartered local church, if that is the wisdom of 2011 Cal-Pac Conference. But please know as well, as we each journey forth in our walks with the Wholly, we do so with our heads held high – not in pride, but as lights in the darkness that were not overcome, in praise and thanksgiving for the gifts of God and each other, holding fast to the words of Ralph Waldo Emerson to "Follow not, where the path may lead, but go instead where there is no path and leave a trail for those to come." Those like Tyler, Stephan, and all of us, who will come searching for a ray of hope too long abandoned, a loving word by fear long silenced, or just a "room at the inn" in which to heal saddened bodies, renew broken spirits, reincarnate fondest dreams, and resurrect the disrupted adventures of our most authentic selves.
This IS the "new thing" that the Lord is doing in West Hollywood,. The IS the "new thing" the Lord is doing in these young lives. And his IS the "new thing" we will keep doing at Crescent Heights Church, whether the Cal-Pac Conference "perceives it" or not . . . so help me God.
Love, grace and peace – in God's service and theirs,
Pastor Scott
June 20, 2011