Trans artist activist Casey Hoke has died at 21
Casey was also a Point Foundation scholar and worked closely on Trans rights with GLSEN.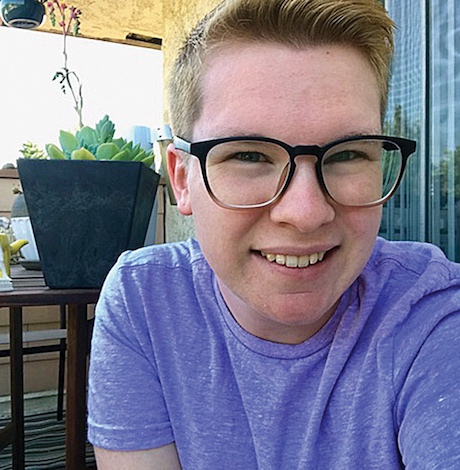 Casey Hoke, a transgender artist, activist and national public speaker dedicated to helping others combat marginalization, has died in Pomona, according to a family statement on his Facebook page. A spokesperson for Los Angeles County Deputy Medical Examiner Juan Carrillo told the Los Angeles Blade that the cause of death was deferred until after an official inquest. He died at his home in Pomona, outside Los Angeles, California on Wednesday, August 8.
"‪My younger brother Casey Hoke passed away yesterday in the Los Angeles, CA area," Hoke's brother Ryan Benjamin Hoke said in a statement. "My family is heartbroken. We ask for privacy, but at the same time want to make sure Casey's friends and connections know."
Ryan Benjamin Hoke later told the Los Angeles Blade: "Casey lost his battle with mental illness."
Hoke, 21, was well known in the national Trans community, particularly among the younger generation for his dedication to the LGBTQ community, especially in his art and in art history. He was also a Point Foundation scholar and worked closely on Trans rights with GLSEN.
Hoke came out as a transgender male in high school and worked as an organizer and peer educator at his high school's Gay/ Straight/ Transgender Alliance.
In 2014, Hoke served as a student ambassador (2014-16) for GLSEN presenting on LGBTQ+ art history and identity in a workshop titled Art, Identity, & YOU. More recently Hoke served as a board member of GLSEN, in addition to his ongoing contributions to that organization's advocacy work.
Hoke, who contributed to the Huffington Post and MTV News, had given TEDx Talks, and was also working on QueerArtHistory.com, an educational resource for all to learn about the visual storytelling of LGBTQ+ identity through time. He was matriculating as a 3rd-year student and Point Foundation scholar at California State Polytechnic University of Pomona for graphic design communications.
"Casey was a beloved member of the Point Family and the love and warmth he brought to every space he was in will be missed," Point Foundation Executive Director & CEO Jorge Valencia, told the Los Angeles Blade. "Casey's family told us how proud he was of his Point community service project, (QueerArtHistory.com) and that we in the Point Foundation would ask that folks go see the incredible work that Casey was doing," he added.
Dr. Eliza Byard, the Executive Director of GLSEN, told the LA Blade in a phone call Friday afternoon that she was deeply shocked and saddened by Hoke's sudden passing.
"I have known Casey since he was in high school and he was a remarkable force of light, love, art, and power in the world who worked with GLSEN at every level," Byard said. "He was a sitting member of our board of directors and also often contributed his artwork to our cause. I am so grateful to have known and worked with him. He touched so many lives and he will always inspire me to press on and stop hate."
ON A PERSONAL NOTE: The Los Angeles Blade extends our condolences to Casey's family and friends. He was a pleasure to work with during LGBTQ Pride – and just a really sweet person. Casey managed to endear himself to so many people, genuinely and like a best friend.  Losing him is devastating. Troy Masters.
Here is an interview Christopher Kane did with Casey for our Generation Next cover story:
Casey Hoke, 21, college student, LGBTQ advocate, artist
Casey Hoke is a fine artist, graphic designer, writer, activist, and advocate who was awarded a prestigious POINT Foundation scholarship to fund his education at California State Polytechnic Institute in Pomona, where he is now a junior pursuing a B.A. in Graphic/Communications Design with a minor in Art History. His past and present leadership appointments include a Student Media Ambassadorship for GLSEN, where he also holds membership with the National Executive Board.
Drawing from his experiences as a young trans man, Casey has spoken and written about subjects including education policies that concern transgender students, the representation of transgender people in the media, and the relationship between artistic self-expression and self-acceptance. His work has appeared in MTV News, Teenlife Media, and The Huffington Post, where he has blogged since 2014. Casey has delivered speeches at forums including a TEDx conference and Intel Labs' LGBT Youth Leadership Forum.
Casey attended high school in Louisville, Kentucky. He came out as trans during his sophomore year. While fellow students, for the most part, were accepting of Casey, he explained the school's Principal Gerald "Jerry" Mayes was a bully. In March, The Louisville Courier-Journal published a timeline of an ongoing investigation by Jefferson County Public Schools into Mayes' conduct that was initiated in response to his treatment of trans youth, including Casey, as well as racially insensitive comments he made to two African-American students.
During his junior year, Casey was the subject of an article in the school's newspaper that chronicled his journey and highlighted his advocacy work. In response, Casey explained, Mayes told members of the student newspaper staff that it was "wrong to profile a misfit going through a phase. He said it would be comparable to writing about someone who wanted to shoot up a school." The following year, in 2015, as the state's senate introduced a bill that would require transgender students to use restrooms that match the sex listed on their birth certificates, Casey said Mayes asked a security guard to monitor him in the men's restroom. The principal then called Casey into his office and began asking invasive questions about his body and genitalia.
"It's hard to talk about," Casey said, "but I came out with my story because it needed to be heard, and because his treatment of LGBTQ students in my high school was, and still is, really bad." Those experiences strengthened Casey's resolve to advocate for the rights of trans students.
In college, Casey and his trans peers face a variety of administrative challenges. Changing one's name on student ID cards is a difficult process. Freshmen, who are required to live on campus, must pay more for housing that offers single-stall restrooms (which are safest for transgender students)—a difference in cost that amounts to about $10,000. Administrators outed Casey to other staff and even students, despite his request that they keep information about his gender identity private. Casey has since led petitions that demand equal and affordable housing for trans students, as well as training programs on trans identity for university staff.
"My advocacy did not stop at high school, where I had this mean principal", he said. "Even though I've seen trans folks accepted a bit more, publicly, there are still battles I have to face here in California."
Casey's interest in media representation of LGBTQ people and subjects overlaps with his interest in art. A project and educational resource that Casey created and curates, Queer Art History (housed online at queerarthistory.com) showcases a breadth of artwork, from a homoerotic 16th century Roman fresco to a poster produced by ACT UP Los Angeles in 1990. On the project's website, Casey has written about the cultural and historical significance of each.
This project, he said, allows him to "talk about media representation while educating people of all ages on queer visual history, art, and culture." Through another program, Art, Identity & YOU, which Casey created and administers in coordination with the Los Angeles LGBT Center, he provides a platform for youth education on identity, art, history, and self-expression.
Must modern queer art be political? Not necessarily, Casey said—it certainly can be, but queer art can also signify something as timeless as self-expression or look as visually diverse as abstract expressionism. Plus, the treatment of queer people as inherently political, Casey said, can be dehumanizing.
At a time in which major American cities have often become canvases for anti-Trump graffiti, contemporary queer art certainly feels political. And much of it borrows from the signage of protest art produced in the 1980s and 90s (A good example: Donald Moffett's He Kills Me, a 1987 lithograph that features a grid of President Ronald Reagan's grinning headshot with "THIS GUY KILLS ME." in bright orange type across his chest.)
Through the POINT Foundation, Casey was connected with a mentor who works for the Walt Disney Company, where he aims to secure a design position post-college. He is optimistic about both his future and the direction in which society is headed, despite the anti-LGBTQ policies of the Trump Administration. "I asked Mara Keisling, executive director of the National Center for Transgender Equality, how things are looking for young trans and non-binary folks", Casey said. Reflecting on the progress that's been made so far, Keisling responded: "You know what? We've gotten here."
IN LIEU OF FLOWERS, the family requests that you donate to the Pride Center at Cal Poly Pomona in memory of Casey Hoke. Use the link and instructions below. 

When you do, it is VERY IMPORTANT that you fill it out using the following information:
For Designation, select "Other"
In Other box, type "Pride Center"
In the Tribute Information section…
First Name: Casey
Last Name: Hoke
Type: In memory of

again, the link is https://cpp.thankyou4caring.org/pages/
tributes

Or
DONATIONS BY MAIL:
Mail a check made out to:

Cal Poly Pomona Pride Center
3801 W. Temple Ave.
Bldg. 26 Room 107
Pomona, CA 91768
Memo: Casey Hoke

Memorial service arrangements will be private.
Biden calls Club Q owners; community grapples with aftermath
Fallout over the shooting continues as anger mounts at what many in the LGBTQ+ community see as a resurgence of anti-LGBTQ+ hate speech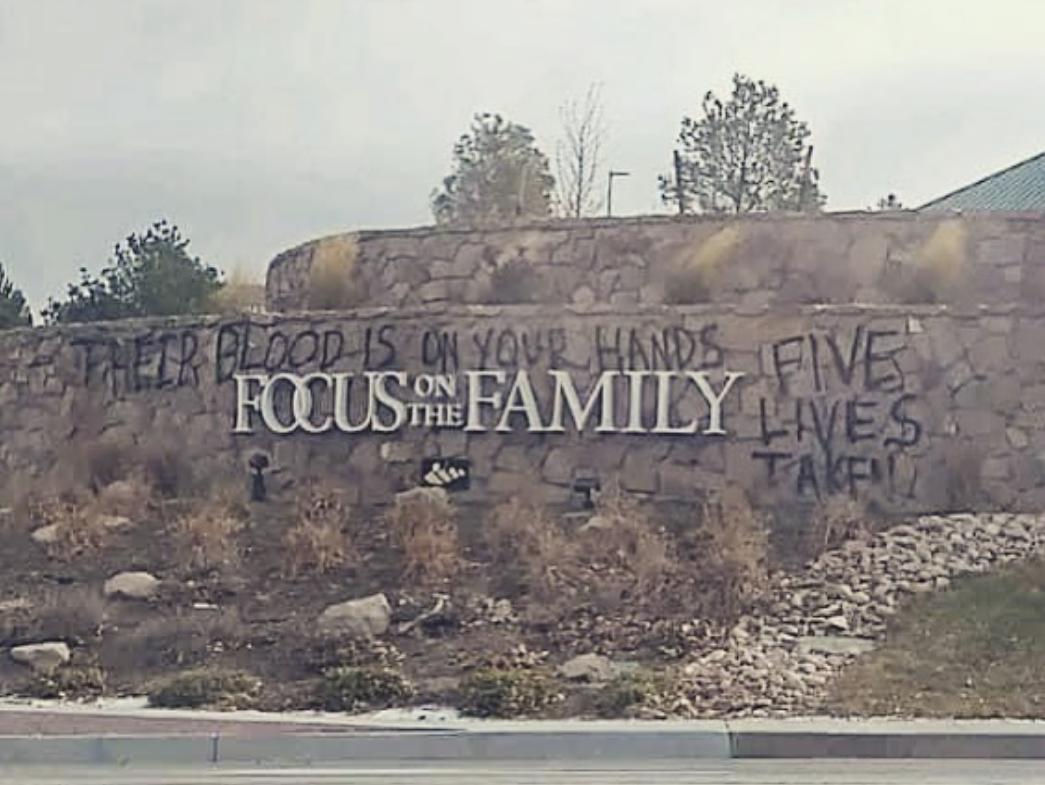 COLORADO SPRINGS – As the LGBTQ+ community continues to mourn the loss of the five people killed in last weekend's mass shooting, focus is now shifting to a reflection of anti-LGBTQ sentiment that has evolved from prejudice to incitement according to Nic Grzecka a co-owner of Club Q.
In an interview with the Associated Press, one of his first since the chaos of the aftermath created by the mass-shooting, Grzecka said he believes the targeting of a drag queen event is connected to the art form being cast in a false light in recent months by right-wing activists and politicians who complain about the "sexualization" or "grooming" of children.
Even though general acceptance of the LGBTQ community has grown, this new dynamic has fostered a dangerous climate, he said.
"It's different to walk down the street holding my boyfriend's hand and getting spit at (as opposed to) a politician relating a drag queen to a groomer of their children," Grzecka said. "I would rather be spit on in the street than the hate get as bad as where we are today."
On Thursday, President Joe Biden spending the Thanksgiving holiday with the First Lady and family members in Nantucket, Massachusetts, called Grzecka and Club Q co-owner Matthew Haynes.
The President and the First Lady offered condolences and reiterated their support for the community as well as their commitment to fighting back against hate and gun violence. They also thanked the two men for the 'incredible contributions they have made and will continue to make to Colorado Springs.'
The president told reporters enroute to Nantucket, reflecting on the mass-shooting at the LGBTQ+ club and then another mass-shooting Tuesday, at a Wal-Mart store when a night manager opened fire in a breakroom in Chesapeake, Va., killing six, and wounding at least half a dozen more, said he has plans to support a bill banning assault rifles during the lame-duck session before the next Congress is seated in January.
"I'm going to do it whenever — I got to make that assessment as I get in and start counting the votes," Biden said
As the memorial outside Club Q grows, more attention is now being focused on the needs of the survivors and others in the LGBTQ + community in Colorado Springs affected by the mass-shooting.
An annual 'Friendsgiving' feast for the members of the LGBTQ+ community unable to spend time with relatives because of their being LGBTQ+ and which was normally held by the owners and staff of Club Q was shifted to a community dinner at the Colorado Springs MCC Church.
In an Instagram post, earlier in the week, Grzecka thanked Colorado Governor Jared Polis, state Attorney General Phil Weiser, Colorado Springs Police Chief Adrian Vasquez and city councilmember Nancy Henjum whose district the LGBTQ+ club is located, "for your hard work to ensure there was a Crisis Center to service the Club Q and Colorado Springs community during the holiday."
Fallout over the shooting continues as anger mounts at what many in the LGBTQ+ community see as targeted hate amplified by a resurgence of anti-LGBTQ+ hate speech online and by right-wing media outlets and far-right figures such as Fox host Tucker Carlson.
Colorado Springs is also home to Focus on the Family, one of the largest anti-LGBTQ+ groups in the United States. The Christian ministry group has opposed same-sex marriage, LGBTQ+ service in any branch of the U.S. armed forces and continues to advocate for the discredited practice of conversion therapy.
Late Thursday person or persons unknown vandalized the sign at the main entrance to the group's headquarters complex. "We went out there to investigate if there was a crime that took place," Colorado Springs Police Department spokesperson Sgt. Jason Ledbetter told the Gazette regarding the overnight incident. "There is no suspect information at this time."
In a Instagram post, Club Q owner Grzecka displayed a picture of the vandalized sign with graffiti spray painted in black reading; "Their blood is on your hands five lives taken."
In his message accompanying the picture, Grzecka noted:
Focus on the Family moved to our city in the 90's, was a large group behind pushing through amendment 2 along with Colorado for family matters. People such as Dr. James Dobson and Will Perkins have spread a nasty, false and hurtful narrative about our LGBT community.
Amendment 2 was passed in 1992, and Colorado Springs ( El Paso county) were the votes to pass the amendment, the same amendment that gave our city the nickname "hate city USA"
Words have consequences and your continuous false narrative about the lgbt community has consequences,
@focusonthefamily this message added to your sign has more truth to it than you may actually be able to understand.
This is not vandalism this is not an attack on Christian's. This message is just that a message that was delivered in a way to ensure you receive it.
@cityofcos, Mayor Suthers when can we meet to discuss how this type of Anti Gay speech, is coming from our own backyard.
The Gazette also reported that people from around the nation are holding in-person and online fundraisers for victims and families of the Club Q mass shooting.
While the state has an official online donation site, the Colorado Healing Fund, a private online drive, also has become one of the largest appeals.
Good Judy Garage in Denver, an LGBTQ business, raised $25,000 in two hours after starting a GoFundMe drive on Sunday. The initial goal was upped to $50,000 and now is at $750,000, as donations continue to pour in. As of Friday, the amount collected was $761,707 raised.
Link to the GoFundMe: https://www.gofundme.com/f/support-for-the-club-q-families-and-survivors.
Focus on the Family headquarters sign vandalized in wake of Club Q shooting https://t.co/VZc3HQTKEy

— KKTV 11 News (@KKTV11News) November 25, 2022