New Trump administration memo on Obama order alarms LGBT advocates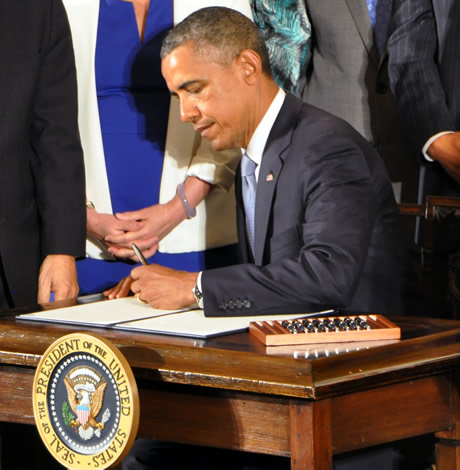 In the aftermath of the U.S. Supreme Court's ruling the Masterpiece Cakeshop case, the Trump administration has issued new guidance that seeks to uphold "religious freedom" in the implementation of former President Obama's executive order against anti-LGBT workplace discrimination among federal contractors — a move troubling to LGBT rights supporters.
The Aug. 10 guidance from the Labor Department purports to "incorporate recent developments in the law regarding religion-exercising organizations and individuals" with the enforcement of the executive order, taking note of the narrow ruling in decision of Colorado baker Jack Phillips as well as other recent rulings in favor of religious freedom, such as the Supreme Court decision in the Hobby Lobby case.
The guidance also takes into account recent executive orders signed by President Trump in favor of "religious freedom," saying they "have similarly reminded the federal government of its duty to protect religious exercise — and not to impede it." Trump signed a directive last year with the stated purposed of bolstering religious freedom under federal law and his order ensuring faith-based organizations have access to federal grants.
"In line with the longstanding constitutional requirement that government must permit individuals and organizations, in all but the most narrow circumstances, to participate in a government program 'without having to disavow [their] religious character,' OFCCP staff are instructed to take these legal developments into account in all their relevant activities, including when providing compliance assistance, processing complaints, and enforcing the requirements of EO 11246," the guidance says.
As a result, the Office of Federal Contract Compliance Programs under the Labor Department is instructed to take into accounts "religious freedom" when enforcing Executive Order 11246 in numerous ways, barring the agency making a "condition the availability of [opportunities] upon a recipient's willingness to surrender his [or her] religiously impelled status."
Signed by Obama in 2014, EO 11246 prohibits anti-LGBT discrimination among companies that do $10,000 a year or more in business with the U.S. government in addition and barrs discrimination against federal workers who are transgender.
The instructions seem aimed at allowing religiously-affiliated non-profits to discriminate against workers for being lesbian, gay, bisexual or transgender despite the executive order. Heretofore, religiously non-profits, including religious schools and universities, were required to abide by the executive order and received no religious exemption.
The latest directive is one of two issued by the Labor Department on Aug. 10 related to the Executive Order 11246. But the other directive doesn't seem aimed at non-discrimination protections or "religious freedom." It calls for "a portion of future scheduling lists" to include focused reviews on three authorities OFFCP enforces: EO 11246, Section 503 of the Rehabilitation Act of 1973 and the Vietnam Era Veterans' Readjustment Assistance Act of 1974.
LGBT rights groups said the "religious freedom" directive is an attempt by the Trump administration to gut the non-discrimination protections in the executive order — which covers an estimated 34 million workers, or about 22 percent of the Americans workforce — and demonstrates the negative impact of the Masterpiece Cakeshop decision.
Sharon McGowan, legal director for Lambda Legal, said her organization has "serious cause for concern" the OFFCP will interpret the mandate with broad view and allow for exemptions to discriminate under the executive order.
"Apparently, this Administration believes – correctly – that rescinding the EO outright would cause a huge public and politically damaging outcry," McGowan said. "So instead, they are trying to accomplish the same end through different means."
The directive comes down from the Labor Department about a year-and-a-half after the White House announced in a statement Trump would keep the executive order in place and is "respectful and supportive of LGBTQ rights," a statement contradicted by subsequent anti-LGBT actions from the Trump administration.
McGowan said nothing in the Masterpiece Cakeshop decision compelled the Labor Department to issue the directive, but Lambda is "not surprised to see this administration seize on the decision as a way to justify its ongoing assault on the civil rights of the LGBT community."
"We hope that non-discrimination has become part of the standard operating procedures for the overwhelming majority of federal contractors, and they will continue to recognize that a workplace open to all is not only the right thing to do, but also makes smart business sense," McGowan said. "But in the same way that the Masterpiece Cakeshop decision has embolden anti-LGBT forces to paint themselves as the victims of LGBT equality, these directives from OFCCP sends an encouraging signal to those individual employees within these larger entities who want to insist on a license to discriminate."
Harper Jean Tobin, director of policy at the National Center for Transgender Equality, said in a statement "is an attempt to encourage businesses to take taxpayer dollars and then fire people for being transgender."
"Religious organizations have ample protections under federal law, but they are not allowed to use federal money to discriminate against people," Tobin said. "The language of this directive is so broad and so vague because it is part of a long line of attempts by this administration to sow confusion and encourage any employer to act on their worst prejudices. No employer should be allowed to use taxpayer dollars to fire someone because of who they are."
A Labor Department spokesperson said in response to the Washington Blade's inquiry about the directive OFCCP "will follow the law" and non-discrimination provisions in the executive order remain in place.
"FCCP remains committed to enforcing compliance with all of the protections in EO 11246, Section 503 and VEVRAA," the spokesperson said. "Collectively, these laws prohibit federal contractors and subcontractors from discriminating on the basis of race, color, religion, sex, sexual orientation, gender identity, national origin, disability or status as a protected veteran."
The Masterpiece Cakeshop decision was in favor of Phillips, but was based on the facts of his case and didn't find a First Amendment right to refuse to make custom-made wedding cakes for same-sex couples as he was seeking. As a result, LGBT non-discrimination protections remain in effect in the aftermath of the decision regardless and any instructions to take the ruling into account when enforcing them shouldn't be enough to change their outcome.
Dale Carpenter, a conservative law professor at the SMU Dedman School of Law who's written about LGBT rights, echoed those views and said nothing in the guidance is cause for alarm.
"Indeed, on its face, that guidance purports only to require what is already mandated by the Constitution, federal statute, or executive branch policy," Carpenter said. "I don't foresee any significant erosion of EO 11246 protections."
Embedded in the directive is a sign more is to come. The instructions conclude with a line saying they remain in force "in anticipation of an addition to the department's regulatory agenda followed by rule-making informed by public comment," suggesting future changes to the executive order — a religious exemption or a revocation — are forthcoming.
Asked the about those words and the nature of any new rule, the Labor Department spokesperson said, "The Department cannot comment on a future rule-making."
David Stacy, government affairs director for the Human Rights Campaign, said the directive is the latest attempt by the Trump administration "to implement a license to discriminate against LGBTQ people by providing unsound guidance in implementing Obama-era regulations."
"The erroneous application of the Supreme Court's narrow ruling in Masterpiece and recent Trump executive orders is meant to aggressively marginalize hardworking Americans because of their sexual orientation and/or gender identity," Stacy said. "The American people will not tolerate discrimination, and LGBTQ people will not be erased."
Obama rallies for Warnock as Walker goes transphobic in latest ad
"Tomorrow is the last day for early voting and then we need to get people out to the polls on Tuesday, which means we still got work to do"
ATLANTA – Former President Barack Obama held a rally with Sen. Raphael Warnock (D-GA) tonight in Atlanta as the Georgia election runoff for the U.S. Senate seat currently held by Warnock enters its final week.
Speaking to the enthusiastic crowd in the historic Pullman Yard, Obama urged supporters to continue pressing to secure Warnock's chances as early voting ends Friday ahead of next Tuesday's election.
"Now I know a lot of folks have been voting early over the last few days, that is a good thing. That is an encouraging thing. But — you knew there was a but —plenty of folks haven't voted yet. Tomorrow is the last day for early voting and then we need to get people out to the polls on Tuesday, which means we still got work to do," Obama said.
A spokesperson for the the Georgia secretary of state's office told the Blade that more than 1.1 million votes have been cast so far.
Warnock's Republican challenger meanwhile focused on his opposition to transgender rights. In a recent campaign ad, Herschel Walker is featured alongside cisgender former University of Kentucky swimmer Riley Gaines, who tied with University of Pennsylvania trans female swimmer Lia Thomas.
In the ad Gaines says she "worked so hard" at competitive swimming but she was "forced to compete against a biological male."  The ad also goes on to attack Warnock in the Chyron onscreen stating: "Raphael Warnock voted to allow biological men to compete in women's sports." That particular charge by Walker's campaign is factually incorrect as the U.S. Senate has not held any votes on the subject of transgender women in sports.
Politico's National political reporter Natalie Allison tweeted:
Herschel Walker is up with a new runoff ad about transgender athletes, featuring a swimmer who tied with Lia Thomas.

"My senior year, I was forced to compete against a biological male," Riley Gaines says in the ad for Walker's Senate campaign. pic.twitter.com/MlVxnJwkgB

— Natalie Allison (@natalie_allison) November 21, 2022
During the rally in Atlanta this evening Politico reported Warnock received roaring applause when he poked fun at Walker, something Obama also did, referencing a series of outlandish comments the retired football star has made over the course of his candidacy.
"We all know some folks in our lives who, we don't wish them ill will, they say crazy stuff … but you don't give them serious responsibility," Obama said.
"He was an amazing running back," Warnock said of Walker. "And come next Tuesday, we're going to send him running back to Texas."
Walker, who was raised in the Peach State and was a star player at the University of Georgia, lived the majority of his adult life in Texas before returning to run for Senate in 2021.
Politico also noted that Warnock, the pastor of the Atlanta church that Martin Luther King Jr. attended, tied the election to the long struggle of African Americans for equal rights, noting the crowd had gathered on the 67th anniversary of Rosa Parks refusing to get up from a bus seat in Montgomery, Alabama. Walker is also African American.