Newport Beach man will stand trial for hate crime in Blaze Bernstein's murder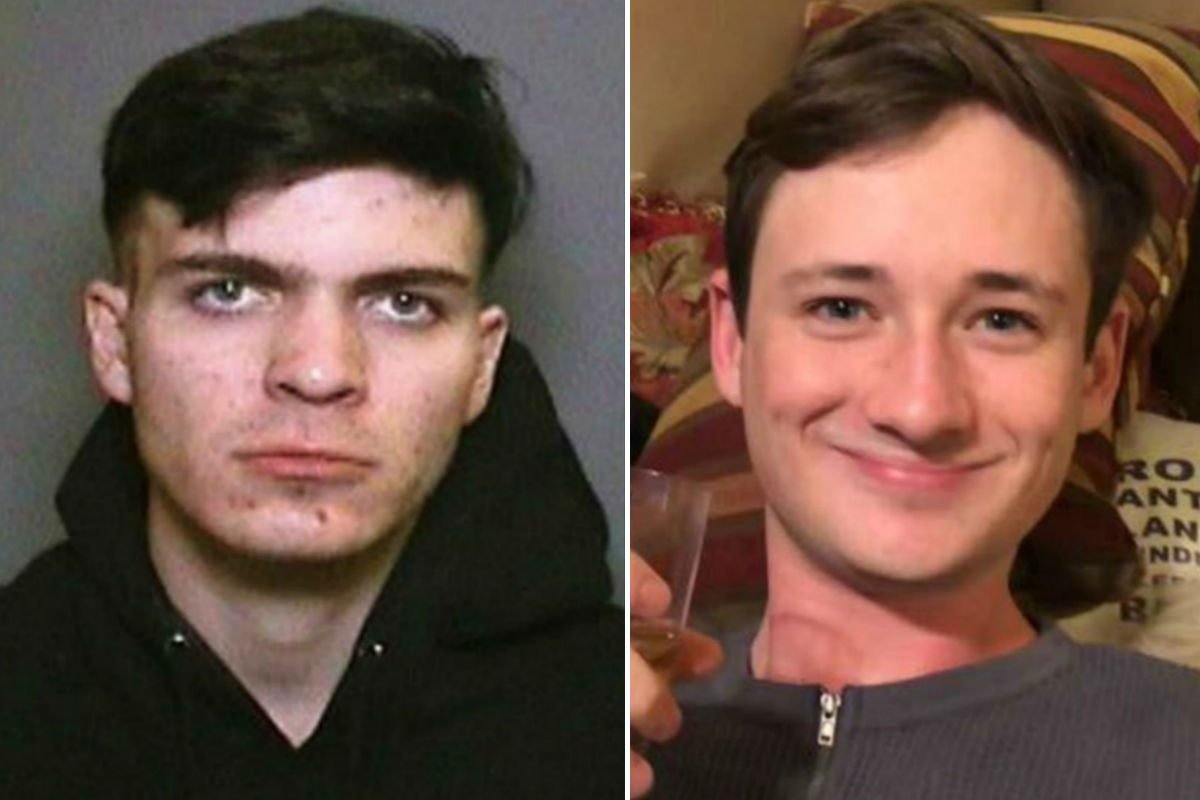 Samuel Lincoln Woodward, 21, was ordered to stand trial in Orange County Superior Court Tuesday, Sept 4, on murder and hate crime charges. OC County District Attorney Tony Rackauckas' prosecutorial team linked Woodward to the fatal stabbing of his former high school classmate, Blaze Bernstein. He has pleaded not guilty.
Woodward stabbed Bernstein nearly 20 times in the face and neck after the two met at a park last January, prosecutors said. The two had connected earlier in the evening on Snapchat, after which Woodward picked up Bernstein at his home.
Bernstein's murder made national headlines after his body was discovered in a shallow grave in a park in Lake Forest near his home on Jan. 9, a week after he disappeared.
Bernstein's high school classmate, Woodward, then 20, was arrested on Jan. 12 after DNA evidence found at the grave and in Woodward's car linked him to the slaying. No murder weapon has been found.
The Associated Press reported that about six months before his death which prosecutors have now categorized as a hate crime, Bernstein graphically discussed hopes to have sex with the man charged in his killing, an investigator told the court during Tuesday's preliminary hearing.
Bernstein had texted a friend a photo of Woodward and said "the two had run into each other and he thought they were going to hook up," saying sex with the former schoolmate would be "legendary."
What led to that encounter was not clear during the hearing on the murder and hate crime charges, but Orange County Sheriff's Investigator Craig Goldsmith said among the anti-gay and hateful material found on his phone was mention of his efforts to pose as "gay curious" to attract men and then reveal it as a prank.
"That's what they deserve," Woodward wrote, using an anti-gay slur.
At the close of Tuesday's preliminary hearing, Superior Court Judge Karen L. Robinson found there is enough evidence for the case to proceed to trial.
Testimony during the day-long hearing provided new details about the evidence investigators allege ties Woodward to Bernstein's death. In addition to the DNA evidence, prosecutors presented the court with evidence that he had troves of homophobic and neo-Nazi material on his mobile phone. Prosecutors say this illustrates his suspected homophobia, as well as his ties to Atomwaffen Division, an armed fascist organization.
Woodward's defense lawyer, Edward Munoz, didn't present any witnesses, but on cross-examination it was revealed by his client that he was autistic and was socially awkward and sexually confused.
Munoz argued there was no evidence of a hate crime because reprehensible writings found on Woodward's phone were not shared with others, but in emails to himself.
"I think in a hate crime instance you have to have an outward manifestation of your loathing to the world," Munoz said after the hearing.
If convicted of first-degree murder and the hate crime allegation, prosecutors could seek a sentence of up to life in prison without parole.
Reporting by The Associated Press, The Orange County Register, the staff of the Los Angeles Blade, and wire service reports.
California & New Zealand partner to advance global climate leadership
Governor Gavin Newsom & New Zealand Prime Minister Jacinda Ardern establish new international climate partnership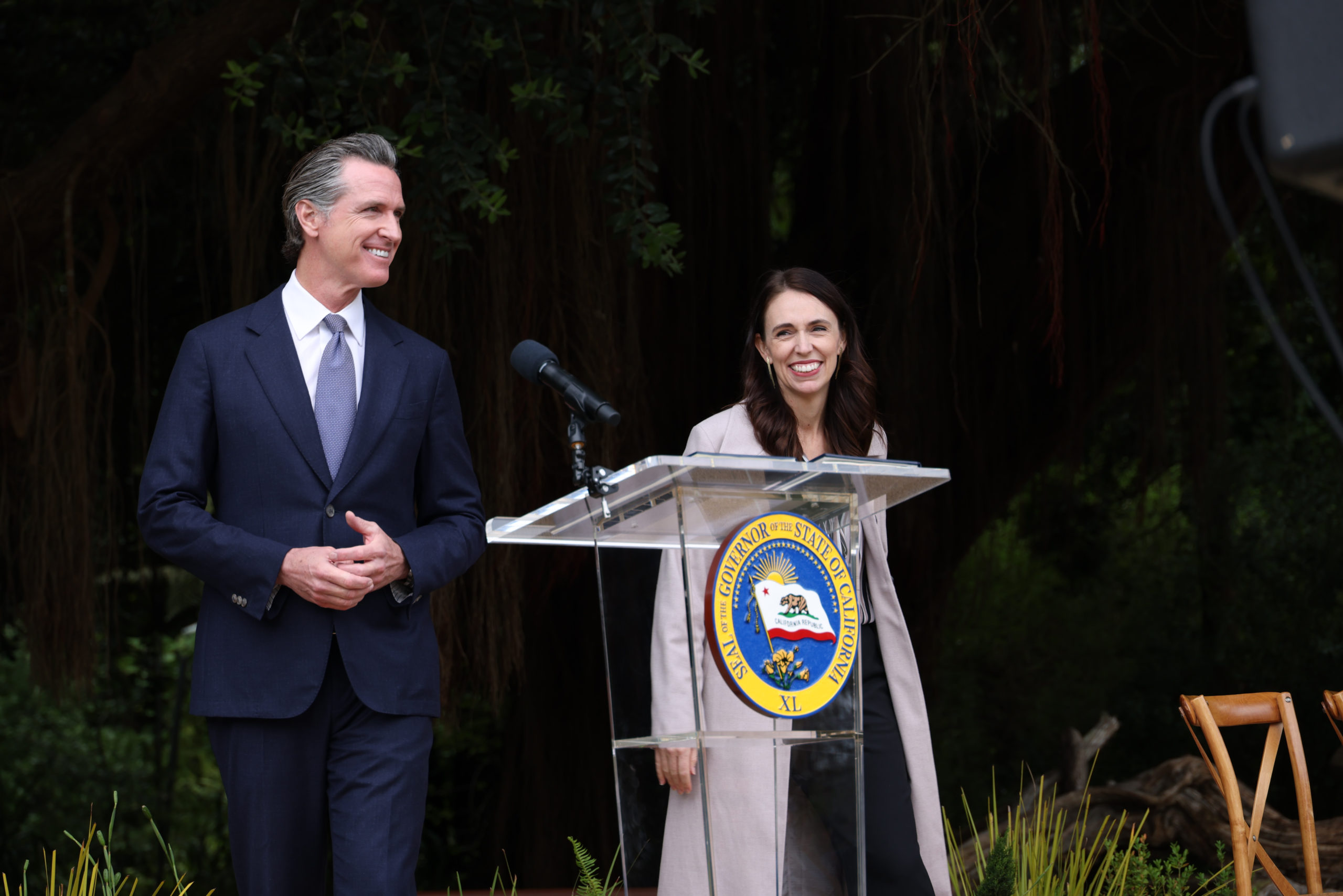 SAN FRANCISCO – Expanding California's global climate leadership, Governor Gavin Newsom today established a new international climate partnership with New Zealand Prime Minister Jacinda Ardern.
California and New Zealand signed a Memorandum of Cooperation, (MOC) to tackle the climate crisis, reduce pollution, and bolster the clean economy, while emphasizing community resilience and partnership with indigenous leaders.

In the New Zealand Garden at the San Francisco Botanical Garden in Golden Gate Park, California and New Zealand outlined common objectives to achieve carbon-neutrality by mid-century, as well as their shared world-leading policies for zero-emission transportation, climate innovation, clean power generation, nature-based solutions, and zero waste initiatives.

The MOC furthers these common objectives through sharing information and best practices. A copy of the MOC signed today can be found here.

"Later is too late to address climate change, and California is taking aggressive steps to bolster the clean economy while reducing pollution in our communities – but we can't do it alone," said Governor Newsom. "This partnership with New Zealand, another global climate leader, will strengthen ties between our two governments to deploy critical solutions that are essential to addressing this existential crisis."
"No country is immune from the impacts of climate changes, so it's just common sense to collaborate with likeminded partners to meet our mutual goals," said Prime Minister Jacinda Ardern. "We both aim to achieve net zero carbon emissions by the middle of the century. This agreement means we'll work together to share expertise and experience and collaborate on projects that help meet each other's targets."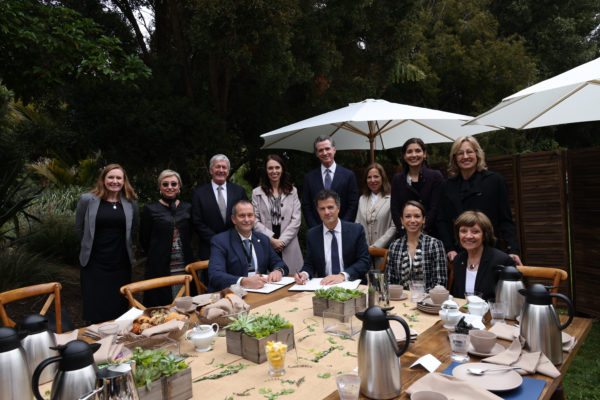 California's world-leading climate policies have led the state to exceed its 2020 climate target four years ahead of schedule, and created partnerships across the U.S. and around the world. Governor Newsom has committed $47.1 billion to tackle pollution, build climate-resilient water supplies, reduce the risk of catastrophic wildfires, ensure grid reliability and accelerate clean energy solutions, and protect communities from extreme heat.

California's ZEV market is leading the nation in every category and the state is ending the sale of new gas cars by 2035, reducing demand for oil and spurring partnerships across the nation and around the world. Responding to the Governor's nature-based solutions executive order, which identified California's lands as a critical yet underutilized sector in the fight against climate change, California last month released the Pathways to 30×30: Accelerating Conservation of California's Nature strategy and Natural and Working Lands Climate Smart Strategy.

Earlier this year, California signed a Memorandum of Cooperation with Japan to advance cooperation on climate and clean energy priorities, and strengthen trade relations. Governor Newsom also signed a Memorandum of Understanding with China to accelerate ongoing initiatives to protect the environment, reduce carbon and air pollution, and promote clean technology development.

Last year, Governor Newsom and 24 governors from the bipartisan U.S. Climate Alliance committed to collectively achieve net-zero greenhouse gas emissions no later than 2050. Governor Newsom and other Under2 Coalition partners announced the transition to become a net zero coalition, raising ambition for member states and regions. California also joined the Beyond Oil & Gas Alliance, which brings together national and subnational governments committed to advancing a just transition away from oil and gas production.
Eric Strong angling to become LA County's first Black Sheriff
"One of the most concrete things, other than changing the policies, are the mindset and culture. Otherwise we'll continue to have it"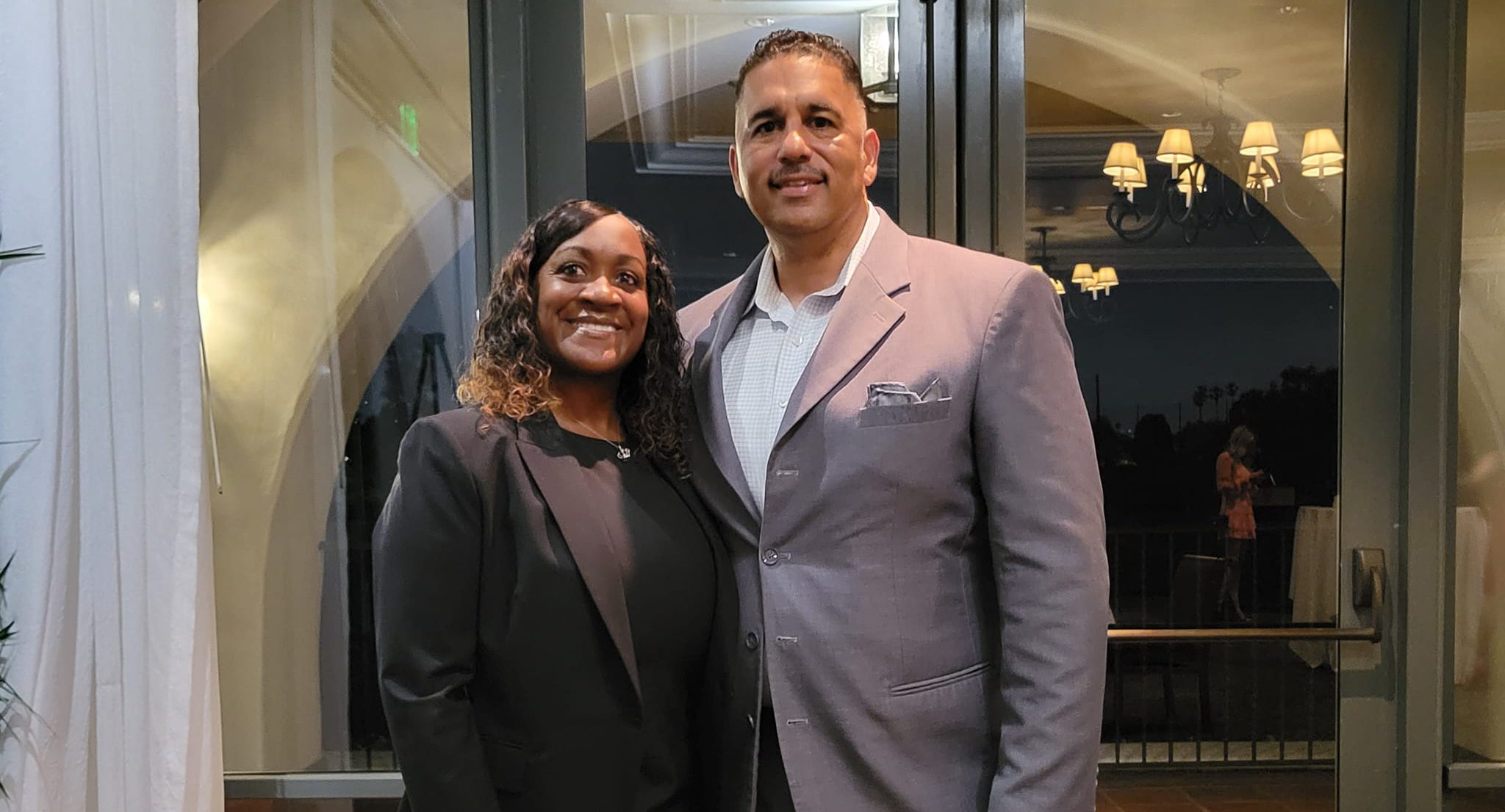 INGLEWOOD – In an exclusive interview with The Los Angeles Blade Thursday, Eric Strong discussed his candidacy to be elected as the next Los Angeles County Sheriff and detailed reforms he would bring to the Los Angeles County Sheriff's Department, (LASD) which has been beleaguered by scandal and corruption in recent years. 
Should incumbent Sheriff Alex Villanueva, who took office in 2018, fail to capture 50 percent of the vote in the upcoming primary election on June 7, he will square off against Strong and seven other candidates on the ballot in November.
Dramatic reforms within the LASD are necessary to effectuate any real change, said Strong, who emphasized that the LASD's many problems did not start with Villanueva's tenure.
"There's a lot on the inside that needs to be changed," he said, "to make the biggest impact on the outside."
As the county grapples with crises involving public safety, addiction and the unhoused, Villanueva has been accused of "running the LASD," which is the largest in the nation, "like a prison yard."
Racially motivated violence by LASD deputies was described in a 2020 article by The GuardianUK as "a reign of terror." That same year, Max Huntsman, the LA County inspector general, accused Villanueva of fostering a "code of silence" and stonewalling investigations of a tattooed gang of deputies called the Banditos, who have assaulted non-member deputies within the department and perpetuated a culture of favoritism, racism, sexism and violence.
Villanueva sent a cease-and-desist letter earlier this year demanding that the Los Angeles County Board of Supervisors stop using the term "deputy gangs." During a press conference last September, the sheriff said that he worked alongside a group called the Cavemen when working on patrol in East LA and, "There was no difference between what I did and what they did."
In the 1980s and 90s, the Cavemen were known to sport tattoos that sometimes depicted house flies, each meant to represent a violent incident against a civilian. Villanueva's undersheriff, Timothy Murakami, was also a member of the gang.
Gang activity within the LASD by deputies has been associated with allegations of rigged promotions, pay-to-play schemes and other types of favoritism. Villanueva has also been accused of covering up an incident where a deputy knelt on an inmate's neck, and he has attacked his critics and political enemies, including by baselessly calling Huntsman a "Holocaust denier."
Villanueva also sought to launch a criminal investigation into a Los Angeles Times reporter who had written an in-depth series of articles detailing some of the Sheriff's questionable actions. He later walked that back in a public statement after protest by the Times and other LA Media outlets.
Strong said he is the only candidate who pledged not to build additional detention facilities in response to the County's homelessness crisis; the only candidate who pledged not to take money from the police union; the only candidate who led investigations of deputy gangs while working in internal affairs at LASD, and the only candidate who did not switch his party affiliation from Republican to Democrat before entering the race.
Strong has over 30 years of experience in law enforcement, having served in the Compton Police Department before joining the LASD, where he is currently serving as a supervisory lieutenant. He has been commander of multiple bureaus, as well as on multiple executive level committees, including as executive chairman of the Shooting Analysis Committee. "I've spoken out many times" about misconduct and corruption at LASD, he said.
Strong added the other seven candidates in the sheriff's race have baggage: some, like a former LASD deputy and the current LAX Police Chief Cecil Rhambo, have close ties to the current regime, having done nothing to reform the LASD when serving in leadership positions under conditions where promotions are awarded based on loyalty and favoritism.
Others have disciplinary records over their unjustified use of force, including shootings. Bob Luna was formerly chief of police for the City of Long Beach, during which time gay men were entrapped in sting operations. (Dismissing the charges of lewd conduct and indecent exposure, an LA County Superior Court judge said, "The arbitrary enforcement of the law as seen in this case undermines the credibility of our legal system, eroding public confidence in our ability to achieve just results.")
Along with Rhambo, Strong is one of two candidates in the race who, if elected, would become the County's first Black sheriff. Having grown up in LA County, Strong said he has "experienced law enforcement at its worst," having been roughed up and having suffered the incarceration and deaths of family members at the hands of law enforcement.
A graduate of the FBI National Academy at Quantico, Strong has received awards for his handling of some of the department's most infamous internal affairs investigations, including the Quiet Cannon Case in 2010 involving a deputy gang known as the 3000 Boys.
Strong lives in Inglewood with his wife Sidra, who is also a deputy in the LASD. They have three grown children, ages 24, 22 and 21.
Strong proposes major reforms to LASD
Deputy gangs have been allowed to persist at LASD for over 50 years, Strong said, because there has never been a message from the top that it needs to stop, let alone a sincere effort by a Sheriff or leadership at the department to investigate and disband them.
"My message is, this is going to stop," he said. "Today." Gang members' abuse and harassment of non-members at LASD is not just an internal issue, Strong said. "How can we expect [officers involved in gang activity] to treat the community with respect, dignity and compassion when they can't even do that on the inside to themselves?"
Another significant change he would implement is to change the conditions under which deputies are eligible for promotions to bring the LASD in line with the best practices utilized by other departments across the country, and then petition the Board of Supervisors to change the county charter so reforms cannot be undone by a future Sheriff.
This would mean adding educational requirements, leadership or managerial experience and a testing process administered by an entity outside the LASD, he emphasized.
"I want somebody from the outside to be part of the review process. If I say 'this person is qualified to be commander or chief,'" other people should have input, "whether it's a board of supervisors, an oversight committee, the Office of the Inspector General, community stakeholders, or even a panel of other law enforcement executives."
Strong added he would review promotions and, where necessary, have individuals step back from their duties until they receive adequate training to bring them in line with what's required to serve in the positions to which they may have been promoted in the absence of requisite merit and experience.
Current policies allow anyone who has served two years in their current position to be promoted in rank – an insufficiently high bar that, in many cases, was not met by the deputies promoted by Villanueva. The reason for Strong's focus on this issue is twofold: the current system facilitates favoritism and gang culture, incentivizing LASD personnel to undermine each other and to never speak out against policies and practices of their superiors. And it also keeps deputies siloed off from exposure to new ideas, approaches and experience they would glean from training administered by other departments.
Racism, and racially motivated use of excessive force, are also issues that stem from the messaging and culture at LASD, Strong said. He said changing the mindset and culture will be a top priority – coupled with civilian oversight "in every individual station" to keep the Department accountable.
Strong related a story of how, when serving as a unit commander reviewing civilian complaints, there was a case involving a black man in South LA who, pulling into his driveway after returning home from work, was threatened and treated with hostility by LASD deputies. Their justification, which was supported by a lieutenant, was that there had been shootings on that street.
"I said, 'what do you do when you get home from work and pull into your driveway?'" There was no apology by the officers, whose actions that day showed their lack of discernment, Strong said, which is reinforced by the higher-ups who have the same attitudes and biases.
"One of the most concrete things, other than changing the policies, are the mindset and culture." Otherwise, "we'll continue to have it," Strong added.
Triple A: Drivers will pay record breaking prices this holiday weekend
The average price for self-serve regular gasoline in California is $6.07, which is one cent higher than last week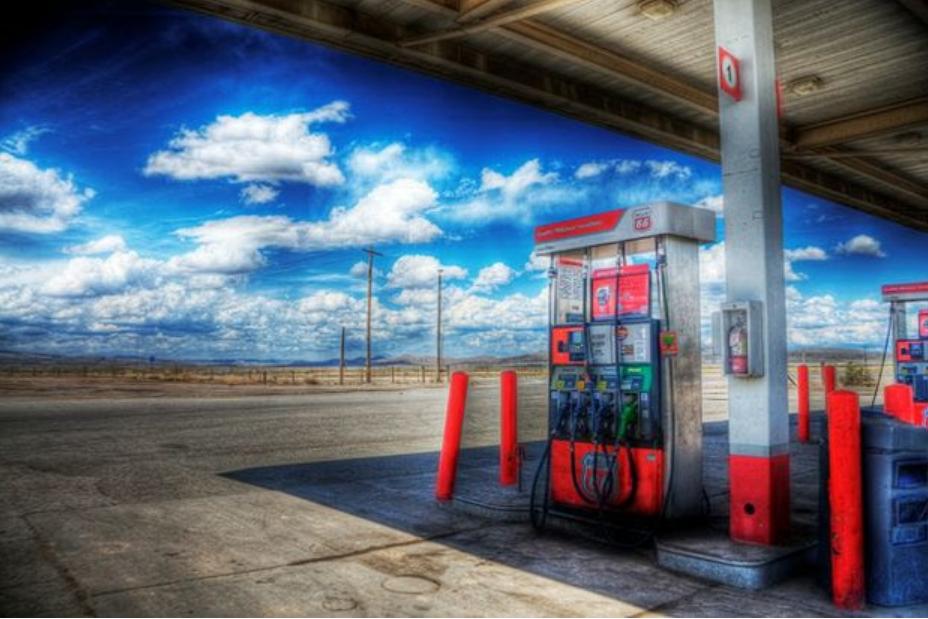 LOS ANGELES – High crude oil prices, concerns about global oil supply and high demand for gasoline will continue to put upward pressure on pump prices as we head into the Memorial Day weekend, according to the Auto Club's Weekend Gas Watch.
The average price for self-serve regular gasoline in California is $6.07, which is one cent higher than last week. The average national price is $4.60, which is one cent higher than a week ago.
The average price of self-serve regular gasoline in the Los Angeles-Long Beach area is $6.09 per gallon, which is one cent lower than last week, 31 cents higher than last month, and $1.90 higher than last year. In San Diego, the average price is $6.02, which is one cent lower than last week, 39 cents higher than last month, and $1.90 higher than last year.
On the Central Coast, the average price is $6.03, which has not changed since last week but increased 23 cents from than last month and is $1.88 higher than last year. In Riverside, the average per-gallon price is $5.98, which is the same as last week, but it is 26 cents higher than last month and $1.87 higher than last year. In Bakersfield, the $6.02 average price is four cents more than last Thursday, 27 cents higher than last month and $1.96 higher than a year ago today.
"Even though drivers will be paying the highest gas prices ever, we expect this to be the fourth busiest Memorial Day travel volume on record for Southern California," said Auto Club spokesman Doug Shupe. "Between Thursday, May 26th and Monday May 30th, we project 2.6 million SoCal residents will take road trips. Even with the higher gas prices traveling by automobile is still the most economical transportation."
The Auto Club recommends the following tips to save money on gas:
Look into carpooling if you commute a significant distance. Carpooling with one other person cuts commute costs in half, and you can cut your commute costs by two-thirds by carpooling with two other people.
Make sure your tires are properly maintained and inflated to the correct level.
Maintain your car according to the manufacturer's recommendations. Regular service will ensure optimum fuel economy.
Avoid "jackrabbit" starts and hard accelerations. These actions greatly increase fuel consumption.
Slow down and drive the speed limit. Fuel economy peaks around 50 mph on most cars, then drops off as speed increases. Reducing freeway speeds by 5 to 10 mph can increase fuel economy by as much as 14%.
Use cruise control on the highway to help maintain a constant speed and save fuel. However, never use cruise control on slippery roads because you could lose control of the vehicle.
Minimize your use of air conditioning.
Avoid extended idling to warm up the engine, even in colder temperatures. It's unnecessary and wastes fuel.
Remove unnecessary and heavy items from your car.
Minimize your use of roof racks and remove special carriers when not in use.
Download the AAA App to find the cheapest gas prices near you.