Kavanaugh avoids answering Harris on marriage-equality as settled law question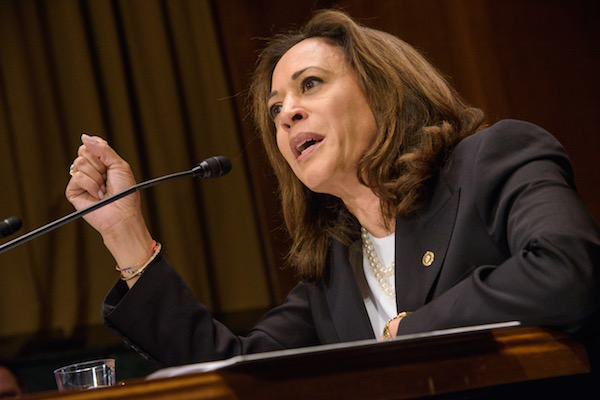 Brett Kavanaugh today declined to say whether he thinks the 2015 Supreme Court decision, Obergefell v. Hodges, legalizing same-sex marriage nationwide was correctly decided.
Kavanaugh mansplains to @KamalaHarris, who despite her best efforts can't get him to agree he won't vote to overturn SCOTUS ruling giving LGBTs right to marry. pic.twitter.com/pUNoJRzBs0

— Aaron Rupar (@atrupar) September 6, 2018
His refusal to take a position is in line with a position he has taken throughout his hearing that it would be inappropriate for him to comment on case matters. Kavanaugh referred simply to Justice Kennedy's statement that "the days of discrimination against gay and lesbian Americans are over."
The same-sex marriage decision was authored by Justice Anthony Kennedy, whom Kavanaugh hopes to replace on the court.  While Kennedy ruled favorably on several LGBT civil rights cases during his tenure, his final ruling such ruling was one that ruled in favor of a baker who refused to create a wedding cake for a gay male couple.
The Los Angeles Blade celebrates West Hollywood as it turns 37 today
The City of West Hollywood was incorporated on November 29, 1984 by a coalition of LGBTQ activists, seniors, and renters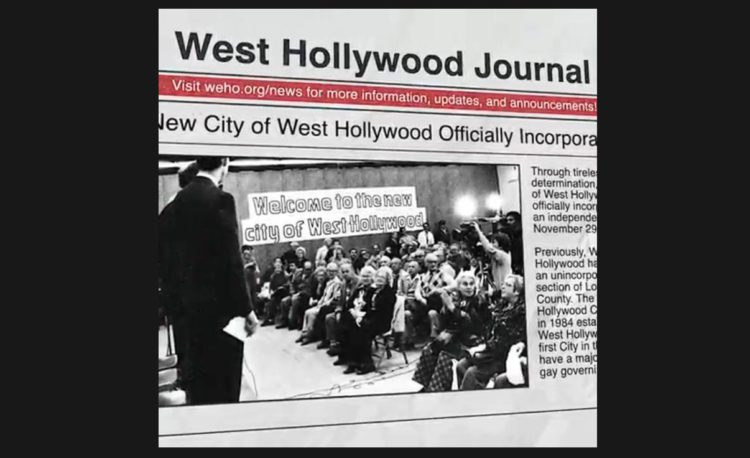 LOS ANGELES – Incorporated on this date 37 years ago, the City of West Hollywood became the 84th city in Los Angeles County. The "Creative City" was formed during an extremely difficult time for the LGBTQ+ people who lived in the region as the HIV/AIDS pandemic took countless lives.
The city's founding was also unique as it brought together an eclectic mix of renters, seniors, LGBTQ+ and others to form the basis of what is arguably one of the world's most prominent LGBTQ+ communities.
The City of West Hollywood was incorporated on November 29, 1984 by a coalition of LGBT activists, seniors, and renters. Since then, #WestHollywood has been the progressive leader for cities nationwide.

Take a look back at this past year in #WeHo! Happy West Hollywood Day! 💙 pic.twitter.com/GK1cHLFtxt

— City of West Hollywood (@WeHoCity) November 29, 2021
The spirit of that inclusivity and free-spirited thinking continues today even as the city and the surrounding greater LA region has survived yet another pandemic.
Celebrate West Hollywood's 37th Birthday!
President Biden delivers remarks on the omicron variant of Covid-19
Omicron Variant Is 'Cause For Concern, Not A Cause For Panic'
WASHINGTON – President Biden delivers remarks on the omicron variant of Covid-19 after meeting with his response team.
FULL TEXT of the President's remarks.
Good morning, folks. I hope you all had a happy Thanksgiving -– able to get together with your family and friends. And it was great to see so many families getting together this Thanksgiving after being apart last year. And we have much to be grateful for as a nation.

When I was elected, I said I would always be honest with you. So today, I want to take a few moments to talk about the new COVID variant first identified last week in Southern Africa. It's called the Omicron.

It is –- and to their credit, the scientific community in South Africa quickly notified the world of the emergence of this new variant. This kind of transparency is to be encouraged and applauded because it increases our ability to respond quickly to any new threats. And that's exactly what we did.

The very day the World Health Organization identified the new variant, I took immediate steps to restrict travel from countries in Southern Africa. But while we have — that travel restrictions can slow the speed of Omicron, it cannot prevent it.

But here's what it does: It gives us time. It gives us time to take more actions, to move quicker, to make sure people understand you have to get your vaccine. You have to get the shot. You have to get the — get the booster if you're -–

Sooner or later, we're going to see cases of this new variant here in the United States. We'll have to face this new threat just as we have faced those that have come before it.

Today, there are three messages about the new variant that I want the American people to hear.

First, this variant is a cause for concern, not a cause for panic. We have the best vaccine in the world, the best medicines, the best scientists. And we're learning more every single day.

And we'll fight this variant with scientific and knowledgeable actions, and speed — not chaos and confusion. And we have more tools today to fight the variant than we've ever had before — from vaccines to boosters, to vaccines for children five years and older, and much more.

A year ago, America was floundering against the first variant of COVID. We beat that variant significantly, and then we got hit by a far more powerful threat: the Delta variant. But we took action, and now we're seeing deaths from Delta come down. We'll fight the –- you know, and –- look, we're going to fight and beat this new variant as well.

We're learning more about this new variant every single day. And as we learn more, we're going to share that information with the American people candidly and promptly.

Second, the best protection –- I know you're tired of hearing me say this — the best protection against this new variant or any of the –- of the variants out there -– the ones we've been dealing with already — is getting fully vaccinated and getting a booster shot. Most Americans are fully vaccinated but not yet boosted.

If you're 18 years or over and got fully vaccinated before June the 1st, go get the booster shot today. They're free, and they're available at 80,000 locations coast to coast. A fully vaccinated boosted person is the most protected against COVID.

Do not wait. Go get your booster if it's time for you to do so.

And if you are not vaccinated, now is the time to get vaccinated and take your children to be vaccinated. Every child age five or older can get safe, effective vaccines now.

While it will be a few weeks before we know everything we need to know about how strongly the existing vaccines protect against the new variant — Dr. Fauci, who is with me today — of our medical team, and — believe that the vaccines will continue to provide a degree of protection against severe disease.

And as an additional protections, please wear your masks when you're indoors in public settings, around other people. It protects you; it protects those around you.

Third, in the event — hopefully unlikely — that updated vaccinations or boosters are needed to respond to this new variant, we will accelerate their development and deployment with every available tool.

I want to reiterate: Dr. Fauci believes that the current vaccines provide at least some protection against the new variant and the boosters strengthen that protection significantly.

We do not yet believe that additional measures will be needed. But so that we are prepared if needed, my team is already working with officials at Pfizer, Moderna, and Johnson & Johnson to develop contingency plans for vaccines or boosters if needed.

And I will also direct the FDA and the CDC to use the fastest process available — without cutting any corners for safety — to get such vaccines approved and on the market if needed.

And we will do that the same way if — any modifications are needed or current treatments need — used to help those with — who get ill with the COVID virus.

Look, I'm — I'm sparing no effort and removing all roadblocks to keep the American people safe. All of this is confusing to a lot of people. But if it's confusing to you, let me close with this simple message: If you are vaccinated but still worried about the new variant, get your booster. If you aren't vaccinated, get that shot. Go get that first shot.

My team at the White House will provide me with daily updates this week. And on Thursday, I'll be putting forward a detailed strategy outlining how we're going to fight COVID this winter — not with shutdowns or lockdowns but with more widespread vaccinations, boosters, testing, and more.

I promised every American that there will be — always be the latest vaccines available and the booster shots available to them and for free and — everywhere available. Every single American, free of charge — and I will keep that commitment.

But we need to do more than vaccinate Americans. To beat the pandemic, we have to vaccinate the world as well. And America is leading that effort. We've shipped — for free — more vaccines to other countries than all other countries in the world combined: over 275 million vaccines to 110 countries.

Now we need the rest of the world to step up as well. Let me be clear: Not a single vaccine shot Americans ever send to the rest of the world will ever come at the expense of any American. I will always make sure that our people are protected first.

But vaccinating the world is just one more tool in how we need to meet our moral obligation as Americans and how to best protect Americans as well.

The Delta variants and now the Omicron variant all emerged elsewhere in the world. So we can't let up until the world is vaccinated. We're protecting Americans by doing that as well.

As we continue this effort, let's remember where we stand. We're in a very different place as we enter the month of December this month compared to where we were last — last Sept- — last Christmas.

Last Christmas, fewer than 1 percent of American adults were vaccinated. This Christmas, the number will be over 71 percent, including more than 86 percent of seniors.

Last Christmas, our children were at risk without a vaccine. This Christmas, we have safe and effective vaccines for children ages five and older, with more than 19 million children and counting now vaccinated.

Last year, a majority of schools were closed. This year, 99 percent of our schools are open. And let me reiterate once more: We also now have booster shots that provide extra protection. They are free and convenient. There is still time to get your first two shots or your booster shot or get your children vaccinated before Christmas. All three are available and can be done before Christmas.

If you and your family are fully vaccinated, you can celebrate the holidays much more safely. And given where we were last year, that's a blessing that none of us should take for granted.

We're throwing everything we can at this virus, tracking it from every angle. And that's what we have to keep doing. That's how we reopened our country. That's how we reopened our businesses. That's how we reopened our schools. That's how, even with a pandemic, we've generated a record job creation, a record economic growth in this country.

We've moved forward in the face of COVID-19. We have moved forward in the face of the Delta variant. And we will move forward now in the face of the Omicron variant as well.

So thank you. May God bless our troops. And I hope you all have — I'll be speaking before then, but — a Merry Christmas, as we approach it.
"Moms for Liberty" seeks to ban MLK Jr. book- Tennessee Ed. Dept refuses
The group appears to suggest slavery and Jim Crow were "positive achievements, like unity and the overall improvement of our country"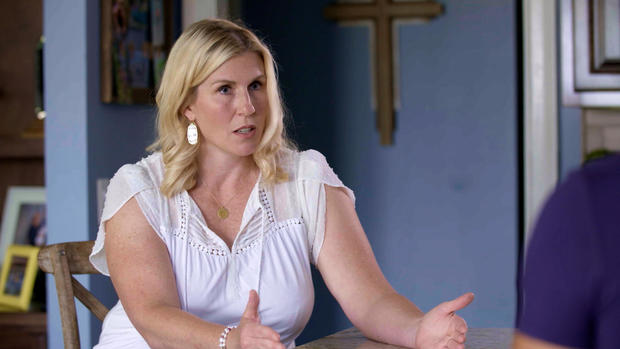 By David Badash | NASHVILLE – The Tennessee Dept. of Education is refusing to investigate a far right group's claims that a second grade curriculum which includes books about Black Civil Rights icon Dr. Martin Luther King, Jr. is "anti-American" and "anti-white" – but on a technicality.
The Williamson County, TN chapter of the group Moms for Liberty had filed an 11-page complaint with the state, claiming that the "classroom books and teacher manuals reveal both explicit and implicit Anti-American, Anti-White, and Anti-Mexican teaching," as The Tennessean reports.
"The relentless nature of how these divisive stories are taught," the group's complaint continues, "the lack of historical context and difference in perspective, and the manipulative pedagogy all work together to amplify and sow feelings of resentment, shame of one's skin color, and/or fear."
The complaint is signed by the local group's chairperson, Robin Steenman, who Reuters has called "an Air Force veteran and white mother of three." It claimed the Williamson County Schools district is violating the law:
Steenman also appears to suggest slavery and Jim Crow were "positive achievements, like unity and the overall improvement of our country."
Her comments to some may sound straight out of a Fox News or right wing media reports. They claim the curriculum amounts to a "heavily biased agenda," one that "makes children hate their country, each other, and/or themselves."
Rather than be concerned that these events actually happened, Steenman appears to be suggesting teaching they happened is anti-Americanism:
ThinkProgress and Popular Information founder Judd Legum:
Moms for Liberty says learning about MLK Jr's March on Washington is emotionally traumatizing for Tennessee students

Learning about past injustices, they say, violates Tennessee law pic.twitter.com/ElOx4ysfJ8

— Judd Legum (@JuddLegum) November 29, 2021
The Tennessean reports "the department declined to investigate the allegations because the lessons occurred during the 2020-21 school year."
The department is only authorized to investigate allegations that have occurred during the 2021‐ 2022 school year and subsequent school years, according to the letter sent to Steenman by Education Commissioner Penny Schwinn on Nov. 23.
Which means the complaint could be filed again.
********************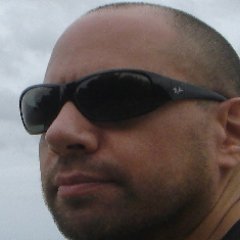 David Badash (@davidbadash) is the founder and editor of The New Civil Rights Movement, an award-winning news & opinion site.
********************
The preceding article was first published by The New Civil Rights Movement and is republished by permission.