September 8, 2018 at 5:41 pm PDT | by Staff reports
Los Angeles Blade nominated for West Hollywood Chamber of Commerce Creative Business Award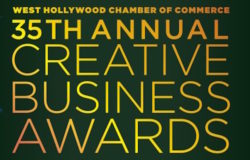 The West Hollywood Chamber of Commerce has announced nominees for the group's 35th Annual West Hollywood Creative Business Awards, including a Creative Communications Award nomination for the Los Angeles Blade.
The Creative Communication Award is awarded for innovative excellence in media arts and communications. Los Angeles Blade will share the nomination with the City of West Hollywood's Communications Division and Green Public Affairs & Campaigns.
"I am so honored the newspaper has been nominated and thrilled to share the nomination with such great company," said Los Angeles Blade publisher Troy Masters. "It is a validation of our vision and for that I am grateful."
"The Los Angeles Blade," he continues, "brings a great deal of editorial power and talent together every week. We are blessed to have a tremendously talented News Editor in Karen Ocamb, someone who has covered the LGBT community and AIDS crisis in West Hollywood and Los Angeles for several decades. And we are also blessed to have such a powerful publishing partner in the Washington Blade, America's oldest LGBT newspaper. As a result, we are the only LGBT media member of the White House Press Corp. The newspaper also has deep roots in New York's LGBT and publishing community where, 30 years ago, I created that city's only LGBT newspaper."
"We believe that a modern newspaper operation should work hard to ensure sponsors benefit from every available channel of marketing (Print, Web, Social, email and event marketing) and that as a 'one price for the whole package' the combination is a particularly strong one local brands and national marketers," Masters said.
Three nominees will be announced for each of the additional categories on Monday September 10. The Creative Concept Award is for new innovative products or services. The John Chase Art & Design Award honors companies in the creative arts realm. The WeHo Attraction Award benefits destination business that help drive the local tourism market. Creative Community Service Award recognizes a business or individual who has shown exemplary service to the community. The Innovative Sustainability Award is given to companies or individuals who make innovative sustainability contributions to the community.
This year's Legacy Award will be presented to Rod Gruendyke. Rod has been in the hospitality business for over 40 years.
The event, presented this year by Los Angeles Blade advertiser MedMen, will be hosted by Leslie Jordan on Thursday, November 15, 2018 at The Jeremy West Hollywood (8490 Sunset Boulevard).
The West Hollywood Chamber of Commerce was established in 1921.