Waters' call for Trump's impeachment applauded by Stonewall Young Democrats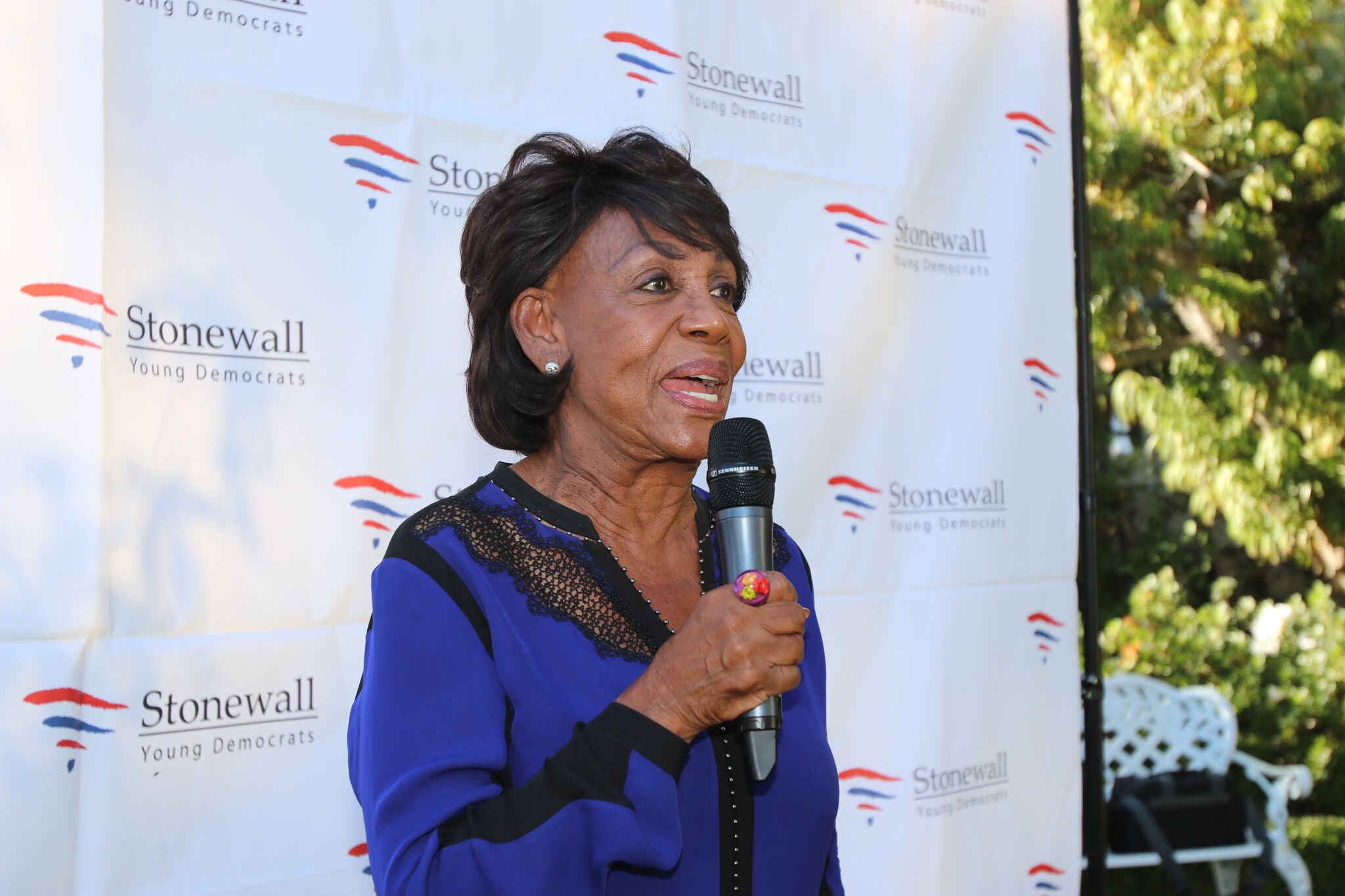 U.S. Congress member Maxine Waters and Los Angeles Councilmember Mitch O'Farrell were among a group of luminaries honored on Saturday at the 2018 Hero Awards, presented by Stonewall Young Democrats. Waters received the Lifetime Achievement Award, while O'Farrell was chosen as Elected Official of the Year in a garden-party, end-of-summer ceremony in Brentwood. Other award recipients at Saturday's event included Los Angeles Community College District Trustee Andra Hoffman, Dr. Paul Song and journalist Lisa Ling, and Stonewall Young Democrats Vice President Tanner Brown.
Waters needed no introduction. During her 28 years in Congress, her brand of no-nonsense politics and spirited advocacy for the economic and social equality of women and people of color has been lauded by progressives both within her South Los Angeles district and across the nation. Today, Waters is widely considered one of the most powerful women in America.
Waters has also been a torchbearer in the fight for LGBTQ rights for decades. During the HIV/AIDS crisis, she organized a hearing of the Congressional Black Caucus to discuss the epidemic. Waters and California Rep. Mervyn Dymally were the only members to show up, leaving them as "the two people standing up on behalf of our community in Washington" during the epidemic. Waters also voted against the 1996 Defense of Marriage Act, which prohibited federal recognition of same-sex marriages, until it was largely struck down by United States v. Windsor in 2013. Now, Waters is the leading voice for the impeachment of President Donald Trump.
Waters spoke to the Los Angeles Blade about how she would protect LGBTQ individuals against a potential Pence presidency if the impeachment of Trump was successful.
"I am not dismissive of the argument that says Pence could be worse," Waters said. "I truly believe that people see Trump and Pence as part of an Administration that has been divisive and who needs to be gotten rid of. So if we get rid of Trump, I think we can knock out Pence easily…I think, in many ways, he comes with the package, and I don't think people are going to see him in such a great light. I think people are going to be more emboldened to get rid of him once we get rid of Trump."
During her comments to Stonewall Young Democrats, Waters doubled down on her call for impeachment, despite Democratic leaderships wariness on the subject. Trump "is responsible for the kind of division coming back that we thought we had cured a long time ago," she said. "If you cannot talk about impeachment given what we have learned about him and the way that he's defined himself, then impeachment means nothing."
Waters also alluded to Sen. Dianne Feinstein's apology to Brett Kavanaugh for the interruption of his confirmation hearing by protestors. "We don't ask permission to protest. We protest when we understand that we have to make America hear us and see us and understand that we all have something to say," Waters said. She added that she comes "from the school of those who use protest to move America forward and to change this country, and I'm proud of that."
Waters also discussed the LGBTQ community's role in moving America forward. "I don't know if you understand how you have changed America and helped so many people change their thinking," she said. "I'm so very proud of the grandmothers and grandfathers and aunts and uncles and all of those who are different people now because of you…You should take credit for the work that you're doing to help bring about justice and equality for the LGBTQ community."
Concluding her speech to a standing ovation, Waters asserted: "We cannot be intimidated, we cannot be made to fear anybody who would undermine our ability to have a decent quality of life. You have shown us that, LGBTQ community."
Mitch O'Farrell is part of a vanguard of that equality, having served as a LA City Councilmember for the past five years. He is one of the first openly gay city officials in LA history. "The 13th District has significant LGBTQ cultural assets and history. I came into this position in 2013 knowing all of that," said O'Farrell.
The Councilmember alluded to this history, referencing the establishment of the first LGBT organization in the world, the sparking of the LGBTQ rights movement at the Black Cat protest, and the first Pride parade in America – all of which happened in his Hollywood-Silver Lake district. "I have quite a responsibility representing the 13th being an openly gay man, don't I?" he joked to the appreciative audience.
The Councilmember spoke to the LA Blade about a new landmark achievement. His office is "creating mandatory job training, in-person and online, for all City employees for transgender sensitivity," he said. "We will be the first municipality in the United States to do this." The legislation includes public-facing employees such as police officers and firefighters, and could go into effect as early as this year.
O'Farrell has also collaborated with the city's Transgender Advisory Council to fight issues affecting the transgender community; showcased a timeline of local LGBTQ history with the Los Angeles Public Library and the ONE Archives; condemned human rights violations against LGBTQ people in Russia; and funded various LGBTQ youth and homeless organizations within his district.
O'Farrell emphasized the importance of intersectionality through his working with faith leaders in fighting the divisiveness of the current Administration. "When one group is oppressed by a tyrant with red hair in the White House, then all of us are oppressed," he said.
LACCD Trustee Andra Hoffman was awarded the Stonewall Young Democrats' Trailblazer Award. Hoffman has served as a Trustee since 2015, and was elected Vice President of the Board earlier this year, improving access to higher education as a director at Glendale Community College. Hoffman has also been at the forefront of helping undocumented students through AB 540 and fighting for the enactment of the California Dream Act. She also chairs the LACCD Sexual Harassment/Title IX Task Force and continues to mentor and support young women and girls in the San Fernando Valley.
"Standing up to a bully is nothing short of me trying to do the best I can do as an elected official representing 5 million people," she said. "On the Board level, if we don't treat each other with civility and respect and try to move forward our agenda to try to help others attain an education and get a good job, then we're not doing our jobs. So standing up to a bully was not something I expected to get an award for. I don't really think of myself as a trailblazer, I think of myself as someone who's passionate and who cares about others."
Husband and wife duo Dr. Paul Song and Lisa Ling were awarded the Allies in Equality Award. Song has been a tireless advocate for universal healthcare and social justice for all people for nearly twenty years. Lisa Ling has a respected journalism career and currently serves as executive producer and host of CNN's This is Life with Lisa Ling.
California State Controller Betty Yee described Ling, who was unable to attend the ceremony, as "someone unafraid to explore worlds and realities for people living in the shadows, that help deepen our understanding of what their experiences are."
Dr. Song described his experiences in medical school in the midst of the HIV/AIDS crisis as the catalyst for his fight for LGBTQ rights. "You couldn't help but notice the toll that this disease was taking on a certain population in our society. But more importantly, you couldn't ignore the love that you saw between the people that were suffering the disease and their committed partners," he said.
Song and Ling moved to California in the midst of the anti-gay marriage Proposition 8 battle in 2008. Prop 8 surprised the couple because it was occurring "in a state that we thought was the most progressive state in the country." Song subsequently joined the Courage Campaign in its fight against Prop 8—a grassroots organization he later headed. Ling's important report about so-called "conversion therapy" led to the shutdown of a prominent anti-gay organization.
Song lauded the role of the LGBTQ community in the enactment of social change. "Just as there was a sea change with marriage equality, you see it happening now with Medicare-for-all. I would encourage every one of you to keep up the fight," he said.
The Michael Colorge Volunteer of the Year Award was presented to Stonewall Young Democrats Community Vice President Tanner Brown. In addition to working with SYD, Brown also advocates for fair housing initiatives for LGBTQ individuals, including HR 1447, which would amend the federal Fair Housing Act to prohibit housing discrimination based on sexual orientation and gender identity.
Behind the scenes: LGBTQ staff working on Biden's re-election
"We who work in politics feel like this is a choice between, most likely, Donald Trump & President Biden and Vice President Harris"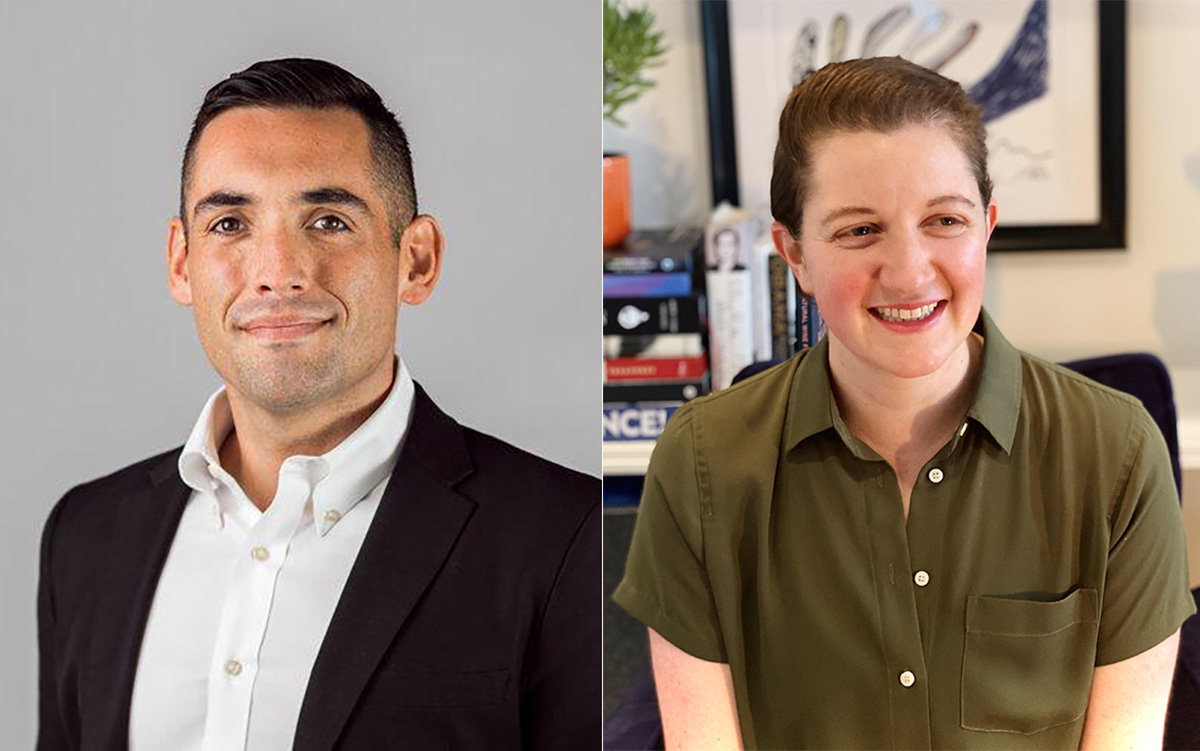 (Editor's note: This is the third in a three-part series profiling senior LGBTQ staff working on President Biden's re-election campaign. Part one was published on Nov. 21 and part two was published on Nov. 29.)

WILMINGTON, Del. — Last month from campaign headquarters, the Washington Blade spoke with Sergio Gonzales, senior adviser to Vice President Kamala Harris and the Biden-Harris reelection campaign, along with senior campaign adviser Becca Siegel.
On the importance of LGBTQ representation in the presidential campaign, Gonzales said, "When it comes to policies that affect the lives of millions of people in our communities across the country, having people who have that experience and that background really does matter."
Moving into next year, he said, the team is working "to ensure that we have people from across the spectrum of America who are able to both bring their own personal experiences and lives into these roles, but also bring a lot of relationships across the country and being able to engage with the community, talk to the community, persuade the community, turn out the community."
Gonzales has worked for Harris since she was elected to represent California in the U.S. Senate, and he said her record supporting and defending the LGBTQ community throughout her career was one of the major factors leading to his decision to join the campaign.
"Especially when it comes to issues related to LGBTQ rights and freedoms, this is something [Harris] has such a long history on," he said. "She has always — both in her office and externally — formed these strong relationships with people in the LGBTQ community and those relationships have always been very, I think, important in not only ensuring her office and the work that she has done reflects the various things that we as a community need, but also just in the way she supports people of color and LGBTQ folks who have worked for her."
In an election where, as the vice president says, so much is at stake for our fundamental freedoms and rights," Gonzales said, "that is especially true for LGBTQ Americans. If you look at the number of attacks by GOP leaders at the local, state, and federal level across the country, so much is on the line in this election."
On the right, Gonzales said, "We have a lot of leaders and a party in this country who are doing their best to try to attack fundamental rights and freedoms of a lot of different folks, including people in the LGBTQ community — and, in some ways, who are trying to turn back the clock on a lot of the progress we've made."
Voters are aware of the fact that, for instance, Republicans elected "a new Speaker of the House who has a very, very alarming and disturbing record of attacking people in our community, including trying to outlaw you know, being gay," he said.
"Both as senior adviser and personally as a very openly and proud gay man," Gonzales said, next year's election "is one of the most important if not the most important election of our lifetime," because "I see what sits on the other side; I see all of these different states who are trying to attack our rights, who are banning books, who are passing 'Don't Say Gay' laws, who are attacking trans people and trying to undo gay marriage, who are — both through policy and through rhetoric — making the country more dangerous for people like me and our community."
"I'm glad and proud to work for a principal and work for a campaign that is about continuing the progress and ensuring we don't turn back the clock and we don't go back on these things," he said.
Gonzales noted the Biden-Harris administration's appointment of record-breaking numbers of LGBTQ folks in senior positions in the White House and across the federal government, but stressed that the commitment to equality runs deeper.
"This administration is an administration that has ensured that not only is there representation for the LGBTQ community, but also has actually driven multiple policy wins, both through the executive level and through Congress, that ensure and afford greater rights and freedoms for people in our community," he said.
Helping voters see the contrast between this and what Republicans — like the party's frontrunner, former President Donald Trump — would do if elected will be an important part of the campaign's work moving into next year, Gonzales said. "As things become much more clear and what we are up against, and Donald Trump comes more into focus, I truly believe that we're going to see a lot of different parts of the country start to engage in this election," he said.
Voters will also remember "the specific things that [Trump] did in his last administration," Gonzales said. "They tried to erase LGBTQ people from the census. They imposed a ban on transgender individuals in our military, which this administration undid. They undid protections for LGBTQ Americans, including transgender individuals, in the workplace, and more broadly," so, "this is not just bluster."
And the Biden-Harris administration "has so much to run on" with respect to LGBTQ matters, Gonzales said, "whether we're talking about health care, whether we're talking about the Respect for Marriage Act, whether we're talking about, you know, some of the ways that we've addressed bullying in schools — these are very real policy wins for our community."
Like Gonzales, Siegel has "worked on many presidential campaigns."
"Your whole life is here when you're working on a campaign," she said. "This is your work, but also your social life and your friends," so "if you are not bringing your whole self to this community, you're not bringing it anywhere in your life."
Our job is to persuade and engage with voters," Siegel said, "and we have to have a campaign that reflects the voters we are trying to engage with."
"Core to my approach to this work is respect and empathy for voters," she said. "That's what we should think about every day. I think we are much better prepared to do that when we have a staff that looks like those voters."
Siegel added, "It's not just so that you walk into the office and it looks like it is a diverse place to work. That's important, too. But it's actually about the work."
With respect to her individual role within the campaign, she said, it comes down to "let's take that strategy" of using data to find a pathway to victory "and then make sure we are executing a campaign that reflects it." When it comes to "travel, comms, which radio stations we're on, what our TV ads say, where we're allocating our money, where we're hiring staff — do those things align with the strategy to get us to 270 electoral votes?"
The importance of representation, LGBTQ and otherwise, may not seem self-evident in data-centric roles, but Siegel noted, for instance, the persistent challenge of combatting bias within datasets.
Like Gonzales, Siegel stressed the contrast between the Biden-Harris administration and campaign and those run by the Republican opposition. "LGBTQ rights feel more under attack now than they have in the past," she said, "and so that rises to the top of concerns for voters — and our policy and position on this is really far away from the Republicans'."
"That's a clear contrast between us and the opposition," she said, adding, "It's at the top of people's minds. It's something they care about, and we have a pretty unimpeachable record on it compared to the opposition."
It is not necessarily so simple, however.
"We who work in politics feel like, of course, this is a choice between, most likely, Donald Trump and President Biden and Vice President Harris," Siegel said, "but voters, especially the voters who are most persuadable, don't feel that way right now, necessarily."
The choice voters will face will crystalize and the contrast between the campaigns will deepen moving into next year, she said.
On lots of LGBTQ issues, Americans are on our side. And when it becomes a choice between, 'there's this version of America and then there's Trump's version of America,' — then, that is really clear," Siegel said.
The campaign is working to reelect the president and vice president to represent the people, the voters, who "have day-to-day things that prevent them from, like, reading Politico," she said. "They have kids, they have to pay their bills, they have to worry about all kinds of things."
Siegel added, "I have a lot of faith in voters. They care about their families. They want a good life. They care about people who are different than them. I think most people care about other people."
For those working on the campaign, she said, "it's really on us" to make sure to "explain and show and demonstrate to them what you are getting from this administration, from these candidates."
"We get to run on issues that help people and are popular," Siegel said. "That's a great place to start from."