Transphobic comment overshadows LGBT media gathering
New NLGJA President Sharif Durhams is 'mortified'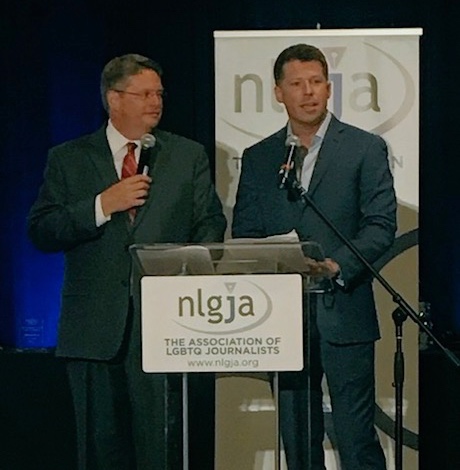 Openly gay Columbus, Ohio meteorologist Marshall McPeek, a longtime member of NLGJA: The Association of LGBTQ Journalists, apparently skipped all the references to the importance of respecting transgender people in the NLGJA Stylebook and its recent supplement on terminology. In a crassly symbolic display of the murky chasm between a mission statement and practice, McPeek opened his remarks at NGLJA's closing reception Sept. 8 in Palm Springs with "Ladies and gentlemen, things and its" in welcoming the audience.
Black TransGriot blogger Monica Roberts yelled at the stage: "Oh no, he did not….There are no Things or Its here!" And though an immediate tweet by them reporter Mary Emily O'Hara on McPeek's comment went viral.
Initial reaction was that apparently no one else in the room rose with a similar public condemnation. However, Jason Parsley, Executive Editor of South Florida Gay News, notes that not everyone was paying attention. "I was in the room," he tells the LA Blade. "I did hear the emcee say "Ladies and Gentlemen" but I must have tuned out after that because I did not hear the "things and its" remark. Nor did I hear Monica scream out. I had no idea anything offensive was said until the emcee publicly apologized. At that point I asked several people around me what the hell was said. No one that I spoke with knew. I suspect there were others in that room that also missed those remarks. Later when I learned from a tweet what had been said I was obviously disgusted and appalled."
McPeek subsequently apologized, as did NLGJA. "People were understandably hurt and offended by last night's remarks. As journalists, we understand uniquely that words matter. We apologize and are committed to working to make NLGJA more inclusive and diverse," NLGJA's statement read.
"No Mr. McPeek and by extension, NLGJA and FOX News [an event sponsor], there were no 'things and its' in that Hotel Zoso room that September 8 night. There were trans, gender non-conforming (GNC) and non-binary (NB) people in there," Roberts wrote. "How do you think that 'things and its' comment, which has been derisively and sometimes violently spat at the trans community by all transphobic comers over the last few years made us feel?"
"When I heard about the comment, I was mortified," incoming NLGJA's first African American President Sharif Durhams (Senior Editor, CNN Digital) said in a statement to the Los Angeles Blade. "People have used slurs about my race and sexual orientation. There are comments that are painful and that you can't take back. We're supposed to provide a space that's safe.
"We have and have had transgender and non-binary members on our board of directors, and we listen to them. Transgender and non-binary members pitch panels, and we ask them to lead those panels. Transgender and non-binary members weigh in when we change our stylebook and when we work with media organizations on fixing problematic coverage. We're going to continue to do all of that," he continued.
"I spent our entire conference talking with members and potential partners about programming I want to launch around coverage of transgender people. We're going to do that, too," Durhams said. "The whole point of this is to expand the circle of people who lead this organization. We're going to ask more people to join us, and they will have a say in what we do next."
Durhams also responded to questions about NLGJA receiving funding from Fox News. "Members of NLGJA and other LGBTQ journalists work there, and their employer is supporting them. We want to promote fair, accurate coverage of our community by all news organizations, so we're working with as many as we can," he said.
Fox News did not reply to a request for comment from NBC News/Out, which ran a report on the incident Sept. 10 — but Tony D'Angelo, general manager of Fox 28 and ABC 6, the two stations where McPeek works, condemned the comments "to the highest degree," saying they were "hurtful and offensive."
"Marshall's comments in no way reflect the values of Sinclair Broadcast Group," D'Angelo wrote in an email statement to NBC News. "We are an inclusive workplace that prides itself on all employees feeling comfortable and welcome. Sinclair has supported the important work of NLGJA and its member journalists and we were saddened by his comments."
Also saddened by McPeek's comments were many of the other participants at the NLGJA convention, as well as attendees at the 10th annual national convening of LGBT editors and bloggers put on by the Evelyn and Walter Haas Jr. Fund and the Arcus Foundation. This year #LGBTMedia2018 was organized in conjunction with NLGJA, coordinated by NLGJA Executive Director Adam Pawlus.
"We're waiting for feedback from the convening's attendees about the new format before deciding what to do next year," Haas Jr. Senior Program Director Matt Foreman told the LA Blade.
Unfortunately, McPeek's offensive transphobic comment overshadowed what was otherwise a very interesting and productive four days of networking, education and professional development—and totally obscured the incredible contributions by a number of trans presenters.
Convening MC Bethany Grace Howe, for instance, is a writer at HuffPo, and doctoral student at the University of Oregon where she is gathering facts and statistics about trans identity and the development of defense-related emotions. She also has a casual side-splitting sense of humor that disrupted the furrowed-brow thinking as we followed presenters such as digital archivist Matt Dellinger, who provided resources for archival storytelling and Brian Malte, executive director of Hope and Heal Fund, as he talked about working with the Williams Institute to research the relationship of gun violence to the LGBT community beyond the shooting at Pulse nightclub, a research report expected out next November.
There were also a number of personal development and intense off-the-record exchanges. Kei Williams, a queer transmasculine identified designer, writer, public speaker, organizer and founding member of Black Lives Matter Global Network in New York, led convening attendees in a series of "get-to-know-you" questions that broke down personal barriers some folks didn't know were up: "Who are your people?" There was an off-the-record exchange with former Equality California Jim Carroll about his candid reflections on the battle over Prop 8, still a sore subject to many, and an on-the-record discussion with Evan Wolfson, former founder of the successful Freedom to Marry campaign who is now advising organizations on winning movement strategies and reminded everyone that marriage equality wasn't a gift from the Supreme Court but was a hard-won victory changing hearts, minds and laws. Wolfson also said that while the times may be dark, he operates from a place of hope, recognizing that the LGBT community has made substantial progress and should fight building on success, no matter the brief setbacks.
And there was a lively discussion about how to cover LGBT issues in red states, with Think Progress' Zack Ford (celebrating his birthday!) and Buzzfeed's Dominic Holden in hearty dispute with the panelists' conclusions.
And with the new format, LGBT media conveners got to attend NLGJA panels — such as Google fundamental tools for journalists, "Dead Names" and Real Lives in Obituaries, HIV & AIDS stories with HIV Plus Magazine's Diane and Jacob Anderson-Minshall, and Gay and Graying, moderated by Palm Springs trans City Councilmember Lisa Middleton with AARP's senior advisor and LGBT liaison Nil-Quartelai Quartey (who asked: "what keeps you up at night?") and Jason Rosendez, Director of USAgainstAlzheimer's Latino Network, who described alzheimer's disease as "the second inconvenient truth." There are an estimated 1 million LGBT seniors, a number expected to double by 2030— "the first out generation to grow old," said Middleton; another estimate projects adults over 65 will outnumber children under 18 by 2035.
One of the most moving panels was entitled very simply "Trans 101" with Ina Fried, Brooke Sopelsa, Jacob Anderson-Minshall, Bethany Grace Howe, with Monica Roberts asked to join from the audience, and MCed by Dawn Ennis. But it was anything but simple. Axios' Ina Fried,  a longtime member of NLGJA, remembered Los Angeles Times transgender sports columnist Mike Penner who publicly transitioned into Christine Daniels, with the help of friends like Ina and support from LA's MCC Church. Christine was heralded and spoke at NLGJA's 2007 convention, but was inwardly tormented, "de-transitioned," and committed suicide Nov. 29, 2009. The LA Times, which had supported her transition, struggled to explain what happened. Ina and others who remembered Christine – and Mike – were still sad on the late afternoon of Sept. 8, 2018.
NLGJA also held plenaries, the most stirring of which was the Michael Triplett Series: Matthew Shepard 20 Years Later with Dennis and Judy Shepard of the Matthew Shepard Foundation, Beverly Tillery, executive director of New York's Anti-Violence Project, with longtime communications expert Cathy Renna serving as host. It was 20 years ago that University of Wyoming student Matthew Shepard was lured out of a local bar by two men, beaten, tortured and left to die hanging on a remote fence near Laramie, Wyoming on the night of Oct. 6, 1998. He died six days later of head injuries. His death became a media firestorm as reporters focused on what role his being gay played in his murder.
After reading news coverage, Renna left her New York office at GLAAD and flew to Wyoming to help Dennis and Judy Shepard deal with the massive media descending on them as the perpetrators went to trial. Matt would have been 42 this December. "If you're under 45, you're one of ours," Dennis noted. "If we can't take care of him, we can take care of the rest of our kids." Judy said she is "angrier now than when she first started doing this work," with hate crimes rising in this new political climate.
Tillery confirmed the rise, attributing it to "the anti-American rhetoric spewed by President Trump and this administration," adding that now the violent attacks are "in our safe spaces," like the Pulse nightclub. "They're coming for our community," she said. Judy Shepard noted the "fatal flaw" in the federal Matthew Shepard and James Byrd Jr. Hate Crimes Prevention Act of 2009 does not include mandatory enforcement or reporting, letting states like Mississippi claim to have no hate crimes. "We need to figure this out," she said, since law enforcement doesn't know what they're looking for. Judy stressed the importance of reaching out to straight allies: "Honestly, they're just waiting to be asked. We're really interested and we have money," she said to much laughter. "To be blunt—you all need to suck it up because we really need your help."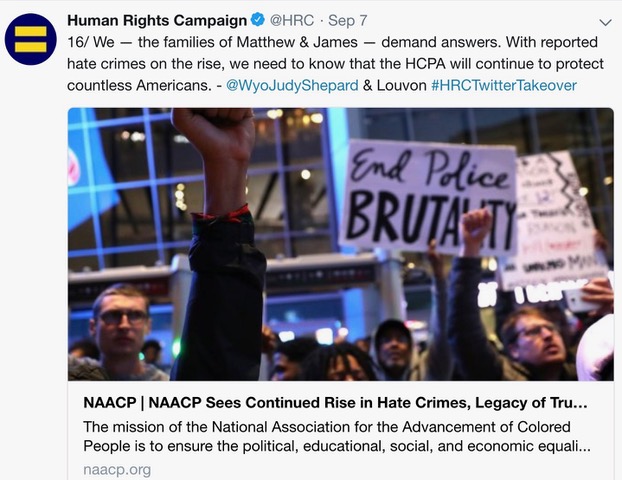 Mitchell Gold asked about the role anti-LGBT religious bigotry plays. "Religion is really our biggest roadblock to acceptance and equality for the LGBT community," Judy Shepard said. "If it changed, it would change everything." But the solution right now, she said, is to vote in the midterms. Judy also noted that she and Louvon Byrd "took over" the Human Rights campaign twitter feed on Sept. 7 to talk about the need to report hate crimes. James Byrd Jr was murdered by three white supremacists on June 7, 1998, dragged behind a pickup truck on an asphalt road for three miles until his body fell apart. The Shepards and the Byrd family worked together to get the federal hate crimes law passed.
Other NLGJA plenaries included "That's So Hollywood," moderated by Steve Holzer with West Hollywood-based author and TV host A.J. Gibson, Dr. Jon Paul Higgins, and Chris Azzopardi who made Jane Fonda cry when he asked her why gays love women of a certain age and a plenary featuring Monica Roberts, Donna Rossi, Karl Schmid, and David Begnaud, who talked about his reporting on the devastation of Hurricane Maria in Puerto Rico—he is reporting on Hurricane Florence right now.
The other benefit of the NLGJA and #LGBTMedia2018 convening was the personal networking. Bilerico Project founder Bil Browning, now with LGBTQ Nation, was given a "thank you" award by Matt Foreman for organizing the LGBT Media Convenings for many years. And I was surprised to learn that Cynthia Laird, editor of the Bay Area Reporter and Paul Schindler, editor of Gay City News in New York had never met, though each has toiled in the land of LGBT journalism for decades. Schindler said he and Duncan Osborne have launched the laborious task of digitizing and preparing old news clippings and remembrances in advance of the 50th anniversary of the Stonewall riots, anticipating that mainstream media will probably rely on facile information minus the nuances of the LGBT sensibility.
This is only some of what occurred during the Haas LGBT Media Convening and the NLGJA convention – overshadowed by the casual, offensive transphobic remark made by Marshall McPeek. But for those in the rooms where it happened, new friendships, new insights and new data will surely inform reporting on LGBT issues going forward.
Newsom appoints Vianey Lopez to Ventura County Board
Lopez has a lengthy track record in progressive issues including her outspoken support of Planned Parenthood and women's reproductive rights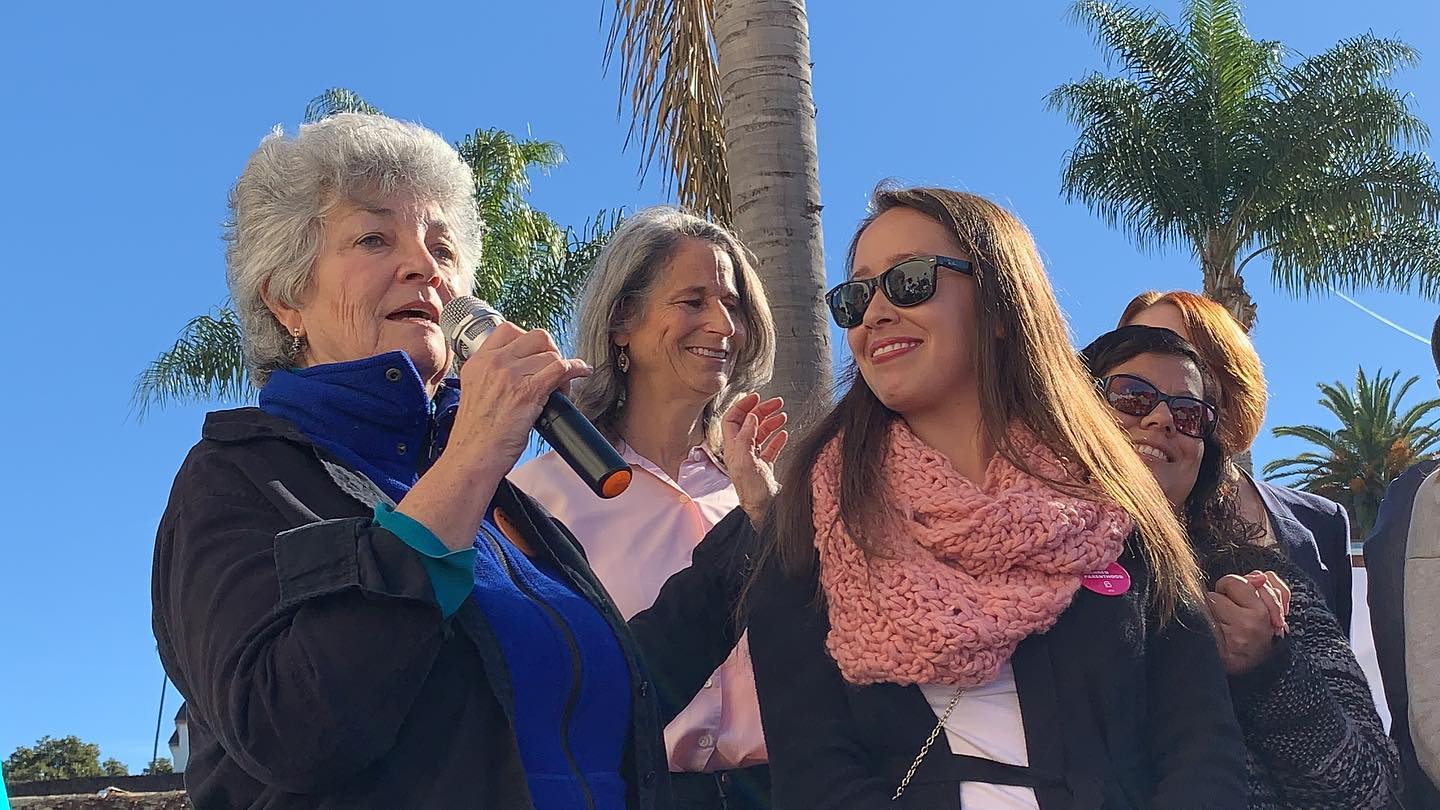 SACRAMENTO – Governor Gavin Newsom announced Friday that he has appointed City of Oxnard Councilmember Vianey Lopez to the Ventura County Board of Supervisors to the seat left vacant by the sudden death of the beloved chair of the Ventura County Board of Supervisors Carmen Ramirez, killed in an August traffic accident.
Lopez, 35, a resident of Oxnard, has been a city councilmember for District Six since 2018 and also serves as a District Director for California State Senator Monique Limón since 2020.
According to her campaign for reelection to city council biography, Lopez immigrated to the U.S. at the young age of 4. As one of the youngest of 11 children, there were opportunities she was afforded that her siblings did not have. Raised locally, Vianey attended kindergarten through middle school in the Hueneme Elementary School District before graduating from Hueneme High School in 2005.
Councilmember, now Supervisor Lopez has a lengthy track record in progressive issues including her outspoken support of Planned Parenthood and women's reproductive rights as well as other key issues including LGBTQ+ equality, immigrant rights, and has worked for several California political leaders including a stint as District Scheduler for former U.S. Representative Lois Capps from 2013 to 2016, a member of the House from 1998 to 2017 representing California's 24th congressional district.
Lopez was a Program Coordinator for the Oxnard Downtown Management District from 2012 to 2013 and an Administrative Assistant and Concierge at the Oxnard Convention and Visitors Bureau from 2009 to 2010. She is a member of the League of United Latin American Citizens and Future Leaders of America.
Lopez earned a Master of Public Policy degree in International Relations and State and Local Policy from Pepperdine University.
Triple A: SoCal gas prices race up by double digits in one week
The average price for self-serve regular gasoline in California is $5.52, which is eight cents higher than last week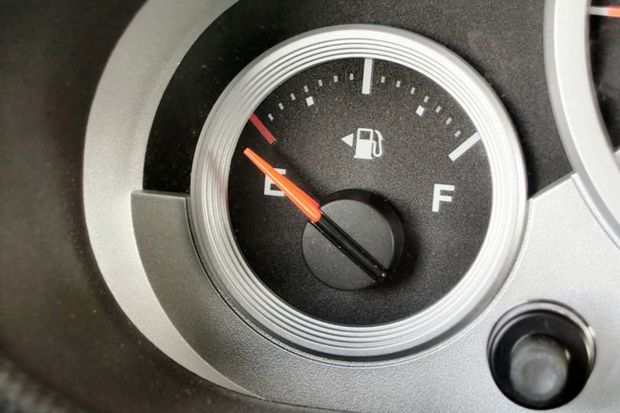 LOS ANGELES – Reports of additional Southern California refinery issues, along with continued low inventories, have created the biggest one-week price jump at the pump since early June, according to the Auto Club's Weekend Gas Watch.
The average price for self-serve regular gasoline in California is $5.52, which is eight cents higher than last week. The average national price is $3.68, which is two cents lower than a week ago.
The average price of self-serve regular gasoline in the Los Angeles-Long Beach area is $5.59 per gallon, which is 17 cents higher than last week, 25 cents higher than last month, and $1.19 higher than last year. In San Diego, the average price is $5.53, which is 15 cents higher than last week, 24 cents higher than last month, and $1.18 higher than last year.
On the Central Coast, the average price is $5.53, which is eight cents higher than last week, seven cents higher than last month and $1.18 higher than last year. In Riverside, the average per-gallon price is $5.44, which is 14 cents higher than last week, 23 cents higher than last month and $1.12 higher than a year ago. In Bakersfield, the $5.46 average price is eight cents higher than last Thursday, three cents higher than last month and $1.10 higher than a year ago today.
"Oil Price Information Service reports that several local refineries are undergoing unplanned maintenance as fuel inventories are at their lowest levels in a decade, which caused Los Angeles wholesale gas prices to rise sharply this week," said Auto Club spokesperson Doug Shupe.
The Weekend Gas Watch monitors the average price of gasoline. As of 9 a.m. on Sept. 22, averages are:
Newsom signs legislation to support California Native communities
Advances equity, inclusion and highlights the unique history, culture and government of tribes in the Golden State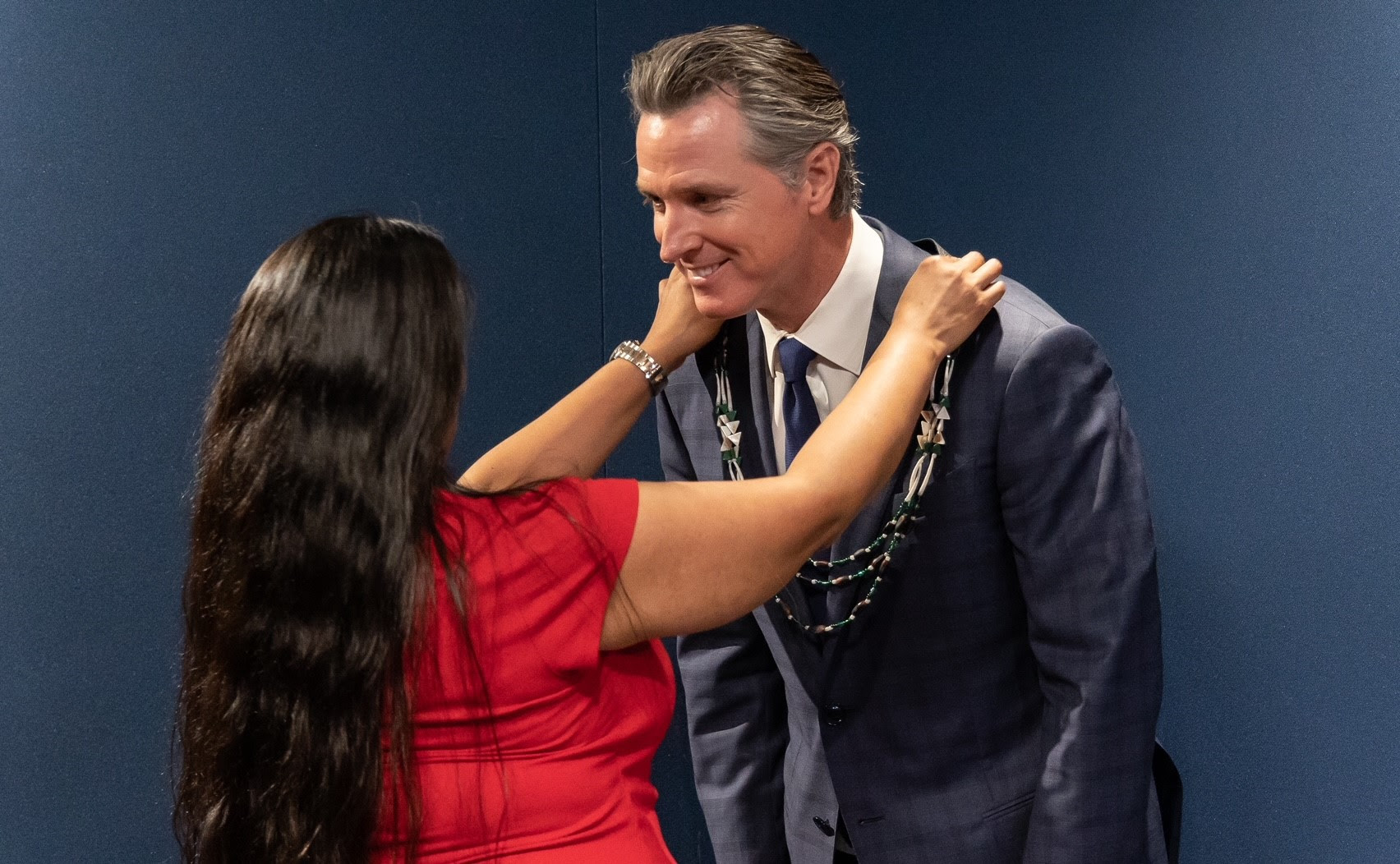 SACRAMENTO – Today on Native American Day, Governor Gavin Newsom signed several bills to support California Native communities and build on the Administration's work to promote equity, inclusion and accountability throughout the state.
AB 1314 establishes a statewide emergency alert system for missing Native people 
In a ceremony joined by leaders of Native American tribes from across California, the Governor signed AB 1314 by Assemblymember James C. Ramos (D-Highland) to help address the ongoing crisis of missing and murdered Native people from communities across the country.

Under AB 1314, local law enforcement will be able to request that the California Highway Patrol activate an emergency Feather Alert, similar to an Amber or Silver alert, to assist in search efforts for a Native person who has been reported missing under suspicious circumstances.
"As we lift up the rich history and contributions of California's diverse tribal communities today, the state recommits to building on the strides we have made to redress historical wrongs and help empower Native communities," said Governor Newsom. "Today's measures continue to move these efforts forward, including a new emergency alert system that will provide us with additional critical tools needed to address the crisis of Missing and Murdered Indigenous People. I thank all the legislators and tribal partners whose leadership and advocacy help light the path forward in our work to build a better, stronger and more just state together."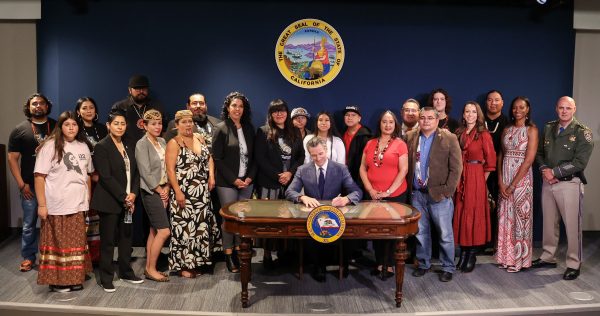 "AB 1314 will help us get the word out sooner when an individual is missing or endangered, enlisting the help of the public for tips and leads as soon as possible when quick action is critical," said Assemblymember Ramos. "I thank the Governor for signing this vital measure – creating an alert system was a top recommendation from tribal leaders for addressing the crisis of Missing and Murdered Indigenous People."
The state budget this year invests $12 million over three years to fund tribally-led programs to help address the crisis of Missing and Murdered Indigenous People on tribal lands. This investment built on last year's investment of $5 million to fund training and guidance for law enforcement agencies and tribal governments to improve public safety on tribal lands and study challenges related to the reporting and identification of missing and murdered Native peoples, particularly women and girls.
AB 1936 re-designates UC Hastings College of the Law and advances restorative justice efforts for Native peoples who suffered mass killings orchestrated by the college's founder
Governor Newsom also signed AB 1936 by Assemblymember Ramos, which re-designates the University of California's Hastings College of the Law as the College of the Law, San Francisco and advances restorative justice efforts for Round Valley Indian Tribes and Yuki people whose ancestors suffered mass killings and other atrocities funded and supported by college founder Serranus Hastings in the mid-19th century.
AB 1936 also outlines several restorative justice initiatives that the College intends to pursue, such as renaming the law library with a Native language name, annually reading a statement of the atrocities Hastings committed against the Yuki people and providing collaborative opportunities for Round Valley tribal students to gain debate and writing experience, among other efforts.
AB 2022 will remove the racist and sexist slur squaw from all geographic features and place names in California
Under AB 2022 by Assemblymember Ramos, the racist and sexist term "squaw" will be removed from all geographic features and place names in the state, and a process to review petitions to change offensive or derogatory place names will be created. This comes on the heels of federal action this month to complete the removal of this slur from nearly 650 geographic features across the country, including several name changes advanced by California based on extensive tribal engagement. The Newsom Administration has launched a series of ongoing actions to identify and redress discriminatory names of features attached to the State Parks and transportation systems.
Governor Newsom also signed AB 1703 by Assemblymember Ramos, the California Indian Education Act. The measure encourages local educational agencies and charter schools to form California Indian Education Task Forces in partnership with local tribes to develop curricular materials that highlight the unique history, culture and government of tribes in their region.