GOP lawmaker caught on tape: Orphanages better than gay adoption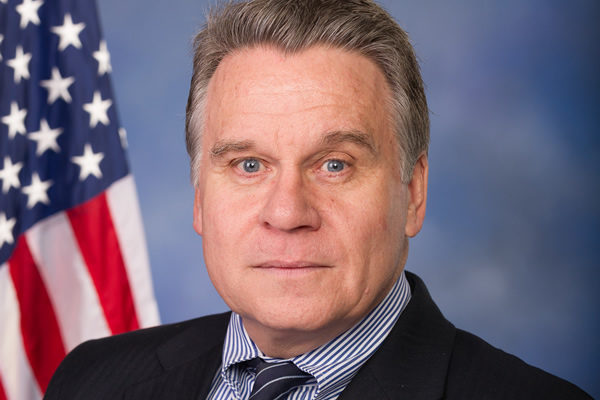 In an exchange with high school students that was caught on tape, a Republican congressman from New Jersey was tongue-tied over the prospect of same-sex couples adopting children and suggested kids would be better off in orphanages than with LGBT families.
Rep. Chris Smith (R-N.J.) made the remarks May 29 when addressing student constituents in the auditorium of Colts Neck High School. They asked the congressman about his opposition to adoption by same-sex couples, according to a source familiar with the recording. A source familiar with the tape, who delivered the recording on Monday exclusively to the Los Angeles and Washington Blade, said it was obtained in recent days.

The recording begins with Hannah Valdes, a senior at Colts Neck High School, telling Smith she has a gay sister who has said in the future she wants to adopt a child with her partner. The student asks the New Jersey Republican whether "based on household studies" her sister would be "less of a legitimate parent" than someone in a different-sex relationship and why she shouldn't adopt a child.
In an apparent reference to the U.S. Supreme Court's 2015 ruling for marriage equality, Smith says "the issue, legally, is moot at this point especially with the Supreme Court decision" and tells the student her sister is "free to adopt."
Although the Supreme Court settled the issue of marriage, attempts are still underway to deprive LGBT families of the right to adopt. An increasing number of states have passed laws allowing religious-affiliated, taxpayer-funded agencies to refuse placement to LGBT homes for religious reasons. In the U.S. House, Republicans incorporated as a component of appropriations an amendment from Rep. Robert Aderholt (R-Ala.) that would penalize states and localities for having policies prohibiting anti-LGBT discrimination in adoption.
But that wasn't enough for Valdes, who pressed Smith on why he thinks her sister shouldn't be able to adopt. Smith, apparently having difficulty finding words for his response, said he believes "there are many others who would like to adopt who can acquire a child" and "the waiting periods are extremely long."
When another student asks what makes these "others" more suited to become parents than her fellow student's sister, Smith starts to reply, "in my opinion a child needs every possibility of," without finishing his sentence. That might have been a prelude to saying a child needs every chance of being raised by a mother and a father.
That's when Smith praised orphanages. In that context, Smith suggested even being raised in an orphanage without parents would be better for a child than having LGBT parents.
"Somebody mentioned orphanages before," Smith said. "I mean, orphanages are still a possibility for some kids."
One student is heard uttering an indignant response over the idea the congressman would rather have kids in orphanages than being raised by LGBT parents: "You'd rather have kids in an orphanage than with — ?"
Speaking to the Blade, Valdes said there's more to the exchange with Smith on gay adoption than what's heard on the tape. Earlier in the assembly, another student asked about one of Smith's votes in 1999 in favor of an amendment that would have banned adoption by gay parents in D.C.
The student, Valdes said, asked Smith if he would still vote in support of banning gay adoption, and whether his views have changed since 1999. In response, Valdes said, Smith said his position hasn't changed.
"Rep. Smith responded by saying that he does not approve of gay adoption because gay households are not healthy environments for children to grow up in," Valdes said. "He then stated that 'numerous household studies' show that children that have heterosexual parents have better lives than children that have homosexual parents."
It's hard to know what "household studies" Smith was referencing. According to Cornell University, at least 75 studies have concluded children with same-sex parents fare no worse than other kids.
At that moment, Valdes said she thought of her gay sister and raised her hand for the question challenging his views on gay adoption, which was heard on the recording.
"After I asked my question and challenged him, an administrator cut in to change the topic," Valdes said. "Rep. Smith started to discuss a recent project he was working on, but the auditorium was already filled with tension, and most of the audience was already talking about what Rep. Smith had just said. More students began to raise their hands, and the administration quickly realized that their students would likely be asking more questions regarding LGBT rights. Instead of taking further questions, the assembly was promptly ended and all of us were sent back to class."
Valdes said Smith exhibited "prejudice and homophobic views" that "were offensive," and the entire student body of Colts Neck High School was "in shock that someone had come to our school with these opinions."
"We have an LGBT club at our school…which exemplifies just how accepting our school is," Valdes said. "Prejudice in our hallways is not tolerated, so it was shocking to have an elected official — a congressman no less — stand in front of hundreds of students, openly shaming the LGBT community. I knew that there were multiple students in the auditorium who were a part of the LGBT community, and that they were simply too scared to say anything to this congressman. In a situation like this, I just simply could not stay silent."
Despite the exchange, the school praised Smith for coming to speak with students. Brian Donahue, principal of Colts Neck High School, tweeted after the event thanking the lawmaker and saying, "Our students appreciate hearing first hand how our government functions."
Donahue didn't immediately respond to the Blade's request for comment on whether Colts Neck High School was OK with Smith making comments against LGBT adoption at a student assembly.
Smith, a longtime member of Congress who has represented New Jersey's 4th congressional district in the U.S. House since the start of the Reagan administration, has built a substantial anti-LGBT track record in Congress aside from his 1999 vote against gay adoption. In recent years, the Republican has repeatedly earned a score of "0" from the Human Rights Campaign on its biennial congressional scorecard.
Among his anti-LGBT actions include votes for the anti-gay Defense of Marriage Act and a U.S. constitutional amendment that would have banned same-sex marriage nationwide. In the early years of the Obama administration, Smith voted against "Don't Ask, Don't Tell" repeal and hate crimes protections legislation.
In recent years, Smith co-sponsored the First Amendment Defense Act, a federal "religious freedom" bill that would enable anti-LGBT discrimination, and voted for an amendment that would have barred the U.S. military from paying for transition-related health care for transgender service members, including gender reassignment surgery.
Smith's office didn't respond to the Los Angeles and Washington Blade request for comment on the tape and either deny its accuracy or explain why orphanages are better for kids than LGBT homes. Also unanswered was an inquiry on whether Smith opposes the Aderholt measure pending before the House.
As the mid-term elections approach, Smith is facing a challenge from Democratic candidate Josh Welle, a businessperson and Navy veteran.
In a statement to the Los Angeles and Washington Blade , Welle drew on his experience as a veteran as he criticized Smith for suggesting orphanages are a better fit for children than gay parents.
"Chris Smith's out-of-touch views might have flown in 1980 when he was elected, but his time has passed," Welle said. "In 2018, in Central Jersey, it is unacceptable to imply a child would be better off in an orphanage than with a loving LGBTQ family. As a veteran, I fought on the front lines alongside men and women who gave their lives to protect and defend the civil liberties that our Constitution ensures for everyone, not just a few. Chris Smith takes us backwards on inclusion and basic human rights for all."
Despite the expected "blue" wave in November, Welle faces an uphill challenge. Political observers have rated New Jersey's 4th congressional district as a safe or solid Republican seat.
After the assembly, Valdes said other students thanked her for posing the question and called her brave, but she doesn't see it that way.
"All students should feel safe and comfortable in their own school, and all people should feel safe and comfortable in their lives," Valdes said. "Smith has done, and continues to do, the opposite of this."
The Stonewall Inn bans Anheuser-Busch during NYC Pride weekend
"We urge Anheuser-Busch and other companies doing this to publicly commit to stop donating to anti-LGBTQ politicians"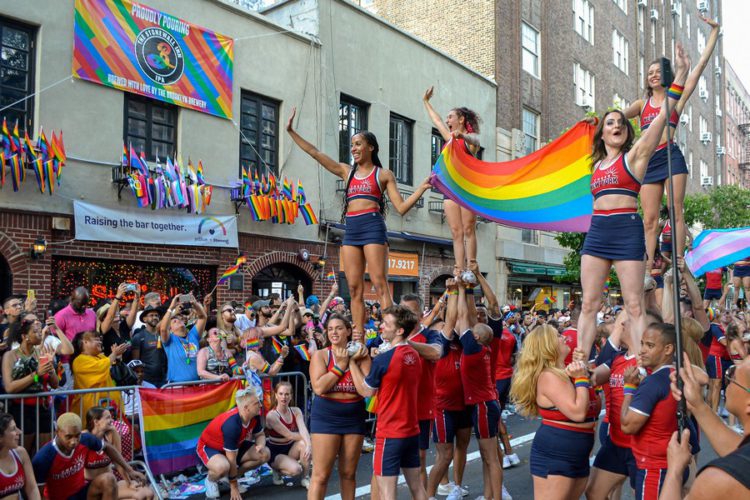 NEW YORK – In response to news that the Anheuser-Busch InBev company had made political contributions to lawmakers behind bills targeting transgender youth, the owners of the Stonewall Inn announced its ban of AB InBev products during New York City's Pride weekend.
The historic West Village pub, widely regarded as the location of one of the seminal defining events in the history of the LGBTQ rights movement, is sponsoring a public 'pour-out' of Bud Light, Michelob ULTRA, and Stella Artois in front of the bar on Wednesday, June 23, to demand that the Leuven, Belgium based AB InBev stop donating to anti-LGBTQ legislators and commit to using its lobbying efforts to advance the Equality Act.
Should the Equality Act be passed, it would afford LGBTQ people with equal nondiscrimination protections under federal law.
"You can't turn your logo rainbow on social media, call yourself an ally, and then turn around and make donations that fuel hate. There are really no excuses, and companies like Anheuser-Busch need to own up to what they've done," said Stonewall Inn co-owner Stacy Lentz. "As a business owner, it's never easy to stop selling a product that affects your bottom line — especially during the busiest weekend of the year. But I'm an activist above all else and we at The Stonewall Inn know we bear a unique responsibility to call out hypocrisy when we see it. Anheuser-Busch and other companies must do better."
According to data from the Keep Your Pride campaign, since 2015, Anheuser-Busch has made 48 donations totaling $35,350 to 29 anti-LGBTQ legislators behind recent bills attacking trans youth.
Through its nonprofit arm, The Stonewall Inn Gives Back Initiative, Stonewall recently launched the Safe Spaces program, which identifies and certifies entertainment venues, food and beverage locations, stores, businesses, and other public venues as Safe Spaces for LGBTQ people. Under its criteria for certification, businesses that donate to anti-LGBTQ lawmakers would not qualify for designation as a Safe Space.
"As one of our best-selling products, Bud Light has been a longtime staple here at The Stonewall Inn. It's deeply disappointing to learn that Anheuser-Busch has given money to lawmakers who are attacking trans kids, some of the most vulnerable people in the LGBTQ community," said Stonewall Inn co-owner Kurt Kelly.
"We're horrified to see so-called allies supporting lawmakers who would make life harder for anyone in our community. We urge Anheuser-Busch and other companies doing this to publicly commit to stop donating to anti-LGBTQ politicians and use their lobbying power to support the Equality Act," Kelly added.
SCOTUS ruling on Philadelphia case, LGBTQ groups view with some relief
Immediate reaction from some LGBTQ groups and individuals was dismay, while others viewed the decision as a relief.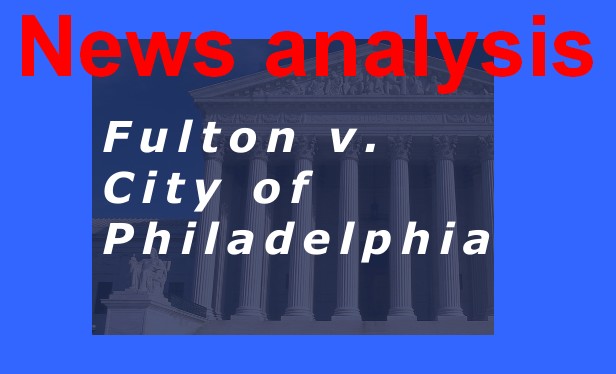 LOS ANGELES – The U.S. Supreme Court issued its decision Thursday in a unanimous 9-0 ruling that sided with Catholic Social Services (CSS), a Catholic social services organization that sued the city of Philadelphia after the city excluded it from a foster-care program due to the organization's refusal to certify same-sex couples as foster parents.
Immediate reaction from some LGBTQ groups and individuals was dismay, while others viewed the decision as a relief. Shannon Minter, Legal Director for the National Center for Lesbian Rights, told the Blade in a phone call Thursday that ruling was exceedingly narrow, aimed at a section of the contract by the City, and more importantly was not a ruling that would be citable in future litigation in terms of an anti-LGBTQ basis.
Specifically, Minter noted that with this unanimous ruling, the court avoided a situation that would overrule the 1990 SCOTUS ruling in the case of [the] Employment Division, Department of Human Resources of Oregon v. Smith. That ruling, authored by Associate U.S. Supreme Court Justice Antonin Scalia had made it more difficult for religious people and groups to secure exemptions from generally applicable laws governing anti-discrimination
Scalia in the Smith case wrote; [that] "the Court has never held that an individual's religious beliefs excuse him from compliance with an otherwise valid law prohibiting conduct that government is free to regulate. Allowing exceptions to every state law or regulation affecting religion would open the prospect of constitutionally required exemptions from civic obligations of almost every conceivable kind." Justice Scalia goes on to cite examples such as compulsory military service, payment of taxes, vaccination requirements, and child-neglect laws.
Minter opined that while there would be definite support to overturning Smith by three of the court's conservative justices Samuel Alito, Clarence Thomas and Neil Gorsuch, he was doubtful that Chief Justice John Roberts, or the court's other conservative justices Stephen Breyer, Brett Kavanaugh, and Amy Coney Barrett are that eager, given that there isn't a legal remedy or replacement for Smith that would not create chaos within the federal judiciary in future challenges.
Properly understood, today's decision is a significant victory for LGBTQ people, Minter said. The focus is on a contractual clause which is what the court focused in on. Writing in concurrence, Justice Alito noted, albeit it somewhat sarcastically, "This decision might as well be written on the dissolving paper sold in magic shops. The City has been adamant about pressuring CSS to give in, and if the City wants to get around today's decision, it can simply eliminate the never-used exemption power. If it does that, then, voilà, today's decision will vanish — and the parties will be back where they started."
Minter pointed out that the Court did not change the current constitutional framework, which permits governments to enforce antidiscrimination laws that prohibit discrimination against LGBTQ people even when doing so may have a disparate burden on those who hold certain religious beliefs.
"As a result of today's decision, those who feared the Court might create a sweeping new religious exemption to such laws can breathe a sigh of relief," he concluded.
Also weighing in was Leslie Cooper, deputy director of the ACLU's LGBTQ & HIV Project. "We are relieved that the court did not recognize a license to discriminate based on religious beliefs," she said.
"Opponents of LGBTQ equality have been seeking to undo hard-won non-discrimination protections by asking the court to establish a constitutional right to opt out of such laws when discrimination is motivated by religious beliefs. This is the second time in four years that the court has declined to do so. This is good news for LGBTQ people and for everyone who depends on the protections of non-discrimination laws," Cooper added.
Eugene Volokh, the Gary T. Schwartz Professor of Law at the University of California Los Angeles School of Law, writing in his Volokh Conspiracy blog noted;
Justice Barrett, joined by Justice Kavanaugh, concurring: The original meaning of the Free Exercise Clause is unclear on the broader question of religious exemptions from generally applicable laws, but "As a matter of text and structure, it is difficult to see why the Free Exercise Clause—lone among the First Amendment freedoms—offers nothing more than protection from discrimination." Yet Justices Barrett and Kavanaugh are "skeptical about swapping Smith's categorical antidiscrimination approach for an equally categorical strict scrutiny regime, particularly when this Court's resolution of conflicts between generally applicable laws and other First Amendment rights—like speech and assembly—has been much more nuanced." In particular,
To name a few: Should entities like Catholic Social Services—which is an arm of the Catholic Church—be treated differently than individuals? Cf. Hosanna-Tabor Evangelical Lutheran Church and School v. EEOC (2012) [providing broad protection for certain decisions by religious institutions -EV]. Should there be a distinction between indirect and direct burdens on religious exercise? Cf. Braunfeld v. Brown (1961) (plurality opinion). What forms of scrutiny should apply? Compare Sherbert v. Verner (1963) (assessing whether government's interest is "'compelling'"), with Gillette v. United States (1971) (assessing whether government's interest is "substantial"). And if the answer is strict scrutiny, would pre-Smith cases rejecting free exercise challenges to garden-variety laws come out the same way? See Smith.
M. Currey Cook, Counsel and Youth in Out-of-Home Care Project Director at Lambda Legal, issued the following statement. "Today's ruling by the Supreme Court is troubling but, importantly, it refused to give a free pass to people or agencies that want to discriminate against LGBTQ people for religious reasons and is limited to the specifics of Philadelphia's foster care system. Instead, the Court validated the City's 'weighty' interest in the equal treatment of LGBTQ prospective foster parents and foster children. The only reason those interests did not carry the day was due to the specifics of the City's contract. Because the Court decided the case on contract-specific grounds, the City can address the situation by rewriting its contracts."
"But make no mistake. Philadelphia has never refused to work with Catholic Social Services. The agency has continued to receive millions of dollars in foster care contracts from Philadelphia and the contract at issue simply applied a standard, important nondiscrimination principle to its contract agencies. Foster care is a government function, and all governments have a compelling interest in ensuring their contract agencies, including faith-based ones, treat all children and families equally. And today's ruling does mean, at least for now, that different-sex married couples have access to all city agencies, while same-sex couples do not," Cook said.
"The court's ruling today on Fulton is a narrow one, limited in both nature and scope. The most important take-away is that the Supreme Court unanimously refused to allow a religious entity to have a license to discriminate. We stand in solidarity with the community in Philadelphia that is working for the fair and equitable treatment of those who want to provide safe and loving homes to children and hold in our hearts the many children who will be impacted by this decision," Kierra Johnson, Executive Director of the National LGBTQ Task Force said.
"The work ahead for our community is clear – we must continue to advocate for local and state non-discrimination laws, apply the ones that exist and most importantly, fight for the Equality Act, which would provide long overdue Federal protections to the LGBTQ community and many others," she added.
Equality California's Executive Director Rick Chavez Zbur, a prominent civil rights attorney weighed in saying, "Today's ruling by the Court is limited in nature and scope. While the Court ruled against the City based on the specific facts of this case, we are heartened by the fact that it did not recognize or create a license to discriminate. The Court's ruling means that governments can — and must — continue to enforce neutral, generally applicable laws that protect LGBTQ+ people from discrimination both inside and out of the foster care system."
There was a note of defiance and dissent to the ruling from the SPLC listed anti-LGBTQ hate group, the Family Research Council, which released this tweet:
Religious liberty—the freedom to hold religious beliefs of one's own choosing and to live in accordance with those beliefs—is an inherent human right.

— Family Research Council (@FRCdc) June 17, 2021
LGBTQ Florida state Rep. Michele Rayner announces bid for Congress
"I am making this announcement during Pride Month – a time we recognize how far LGBTQ folks have come and how far we have to go"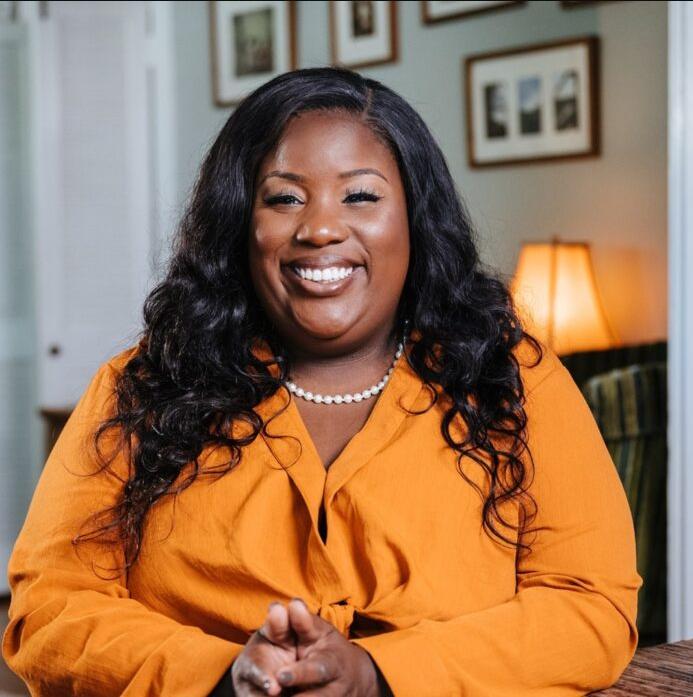 LARGO, FL. – The race to replace Democrat Charles Joseph (Charlie) Crist Jr. in Florida's 13th Congressional District seat was joined by civil rights attorney and state Representative Michele Rayner (D-District 70) Monday.
In a small gathering at her church, the Lighthouse Church of Jesus in Largo, which is the third largest city in Pinellas County, she announced her bid for the seat occupied by Charlie Crist who is leaving Congress in 2022 after serving three terms to make a run for Governor challenging Republican Governor Ron DeSantis.
Rayner who was elected to the Florida House in 2020, was the first openly Black LGBTQ woman to be elected to the Florida Legislature. If she is elected to the U.S. House, she will be one of the first openly queer Black women to serve on the Hill. Speaking to supporters on Monday she acknowledged her announcement to run for Congress was made during Pride Month. However, she noted that issues such as access to quality education, affordable health care, environment issues, systemic racism and more are of paramount concern to her.
"These are serious problems that require serious public servants working to address them," Rayner said. "It's not lost on me that I am making this announcement during Pride Month – a time we recognize how far LGBTQ folks have come and how far we have to go."
"And I understand, if elected, that I will be one of the first openly queer Black women to serve in Congress. I say that because I want to go ahead and say that that is not why I am running- because I am running to continue to serve my community with the same determination, tenacity, selflessness and commitment to public service that I have employed throughout my whole time here in Florida," she added.
Raynor briefly mentioned the death of her father in December of 2020 and then shifted her emphasis to the purpose to her run for the U.S. House characterizing her campaign [as] "about bringing all of our communities together to create positive change in this society."
"It's about public service…this campaign is very personal for me," she said. "My vision is for my community and this state – and indeed – I believe the whole United States to be governed by representatives and people who truly serve their constituents – not themselves."
In addition to Raynor, other Democrats who have announced their intent to run are Eric Lynn, former foreign policy adviser to former President Barack Obama, and Benjamin Frank Diamond, an attorney also a member of the Florida House of Representatives from the 68th district.
The only Republican candidate who has declared for the seat, U.S. Air Force veteran Anna Paulina Luna, who ran against and lost to Crist in last year's November elections.
Rayner lives in St. Petersburg with her wife Bianca Goolsby.