September 23, 2018 at 6:56 pm PDT | by Christopher Kane and Karen Ocamb
The 1993 March on Washington remembered (Photo Essay)
An estimated 1,000,000 LGBT people and straight allies attended the "visionary, aspirational, and unapologetically bold" 1993 March on Washington for Lesbian, Gay, and Bi Equal Rights and Freedom. It was "one of the most significant mass protests in the history of the United States," say speakers in San Francisco and Washington, DC gathered for a bi-coastal telecast forum Sept. 18 honoring the March's 25th anniversary.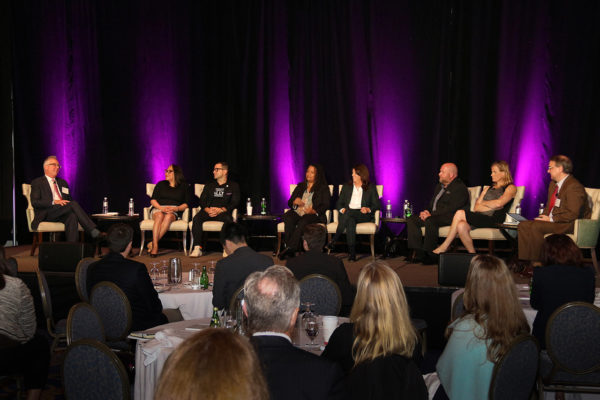 Equality Florida Executive Director Nadine Smith, then a March co-director, marveled at how so many people were mobilized before the age of cell phones and social media networks. "I realize how much of that experience continues to be a touchstone 25 years later. What was remarkable was the grassroots nature of it," she said.
Smith recalled the March's emotional and political power, including the historic pre-March Oval Office meeting with President Clinton, who had promised to lift the ban on gays and lesbians serving in the US military.
Clinton was made aware of the discrimination through his anti-Vietnam War friend David Mixner, who helped win the then-Arkansas governor and presidential candidate the endorsement of the Los Angeles-based gay political group ANGLE. Mixner and friends went on to raise $3.1 million in early GAY money for the dark horse candidates, stuck by him through the Gennifer Flowers tabloid accusations, and organized the first-ever gay voting bloc for his election. Throughout, Clinton insisted to skeptical reporters he would lift the ban and provide more AIDS funding, perhaps symbolized by the participation of gays and portions of the Names Project AIDS Memorial Quilt in his inauguration parade.
America was also in the throes of the second wave of the AIDS crisis. Demonstrators held candlelight vigils to honor friends and loved ones who were struck down by the disease. "We were angry, we were frustrated, and we were mourning," said Tony Varona, vice dean and professor at the American University Washington College of Law.
Tim McFeeley, who until 1995 served as executive director of the then-Human Rights Campaign Fund, recalled how the gay leaders were emotionally overcome with exhaustion and hope outside the Oval Office after the meeting with Clinton —and how HIV/AIDS was front-and-center at the 1993 March and in his professional life. "From the time I got to HRC in 1987," he said, "it was all about AIDS. Eight men on my Board of Directors died of AIDS. In addition, my staff was dying." At that time, HRC did not have the resources it has today. "We struggled to make payroll," McFeeley said.
Progress in the fight against the disease over the past 25 years represents a game-changing development—a product of scientific advancement, as well as political organizing and the formation of networks of selfless community members and allies who volunteered to help patients and advocated for change of the healthcare landscape.
"Out of nothing," said Kate Kendall, executive director of the National Center for Lesbian Rights, "we built an entire infrastructure to protect our men—and women—affected by this virus." Referencing San Francisco's public health initiative that aims to eliminate HIV infections, AIDS-related deaths, and stigma, Kendall said, "Now, we're talking about Getting to Zero."
Miraculously, in the throes of the AIDS crisis, love prevailed. Longtime AIDS activist and Flirtations singer Michael Callan sang "Love Don't Need a Reason," one of his last performances before his own death from AIDS seven months later.
And Rev. Troy Perry ceremoniously married more than two thousand couples in front of the IRS headquarters. Marriage, at that time, seemed like a pipe dream to many LGBT people and activists. Still, in spite of opposition from moderates, Smith and her co-directors voiced their support.
Underscoring the arch of history and recognizing brave leadership on LGBT rights—the event honored longtime community ally, California Lt. Gov. Gavin Newsom, a candidate for governor this November. Event sponsor Nixon Peabody, LLP, represented by Tom Gaynor, Managing Partner of the firm's San Francisco office, and Tony Varona, vice dean and professor at the American University Washington College of Law, wanted to honor Newsom for his courage in having supported same-sex marriage before it was popular or politically expedient.
As mayor of San Francisco, Newsom ordered the city-county clerk to issue marriage licenses to gay and lesbian couples in 2004. He spoke at a breakfast reception, then addressed the panel audience via videotape due to a last-minute obligation.
Panelists suggested the same bold, forward-thinking approach to LGBT civil rights was evinced in the expansive 1993 March platform that called for protection from discrimination, more money for AIDS research and full civil rights for women and racial/ethnic minorities.
A collegial spirit was fundamental from the beginning stages of planning the march said Smith, who explained how the four co-chairs demanded racial justice and justice for women be included in the platform, despite pushback from activists who would have preferred a narrower agenda. Theirs was an intersectional approach that built on the 1987 March on Washington for Lesbian and Gay Rights, an approach that drew a tenfold increase in participants from across the country.
The presence of marchers from areas outside major urban metropolises is credited with having helped to change the culture.
The 1993 March offered, in addition to social and political change, moments of personal discovery and joy. Many people came out of the closet for the first time there on the streets of Washington. Smith remembered watching a straight couple gradually realize, as they were surrounded by LGBT marchers, that they were in the minority. "They stopped holding hands," she said, laughing, "and then we told them it was okay!"
"It was a watershed moment for us, because there were no real role models as we were coming out on the scene. We were coming out of a wicked, horrendous period in the 80s—AIDS, the political climate—and then, at the 1993 March, a period of blue skies," Gaynor added.
That intangible feeling of belonging, the panelists said, is not possible in virtual spaces—but instead requires in-person, active participation.
The panelists were asked whether another March would be useful or obsolete, provided the ways in which technology has influenced and changed social movements. Neuroscientist and entrepreneur Vivienne Ming, remembering the Berkley street protests after Prop 8 was passed, remarked, "It felt so good. You're never going to get that on Facebook."
Today's challenges, in areas that range from LGBT issues to the labor movement, the environment, and women's rights, were also heightened then. Sam Nunn, the conservative Southern chair of the Senate Armed Services Committee, promised hearings on the repercussions of lifting the ban on gays and lesbians serving openly in the military. He threatened to hold up Clinton's entire legislative agenda unless the new president backed down. Gays felt betrayed and scrambled to form a new group—Campaign For Military Service, headed by gay legal eagle Tom Stoddard. The Washington Blade raised the question  about whether the gay community failed to offer Clinton backup.
But by April 16, 1993, scores of gays and lesbians in the military took to the stage of the March on Washington, demonstrating patriotism and humor, and trust that Clinton would follow through on his promise. He failed and the resulting compromise was the harmful "Don't Ask, Don't Tell."
The anniversary panelists asked if there should be another March on Washington? Following the election of President Trump, they stressed the need for an intersectional mass demonstration that reflects the inclusivity, boldness, and ambition of the 1993 March.
"This moment cries out for another March on Washington," Smith said. "This is a moment when we have an administration that wants to drag us backwards and is dramatically altering the legal structure of this country."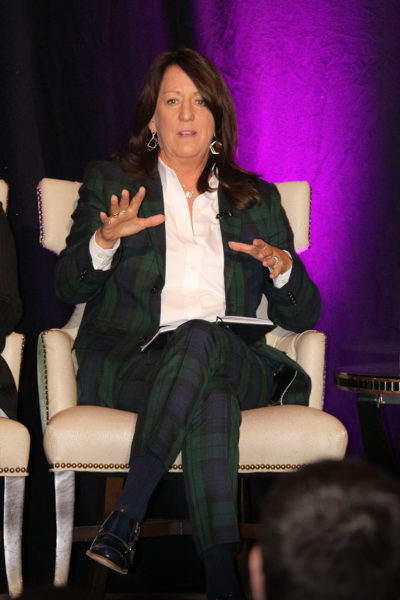 Kate Kendall, executive director of the National Center for Lesbian Rights, agreed: "We're in the terror of an administration that every day demonstrates its capacity for dehumanizing individuals."
And yet the love persists, as it did in 1993.