Vanguard Awards celebrates a growing LGBT Center and new allies
49 years, stronger and more relevant than ever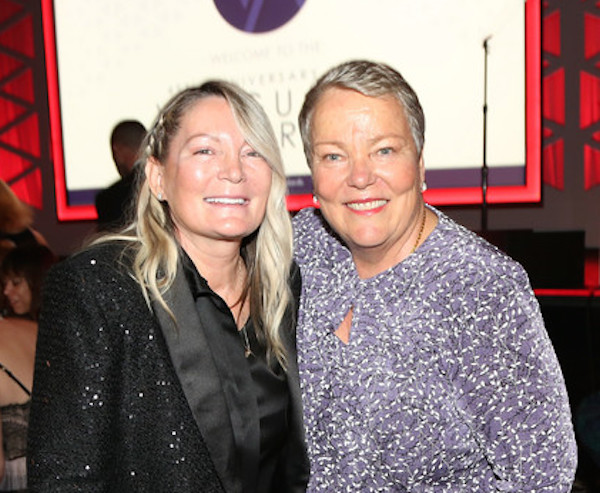 Vanguard was the fitting name for an Awards celebration that happened on Saturday night, September 22 for the Los Angeles LGBT Center's annual awards ceremony at the Beverly Hilton Hotel.
Many of Los Angeles' most notable and generous LGBTQIA people from around the world came out to make a major philanthropy push for the beginning of the 50th anniversary of the nation's oldest LGBT non-profit organization.
The gathering, attended by more than 1500 people, may even have retired the underlying mortgage on the now under-construction Anita May Rosenstein campus building, as a result. And that was in no small part made possible by some of the notables the Center honored.
The night began with a simple and loving tribute to a mom, but not just any mom. Ariadne Getty, 56, an actress and granddaughter of John Paul Getty, was introduced by her children.
Nats, a 25 year old fashion designer who is set to marry transgender model and pop-star Gigi Gorgeous, portrayed her mother as a vibrant, accepting and engaged woman who she once found holding court after a late night party at their home. "I went downstairs and found mom cooking food and serving drinks for a kitchen full of drag queens." Her brother August, 24, an internationally known fashion designer who recently opened a boutique in Beverly Hills, August Getty Atelier, said he didn't have to come out, "I just told her I was going on a date with the room service guy and that was that."
Ariadne Getty returned the chiding, telling the audience that it was her sons exes who introduced her to the work of the Center. "My office is filled with all of August's exes."
However that happened, they opened her eyes. August's exes took her to a fundraiser for the Center where she met Lorri Jean and Bill McDermott.
"Why didn't I know this before? How could this have been happening right before my eyes and I didn't know," she said, explaining that that event gave her courage to come out of the shadows as a philanthropist and encourage others to be brave and step up their giving. "I encourage everybody to get connected, start being active and don't be shy like me."
Getty said, "I talked to Lorri all night. I was hooked. I had a maximum amount of money I was going to donate and obviously I went way beyond that. We're talking, like, shameless. You know, I couldn't say no."
Lorri Jean and her wife Gina soon found themselves at the Getty home, frying pan in hand, teaching Ariadne "how to cook a mean steak."
Getty, who recently donated 1 million dollars to GLAAD's Media Institute, says she was moved to support the Center because "Los Angeles cannot afford to be without a place (like the Center) where there are so many things for for people of every age category to do, where a staggering 42,000 people walk through the Center's door every month." She said she was moved by meeting kids who had been "brutally, emotionlessly left on the streets to fend for themselves."
Tony Award-winning Bridge & Tunnel creator Sarah Jones, who will bring her latest solo work to the Los Angeles LGBT Center this fall (Sep. 27 to Nov. 4 at the Center's Renberg Theatre), followed Getty.
Jones broke into one of her famous characters, an elderly Jewish woman, who reprimanded the audience to give and then, reverting back to herself said, "Part of the reason I am so proud to bring my diverse cast of characters to the LGBT Center is that last year they welcomed more than half a million visitors who represent the full diversity of community. They come to the Center for medical care, for counseling, for a place to live while they are experiencing homelessness."
Jones told the Los Angeles Blade she believes in celebrating intersectionality. "As a woman of color and someone who cares about my LGBTQ family members and friends, I represent someone who looks at all of our human rights as essential." She says an important part of intersectionality, as a straight ally, is "about looking at all the different ways that our identities help create who we are and how we protect who we are."
Lorri Jean received a standing ovation and gave a rousing speech, covering the arc of the Center's history from being rejected by the Los Angeles offices of the IRS for using the word gay in incorporation papers to purchasing the very building in which they had been rejected, "draping it with 8 story rainbow stripes."
She applauded the donations of people like Anita Mae Rosenstein who helped the Center raise more than 11 million dollars through a matching grant. And of course she praised Getty and other major donors in the room, some who had donated millions, making it possible to help spark a transformation of the area around McAdden Place on Santa Monica Boulevard.
Nick Robinson, who starred in Love Simon, told the story of his brother, who came out while he was filming "Love Simon" and said the experience helped them both.
He introduced the movie's director, Greg Berlanti and his husband, Soccer star and author ("Coming out to play") Robbie Rogers, and made the funniest slip of the tongue of the evening, calling Robbie a "star ass-lete, ah, um athlete."
The husbands showed great affection on stage for one another, vowing their love and telling stories of parenting their children. "The universe grants Robbie a talent even more pure than his soccer — that's his skill for fatherhood." On cue, the audience was awed and Robbie was visibly moved by Berlanti's words and emotion. "Watching Robbie be called Daddy R, as he's called in our house, Daddy R and Daddy G," Berlanti said to even more audible crowd awes. "He's the favorite Daddy."
"Watching him with all his patience, tenderness and playful love is the single greatest joy of my life," Berlanti said, moving closer to and engaging a suddenly very shy Rogers who looked at the crowd and back at Berlanti again with great emotion.
Rogers said he knew Berlanti's work before they met. "His LGBT storylines had already been a lifeline to me when I was in the closet," explaining that since he has witnessed Berlanti at work and fighting for diverse representation in his characters."What good are these heroes if they don't reflect the world they are saving," Rogers said, quoting his husband to thunderous applause from the audience.
"Without the LGBT Center and the changes in the world it has helped bring about, all the blessings we would not have been fortunate enough to have the successes we've had," Berlanti said.
And that set the stage for a live auction of several high end items. Two nights in New York, Hawaii, five nights in Paris and a meet and greet with Cher brought more than $125,000 from those lucky enough to be livin' La Vida Loca.
Ricky Martin, one of the world's best selling musical artists and recent Emmy nominee for his role in the "Assassination of Gianni Versace" was the recipient of the night's final award.
When he took to the stage, audience members shouted, "I love you Ricky," to which he responded, opening his speech with "I love you, too. Love is the key word. That's amazing. I walked into this room and I was overwhelmed with love."
Martin remembered the thousands of lives lost one year earlier in the hurricanes that devastated Puerto Rico.
He said during his speech that it was a blessing "to be raw, honest open, vulnerable." And, referring to his family with artist Jwan Yosef, "I think the inspiration comes from my kids because when I held them for the first time in my arms, I said, 'I can not teach you to lie.'"
Using it as a metaphor for combating homophobia, he said, "Whenever they ask questions, I answer honestly. If they don't grasp the answer, eventually they will come back with the same question and I make sure I give the same answer again and again. They taught me not to lie."
Later Martin said "My mission is to go to those little towns in Latin America where the word gay is a curse."
"We are all blessed, Jwan and I are blessed," Martin told the Los Angeles Blade. "We are blessed to have a place like the LGBT Center and we are blessed to be able to support it."
Marjorie Taylor Greene tweets homophobic attack on Sen. Wiener
"Greene is a toxic person & embodies why the MAGA movement is dangerous, a threat to our democracy & to the personal safety of LGBTQ people"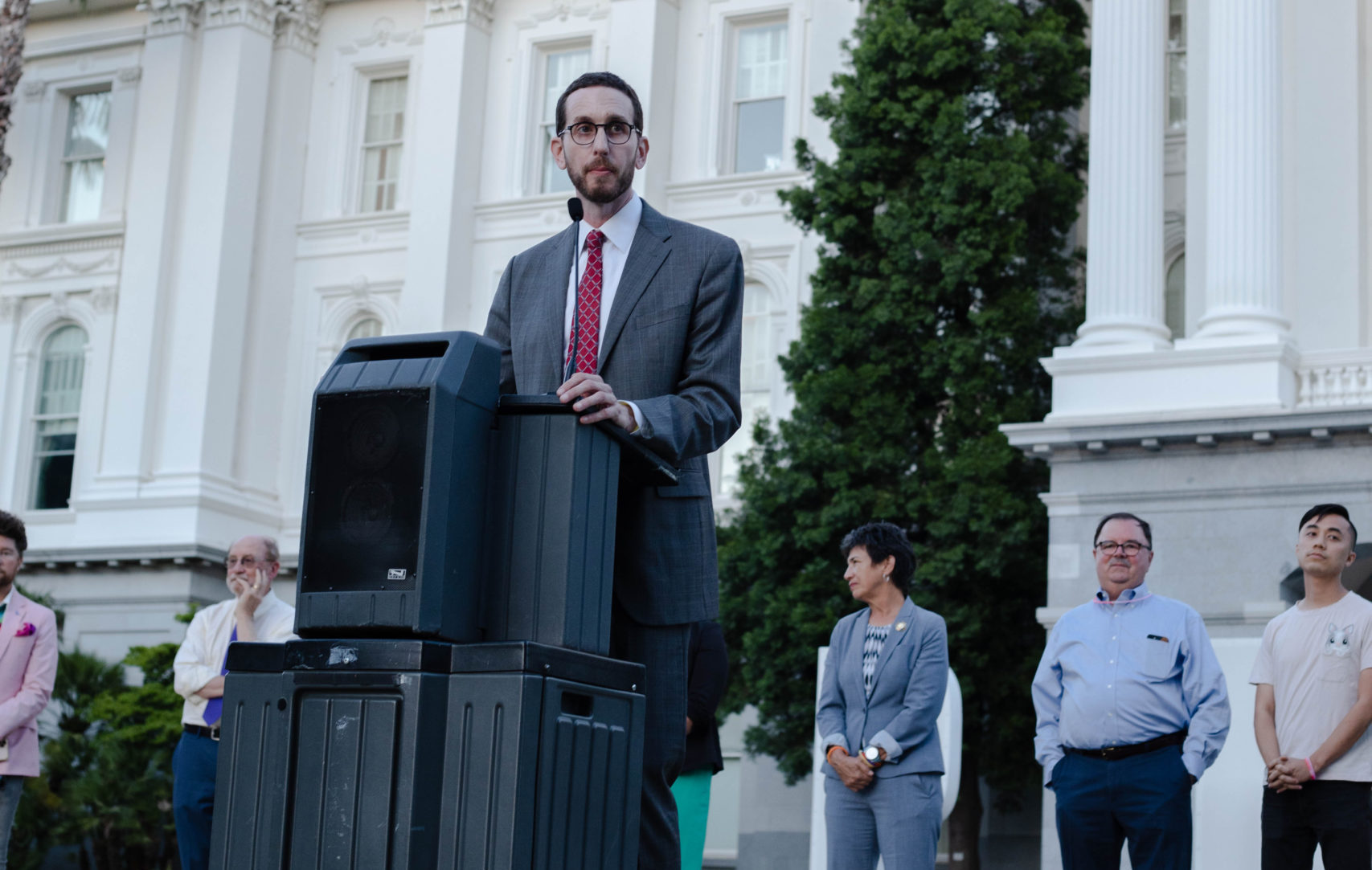 LOS ANGELES – Far-right Republican U.S. Rep. Marjorie Taylor Greene attacked Calif. State Sen. Scott Wiener, (D-San Francisco) on Tuesday after Wiener made a point of calling out use of the word "groomer," as the abusive reaction and fallout from right-wing sources regarding the mass-shooting at Club Q in Colorado Springs, continues to ratchet up against the LGBTQ+ community.
"The word "groomer" is categorically an anti-LGBTQ hate word. It's super homophobic/transphobic. It plays into the slander that LGBTQ people are pedophiles. It's no different than calling someone a fagg*t. If you call someone groomer, you're inciting violence against LGBTQ people," Wiener stated in his tweet.
Quoting Wiener's tweet the far-right MAGA Georgia congresswoman called the Senator a "communist" questioning Wiener's loyalty and service to both the State of California and the U.S. she then went on to accuse Wiener of being a "groomer" implying that the Senator was a predator of minors for sexual purposes:
"Pass my Protect Children's Innocence Act to stop communist groomers like this from using state government power to take children away from their parents to allow a for-profit medical industry to chop off these confused children's genitals before they are even old enough to vote."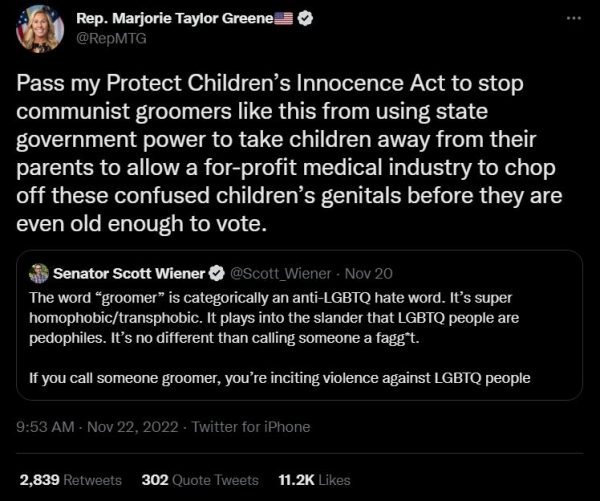 In an emailed statement, Senator Wiener responded to the homophobic attack by the Georgia Republican:
"The same day Elon Musk reinstated QAnon extremist Marjorie Taylor Greene, she launched a vile homophobic attack on me because of my vocal advocacy in response to the Club Q slaughter. When Greene has attacked me in the past, threats against me have typically increased. She is a toxic person and embodies why the MAGA movement is so dangerous. Green is a threat to our democracy and to the personal safety of LGBTQ people."
The term 'groomer' is considered highly offensive as it broadly brushstroke paints LGBTQ+ people as child molesters.
The definition according to the Urban online dictionary:
1 (the crime definition): An adult that builds a sense of trust with a minor to exploit and/or abuse them, typically (but not always) in a sexual manner. This is a crime, and it also causes harm to the minor.
2 (in US politics): What republican politicians and supporters refer to LGBTQIA+ people and their allies as, to manipulate their audience to pass anti-LGBTQIA+ legislation. This is targeting and harming LGBTQIA+ people and the people using the word in this manner typically are (or have connections with those who are) actual groomers.
National Public Radio, (NPR) reported this past May the Movement Advancement Project's executive director, Ineke Mushovic, pointed out:
"What the far right often does is they engage people's reptilian brains, the fight-or-flight instinct," says Mushovic. "And so it behooves far-right conservatives to put people in a state of fear, because then they're reactive. They don't support change."
The "grooming" narrative, Mushovic added, "taps into this primal sense of fear and this kind of parental protective instinct. But we know it's a completely false narrative."
The "grooming" narrative has been actively promoted by conservative activist Christopher Rufo, and Daily Wire pundit and transphobe Matt Walsh who have both attacked gender affirming care in their assaults on the LGBTQ+ community.
It took three days after the mass shooting at Club Q for the Daily Wire's Matt Walsh to blame the victims for the massacre. pic.twitter.com/08kitTdpMt

— Ari Drennen (@AriDrennen) November 22, 2022
Green's H.R.8731 – Protect Children's Innocence Act, was introduced this past August 19 and has forty-nine Republican members listed as co-sponsors. The language as introduced stated targets primarily Trans youth healthcare and targets colleges and universities from "offering instruction in gender affirming care:"
This bill places restrictions on the provision of gender affirming care. Gender affirming care includes performing surgery, administering medication, or performing other procedures for the purpose of changing the body of an individual to correspond to a sex that differs from the individual's biological sex.
Specifically, the bill makes it a felony to perform any gender affirming care on a minor and it permits a minor on whom such care is performed to bring a civil action against each individual who provided the care.
Additionally, the bill prohibits the use of federal funds for gender affirming care or for health insurance that covers such care. Such care may not be provided in a federal health care facility or by a federal employee. The bill also prohibits qualified health plans from including coverage for gender affirming care. Further, plans that include coverage for such care are not eligible for federal subsidies. […]