Vanguard Awards celebrates a growing LGBT Center and new allies
49 years, stronger and more relevant than ever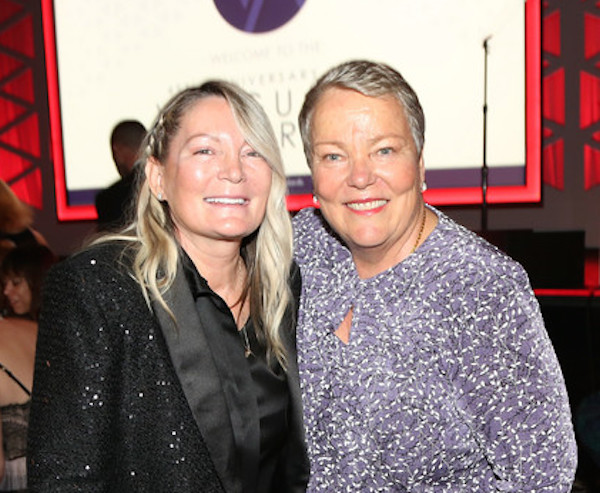 Vanguard was the fitting name for an Awards celebration that happened on Saturday night, September 22 for the Los Angeles LGBT Center's annual awards ceremony at the Beverly Hilton Hotel.
Many of Los Angeles' most notable and generous LGBTQIA people from around the world came out to make a major philanthropy push for the beginning of the 50th anniversary of the nation's oldest LGBT non-profit organization.
The gathering, attended by more than 1500 people, may even have retired the underlying mortgage on the now under-construction Anita May Rosenstein campus building, as a result. And that was in no small part made possible by some of the notables the Center honored.
The night began with a simple and loving tribute to a mom, but not just any mom. Ariadne Getty, 56, an actress and granddaughter of John Paul Getty, was introduced by her children.
Nats, a 25 year old fashion designer who is set to marry transgender model and pop-star Gigi Gorgeous, portrayed her mother as a vibrant, accepting and engaged woman who she once found holding court after a late night party at their home. "I went downstairs and found mom cooking food and serving drinks for a kitchen full of drag queens." Her brother August, 24, an internationally known fashion designer who recently opened a boutique in Beverly Hills, August Getty Atelier, said he didn't have to come out, "I just told her I was going on a date with the room service guy and that was that."
Ariadne Getty returned the chiding, telling the audience that it was her sons exes who introduced her to the work of the Center. "My office is filled with all of August's exes."
However that happened, they opened her eyes. August's exes took her to a fundraiser for the Center where she met Lorri Jean and Bill McDermott.
"Why didn't I know this before? How could this have been happening right before my eyes and I didn't know," she said, explaining that that event gave her courage to come out of the shadows as a philanthropist and encourage others to be brave and step up their giving. "I encourage everybody to get connected, start being active and don't be shy like me."
Getty said, "I talked to Lorri all night. I was hooked. I had a maximum amount of money I was going to donate and obviously I went way beyond that. We're talking, like, shameless. You know, I couldn't say no."
Lorri Jean and her wife Gina soon found themselves at the Getty home, frying pan in hand, teaching Ariadne "how to cook a mean steak."
Getty, who recently donated 1 million dollars to GLAAD's Media Institute, says she was moved to support the Center because "Los Angeles cannot afford to be without a place (like the Center) where there are so many things for for people of every age category to do, where a staggering 42,000 people walk through the Center's door every month." She said she was moved by meeting kids who had been "brutally, emotionlessly left on the streets to fend for themselves."
Tony Award-winning Bridge & Tunnel creator Sarah Jones, who will bring her latest solo work to the Los Angeles LGBT Center this fall (Sep. 27 to Nov. 4 at the Center's Renberg Theatre), followed Getty.
Jones broke into one of her famous characters, an elderly Jewish woman, who reprimanded the audience to give and then, reverting back to herself said, "Part of the reason I am so proud to bring my diverse cast of characters to the LGBT Center is that last year they welcomed more than half a million visitors who represent the full diversity of community. They come to the Center for medical care, for counseling, for a place to live while they are experiencing homelessness."
Jones told the Los Angeles Blade she believes in celebrating intersectionality. "As a woman of color and someone who cares about my LGBTQ family members and friends, I represent someone who looks at all of our human rights as essential." She says an important part of intersectionality, as a straight ally, is "about looking at all the different ways that our identities help create who we are and how we protect who we are."
Lorri Jean received a standing ovation and gave a rousing speech, covering the arc of the Center's history from being rejected by the Los Angeles offices of the IRS for using the word gay in incorporation papers to purchasing the very building in which they had been rejected, "draping it with 8 story rainbow stripes."
She applauded the donations of people like Anita Mae Rosenstein who helped the Center raise more than 11 million dollars through a matching grant. And of course she praised Getty and other major donors in the room, some who had donated millions, making it possible to help spark a transformation of the area around McAdden Place on Santa Monica Boulevard.
Nick Robinson, who starred in Love Simon, told the story of his brother, who came out while he was filming "Love Simon" and said the experience helped them both.
He introduced the movie's director, Greg Berlanti and his husband, Soccer star and author ("Coming out to play") Robbie Rogers, and made the funniest slip of the tongue of the evening, calling Robbie a "star ass-lete, ah, um athlete."
The husbands showed great affection on stage for one another, vowing their love and telling stories of parenting their children. "The universe grants Robbie a talent even more pure than his soccer — that's his skill for fatherhood." On cue, the audience was awed and Robbie was visibly moved by Berlanti's words and emotion. "Watching Robbie be called Daddy R, as he's called in our house, Daddy R and Daddy G," Berlanti said to even more audible crowd awes. "He's the favorite Daddy."
"Watching him with all his patience, tenderness and playful love is the single greatest joy of my life," Berlanti said, moving closer to and engaging a suddenly very shy Rogers who looked at the crowd and back at Berlanti again with great emotion.
Rogers said he knew Berlanti's work before they met. "His LGBT storylines had already been a lifeline to me when I was in the closet," explaining that since he has witnessed Berlanti at work and fighting for diverse representation in his characters."What good are these heroes if they don't reflect the world they are saving," Rogers said, quoting his husband to thunderous applause from the audience.
"Without the LGBT Center and the changes in the world it has helped bring about, all the blessings we would not have been fortunate enough to have the successes we've had," Berlanti said.
And that set the stage for a live auction of several high end items. Two nights in New York, Hawaii, five nights in Paris and a meet and greet with Cher brought more than $125,000 from those lucky enough to be livin' La Vida Loca.
Ricky Martin, one of the world's best selling musical artists and recent Emmy nominee for his role in the "Assassination of Gianni Versace" was the recipient of the night's final award.
When he took to the stage, audience members shouted, "I love you Ricky," to which he responded, opening his speech with "I love you, too. Love is the key word. That's amazing. I walked into this room and I was overwhelmed with love."
Martin remembered the thousands of lives lost one year earlier in the hurricanes that devastated Puerto Rico.
He said during his speech that it was a blessing "to be raw, honest open, vulnerable." And, referring to his family with artist Jwan Yosef, "I think the inspiration comes from my kids because when I held them for the first time in my arms, I said, 'I can not teach you to lie.'"
Using it as a metaphor for combating homophobia, he said, "Whenever they ask questions, I answer honestly. If they don't grasp the answer, eventually they will come back with the same question and I make sure I give the same answer again and again. They taught me not to lie."
Later Martin said "My mission is to go to those little towns in Latin America where the word gay is a curse."
"We are all blessed, Jwan and I are blessed," Martin told the Los Angeles Blade. "We are blessed to have a place like the LGBT Center and we are blessed to be able to support it."
Rep. Karen Bass to enter Los Angeles mayoral race
Bass has been working to dismantle systemic racism, as well as other forms of social, racial and economic injustice, for decades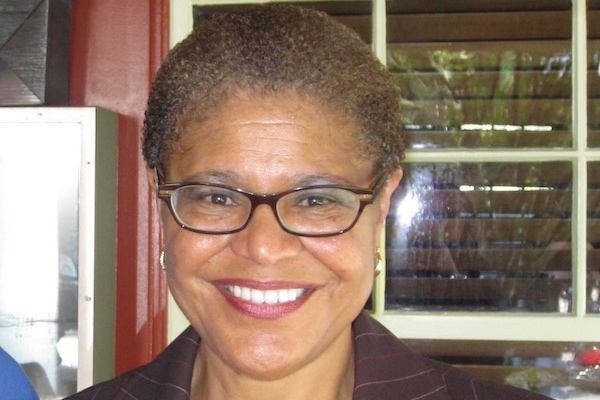 LOS ANGELES – In a breaking story published Friday morning, the Los Angeles Times reported that Democratic Congresswoman Karen Bass, who represents California's 37th congressional district, which covers several areas south and west of downtown LA will enter the mayor's race.
U.S. Rep Karen Bass (D-Los Angeles) intends to run for Los Angeles mayor, according to three people familiar with her plans. Such a move would shake up a contest that, until this past week, which saw the field of candidates increase, had been a fairly sleepy affair. Bass, a high-profile Democrat who has served in both Sacramento and Washington, D.C., could announce her entry into the mayor's race as early as next week, those sources told The Times.
Bass has been working to dismantle systemic racism, as well as other forms of social, racial and economic injustice, for decades. She is a community activist who was raised on civil rights activism in LA's Jewish Venice-Fairfax district, volunteered for Bobby Kennedy's presidential campaign in middle school, graduated from Hamilton High School in West LA in 1971, studied philosophy at San Diego University but switched her attention to healthcare, graduating from USC's Keck School of Medicine Physician Assistant Program. She subsequently received her BA in health sciences from Cal State/Dominguez Hills and her Masters in Social Work from USC.
Bass focused that training on fighting the crack epidemic in South LA, where she founded the Community Coalition to fight for substance abuse prevention programs and better foster care and relative caregivers, like grandmothers.
She also fought the AIDS epidemic — all experience directly applicable to dealing with the ongoing Opioid crisis, as well as COVID-19.
"I went through the AIDS crisis from its very beginning. I watched all of Santa Monica Boulevard get wiped out near Vermont (Ave.). That whole area there. I watched everybody die within a matter of two years," Bass told the Los Angeles Blade. "But I think that this [COVID-19 crisis] is really hard because you don't have to have any physical contact….People are building the plane while it's flying."
Torie Osborn, the executive director of the Los Angeles Gay and Lesbian Community Services Center in 1989, met Bass at a meeting of progressive grassroots activists in a South LA church basement.
"This woman I didn't know came up, introduced herself as Karen Bass from South LA, an anti-police violence activist and a physician assistant," Osborn says. The two talked all day with Bass noting that the gay community's experience of AIDS deaths was similar to what the Black community was experiencing during the crack epidemic.
"I had never heard anything like this before. She knew gay men. She clearly was an ally," Osborn says.
Last summer the Biden campaign vetted Bass as a potential candidate for the number two spot on the Democratic ticket in the race for the White House, which ultimately ended up with then California U.S. Senator Kamala Harris as Biden's choice.
"Los Angeles is facing a humanitarian crisis in homelessness and a public health crisis in the disproportionate impact this pandemic has had on Angelenos," Bass spokesman Zach Seidl said in a statement, when asked for comment by the Times. "She does not want to see these two issues tear the city apart. Los Angeles has to come together. That's why the Congresswoman is considering a run for mayor."
Earlier this past week, another LGBTQ ally, Los Angeles City Councilman Kevin de León, a Democrat, announced his intention to seek the mayor's chair after current Mayor Eric Garcetti, who was elected for a four-year term in 2013 and again in 2017- who's limited to serving no more than two terms- was picked by President Joe Biden to serve as the U.S. ambassador to India on July 9, 2021.
Head of Anti-LGBTQ group worked with Trump to overturn election
Eastman and the former president had a secret scheme to try to get former Vice-President Mike Pence to overturn election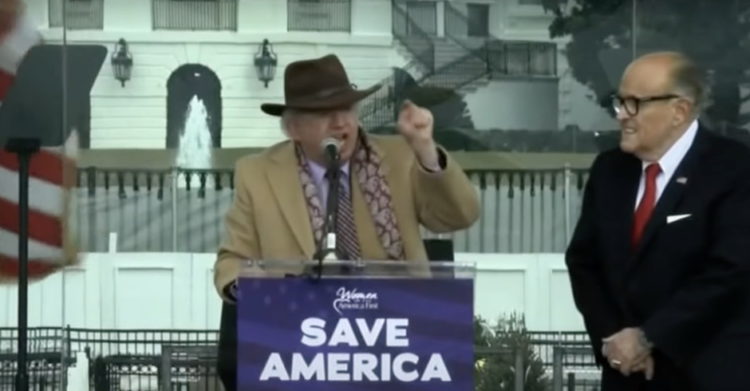 By David Badash | PROVINCETOWN, Ma. – The head of a once well-known anti-LGBTQ organization that spent countless millions in dark money to try to block the advancement of same-sex marriage worked with then-President Donald Trump and his legal team on a secret scheme to try to get Vice President Mike Pence to subvert the U.S. Constitution and overturn the results of the 2020 presidential election.
John Eastman, who until January 13 was a tenured professor of law and dean at the Chapman University School of Law in California, advanced a six-point plan detailing the steps he wanted Pence to take on January 6.
Eastman, who is the chairman of NOM, the National Organization For Marriage, "tried to convince then-Vice President Mike Pence that he could overturn the election results on January 6 when Congress counted the Electoral College votes by throwing out electors from seven states, according to the new book 'Peril' from Washington Post journalists Bob Woodward and Robert Costa," CNN reports.
"You really need to listen to John. He's a respected constitutional scholar. Hear him out," Trump told Pence during a January 4 meeting with Eastman in the Oval Office, according to "Peril."
In addition to directing that Pence would falsely claim that the seven states had competing electors, Eastman suggested Pence make all these moves without warning.
"The main thing here is that Pence should do this without asking for permission — either from a vote of the joint session or from the Court," Eastman wrote. "The fact is that the Constitution assigns this power to the Vice President as the ultimate arbiter. We should take all of our actions with that in mind."
Pence disagreed with Eastman's legal claims and did not enact the secret scheme.
Eastman spoke at the January 6 "Save America" rally that many claim Trump used to incite the insurrection.
One week later he "abruptly" resigned from Chapman University "amid criticism of his role in stoking the violent attack," and "calls for his firing," Law.com reported at the time.
********************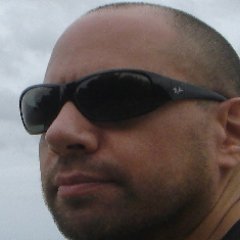 David Badash (@davidbadash) is the founder and editor of The New Civil Rights Movement, an award-winning news & opinion site.
The preceding article was first published by The New Civil Rights Movement and is republished by permission.
The White House marks the 10th anniversary of the repeal of DADT
"A great injustice was remedied & a tremendous weight was finally lifted off the shoulders of tens of thousands of American service members"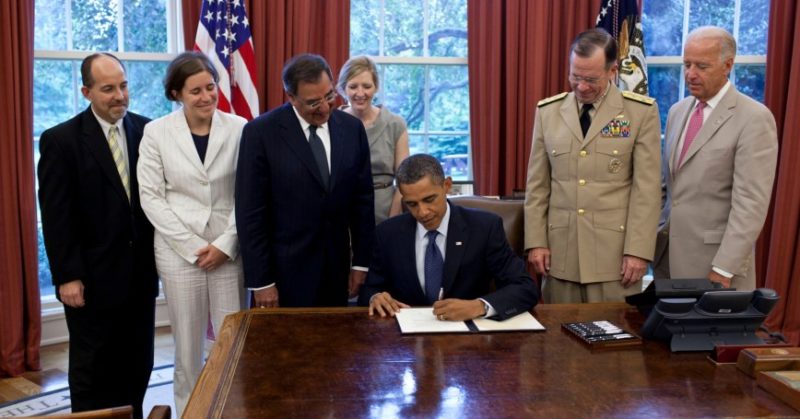 WASHINGTON – President Biden recognized in a statement on Monday the tenth anniversary of the end to "Don't Ask, Don't Tell," a law that once discharged service members from the military for being openly gay or bisexual.
"Ten years ago today, a great injustice was remedied and a tremendous weight was finally lifted off the shoulders of tens of thousands of dedicated American service members," Biden said. "The repeal of 'Don't Ask, Don't Tell,' which formally barred gay, lesbian, and bisexual service members from openly serving, helped move our nation closer to its foundational promise of equality, dignity, and opportunity for all."
Biden recognized high-profile openly gay appointees in his administrations who are also veterans, naming Air Force Under Secretary Gina Ortiz Jones and Transportation Secretary Pete Buttigieg. Biden also names Shawn Skelly, assistant secretary of defense for readiness, who would have been discharged from the military under President Trump's transgender military ban.
"On this day and every day, I am thankful for all of the LGBTQ+ service members and veterans who strengthen our military and our nation," Biden said. "We must honor their sacrifice by continuing the fight for full equality for LGBTQ+ people, including by finally passing the Equality Act and living up to our highest values of justice and equality for all."
Technically speaking, the anniversary of Obama signing repeal legislation was in December. Today is the anniversary of defense officials certifying the military is ready, which put an end to the policy.
Statement by President Joe Biden on the Tenth Anniversary of the Repeal of Don't Ask, Don't Tell:
Ten years ago today, a great injustice was remedied and a tremendous weight was finally lifted off the shoulders of tens of thousands of dedicated American service members. The repeal of Don't Ask, Don't Tell, which formally barred gay, lesbian, and bisexual service members from openly serving, helped move our nation closer to its foundational promise of equality, dignity, and opportunity for all. It was the right thing to do. And, it showed once again that America is at its best when we lead not by the example of our power, but by the power of our example.

Despite serving with extraordinary honor and courage throughout our history, more than 100,000 American service members have been discharged because of their sexual orientation or gender identity—including some 14,000 under Don't Ask, Don't Tell. Many of these veterans received what are known as "other than honorable" discharges, excluding them and their families from the vitally important services and benefits they had sacrificed so much to earn.

As a U.S. Senator, I supported allowing service members to serve openly, and as Vice President, I was proud to champion the repeal of this policy and to stand beside President Obama as he signed the Don't Ask, Don't Tell Repeal Act into law. As President, I am honored to be Commander-in-Chief of the strongest and most inclusive military in our nation's history. Today, our military doesn't just welcome LGBTQ+ service members—it is led at the highest levels by brave LGBTQ+ veterans, including Under Secretary of the Air Force Gina Ortiz Jones and Assistant Secretary of Defense for Readiness Shawn Skelly, who served under Don't Ask, Don't Tell. I was gratified to appoint the first openly gay Senate-confirmed Cabinet member, Secretary Pete Buttigieg, a lieutenant in the U.S. Navy Reserve and Afghanistan veteran who joined the military under the Don't Ask, Don't Tell policy. And during my first week in office, I proudly delivered on my pledge to repeal the discriminatory ban on open service by patriotic transgender service members.

On this day and every day, I am thankful for all of the LGBTQ+ service members and veterans who strengthen our military and our nation. We must honor their sacrifice by continuing the fight for full equality for LGBTQ+ people, including by finally passing the Equality Act and living up to our highest values of justice and equality for all.