HRC says call Congress to protect Mueller investigation
Contingency protests planned if constitutional crisis erupts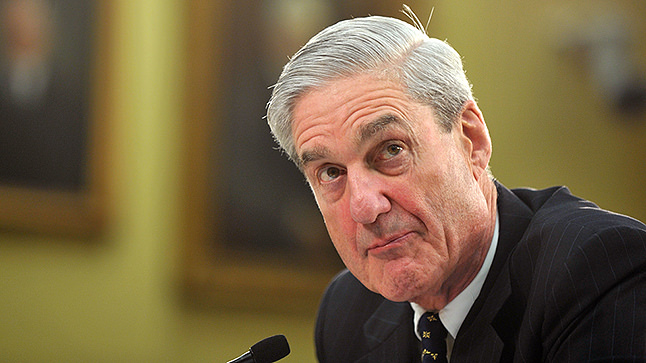 Monday got off to a heart-stopping start. Despite making his fame for saying "You're fired!" on the Reality TV show "The Apprentice," Donald Trump apparently does not like firing people. So after Trump flew to New York to attend the UN General Assembly and Deputy Atty. Gen. Rod Rosenstein was summoned to the White House, many expected Rosenstein to be fired, triggering a constitutional crisis.
Some news organizations say Rosenstein offered to resign after a New York Times article suggested he had conferred with top White House officials and considered wearing a wire to catch Trump acting erratically, thus providing evidence that could warrant his removal through the 25th Amendment to the Constitution. Rosenstein said those comments were made sarcastically during a heated argument with another Justice Department official. It is unclear if Trump or Chief of Staff John Kelly believe that, but NBC's out Justice Department correspondent Pete Williams said Rosenstein attended meetings at the White House as deputy attorney general.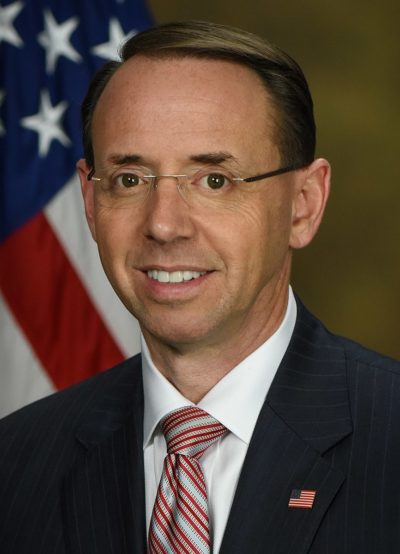 Nonetheless, Trump is reportedly furious and many think the article could provide him with an excuse to fire Rosenstein, who, is the senior Justice Department official supervising Special Counsel Bob Mueller's investigation into Russian interference in the 2016 election and into Trump, his family and his campaign's ties to that effort to elect him. The White House now says Trump will meet with Rosenstein on Thursday, the same day Trump's nominee to the Supreme Court is supposed to testify before the Senate Judiciary Committee, along with a California professor who has accused him of sexual assault.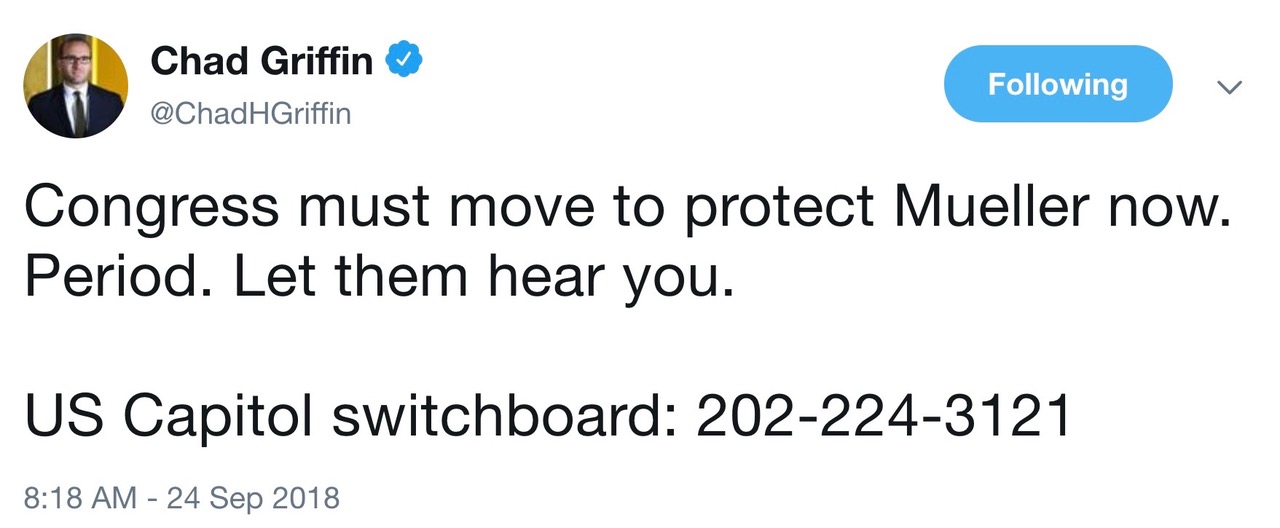 Since Atty. Gen. Jeff Sessions, a frequent target of Trump's ire, has recused himself from the Russian probe, there is rampant speculation about who would replace Rosenstein if he was fired or resigns. Predictions abound that whoever is selected would be a Trump loyalist intent on shutting down the Muller investigation, just as Mueller has secured cooperation from Trump's former personal attorney Michael Cohen and his former campaign chair Paul Manafort to disclose what they know.
The Human Rights Campaign was first on Twitter to call for Congress to protect the Mueller investigation. Call the US Capitol switchboard: 202-224-3121.
Meanwhile, HRC has also joined with NARAL and scores of other groups calling for a Nationwide Walkout Monday in solidarity with Dr. Christine Blasey Ford, who has accused Kavanaugh of sexual assault when she was 15 years old and he was in high school. HRC requests LGBTs and allies to wear black and post photos under #BelieveSurvivors. Dr. Ford is expected to testify before the Senate Judiciary Committee on Thursday, though many question whether the hearing will be fair without a prior FBI investigation to determine the facts behind the accusation. Meanwhile, Ronan Farrow reports another Kavanaugh accuser has come forward.
MoveOn.org has developed national contingency plans for protests should Rosenstein be fired. This is from MoveOn.org:
— "NOBODY IS ABOVE THE LAW—MUELLER FIRING RAPID RESPONSE
Donald Trump could be preparing to put himself above the law. We won't allow it.
Trump will create a constitutional crisis if he fires special counsel Robert Mueller or Deputy Attorney General Rod Rosenstein, who oversees Mueller, or attempts to compromise the investigation by other means. (See The Plan for details.)
Our response in the hours following a potential power grab will dictate what happens next—whether Congress will stand up to Trump or allow him to move our democracy toward authoritarianism.
That's why we're preparing to hold emergency "Nobody Is Above the Law" rallies around the country, in the event they are needed—900+ of them and counting, in every state, with 400,000 RSVPs to date!….
WHERE AND WHEN
Here's the plan for when we would call for protests:
Rallies will begin just hours after national events are triggered:
o If actions are triggered BEFORE 2 p.m. local time —> events will begin @ 5 p.m. local time.
If actions are triggered AFTER 2 p.m. local time —> events will begin @ noon local time the following day.
· This is the general plan—please confirm details on your event page, as individual hosts may tailor their events to their local plan.*
·
THEN WHAT?
Good question!
These events are only the first step. Our goal with these actions is to create an opportunity for anyone outraged by Trump's abuse of power to engage immediately in voicing their concern. Together, we will communicate unmistakably that this is not okay and that this act to undermine democracy is not going to be allowed to become a new normal.
But that's only the first step, and it's far from the last one.
Congress is the only body with the constitutional power and responsibility to hold a president politically accountable for major violations of the public trust like this. And "we, the people" are their backstop and source of legitimate power.
And what people do next to force Congress to act is up to them!
Certainly, everyone at an event should also call their member of Congress to demand action. And everyone is encouraged to communicate that demand directly at congressional offices.
Beyond that, it's up to you! It's a good idea to discuss possible scenarios in advance with the hosts of your event or with your friends to develop other nonviolent ways you would like to compel actions from Congress.
Here's what groups will be asking Congress to do:
CONGRESSIONAL ASKS
1. Demand members of Congress protect the special counsel's office, including preserving its files and staff and ensuring it receives the full cooperation of all federal government law enforcement assets.
2. Demand the creation of a modern-day version of the Senate Select Watergate Committee to investigate all matters involved in the Russia scandals and Trump's abuse of power and obstruction of justice.
3. Demand bipartisan hearings in the House Judiciary Committee on obstruction of justice and abuse of power. Some groups will call these the first steps to impeachment hearings; others will not. Impeaching Donald Trump is not a demand shared by all partner organizations. Nor is supporting impeachment a prerequisite to attend these events. But it is a view welcome at events, and you can definitely bring a poster calling for it if that's your view. We can all be for the three things above if some of us are also for additional things, such as impeachment."….
If you choose to attend an event, you agree to engage in nonviolent, peaceful action, to act lawfully, and to strive to de-escalate any potential confrontations with those who may disagree with our values." —-

The map at MoveOn.org's website is interactive. But please be advised that protests may be spontaneously created without alerting the national organization. For instance, West Hollywood is often a site of protests and while Mayor John Duran tells the Los Angeles Blade he will not organize a protest himself, he is prepared to help by clearing the streets.
Here are possible protest sites in California:
Alameda, Arcata, Auburn, Bakersfield, Beaumont, Berkeley, Bishop, Burbank, Calistoga, Cambria, Carlsbad, Castro Valley, Chico, Claremont, Colusa, Compton, El Cerrito, Escondido, Fairfield, Fort Bragg, Fresno, Grass Valley, Hanford, Healdsburg, Hesperia, Hollister, Idyllwild, Irvine, La Quinta, Lafayette, Laguna Beach, Lakeport, Lancaster, Livermore, Long Beach, Los Altos, Los Angeles, Merced, Monterey, Napa, Oakhurst, Oakland, Ojai, Pacifica, Palm Springs, Palo Alto, Palos Verdes, Pasadena, Paso Robles, Petaluma, Pittsburg, Placerville, Portola Valley, Quincy, Ramona, Rancho Cucamonga, Redding, Redlands, Ripon, Riverside, Roseville, Sacramento, San Diego, San Dimas, San Francisco, San Jose, San Leandro, San Luis Obispo, San Mateo, San Rafael, San Ramon, Santa Ana, Santa Barbara, Santa Clara, Santa Clarita, Santa Cruz, Santa Monica, Santa Rosa, Sherman Oaks, Sierra Madre, Simi Valley, Sonoma, Sonora, Stockton, Temecula, Torrance, Tracy, Truckee, Ukiah, Vallejo, Venice, Ventura, Visalia, Walnut Creek, Watsonville, West Hollywood, Westlake Village, Yorba Linda, Yucca Valley
Rep. Karen Bass to enter Los Angeles mayoral race
Bass has been working to dismantle systemic racism, as well as other forms of social, racial and economic injustice, for decades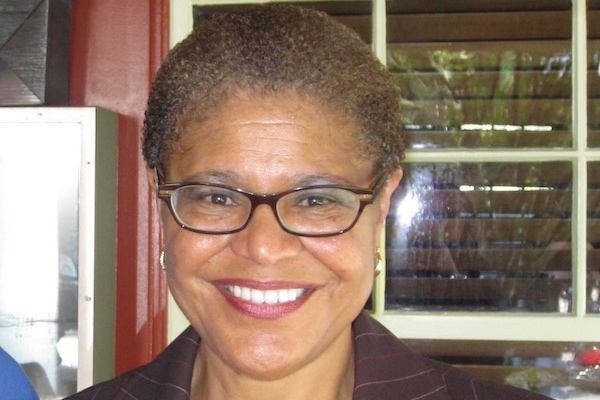 LOS ANGELES – In a breaking story published Friday morning, the Los Angeles Times reported that Democratic Congresswoman Karen Bass, who represents California's 37th congressional district, which covers several areas south and west of downtown LA will enter the mayor's race.
U.S. Rep Karen Bass (D-Los Angeles) intends to run for Los Angeles mayor, according to three people familiar with her plans. Such a move would shake up a contest that, until this past week, which saw the field of candidates increase, had been a fairly sleepy affair. Bass, a high-profile Democrat who has served in both Sacramento and Washington, D.C., could announce her entry into the mayor's race as early as next week, those sources told The Times.
Bass has been working to dismantle systemic racism, as well as other forms of social, racial and economic injustice, for decades. She is a community activist who was raised on civil rights activism in LA's Jewish Venice-Fairfax district, volunteered for Bobby Kennedy's presidential campaign in middle school, graduated from Hamilton High School in West LA in 1971, studied philosophy at San Diego University but switched her attention to healthcare, graduating from USC's Keck School of Medicine Physician Assistant Program. She subsequently received her BA in health sciences from Cal State/Dominguez Hills and her Masters in Social Work from USC.
Bass focused that training on fighting the crack epidemic in South LA, where she founded the Community Coalition to fight for substance abuse prevention programs and better foster care and relative caregivers, like grandmothers.
She also fought the AIDS epidemic — all experience directly applicable to dealing with the ongoing Opioid crisis, as well as COVID-19.
"I went through the AIDS crisis from its very beginning. I watched all of Santa Monica Boulevard get wiped out near Vermont (Ave.). That whole area there. I watched everybody die within a matter of two years," Bass told the Los Angeles Blade. "But I think that this [COVID-19 crisis] is really hard because you don't have to have any physical contact….People are building the plane while it's flying."
Torie Osborn, the executive director of the Los Angeles Gay and Lesbian Community Services Center in 1989, met Bass at a meeting of progressive grassroots activists in a South LA church basement.
"This woman I didn't know came up, introduced herself as Karen Bass from South LA, an anti-police violence activist and a physician assistant," Osborn says. The two talked all day with Bass noting that the gay community's experience of AIDS deaths was similar to what the Black community was experiencing during the crack epidemic.
"I had never heard anything like this before. She knew gay men. She clearly was an ally," Osborn says.
Last summer the Biden campaign vetted Bass as a potential candidate for the number two spot on the Democratic ticket in the race for the White House, which ultimately ended up with then California U.S. Senator Kamala Harris as Biden's choice.
"Los Angeles is facing a humanitarian crisis in homelessness and a public health crisis in the disproportionate impact this pandemic has had on Angelenos," Bass spokesman Zach Seidl said in a statement, when asked for comment by the Times. "She does not want to see these two issues tear the city apart. Los Angeles has to come together. That's why the Congresswoman is considering a run for mayor."
Earlier this past week, another LGBTQ ally, Los Angeles City Councilman Kevin de León, a Democrat, announced his intention to seek the mayor's chair after current Mayor Eric Garcetti, who was elected for a four-year term in 2013 and again in 2017- who's limited to serving no more than two terms- was picked by President Joe Biden to serve as the U.S. ambassador to India on July 9, 2021.
Head of Anti-LGBTQ group worked with Trump to overturn election
Eastman and the former president had a secret scheme to try to get former Vice-President Mike Pence to overturn election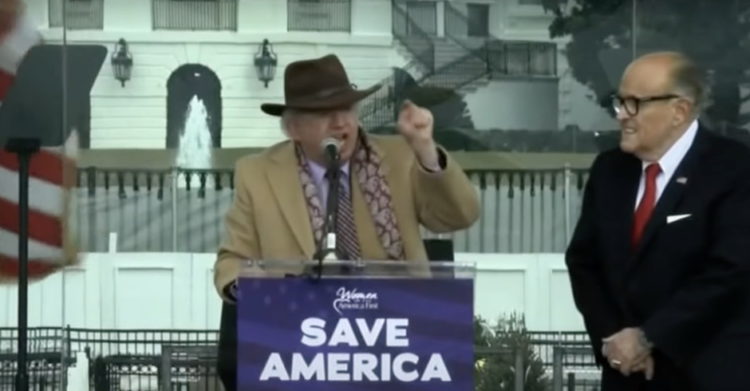 By David Badash | PROVINCETOWN, Ma. – The head of a once well-known anti-LGBTQ organization that spent countless millions in dark money to try to block the advancement of same-sex marriage worked with then-President Donald Trump and his legal team on a secret scheme to try to get Vice President Mike Pence to subvert the U.S. Constitution and overturn the results of the 2020 presidential election.
John Eastman, who until January 13 was a tenured professor of law and dean at the Chapman University School of Law in California, advanced a six-point plan detailing the steps he wanted Pence to take on January 6.
Eastman, who is the chairman of NOM, the National Organization For Marriage, "tried to convince then-Vice President Mike Pence that he could overturn the election results on January 6 when Congress counted the Electoral College votes by throwing out electors from seven states, according to the new book 'Peril' from Washington Post journalists Bob Woodward and Robert Costa," CNN reports.
"You really need to listen to John. He's a respected constitutional scholar. Hear him out," Trump told Pence during a January 4 meeting with Eastman in the Oval Office, according to "Peril."
In addition to directing that Pence would falsely claim that the seven states had competing electors, Eastman suggested Pence make all these moves without warning.
"The main thing here is that Pence should do this without asking for permission — either from a vote of the joint session or from the Court," Eastman wrote. "The fact is that the Constitution assigns this power to the Vice President as the ultimate arbiter. We should take all of our actions with that in mind."
Pence disagreed with Eastman's legal claims and did not enact the secret scheme.
Eastman spoke at the January 6 "Save America" rally that many claim Trump used to incite the insurrection.
One week later he "abruptly" resigned from Chapman University "amid criticism of his role in stoking the violent attack," and "calls for his firing," Law.com reported at the time.
********************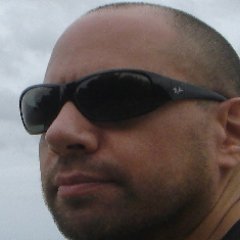 David Badash (@davidbadash) is the founder and editor of The New Civil Rights Movement, an award-winning news & opinion site.
The preceding article was first published by The New Civil Rights Movement and is republished by permission.
The White House marks the 10th anniversary of the repeal of DADT
"A great injustice was remedied & a tremendous weight was finally lifted off the shoulders of tens of thousands of American service members"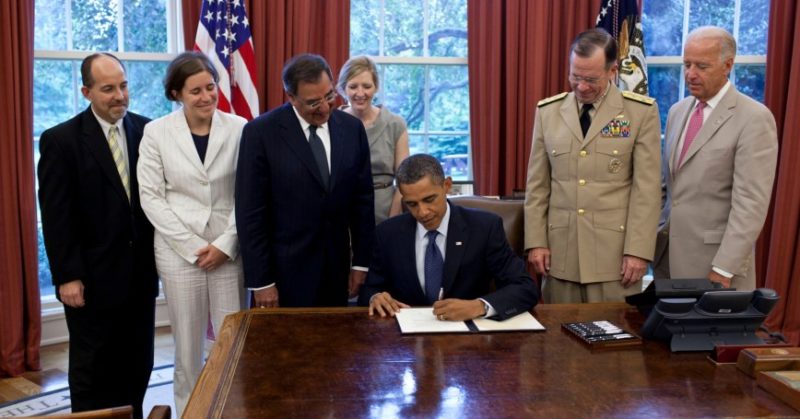 WASHINGTON – President Biden recognized in a statement on Monday the tenth anniversary of the end to "Don't Ask, Don't Tell," a law that once discharged service members from the military for being openly gay or bisexual.
"Ten years ago today, a great injustice was remedied and a tremendous weight was finally lifted off the shoulders of tens of thousands of dedicated American service members," Biden said. "The repeal of 'Don't Ask, Don't Tell,' which formally barred gay, lesbian, and bisexual service members from openly serving, helped move our nation closer to its foundational promise of equality, dignity, and opportunity for all."
Biden recognized high-profile openly gay appointees in his administrations who are also veterans, naming Air Force Under Secretary Gina Ortiz Jones and Transportation Secretary Pete Buttigieg. Biden also names Shawn Skelly, assistant secretary of defense for readiness, who would have been discharged from the military under President Trump's transgender military ban.
"On this day and every day, I am thankful for all of the LGBTQ+ service members and veterans who strengthen our military and our nation," Biden said. "We must honor their sacrifice by continuing the fight for full equality for LGBTQ+ people, including by finally passing the Equality Act and living up to our highest values of justice and equality for all."
Technically speaking, the anniversary of Obama signing repeal legislation was in December. Today is the anniversary of defense officials certifying the military is ready, which put an end to the policy.
Statement by President Joe Biden on the Tenth Anniversary of the Repeal of Don't Ask, Don't Tell:
Ten years ago today, a great injustice was remedied and a tremendous weight was finally lifted off the shoulders of tens of thousands of dedicated American service members. The repeal of Don't Ask, Don't Tell, which formally barred gay, lesbian, and bisexual service members from openly serving, helped move our nation closer to its foundational promise of equality, dignity, and opportunity for all. It was the right thing to do. And, it showed once again that America is at its best when we lead not by the example of our power, but by the power of our example.

Despite serving with extraordinary honor and courage throughout our history, more than 100,000 American service members have been discharged because of their sexual orientation or gender identity—including some 14,000 under Don't Ask, Don't Tell. Many of these veterans received what are known as "other than honorable" discharges, excluding them and their families from the vitally important services and benefits they had sacrificed so much to earn.

As a U.S. Senator, I supported allowing service members to serve openly, and as Vice President, I was proud to champion the repeal of this policy and to stand beside President Obama as he signed the Don't Ask, Don't Tell Repeal Act into law. As President, I am honored to be Commander-in-Chief of the strongest and most inclusive military in our nation's history. Today, our military doesn't just welcome LGBTQ+ service members—it is led at the highest levels by brave LGBTQ+ veterans, including Under Secretary of the Air Force Gina Ortiz Jones and Assistant Secretary of Defense for Readiness Shawn Skelly, who served under Don't Ask, Don't Tell. I was gratified to appoint the first openly gay Senate-confirmed Cabinet member, Secretary Pete Buttigieg, a lieutenant in the U.S. Navy Reserve and Afghanistan veteran who joined the military under the Don't Ask, Don't Tell policy. And during my first week in office, I proudly delivered on my pledge to repeal the discriminatory ban on open service by patriotic transgender service members.

On this day and every day, I am thankful for all of the LGBTQ+ service members and veterans who strengthen our military and our nation. We must honor their sacrifice by continuing the fight for full equality for LGBTQ+ people, including by finally passing the Equality Act and living up to our highest values of justice and equality for all.