September 24, 2018 at 10:15 am PDT | by Karen Ocamb
HRC says call Congress to protect Mueller investigation
Monday got off to a heart-stopping start. Despite making his fame for saying "You're fired!" on the Reality TV show "The Apprentice," Donald Trump apparently does not like firing people. So after Trump flew to New York to attend the UN General Assembly and Deputy Atty. Gen. Rod Rosenstein was summoned to the White House, many expected Rosenstein to be fired, triggering a constitutional crisis.
Some news organizations say Rosenstein offered to resign after a New York Times article suggested he had conferred with top White House officials and considered wearing a wire to catch Trump acting erratically, thus providing evidence that could warrant his removal through the 25th Amendment to the Constitution. Rosenstein said those comments were made sarcastically during a heated argument with another Justice Department official. It is unclear if Trump or Chief of Staff John Kelly believe that, but NBC's out Justice Department correspondent Pete Williams said Rosenstein attended meetings at the White House as deputy attorney general.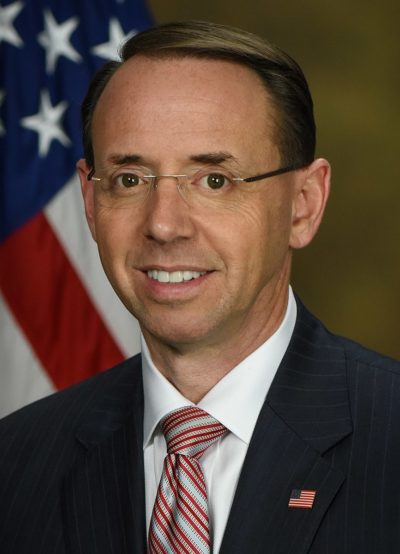 Nonetheless, Trump is reportedly furious and many think the article could provide him with an excuse to fire Rosenstein, who, is the senior Justice Department official supervising Special Counsel Bob Mueller's investigation into Russian interference in the 2016 election and into Trump, his family and his campaign's ties to that effort to elect him. The White House now says Trump will meet with Rosenstein on Thursday, the same day Trump's nominee to the Supreme Court is supposed to testify before the Senate Judiciary Committee, along with a California professor who has accused him of sexual assault.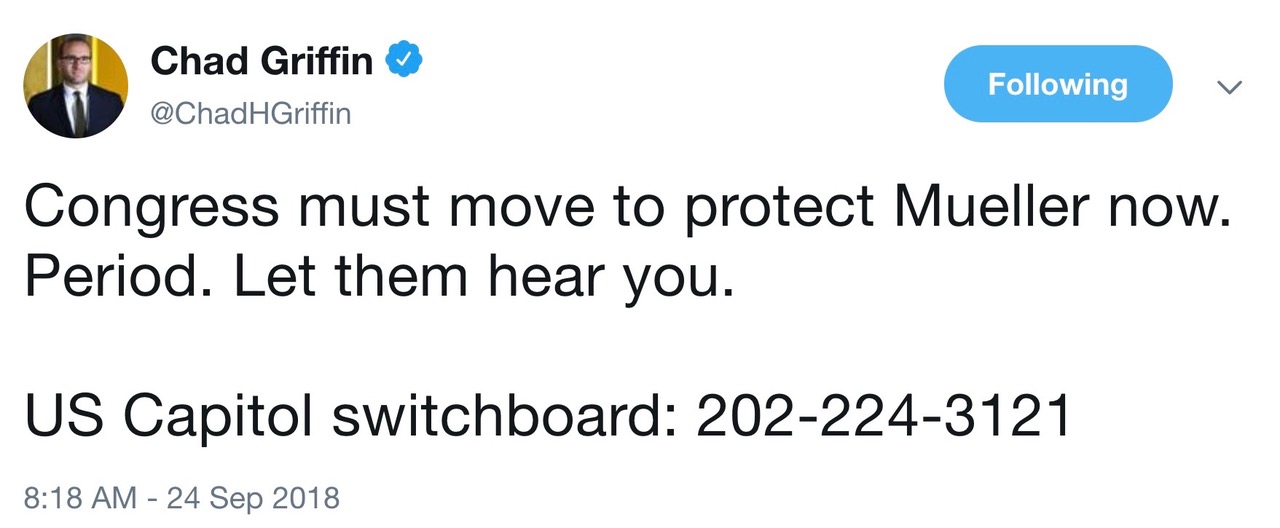 Since Atty. Gen. Jeff Sessions, a frequent target of Trump's ire, has recused himself from the Russian probe, there is rampant speculation about who would replace Rosenstein if he was fired or resigns. Predictions abound that whoever is selected would be a Trump loyalist intent on shutting down the Muller investigation, just as Mueller has secured cooperation from Trump's former personal attorney Michael Cohen and his former campaign chair Paul Manafort to disclose what they know.
The Human Rights Campaign was first on Twitter to call for Congress to protect the Mueller investigation. Call the US Capitol switchboard: 202-224-3121.
Meanwhile, HRC has also joined with NARAL and scores of other groups calling for a Nationwide Walkout Monday in solidarity with Dr. Christine Blasey Ford, who has accused Kavanaugh of sexual assault when she was 15 years old and he was in high school. HRC requests LGBTs and allies to wear black and post photos under #BelieveSurvivors. Dr. Ford is expected to testify before the Senate Judiciary Committee on Thursday, though many question whether the hearing will be fair without a prior FBI investigation to determine the facts behind the accusation. Meanwhile, Ronan Farrow reports another Kavanaugh accuser has come forward.
MoveOn.org has developed national contingency plans for protests should Rosenstein be fired. This is from MoveOn.org:
— "NOBODY IS ABOVE THE LAW—MUELLER FIRING RAPID RESPONSE
Donald Trump could be preparing to put himself above the law. We won't allow it.
Trump will create a constitutional crisis if he fires special counsel Robert Mueller or Deputy Attorney General Rod Rosenstein, who oversees Mueller, or attempts to compromise the investigation by other means. (See The Plan for details.)
Our response in the hours following a potential power grab will dictate what happens next—whether Congress will stand up to Trump or allow him to move our democracy toward authoritarianism.
That's why we're preparing to hold emergency "Nobody Is Above the Law" rallies around the country, in the event they are needed—900+ of them and counting, in every state, with 400,000 RSVPs to date!….
WHERE AND WHEN
Here's the plan for when we would call for protests:
Rallies will begin just hours after national events are triggered:
o If actions are triggered BEFORE 2 p.m. local time —> events will begin @ 5 p.m. local time.
If actions are triggered AFTER 2 p.m. local time —> events will begin @ noon local time the following day.
· This is the general plan—please confirm details on your event page, as individual hosts may tailor their events to their local plan.*
·
THEN WHAT?
Good question!
These events are only the first step. Our goal with these actions is to create an opportunity for anyone outraged by Trump's abuse of power to engage immediately in voicing their concern. Together, we will communicate unmistakably that this is not okay and that this act to undermine democracy is not going to be allowed to become a new normal.
But that's only the first step, and it's far from the last one.
Congress is the only body with the constitutional power and responsibility to hold a president politically accountable for major violations of the public trust like this. And "we, the people" are their backstop and source of legitimate power.
And what people do next to force Congress to act is up to them!
Certainly, everyone at an event should also call their member of Congress to demand action. And everyone is encouraged to communicate that demand directly at congressional offices.
Beyond that, it's up to you! It's a good idea to discuss possible scenarios in advance with the hosts of your event or with your friends to develop other nonviolent ways you would like to compel actions from Congress.
Here's what groups will be asking Congress to do:
CONGRESSIONAL ASKS
1. Demand members of Congress protect the special counsel's office, including preserving its files and staff and ensuring it receives the full cooperation of all federal government law enforcement assets.
2. Demand the creation of a modern-day version of the Senate Select Watergate Committee to investigate all matters involved in the Russia scandals and Trump's abuse of power and obstruction of justice.
3. Demand bipartisan hearings in the House Judiciary Committee on obstruction of justice and abuse of power. Some groups will call these the first steps to impeachment hearings; others will not. Impeaching Donald Trump is not a demand shared by all partner organizations. Nor is supporting impeachment a prerequisite to attend these events. But it is a view welcome at events, and you can definitely bring a poster calling for it if that's your view. We can all be for the three things above if some of us are also for additional things, such as impeachment."….
If you choose to attend an event, you agree to engage in nonviolent, peaceful action, to act lawfully, and to strive to de-escalate any potential confrontations with those who may disagree with our values." —-

The map at MoveOn.org's website is interactive. But please be advised that protests may be spontaneously created without alerting the national organization. For instance, West Hollywood is often a site of protests and while Mayor John Duran tells the Los Angeles Blade he will not organize a protest himself, he is prepared to help by clearing the streets.
Here are possible protest sites in California:
Alameda, Arcata, Auburn, Bakersfield, Beaumont, Berkeley, Bishop, Burbank, Calistoga, Cambria, Carlsbad, Castro Valley, Chico, Claremont, Colusa, Compton, El Cerrito, Escondido, Fairfield, Fort Bragg, Fresno, Grass Valley, Hanford, Healdsburg, Hesperia, Hollister, Idyllwild, Irvine, La Quinta, Lafayette, Laguna Beach, Lakeport, Lancaster, Livermore, Long Beach, Los Altos, Los Angeles, Merced, Monterey, Napa, Oakhurst, Oakland, Ojai, Pacifica, Palm Springs, Palo Alto, Palos Verdes, Pasadena, Paso Robles, Petaluma, Pittsburg, Placerville, Portola Valley, Quincy, Ramona, Rancho Cucamonga, Redding, Redlands, Ripon, Riverside, Roseville, Sacramento, San Diego, San Dimas, San Francisco, San Jose, San Leandro, San Luis Obispo, San Mateo, San Rafael, San Ramon, Santa Ana, Santa Barbara, Santa Clara, Santa Clarita, Santa Cruz, Santa Monica, Santa Rosa, Sherman Oaks, Sierra Madre, Simi Valley, Sonoma, Sonora, Stockton, Temecula, Torrance, Tracy, Truckee, Ukiah, Vallejo, Venice, Ventura, Visalia, Walnut Creek, Watsonville, West Hollywood, Westlake Village, Yorba Linda, Yucca Valley