SoCal is key to keeping democracy
Midterm races closer than expected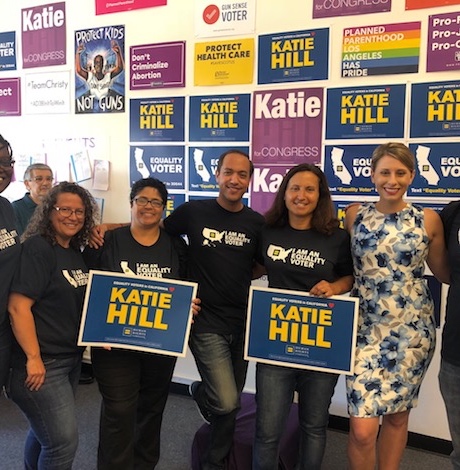 Warning: this is not hyperbole. If the Democrats do not flip the House on Nov. 6, Trump Republicans will control the White House, the US Senate, and the US Supreme Court, with the elevation of controversial nominee Brett Kavanaugh, despite the outcry from a majority of women who think his character makes him unfit to serve for a lifetime on the highest court in the land. 
President Trump successfully convinced many Republicans that federal Judge Kavanaugh was effectively put on trial during his confirmation hearing and was denied due process since the FBI did not corroborate Dr. Christine Blasey Ford's sworn testimony that a very drunk 17-year-old Kavanaugh sexual assaulted her when she was 15. Democrats claimed the FBI investigation, limited in scope by the White House, was a whitewash since the FBI failed to interview many of the people Ford said could corroborate her account. Indeed, Democrats insisted that his Senate confirmation hearing was a job interview where his lies under oath, Ford's powerful public testimony, as well as the accusations of other alleged would ordinarily have been an immediate disqualification by any other potential employer.
How much will Kavanaugh and Trump's mocking of Dr. Ford at a campaign rally in Mississippi have on voters? The answer is hard to gauge, especially since each day brings a new, explosive revelation that could tip voters one way or the other. But right now, the fight over 
Kavanaugh has so galvanized sleepy conservative GOP voters that most poll takers think the Senate, once a possible win for Democrats, will now remain in the hands of Republicans. The House, on the other hand, has become increasingly more vulnerable—Democrats need 23 seats to re-take the House.
But that Big Blue Wave may now have subsided as the enthusiasm gap between Democrats and Republicans shrunk to only two points with the Kavanaugh hearings.
The Hill Reports: "Polling released from Harvard CAPS/Harris on Monday (Oct 1) showed that registered Democratic voters are slightly more likely to vote than Republican and independent voters based on the battle over the Kavanaugh nomination, which could provide some comfort to the party. Half of Democratic voters say they're more likely to vote, compared to 46 percent of GOP voters."
But the polls are hard to decipher: bisexual candidate Katie Hill, 31, had a sizable lead over anti-LGBT incumbent Steve Knight in California's 25th Congressional District to the point that she was a "Lean Democrat" in the Cook Political Report. On Oct. 4, that race was listed as a "Republican Toss Up." Real Clear Politics' summary of polls had Kight up by two points though Hill was still within the huge 10 point margin of error. Roll Call also took Knight off their list of the most vulnerable House incumbents.
"At this point, the consensus is that this race will be close," Lindsay Bubar, Senior Advisor to the Hill for Congress campaign, tells the Los Angeles Blade. "Every poll has it within two points one way or the other, indicating that every single dollar we raise and every door we knock on will matter. We need all of the support we can get between now and Election Day to ensure we flip this seat and elect Katie to Congress." 
Roll Call also took anti-LGBT Rep. Dana Rohrabacher's seat in California's 48th District off their vulnerable House list.  The Cook Report has that seat as Republican Toss Up, though Democratic businessman Harley Rouda is more confident of winning if women, young people and minorities turn out to vote.
Indeed, Rohrabacher's notoriety as Russian President Vladimir Putin's favorite congressman ties him directly with Trump—both of whom are essentially on the ballot for voters who care about the range of issues from national security to LGBT and women's rights to climate change to basic human decency as an example for the next generation. 
"Unfortunately, Donald Trump is a bad example, in so many ways, for our kids and also for elected politicians. I think what we've seen in the Senate with this breakdown in decorum—Donald Trump has to take some responsibility for that happening by creating an environment where that type of behavior is not only acceptable but it's almost encouraged. Rouda told the Los Angeles Blade at an LGBT fundraiser in Los Angeles Oct. 3. "The role of the President of the United States is to bring Americans together. This is the first time in our lifetime that we have ever seen a president who purposely and systematically is pitting Americans against Americans."
A new poll conducted for the Los Angeles Times by UC Berkeley's Institute for Governmental Studies— taken before the Kavanugh hearings—suggests the Republicans "are at risk of a wipeout in California's six most hotly contested congressional races." But, the Times points out, "if the tide ebbs only slightly, the GOP could emerge with much of its control intact."
"Trump appears to be the main motivator for voters in these districts," veteran pollster Mark DiCamillo, who directs the Berkeley IGS Poll, told The Times. "He's the central figure."
As of their Oct. 4 poll, The Times reports:
– Republican incumbent Rep. Steve Knight of Palmdale (CD 25) "is narrowly trailing in the only remaining L.A.-centered district the GOP holds." Hill has a slight edge, 50% to 46%, within the poll's margin of error.
– longtime anti-LGBT incumbent Rep. Duncan Hunter of Alpine (CD 50), who has been indicted on federal fraud charge, "has only a 49%-47% lead over Democrat Ammar Campa-Najjar, a result well within the poll's margin of error."
– Democrat Mike Levin has a 55%-41% lead over Republican Diane Harkey to replace retiring Republican Rep. Darrell Issa in CD 49.
– longtime anti-LGBT Rep. Dana Rohrabacher of Costa Mesa and  Democrat Harley Rouda in CD 48 "are in a dead heat, each with 48%. Voters also split almost evenly on whether they approve of Trump."
–  Republican incumbent Rep. Mimi Walters of Laguna Beach is trailing Democrat UC Irvine law professor Katie Porter, 52% to 45%, a big deal since Walters is so tied to Trump.
– Democrat Gil Cisneros and Republican Young Kim are locked in a dead heat for CD 39, an open seat vacated by Ed Royce. Kim and the Republicans have been running a horrific ad against Cisneros, touting a sexual harassment charge by a woman who later retracted the allegation. But the harm may have been done. The Times poll show Cisneros holding a nominal 49%-48% edge.
Another poll commissioned by Democrats show that women will be the key to winning and voter turnout. The poll by Change Research, commissioned by Fight Back California SuperPAC and the California Labor Federation, which tracked 337 likely women voters from Oct. 2-3 shows:
"In CA-39, Cisneros leads Kim among women voters, 58 percent to 39 percent. In CA-45, Porter leads Walters among women, 53 percent to 42 percent. In CA-48, Rouda leads Rohrabacher among women, 56 percent to 43 percent. In CA-49, Levin leads Harkey among women, 59 percent to 36 percent."
"Based on this poll, It is clear that suburban women who fueled Hillary Clinton's victories in these districts are now fueling the support for the Democratic Congressional candidates in these districts," lead strategist Katie Merrill told POLITICO.
LGBT voters are turning out, too, from Human Rights Campaign and Equality California, to Stonewall Democratic Club, Stonewall Young Democrats, and others, to unseat the Republican incumbents who they say do not represent California and pro-equality values. But only turnout will determine if Democrats can flip the House, keep Trump Republicans in check and democracy viable until Trump can be relieved of command.
LA County Parks winter classes are happening NOW!
Whether you're looking to learn a new skill, pick up a hobby or instrument or simply be more active, there's a class for everyone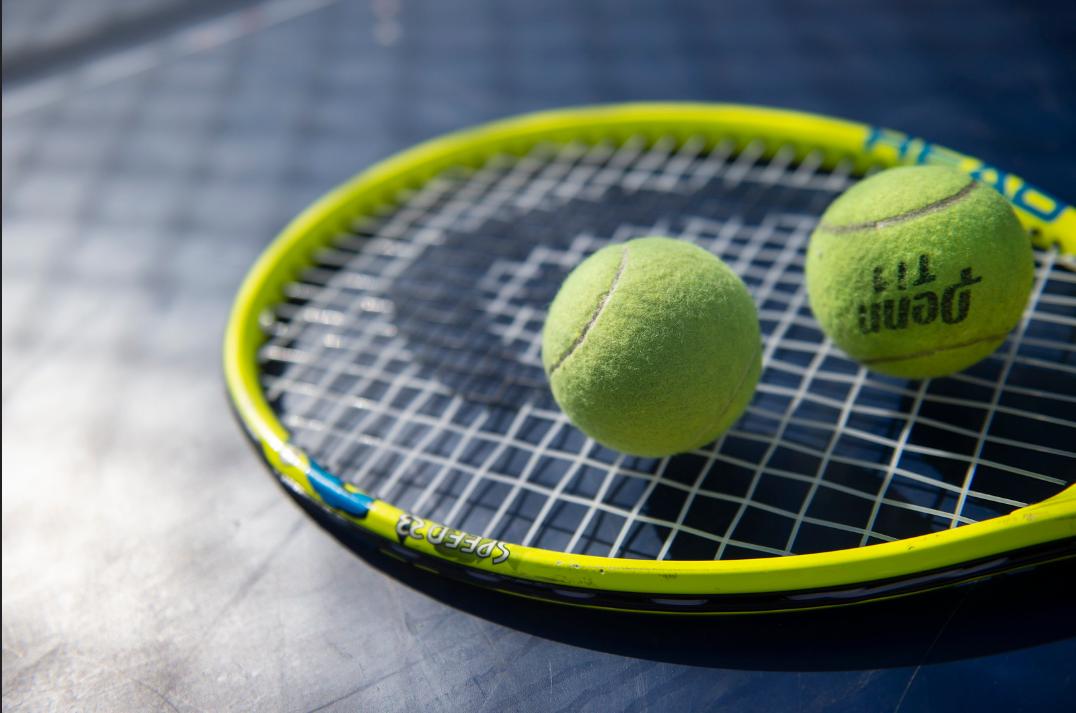 LOS ANGELES – LA County Parks is here to make your 2022 memorable. If you have not yet taken one of our classes, now is the time to register! Meet us safely outdoors at a park near you or join a class virtually from the comfort of your own home.
Whether you're looking to learn a new skill, pick up a hobby or instrument or simply be more active, there's a class for everyone. We offer a wide range of classes (held outdoors or virtually) for all ages.
Here are just a few of the many classes we offer!
Arts & Culture: Music Mondays Family & Me Music Class
Computers and Technology: Become a Roblox Developer
Exercise and Fitness: Morning Senior Stretching (Virtual), Adrienne's Salsa Cardio (Virtual) and Jay's Fitness 365 Athletes ️
Health & Wellness: Brain Fit for Work and Life (Virtual), Integrating Essential Oils into your Everyday Life (Virtual) , Sound Bowl Healing Meditation
Martial Arts: Karate and San Do Kai Karate
Performing Arts, Music & Culture: Acting for the Camera (Virtual) , Ballet and Tap Dancing, Ballroom & Latin Dance and Modern Middle Eastern Belly Dance
Special Interest Classes: Build, Paint & Race An Army Battle Tank, How to Become a Certified Livescan Provider (Virtual), Intro to Fashion Design (Virtual) , Parent & Child Red Cross CPR, First Aid, AED and more
Sports: Badminton, All Level Softball Clinics and European Tennis Academy

Our quick and easy 24/7 online registration system Active Net allows you to manage everyone's schedule through a single household account. Sign up for Winter Classes for yourself, partner and children from your smartphone or computer. To learn more about Active Net, visit parks.lacounty.gov/reserve/.
COVID-19 Safety Guidelines for In-person Classes:
The health and well-being of park guests and staff is our top priority. In accordance with LA County Public Health, currently masks are required at all times for all participants. Participants must maintain six feet physical distance from the instructor and staff at all times.
Follow LA County Parks on social media: Facebook @parks.lacounty.gov and Twitter/Instagram/TikTok @lacountyparks.
Share your experience using #LearnSomethingNew at #LACountyParks.  
We're Hiring! Become a LA County Pool Lifeguard!
Candidates will get paid for a 64-hour training which includes becoming certified though the American Red Cross in Emergency Medical Response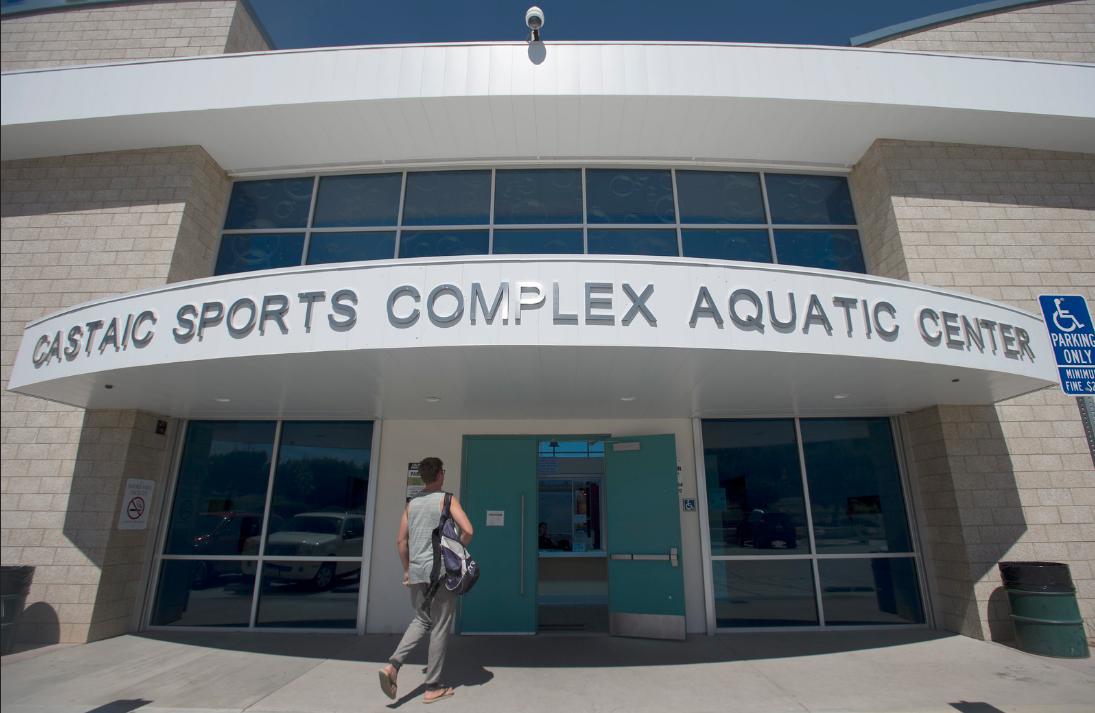 LOS ANGELES – LA County Department of Parks and Recreation is hiring! This summer, the Department aims to hire over 250 new lifeguards to work at our 30 aquatic facilities, all across LA County. Not only is lifeguarding a fantastic way to kickstart your career, but it's a great opportunity for young adults looking for part time employment while in school or looking for a career as a first responder.
Pool Lifeguards will receive a starting pay of $18.27, well above the minimum wage with opportunities to work year round. Applicants must be 17 years of age by time of appointment.
Those who meet the initial requirements will then be required to sign up and pass the Los Angeles County Swim Test. The Los Angeles County Swim Test consists of a 500-yard swim test that must be completed under 10 minutes. Upon completion of the test they will be invited to Pool Lifeguard Academy.
Candidates will get paid for a 64-hour training which includes becoming certified though the American Red Cross in Emergency Medical Response, CPR, AED, Lifeguarding, and First Aid.
Our Aquatics team is eager to help as many prospective candidates and interested students start a career path that can provide them with so many opportunities beyond lifeguarding!
Those who are interested in becoming a Pool Lifeguard are encouraged to attend an online "Open House" session to learn more about the position and answer questions.
VIRTUAL OPEN HOUSE SESSIONS: 
Session 1: January 19, 6pm tinyurl.com/mr36m9mn
or call in:+13237766996,,17084440#
Session 2: January 25,  5pm tinyurl.com/2p9a27ty
or call in: +13237766996,,573214358#
Session 3: January 26,  4pm tinyurl.com/5n8ks28c
or call in: +13237766996,,602797897#
Missing woman in WeHo, public's help sought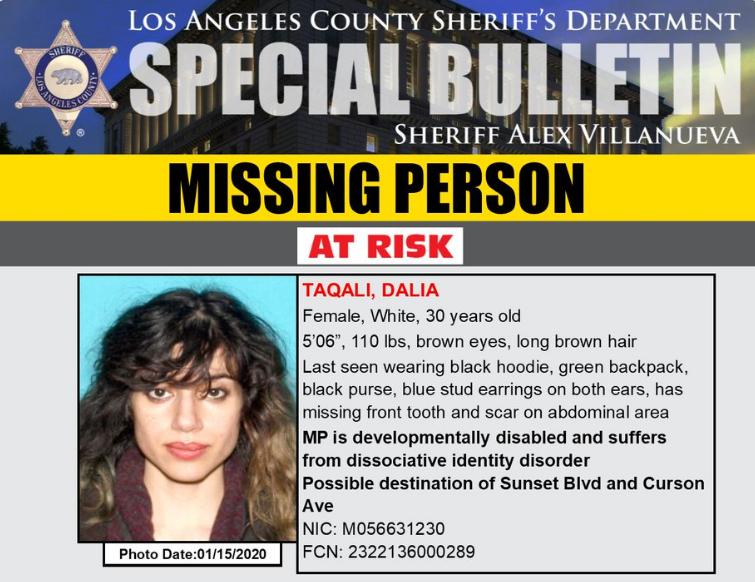 WEST HOLLYWOOD – The Los Angeles County Sheriff's Department is asking for resident's assistance in locating thirty-year-old Dalia Taqali who disappeared from West Hollywood Sunday night.
Taqali was last seen around 5 p.m. in the 1100 block of North Genesee Avenue, according to a news release from the Los Angeles County Sheriff's Department. Taqali is developmentally disabled and suffers from dissociative identity disorder, the Sheriff's Department stated.
Taqali's family is concerned for her well-being and is asking for help finding her.
Investigators said she may be headed near the area of Sunset Boulevard and North Curson Avenue in Hollywood.
Taqali stands 5 feet, 6 inches tall and weighs about 110 pounds with long brown hair and brown eyes.
She was last seen wearing a black hoodie, green backpack, black purse and blue stud earrings on both ears.
Authorities also said Taqali has a scar on her abdominal area and is missing a front tooth.
Anyone with information on her whereabouts is asked to call the Sheriff's Department at 323-890-5500. Those who prefer to remain anonymous can contact Crime Stoppers at 800-222-8477.
#LASD is Asking for the Public's Help Locating Missing Person Dalia Taqali, Los Angeles. Anyone with information is encouraged to contact the Los Angeles County Sheriff's Department's Missing Persons Unit at (323) 890-5500. pic.twitter.com/Uqw9yuG9Ro

— LA County Sheriffs (@LASDHQ) December 27, 2021