Why WeHo's Tim Sullivan supports Prop 10
November ballot initiative impacts renters' rights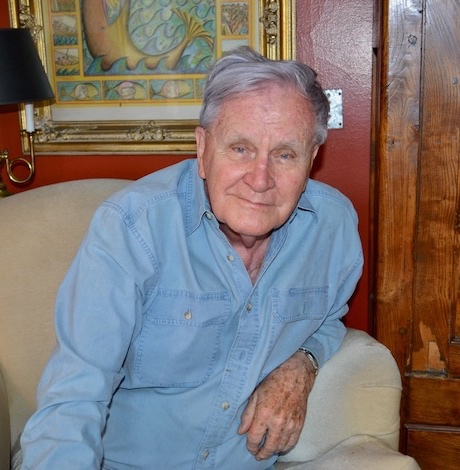 The message on Tim Sullivan's answering machine was shocking. He's been receiving phone calls to his private West Hollywood apartment since his pro-Prop 10 ads started airing on TV. But they were mostly disembodied voices saying "No on 10" and then hanging up. This one was scary.
"I know who you are and I saw your commercial and I know you're a lie. You are not struggling," the sometimes garbled voicemail said, ordering him to stop or be exposed.
"The one thing I've never let anyone know about me is how poor I am, until now," Sullivan tells the Los Angeles Blade. A resident of West Hollywood since 1987, Sullivan owns a boutique candle-making shop, sits on the board of Best in Drag, and for 17 years during the AIDS crisis, he was a board member for Aid for AIDS.  With 27 years in a 12 Step program, he is beloved in the Los Angeles recovery community for providing many alcoholics and addicts their first jobs in sobriety.
 "The only thing I really get is Social Security, period. Any money I did have I put into this company," which is not fairing well these days," Sullivan explains. "It costs me a lot of money to run this company now. And the only thing I get out of it is kind of a living expense. It's supplemental. If it's $1000 a month, it's a lot. So if you take my $1500 Social Security check, you take $1000 out for my rent, take $300 out for my supplemental Medicare insurance, and another $108 for my insurance for medications which are not covered under "others"—there's nothing left," says Sullivan. "It scares me because I don't think I could live here if they take rent stabilization away from me."
Sullivan says he did the Yes on 10 ad "to protect people my age from being shifted out" by owners selling their property. "They have so many different ways of getting you out now," says the almost 78-year old gay man with COPD (Chronic Obstructive Pulmonary Disease). But hate won't deter him. "I'm not going to be afraid of anything. I've come this far," says Sullivan.
Housing insecurity and homelessness are significant issues in the LGBT community, particularly among LGBT youth and people of color. Rent control was a driving factor in the establishment of the City of West Hollywood in 1984, an effort lead by renters, seniors and gays—three categories Sullivan now fits. 
Proposition 10, the Local Rent Control Initiative, on the Nov. 6 ballot would repeal the Costa-Hawkins Rental Housing Act that limits the use of rent control in California and allow counties and cities to adopt rent control ordinances regulating how much landlords can charge tenants. Prop 10 would not allow government to reduce a fair rate of return for landlords.
"The need to have affordable housing is important for all Californians," West Hollywood City Councilmember and law professor John Heilman tells the Los Angeles Blade. "But there's a particular need for LGBTQ individuals. Often times there's lack of family support, which is what drives people to leave their home communities to relocate to California, which is more supportive—but obviously the housing cost here is quite high, and it's a big shock to people when they move here from other states." 
The West Hollywood City Council supports Prop 10, says Heilman, one of WeHo's co-founders. "We've had rent control laws from the very beginning of our establishment as a city," he says. "We all understand the challenge that many renters face with rising housing costs. And Prop 10 would restore to local communities the ability to control rent upon a vacancy." 
Local "authority to draft ordinances that makes sense for their communities," is key, says Heilman, since rent control is not necessarily the best solution for every city in California.
The Prop 10 battle asks which solution is best to resolve California's housing crisis and the harmful displacement of renters: repeal Costa-Hawkins or let the market determine housing and rental costs?
Researchers Nicole Montojo and Stephen Barton, Ph.D., authors of a Sept. 19 research brief published by the Haas Institute for a Fair and Inclusive Society at the University of California/Berkeley, on housing and rent control, feel the need to answer that question is urgent.
"Rent control is really about addressing the issues the people are facing right now, which the other [housing] strategies are unable to do. If we don't have rent control right now—if we wait for building to catch up; if we wait for us to amass enough funding to pay for that affordable housing—it will be too late. People are being displaced right now," Montojo tells the Los Angeles Blade.
The coalition of property developers, real estate investors, landlords and others opposed to Prop 10 insist the initiative would discourage development of new properties during the housing crisis.
"It would be disastrous, not only for apartment developers but for California. No one would invest, development would stop, and the housing crisis would be exacerbated," Alexander Goldfarb, an analyst with Sandler O'Neill & Partners, told the San Francisco Chronicle.
Heilman is skeptical. "I've always questioned this idea that rent control prevents or impedes new construction," he says. "New construction has always been exempt under all rent control ordinances and under state law. The idea that somehow or another new construction would be deterred by rent control just doesn't make sense."
Montojo and Barton contend that free market solutions are insufficient to meet the needs of burdened tenants. "For a variety of reasons," Barton says, "it's not that simple. Housing is not like heirloom tomatoes or plaid shirts. It's a much more expensive good, and it's much more difficult to deliver."
Fixes proposed as alternatives to rent control would take too long to make a discernible impact, the researchers say. "California is now operating at a rate in which it will only add one percent of supply to its housing stock," Barton says. "If you can overcome all the barriers—we have a shortage of construction workers now, for example—and doubled the supply, you'd still be adding only two percent of new housing stock to the supply. It's a very slow process, even when it's working."
Additionally, setting aside units increases the supply incrementally "but that alone is not going to solve the problem. We also need to build permanently supportive housing for people who are not able to maintain on their own—people with various mental/physical disabilities, and certain seniors—they need additional support. Just building the units isn't always enough," Heilman says.
But "it's difficult to explain to people why the supply doesn't respond to the demand," Montojo suggests.
And that makes arguing to vote for Prop 10 difficult.
At issue, Heilman explains, is how homeowners who live in single-family homes or condos—people who are not directly affected by rent control, as they are exempt in most jurisdictions—are going to vote. "Are they going to side with their friends and neighbors who are renters?" he asks. "Or are they just going to vote against it or not vote at all on it?"
The No on 10 arguments are easier for voters to understand, Montojo says. "The supply/demand argument tends to stick in people's minds, whereas getting into the details of the importance of rent control is a much longer conversation that needs to be had." And "it's hard to get at that, to the ballot language that people are seeing when they're responding to polls." 
The Yes on 10 coalition is portraying their opposition in simple terms: greedy corporate landlords and real estate investors who want to guarantee climbing profits even at the expense of widespread displacement, housing insecurity, and homelessness. 
A television ad released Sept. 30 linked four major donors in the No on 10 camp to President Donald Trump, hoping the predicted "blue wave" of Democratic voters will throw their support behind Prop 10, which is endorsed by the California Democratic Party. 
Developers like those featured in the Yes on 10 spot, Barton says, have capitalized on the demand for housing in coastal California, reaping astronomical profits.
"In terms of somebody's wealth, we're in a situation where people will buy properties for as much as 20 times the value of the net operating income. In other words, people will settle for a 5 percent rate of return. This means people have a tremendously highly valued asset whose value keeps going up. They can not only draw on the money, but they can borrow against it or use it as a security in other borrowing, often to buy even more property and expand their empire," he says.
"What the opposition stands to lose is pretty obvious. If you own existing housing in, especially, coastal California, you're getting massive increases in rents," Barton continues. "This is a matter of tremendous windfall profits. Landlords didn't double the quality of the buildings they're providing. It's just that the demand for access to locations that are high on jobs and amenities has increased. They're getting a whole lot more money without having to invest much of their own money in fixing up the buildings or improving the buildings." 
Montojo feels Prop 10 is a referendum on the state's values; a measure of how much voters care about who is pushed out of local communities and displaced because they can no longer afford housing.
"If we allow rent to continue to rise," Montojo says, "and if we don't make a change right now to stabilize renters, this means people will be excluded. We wanted to call attention to the need to make an intentional decision about who we say is part of California and what that means in terms of the policy decisions that we make." 
Decisions that impact Tim Sullivan and those for whom he speaks.
Triple A: Local gas prices rocket up at second-highest pace of 2022
The average price for self-serve regular gasoline in California is $6.18, which is 66 cents higher than last week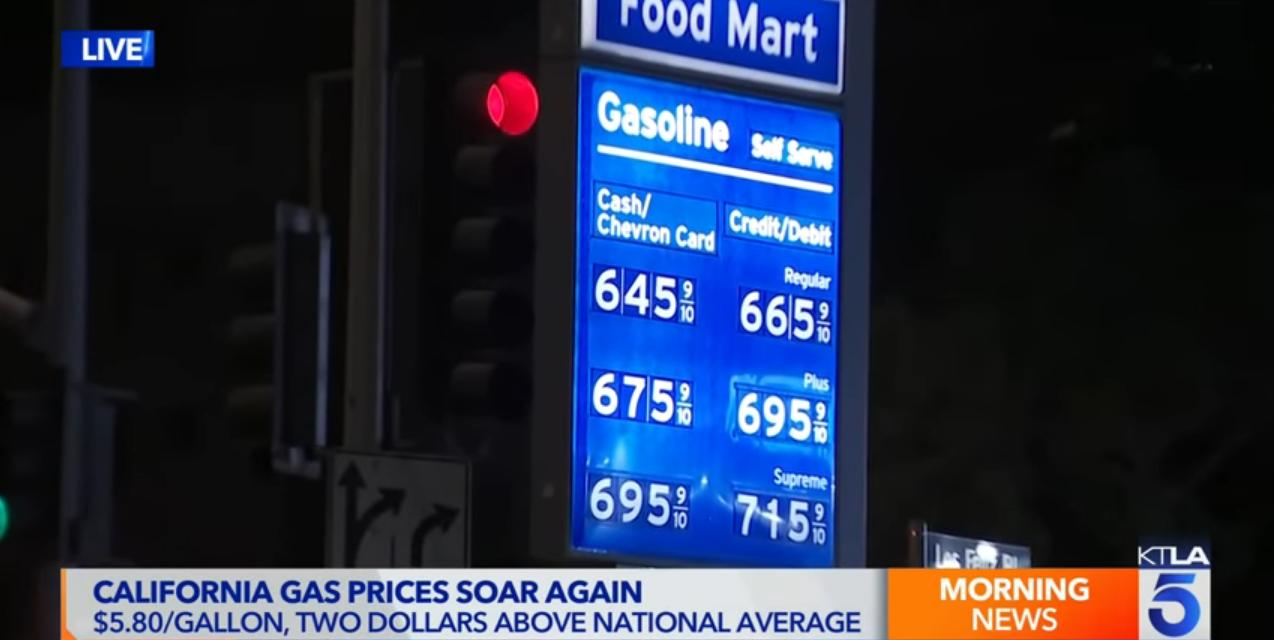 LOS ANGELES – Ongoing Southern California fuel supply issues pushed Los Angeles wholesale gasoline prices to new records this week and pump prices may also break new records soon if they keep increasing at the current pace of 10-15 cents a day, according to the Auto Club's Weekend Gas Watch.
The average price for self-serve regular gasoline in California is $6.18, which is 66 cents higher than last week. The average national price is $3.78, which is ten cents higher than a week ago.
The average price of self-serve regular gasoline in the Los Angeles-Long Beach area is $6.26 per gallon, which is 67 cents higher than last week, 98 cents higher than last month, and $1.85 higher than last year. In San Diego, the average price is $6.20, which is 67 cents higher than last week, 96 cents higher than last month, and $1.85 higher than last year.
On the Central Coast, the average price is $6.20, which is 67 cents higher than last week, 80 cents higher than last month and $1.84 higher than last year. In Riverside, the average per-gallon price is $6.11, which is 67 cents higher than last week, 95 cents higher than last month and $1.79 higher than a year ago. In Bakersfield, the $5.97 average price is 51 cents higher than last Thursday, 58 cents higher than last month and $1.62 higher than a year ago today.
"This week saw the most significant gas price increases since they jumped 77 cents in one week in March. Local wholesale gasoline prices are now 35 cents higher than their all-time record reached in June, when gas prices climbed to an all-time record average of $6.46 in Los Angeles," said Auto Club spokesperson Doug Shupe. "Until the state receives significant amounts of imported gasoline and local refineries are fully operational again, we will likely continue to see pump price increases."
The Auto Club reminds drivers of the following tips to save money on gas:
Only use premium unleaded fuel if it is required for your vehicle, not just recommended. The Auto Club's Automotive Research Center found that vehicles with recommended (not required) premium fuel performed safely with regular unleaded gasoline.
Make sure your tires are properly maintained and inflated to the correct level.
Maintain your car according to the manufacturer's recommendations. Regular service will ensure optimum fuel economy.
Avoid "jackrabbit" starts and hard accelerations. These actions greatly increase fuel consumption.
Slow down and drive the speed limit. Fuel economy peaks around 50 mph on most cars, then drops off as speed increases. Reducing freeway speeds by 5 to 10 mph can increase fuel economy by as much as 14%.
Use cruise control on the highway to help maintain a constant speed and save fuel. However, never use cruise control on slippery roads because you could lose control of the vehicle.
Minimize your use of air conditioning.
Avoid extended idling to warm up the engine, even in colder temperatures. It's unnecessary and wastes fuel.
Remove unnecessary and heavy items from your car.
Minimize your use of roof racks and remove special carriers when not in use.
Download the AAA App to find the cheapest gas prices near you.
The Weekend Gas Watch monitors the average price of gasoline. As of 9 a.m. on Sept. 29, averages are:
California legislative wrap-up: Newsom signs multiple bills
In a final flurry of activity this past week and on the final day to take action with legislation on his desk Newsom signs multiple bills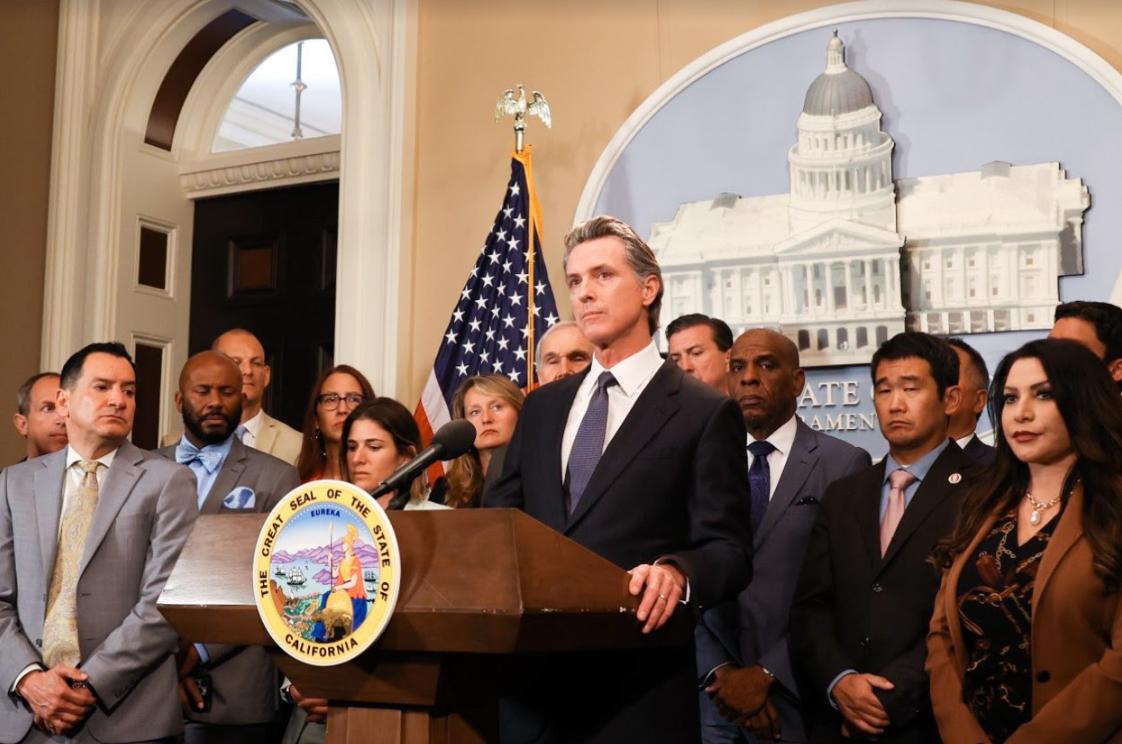 SACRAMENTO – In a final flurry of activity this past week and on the final day to take action with legislation on his desk, California Governor Gavin Newsom for signed multiple bills into law ranging from SB 1194 allows for multi-stall gender-neutral bathrooms in cities that choose to pass such an ordinance to legislation to protect Civil Rights, Support Community Living for Californians with Disabilities. 
California to Speed Graduation, Offer Debt Cancellation at Community Colleges
"California is increasing resources, adding services, and advancing equity to boost graduation and transfer rates throughout our higher education systems," said Governor Newsom. 
The bills signed will:
Ensure that students attending California Community Colleges enroll directly into transfer-level math and English courses, if their program requires it or they are seeking to transfer.
Expand supervised tutoring offered for foundational skills and transfer-level courses.
Offer debt cancellation to encourage students to re-enroll and enroll at community colleges, building on budget appropriations.
Senate Bill 1194 Public Restrooms: Building Standards Which Allows for Multi-Stall Gender Neutral Bathrooms
Newsom signed the bill into law on Thursday allowing cities to adopt the new regulations for multi-stall gender-neutral bathrooms by adopting ordinances. In addition, and to afford additional discretion to communities, cities can exclude certain occupancies from the bill's requirements.
"I am overjoyed that the Governor has signed SB 1194 into law!" said City of West Hollywood Mayor Pro Tempore Sepi Shyne. "I was proud to co-sponsor the City of West Hollywood Multi-Stall Gender Neutral Bathroom Ordinance, which made us the first city in the United States to move to require equity and safety in bathroom access for people with disabilities who have opposite sex caretakers, our transgender, non-binary, and gender non-conforming siblings, and same sex and single parents of opposite sex children. I worked with Senator Ben Allen and his staff, my colleague Councilmember John M. Erickson, and our City legislative staff to help shepherd SB 1194 through the legislature. California is now the first state in the nation to give cities local control to make the same choice West Hollywood did." 
Legislation to Expedite Sustainable Transportation Projects Signed into Law
Newsom signed into law Senator Scott Wiener (D-San Francisco)'s Senate Bill 922. It will become law on January 1, 2023. SB 922 extends and improves upon Senator Wiener's previous legislation (SB 288, 2020) to expedite bike, pedestrian, light rail, and rapid bus projects by exempting these environmentally sustainable projects from the California Environmental Quality Act (CEQA). SB 922 will accelerate approval of sustainable, climate-friendly transportation projects.
In the short time – just 18 months – that SB 288 has been in place, 15 projects have been streamlined in various parts of the state. Another 20 projects are currently under consideration for streamlined treatment. Transit agencies from around the state, including the San Francisco Municipal Transportation Agency, the Los Angeles Department of Transportation, AC Transit, and CalTrain, have invoked this streamlining. Other transit agencies that have made use of SB 288 include: Yuba-Sutter Transit, Tahoe Transportation District, Napa Valley Transportation Authority, Santa Rosa CityBus, Fairfield and Suisun Transit, Monterey-Salinas Transit District, Culver City CityBus, Long Beach Transit, and Riverside Transit Authority. Streamlined projects include protected pedestrian walkways and bike lanes, bus rapid transit projects, electric vehicle charging for buses, and more.
"Increasing sustainable transportation options – like biking, walking, and public transit – is incredibly important when it comes to reducing carbon emissions and fighting climate change," said Senator Wiener. "SB 922 continues our work to make it easier to build these projects more quickly and at lower cost, and will get people out of their cars. This is great news for California and for our climate. Thank you, Governor Newsom."
Free Books for Children, Support for Student Athletes and Creative Expression
Newsom signed SB 1183 by Senator Shannon Grove (R-Bakersfield), expanding Dolly Parton's Imagination Library Program to children statewide. Under the initiative, launched to inspire a love of reading at an early age, California children under the age of five will be eligible to enroll in the program to receive a free book every month through a direct mail program starting in June 2023. 
Joined virtually by award-winning rappers, record producers and record industry executives, Governor Newsom signed AB 2799 by Assemblymember Reginald Byron Jones-Sawyer, Sr. (D-Los Angeles), a first-in-the-nation bill that limits the use of creative expression like rap lyrics as evidence in criminal cases to protect against bias.
In a virtual ceremony, Governor Newsom signed AB 2747 by Assemblymember Adrin Nazarian (D-North Hollywood), which will make Olympians, Paralympians and elite Olympic hopefuls who train in California eligible for in-state tuition.
California Empowers Students
The Governor signed SB 997, SB 955, and SB 291 empowering students in California by:
Providing a seat at the table in local accountability plan processes.
Allowing an excused absence from school to engage in civic opportunities in their communities.
Adding two pupils with exceptional needs to the Advisory Commission on Special Education.
Newsom also signed AB 2806 by Assemblymember Blanca Rubio (D-Baldwin Park) ensuring equitable treatment of children in state preschool and child care programs by prohibiting suspensions and expulsions except as a last resort. When a child is suspended or expelled, they do not receive the benefits that early learning and education provides and this disportionately impacts toddlers and preschoolers of color. AB 2806 aims to change this and support California's youngest learners.
Additionally, the Governor signed SB 1047 by Senator Monique Limόn (D-Santa Barbara) increasing access and stability for families to get the care and learning opportunities their kids need and are critical for young children to succeed.
Newsom Signs Legislation to Protect Civil Rights, Support Community Living for Californians with Disabilities 
Newsom signed AB 1663 by Assemblymember Brian Maienschein, which reforms California's probate conservatorship system to enable disabled and older people needing support to care for themselves to pursue supported decision-making as a less restrictive alternative to conservatorship. The bill also makes it easier to end a conservatorship.
"Our state is committed to protecting civil rights and lifting up every Californian with the supports they need to thrive in their community," said Newsom. "This measure is an important step to empower Californians with disabilities to get needed support in caring for themselves and their finances, while maintaining control over their lives to the greatest extent possible."
AB 1663 establishes supported decision-making in statute as an alternative to probate conservatorship. This is a process in which adults with intellectual, developmental, dementia, and other disabilities who need support to care for themselves or their finances can consult with trusted supporters while making choices about their life, without jeopardizing their self-determination. The bill also requires that alternatives to conservatorship are included for consideration in a petition for conservatorship, and requires courts to provide conservatees with information regarding the rights that they retain. Under AB 1663, courts are allowed to terminate a conservatorship without a hearing if both the conservatee and conservator agree to termination.

"Everyone deserves to have control over the choices they make in their daily lives, including individuals with disabilities. AB 1663 prioritizes that right by emphasizing less-restrictive alternatives to probate conservatorships, specifically Supported Decision-Making. I am grateful that the Governor signed this important legislation today," said Assemblymember Brian Maienschein (D-San Diego).

State law allows the courts to appoint a conservator for an adult when a third party such as law enforcement or Adult Protective Services is concerned about the health, safety or welfare of a person and there has been a comprehensive review of the individual's circumstances. Information about recent actions by the California Department of Developmental Services (DDS) to support individuals conserved by DDS can be found here.

Governor Newsom also signed AB 1195 by Assemblymember Cristina Garcia (D-Bell Gardens) which facilitates the hiring of people with disabilities within state government through the Limited Examination and Appointment Program (LEAP).
California raises wage replacement for new parents, sick workers
Newsom has signed a bill that will increase the amount of money workers receive under the state's paid family and medical leave program, providing a boost that supporters say will ensure lower wage workers are not locked out of a benefit they are already paying for.
Beginning in 2025, the state will pay up to 90% in wage replacement for new parents and those who need to take time off to care for a seriously ill family member or themselves. Senate Bill 951 by Sen. María Elena Durazo (D-Los Angeles) also ensures that the wage replacement will remain between 60% and 70% during the next two years after the rate was scheduled to return to 55% beginning Jan. 1.
California Expands Support for Working Families
Newsom today signed legislation to help hard-working Californians access family and disability leave benefits. SB 951 by Senator María Elena Durazo (D-Los Angeles) will boost leave benefits for lower- and middle-income employees to cover more of their regular income while they take much-needed time off to care for loved ones.
"California families and our state as a whole are stronger when workers have the support they need to care for themselves and their loved ones," said Governor Newsom. "California created the first Paid Family Leave program in the nation 20 years ago, and today we're taking an important step to ensure more low-wage workers, many of them women and people of color, can access the time off they've earned while still providing for their family."
SB 951 extends increased wage replacement rates for State Disability Insurance and Paid Family Leave that were set to sunset at the end of the year. Under the legislation's phased increase in benefits, by 2025, workers earning less than the state's average wage could receive up to 90% of their regular wages while taking leave.
SB 951 builds on the Governor's action since taking office to bolster access to workplace leave, including legislation to expand job-protected family leave to millions more Californians, extend paid family leave benefits for a newborn child from 6 to 8 weeks and expand paid sick leave in response to COVID-19.
Yesterday, Governor Newsom signed AB 1041 by Assemblymember Buffy Wicks (D-Oakland) which enables workers to take paid sick leave or family leave in order to care for any person designated by the employee, including non-family members. The Governor also signed AB 152 to extend COVID-19 Supplemental Paid Sick Leave through the end of the year and AB 1949 by Assemblymember Evan Low (D-Campbell) which allows workers to take job-protected bereavement leave.
Newsom Signs Legislation to Crack Down on the Sale of Stolen Goods Online
With online marketplaces selling stolen merchandise, Governor Newsom today signed legislation to strengthen transparency rules for high-volume, third-party sellers and provide greater tools for law enforcement to identify stolen items, often taken from doorsteps or shoplifted at retail stores. 
"We are tightening the spigot, reducing the sale of online illegal merchandise," said the Governor. "By empowering consumers with the ability to identify stolen items for sale online and providing greater transparency for high-volume sellers, we are tackling this problem at the source. Thanks to the work of my partners in the Legislature, in California, we are addressing the crime we see affecting the nation through a multipronged approach focused on deterrence, enforcement, and prevention."

Both SB 301 by state Senator Nancy Skinner (D-Berkeley) and AB 1700 by Assemblymember Brian Maienschein (D-San Diego) work to address the online sale of stolen merchandise. SB 301 calls for online marketplaces to require high-volume third-party sellers to provide greater information to protect consumers. These requirements include contact and bank account information, as well as a seller's physical address. AB 1700 directs the Attorney General's Office to dedicate a section of its website for individuals to report items found on online marketplaces, identified as possible stolen goods. The Attorney General will share this information with local law enforcement agencies. The bill will also require online marketplaces to display a link to the Attorney General's webpage. 

The Governor also signed AB 2294 by Assemblymember Reginald Byron Jones-Sawyer Sr. (D-Los Angeles), which gives law enforcement the ability to keep in custody individuals suspected of organized retail theft. Under the current process, an individual arrested for a misdemeanor is typically released with a written notice or citation. This bill will allow for law enforcement to keep in custody a person arrested for a misdemeanor if they have been convicted of theft from a store in the last six-months, or if there is probable cause that the individual is guilty of participating in organized retail theft. 

Today's bill signing comes on the heels of the Governor's announcement of California's Real Public Safety Plan, which includes hundreds of millions in funding to provide grants for local District Attorneys to address retail theft, establish a statewide organized theft team in the Attorney General's Office, make permanent and expands the Organized Retail Theft Task Force led by CHP, and create the largest gun buyback program in the country. The plan also includes grants for local law enforcement, prosecutors, and small businesses victimized by retail theft. 
Fresh Start Act, to Remove Outstanding Restitution as a Barrier to Expungement
Newsom signed into law Senator Scott Wiener's (D-San Francisco) Senate Bill 1106, the Fresh Start Act. It will become law on January 1, 2023.
SB 1106 helps people clear their criminal records by ensuring outstanding restitution and restitution fines are not a barrier to expungement. Currently, people across California are frequently denied record sealing and expungement because they are poor and cannot afford to pay outstanding restitution and restitution fines. Restitution debt is often the only thing holding someone back from clearing their record and finding a job and housing. This exacerbates the cycle of poverty and criminalization of Black and brown communities, who are disproportionately impacted by the criminal legal system.
"This is a huge moment for anyone who has served their time and is looking to start over fresh," said Senator Wiener. "Now, outstanding restitution debt won't be a barrier to getting one's record cleared. Formerly incarcerated people will be able to more easily access housing and jobs, which will ultimately help them pay off this debt. Thank you, Governor Newsom, for seeing the value of a fresh start."
Two types of restitution payments are frequently imposed on anyone convicted of a crime. The first is a restitution fine, which is a fixed amount charged to anyone with a conviction regardless of the crime and its impact. Restitution fines can run in the thousands and even more than $10,000. The second is direct restitution, by which a court can order someone to compensate a victim for the harm caused to the victim.
When setting these amounts, courts are not required to take into account a person's ability to pay that restitution. This means that victims of crime, who are awarded restitution, overwhelmingly receive either nothing or a small percentage of the restitution because a defendant lacks the resources to actually pay it.
Current law allows courts to deny a request for expungement of a conviction — even if the individual is otherwise eligible for expungement — if they have any outstanding unpaid restitution. A court can deny expungement on this basis even if the defendant is living in poverty.
This kind of barrier to reentry does not increase the likelihood that someone will pay off their restitution. In fact, blocking someone from clearing their record makes it even less likely that they'll ever be in a position to pay restitution. A 2014 study by Stanford University and the San Jose State University Record Clearance Project found that the estimated benefits of expungement outweigh costs by about $5,800, per person, in one year – nearly $6,500 in today's dollars.
Under SB 1106, people who have served their time would be able to clear their criminal records despite owing restitution, if they otherwise meet the criteria for that relief. SB 1106 does *not* cancel a person's restitution debt. Rather, the legislation allows a person to clear their record and move forward in life despite being too poor to pay restitution.
The bill is sponsored by a multi-regional coalition focused on modifying the court fee system and ending wealth extraction through the criminal legal system, which disproportionately impacts Black and Brown communities, inflicting life-long monetary subjugation on them. The coalition is made up of legal advocates, formerly incarcerated people, policy experts, and movement building organizations led by impacted people.
Newsom signs game-changing elections bill, The Ballot DISCLOSE Act
Newsom signed AB 1416 – The Ballot DISCLOSE Act – a bill that will have a major positive impact on ballot measure transparency. All statewide ballot measures will now include a list of supporters and opponents on the ballot itself. Lead authors were Assembly Member Miguel Santiago (D-Los Angeles) and Senator Henry Stern (D-Calabasas).
"This bill is a colossal game changer for California elections because voters will now be able to make more informed choices on ballot measures," said Assembly Member Santiago. "Big money in politics continues to capitalize on the lack of ballot measure transparency, which directly affects the outcome of elections. As more and more ballot measures appear on general election ballots, it is imperative voters have the information they need to cast an informed vote on state and local ballot measures. The Ballot DISCLOSE Act will bring greater transparency and democracy to the ballot box on Election Day."
"This law will vastly improve voters making an informed choice when voting, and finally root out the special interest that lurk in the shadows seeking to mislead the public," said Senator Stern.
"Governor Newsom's signature of the Ballot DISCLOSE Act will ensure that every Californian voter will know key supporters and opponents of ballot measures when they vote, just like every legislator when they vote and the Governor when he signs or vetoes bills. This will be true no matter what voters' life circumstances and no matter how lopsided the campaign spending," said Trent Lange, President of the California Clean Money Campaign, sponsor of AB 1416. "Every Californian who cares about fairness in democracy owes a debt of gratitude to Governor Newsom, Assemblymember Miguel Santiago, Senator Henry Stern, and all the other bold leaders in the California Legislature who helped AB 1416 pass."
AB 1416 will bring greater transparency to ballot measures while providing voters with relevant information on Election Day. Specifically, this bill would require a voter's ballot to include a short list of those who support and oppose each statewide ballot measure, submitted by the proponents and opponents who submit the official ballot arguments. Each list is limited to no more than 125 characters, with rules to avoid political parties and newly created "sham organizations" from being listed. Local ballot measures will be required to have similar lists of supporters and opponents, but with Board of Supervisors allowed to opt out of local measures if they choose.
This bill will take effect on January 1, 2023.
Newsom signs bill to raise fines on health plans for patient protection violations
The Governor signed SB 858 by Senator Scott Wiener updating penalty amounts that the state can levy on health plans that don't meet state consumer protection standards. It will go into effect on January 1, 2024.
Health plan accountability is critically important: current fine levels were set in the 1970s and are so low they can be viewed as a cost of doing business. As a result, health plans, at times, illegally deny or delay coverage. For example, Kaiser Permanente has yet to come into compliance with a previous law authored by Senator Wiener (Senate Bill 221) — requiring timely access to mental health treatment — resulting in a strike by Kaiser mental health professionals.
"Californians rely on their health insurance to cover critical, even life-saving, care, and we must hold health plans accountable for following the rules and providing timely and adequate coverage," said Senator Wiener. "California's low, outdated fine levels allow health plans to view these fines as a mere cost of doing business. SB 858 makes clear that when we pass a law requiring coverage, we mean it."
"For years health care corporations have been skirting consumer protection laws with minimal consequences. This new law will change the behavior of these health plans and ensure access to needed care for Californians," said Diana Douglas, Health Access California's director of policy and legislative advocacy.  
Despite strong consumer protections for Californians in health plans regulated at the Department of Managed Health Care (DMHC), many have still been denied or delayed in getting medically necessary services. Yet fine amounts for violations related to grievance handling and other specific consumer protections had not been updated for decades, all while health insurance premiums have not just doubled, but quadrupled since 1999. Some of these fine amounts had not been updated since 1975 when gas was 59 cents a gallon.
The new law increases the maximum fines from $2,500 per violation to $25,000 when they violate standards such as timely access to care, adequate network standards, language access, behavioral health care services, gender-affirming care, or other consumer protections.
Even for the biggest, headline-making penalties in recent years, the fines didn't necessarily match the severity and breadth of the violations. Just this year, L.A. Care was fined a historic $35 million by DMHC for failure to appropriately handle grievances and for a severe backlog of authorization requests for services over a five year span. However, with over 67,000 grievances and over 9,000 requests for authorization, this seemingly large fine amounted to only a few hundred dollars per instance—essentially less than a speeding ticket for delaying or denying care to a patient. Meanwhile, the plan reported a tangible net equity of over $1 billion, an amount $923 million over that which is required by law
This new law will give DMHC the additional authority to levy higher fines and impose corrective action plans when necessary. It will also modernize penalty amounts every 5 years, and updates the methodology to ensure the penalty amounts reflect the true harm caused to enrollees.
Landmark LA County project spotlights the effects of violence 
LA County residents recount stories of violence, hope, & healing as project spotlights the effects of violence on a diverse group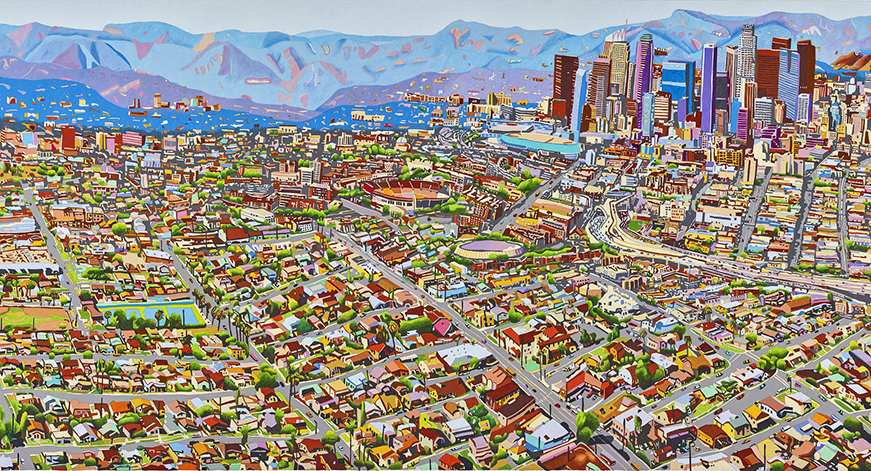 LOS ANGELES – Starting in the Fall of 2020, the Los Angeles County Department of Arts and Culture and the Los Angeles County Office of Violence Prevention housed in the Department of Public Health embarked on a landmark project to record the intensely personal stories of a diverse group of residents whose lives have been directly affected by violence.
For more than a year, Olga Koumoundouros, Department of Arts and Culture Creative Strategist-Artist in Residence with the Office of Violence Prevention (OVP) enlisted the help of community-based organizations and individuals to identify people willing to share their stories. A total of 100 people from all over Los Angeles County reflecting diverse perspectives spoke in blunt, unsparing language about the terrible physical and psychological toll that violence inflicts on individuals and families.
A selection of these intimate stories – along with photographic portraits of many of the contributors – have now been published in a book, Violence, Hope and Healing in Los Angeles County, which is now available at County libraries and other designated locations. A digital copy of the book along with the remaining stories will be published on the Department of Arts and Culture and the OVP websites.
"I truly hope that by sharing my story," said Mildred Brown, a participant who experienced years of physical, sexual, and verbal assault, "it will help that fellow person gain confidence, and to know that you are not alone."
"I am so proud of this cross-sector collaboration between our Department of Arts and Culture and the Office of Violence Prevention," said Los Angeles County Board of Supervisors Chair Holly J. Mitchell. "Thank you to everyone who courageously shared their stories with us. We do not take this brave offering lightly. This project provides policy makers and our communities with the opportunity to learn from the real lived experience behind every story shared, so that we can create stronger systems for prevention and care."
"The intersection of violence prevention and arts equals healing for survivors and our communities," said Los Angeles County Supervisor Hilda L. Solis, First District. "I thank Olga for developing a way to gather and uplift the stories of survivors from throughout the County who have experienced harm in a cathartic manner. And to the survivors that came forward to be a part of this project, you are incredibly brave. Sharing a time when you experienced vulnerability and fear and turning that into an inspiring message of justice, hope, and healing is a lesson from which we can all benefit and carry with us."
"I am so grateful to the extraordinary residents who shared their heartache, bravery and hope with us and thank the Department of Arts and Culture for their partnership on this project,," said Dr. Barbara Ferrer, director of the LA County Department of Public Health. "These stories communicate the devastating impact of violence on residents from across Los Angeles County, while providing us with a blueprint for how our community can heal and stop the cycle of brutality."
"The Department of Arts and Culture's Creative Strategist program places artists, arts administrators, and other creative workers in County departments to develop and implement artist-driven solutions to complex social challenges. We know that artists have an extraordinary power to humanize the data behind policymaking and help us step into another person's story, as well as provide opportunities for creative healing and community building in meaningful ways. This courageous book is a result of that lens. It reflects the kind of inclusion and representation that comes when County departments enact a cross-sector approach to service," said Kristin Sakoda, Director, Los Angeles County Department of Arts and Culture.
'The strength of this project lies in how it has and is stretching institutional procedural practices so that they can center human voices as they are articulated and expressed," said Koumoundouros, "so that the established avenue of communication is strengthened not just utilized once but finds a way into the fold of priorities that forms the backbone of community inclusive violence prevention work" "It creates a formality of listening further and a bit more deeply so the details within the high stakes work of violence prevention can be more effectively heard via ongoing connection and trust with our communities most effected."
"We wanted to hear directly from violence survivors to understand the extent and effect of violence on the lives of our friends, our neighbors, and our communities," said Andrea Welsing, director of the Los Angeles County Office of Violence Prevention.
Welsing noted that the stories offer compelling evidence of the ways in which racism, sexism, homophobia, transphobia, poverty, addiction, and systemic failures have helped to perpetuate a culture of violence across communities. In some of the stories recounted here, people caught up in a seemingly endless cycle of violence became violent themselves.
Still, the message is not all grim. "At the same time, these stories confirm that violence is often predictable and preventable, and highlight how we can support prevention and healing," added Welsing. She said that the OVP will use these stories to guide practices and programs moving forward.
The Creative Strategist-Artist in Residence Program was a LA County Cultural Equity and Inclusion Initiative recommendation that the Board of Supervisors, in a motion authored by Supervisor Hilda L. Solis, funded in 2017. Since its inception, the program has explored how arts-based strategies can be used to solve complex civic challenges and make government more equitable.
Arts and Culture pairs a creative strategist with a County department to bring arts-based thinking, methodologies, projects, and approaches to address an issue of equity in partnership with staff. As it advances the cross-sector role of the arts; inter-departmental collaboration; and diversity, equity, and inclusion, the program supports the goals of the Countywide Cultural Policy, which calls for LA County and all its departments to ensure every resident has meaningful access to arts and culture.
The mission of the Los Angeles County Department of Arts and Culture is to advance arts, culture, and creativity throughout Los Angeles County. It provides leadership, services, and support in areas including grants and technical assistance for nonprofit organizations, countywide arts education initiatives, commissioning and care for civic art collections, research and evaluation, access to creative career pathways, professional development, free community programs, and cross-sector creative strategies that address civic issues.
Visit LACountyArts.org, and learn more about the Creative Strategist Program at lacountyarts.org/CreativeStrategist