October 18, 2018 at 1:04 pm PDT | by Staff reports
San Diego church vandalized with anti-gay graffiti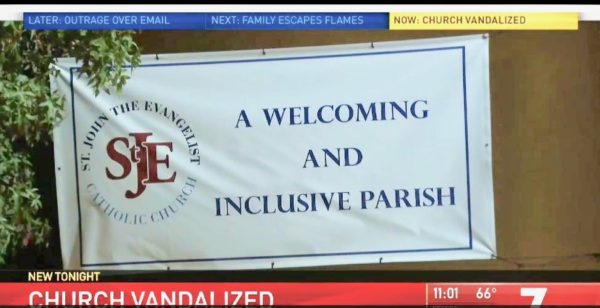 A church office located in San Diego's University Heights neighborhood was desecrated with hate graffiti aimed at an openly gay parish employee, according to a San Diego Police Department spokesperson.
Aaron Bianco, a Pastoral Associate with the St. John The Evangelist Catholic told KNSD NBC7 Tuesday, Oct. 17, that he had returned to the church Monday to find an anti-gay slur spray painted on an office wall.
"I had to step back and kind of get my breath. Just the thought that people are so hateful today," Bianco said.
Bianco also told KNSD that he has been targeted with anti-gay messages and abuse numerous times over the past two years of his employment with the parish church. He added that he keeps a folder of hate mail that's been mailed to the church and also anti-gay hate-filled notes and messages left on his car.
Bianco claimed that he's also been the subject of articles posted on social media that claim he and Bishop Robert McElroy, the sixth Bishop of the San Diego Diocese, "are corrupting the church at the parish and diocesan levels."
"Jesus was always welcoming and even if you believe someone is sinful Jesus was still sitting with them, eating with them and having a conversation with them. There was never hate involved," Bianco said.
While there's a sign posted outside of the church noting that it is a welcoming and inclusive parish, Bianco told KNSD there have been renewed attacks since a grand jury report in Pennsylvania detailing charges of child sex abuse against priests was released in August.
This latest threat is the first time anyone has violated their space inside the church, which Bianco says, has shattered his sense of security. "It was probably the first time I actually thought, 'do I want to continue doing this?'" he said.
San Diego Police tell the Los Angeles Blade that investigators are checking surveillance video and canvassing the neighborhood. Bianco says the church has also added more cameras to shore up any blind spots.
KNSD NBC 7 and the Los Angeles Blade reached out to the Diocese of San Diego for comment and were informed that Bishop McElroy was unavailable for comment.
Reporting by KNSD NBC7 San Diego and the staff of the Los Angeles Blade